CoSchedule Review: The Best way to Plan and Save Time
CoSchedule
Price Varies with Plan
I decided to share a CoSchedule review after using the product on my photography blog for nearly a year, and now I'm using it here on the Orlando Local blog. Since many readers also own businesses and have a web site, it seemed like a good idea to share some of the tools we use to run Orlando Local.
CoSchedule As An Editorial Calendar And Social Media Planner
Working with CoSchedule as an editorial calendar and social media promotion tool has shown me that effective planning and promotion are key elements in driving targeted traffic to your web site.
Let's take a look at some of the benefits I've discovered since I started working with CoSchedule.
No more guessing what to write the day before I post on the blog.
Social media integrated with WordPress makes it easy to schedule updates to promote blog posts.
Metrics from social media sharing show which type of articles are most popular – and which social media platform responded best.
It's easier to organize photos, headlines and articles for a blog post.
You can assign tasks with deadlines to team members to create the elements of a blog post.
CoSchedule knows the best time to share a social media post based upon your audience responses.
Coordinate your posts for a higher purpose instead of a collection of unrelated articles.
CoSchedule promotes teamwork, planning and organization. Sound useful?  Keep reading.
Planning is Better Than Inspiration
Let's say that you have a blog or company web site. You want to keep a consistent schedule to share information so your audience knows when to expect an update.
When the day before your deadline comes, you've got nothing. Your mind is a blank. Maybe you've even written a post that says "I got nothing today."
At some point you have to ask yourself, "How is this benefiting my audience?"
It isn't. The "I got nothing" post is worse than nothing at all. It's an admission to your audience that you're totally devoid of information, creativity or an ability to deliver results on a timely basis.
Mostly, it happens because inspiration didn't strike in time for your schedule. That's the problem, because inspiration is unreliable.
You need a plan.
Plans help you get in front of your publishing schedule so you have your ideas, photos, graphic elements and article ready before it's time to share with your audience.
Your plan doesn't stop with creating a new blog post. Search Engine Optimization (SEO) is important, but it's only one avenue available to bring eyes to your material. You need to cultivate a social media audience built upon a reputation for sharing useful information.
That's why CoSchedule integrates with your social media accounts to promote your posts and articles, and then tracks the results so you can see what your audience likes best.
Of course, you don't just do this for your new articles. What about all of those older posts that are still relevant today? Wouldn't it be nice to have a quick and easy way to share those posts and see how well they perform on each social media platform?
Planning, promotion and performance analysis. CoSchedule provides you with the tools to handle all of these elements, whether you're working alone or with a team.
Your Editorial Calendar and Promotion All In One View
Here's a look at my editorial calendar for my photography blog inside of CoSchedule.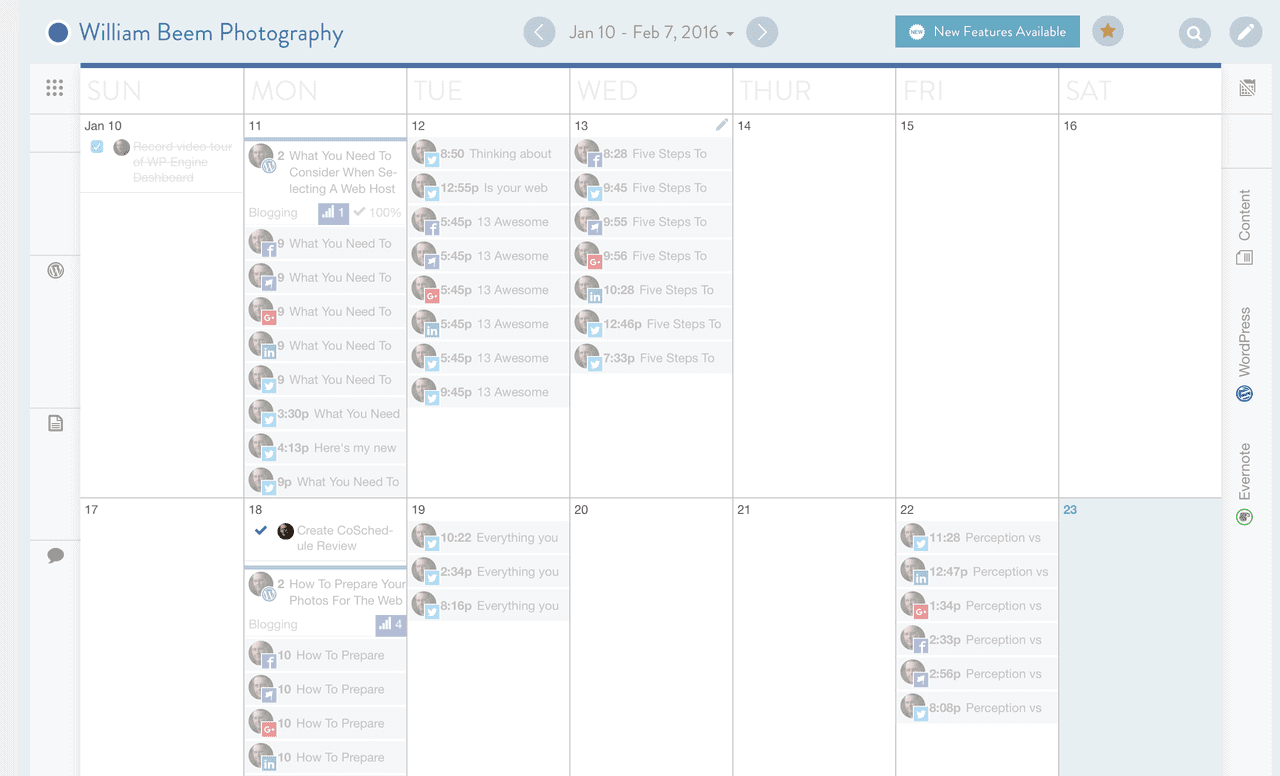 You can see everything at a glance. Blog posts, tasks and social media promotion. I have drafts of blog posts for upcoming articles, so I know what's on-deck to share.
Looking along the left side, you can toggle which of these elements appear on your calendar. There are filters to show posts by author or workflow status. You can enable or disable the display of social posts or any other element that appears on your calendar.
Along the right side, you can see Content, Wordpress and Evernote. Those are bins that expand to show material that hasn't been scheduled yet. You can work on ideas before you're ready to commit them to your calendar, and then drag them to a date to schedule a post.
Click the Pencil icon in the upper-right corner and you'll see this window display.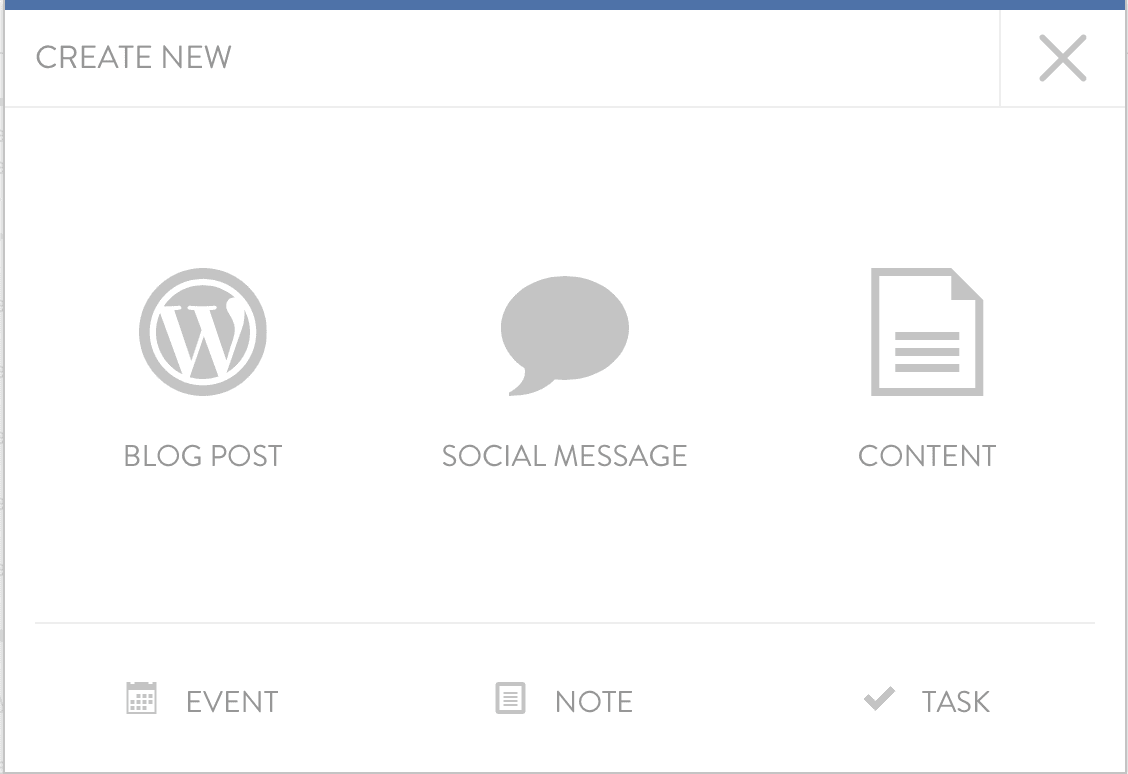 Creating a new Wordpress Blog Post is just the same as you already experience in Wordpress. This button just gives you another way to get started, but with some added guidance.  Here's what you see when you click Blog Post.

It all starts with a title. This is your post headline, but it would be a working title to get started. Once you have that in place, you get to see the rest of the CoSchedule Blog Post interface.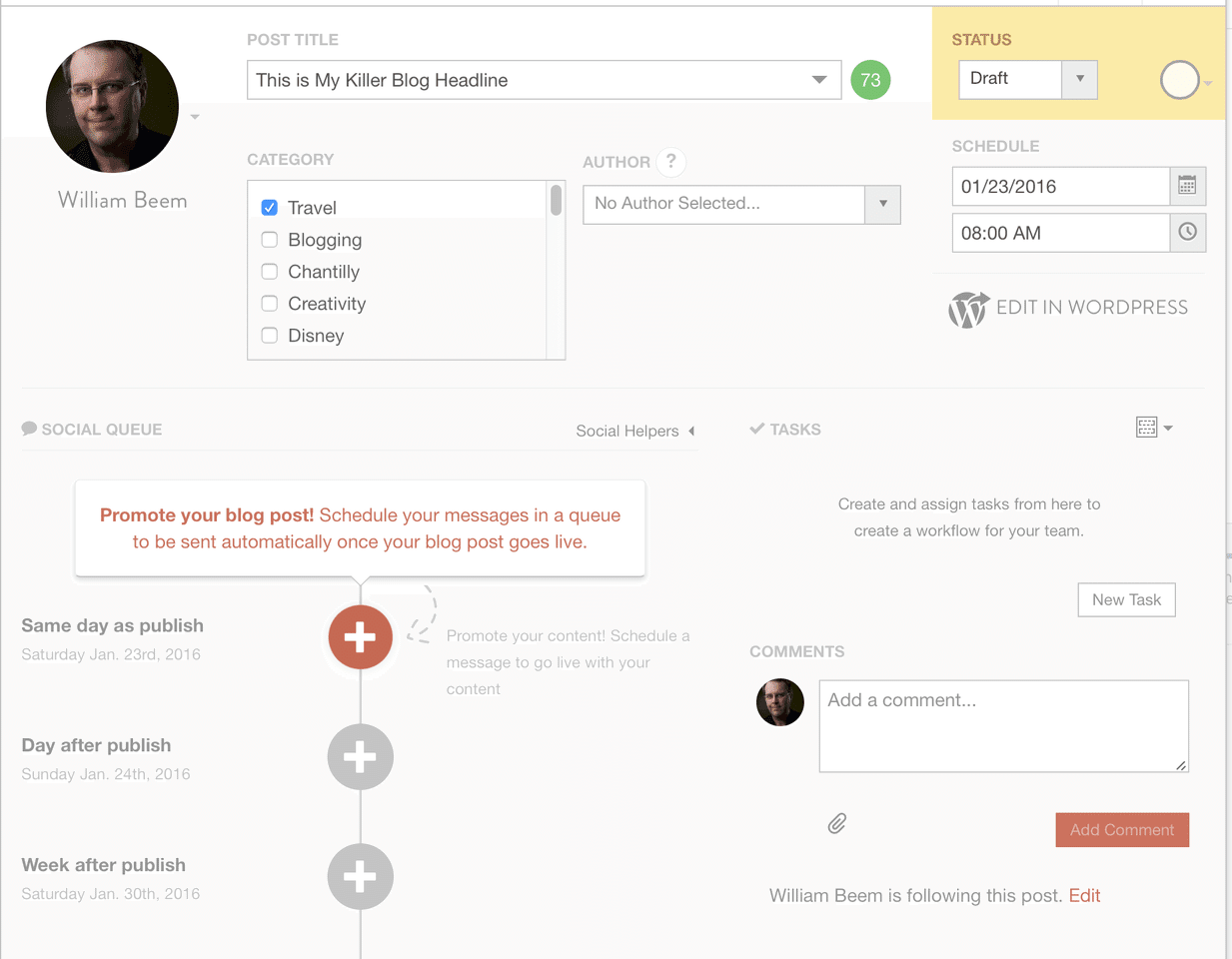 There's a lot going on here, so let's take a look at the individual elements.
The Headline Analyzer
You may notice a little green circle with the number 73 inside just to the left of my headline. That indicates a score from the built-in headline analyzer in CoSchedule. Here is a closer look.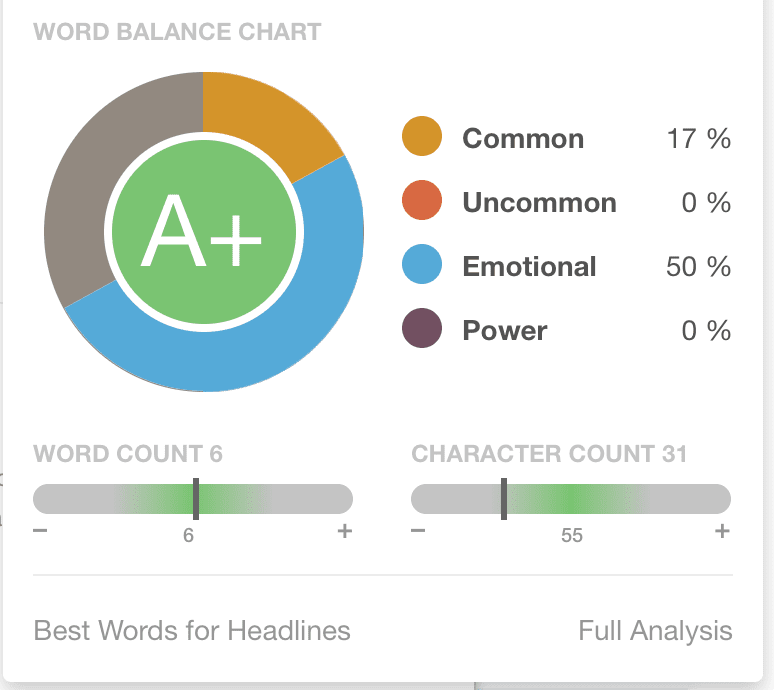 Your headline is extremely important. Everybody reads headlines. Whether they click through to read your article depends upon how much interest the headline generates. The most effective headlines have a bit of strategy to them. They're emotional and extreme. The headline analyzer helps you create strong headlines for your posts.
You get an overall grade for your headline to give you an "at a glance" understanding of the power of your headline. Next, there is a breakdown of the type of words used in your headline.
You want a headline with words that make your reader curious, and common words won't suffice. Use emotion, power, or even uncommon words to get their attention.
Once you start using CoSchedule, you get access to a resource library full of articles to help you improve your blog, including a "Headline Ideas Worksheet" to help you craft better headlines using formats proven to succeed in getting more traffic. They help you position your blog post to appeal to intrigue, emotion and curiosity.
Do you know why six words is the sweet spot for headlines? That's because the most important words in any headline are the first three and the last three. People tend to skim, even when reading a headline.
The character count helps you get the most from search engine results. You have a limited number of characters before Google cuts off your headline.
Anything above 70 is a good score, but this shows we have room to improve our headline. Let's see what we can do with a very slight change.  Here is the new headline.

You can see the score moved up to 83. Here is the breakdown inside the headline analyzer.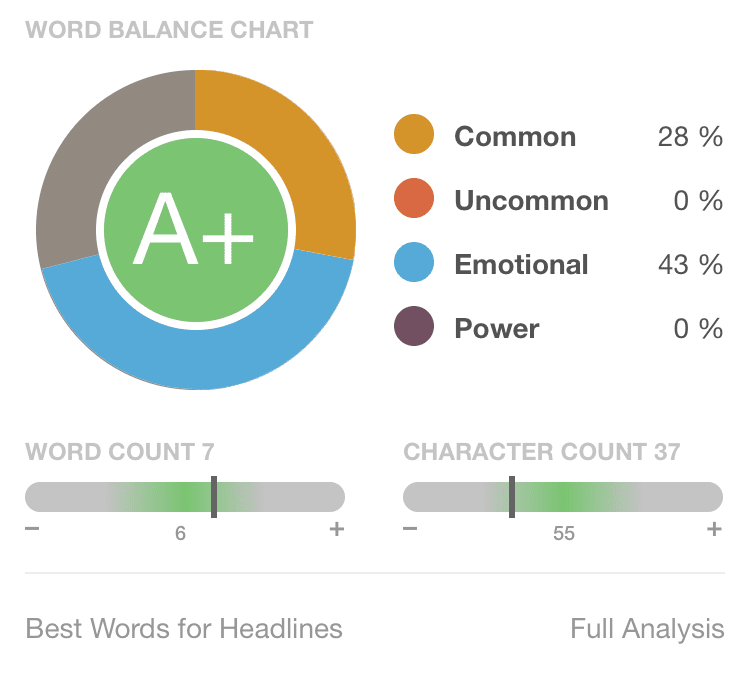 Workflow Status
It would be nice to imagine that creativity just happens. The truth is that creativity comes not only from vision, but from process. Blog posts are certainly creative works. It's just easier to produce them when you have a workflow so you know the stages of your creative process.
CoSchedule boils its workflow status down to three simple steps.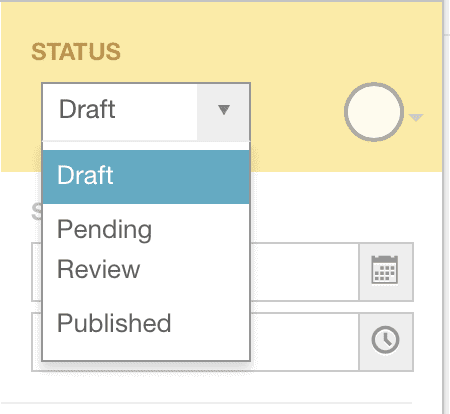 It's as simple as you can get. Everything is a Draft until you're ready to submit it for review. Pending Review alerts your editor (or reminds yourself, if you're working alone) that your article is ready for a once-over before publishing.
If everything checked out, you move ahead to Published and it's ready for the scheduled post to appear. If not, send it back to Draft for an edit, more artwork, or whatever the post needs to help it pass the review.
[button content="Click Here to Get a 14 Day Free Trial of CoSchedule" color="teal" text="white" url="https://orlandolocal.com/coschedule" openin="_blank"]
Calendar Scheduling and Color Labels
Just below the Status is are your scheduling tools to set a date and time for your post. To the right are Color Labels for your post.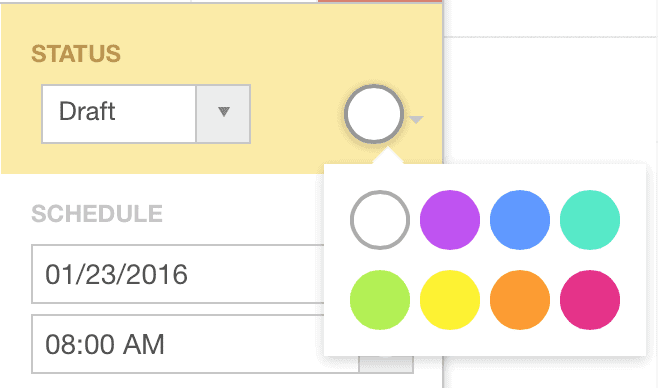 Do you like working with Color Labels? They show up with your post in the editorial calendar. How you use them is up to you?
I tend to like using them for my own workflow to enhance the Draft status. In my workflow, the Color Labels represent the steps along the way before I'm ready for review.
BLUE – The Outline of my idea for a post.
PURPLE – This is my draft process where I get my ideas down.
ORANGE – This is where I perform rewrites and revisions. I'm organizing my ideas for flow.
YELLOW – It's time for the grammar police!
GREEN – Ready to move to Pending Review
Other people have a completely different take on Color Labels.  For example, you may want to separate the type of post by color.
BLUE – Reviews
GREEN – Promotion
PURPLE – How To posts
RED – News Flash
It's really up to you to use them as you please, so use what makes you most effective. What do you want to see at a glance when you scan your calendar and see a color?
Assignments and Editing
You can quickly assign the Category, Author and publishing schedule from the CoSchedule interface.

When you're ready, click the area to EDIT IN WORDPRESS to get started with your draft.
Social Media Promotion
I prefer to wait until my posts are ready to publish before I start scheduling social media promotion, but you can do it before you've written the first word. Here's a look at the Social Media Queues for your post.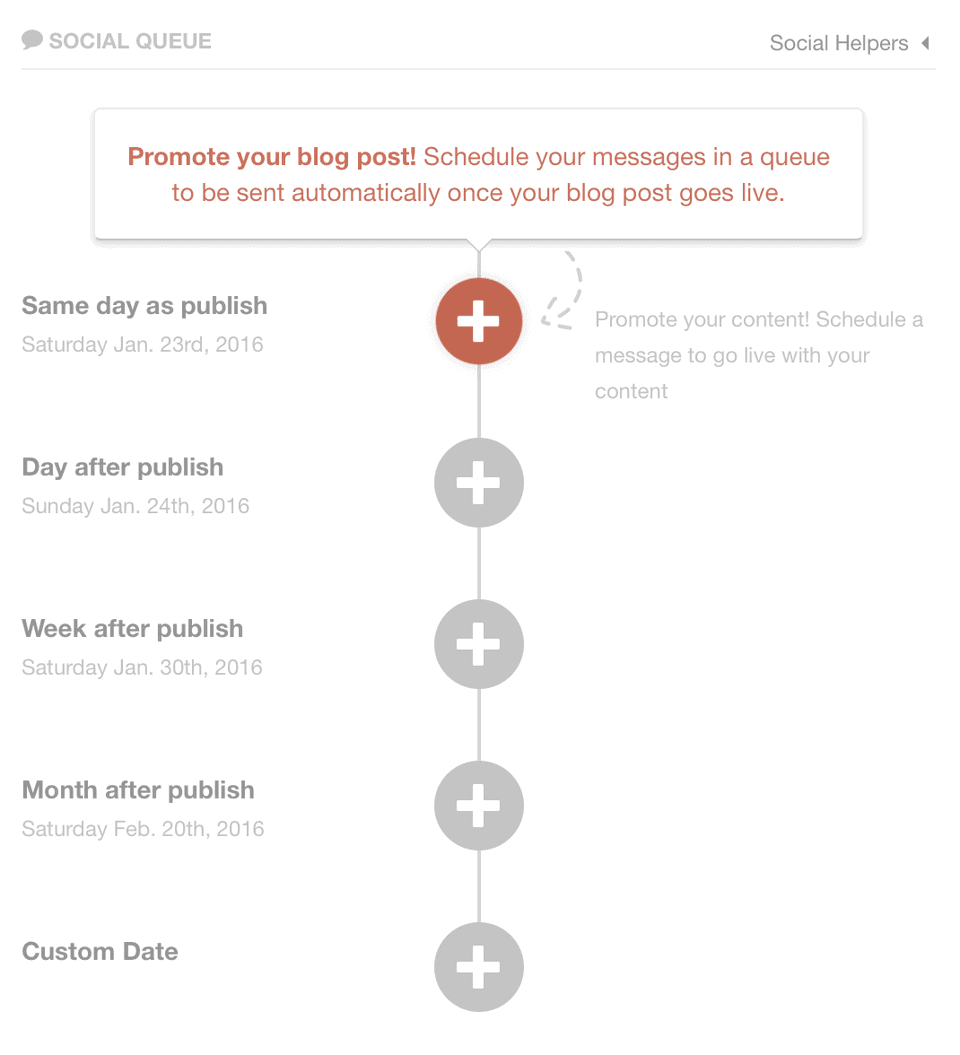 Click the large Plus sign in the queue to start scheduling your social media promotions. You can integrate with
Facebook Profile, Group or Page
Google+ Pages (not profiles)
Pinterest
Twitter
LinkedIn
Tumbler
Evernote (with Marketing or Advanced Plan)
Buffer
Bit.ly
Google Calendar
When I look at my posts with the most social media shares, they were on Pinterest.
Those shares provided me with little to no value. Why? Because I didn't have much of a social media strategy a few years ago when I shared them. The photos on those posts were from Walt Disney World, which is quite popular on Pinterest. However, the people who re-shared those posts had no interest in my photography blog. They just liked photos from the Magic Kingdom and shared them without bringing any traffic to my site.
Now Pinterest is something that I really want to use for this site. Sharing information about Orlando with relevant photography makes those posts valuable for people who collect pins and for the site because it attracts people who have an interest in our articles.
Social media promotion can be a boon or a bust. It depends upon what you share and, most importantly, who sees it. If you don't have a plan to convert the people who see your social media posts into visitors, then all of this promotion may be wasted time and energy.
CoSchedule can make it easy to share your social media posts, but it's still up to you to make the most of that attention.
Here's how you can create your queue of social media posts. Hit the Plus sign in the queue and you'll see this interface appear.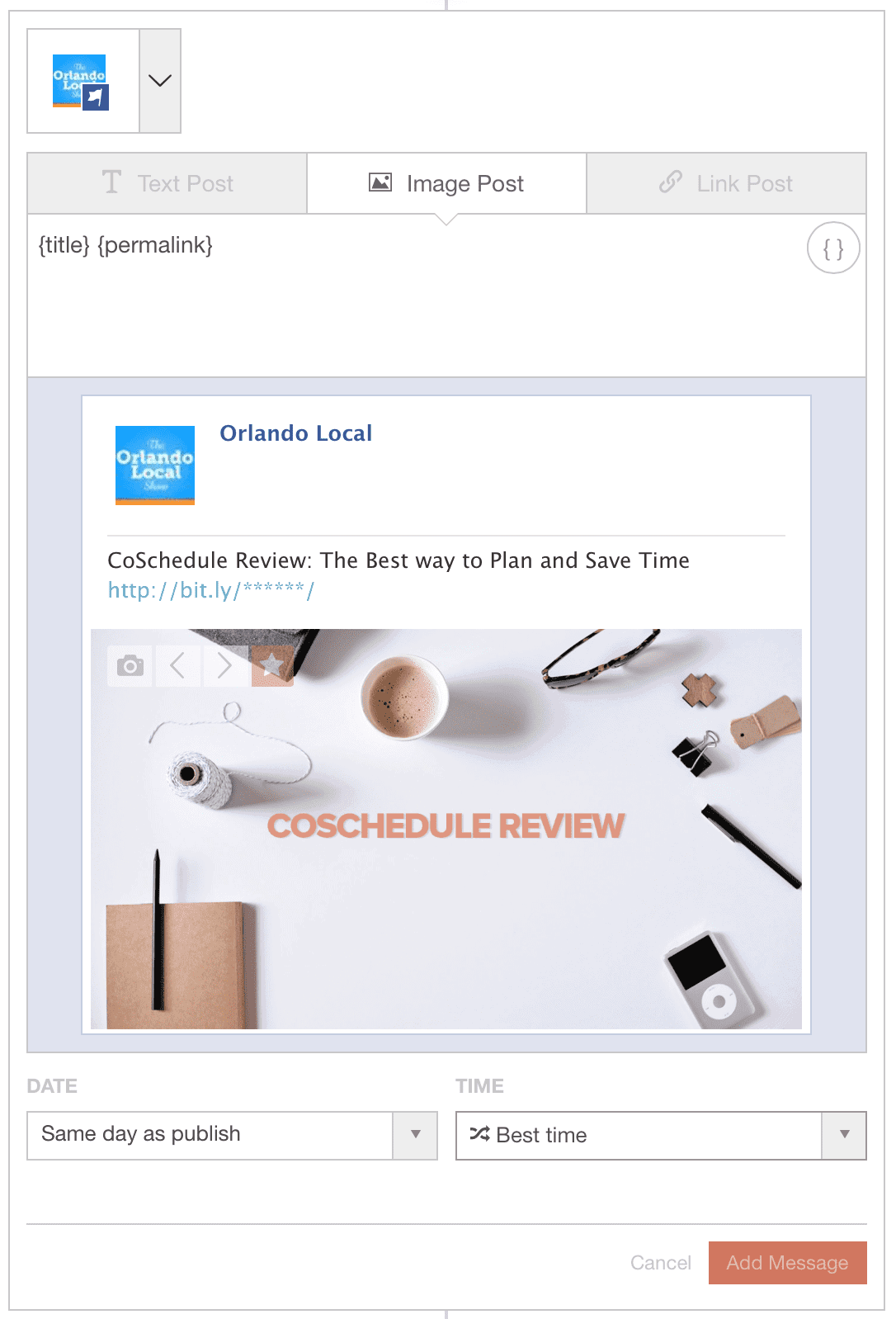 The first dropdown box allows you to select which social media platforms you want to use for a post. You can select one or any combination of platforms.
Next, you can select the type of post to share. I always choose the Image post. Social media posts with images get much more attention than just text.
The next section is where you type your message. By default, it uses a variable to share your post title and a Bit.ly link to your post. However, you can override the URL in Bit.ly with anything else. For Orlando Local, I bought the domain orlandoloc.al to share short links.  Yes, I'm quite happy with myself for that.
When I share my post for the first time, I tend to use the default. For later updates, I keep the Bit.ly link, but I change the title to some other headline or question.
This is something you can coordinate with the Headline Analyzer. Search engines like plain, descriptive titles to show in the results. However, social media viewers like intriguing, emotional headlines. Sometimes you get better results when you use different titles for the same article. Test your ideas and see what works.
If you have multiple photos or graphics in your post, you don't have to accept the default. CoSchedule will choose the one it thinks is best (often the Featured Image), but you can click the little "Less Than, Greater Than" arrows to scroll through your images. In fact, you could change it to a different image for each social media platform.
At the bottom are two dropdown boxes. One lets you select the day of the post and the other chooses the time. There are a few options with each one, but you can always add a custom date or time to publish on a specific moment.
Tasks, Comments and Collaboration
CoSchedule has a couple of simple, yet effective, tools to help you collaborate or remind you of requirements for each blog post. The first one is a Task area.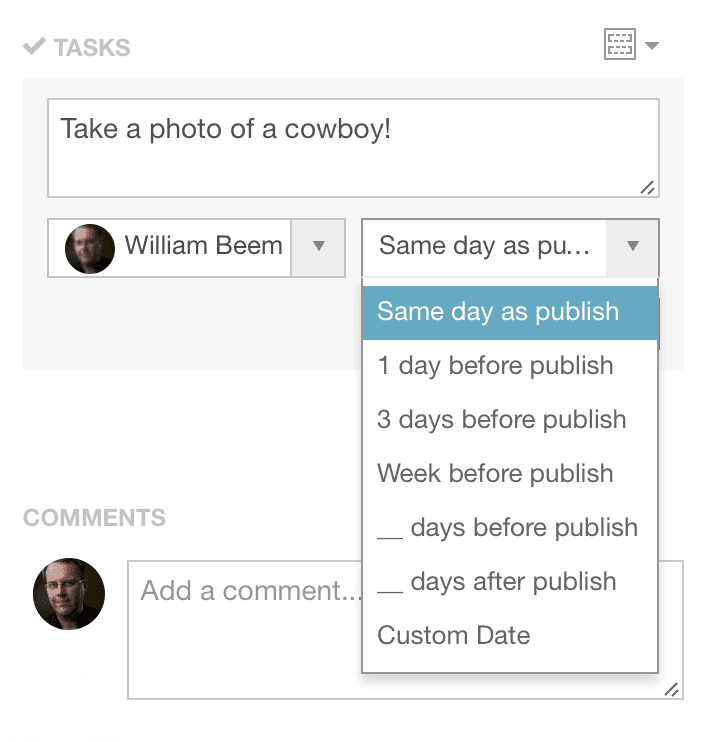 You can enter a task and assign it to a member of the team, or to yourself. Even when working alone, I find this very useful. Not only do you see the tasks necessary to complete a blog post, but you can also assign due dates that you establish before the scheduled publishing date.
Not only do you see these Tasks on the blog post itself, but each author also has a section called My Activity that shows your upcoming Tasks, Blog Posts and Content requirements. It's a built-in project manager for your blog.
You can attach files or add comments to each post, too.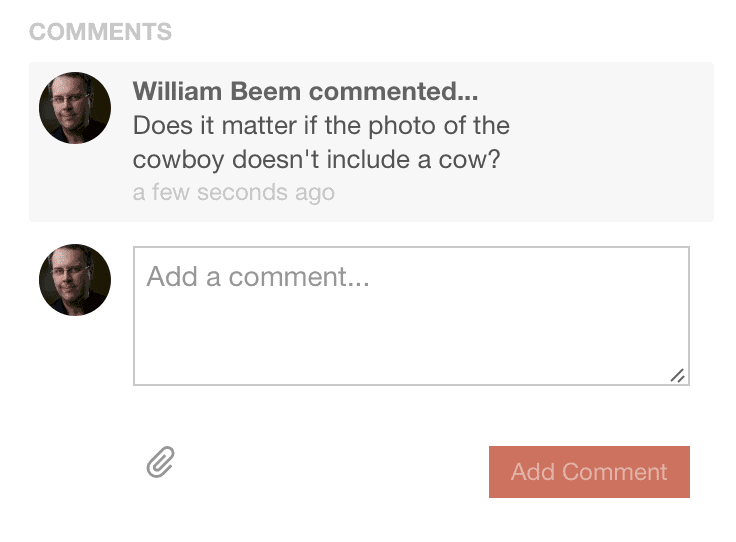 Each comment includes the author's name, so you can follow a discussion thread for each post. If you're working with a team, this is a good way to provide or request direction for the post. If, like me, you're working alone, it's a wonderful way to remind yourself of things that you're going to forget seconds after they enter your brain.
More of a Recommendation Than a CoSchedule Review
As I mentioned at the beginning, I used CoSchedule for nearly a year before writing this review. Why?  My reviews are recommendations of the products and services that I use. When I share a review, it's because I found something that helps me and I can happily recommend it to you.
I paid for CoSchedule on an annual payment, which saves me some money. If I didn't like it, there would be no benefit to either of us to create a negative review. That would be a waste of time for both of us.
Using CoSchedule has helped me develop a sense of purpose for my photography site and now I'm using it here on Orlando Local.  Although I started Orlando Local as a personal journal, CoSchedule is helping me turn it into a useful resource to share what I've learned with the people who visit.
That help includes promoting some of my older posts that have useful, evergreen content to help people understand a concept or solve a problem. CoSchedule also helps me plan and develop new content with an eye toward developing an audience by creating interesting and useful articles.
One of the benefits that I didn't expect was that I can create longer articles to delve into a topic. Not only does that provide more substance for people trying to solve a problem, but it makes the post more sharable. When you find a post that helps you, then you want to pass it along to help your friends.  Everyone wins.
Working with CoSchedule over the past year has made me better at blogging, writing, and marketing. I hope it does the same for you.
Get CoSchedule for FREE (for 2 weeks)
I've tried to give you a taste of how things work in my CoSchedule review, but the best thing to do is try it for yourself. There is no risk. CoSchedule has a 14 day free trial and a 100% guarantee. No credit card required. Cancel anytime if you decide it isn't right for you.
Additionally, I stand behind the products that I review. If you get CoSchedule through my referral link, I'll help you with any issues or questions you have about using CoSchedule. This is not an affiliate link and I do not get paid, but CoSchedule does give me some credit to my account for referrals made using my link at https://orlandolocal.com/coschedule. I appreciate your support and I'm happy to help you if you need it.
I'm willing to bet you will see the potential and benefits of CoSchedule for yourself. Click the button below and give it a FREE trial.
[button content="Click Here to Start Your FREE TRIAL of CoSchedule" color="green" text="white" url="https://orlandolocal.com/coschedule" openin="_self"]