RoadRunner Lightning Running at Top Speed
RoadRunner Lightning at Top Speed
My RoadRunner Lightning is now running at top speed. I'm now getting very consistent upload and download speeds near the specs mentioned by Bright House Networks.
A few days after I posted my benchmark results, I received a call from Bright House Networks offering to help resolve the issues I had with the service. I hadn't even considered calling about it. Let's be honest, I've had harsh words for Bright House Networks in the past based upon issues with the quality of TV service and some cabling issues.
Impressive Customer Service
This time, I wanted to post a follow-up because I'm very pleased and impressed with the customer service from Bright House. After the call, a couple of technicians came by and checked out the line. They found a couple of problems which may have contributed to my speed variation. There was some noise on the line inside my house, so they replaced a few connections to clear up the problem. There was also a problem with a connection point in the neighborhood that they addressed. By the end of their visit, I was getting 38.5 Mbps download and 4.5 Mbps download. Outstanding!
Sadly, it didn't last. The download speed remained excellent, but my upload speed had returned to the .5 MBps range. I thought, "well, they tried." That wasn't the end of it, though. I received another call from Bright House the next day to follow-up. I told him I was really pleased with the guys who came out and what they did for me. Then I let him know the numbers were right for a while, but had since fallen again. They scheduled a return visit for Monday to ensure that the service was performing as expected.
The guys came out again and we started with the benchmark test. It was perfect. Upload and Download speeds were running great, so I was slightly embarrassed for wasting their time. Still, they wanted to check things out with some more diagnostics. Things looked good inside my house, but they detected some problems again in the neighborhood. Once again, they ventured out and did whatever technicians do with those nodes outside.
Benchmark Results
It's been working perfectly all week since that visit on Monday. Here's an example of a test I just ran: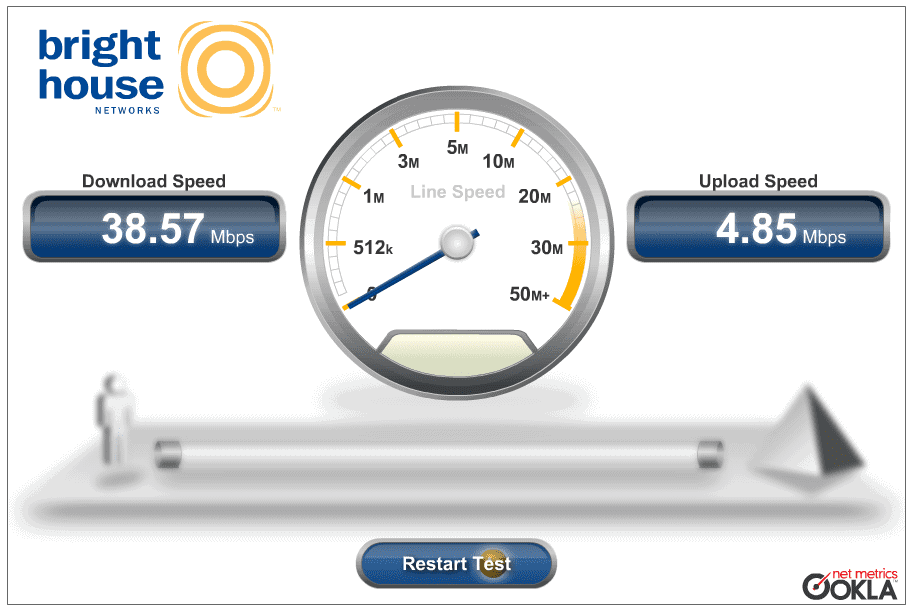 My tests using SpeedTest.Net are showing similar results consistently this week.
The service performs well. There had been times when I've also faced some lag time loading pages, which had less to do with the size of the pipe and more to do with latency. That issue also seems to have disappeared, so I'm getting very good performance on my internet connection right now.
I'll continue to monitor the performance, but I'm seeing more consistent results in this week than I have in past weeks. That, all by itself, is good news. However, it's not the part that pleases me the most.
How to Deliver Great Customer Service
What I really like is the customer service I just received from Bright House Networks. It's a complete turn-around from my perception in the past. Even after this second visit, I received another call to verify that my issues were resolved and that I was pleased with the service.  Now that's what I want. Not just from Bright House, but from everyone who offers a service. Follow-up to make sure your customers got the service you intended and keep at it until it's right. Bright House did it right and I'm happy to share that story.