4Rivers Holiday Brisket: How Was It?
I decided to buy the 4Rivers Holiday Brisket meal for my Christmas dinner. Seemed like a good idea. Something other than the traditional turkey or ham, and it let someone else do the cooking.
The idea is pretty simple. Save yourself some time by letting the folks at your trusted BBQ joint – 4Rivers Smokehouse – prepare the main course for your holiday meal.  It's very tempting.
Of course, there's another reason to let someone else prepare the main dish for your holiday meal. You suck at cooking and this is one less thing for you to burn in the oven. That's also very tempting. So how does it work?
Sign Me Up
Before Thanksgiving and Christmas, 4Rivers adds a page for a holiday menu. It's already gone now, but the basic idea is that you can order a turkey or brisket. They cook it with all the savory flavor you expect from 4Rivers Smokehouse.
I still visit my mother's house for Thanksgiving and she makes a damn fine turkey. In fact, I'd say it was perfect this year. The green beans sucked, but that had more to do with the produce available than her cooking.
One holiday meal a year is enough for Mom, though. I already knew about the 4Rivers holiday menu for Thanksgiving and assumed they would do the same for Christmas, so I suggested getting a brisket. The idea seemed good with everyone, so I placed the order.
Perhaps you can do this over the web site. That's where I started, but I grew a bit concerned that I wasn't sure which store would have my order for a pickup. That's when I decided to pick up the phone and call it into my local store.
Placing the order was easy and I didn't have to pay until pickup. We scheduled a convenient time on the afternoon of Christmas Eve.
Pick Up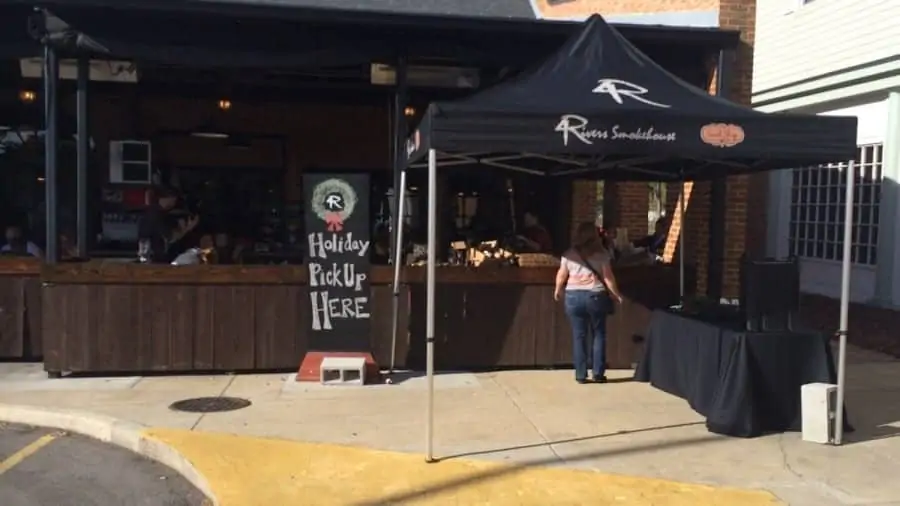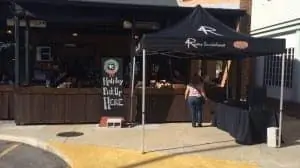 It was hard to miss the holiday order pickup area at their Longwood location. No big line in the way. If you're worried that you have to make your way through the usual ordering line that sometimes runs out into the parking lot, then this should bring you peace of mind.
Once again, the staff was very friendly and the transaction only took a minute. They checked off my name on their list, ran my credit card while another person brought up a large bag with my order.
I opted for the half-brisket.  Plenty of meat for my family and we still had left-overs to send home with everyone. Total damage for the order was under $50 for enough meat to feed 20 people with generous portions.
Heating Up the Brisket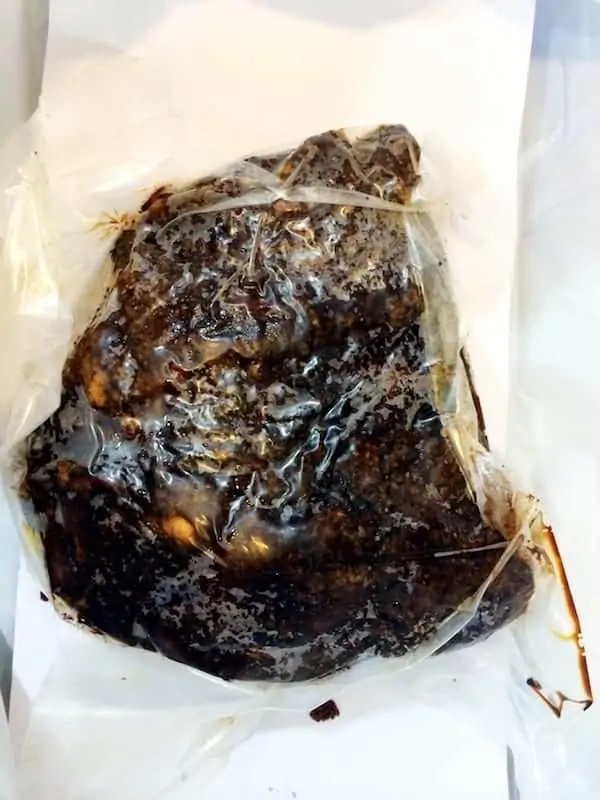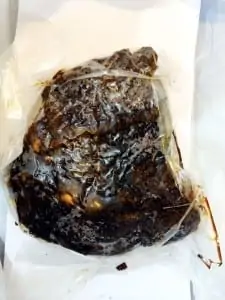 The packaging was brilliant. The brisket gets wrapped in plastic to keep it protected and all the juices in place. The brilliant part is that you can cook the brisket in that wrap without worrying about the heat affecting it.
When Christmas rolled around, heating up the brisket was very simple. 4Rivers provided re-heating instructions that worked perfectly.
Let the meat get to room temperature, stick it in the oven for 90 minutes at 275 degrees. That's hard for anyone to screw up – short of dropping it on the floor. Brisket is hefty.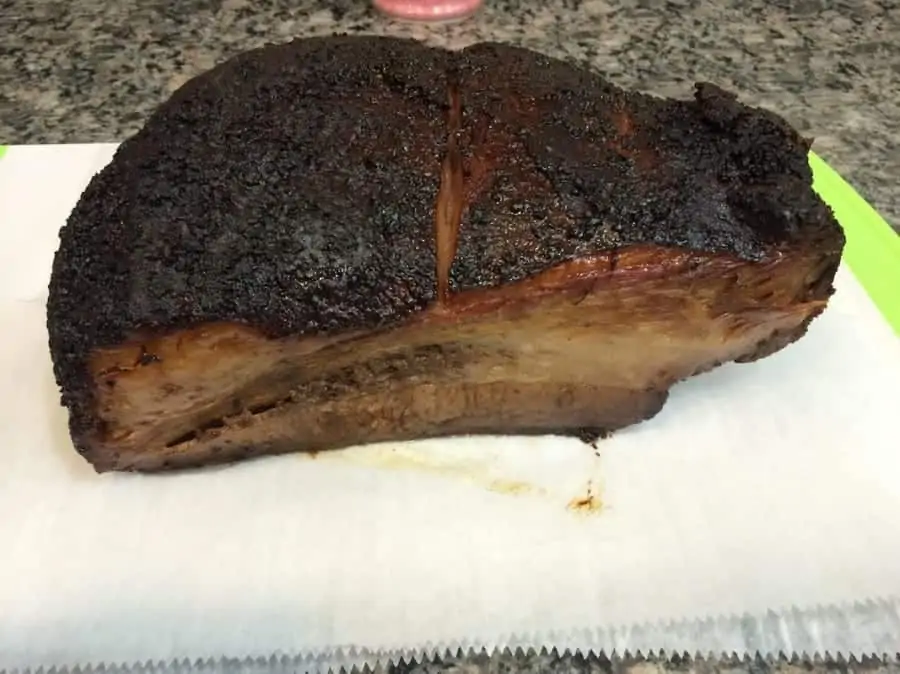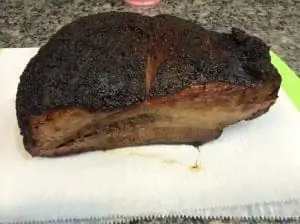 At first glance, the heated brisket isn't exactly a sexy looking thing. I admit that I don't know which part of the cow holds the brisket.
It just sits there, looking a bit like a charred lump of meat. However, the aroma is intoxicating. When the oven door opened to pull it out, every head in the house suddenly turned to this delicious chunk of meat.
My mother thought she was going to stick a large fork in it and move it out of the oven pan. Didn't work that way.
The brisket is so tender and juicy that a fork just slides in and out.  There's no tension to hold up the meat. In other words, this is about as tender as beef gets. Now we had everyone's attention.
4Rivers Holiday Brisket Is A Success
Spending Christmas with family is it's own reward for many, but this brisket was the big hit of our day. I was worried that a re-heated item may not have the same appeal as something freshly prepared, but that concern was unfounded. 4Rivers delivered a perfect brisket and instructions for our holiday meal.