Disney Springs: Your Guide for Dining, Shopping, & Entertainment
Disney Springs, formerly Downtown Disney, is a shopping, dining, and entertainment district located at Walt Disney World Resort in Florida. It's open to the public without requiring an entry fee or ticket to access, making it a great place to spend a day or evening!
There are nearly 200 shops, restaurants, and attractions at Disney Springs, so you're sure to find something that interests you. Just don't expect to see characters like Mickey Mouse walking the pathways.
Disney Springs (Formerly Downtown Disney)
When I was a kid, my parents drove me out to Lake Buena Vista because the Walt Disney Company built a preview center there so we could get an idea of what to expect from their new theme park and Walt Disney World.
It was just a dark brown building with windows. We went inside to discover miniature scale models of the Magic Kingdom. To a little kid, this was pretty exciting.
Years later, that area in Lake Buena Vista became the Disney Village and then Downtown Disney. Now it's Disney Springs, complete with a back story and plenty of updated stores, restaurants, and experiences.
There were always different sections. Pleasure Island (now The Landing) was more of an adult environment with comedy clubs and dance bars. I barely recognize its former self now.
Where the older layout was a bit difficult to navigate, the new layout broke up the flow of foot traffic to keep people from running into each other.
You could describe Disney Springs as an outdoor mall, but there's much more to it than that simple name.
Disney Springs: Shopping, Dining, and Entertainment at Walt Disney World Resort
Unlike other Disney parks, there are no park reservation requirements to visit Disney Springs. It is a free, public place that doesn't require a ticket or entry fee. Some restaurants or events require a reservation or entry fee, such as the Cirque du Soleil shows or the concert venue at House of Blues.
In recent years, the Walt Disney World resort implemented safety measures before you can enter the area. In years past, you could arrive and walk right into any part of the area you wanted.
Now, expect to undergo security screening, metal detectors, and baggage checks.
Disney Parks also warns people of the inherent risk of catching a virus in a place with many people and provides face-covering information. Use your discretion. Disney has some health and safety measures in its operational guidelines. Be sure to check its Experience Updates page to learn more.
The Disney Park face covering information says that masks are optional now.
Once past the safety measures, expect to have a nice time at the site.
Visiting Disney Springs is free, but some service options have a charge. It's part of the Disney Resort; they know how to make a buck.
Here are the four neighborhoods that make up the attractions here.
Marketplace
The Marketplace is the perfect place to pick up souvenirs and gifts for everyone on your list. With its wide variety of shops and restaurants, there's something for everyone at the Marketplace. And you can't beat the location – right in the heart of Disney Springs, with easy access to all the other great shopping and dining experiences the area offers.
This popular destination is home to various shops and restaurants, all reminiscent of the American Craftsman style of the 1930s. Earl of Sandwich has its first restaurant here, and T-Rex Cafe is a must-visit for dinosaur lovers. The Marketplace Causeway is a great option for those who want to stay dry while getting a great view over the water.
The Marketplace is a family-friendly area, and you'll find rides for children, like the Marketplace Carousel and Train. Just park yourself on a bench and let your kids have a good time going around in circles.
This section of Walt Disney World's Disney Springs has all you need for shopping, from artwork, apparel, and accessories to personalized tech gadgets and equipment, pet supplies, house décor, and more.
The Landing
The Landing is the heart of transportation and home to some of the best nautical-themed dining and shopping in town. This is the perfect place to start your day or enjoy a night on the town.
Jock Lindsey's Hangar Bar is a must-stop for any aviation enthusiast. This dive bar is based on the character from the Indiana Jones films and offers a unique experience with great food and drinks.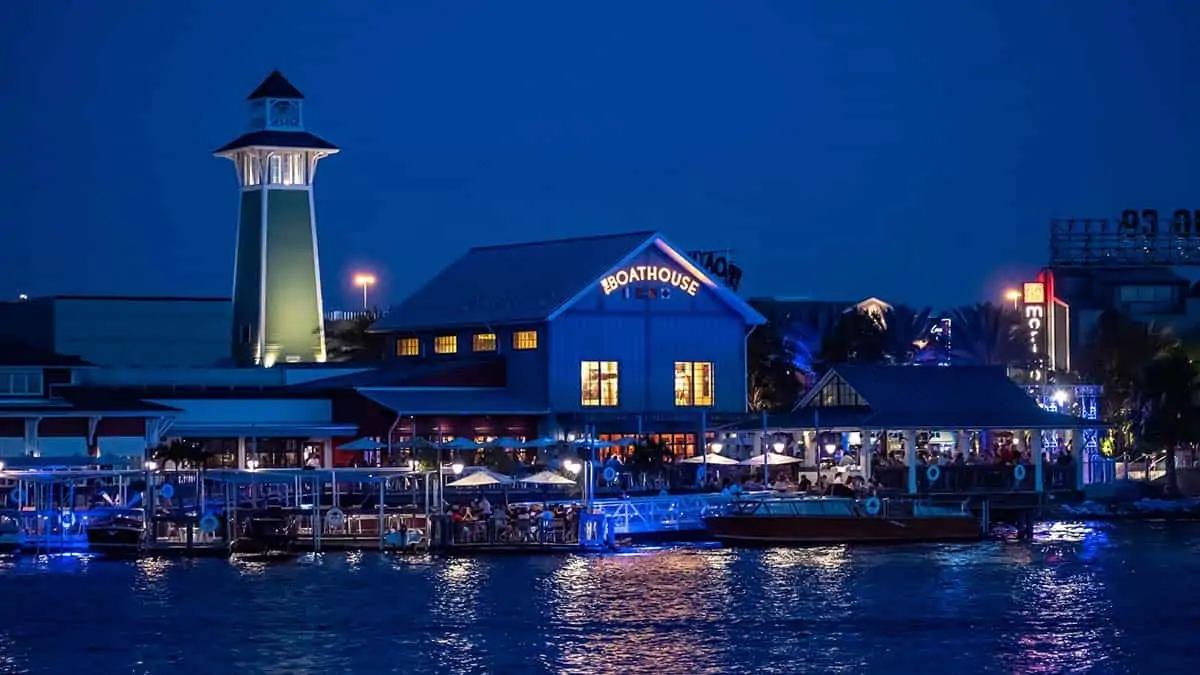 The Boathouse is another must-see while at The Landing. This is the port for the amphibious automobiles that offer cruises of Lake Buena Vista. The Boathouse also features a great menu with a wide variety of seafood options.
This was once the site of Pleasure Island, a nighttime leisure activities district with two comedy clubs and four dance clubs, but since transformed into the perfect place to relax and recharge.
Town Center
This unique shopping destination features Spanish Revival architecture and an array of well-known retailers.
The Town Center serves as the beginning of Disney Springs' narrative. By a series of natural springs, settlers were drawn to the area. This features a mid-town walkway on which visitors can discover shopping and food.
The Town Center's debut in 2016 was built on former surface parking lots. It has since been a hub for visitors and locals alike, offering a wide variety of shops and restaurants. In the first phase of development, retailers such as Anthropologie, Uniqlo, Sephora, L'Occitane en Provence, Pandora, UGG, Johnston & Murphy, ZARA, Kate Spade, and Trophy Room opened their doors to shoppers.
With its convenient location and stunning setting, Town Center is the perfect place to spend a day (or two) shopping, dining, and exploring.
West Side
The West Side is where you'll find a variety of unique shops, restaurants, and entertainment venues, all nestled within a charming 1950s-themed setting.
If you're looking for some delicious dining options, be sure to check out House of Blues or Planet Hollywood. Or, if you're in the mood for some fun and games, Splitsville Luxury Lanes is the perfect spot for a night out with friends.
And, of course, no trip to West End would be complete without catching a movie at AMC Megaplex.
The West Side is where you'll find the world-renowned Cirque du Soleil performing their Drawn to Life show. This is an immersive, one-of-a-kind experience you won't miss.
Cirque du Soleil brings its signature acrobatics, aerial feats, and stunning visuals to this unique production. The show follows the story of a girl who discovers a magic pen that allows her to bring her drawings to life. You'll be captivated from start to finish by this must-see performance.
It's an experience you'll never forget.
Entertainment and Experiences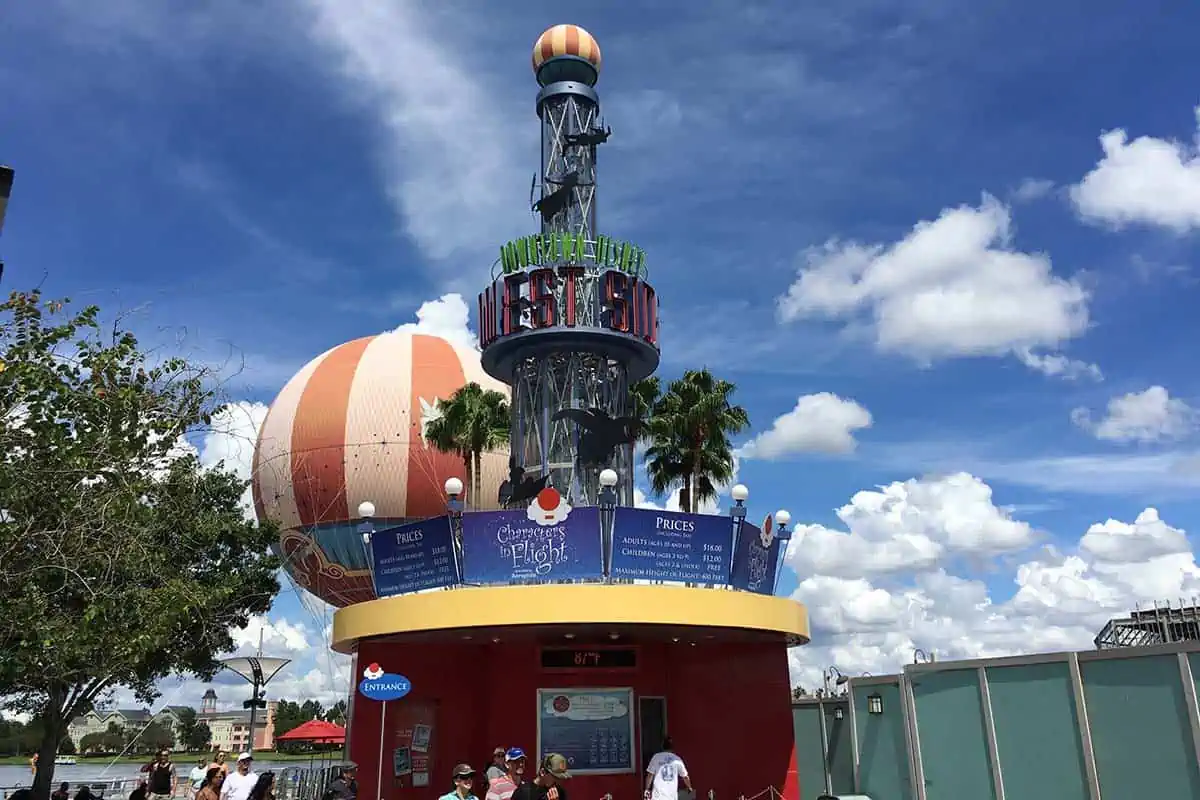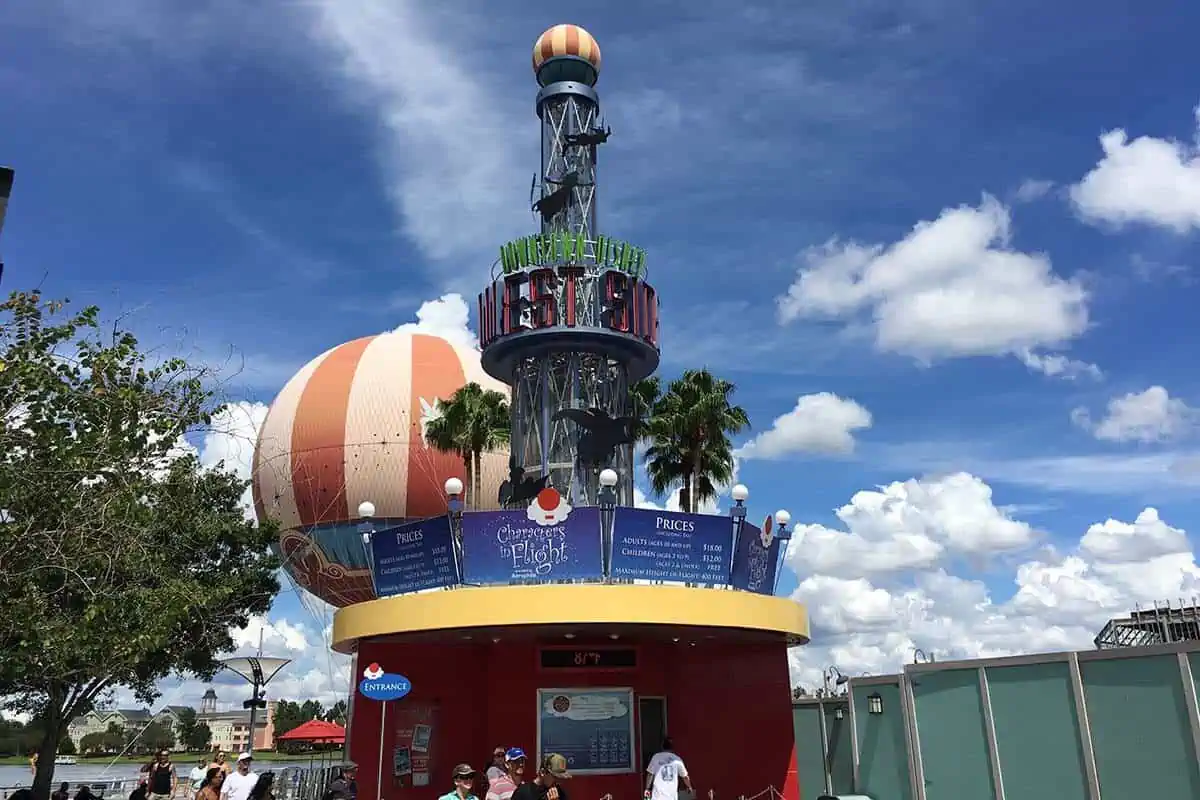 Disney Springs is home to a variety of unique entertainment and experiences. Be sure to check out some of these must-see attractions during your visit.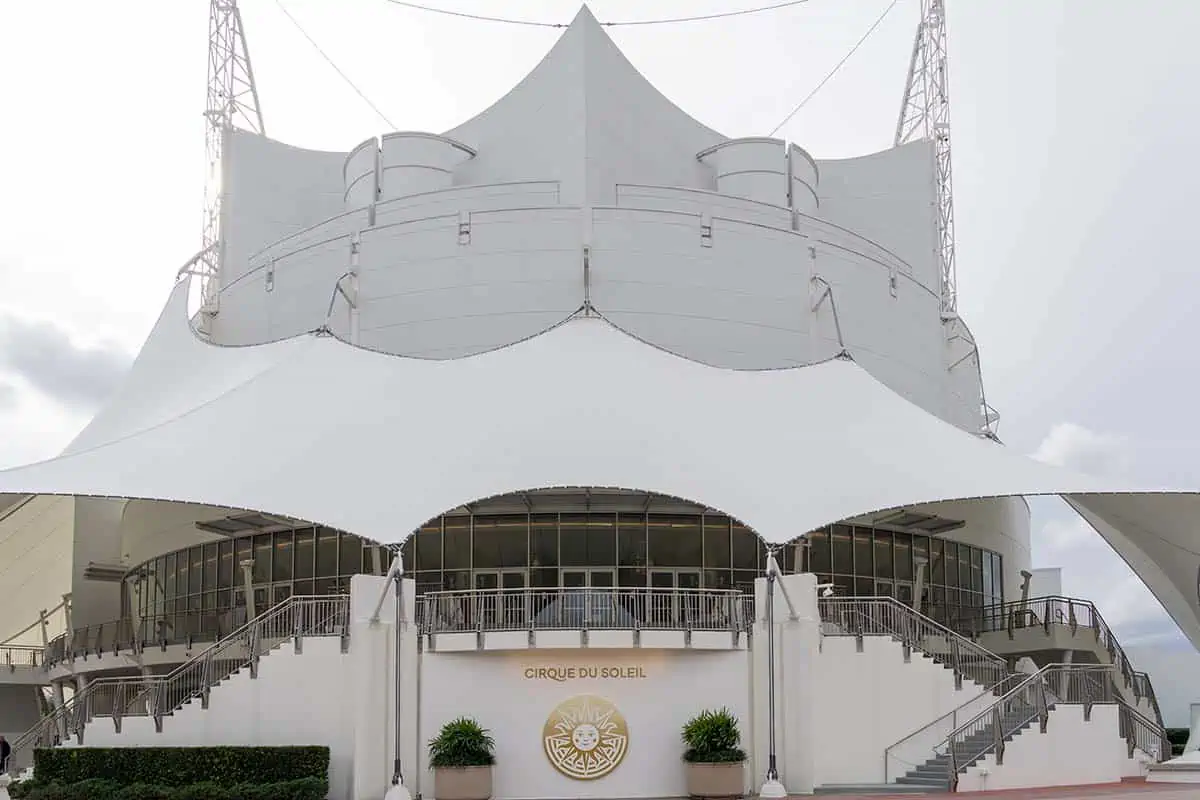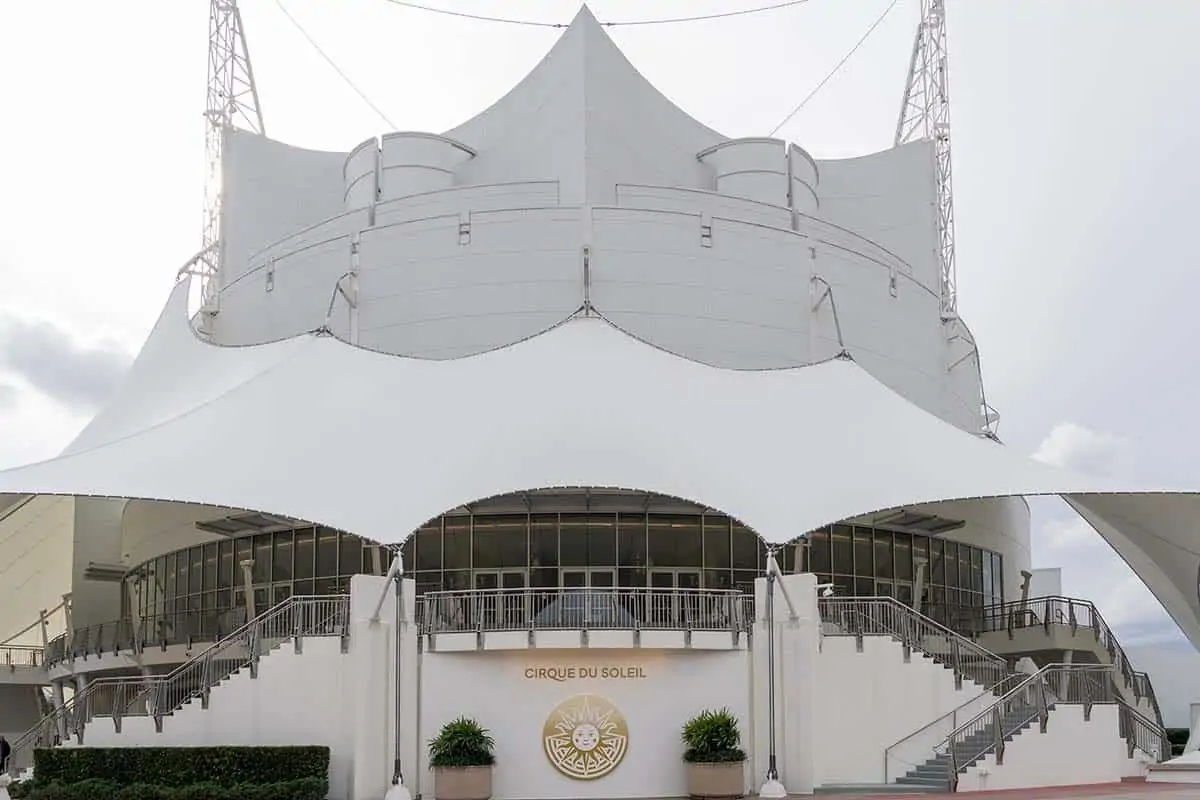 One of the most popular experiences at Disney Springs is Cirque du Soleil's Drawn to Life. This immersive show tells the story of a girl who discovers a magic pen that allows her to bring her drawings to life. You'll be captivated by the acrobatics, aerial feats, and stunning visuals of this one-of-a-kind performance.
For a truly unique experience, take a ride on the Characters in Flight balloon. This tethered helium balloon takes guests 400 feet above Disney Springs for breathtaking views of the area. You can even see theme parks like Magic Kingdom Park and Epcot!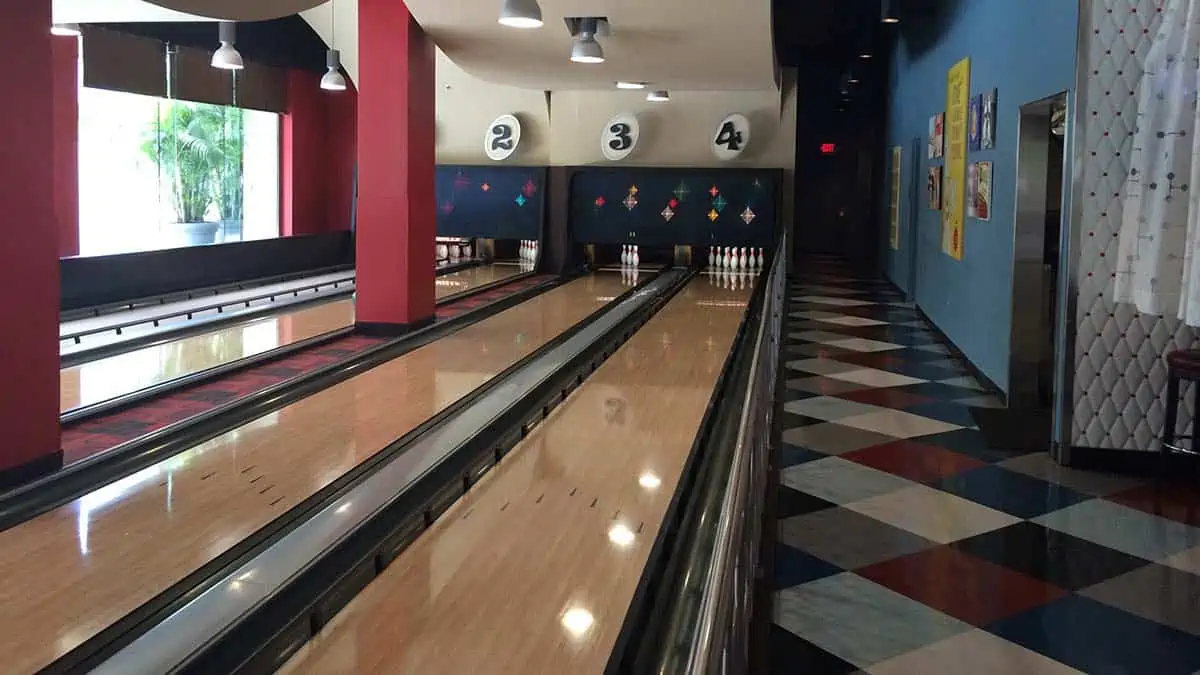 If you're looking for some fun and games, Splitsville Luxury Lanes is the perfect spot for a night out with friends. This upscale bowling alley features 30 lanes, a full-service restaurant and bar, and live music on select nights.
And, of course, no trip to Disney Springs would be complete without catching a movie at AMC Megaplex. This state-of-the-art theater features 18 screens, stadium seating, and all the latest blockbusters.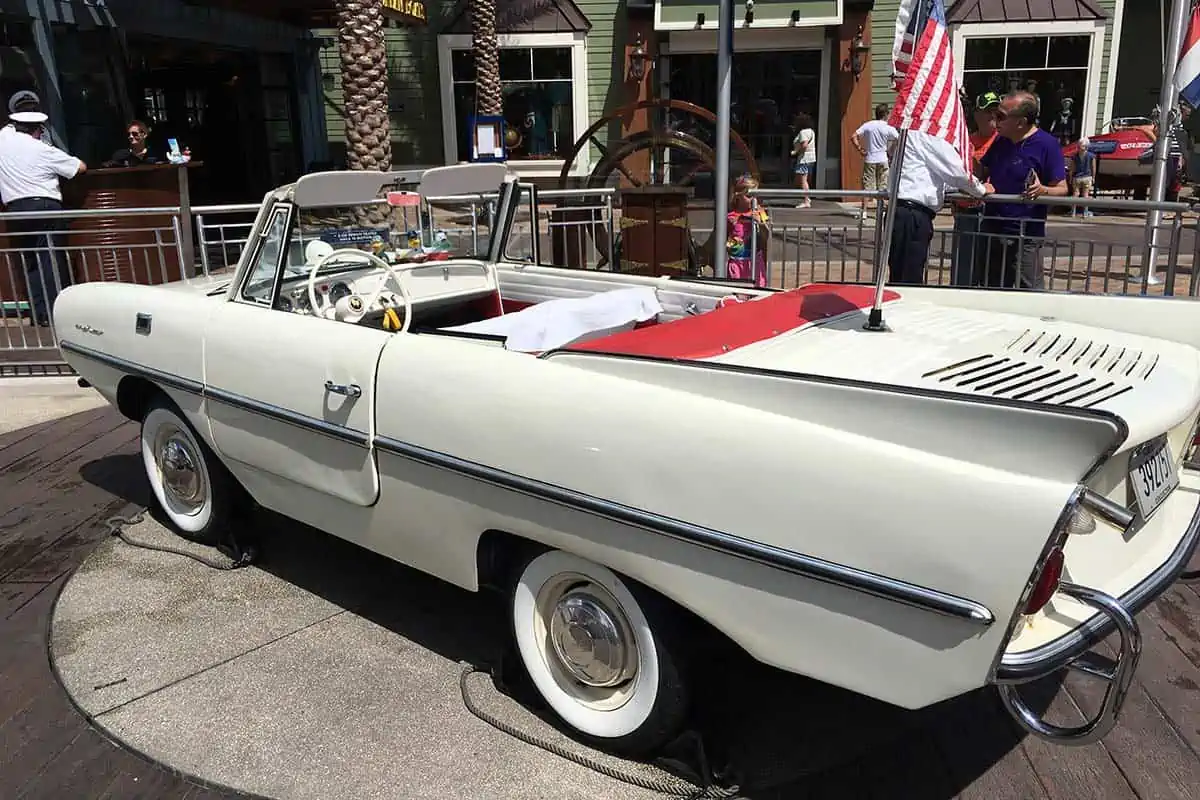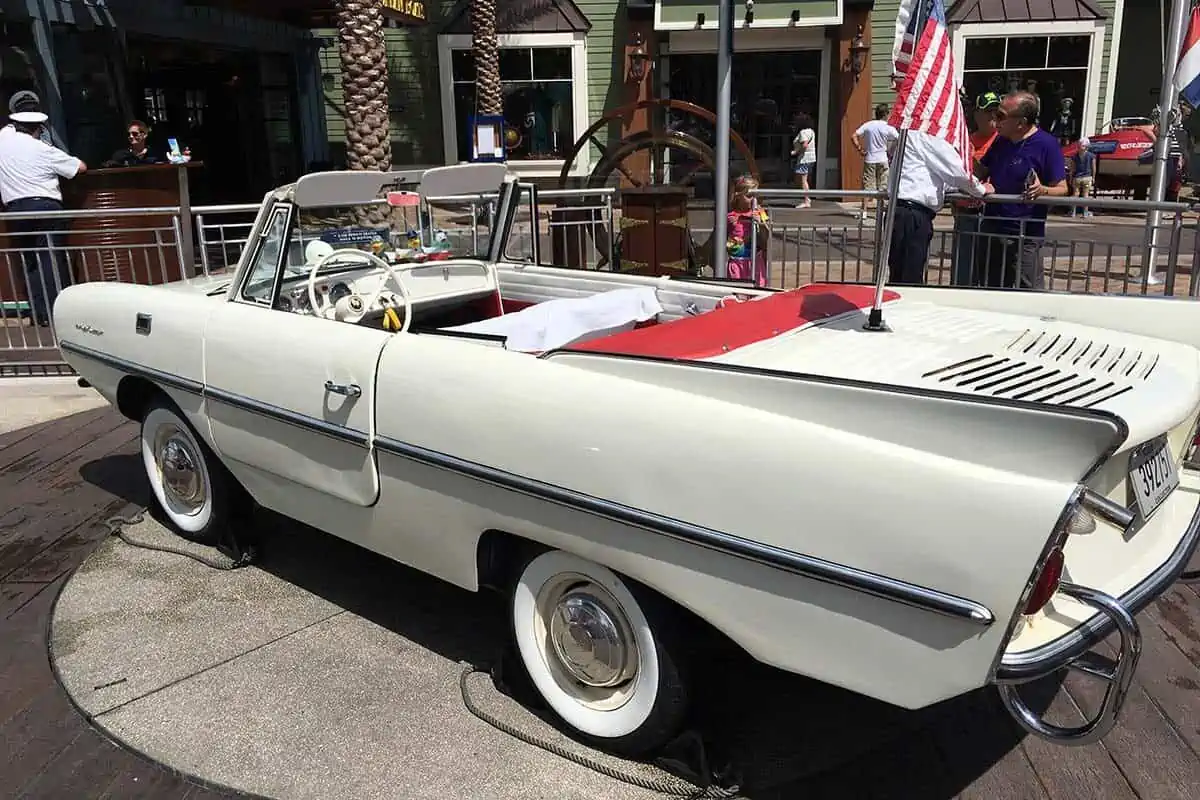 If you're looking for a unique experience at Disney Springs, check out the Amphicar. This one-of-a-kind attraction takes guests on a thrilling ride around the area's waterways.
The Amphicar is a vintage car that can drive on land or in water. It's the perfect way to see Disney Springs from a new perspective. And, best of all, you can even take a spin in the driver's seat!
Dining Options: Quick Service Snacks, Food Trucks, and Fine Dining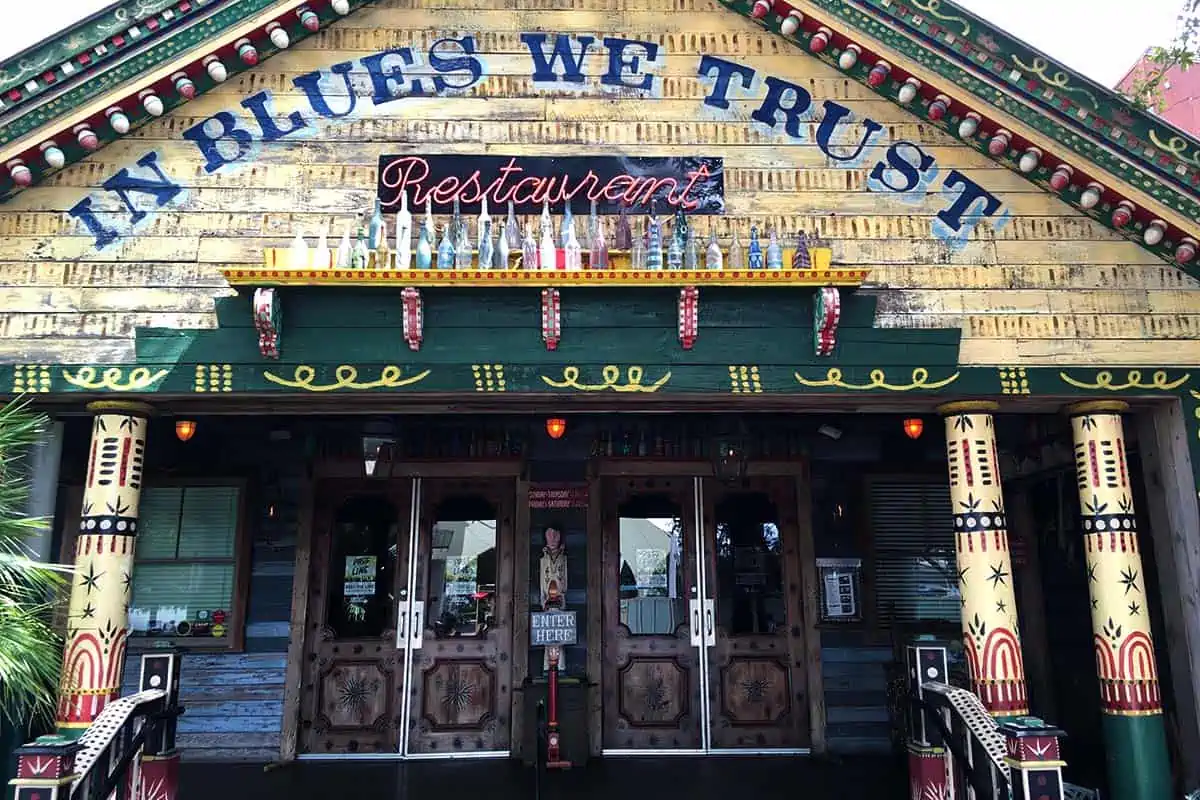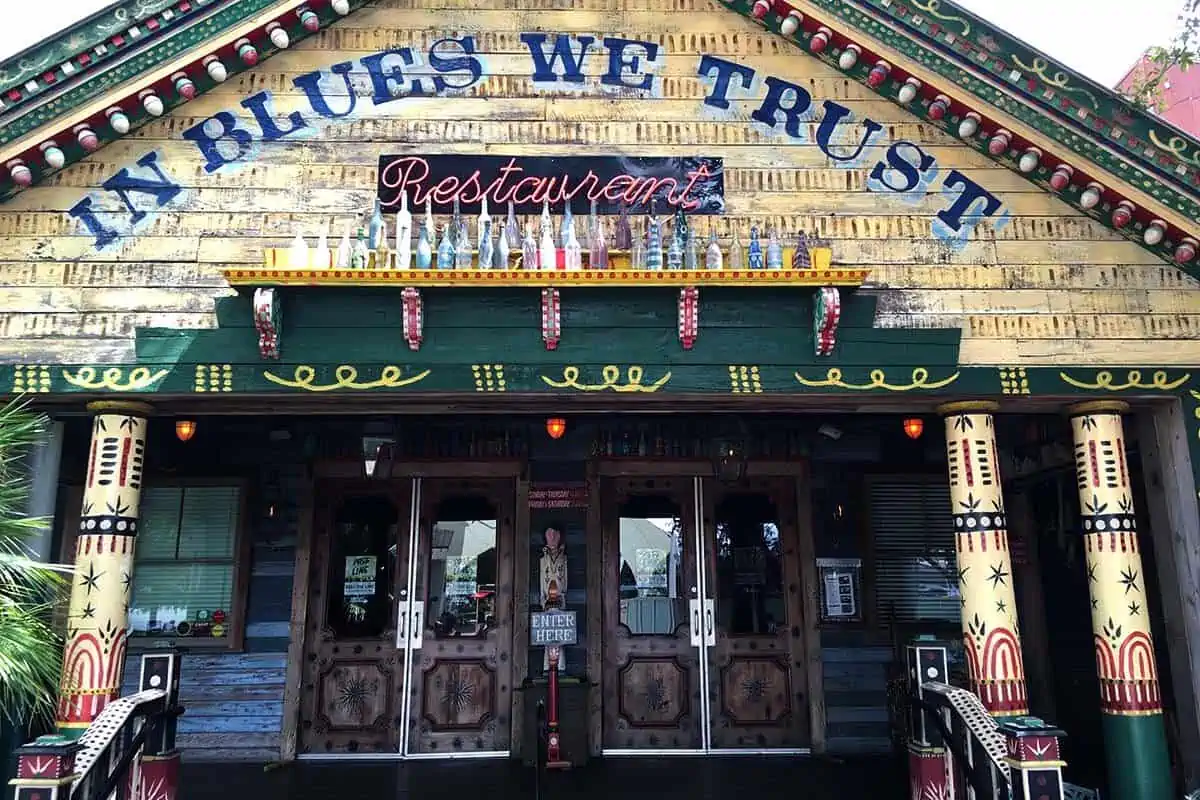 One of our favorite places to eat is House of Blues Orlando at Disney Springs. There's something for everyone in our family. We love the atmosphere, music, and character of this restaurant. It's also one of the restaurants where we have never had bad service.
The Express at Wolfgang Puck Grande Cafe is one of our favorite counter service restaurants. You order at the register, find a seat, and the servers bring out your meal.
There are plenty of other dining options, including two that mix with entertainment. AMC Disney Springs is a dine-in movie theater, and Splitsville has some nice meals while you bowl.
Browsing in Everything from Boutiques to Megastores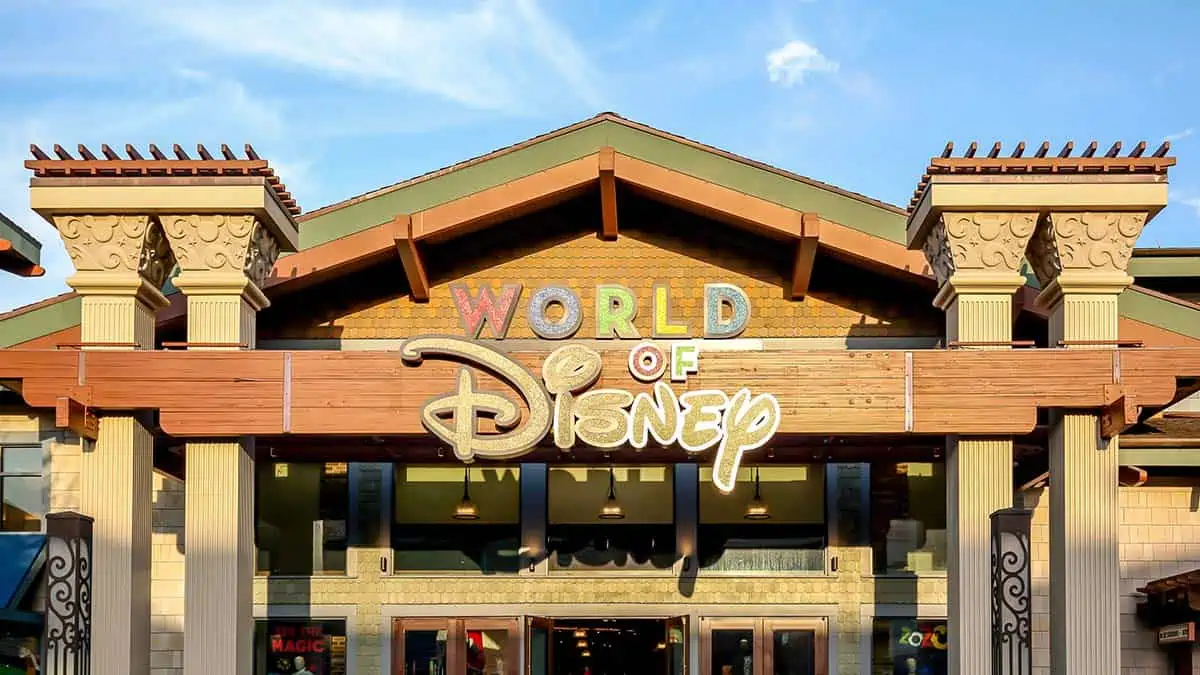 If you're looking for Disney merchandise, head to the World of Disney. It has a larger selection than most gift shops inside the parks. You'll find lots of stuffed toys and t-shirts with Mickey Mouse and other characters in sizes for children and adults.
There are plenty of other stores at Disney Springs, from small boutiques to massive corporate swag stores from Coca-Cola, Lego, Harley Davidson, and others.
The change from Downtown Disney to Disney Springs seems to put more emphasis on shopping, including many high-end shops that you can find in malls all over the country. I appreciate the architecture and landscaping of the new areas.
Here are some of the shops you'll find in the Marketplace neighborhood: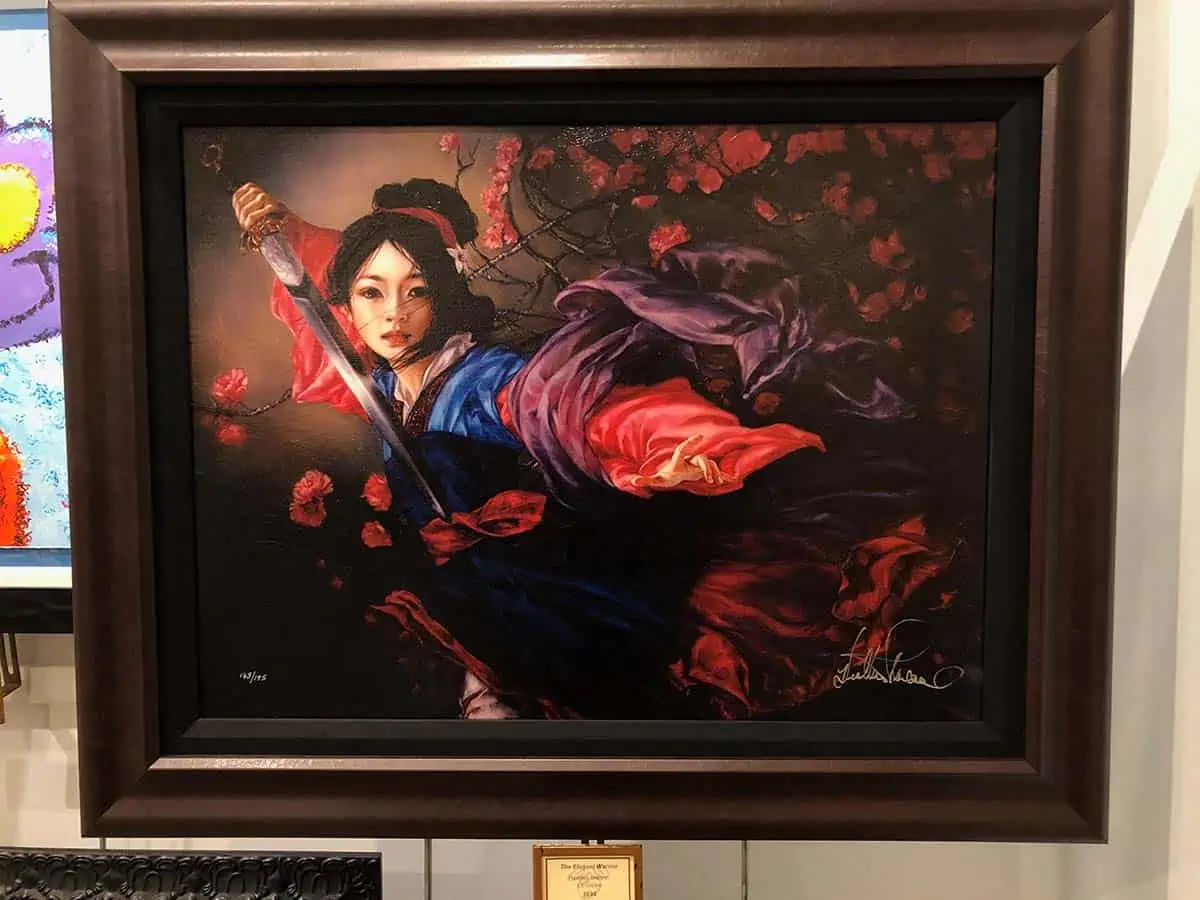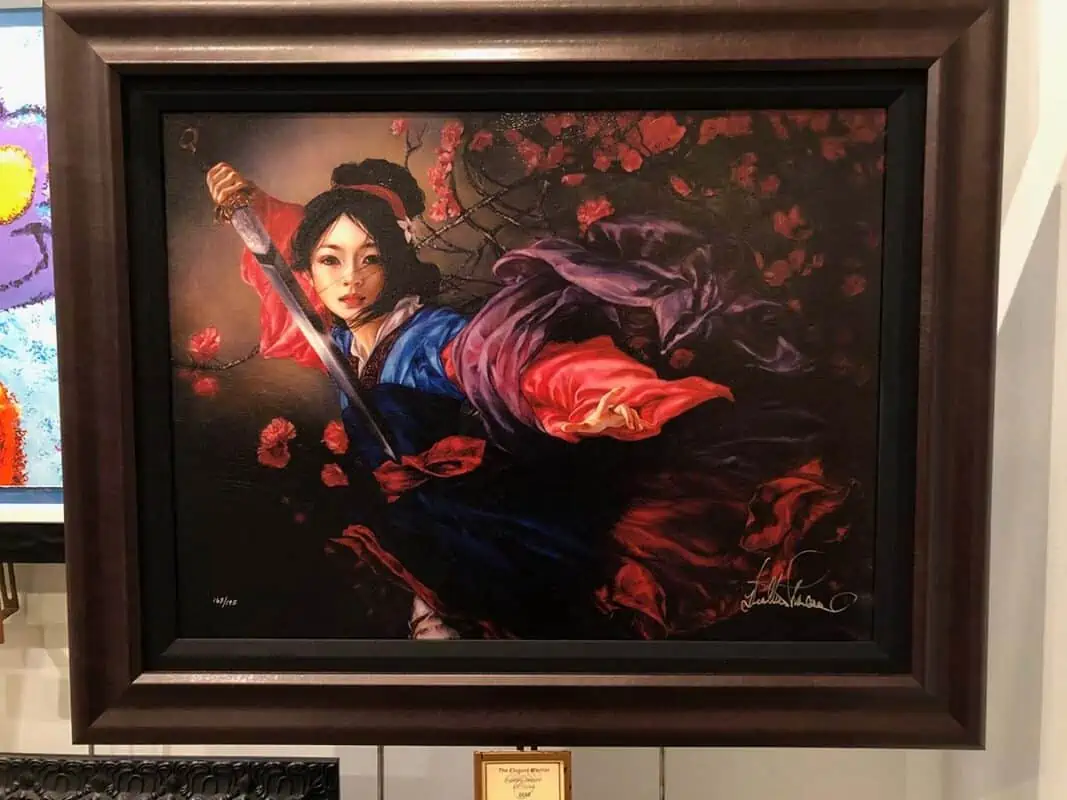 The Art of Disney has wonderful examples of interpreting Disney characters, like this painting of Mulan. Many different styles of artwork are on display, and it's worth a look.
In my case, I bought a pair of Mike Kungl Star Wars posters representing the Rebel Alliance and the Empire in propaganda-style artwork. It's a nice place to shop and find a present for yourself.
Disney Springs Info
Website: https://www.disneysprings.com/
Operating Hours
Typically open from 10:00 AM EST to 11:00 PM EST. On Friday and Saturday, the closing time is 11:30 PM EST.
Parking Info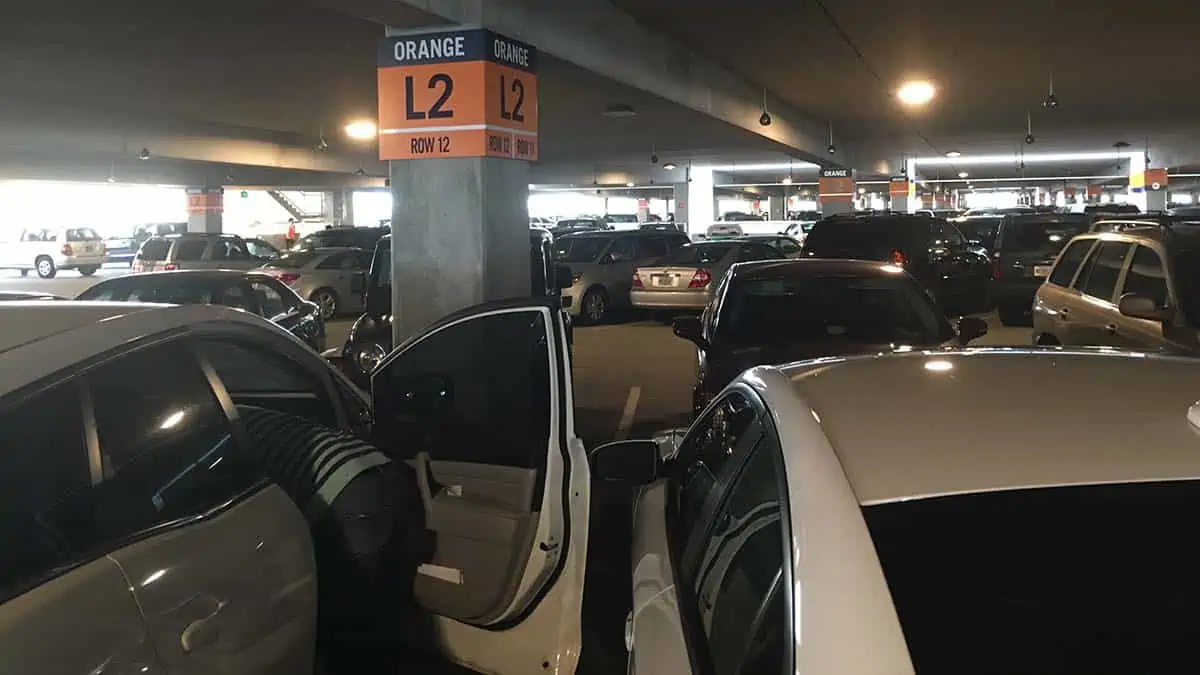 If you have a car, the Disney Springs garages are the most organized parking spaces I've ever seen.
There are sensors over each parking space, which lets a computer system know how many open spaces are available on each garage floor. As you approach, you'll see a sign displaying the number of available spaces on the floor.
Once you get to a floor, signs on each lane show how many available spaces remain. Finally, a light over each space to help you spot an open parking space.
It's convenient and effective parking!
There are five parking areas with three garages and two surface lots:
Directions to Disney Springs
Disney Springs Address:
1486 Buena Vista Drive
PO BOX 10150
Lake Buena Vista, Fl 32830
Take Exit 67 out of I-4 and follow the signs to merge onto East Buena Vista Drive.
It's not within the Orlando city limits, despite what many people expect from Orlando's premier attractions. The Walt Disney World Resort is in Lake Buena Vista, Florida.
It's east of Disney's Hollywood Studios and Epcot and across the street from water parks like Disney's Typhoon Lagoon.
For resort guests staying at resort hotels on Disney's Sassagoula river, you can take a short boat ride to and from Disney Springs.
Guests at other resorts can take a Disney bus to get there.
What to Wear at Disney Springs
In most cases, you can wear the same comfortable clothes and shoes to any Walt Disney World resort hotels or theme parks. Some restaurants, like STK, recommend business casual dress. However, you'll still find people inside wearing park clothes and other casual wear.
Get some comfortable shoes, as you'll do a lot of walking here, just as you do at the theme parks in Walt Disney World.
Here's a brief translation of the Disney World dress code:
This list covers the basics, but please click the Disney Dress Code link for their official policy statement.
What to Bring to Disney Springs
You can arrive with just the clothes on your back and have a good time, but you may want to bring a few accessories.
\We recommend that you bring a camera for photos or video. In most cases, a mobile phone works fine. A DSLR or Mirrorless camera may be a better option if you're into capturing higher-quality photos.
You may want to carry a backpack or sling bag to keep your items within reach or have a place to hold your purchases. Before entering any Walt Disney World resort property, keep the bag inspection in mind.
What NOT to Bring to Disney Springs
Speaking from experience, I'd recommend that you avoid bringing a tripod to Disney Springs. I had a horrible experience with park security simply because I was taking some photos for HDR (which requires brackets of different exposures to merge together later).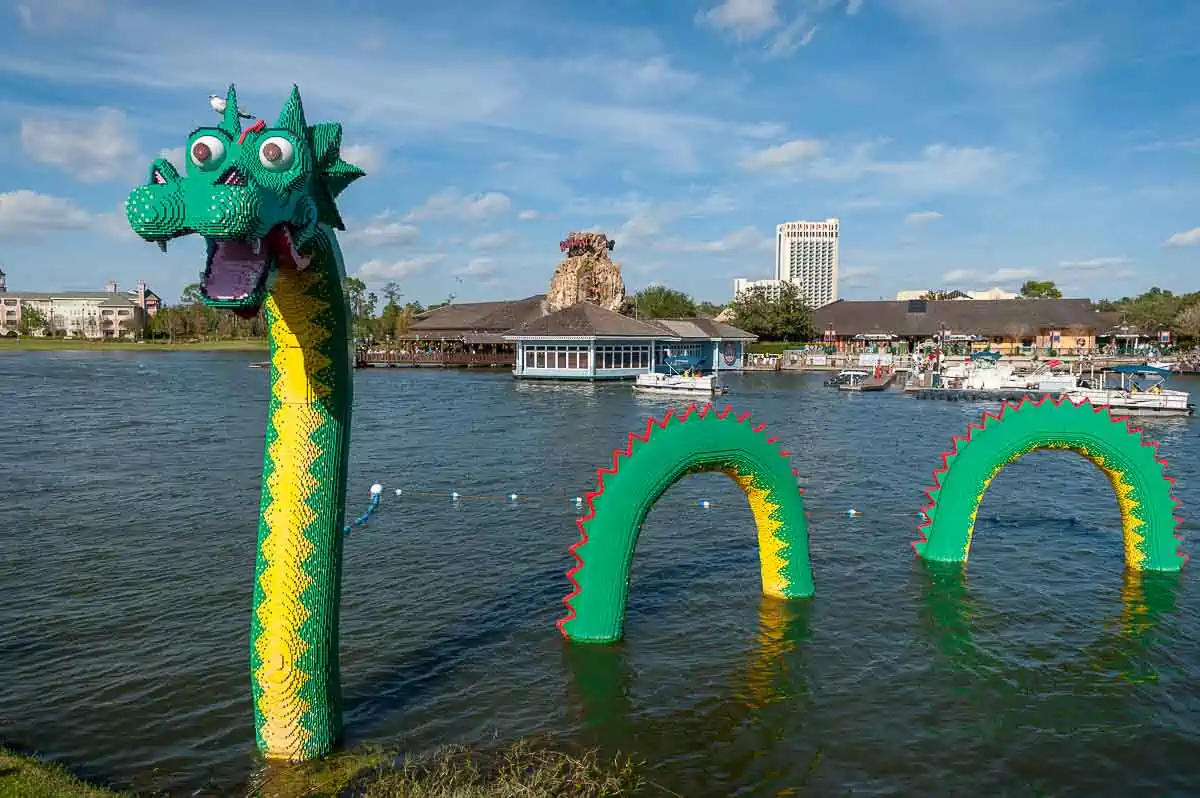 A short time later, internationally famous photographer Trey Ratcliff had the same horrible experience with park security. He used his tripod to take photos of the Lego Sea Monster there. They even called deputies to check him out because he didn't have an ID.
Since Disney doesn't like "professional cameras," you can also bet they don't want weapons or drugs. Remember, before entering the area, you must pass their security screening.
Yes, it's a public place, but it's private property. Walt Disney World resort sets the rules for what it does and does not allow.
You may also want to avoid umbrellas and selfie sticks at any Disney World property. It gets pretty crowded sometimes, and those things can ruin the fun if you whack someone in the eye.
Walt Disney Company & Florida
Recently, there's been some tension between the Walt Disney World company and the state of Florida. After Disney CEO Bob Chapek commented on a law passed in Florida, the state legislature proposed dismantling the Reedy Creek Improvement District, which was the Walt Disney World Resort's private government entity.
People on both sides of the issue are upset. Reedy Creek is responsible for providing services like fire protection and sewage treatment to the Walt Disney World Resort.
The state legislature says they want to bring more accountability to the entity, while Disney argues that this would make it harder to operate their resort effectively.
Many improvement districts within Florida exist, but Reedy Creek is the only one operated by a corporate for self-taxation and governance. As the Walt Disney World Resort property sits across two counties – Orange and Osceola, it's unclear how the division would work.
The Florida governor suggested that the state may take over rather than put the burden on the counties in the area.
How does this affect you? It doesn't impact any of the health and safety measures implemented at the Walt Disney World Resort or operational guidelines in its theme parks. The change becomes official in June 2023, and there are still details in play that must be resolved.
We Think You'll Love Disney Springs
Disney Springs is a great place to visit if you're looking for good shopping and dining options. You'll find plenty of stores and restaurants to choose from, and the atmosphere is fun and relaxed. Just be sure to bring your camera – you'll want to capture all the memories you make here!
Get Free Updates of The Orlando Local Show
Discover More Episodes!