Chuy's Tex-Mex Review | Delicious Mexican Fare in a Casual Setting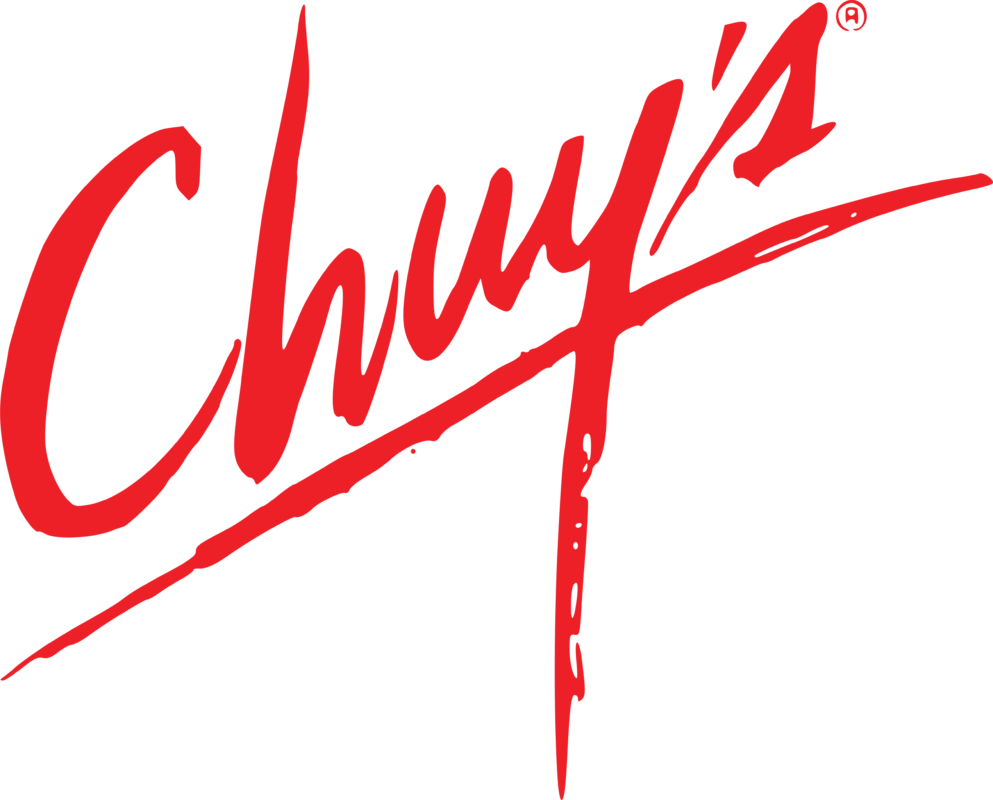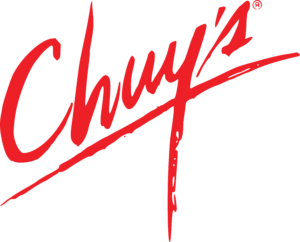 Restaurant Name: Chuy's Tex-Mex
Restaurant Description: Craving some delicious Mexican cuisine? Look no further than Chuy's Tex-Mex! From tacos to enchiladas, they've got something for everyone. Read on for our review of this popular restaurant.
Price range: $10 - $30
Address: 8123 International Drive Orlando, FL 32819
Cuisine: Tex-Mex
Telephone: (407) 730-3602
Summary
Chuy's Tex-Mex restaurants are fun places that don't take themselves too seriously, except when presenting you with great Tex-Mex food in a friendly environment. Although this is a chain restaurant, most of our experiences were very pleasant and we've returned many times for more amazing meals.
Food Quality

Service

Atmosphere

Value for Money
Pros
Friendly service
Delicious Tex-Mex cuisine
Separate dining rooms reduce noise
Very clean
Your cup never runs dry
Cons
The dining rooms are garish (but that's also fun)
Poor experiences re-opening from pandemic
On Saturday my family headed down to Chuy's Tex-Mex restaurant on International Drive for lunch and our review. In fact, we've enjoyed a number of good meals at a few of the Chuy's Tex-Mex restaurants in our area. Why do we keep going back?
Everyone in our family enjoys Tex Mex dishes.   We've tried most of the well-known chains in the Orlando area and so far, Chuy's is our favorite.
Check out our list of Top 10 Restaurants
There's a Reason Why You Go Back
Consistency is important. If there is one thing we all need when choosing where to eat, it's knowing what to expect. Restaurant menus are generally easy to reference online. That's the easy part.
But more importantly, when we return to dine at a location where we previously had a good experience, we like to know what we are getting. That goes for good food quality, quantity, atmosphere, and service.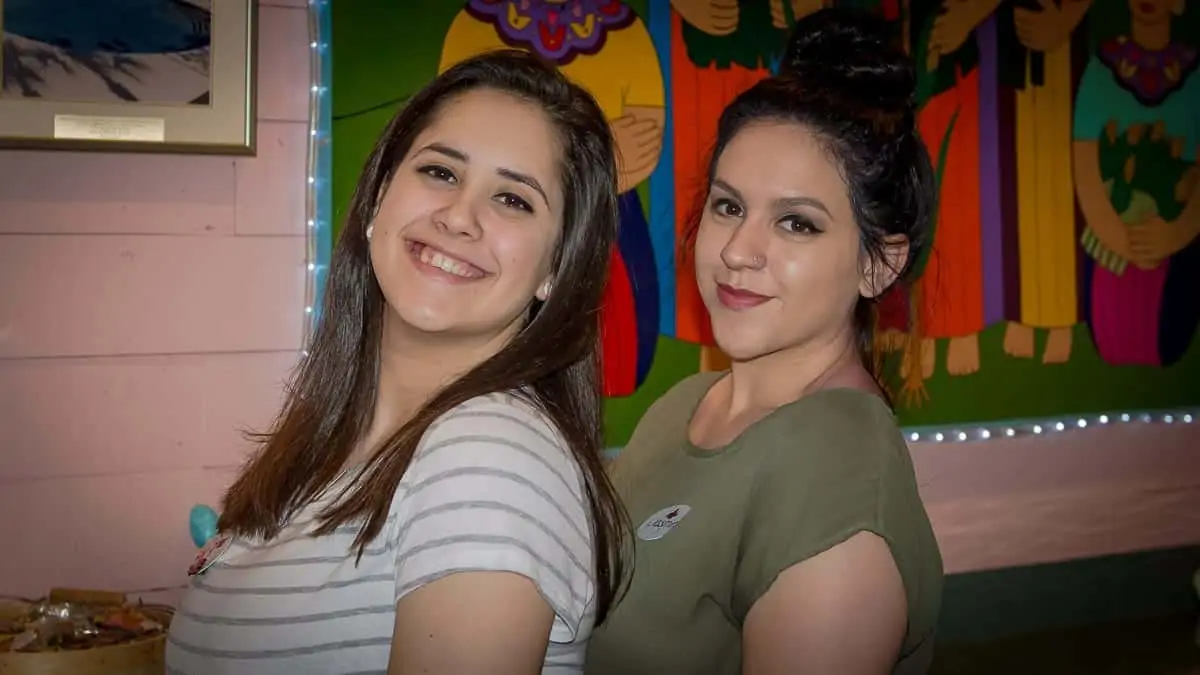 Chuy's Makes You Feel Welcome
As soon as we walked through the double doors, we were greeted with a big smile by the friendly hostess who welcomed us in and took us straight to our table.
Our hostess chattered to us cheerfully as she led us past a vibrant and beautiful seasonal display set up at the entrance. There are different dining rooms, each colorful and with its own theme.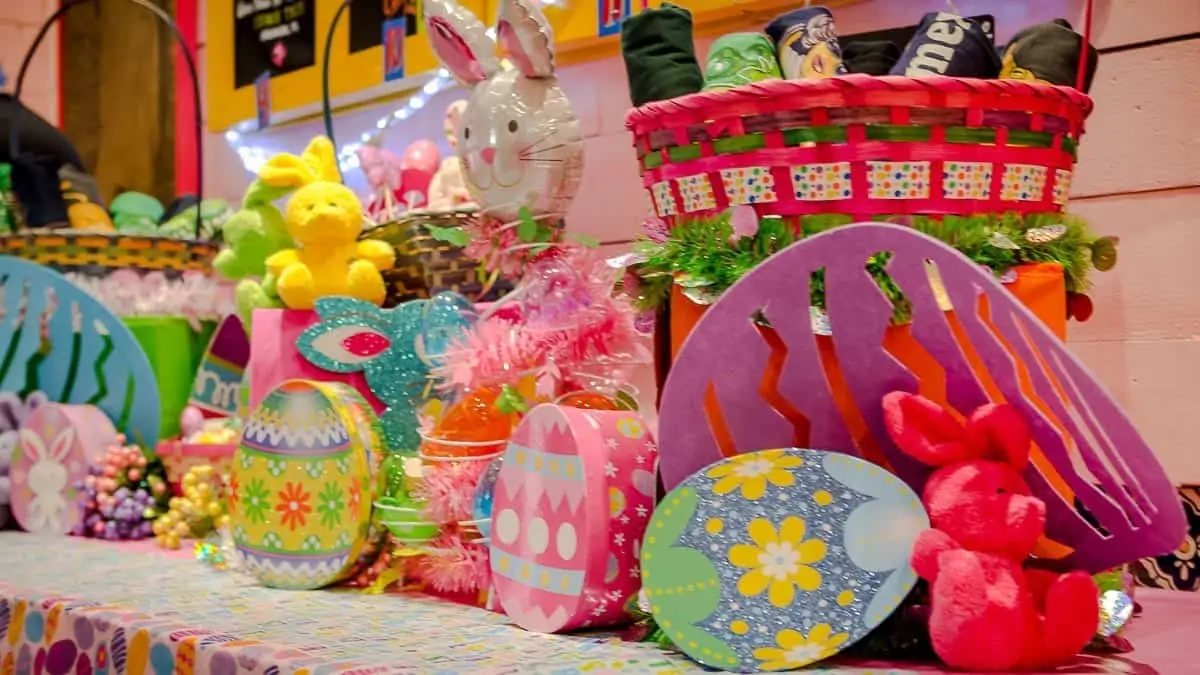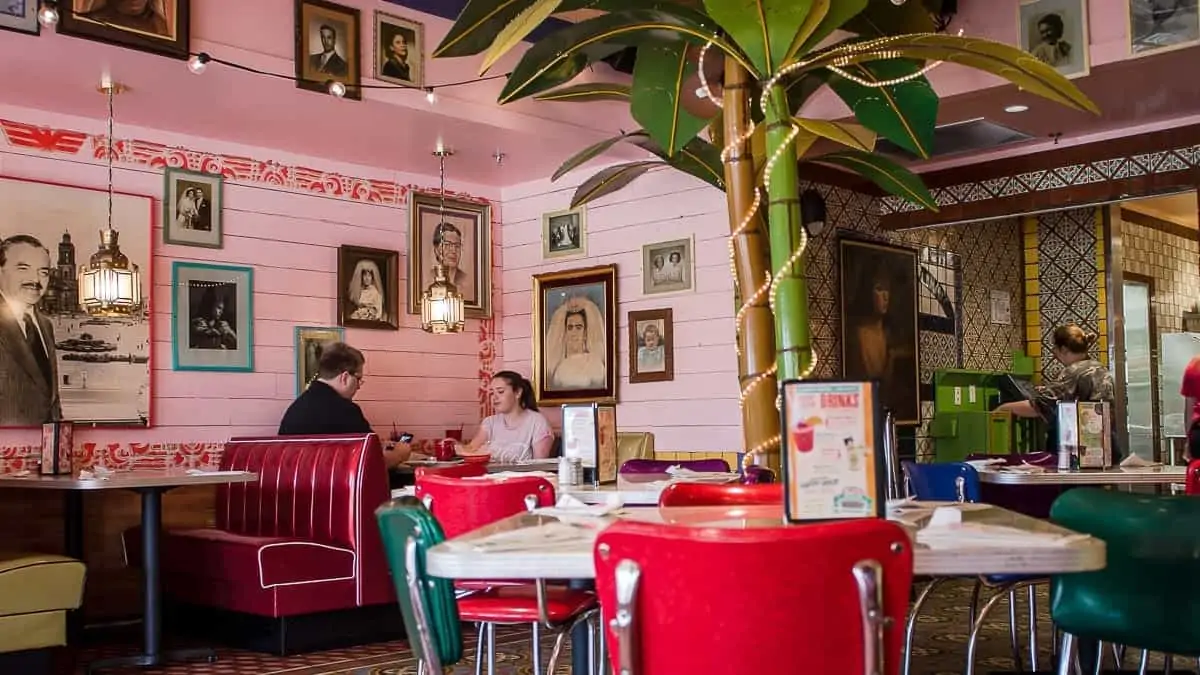 The decor is bright, adding to the cheerful atmosphere and sense of energy you feel as soon as you enter the restaurant.
Eclectic Dining Rooms
There are several separate dining rooms, which helps create a more intimate feel to the dining experience. Finding the balance between an energetic atmosphere and avoiding a feeling of chaos and crowding can be tricky.
Grouping tables into smaller sections seem to work well to balance energy and calm. Despite the relatively large seating capacity, you don't feel like you're in a massive open dining hall.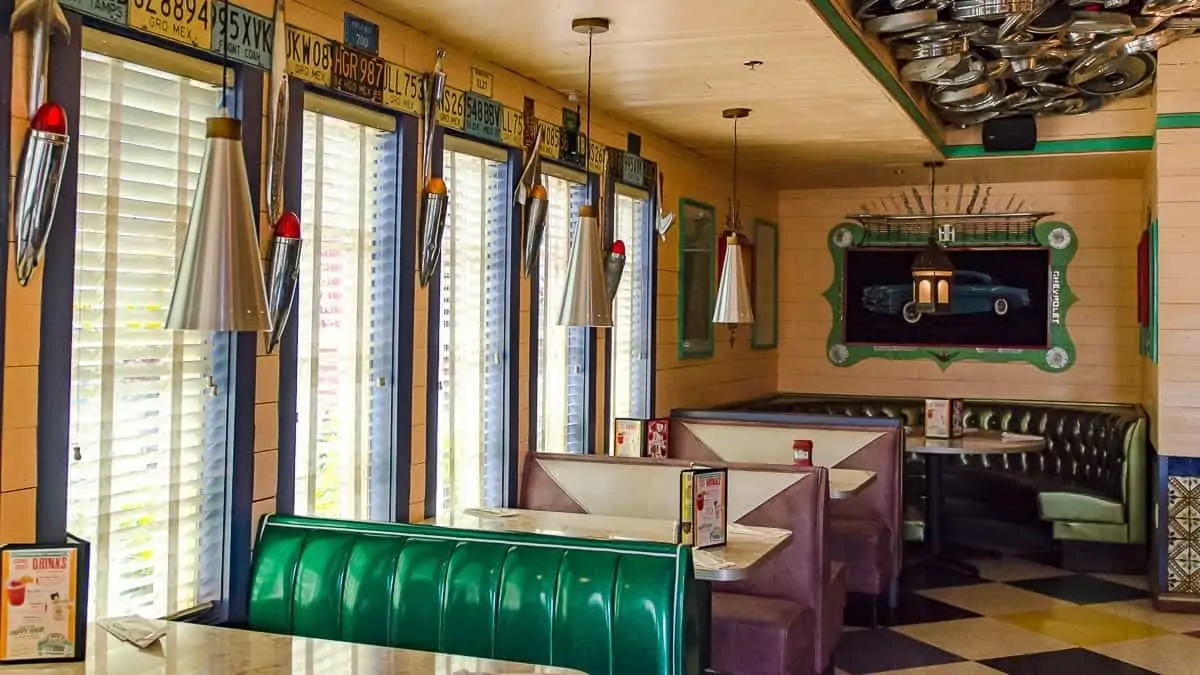 Almost immediately after taking our seats, our server came to introduce herself and bring a basket of tortilla chips and a bowl of salsa for the group.
We sometimes order a portion of queso or guacamole to go with the chips, but we were happy to go with the salsa only, this time.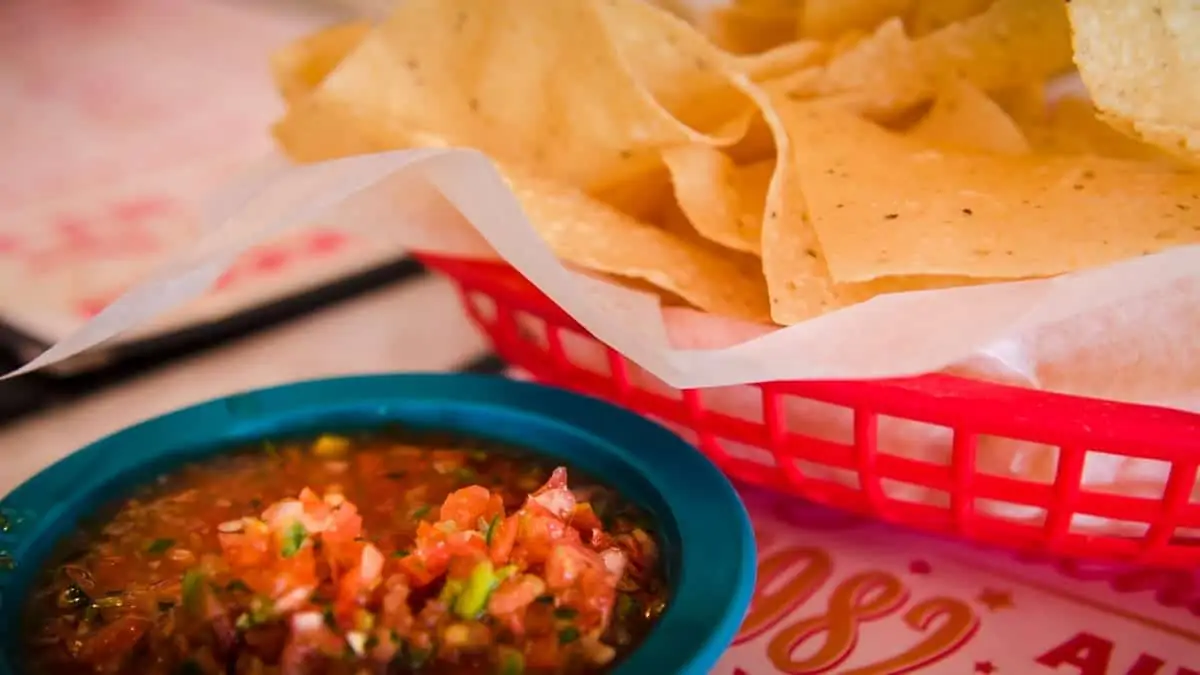 Chuy's servers are always friendly and very attentive to our needs. As a group with widely varying tastes and preferences for food, we usually have at least one special request for a substitute or omission.
They are consistently eager to accommodate us and our quirky tastes and I don't believe we have ever had to make any additional requests or return anything.
Tuning in to the needs of the guest is a fundamental part of good service and Chuy's servers have never failed us in this regard. The servers also score extra points for making sure our glasses are never empty.
Nobody Likes Eating On A Messy Table
Chuy's does a good job of maintaining the guest areas for a pleasant experience. There are no bits of paper and old napkins on the floor under your seat.
The silverware is already laid out on the tables when you are seated, but it's wrapped in protective paper and sealed with a sticker.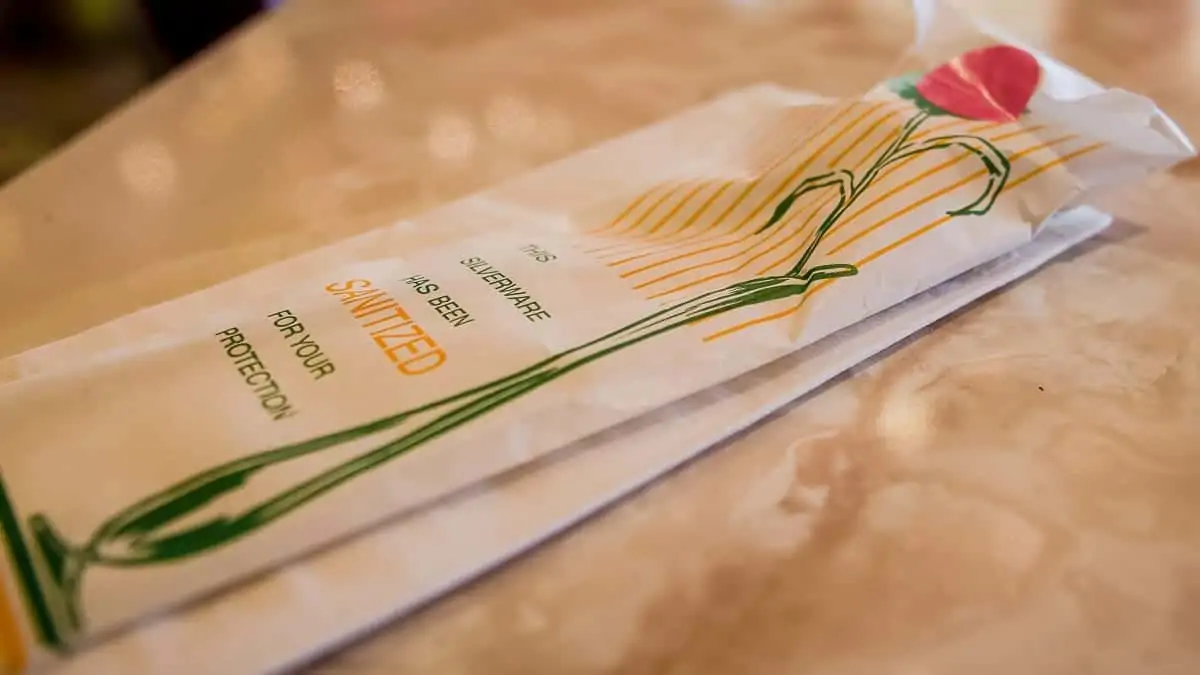 Attentive Service. Friendly Attitude.
Once our server had our order, the preparation of our meals was reasonably quick. The ingredients here taste fresh. Two ladies in a windowed booth stood rolling out fresh flour tortillas near where we were sitting.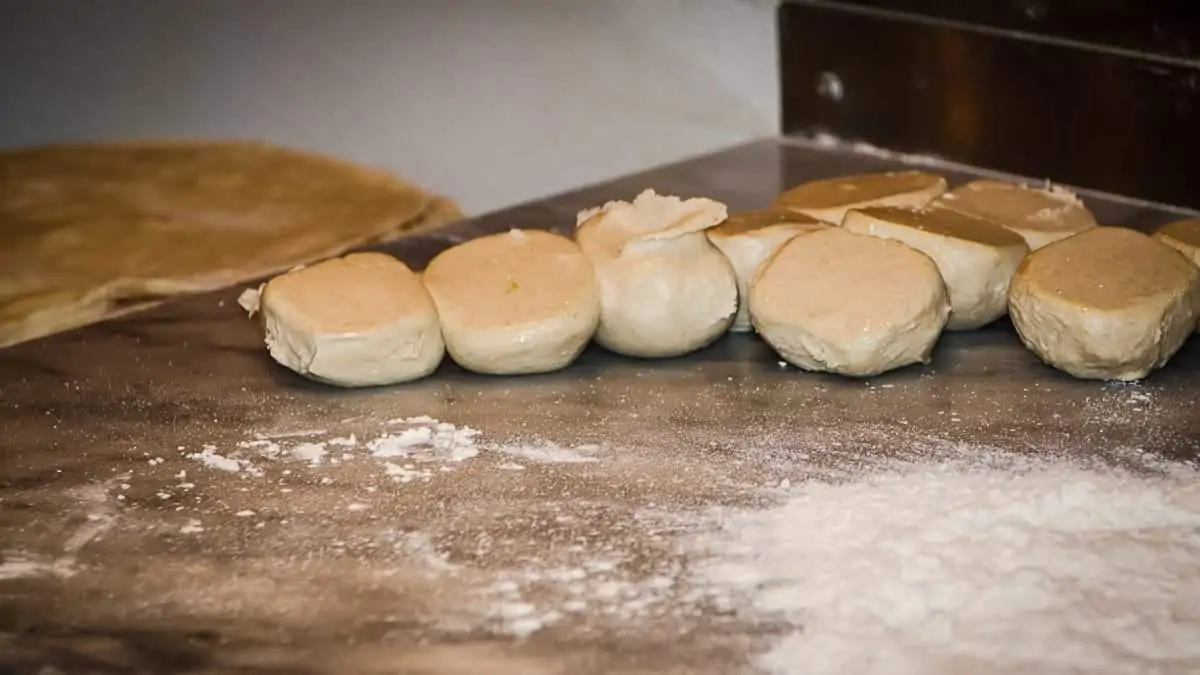 The food always arrives hot! This is something I always notice. As they place food in front of the guests, the servers caution you that the plates are also hot.
Clouds of steam were radiating from my husband's beef fajitas and we could feel the heat rising from each of our plates.
Fresh, Authentic Tex-Mex
Each of us ordered something different.
My husband ordered beef fajitas. A generous portion of sizzling hot fajita beef strips, surrounded by a bed of sautéed mixed peppers arrived on a cast-iron skillet. Warm, hand-made soft flour tortillas are served in a flat bottomed bowl with a lid to keep the heat in, with sides of refried beans and Mexican rice.
The pico de gallo, sour cream, lettuce, and guacamole are served separately so you can assemble your fajitas just the way you like them. It's a good meal for someone who loves Tex Mex.
My meal was the appetizer plate. Yes, it's a lot of food for one person. After all, it's intended for sharing, but I like the variety and always end up taking home what I can't finish.
This platter includes nachos, prepared on soft tacos with refried beans and cheese, topped with jalapeño slices. There is no meat on these and they are fairly mild, but certainly not lacking in flavor.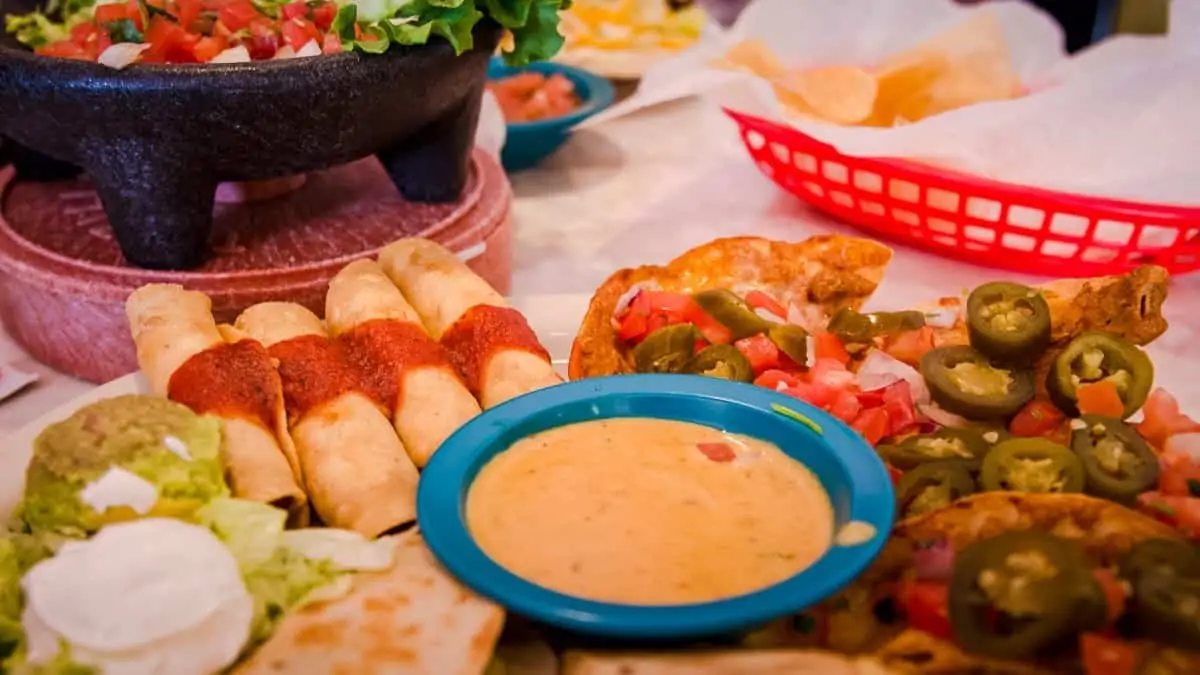 The deluxe quesadillas are filled with cheese, jalapeños, and pieces of tender chicken breast flavored with fajita seasoning. They are much spicier than the nachos and sometimes have even more of a bite to them, depending on who's preparing the food in the kitchen that day.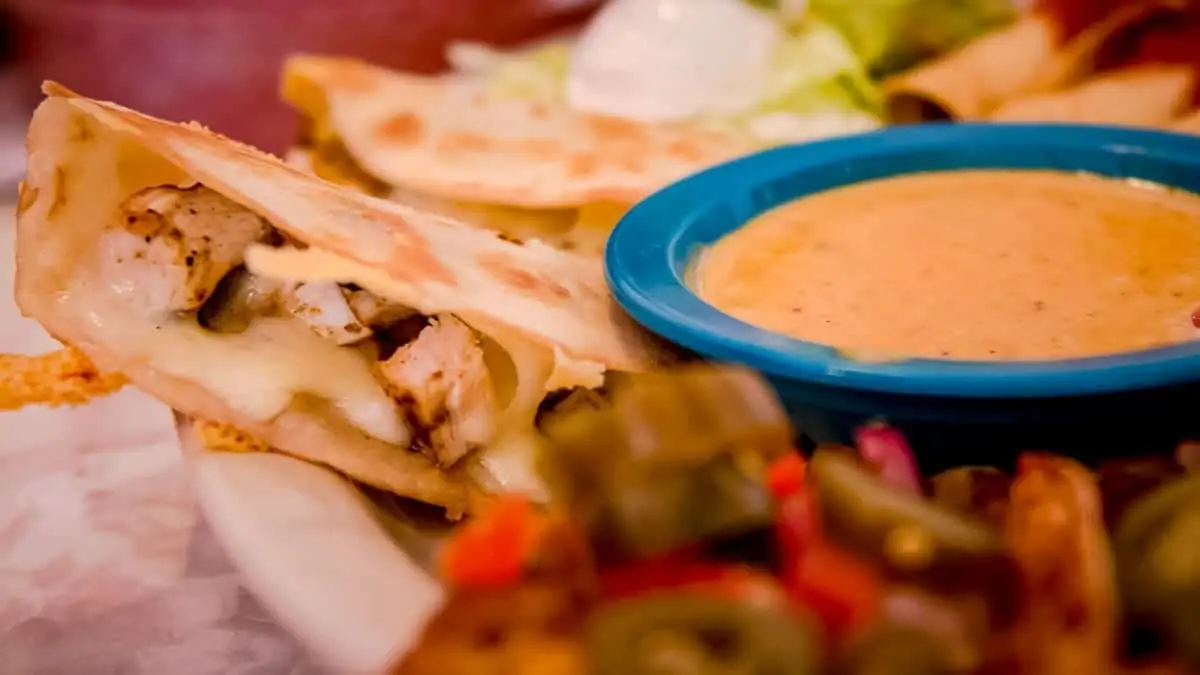 The little chicken flautas are easy to hold with your hands. There are four in a serving, filled with pulled chicken and a smoky chipotle sauce. They make great finger food that doesn't drip down your shirt while you eat.
The appetizer plate comes on a hot, oval platter and surrounds a bowl of queso, nestled between shredded lettuce and a spoon of pico de gallo with a scoop of guacamole and another of sour cream. It's a feast for the hungry and a great appetizer to share between three or four people.
Our daughter enjoys soft tacos with chicken. The soft flour tortillas come ready assembled and are served with either green chile or Mexican rice and your choice of refried or charro beans.
Pico de gallo, sour cream, and guacamole are part of the meal. Ask for them on the side if you don't want the extras combined with your meal.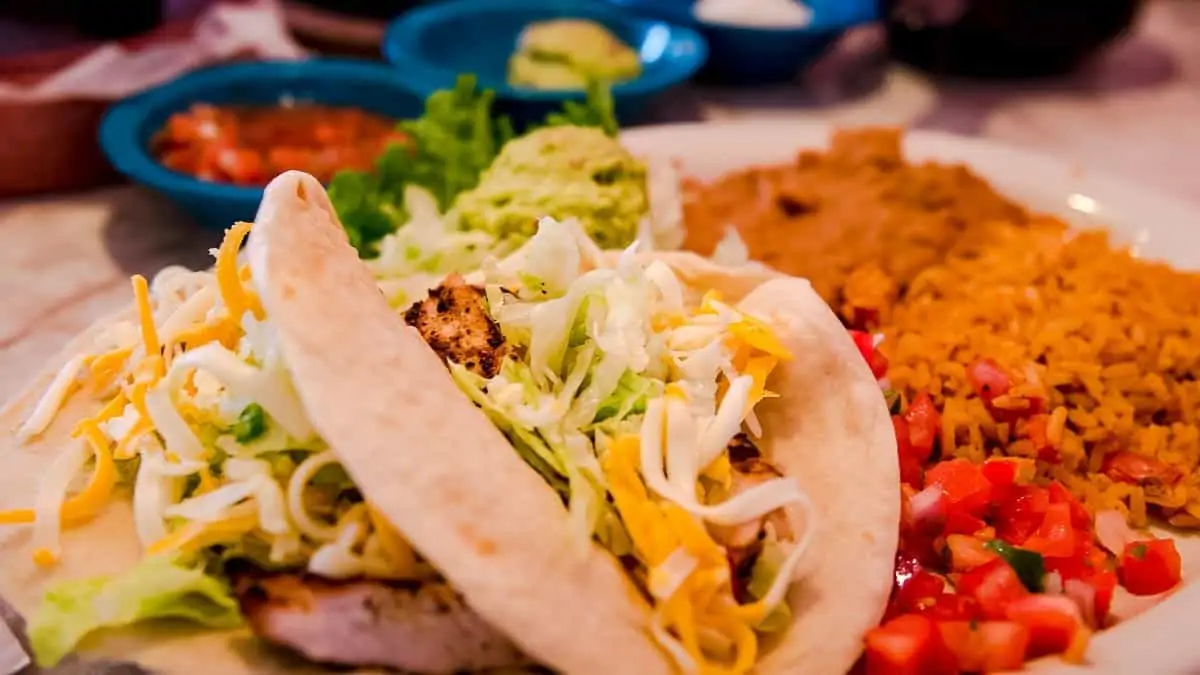 Our server checked in on us a couple of times while we were eating, brought extra napkins, and kept our drinks topped up. She then cleared our plates as soon as we were done and brought out boxes for those of us who had ordered more than we could manage to finish.
Something for Everyone on the Menu
The menu is extensive, offering a wide variety of flavors, types of meals, and portion sizes. There are vegetarian options available, too. These are marked on the menu.
Regular fountain drinks and hot coffee are among the non-alcoholic beverage choices. If you enjoy a cocktail though, Chuy's serves up some wonderful frozen margaritas at the bar.
I recently enjoyed the mixed berry one and I really enjoyed it. The alcoholic beverages are very reasonably priced, compared to many other restaurants with a similar selection and I thought they did a wonderful job with the presentation, too.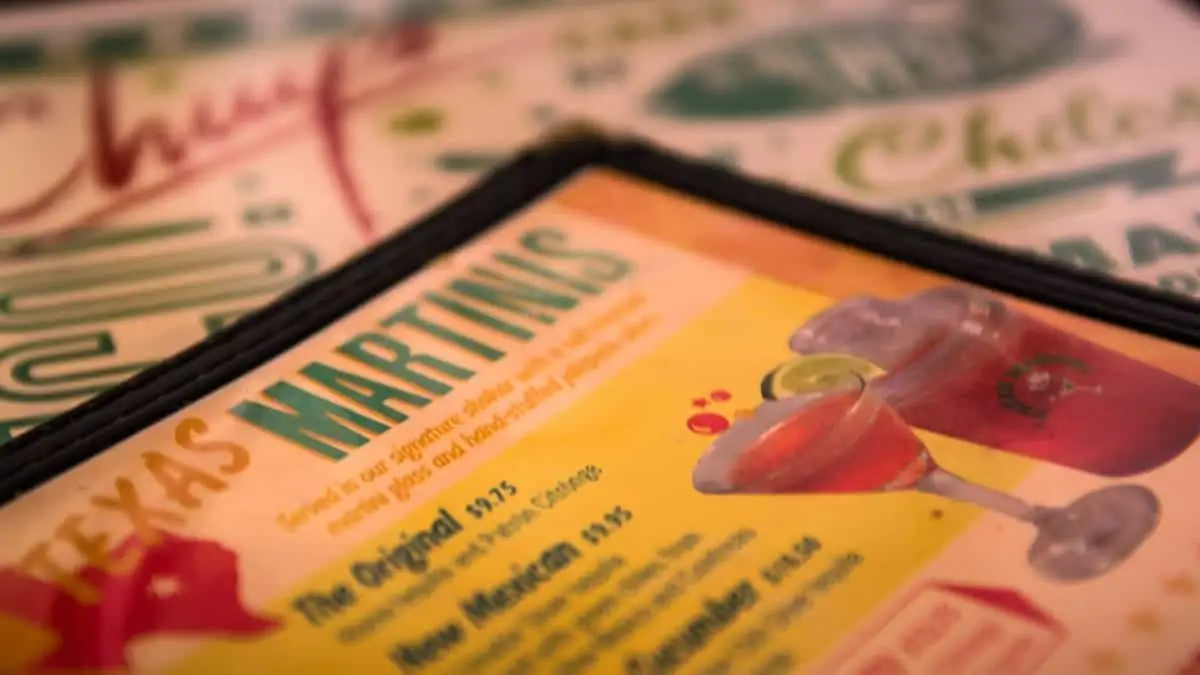 Something for the Kids
If you have young children, there is a kids menu with several items, ranging from tortillas and burritos to a burger or chicken nuggets for little ones who don't care to stray too far from familiarity. Children's meals also include a dessert.
Full-Service Bar (not for the kids)
There is a bar which is in a separate room near the entrance, offering bar seating as well as some high-top tables and a few booths. If you like to relax and have a few drinks first before heading through to dine, or you are just in the mood for dining near the good drinks, this option is available to you, too.
Stop for Happy Hour.
Praise Elvis and Pass the Salsa
If you've ever been to Chuy's Tex-Mex, you know that it has a very strong Elvis theme. Paintings of Elvis and posters line the walls, and Elvis's music is playing on the sound system. But why does Chuy's have such a strong Elvis theme?
It turns out that the founder, John Zapp, is a big Elvis fan. When he was opening up his first restaurant, he decided to incorporate an Elvis theme to make it stand out from other Mexican restaurants.
And it worked!
The Elvis theme helped make Chuy's Tex-Mex a success, and it remains one of the most popular features of the restaurant today.
With that in mind, Chuy's has some Elvis-inspired options on the menu.
Elvis Presley Memorial Combo
The Elvis Presley Memorial Combo at Chuy's Tex-Mex is a fitting tribute to the King of Rock 'n' Roll. Elvis was known for his love of Mexican food, and this combo includes all of his favorite dishes.
The combo includes a healthy portion of Elvis' favorite Beef Tex-Mex enchilada, cheese Ranchero enchilada, chicken Tomatillo enchilada, a seasoned ground sirloin crispy taco & homemade tostada chips dipped in chile con queso!
So if you're looking for a delicious and Elvis-approved meal, be sure to order the Elvis Presley Combo at Chuy's Tex-Mex.
Elvis Fried Chicken
Now, this is another interesting monument to the King of Rock 'n' Roll.
The Elvis Green Chile Fried Chicken starts with a tender chicken breast breaded with Lay's potato chips. It's deep-fried and smothered in green chile sauce and cheddar cheese. It's served with green chile rice and refried beans for a unique Elvis experience.
We Had A Couple of Bad Experiences
Overall, we really love Chuy's Tex-Mex. However, we left disappointed in two locations in the Orlando area and that was mostly due to some of their pandemic choices.
The Airport Location Was No Bueno
The first problem was at the location on 436 near the airport. We met up with William's mother and her husband there because we all love the food and the great service.
This time, we didn't have much of a choice to order. That's because they ripped apart the menu to bare-bones options and took away several of our favorite options. They even reduced the beer menu to a few choices that weren't interesting at all.
Something we've found about many restaurants near airports and tourist destinations is that they don't provide great service. Most of their patrons will never return, so they don't put in much effort.
The Winter Park Chuy's Location Lost Our Business
William likes to have a Daddy/Daughter lunch once a week with Tové and they went to the Chuy's location in Winter Park.
The young woman at the hostess stand, someone he described as a "snotty little bitch", refused to seat them because they didn't have masks.
He explained that they were just there two weeks before and there were no mask requirements. It was about a 15-foot walk to the nearest empty table where they were allowed to take off their masks. Other diners weren't wearing masks.
She didn't care.
They requested to speak to a manager and she refused, so William and Tové left and we've never gone back to that location again because of the attitude of one hostess.
Chuy's Tex-Mex Review: Delicious Food in a Bright Environment
Overall, we're still quite pleased with Chuy's Tex-Mex and happy to recommend the place. Other businesses had issues with reduced menus and we presume the snotty hostess may no longer work at the Winter Park location.
Our amazing dinner experiences outweigh those bad ones.
There are other Mexican and Tex-Mex places in Orlando, but Chuy's offers us the best value for our money with friendly service, a clean environment, and great food. We love it and think you'll enjoy it, too.