4Rivers Smokehouse Review
4 Rivers Smokehouse Review: Central Florida's Best Barbecue

Restaurant Name: 4 Rivers Smokehouse
Restaurant Description: 4 Rivers Smokehouse is a barbecue restaurant in central Florida. The restaurant is best known for its smoked meats, which are cooked over a wood fire. 4 Rivers also offers a variety of sides, salads, and desserts. The restaurant has a casual atmosphere and is family-friendly. 4 Rivers Smokehouse won several awards for its barbecue, and it has been featured in several national publications. 4 Rivers is a popular destination for both locals and tourists, and it is open for lunch and dinner.
Price range: $10 - $30
Address: 1600 W Fairbanks Ave, Winter Park, FL 32789
Cuisine: Barbecue
Telephone: 1-844-474-8377
Summary
While I can easily say that 4 Rivers Smokehouse is the best barbecue restaurant I've experienced in Central Florida, the bar from the competition isn't very high. The meats are the standout attraction here, but they're let down by the side dishes with mediocre quality, at best. However, the staff is friendly and 4 Rivers Smokehouse wins points with its rustic atmosphere and attention to cleanliness.
Barbecue Quality

Side Dish Quality

4R Bakery

Atmosphere

Cleanliness

Value
Pros
Great smoked meats
Friendly staff
Clean environment
Curbside takeout service
Catering for large parties
Cons
Side dishes are unimpressive
Some locations do not cook meat onsite
We decided it's time to update our 4 Rivers Smokehouse Review based on different experiences.
If you're looking for the best BBQ in Central Florida, look no further than 4 Rivers Smokehouse. This restaurant is known for its delicious smoked meats and it has become a favorite among locals and visitors alike.
The atmosphere is casual and comfortable, and the staff is friendly and knowledgeable about their food. Whether you're in the mood for brisket, ribs, turkey, or something else entirely, 4 Rivers Smokehouse will not disappoint!
Central Florida's Best Barbecue Restaurant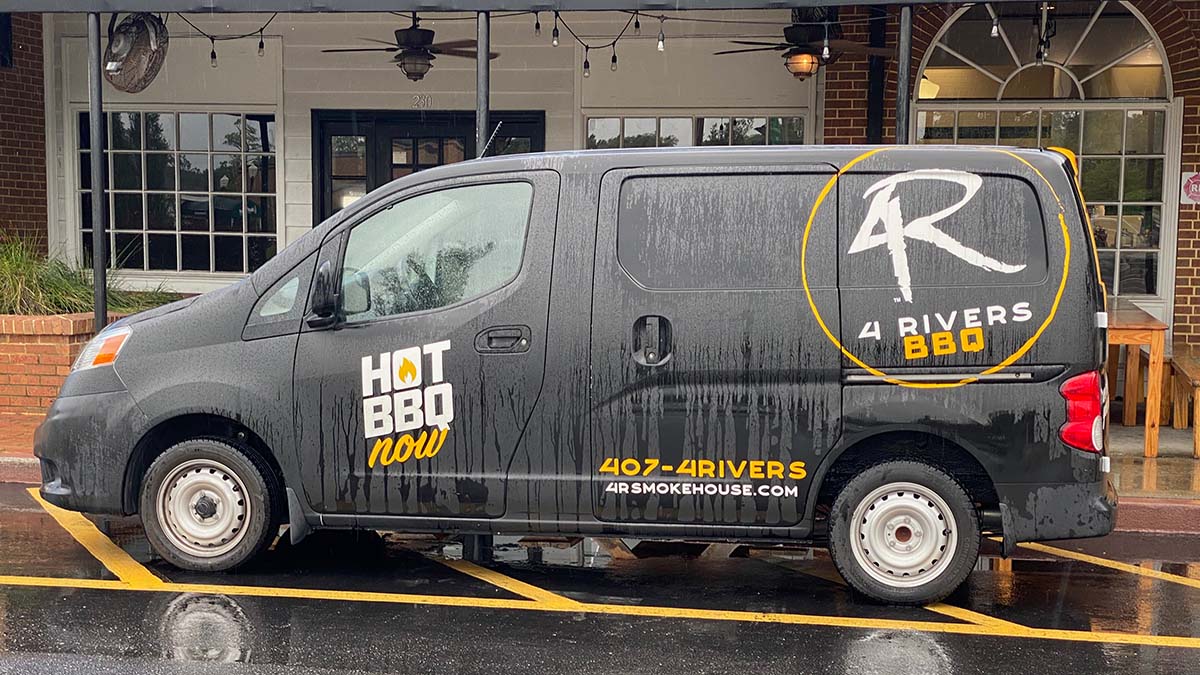 I can't deny that 4 Rivers Smokehouse is the best barbecue place in Central Florida. However, that's not saying very much.
We've tried several barbecue restaurants in the region and they all leave us wondering why people are so excited.
4 Rivers does some things very well, and that includes the barbecue itself. The atmosphere is on point, the place is clean, and the staff is friendly. They have an efficient online ordering and curbside takeout service, too. If you need catering, they can handle it.
However, there are chinks in their armor. Their home-style sides are unimpressive and the bakery is serviceable, but not great.
It All Started in Winter Park
John Rivers started his BBQ Ministry as a way to raise money for his church. He slow-cooked meat as a fundraiser for various causes and people came to eat it. They enjoyed it so much that he opened up a restaurant called 4 Rivers Smokehouse.
The first location in Winter Park was small and caused traffic problems. They had insufficient parking and 4 Rivers barbecue was so great that everyone wanted a taste of it.
Ultimately, they got some help finding a location and moved to a larger building on Fairbanks Avenue. 4 Rivers also quickly expanded to several other towns in the Orlando area and beyond to share the love with other barbecue fans.
With Expansion Came Decline
It seems that 4 Rivers Smokehouse put more emphasis on growing the business than maintaining the quality of their food. Ultimately, they opened a central bakery and other operations to serve their restaurants.
One example of the decline in quality was their biscuits.
When I first visited 4 Rivers, they had the best biscuits anywhere. They were hot, flaky, and savory. No one could surpass these delicious, country biscuits.
Then the quality dropped. I remember picking up a take-out order that included a biscuit. When I split it open to add some butter, it was cold inside. Clearly, the biscuit was frozen at some point and they didn't heat it up sufficiently.
Later, they changed the recipe to some square-shaped biscuit that was absolutely dreadful. It had none of the qualities of their original biscuit and I switched to choosing their cornbread instead of the biscuit.
Today, 4 Rivers doesn't even offer a biscuit on the menu. I guess they know it sucked.
Another concern is that your barbecue may not be prepared onsite where you pick it up. Here's a simple test for any place that calls itself a smokehouse.
If the answer is no, then they aren't cooking your brisket or anything else onsite. It's being cooked somewhere else, delivered to the store, and reheated before being served to you.
When you can't see or smell the smoke, it's a fakeout.
Finally, I had some takeout orders where my order was incomplete. One time I placed an order for smoked wings and failed to check things before I left. I got home to find 8 wings instead of 10, and they put in more flappers than drums. They tasted rubbery, too.
What About the Food?
4 Rivers Smokehouse has a great reputation for its meats and I think that's well-earned. However, some of the other food in the restaurant isn't given the same love as the beef brisket or other BBQ meat.
Overall, I've found the meat to be very good. Side dishes and desserts are generally not good at all. I've experimented with different side dishes, but they ranged from horrible (like the green beans) to mediocre (like the BBQ beans or fries).
Still, I come here for the smoked meat.
1: The BBQ Classics
4 Rivers is a Texas BBQ-style restaurant. Before opening, John Rivers visited and learned from BBQ places in Texas and brought that food back to his ministry and business. If you're a fan of Memphis or Carolina-style barbeque, this ain't that.
The BBQ Sauce
Before we get into the meats, I want to take a moment to discuss the BBQ sauce. When I first visited, I didn't care for the fact that the sauce was so thin.
That attitude was ignorance on my part, as I'd only ever known thick condiments from grocery stores or even other restaurants. This thin stuff put me off.
That was until I tasted it. Now I'm a fan of this stuff. You can even buy it at Publix if you want.
There are two common types and one that's a bit of an outlier.
I like the signature and my wife likes the hot bbq. We've never tried the maple bourbon syrup because that just seems irreligious with barbeque.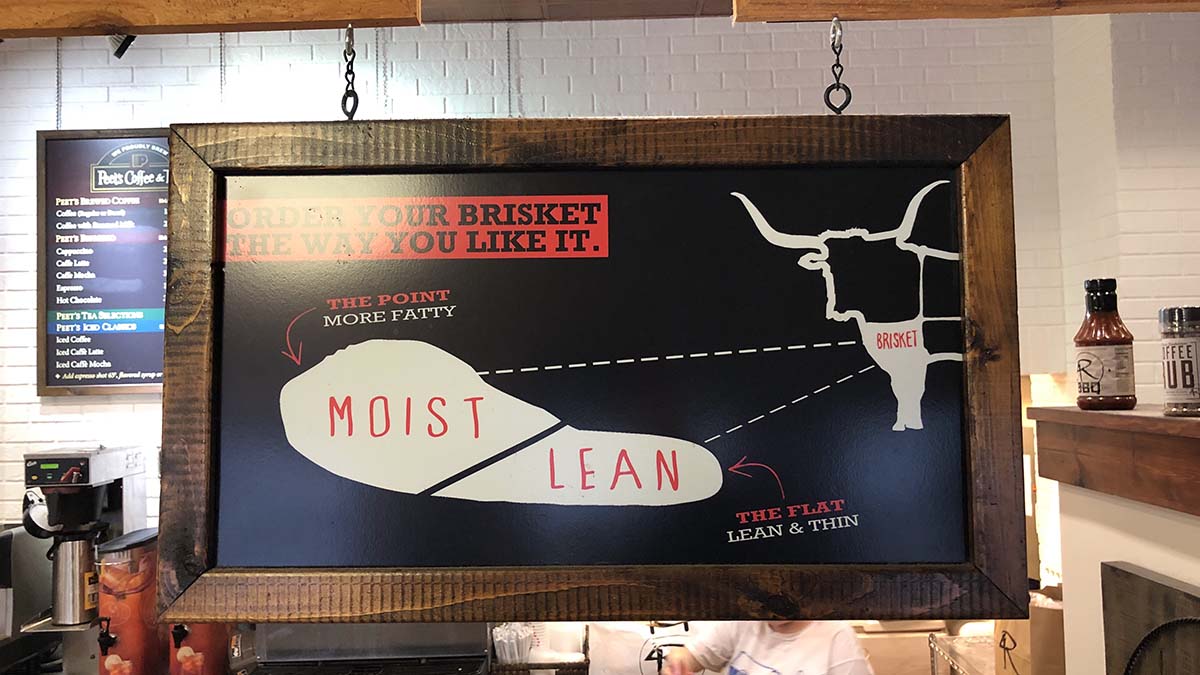 So what are the BBQ Classics?
There are a few other items on the menu under the classics, but these are the types of food you'd expect from a good BBQ place.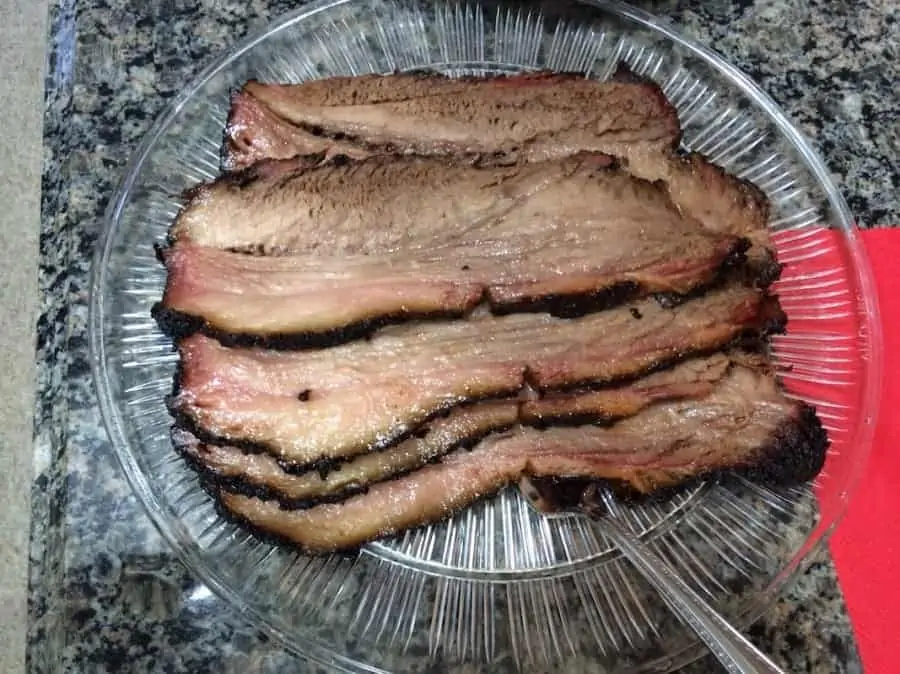 I enjoy the brisket, the ribs, and definitely the smoked sausage as a side meat order. It seems they get the smoked sausage from a family in Texas.
Here's a hint. If you're ever at Buc-ee's in Daytona, they have a similar beef & pork sausage for a fraction of the price at 4 Rivers. It tastes delicious!
2: John Rivers Originals
The John Rivers Originals are different meals that show off some creativity with different ingredients. Restaurants often come up with menu options that have silly names which rarely describe what you're getting.
Here's a quick rundown.
Burnt Ends Melt
Smokehouse Burnt ends with provolone & cheddar cheese topped with caramelized onions on sliced sourdough bread.
Six Shooter
Baked cheese grits piled high with pulled pork, Southern Coleslaw, pickles, jalapeños, and 4R Signature Sauce.
Messy Pig
A heaping pile of pulled pork between 2 layers of coleslaw, topped with pickles and jalapeños, served on a brioche bun and smothered in 4R Signature Sauce.
Texas Destroyer
Signature Angus brisket, topped with onion rings, jalapeños, melted provolone, served on a brioche bun and smothered in 4R Signature Sauce.
The Longhorn
Chopped brisket, Texas sausage served on a toasted roll over smokehouse relish, topped with onion rings and melted provolone.
BBQ Street Tacos
Three grilled tortillas loaded with your choice of meat, pico de gallo, queso fresco, guasacaca, and crème fraîche topped with fresh chopped cilantro.
BBQ Quesadilla
Your choice of meat, cheddar cheese, and 4R Signature Sauce on a tortilla and grilled to perfection.
Smokehouse Sliders (3)
Choice of three types of meat drizzled with 4R Signature Sauce.
Of all these items, I tend to favor the Smokehouse Sliders. You could think of it as a sub, but essentially you get a grilled bun for three sliders filled up with your choices. You can get a different type of meat in each one, just choose the same type or perhaps do a 2 & 1 style.
My own favorite is to order this with:
3: Homestyle Sides
If there's a disappointing thing to eat in 4 Rivers Smokehouse, it's likely the side dishes. I tend to get the crinkle-cut fries and baked beans. For the most part, those aren't bad options.
Other side dishes seem watered down or over-processed. The green beans are lifeless and flavorless. They have to drain excess water to put them in a styrofoam cup.
The sweet potatoes are whipped into a spackle-like substance that quite literally gets scraped into the cup. It's hideous to watch something like this happen to your food. It's not much better to taste it, either.
The corn seems to be kept in a pot of water, much like the green beans and similarly drained to get into your cup. They were the most flavorless bits of corn I ever ate, and that's counting public school lunch rooms.
5: Desserts from the Sweet Shop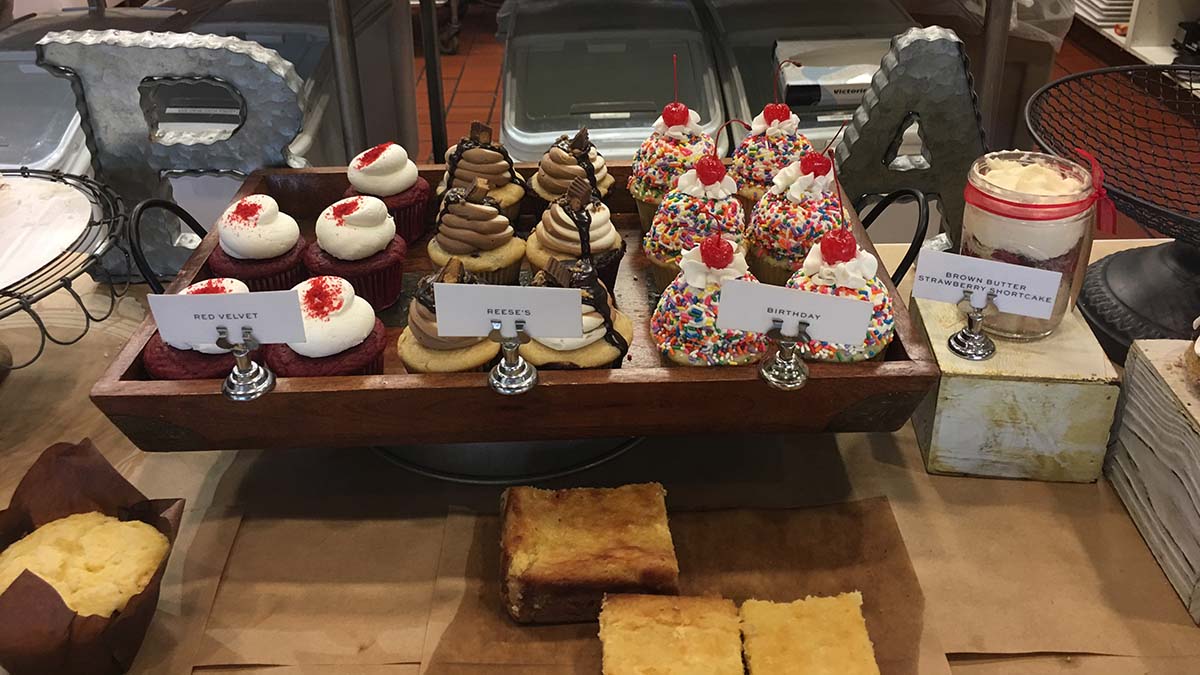 There's a Sweet Shop attached to 4 Rivers and I've tried some of the desserts there. My advice, save your money. They can't hold a candle to Sweet! by Holly for cupcakes. In fact, I've found better cupcakes at Target.
You can also find brownies & blondies, not to mention different types of cakes.
You'll find some cookies and a few other treats. They have a Crispy Cream Bread Pudding made with doughnuts, raisins, pineapple, and more. I can't help but note they don't use the brand name of Krispy Kreme, so you're not getting the real deal in this dessert.
Some locations also include an ice cream case where you can choose different flavors.
It's interesting to me that the desserts are typically near the takeout cashier, so it's there to catch your eye and make a sale without tasting the item in the store.
The Rustic Atmosphere Works Well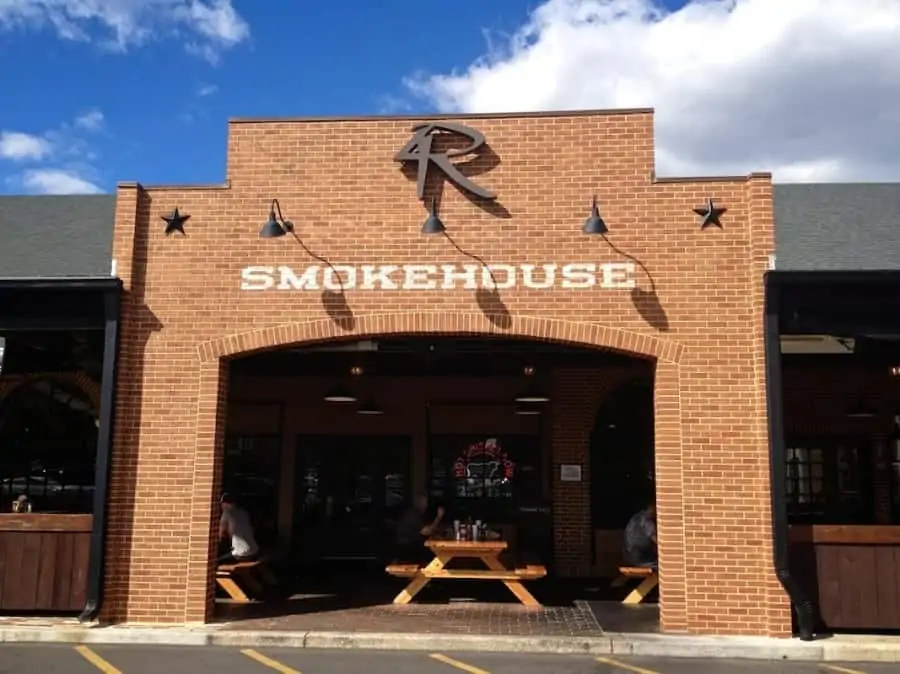 Expect a lot of brick and wood at most 4 Rivers locations. I think it works well with the Texas theme. It's not too dark, but there's a feeling of substance.
When you sit at a table, either indoors or with outdoor seating, you don't have to worry about something flimsy turning over.
Some locations have tables for two or four people. Others have long community-style tables (which I hate), so the location you choose can make a difference in the kind of seating you get.
Also, outdoor seating may not be available everywhere..
One thing I truly appreciate is that they keep things clean. I always see someone tidying up the restaurant, clearing tables, and making sure you don't get someone else's food stuck on your table.
Overall, I think it's a great atmosphere and they nailed the rustic experience. You can see it on the exterior, as you enter the line to order, and in the dining areas.
Online Ordering and Curbside Takeout
4 Rivers always had a very good system to order on their website and get takeout. There is a separate register for takeout orders, so you don't have to wait in a long line with dining room customers.
When the pandemic hit, 4 Rivers adapted very well to curbside pickup and they still provide this service. You'll find about half a dozen parking spaces near the front of the store.
There's a phone number and a parking spot number on the sign by each curbside spot. Just let them know you're there and which spot you're in and someone will bring out your order. It's very helpful if you can't easily get in and out of your vehicle.
It's a seamless process and you still have the option to go inside to pick up your meal. It's nice to have options.
4Rivers Smokehouse Review Summary
4 Rivers Smokehouse is a great restaurant for BBQ in Central Florida. The food is flavorful and the atmosphere is rustic and charming. The place is a clean place to eat filled with tasty meat.
The only downside is that the side dishes are not very good. Overall, I would recommend 4 Rivers Smokehouse for a delicious BBQ meal. Despite my misgivings on some issues, it's a great place for eating with friends or picking up takeout.
Enjoy your next visit.