A Guide to Orlando International Airport (MCO) for Travelers
Orlando International Airport, or MCO for short, is a world-class airport in Orlando, Florida. It is the busiest airport in Florida and serves as a central hub for Delta and Southwest Airlines.
If you're traveling to or through Orlando, MCO is the airport you want to use! This guide provides an overview of the airport, including information on terminals, airlines, parking, and more!
A few Recommended Travel Items
Orlando International Airport: Arrive and Depart with Ease
Thank you for listening to The Orlando Local Show, Episode 2. We appreciate your time and hope this show gives you some useful tips for your next visit to Orlando.
Making your way through Orlando International Airport (MCO) is a big part of your Orlando vacation. For most visitors, it's the first and last thing you see in town.
We're lucky to have a well-run airport with plenty of conveniences, but it still takes some planning to make the most of your experience.
We'll help you plan your arrival and departure, including some tips for transportation to get in and out of the airport.
1: It's Not the Only Orlando Airport
The Orlando International Airport is the biggest in the central Florida region, but it's not the only airport in the area.
Here's the list of local airports.
This article is about Orlando International Airport. The Orlando Executive Airport is for private and charter flights only. The other three airports serve commercial flights but are much smaller or have limited service.
Orlando International Airport is the primary airport for visitors to the Orlando area. It's located about six miles from downtown Orlando and 12 miles from Walt Disney World Resort.
The airport code for Orlando International Airport is MCO.
2: Airlines That Fly Into MCO
Orlando International Airport is a hub for two major airlines, Delta and Southwest. It also has services from all the other domestic carriers as well as international airlines.
Here's the full list of airlines that fly into MCO:
Air Canada, British Airways, Emirates, LATAM Brasil, Spirit Airlines, TAP Portugal, and WestJet are international airlines that fly into MCO.
3: Orlando International Airport Terminals
MCO has two main terminals, A and B, connected by an automated train called The MCO SkyLink. The SkyLink is free to use and runs 24 hours a day.
Terminal A is home to Delta and all other international carriers. Terminal B is for domestic flights on Southwest and all other domestic airlines.
If you're flying into Orlando on a domestic flight, you'll arrive at Terminal B. After you claim your baggage, follow the signs to the MCO SkyLink train. The SkyLink will take you to Terminal A, where you can connect to your onward international flight.
A new terminal, Terminal C, is currently under construction and is expected to open in September 2022.
4: Orlando International Airport Parking
MCO has three main parking garages located on either side of the terminals.
There are also three surface lots,
The parking garages are connected to the terminals by sky bridges. The surface lots are a short walk or shuttle ride from the terminals.
There are two cell phone parking lots for those waiting to pick up arriving passengers. These lots are free but do not allow commercial vehicles or overnight parking.
If you're staying at a hotel on International Drive or near Universal Orlando Resort, you can park and take a shuttle to the airport. Many hotels offer free or discounted parking for guests flying out of MCO.
5: Orlando International Airport Transportation
There are several ways to get to and from Orlando International Airport, including taxis, Uber or Lyft, rental cars, shuttle buses, and the Lynx buses.
Here are approximate rates to travel between the Orlando airport and other local areas.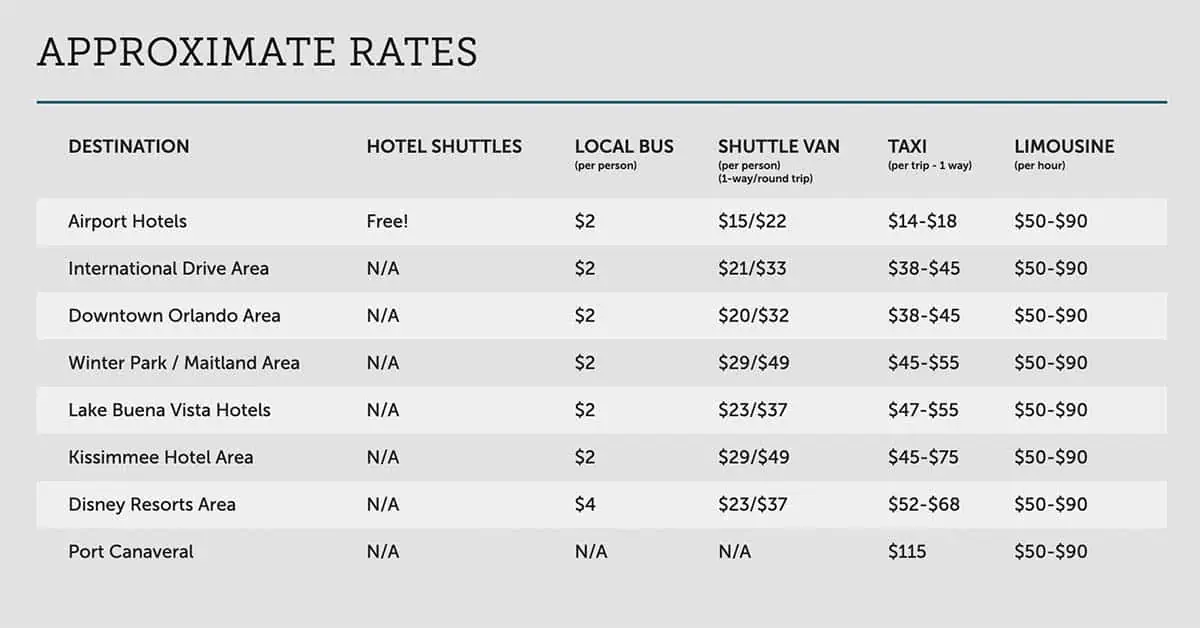 The Lynx buses are the local public buses in Orlando. They have two routes that serve the airport: Route 11 and Route 51.
Route 11 goes to downtown Orlando and International Drive. Route 51 goes to Sea World, Universal Studios, and the Premium Outlet malls.
Both routes stop at Terminal B. You can take the MCO SkyLink train to Terminal A or walk to your hotel shuttle stop.
Lynx buses are cheap to get around Orlando, but they can be slow during rush hour. If you're in a hurry, take an Uber or Lyft.
6: Orlando International Airport Hotels
If you have an early or late flight, or if your flight is delayed, you may want to stay at an airport hotel.
The Hyatt Regency Orlando International Airport is within the central part of the airport. There are other hotels off-property and near the airport.
7: Orlando International Airport Amenities
MCO has all the amenities you would expect from a large airport, including restaurants, cafes, bars, shops, and free Wi-Fi.
There are also plenty of things to keep you occupied if you have a layover or long wait. The airport has an art program with rotating exhibitions, a kid's play area, and live music performances.
If you need to do some work, there are several business centers with private meeting rooms and conference facilities.
Orlando International Airport is a large, busy airport. But with a little planning and some knowledge of the layout, it's easy to navigate. I hope this guide has been helpful. Safe travels!
8: Car Rental Services
Several car rental services are operating in the Orlando airport. Some are off-property and provide a shuttle service to their business lot.
9: Restaurants in the Main Terminal and Airside Terminals
The main terminal has a few restaurants, both by various gates in the main terminal and also on the airside.
Restaurants by Gates 1-29:
Restaurants by Gates 30-59
Restaurants by Gates 70-99
Restaurants by Gates 100-129
Restaurants by Gates 230-239
Restaurants by Gates 230-239
10: Airside Terminal Restaurants
There are also several restaurants in the Airside terminals. Most of these are fast food or grab-and-go type places. But there are a few sit-down restaurants as well.
These restaurants are in Terminal A and Terminal B:
Orlando International Airport (MCO) History & Facts
The property where the Orlando Airport exists today used to be a military base. It was originally the Pine Castle Bombing Range.
In the 1940s, the military decided to build a base in Orlando. And in 1942, they started construction on what would become McCoy Air Force Base.
The base was named after Colonel Michael Norman Wright McCoy. He was a pilot who died during a training exercise in 1941.
The airport has twin 10,000-foot runways built to serve the U2 spy planes based in Orlando. There's a vault in a building on the property that stored the film and records from those flights. I only know this because I worked in the building and vault for a time.
After World War II ended, the base continued to be used as a military installation. But it was also used as a commercial airport. There's still a B-52 bomber on display at the front of the airport.
In 1974, McCoy Air Force Base was closed. And in 1975, the Orlando International Airport (MCO) opened to the public.
Today, MCO is the 11th busiest airport in the United States and the busiest in Florida.
11: Orlando Airport Location
The Orlando International airport is located at:
One Jeff Fuqua Boulevard
Orlando, Florida 32827
It's about six miles from downtown Orlando and about 15 minutes by car (without traffic).
The airport is also close to the Orange County Convention Center and the hotels on International Drive. So if you're attending a convention or staying in one of those hotels, the airport is very convenient.
You can easily reach Port Canaveral from the Orlando Airport. It's a straight drive east on the 528 toll road. That path also heads to Kennedy Space Center and takes about an hour to get there.
Getting to Walt Disney World from Orlando International Airport is a bit more complicated. It's about 25 miles or 45 minutes by car to the Magic Kingdom.
If you're planning to drive yourself, I recommend renting a car at one of the on-site rental companies or using a ride-share service like Uber or Lyft.
Several shuttle services run from MCO to Disney World. Mears is the official Disney World transportation company. But other companies offer similar services.
The shuttles typically cost around $35 per person each way. And they make multiple stops at different Disney World resorts. So the trip can take an hour or more, depending on where you're staying.
You can book a private car service if you want a quicker trip or don't want to share a shuttle with other people. That will cost more but will get you to your Disney World hotel faster.
12: Orlando International Airport Contact Information
The main phone number for the airport is: 407-825-2001
To speak to someone in customer service, DIAL 0 from any on-airport telephone.
For lost and found, the number is 407-825-2061 or DIAL 0 from any on-airport telephone.
13: Baggage Claim is Slow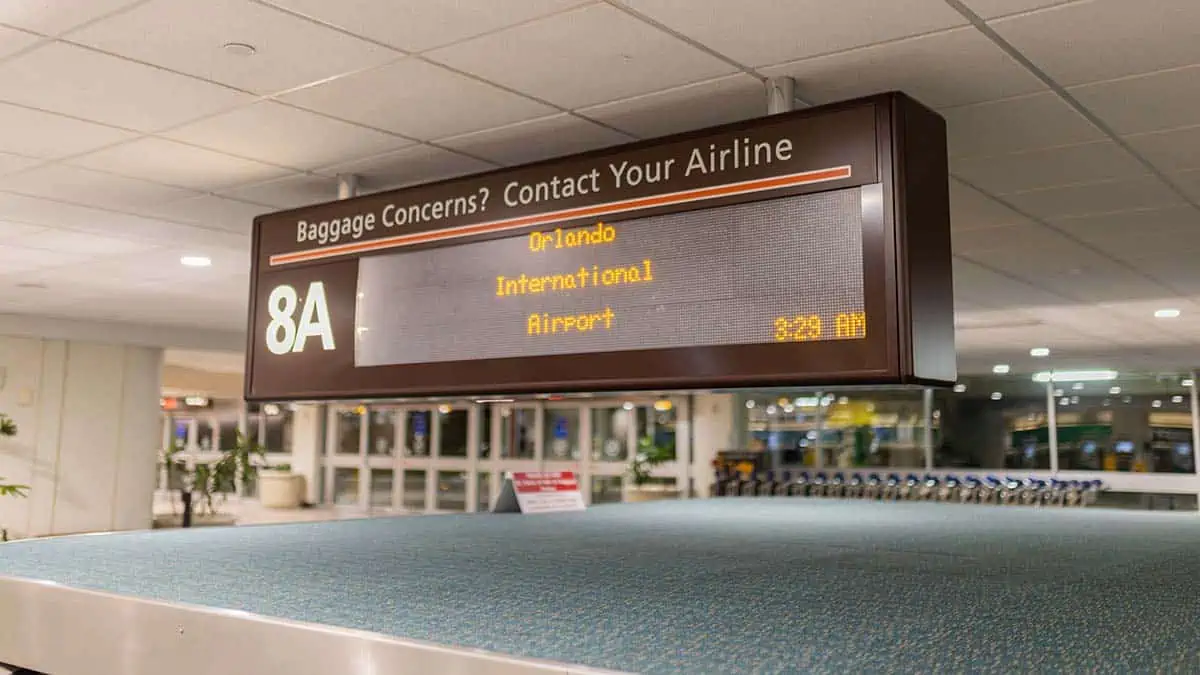 If you're coming from an international flight, be prepared to wait a while for your luggage. The Orlando airport has a bad reputation for being slow with baggage claims.
There are a few reasons for this. First, the airport is huge and can be difficult to get around. Second, there are only a few baggage carousels. So if your flight arrives at the same time as a few other flights, it can get very congested.
14: What is the Greater Orlando Aviation Authority (GOAA)?

The Greater Orlando Aviation Authority manages Orlando International Airport. A seven-member board governs this authority. The mayor of the City of Orlando and the Mayor of Orange County both have a seat on the board, and the Governor of Florida also appoints five other members, who the senate must approve.
GOAA replaced the City of Orlando's aviation department in 1976 when McCoy Air Force Base closed and transferred to the General Services Administration before being handed over to the City of Orlando. GOAA is responsible for running, maintaining, and administering all Orange County public airports, including any future ones established in Orange County.
15: International Arrivals at MCO
Your first step is to clear US Customs and Immigration, so go straight to the Customs and Border Protection station. You'll pass through a biometric scanner and receive an electronic I-94 form at this station. This card tracks your entry into and exit from the United States, proving that you lawfully arrived and when you must depart. You'll also get
If you were required to apply for an I-94 at a consulate outside the United States, you'd receive information from the Customs and Border Protection officer who issues your I-94 and stamps your passport about how to access the electronic form; if not, you may always do so through the CBP online system.
You don't need an I-94 if you have a US passport! Simply join the line at the checkpoint for people with US passports.
If you want to save even more time, consider joining a Trusted Traveler Program. Global Entry is one of the options, which costs $100 and lasts for five years. This program includes TSA PreCheck, saving you even more time at airport security.
Get Free Updates of The Orlando Local Show
Discover More Episodes!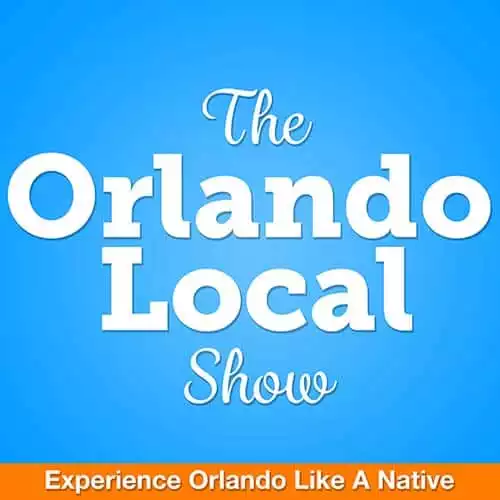 Transcript
William: Welcome to the Orlando Local show, episode number two.

Hey, thank you for joining us on the Orlando Local Show. My name is William Beem.

Lee: Hi, I'm Lee Beem.

William: And today we're going to be talking about Orlando International Airport (MCO). We've got some simple tips for arriving and departing.

Thank you very much for joining us. We really appreciate you. Today we want to talk about what it's going to be like when you're coming to Orlando and visiting. One of the first things that you're going to see and the last thing that you're going to see is Orlando International Airport; at least for most of you. I mean, if you're driving, fine. If you're flying into Sanford, that's fine, too. But the good bulk of you are going to be coming through Orlando International Airport and honestly, it's a really nice airport, of the ones I've been to.

Lee: Yes, it is.

William: I've been to larger cities and some of the airports, like New York City if you go to La Guardia or JFK I look at them and think, wow, this is much less impressive than I expected!

Lee: Yes. Orlando International has always been quite proud of the fact that they keep the airport clean and well presented. They communicate well. on the whole, I think they do a great job.

William: That was my experience, too. I used to work out there. I had two jobs at Orlando International Airport and none of them lasted very long.

The first one wasn't really working for the airport itself. I was working for a company that had space there and they did testing on animals for cosmetics and things like that.

Lee: Oh, charming!

William: Oh it was! My very first day on there on the job, I'm in high school and they sent me out there to take this job and they put me in a room full of bunnies in cages and gave me a razor blade and told me to scrape the pee off the floor.

Lee: Oh, no!

William: Well, they couldn't use chemicals to clean it because it might alter the tests. So the bunnies (high school was a long time ago for me) so those bunnies are long gone. Yeah that was my introduction to Orlando International Airport, because I'd never had to fly before that.

Lee: You could only be impressed from there, right?

William: Tell me about it! Then I spent a six month contract out there in Information Technology, working for the Greater Orlando Aviation Authority. And that was a nice job. I think that the people out there were nice and friendly. I had a good time, but it was a contract job and something better came along and after six months I just moved along.

That meant that every day for lunch I was going out there in the common area looking at the restaurants if I didn't pack something to bring.

Lee: I think restaurants have improved in airports, generally. They used to all be that kind of cafeteria style. It was like school lunches, remember?

William: Yeah, and that was probably back in the early 1980's when I was doing that job, so things have fortunately changed quite a bit since then.

Anyways, we want to help you as best we can. We want to start off by suggesting that you do a little bit of homework before you fly into or out of Orlando International Airport.

One of the best resources you have is actually the website for Orlando International Airport and you can find that at orlandoairports.net and I made this mistake before and probably other people have, too and gone to orlandoairports.com. It's not a .com, it is orlandoairports.net. But once you get there they have actually got a really nice website.

Lee: The website is beautifully laid out. I've relied on it many times, especially in the first couple of visits. I like to know where I'm going. I want to know how I'm going to get around so that I can plan accordingly; I want to try and estimate time as best as possible. I mean, you can't rule out surprises, but it helps if you have an idea where you are going and where you are going to be when you come out the other side.

William: Absolutely and we are kind of taking a look at the web page right now and it's really laid out very nicely. At the beginning you're going to see a large graphic with photos of some of the things around there, but at the bottom of the screen you are going to see sections for flight alerts, booking your flights, onsite parking, the terminal maps, shopping and dining and rental cars.

In the upper right corner there is a place to check your flight status, so it's very easy if you know you're going to be flying to Orlando International Airport and you just want to see if your flight is going to be on time, if it's delayed or whatever, right on the front home page you can see a little area right there. There's a little airplane and a box to say Check My Flight Status.

Lee: The way the interface is laid out is so user friendly. It's very simple. You can see very quickly where you need to go.

The Terminal Map section is absolutely awesome. They've got these guides. It's a photo guide and a step by step walkthrough, which is under a sub section called airport guide.

William: It's right there. As soon as you click on the one I mentioned in one of those boxes at the bottom that says Airport Guides, you are going to see a page that says Getting Around MCO. There is a nice photograph there on the banner and underneath that are three sections. The first one is Airport Guide, then Shops and Restaurants and then disabled access.

Lee: The Airport Guide is just fantastic. They've got a walk through, so basically whether you're arriving or departing and whether you're international or domestic, they've got a section for you and you just pick whatever category is relevant to your trip and you can see step by step. It just makes such a difference when you know where you are going and I know some people who don't fly often or who don't like flying, don't like crowds, don't like airports – it can be quite intimidating. It gives you some peace of mind if you have an idea what to expect and you can visualize it in advance.

William: Speaking of visualizing, they've got a really nice simple map. I'm looking at the terminal maps. So when you go to Orlando International Airport, coming in there are two sides to it. They are called Airside A and Airside B and depending upon which airline you're going with, will determine which airside you're going to.

And if you're driving up there, there are plenty of signs out front that show you if you're going to A, these are the airlines that are in this side and these are the airlines on that side. So you may have to drive around the back of the airport from your initial approach, depending on which way you've come from.

Lee: Yeah, they've tried really hard to make it idiot-proof and I think they've done a good job.

William: And then there are really only four sections or terminals for where the gates for flying out are. If you are on Airside A you know you've got Terminal 1 and Terminal 2. There is a little short tram that takes you back and forth between the airside and the main ticketing areas. There is a food court and shops right in the middle of it and it's just a really grand kind of experience.

You walk in there and it's a big open space, many stories high. I forgot how tall it is.

Lee: I don't remember. They've got the big hotel there as well and part of it looks down into the atrium in the center.

William: Yeah, so unless you're staying at the hotel you don't have to worry about the rooms over there, but they've got everything from little kiosks to the usual quick service foods and they've got a couple of nice restaurants in there as well, too.

Lee: They do. We tend not to eat that much on arrivals. We just want to get where we are going, but there are times when you might be delayed and you know when you get to your hotel there is not going to be any food available. If you are tired, make a plan while you're at the airport.

William: And then they've also got way finding maps so basically, you can find your way from one section to another.

I found it's really an easy airport to navigate. To me it's kind of difficult to go there and get truly lost.

Lee: It's been well marked and well thought out. I think that it is one of the easier ones, certainly.

William: OK, so we mentioned that there's going to be Airside A and Airside B. Basically you want to know which one you're going to. So if you're going to be flying out of Orlando, that's your Departures, you're going to be going up to Level 3. If you're going to be coming in as an arrival, your baggage claim is going to be down on Level 2. But as far as the airlines going, you can see a nice list of which ones are going to be on A side and which ones are going to be on the B side on that Getting Around MCO page.

Lee:And that's pretty stable. They don't tend to change those much.

William: No they don't, because they've got their equipment in the terminals set up and once you've put your system in for serving certain gates, you really don't want to move them around. It's a pain in the neck.

Lee: I say that because there are some airlines where the airline might have flights that come in and they make use of both, like one, in part, is a secondary terminal. I think United sometimes uses … I think the primary one is B and they sometimes use A. I might have it backwards, but there are times when they sort of show up at both.

William: No, you've got it right. So for example, we're looking at the Getting Around MCO page. I'm sorry, I'm saying MCO and some of you may not know. That is the code for the Orlando Airport. MCO used to actually be an airforce base. It was McCoy Airforce Base. Whether you know it or not, they used to fly the U2 flights that would go over Russia and take photographs out of Orlando International Airport and the only reason I know that is when I had that job where I was working for the company with all the little bunny rabbits, we stored all of our data in the vault that used to store the U2 flight films.

Lee: You should have kept it under the bunnies for safe keeping!

William: Nobody's going to look under those bunnies. I don't know if that company is still out there, but man, if you've got a secret and you put it under a bunch of caged bunnies, no-one is going to go near that.

Lee: No, but that's horrible.

William: OK, sorry I got you off topic, but yeah, looking at the B side and United is right there. Ticketing it says E and Gates 30-59. So yeah, United is a pretty big one and they've got a lot of gates out there.

And American is also in the same area, Gates 30-59, so I think like you said, they probably may share or trade off a little bit, but their systems are in place and they are always going to be in the same kind of area.

Something else that you want to know is if you're going to be there for a little while, or even if you've just arrived and you want to do some quick checking, free WiFi.

Lee: It's pretty good. I've relied on it. I mean, I've been running stuff on a laptop. We've been sitting where there were delays for departures and we were out there for a good few hours. No problem with speed. It was really good.

William: It's one of those things you really do expect almost everywhere you go, particularly with an airport. But the thing about the WiFi there is not only is it pretty good, it's pretty good under a heavy load.

Lee: It is and it's free. A lot of these airports actually do charge. You get thirty minutes free, so it's not totally free. Orlando International, to my knowledge they haven't changed this, but it's always been free without limitation in terms of time that you are there.

William: I think that's probably still true, because when I'm sitting waiting to fly out I'm sitting at the gate waiting for things and I can be on WiFi and I've never once had to pay for it. I've never had anything time out and say your time is up and you must now pay.

Lee: No, and I haven't had problems with dropped connections there either.

William: No. It's been solid and reliable as long as I can recall using WiFi there.

Lee: Yes, impressive. They do pretty well with their WiFi.

William: OK, one of the things we are also going to recommend is get the TSA app, the Transportation and Security Administration app and they've got a number of little benefits there, not the least of which you can see the wait times.

Lee: It's a really cool app. I mean you can see what the TSA wait times are, you plug in your airport and you can pull up all kinds of information. It is fairly current. I've used the app a number of times. It hasn't been around for more than a few years as far as I know, but I made good use of it. It's also got a very helpful little section for those who aren't sure called Can I Bring This? Or something along those lines. It lets you type into the little search field a key word or the name of the item you are thinking of. So for example, roll-on deodorant. And it will bring it up and tell you yes or no and if it's yes, it will tell you whether it needs to be in your checked bag or if you can have it in your carry-on or either and if there are special instructions for it, like a limitation or anything, it will put that in there as well. So you can get all kinds of information on there. You can do airport searches and all kinds of things.

It's a very useful app. One thing I will mention – I don't know if it's changed because I haven't used this for a while – but when you open the app it used to make a most horrible sound. It was almost like some kind of siren. It used to scare me. Stop laughing!

William: I'm sorry.

Lee: It used to scare the living daylights out of me. You might want to turn the sound alerts off because you really don't need them. It just scared the living crap out of me.

William: The American government is here to frighten you!

Lee: Well, they succeeded!

William: All you have to do is watch our election coverage to know that.

Lee: I haven't looked and I probably should have done so before we started the show, but if there is a place where you can turn off the sound alerts then please do so.

William: Whenever you talk about the TSA app I just kind of think of some poor government worker in a cubicle in there just throwing things at it, but it is actually a pretty useful app.

Lee: It's a really good app.

William: We mentioned wait times in the My TSA app. Another resource, particularly for international visitors is the CBP wait site, and that's Customs and Border Protection.

So if you go to awt.cbp.gov that will give you your wait times.

Lee: Yes, you plug in your airport and then you choose your date range. Now it doesn't go right up to the present date. I think it's about a week back, maybe a little less than that in terms of what it's throwing out, but for example if you've got a quiet season or busy season and you know that you are landing at noon on a Monday you have a look for the prior weeks in that season or you can even go back to the previous year and see what kind of coincided. And you can get an idea of how long people are waiting to get through.

It's never foolproof. I mean you can never tell what's going to happen that's unexpected, but it does give you a pretty good indication assuming that your flight arrives within the window that you're expecting it to get there.

William: Looking at wait times is something you really want to pay attention to, because just recently Southwest Airlines had a computer glitch and it's gone on for three days or so that hundreds of flights were canceled. People were being help up for a day or two days before they could get on a flight and get home. It's frustrating as can be and that's an extreme example, but sometimes there are backups that happen with security. There might be an event somewhere in the world and then suddenly security tightens up.

Lee: Yeah, we had that, was it last June? We had it where there was some kind of go slow or a strike or something going on and we just kind of got stuck behind security and there was nobody there. I mean, God love 'em, these people were working as hard as they could, but there were hardly any of them doing it.

William: Well that's the problem though, because they probably weren't staffed for some event to happen that day and then suddenly they were probably scrambling and calling people, can you come in and help us out? But if you're there at the time when something comes up and they have to stop people or have to slow down the process, they will do so. They are not going to take the chance of just running people through.

They were pretty loose actually, earlier this year, as far as even if you didn't have the Pre Check or advanced boarding, what do they call some of those things? There was a Clear that was one of them and there was a TSA Pre Check and they would just kind of wave people through the line.

Lee: Oh, you're thinking of the Global Entry system?

William: Global Entry! And there were a few different ones like that and they were just waving people through the line. I remember the last time I flew I didn't really have to go through the screening. They just said, hey come on over here and just passed me right through. All of that has come to an end.

Lee: Yes, They've stopped that, which is kind of sad because somehow, for whatever reason, United always used to have TSA Pre Cleared printed on my boarding pass. I have no idea why. It was like that for a few years and we always got waved through the Pre line.

William: I can't claim to understand how or why security works the way it does. All I know is I expect, when I go there, that I'm going to have to go through the security clearance.

Lee: I think just be prepared. If you haven't paid for one of the special services, just be prepared that you're probably going to have to wait. Nice surprise if you don't.

William: There is something else that can also delay you a little bit and that is probably not something that happens at most other airports, but the weather here. I guess maybe if you've got snow up north that's going to delay you. Here it's thunderstorms.

Lee: Yes. Especially arriving.

William: If you've got thunderstorms out there, the guys and girls who work out there on the tarmac go in and take shelter and your luggage is not going to be loaded onto or off of an airplane until someone gives them the all clear that they are not going to be struck by lightning.

Lee: That's right. They close the belts in a storm and we've actually waited almost two hours once. It was just a storm that was not moving.

William: Which is kind of rare.

Lee: We had landed and it was ridiculous. You would never imagine sitting and waiting for so long. I think part of the reason was that they had so much backlog and we probably weren't the first flight to land, but they kind of closed everything down pretty quickly. Once we got in we heard that it had been closed for a while. So I'm guessing we maybe just made it.

William: And we were just talking on the last episode about thunderstorms. Usually they kind of come in and they move quickly and then they are gone. Most of the time that is the way it is. Every once in a while you get one that just relaxes and it wants to take its time or you get a weather front that moves in and it's going to be an all day event.

Lee: Yeah.

William: It's rather rare.

Lee: It's lightning. It's not rain. It's when there's lightning.

William: I mean, the rain comes through, but usually summer time, if you're going to have rain there is usually lightning going with it. I mean yesterday and today we had storms. I heard a number of cracks that were kind of shaking the building.

Lee: They kind of stuck around most of the afternoon. They almost circled around us.

William: So, if it's summer time, expect thunderstorms and that is going to cause you a little bit of delay.

Lee: Yes

William: Alright. Next thing up, we're going to talk about arrivals. If you are flying into Orlando International Airport the good news for you is the airport is well marked. There are plenty of signs.

Lee: It is. It's very easy to navigate. Almost step by step signing.

William: For me, I've got to admit, I usually like to go my own way, but this is a good time to follow the herd.

Lee: Yeah, it works.

William: I mean you get off the airplane, and I'm talking about domestic flights here, but I get off the airplane and I just kind of know that all I have to do is make my way over to the tram, the tram is going to take me over to the airside and I am going to go way over to the right because that's where the path is for people exiting into the atrium area. I'm going to go down to the level for my baggage claim and this is one of the things where you want to know your levels.

So Level 1 is ground transportation, and there is some baggage claim there, but generally speaking your baggage claim is going to be on Level 2. So you're flying in, you're going to go to Level 2 and we've got these funky looking kind of conveyors that come in and there's going to be plenty of signs over them and there are going to be LED lights that are going to tell you your flight number and your carrier and you just kind of go stand near that. You'd like to think that ten to twenty minutes later your bags will show up. Sometimes they can take a little bit longer and you wonder when is this thing going to go?

And then you're going to hear this little buzzer sound go off about three or four times and there's going to be yellow flashing lights and then suddenly the conveyor belt moves and the people who didn't get the hint from the buzzer will have to stand up because they were sitting on the conveyor and suddenly it starts moving underneath their butt.

Everybody gathers around the conveyor belt. I'm one of those people where I go right to where the little rubber flaps are where the luggage is going to be coming in. And the problem is the conveyor belts go in both directions so you don't really know which one it's going to come out of. You're either going to be at the very beginning of it or you're going to be at the very end of it.

Lee: Yes.

William: But people start lining up and get in their spot.

We were talking about levels. The other thing is Level 3, that's were ticketing and departures are. So basically if you're coming into the airport, we'll get to that a little bit later on, but when you're arriving just follow the herd. You're going to make your way down to Level 2 for baggage claim and just look for your flight number and wait for the stuff to come out.

Now, that's for domestic flights. When you come in here for an international flight, you've done that in the past, what's different?

Lee: OK, the international flights, the obvious thing that's different is that you've got to clear passport control and you've got to clear customs.

William: So how long will that typically take you to get through that?

Lee: That's why you want to use that CBP website for wait times. I've got to say, Orlando used to be really good. It then became absolutely terrible with wait times because I think what they were trying to do was make the most of the times that they had staff and so they had a lot of international flights coming in at the same time.

William: Ooh.

Lee: We were actually one year, held on the plane for about thirty five or forty minutes because there was no space to accommodate the last few flights in the arrival hall. Some were late and we had come in early and we all arrived within five minutes of each other. You cannot plan for that.

But, they have got the self serve kiosks. There are requirements to be met to use them. Most people qualify to use them. You've got to have qualified to use the Visa Waiver Program, I believe. I'm a bit rusty on that, so I don't remember now. Go and check and see what's available. It's worth it.

The last two times that I was in there it wasn't optional. They were randomly selecting people who got to use it and other people had to go with the regular lines.

William: Of course the last time you were there we were engaged and you were coming through for that and you were talking to the Border Patrol.

Lee: Oh, they wanted to send me home! I didn't think I was going to get through. I was expecting to be put back on a flight.

William: I thought they were going to be nice to you.

Lee: They were nice to me, eventually, after lots of questions and the officer kind of eyed me up and down. I think he was sort of persuaded that I was really going to go home at the end of the week. And I did.

William: And now home is here.

Lee: Yes.

William: You don't have to go back and see those officers anymore.

Lee: No I don't. No more visas.

William: Alright, you brought something up that I never had to deal with before. Usually if I come in, I live here so I've got my car ready. I don't necessarily park at the airport. I'll use one of those Parking Spot or a place like that to park and all I need to do is catch a shuttle bus and those things are going by all the time to get out of here.

How are you managing your transportation and making sure that you've got the right time from when you land. You could be stuck on that airplane for thirty minutes or more and then go through customs. How much time do you really need to plan for before you actually get to baggage claim and pick up your luggage and ready to go to your transportation?

Lee: I think on the whole, assuming that nothing drastic happens to mess you around, you're going to be certain of being cleared within an hour. I think that's a generous amount of time and being wherever you need to be to get your transportation.

When you've cleared your passport control you then have to wait for your baggage on the baggage claim. If you clear passport control quickly, you are going to wait for the bags. If you are in a long line when you get there your bags are probably there. You're going to wait one way or another.

Once you've got those, you do your customs check, walk through and then you've got to get up an escalator to get to the monorail. If you can manage your bags on the escalator, take them up the escalator, because your other option is to put them onto a secondary carousel and they will take it to the other terminal for you so you can just ride with your carry-on.

William: But then you've got the whole wait all over again.

Lee: It adds about, I'm going to say about twenty minutes onto the wait time. Now if you've got time to kill or if it's a good solution for you, it is useful to have it there. Just be aware though that you are going to go and stand at another carousel and wait for it again. And you've got to wait for it to get there.

William: And just remember, we're talking specifically for international visitors at the carousel.

Lee: This is only for international. This does not apply on domestic flights, so for the majority of the visitors this is not going to be an issue.

William: The last thing I read about the visitors to Orlando, I'd say about ten, under fifteen per cent, were international visitors. That's still a good chunk of people, considering how many people come here all the time, but most people are going to get off the plane, you're going to follow the herd to the monorail and it's a very short ride. It's only going to take you …

Lee: I think they said sixty-eight seconds? Was it? I think that is what they said on the website.

William: Well they've got two tracks for each terminal so if it doesn't have one on the left, then the one on the right will be coming sixty seconds later. It's really only going to take you five minutes, ten at the top if you are really slow, to get to baggage claim and be ready to pick up your luggage.

Chances are, you're going to get to baggage claim before your luggage is ready to come out.

Lee: Yeah. I guess what you can do if you know you've got a car to arrange or if you've got somewhere to check in or something to do on the other side that you can do in the meantime, you can do that. If you want to use a restroom or get something to drink, just go and do it. You can while away the time and then go and get the bags afterwards.

William: Yes, because otherwise you're just going to be standing around bored with everybody else, waiting for that little baggage carousel to start coming around.

Lee: Yeah. But domestic flights are pretty easy. Straightforward, on the tram, to the carousel and then be on your way.

William: OK, so once you've got your bags, you've got to go down to Level 1. And our tip is use the elevators rather than either the stairs or the escalator.

Lee: I'm not even sure if there is an escalator? There may or may not be? Is there? I have never paid attention. I'm just always amused at the people struggling down the stairs, thump, thump, thump with their big suitcases and I kind of don't want to look like I'm being cheeky and say, do you not want t use the elevator? But uh.

William: Well, when I was flying alone it wasn't really so bad. I would take the escalator. Especially if I had just a carry-on bag and maybe something over my shoulder, not a big deal.

Even with my full sized suitcase, as one person not going around with anybody else, I would take the suitcase and put it on the step behind me and then stand in front of it, because it had a tendency to lean forward, and then just let it come right down the escalator with me that way.

For one person that's fine. And if everybody in your party can work that way, then that will work out as well, too.

But if you've got a family and people are all over the place or you've got multiple bags, take the elevator.

Lee: And if you're on an escalator and you've got two bags, leave two steps at least between the person in front of you and yourself because they will stop as they get to the top!

William: It never fails! And you're going to …

Lee: Yeah. Leapfrog. And then you can have the other bag behind you, ready to pull along. But yes, leave that little buffer of space and when you get off, keep moving.

William: That's a good point because once you get down the bottom of the escalator the person in front of you invariably just isn't ready to start walking.

Lee: No. Just assume that they are not going to be ready to start walking. You also don't want to walk up the back of somebody and then they fall over and there are more delays.

William: No, it's not good for anybody.

If you have somebody waiting to pick you up the easiest thing to do is use the Cell Phone Parking Lot. Basically what that is a little parking lot outside of the airport. There is nothing special about it. It is nothing more than asphalt with some lines on it and people hang out there waiting for a cell phone call so when you arrive and you've got your baggage, you get on the cell phone, call up whoever is picking you up and then they can turn and drive around the airport and pick you up down there on Level 1 and everybody is happy and you're good to go.

Lee: And it's free.

William: It is free because there are no amenities out there whatsoever.

Lee: I know there's not, but you're not paying ridiculous amounts of money for parking in the event of a flight being delayed and waiting for long.

William: Exactly. And parking is ridiculous at an airport. Not just Orlando International Airport; any airport. So this is somewhere you can go and there's free parking where you can wait. There are no facilities, there are no restrooms; there is nothing out there except for asphalt and dirt around it. But it is a place to sit down and wait until you get the call and you don't have to pay anything.

Lee: And when you call your friend or family member to tell them that you are ready outside with your luggage, have a look up because they have actually got them numbered. The stops are numbered. So when you come out you walk out the door and you'll be – I don't know – United Airlines number 23 and you just tell them. I think it worked backwards. It actually works in descending order.

William: Yeah you kind of count down .

Lee: You count down as you go along, so just give the number and stand there and keep an eye for the car.

William: Alright, let me ask you this though. So if you're coming here and you're a visitor, you don't have a car here, you don't have anybody picking you up and you are using something like Disney's Magical Express, how does that work if you don't know exactly when you're coming out?

Lee: Oh, Magical Express sorts this out for you. They don't really need you to arrive on time with your flight. In fact I don't think they even check the flight details. They just ask so they have an idea when to expect you. They try and assign people to the buses so they can plan accordingly.

But we've been delayed terribly. We've also been put onto an earlier flight because we had a connection where we made the earlier one and there was no wait for either of them. We got there and said look, we're early; or we got there and I think in one case we were four or five hours late. No questions asked. They just had us there and said, "Welcome."

William: OK, so the buses are lined up and you just go up to whatever the first one is, or how do you know which one?

Lee: No, no they will direct you where to go. They will show you. It's all kind of marked in lanes. They almost kind of escort you. You walk the red carpet. You really need to try this!

William: See, that's the thing.

Lee: We need to go drive to the airport so that we can go to the Magical Express. They don't care if you came in on a flight, or what flight. They'll pick you up from the airport if you're in a resort. You need to do this.

William: I've never been on it because I live here. I can drive to the parks by myself.

Lee: Well that doesn't help you at all, because now you don't know how it works.

William: And when I'm driving to the parks I usually pass one or two of those Disney Magical Express buses.

For the most part they are pretty good. They stay on the right lane so I can pass them on the left.

Lee: We like the Magical Express.

William: Alright, one of these days we're going to have to try this just to see what happens. I mean, do you need the Magic Band, do you have a ticket, or how do they know?

Lee: You're on their reservation system.

William: So you do have to make a reservation in order to ride on it?

Lee: You need to stay – even if you stay one night – at a Disney resort.

William: So this is only for resort guests.

Lee: This is for resort guests.

William: Which makes sense. You wouldn't want to take a bus out there if you're not going to be staying at a resort, I guess.

Lee: No.

William: But you're saying that we need to go do this and I'm thinking alright, so we've got to book a hotel room in order to ride on this bus.

Lee: Yeah.

William: Alright. I can see some expenses in our future.

OK, that's all we've got for you really about arrivals at Orlando International Airport.

So let's turn back around and depart. Your vacation is over and it's time to go home.

Lee: It's like the worst part.

William: Is it really?

Lee: Yeah.

William: Let's turn it around the other way. We were talking about Disney's Magical Express. So you're at your resort at Walt Disney World. What do you do? You hop on the bus and how do they know where to take you?

Lee: Well, for me, first you get really upset that you have to leave and stand there crying and flustered and you can't find your Magical Express details and you get on the bus and you cry some more.

What they do is the day before check out they will put something over your room door. It will be your checking out information and it will tell you what time you're going to be collected and they will give you adequate time. Aside from the time where the bus didn't stop and they forgot us, so we kind of didn't get to the airport in time. We were the only guests at that resort.

William: See? You didn't have to cry anymore.

Lee: No, we didn't! It was really funny.

They will give you all the information and if you've got any queries, there's a number there and you can call them. Like if you think that they have maybe cut it a little bit close and they said they're picking you up at 4 pm and your flight is at 5.30 pm, give them a call. You've got time to do it. You'll get this all the day before you check out.

You've got to have those documents with you when you board the Magical Express, but you get on, they take you to the airport and they will announce which airlines are at which terminal. They will tell you they are making two stops, assuming that you know who is flying you home. You just listen for your airline. So you know when to get off.

William: OK, so the same bus goes around Airside A and Airside B?

Lee: It does both.

William: OK, let's assume that you're not staying at a Disney resort or you're not taking Disney's Magical Express. You still have to get back to the airport. It doesn't matter if you are going to take a shuttle bus or a cab or if you've got a rental car. If you've got a rental car, honestly you are probably going to end up taking that back to an offsite rental company. I think there are maybe one or two on site rental companies and then they are going to either tell you to get on this elevator to get up to the airport, but most of them that are off site, you are going to have a little shuttle bus that's going to take you back in and it's going to be the same thing. You have to listen for your airline. You need to know where to get off.

If you're having somebody drop you off and they don't know exactly where to go, tell them Level 3. All of your ticketing and things that you need to do in order to leave Orlando are going to be on Level 3 and if you don't know if it's Airside A or Airside B, again you can go look at the map that we mentioned on the Orlando Airport site, but as you're driving in there are very large signs. They are hard to miss unless you're driving 100 miles an hour, you are going to see the sign and it's going to tell you Airside A, these are the airlines.

Lee: Yeah, it's got a list of the airlines on the signs. I think they cover them all, somehow.

William: They do. I've never had a problem where I've driven in and not known. Even if I can't remember from my last flight out or if I'm on a different airline, I look up there and I always see what I'm looking for. That's what I'm paying attention to. So they are very large, they are spaced out enough that you are not jerking your neck around and saying, "Wait! What did that say?" You have time to read them.

Lee: Yeah, you've got advanced warning as well because they put them up a couple of times. It's not just once that you see it and then you're going to be ready to make your exit.

William: OK, so you get there, you're dropped off on Level 3 and now you've got to decide how you're going to move your luggage and what you're going to do next. You've got a couple of options.

One, there are carts out there – little Sky Carts – you can load up your bags on those and wheel them inside and stand in line. My preference though is the Sky Caps out there.

Lee: Yeah, mine too. Always a Sky Cap. Never a Sky Cart. Ever!

William: I mean, the Sky Caps, first they are great. They are going to pick up your luggage and they are going to take it back. They've got scales back there where they can weigh everything for you. They will check your baggage for you, but they can also give you your boarding pass and usually you tip these guys for the nice service, but also they are going to save you a lot of time compared to going in and standing in line.

Lee: Absolutely. I mean on principal I won't pay for a Sky Cart. I just think that should be part of an airport service for a start. Secondly, you've got to push the damn thing yourself. Thirdly, it is tiny! When we come back we have a lot of luggage. We always traveled with lots going back.

William: And then you still have to stand in line and push that thing through those little roped areas, waiting to get to a counter.

Lee: But most importantly, I don't remember what they cost the last time I noticed them, but I think it was maybe $6 or $8 for a Sky Cart? I would way rather give $10 or even $15 to a human and let him do something to help. And they will get you all the way to the check in desk.

I know you mentioned boarding passes, but that's not going to apply if you need to have your passport checked if you are leaving the country.

William: No, it's not available for international, but for domestic flights.

Lee: For domestic, yeah. But these guys work. They are working for their money.

William: Exactly. It's a service job. A tip and their gratuity are customary so if you've got a domestic flight, save yourself the hassle of going in and lining up.

I think the only time that you really want to go in and stand in that line and the only people that should be standing in line are those with no checked baggage; just carry-on luggage. But if you've got checked baggage, use the Sky Cap. Those guys are great. They will get you going. They will make sure your stuff gets to the right place and you put a few bucks in their hand and everybody is happy and it's a big win versus standing in line.

Lee: Yeah. Are we going to talk about prepping luggage before you get to the airport?

William: Oh, why not? Go ahead.

Lee: OK, this is one of my pet peeves.

William: Hang on now. We need to have a sound effect or something for pet peeves. I don't have anything prepared for this.

Lee: I know, I have lots of these. I have lots of opinions, but this is just something that drives me crazy.

William: OK, I'm going to have to go search for sound effects for Lee's special opinions

Go ahead.

Lee: Please, if you need to go and get yourself some luggage scales, they are really cheap. You can get some inexpensive mechanical ones on Amazon. Get some luggage scales, dump them in the outside pocket of your suitcase and keep them with you all the time and weigh your luggage before you get there.

I have very little patience getting to the airport, standing in line to have my luggage checked and the passport checked (depending where I'm going) and somebody in front of me has not weighed their luggage and they are overweight and trying to figure out how they can now split this up and get through without paying. And they are unpacking stuff and I'm standing there waiting.

I don't feel sorry for them. I'm sitting there thinking, "You stupid …!" I mean you know that you are allowed fifty pounds.

William: It's like they are surprised, too, when they get there. "Oh, it wasn't that heavy when I got here!"

Well of course not! You bought things while you were here. But I've seen this more times than I can count. It doesn't have to be every time, but I can't tell you how many times I've seen grown ups on their hands and knees with a suitcase open and all their ….

Lee: Underwear?

William: All their underwear; all the clothing that they need to go home and do laundry, scattered about the airport carpeting.

Lee: Yeah, the leopard print and everything.

William: Oh!

Lee: Yes, please. I know nobody is going to see you again so you don't have to be embarrassed, but really, it is just inconsiderate. It irritates me no end. And I know that sometimes people are on the cusp and you get a difficult check in person. That happens and that is completely different, but really, when somebody is fifteen or twenty pounds overweight, there are ways you can check this stuff without any inconvenience to yourself before you go.

William: There is that and then there are also a couple of other things. Since we are talking about preparing before you go through security and before you go to the airport, something else is what are you going to wear when you go to the airport? You know you're going to be going through security. You may possibly be searched.

Lee: Yes.

William: You're going to have to take off your shoes, your belt and all that stuff so dress with security in mind.

Lee: Yeah. Oh, please. Really, people untying shoe laces after they get told they need to take off their shoes. Like they didn't see the signs for like 500 yards before they got there through the whole airport.

William: It's like it's as surprise. "Oh, I have to do something now?"

Lee: Are you serious? Is this your first time? And even if it is, there were signs everywhere. Sort yourself out before you get there. There are benches, there are things leading up with all the signs saying that you are approaching the secure area. Fix it. Please.

William: Exactly. It's like you know you're going to have to go through security. You can't guarantee that you're going to get by-passed unless you've got that Pre-Check or Global Entry. Unless you know that you can skip the line for some reason, you may as well expect that you are going to have to go through the line. You're going to have to take off a certain amount of clothing and hold your arms up in the air while some scanner looks at you and the scanners are really good.

One time I went to the airport and I was dressed casually; I had like jeans and a pull over shirt, but the morning before I spilled toothpaste on my belly and I just wiped it off and thought I got all of it, but apparently not. They pulled me aside after they put me through the scanner and they said well there's some kind of substance on your stomach.

I looked at them and said, "It's toothpaste. I didn't do a good job of wiping it off."

I just hit it with a towel and thought I was ready to go, but whatever tiny bit of toothpaste residue showed up very clearly for the scanner.

Lee: I usually get pulled for the random check. I've always got a lucky number.

William: That hasn't happened to me that much at the airport. It's happened once or twice and I just kind of go through it. And that's of course, when I had the toothpaste on my stomach.

Lee: Oh, I've had hands down my jeans. I mean, I've just had all kinds. Never had a problem with TSA. It's other countries where I've had issues, strangely. Everybody complains about the TSA; I've never had a bad experience. They have always been very polite and respectful with me.

William: I've never had a problem with TSA folks. I've never had anyone get angry at me. I know we have heard stories about people getting angry at TSA or saying that some of the TSA folks got angry at them. I've never seen it, but I don't travel on a regular basis so maybe it's just a limited experience with flying.

But from my experience, the TSA folks aren't there to cause any hassles and if you're polite to them they are generally polite to you back. I've not seen anything else.

A couple of other things to keep in mind, if you have liquids, they want them in the little clear plastic bag and if you have electronics you might want to put those in one easy pack.

Lee: Yes, try and have as few things as possible. That's my rule. From years of traveling alone with a young child – she's older now and she knows what to do – I needed to make sure that we could get through as quickly and easily as possible and it was just easier to make sure that everything was separated into a step by step process. So she would have slip on shoes, she'd have something light and comfortable to wear that didn't have buckles and belts and things and if she wanted to wear something like a necklace or a bracelet (generally those things are not a problem) I'd keep it simple and have those in a little bag and promise her that once we had cleared security she could have them and we'd fix her hair or do what she wanted.

You want to get yourself organized before then.

What I do with the liquids bag is I like to have a carabiner hook. There have been times where I've actually once or twice gone through and had my stuff packed into the little baggie, and forgotten to take it out of the suitcase. Nothing has ever come of it, but I've realized, oh my goodness! I should have taken that out separately.

William: That's happened to me.

Lee: So what I started doing the last few years is whenever I'd go through, sometimes before you get to the security check points they are usually handing out the bags in advance so that you can put your stuff together. I would just grab a handful of them so that I had them for the next time. Some of them have a little handle in it; like a little opening or hook? And that's kind of nice because those are my favorite. I can pack the stuff at home, take the carabiner hook and loop it through there and then attach it to the outside of my bag and that way – I know you've got this thing dangling around – but then even if I forgot to take it out, it was there, displayed so they could see that I'd separated it. Once you've cleared the security check point you can squeeze it inside and it's all there.

William: OK. It sounds good.

The other thing is if you're going to have carry-on bags, you're allowed one carry-on bag and one personal item. Your carry-on bag I'm thinking like the roll aboard bags that most people have. Your personal item might be – for women it might be their purse – or it could be a messenger bag or a camera bag, whatever that may be.

Lee: Laptop bag or something.

William: Laptop bag will go in there.

If you're not doing any checked luggage, you're probably going to have both. But as much as possible, I try to eliminate how much I'm going to be carrying on.

Lee: The fewer things you have on you, the less the chance of leaving something behind or losing something.

I know that I have actually, in a mad frenzy …. We were running late for a flight. I think our transportation had got us late to the airport and there had been some delay at security and they were swabbing everybody's electronics and they took mine away and somehow in all this chaos and stuff, Tové was about eight or nine years old and she got pulled aside for a random security check. So I went over to attend to that and we had already left the sterile area and I thought, "I didn't get my laptop back!"

William: Oooh!

Lee: And I had to try … you know they tell you not to enter, so I had to go and get somebody to help me so that we could go back. I mean they had it there, but I had too much stuff with me and I knew better, but I was just trying to keep track of way too many things.

William: And that is the confusing part of that area. If you get pulled aside, you want to kind of keep your eye on your stuff, but yet they are pulling you in another direction because at that point they are treating you like someone they don't trust.

Lee: Yeah.

William: They are not rude, but they are saying you've been pulled aside so now you are – I don't want to say suspect – but in effect they are going to treat you as "You may have something on you." Even if you were just randomly selected.

Lee: That's right. I mean they were very polite. In fact they laughed when I went back and it must have been the look on my face when they handed it back. They were just really lovely.

But it said Do Not Enter. I thought, well how the hell am I supposed to get back here to ask somebody? Who do I speak to?

William: And I guess what I'm pointing out is it's not that I'm talking cross purpose. The TSA folks have been very nice to me, but when you get pulled aside, if you're doing anything to resist being pulled aside, suddenly that just doesn't look right.

Lee: Well, it puts alarm bells up.

William: You need to speak up and say, "My property is over there."

Usually they are pretty good. I think they will have somebody get that and bring it to you. That's fine. That's fine with me and I'm happy to go along with you, but if you appear to be resisting the check, even though it might be for the most innocent of reasons, it just doesn't look good and it might cause further delay. We'll put it that way.

Lee: Yeah, just be polite. And don't say anything unless they ask you anything. They really don't care what you say, so I just stand there quietly and wait for them to speak.

William: Well that's kind of my advice for any kind of security or law enforcement. Don't speak unless spoken to.

Last little thing that we wanted to talk about is the same thing: give yourself plenty of time in case there is a back up at TSA. You are going to be looking at wait times when you arrive for your baggage check, you're going to be looking at wait times for TSA or security clearance on your way out. Two hours for domestic is, I think, the typical advice and three hours for international.

But there are occasions where it is going to be running a bit later. You might hear about it on the news. If there is some kind of event going on in the world and you think that's going to tighten up security, give yourself a bit more time to get to the airport and get through security.

Lee: A lot of these tips are general and will help you through any airport, wherever your departing airport is as well. But I think knowing where you are going and having an idea what to expect can certainly help you relax a little bit and there is certainly nothing wrong with being able to relax a bit at an airport. Nobody wants to be stuck in there indefinitely.

William: No, it's boring when you get over to a gate and you're waiting for your airplane, but II would rather be there bored, than stressing out about whether I'm going to miss my flight.

Lee: Have something to drink. Yeah, exactly!

William: So our final advice for departing is try and get organized before you go to screening and then just get through as peacefully and easily as you can. And then go relax over at the gate.

Lee: Yeah, because otherwise Lee has an opinion about it and everything.

William: It never fails!

Thank you very much for listening to the Orlando Local Show, episode number two, about getting around Orlando International Airport. We really appreciate you. Thank you so much for listening. We hope to see you back here again next week.

Show notes are going to be available at orlandolocal.com/2

You can find a free transcript of the show there and also we will put out some links for some of the things we mentioned for the airport websites, the wait times and some of the items we talked about as far as scales and the carabiner clips and things like that. We'll put links out on the show notes.

Thank you very much. Have a wonderful time! See you next week!