6 Places to Celebrate Christmas in Orlando
Celebrate Christmas in Orlando and Central Florida at 6 of Our Favorite Places
Thank you for listening to The Orlando Local Show. We want to help you celebrate Christmas in Orlando, so we're listing 6 of our favorite places outside of the major theme parks (though I guess Legoland counts for a theme park).
While our friends in the north are hunkering down for a major polar vortex, the forecast for Orlando this week has highs in the upper 70's and low 80's. If you want to feel a blast of cold air, head over to Gaylord Palms and venture into the ICE! display, where they keep the temperature at a steady 9 degrees.
Maybe you want to head over to Winter Park for some outdoor ice skating in your shorts. Lake Eola has a number of events going on, including movies and The Nutcracker ballet at the amphitheater.
I hope you get some great ideas to celebrate Christmas in Orlando from episode 22.
Merry Christmas from William and Lee Beem.
Related Links
Winter Park:
Nov 20 – Jan 10: Ice Skating Rink
Lake Eola:
Multiple events through December
Gaylord Palms: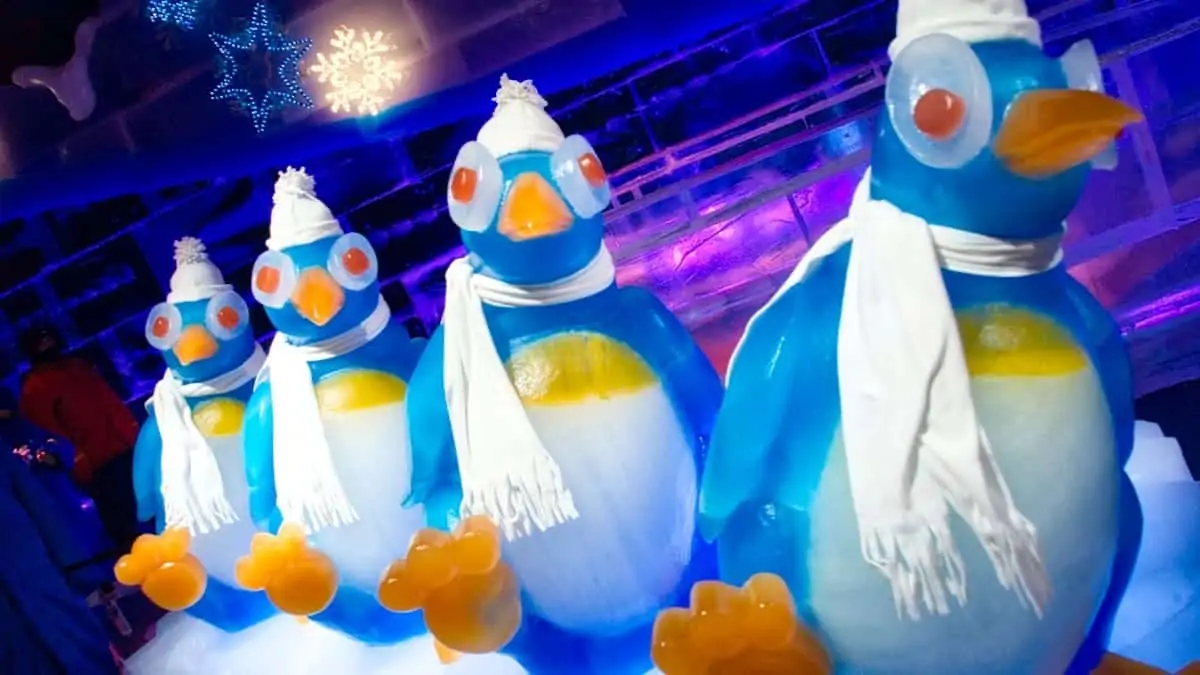 ICE!
I promised I'd share a photo from a previous ICE! Display.

Legoland:
Christmas Bricktacular (LEGOLAND no longer lists this as a seasonal event)
Bok Tower Gardens:
Christmas as Bok Tower Gardens
Transcript
THE ORLANDO LOCAL SHOW
Episode 22
Welcome to the Orlando Local Show, episode number twenty-two.
William:   Thank you very much for joining us. I promised you that we would have a Christmas show this week and here we go.
Lee:         I love this time of the year!
William:   I know. Just a little different music, so something besides the usual intro. I love the usual intro, but this was kind of nice. Kind of calm and relaxing. It's like, OK we're almost on vacation time!
Lee:         Yeah, the countdown has begun.
William:   And today's show is going to be six places to celebrate Christmas in Orlando. We are talking specifically outside of the theme parks – for the most part, outside of the theme parks. No Disney, no Universal, not even Seaworld. And they all have their wonderful things going on, but we decided we are looking for things that you can find without necessarily having to pay a hundred bucks just to get in.
Lee:         Well, exactly. I think people who are staying at the theme parks have planned around the events offered there. But plenty of visitors come here and it's not a theme park visit.
William:   Exactly.  So before we get started with that, let me let you know today as usual, show notes are going to be available at orlandolocal.com/22
You can find a transcript of the show there for free as well and links to subscribe to the podcast at orlandolocal.com
And we invite you to follow us on social media. You can find us on most of them, like Facebook, Twitter and on Pinterest we are orlandolocal, and on Instagram we are orlando_local. It's always the odd one out.
Lee:         Yes!
William:   We are talking about six places that you can go and find some interesting Christmas stuff.  We are going to start off in Celebration, Florida, which is not very far from Disney. It's just kind of over the rainbow.
Lee:         Yes, it really is over the road.
William:   They are going to be doing nightly snowfalls at 6 pm, 7 pm, 8 pm and 9 pm.  So this is going to be going on every night through December 31st, including Christmas Eve, Christmas Day and even New Year's Eve.
Now honestly once I get past Christmas, I'm done with Christmas stuff.
Lee:         Yes, but depending on how people's family vacation falls, it might be the only opportunity, so if you missed it and you still want to get it, it's going to be there.
William:   Celebration is kind of like ... it was the town that Disney built and they don't manage it anymore, but it was built as a traditional town.
Lee:         It's beautiful. It's just so quaint.
William:   It is a lovely little town and they are going to be doing a lot of traditional stuff there so besides the snowfall going on, there are photos with Santa Claus, strolling holiday carollers so people are going to be walking around singing.
They've got a small ice rink out there and a little bit of entertainment, so this is going to be going on. As a matter of fact it already kicked off after Thanksgiving. If you want to see snow in Florida, this is probably about ... it's one of the few places you're going to find snow outside of the theme parks.
Lee:         Yeah and if you're coming down from the North, you're probably just going to roll your eyes and go, "We'll be here for the other things not the fake snow."
William:   The Carolers running around are kind of like Charles Dickens carolers.  You can expect it; but that kind of old world costume. There are going to be community performers there, like I said, photos with Santa, a horse drawn carriage for rides and the Celebration Express Train with nightly snowfall.  Like I said, it's at 6 pm, 7 pm, 8 pm and 9 pm.
I wouldn't expect it to stick to the ground. You're not going to be building snowmen out of this.  But if you kind of want to walk around – especially if we get another chilly night – it's just a nice feeling to bundle up, go down there, get a little snowfall and hear some of the folks singing and get in your Christmas spirit.
Lee:         Well, that's exactly why we want to do events like these.  We want to go to these places because I think most families have at least one thing that they do that sort of signifies that this is the start of the Christmas season for us. Now we are in the mood for Christmas.
William:   Upcoming on December 17th there is going to be a special Radio Disney holiday concert in Celebration, so if you're in town for that, by all means head on out, have a nice time and leave us a comment. Let us know how it was and what you thought of it.
Next on our list: Winter Park.  This is going to be a bit more inland. It's not going to be near any of the tourist areas, but if you like ice skating and you want to make sure that you get a chance to strap on some blades, Winter Park outdoor ice skating during the holidays in Central Park ... The ice skating rink opened up in November so it's already running and it's going to continue on until January 10th. So you've got plenty of time to go ahead and have your little Christmas skate, running around in there.
I've got to tell you I've never been ice skating. I've been roller skating years ago, but even though I used to work out at RDV Sportsplex, which has an ice skating rink in there ... that's another place you can go. It's not necessarily Christmas themed.  This one is an outdoor one. You can go out there and have some fun with the kids and do a little skating.
The location is 150 North New York Avenue on the corner of Morse Boulevard and New York Avenue at downtown Winter Park.
Lee:         We'll put some links in the notes; in the show notes.
William:   Absolutely.  All of these things are going to have links in the show notes and we are going to put times in there, so for the hours of operation for the skating it's going to be Monday through Thursday and it goes 3 pm to 9 pm.  Friday they stay open a little longer until 10 pm.  Saturday is 10 am to 10 pm again and Sunday is 12 pm (noon) to 8 pm.
The cost is $12 for unlimited skating and that includes your skates.
Lee:         That's really good, isn't it?
William:   You're from a cold and snowy place. Have you ever gone ice skating?
Lee:        No, I don't ice skate. Tove ice skates.
William:   For me ice skating would simply be falling on ice.
Lee:         Well yeah, I think it takes a bit of getting used to. I was into my inline skates and things like that when I was growing up.
William:   Yep.
Lee:         But the ice thing just never ...
William:   Well I'm from Florida you know, so ice is what you put in your drink.
Lee:         Yes, not under your butt!
William:   Or maybe even in your cooler.  OK, our next location or one of the places to celebrate your Christmas is at Lake Eola in downtown Orlando.  And there are a number of events going on there.
So first off, every Sunday they've got the Lake Eola Sunday Market. I'm having a hard time spitting that one out, aren't I?
Lee:         Yes, lots of words.
William:   I should probably let you do this.
Lee:         No. There are too many words that are close together.
William:   This is your farmer's market. It's kind of ... you're going to have fruits, vegetables, homemade bread. But the people who are putting on the farmer's market – and you can get to it at orlandofarmersmarket.com are also going to have a little Christmas special in there. So if you like going to the market, this is going to be at Lake Eola on the south east corner of the lake.
They are also going to have Santa Claus at the Eola House.  Yeah, visit Santa Claus. He's going to be there until December 18th, so he's already running along and if you want more information, you can call the Eola House at (407) 246-4484.
Lots of places for Santa to hang out.
Lee:         Yes, there are.  Lake Eola is very good though, with events. I mean not just for Christmas, but all year round. They have a lot of events and they actually are very good at keeping their website and social media updated to let you know what's happening. So that's maybe one to watch. It's not terribly far out.
William:   It is and this is the premier park in Orlando. This is like the signature with the fountain and everything.
Oh, before I forget, Santa Clause is going to be there from 4 pm to 10 pm.
Lee:         Yes, that's important. You don't want to get there and miss him.
William:   Alright, the Christmas tree is already lit downtown. Friday, December 16th from 7 pm to 9 pm they've got holiday movies in the park. So Friday on the 16th is going to be How The Grinch Stole Christmas. This is not the one that you are used to on the cartoon special that shows up on TV. This is the one in 2000 where they had Jim Carey as the Grinch.
Lee:         Yes.
William:   Saturday, December 17th from 7 pm to 9 pm, also at the Lake Eola Amphitheatre, the Nutcracker by the Russian Ballet of Orlando.
Lee:         That's something that I know my parents would jump at the opportunity to go and see that.
William:   It's there, it's free, it's a beautiful night out. Just the music itself kind of draws you in and you see the performers. This is kind of a cool little thing.
Lee:         That's the thing about Florida. Even though it might get cool in the evenings, it's not terribly uncomfortable. Beyond putting on a jacket and some long pants, you are going to be comfortable.
William:   Friday December 23rd, from 7 pm to 9 pm, also at the amphitheatre, the holiday movie in the park this time is going to be The Christmas Story, so if you miss Ralphie wanting his Red Rider BB Gun you can go down to the amphitheatre and just have a nice evening out and watch that.
Now of course there are a few other things that are always going on at Lake Eola Fountain. It's been there since 1957. It looks a lot better. They refurbished it a few years ago and it's got colors and does this nice little light show, but honestly, I don't know why; I grew up with this fountain out there and I love the fountain.
Anyway, it kind of goes through – like there's a center spire that goes up and then there are little fountains on the side. It's not like it's really a show. It changes and I don't know. It's a calm and relaxing thing. This is Orlando to me.
Lee:         I mean if you visit somewhere for Christmas, you often want to do something different. You want to capture the spirit and keep your own traditions true, but you also want to experience something that is a little different and Orlando really, I think for most people, is a very different Christmas primarily because of the climate.
William:   OK, let's move on to Gaylord Palms and Ice. This is not too far from Walt Disney World and I have been to this a few times. I haven't been to it yet this year, but I want to go because this year it is a Charlie Brown Christmas.
Lee:         And Christmas isn't Christmas without Charlie Brown.
William:   Absolutely. And it's amazing what they can do with the ice sculptures. The purchase price for this is going to be $28.99 for adults and $14.99 for children. Seniors save a buck or two at $26.99 and this is going to run through January 1st.
The hours are going to vary a little bit so what we are seeing here is pretty much just running from Sunday through Thursday, running 10 am to 8 pm. And they are open a little bit later; they are open 10 am to 10 pm on Fridays and Saturdays.
Lee:         We'll put a link in the notes to the schedule so you can look for any specific dates that you're thinking about.
William:   I might even put in some of the photos I've taken from previous events. When they did like Shrek The Halls.
Lee:         Oh, I remember seeing that being advertised.
William:   Yeah, but Peanuts characters, that puts a whole thing ... I just want to see Snoopy on ice.
Lee:         Yes.
William:   I don't mean skating around; I just mean Snoopy in a little ice statue. The work is amazing. You go there and they give you these long coats and I think some gloves because it's nine degrees inside.  And it doesn't sound like much.
Lee:         Ridiculous.
William:   Ridiculous!  It's not supposed to be nine degrees in Orlando, but apparently it is over at Gaylord Palms. And it's fun for kids too. They've got some slides that are kind of made out of ice so you can put yourself down and just kind of get slippery going down the ice, but for me mostly it was just fun. You walk through and you see the characters. You've got a couple of little interactive spots in there, but it's a really cool display.
Lee:         You didn't like the slides?
William:   I didn't go on the slides.
Lee:         Is it for kids only?
William:   No, I've seen adults go down the slides.
Lee:         OK, I wasn't sure if they had restrictions.
William:   No I just thought I would simply look awkward. Plus I had my camera with me. I don't necessarily want to take that down the slide.
Lee:         No, I definitely wouldn't take a big camera on there.
William:   Yeah, when you are out there with a big DSLR and a lens and stuff like that – even a tripod because I was doing HDR shots in there.
Lee:         Yes.  You could break your legs like that.
William:   And if you don't know what HDR is or if you're not worried about photography, don't worry. All I'm saying is I had a lot of gear with me and I didn't want to go down the slide with it.
Lee:         Smart move.
William:   Every once in a while I make a decision that is not entirely ill advice.
And this one is not one of the major ones like Disney or Seaworld or Universal.  This one is Legoland. And they have a Christmas Bricktacular.
Lee:         We put this in because if you've got young children you usually try and find something that keeps them entertained. You know what it's like. If the kids are happy then everyone else can at least just relax.
William:   Honestly, Legoland is one of those places where it's amazing what they can do with it. People actually have a lot of fun down at Legoland. I mean they've got the things and not only do you just look at what they've done, but you've got a lot of these bricks that you can go ahead and start playing with; build yourself and your kids and probably even some of the adults that are really into it.  You can have a blast putting stuff together, but the things work too. You can shoot water cannons out of Legos.
Lee:         Yeah. Do you know what? Have you ever thought how cool it would be to work there. Imagine working there and making all these little figures and you come home from work and someone says, "Hi, honey. How was your day at work today? What did you do?"
"Oh, I built a pirate ship!"
That would be pretty cool.
William:   You can. Or a Death Star.
Lee:         Yeah!
William:   But Legoland is down in Cyprus Gardens, so this is a bit further south area than Orlando. It's not too far. I'd say you probably from Disney area might be driving an hour or more.  Maybe not even an hour. They've got a holiday themed scavenger hunt, they've got prizes along with Lego Santa, Lego toy soldiers making appearances in the park and of course they are going to have fireworks at night.
Lee:         And you can arrange transportation from the Disney area, I believe. I'm not sure where they start, but you can actually arrange Legoland transportation if you're not driving.
William:   How do you arrange transportation?
Lee:         They've got a shuttle; a bus that goes through. It wouldn't be my choice. I mean it's quite a long time to sit on a bus with a whole bunch of people. When you are on vacation sometimes you don't mind doing things that you wouldn't ordinarily do and it's quite popular if it's the only way to get there. It's more cost effective than taking a taxi.
William:   OK. Finally, we are going to recommend Christmas at Bok Tower Gardens. If you haven't been there before this is going to be a little south of Disney World.  And you are probably going to need your car to drive there or at least arrange for some transportation, but Bok – b-o-k Tower gardens.  It's just a beautiful landscaped area. You are going to find that they are going to have a number of festive events.
They are going to have a holiday home tour at Pinewood Estate; they have special concerts and poinsettia displays along the River of  Stone, which is kind of a walkway through a nice tree-filled garden area. It's just a lovely getaway. So if you are looking for someplace to kind of calm down, relax ...
Lee:         An escape.
William:   Yeah. It's a nice escape. It's going to be a bit more on the traditional side. If you are rushing around and you are going through the parks and you just think, "I need a break from all this!"  Head on down to Bok Tower.  It will have a lovely little Christmas display and I think you'll enjoy it very much.
We were looking at some of the photos here from the home tour. It's just a beautiful little estate with a very traditional kind of Christmas tree decorated. They've kind of gone all out.
And the homes down there ...
Lee:         Almost Victorian, but not quite. It's definitely traditional. Very beautifully done.
William:   Yeah, so admission to Bok Tower Gardens is going to be about $20 for adults and $9 for children five to twelve.  If you are a member, you already know what the place is and the price is only $7, but I imagine that most folks who listen to this are not going to be members down there.  It's already going on and will continue to go on through January 8th next year.
Those are our six recommendations for celebrating Christmas in Orlando.
We hope you enjoy your time. We hope you enjoy your stay in Orlando.
Lee:         If you found any hidden gems in here, somewhere to go for Christmas or something to think of that we didn't know about or haven't covered, let us know so we can share it. Unless you want to keep it a secret so nobody else gets there.
William:   No, don't keep it a secret.  Go to orlandolocal.com/22, leave a comment there for us and also for anybody else who's visiting.
And with that in mind, we wish you a Merry Christmas.
Thank you very much for listening to the Orlando Local Show, episode number 22.  You can find this at orlandolocal.com/22 Show notes are available. You can find a transcript of the show there for free.
We are going to have links to these sites and locations inside the show notes so you can find out where to go and how to find more information.
And of course, we would invite you to keep up with future blog posts and podcasts. Subscribe to our newsletter.  You'll find links on the site at orlandolocal.com
And also there will be links to subscribe to the podcast; get it delivered to you straight away so that way you never miss anything.
William:   My name is William Beem.
Lee:         I'm Lee Beem. We didn't introduce ourselves.
William:   I hate it when that happens.
Lee:         But we do wish you a Merry Christmas.
William:   And we really appreciate you. Thank you so much.  See you again next week!
Get Free Updates of The Orlando Local Show
Discover More Episodes!