Star Wars Celebration VI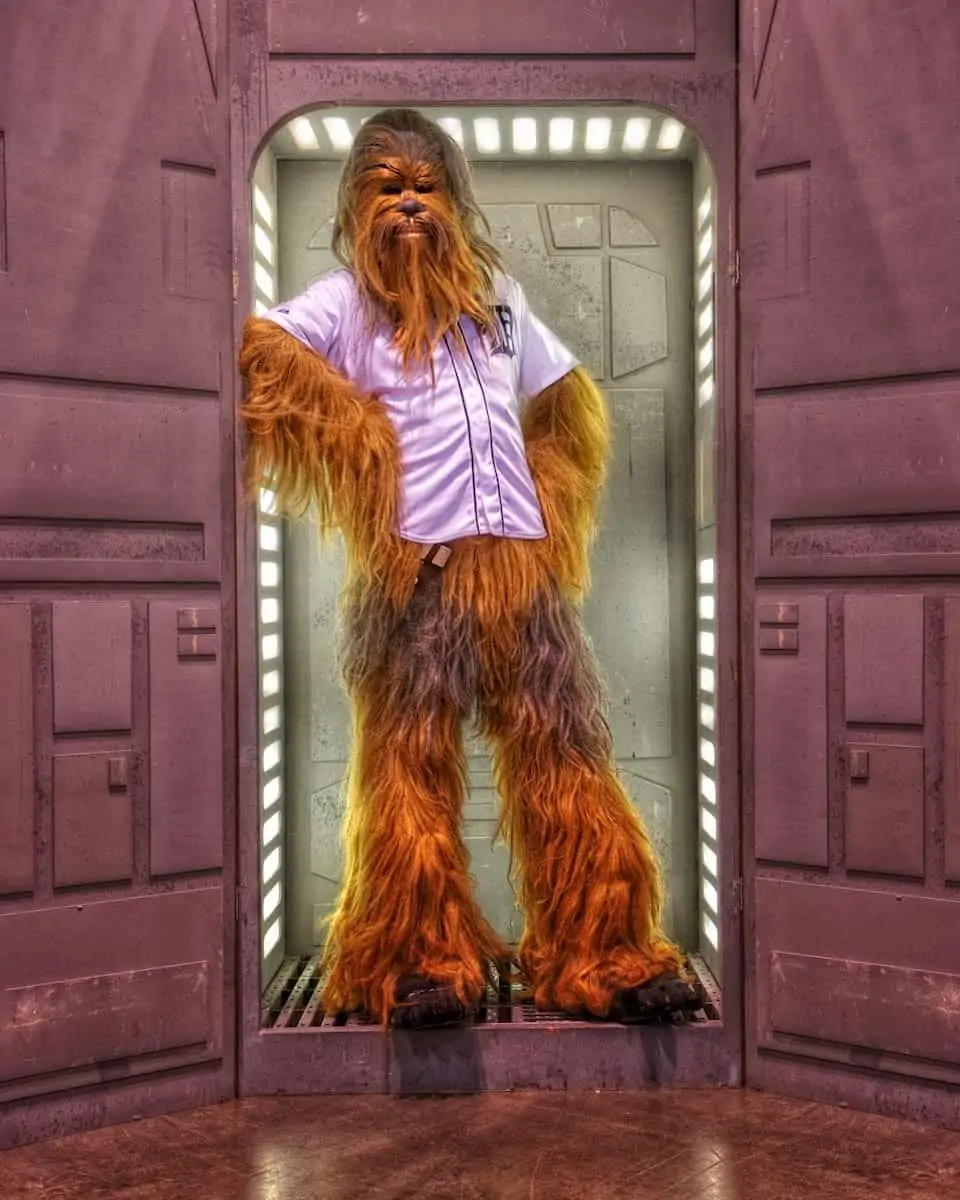 Today is the last day of Star Wars Celebration VI. I decided to plunge into the madness with a four day pass.  It's amazing, it's crowded, and it's weird. It's the kind of place where a major celebrity can pose for pictures without any pants and folks still consider it a family-friendly place. That's quite an accomplishment in itself.
The folks who attend Star Wars Celebration VI come from all over the world, but they each have their own particular passion. Some like to dress up as characters. There's a Belgian prop group who builds awesome sets for photoshoots. Folks line up to step into the Star Wars Universe and pose for a photo. I have to admit I was creeped out about one of those sets, though. They created a medical bacta tank set – the kind you see in "The Empire Strikes Back." If you remember that scene in the movie, Luke Skywalker is inside a tank of liquid while wearing a mask to let him breath.  Well, this set didn't have any liquid, but it did have the mask.  One person after another put on that mask to take their photo.  Yeah, that's just gross to me. I don't like sharing masks with strangers.
If you want to shop for Star Wars stuff, then this place had just about everything you could imagine.  Art, toys, flashlights shaped like Light Sabers, t-shirts, bumper stickers, shot glasses. PRobably more stuff, but I didn't go there to shop. Folks obviously did, though. While siting in the food court with a friend, another guy was confiding to his friend that he didn't think he was going to get out of there for less than $1,000.  That amount wasn't even a high end for some of the spending. Some framed artwork was going for $985, and those were just reproductions.
A few places were selling signed memorabilia; mostly photos. I've never had a desire to collect signatures, but the first question in my mind is how do I know this is authentic instead of a reproduction? Since there's such a demand, I have to imagine there are plenty of fakes. If you want to know that you have a genuine signature, then the stars are there to sell their autographs. That's right, you can pay hundreds of dollars to stand in a long line, wait until you get behind a black curtain, and watch your celebrity of choice sign your photograph. That's the price of authenticity.
I saw at least one of those celebrities come out of his hidden closet, though.  Peter Mayhew (Chewbacca) gave away the bride at a wedding performed on the set of the Millennium Falcon, presided by an Elvis Stormtrooper. For the most part, I understand why the celebrities can't really walk around among the masses.  They'd get mobbed the second someone recognized them. It's impossible for them to get from one place to another, and potentially unsafe. That's OK, there are plenty of stand-ins available at Star Wars Celebration VI.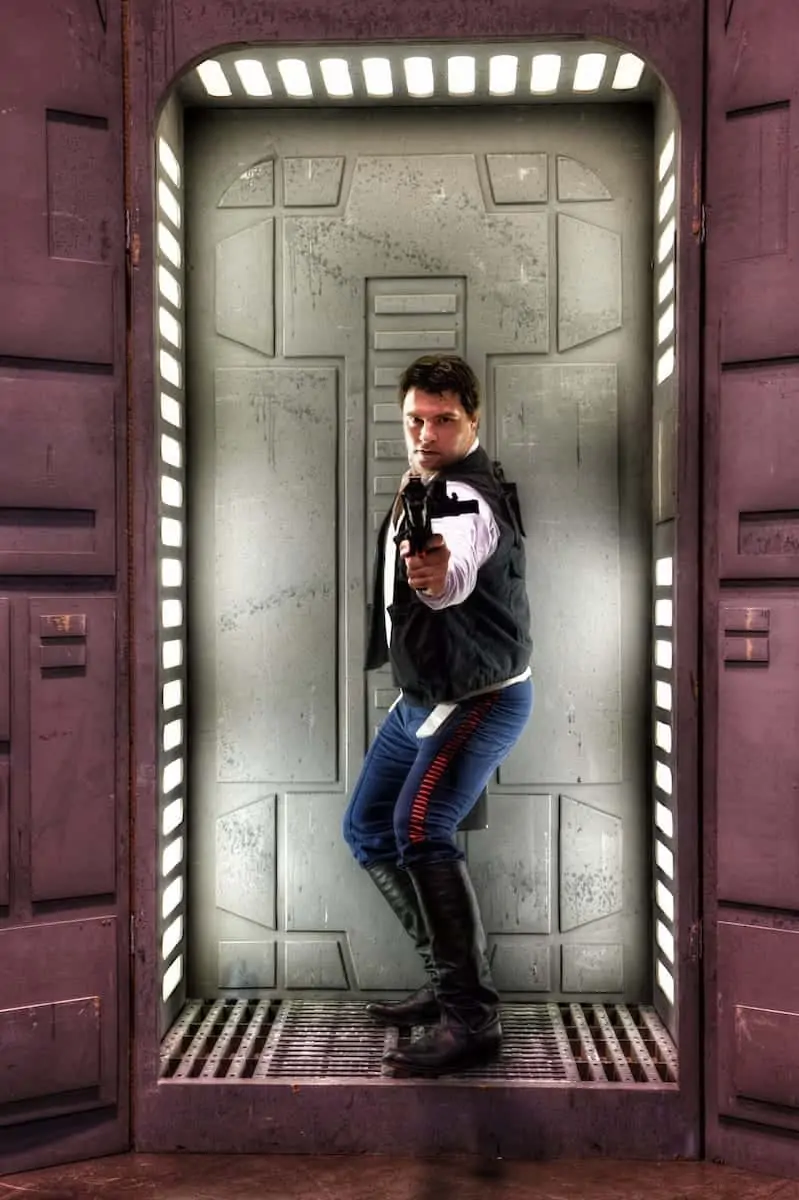 Plenty of folks dressed up as their favorite character. This is both good and bad.  It's good when you find someone who does a reasonable approximation of a character. It's bad when you see a fat Slave Leia with a bunch of tattoos. By far, Leia was the most impersonated character that I saw at Star Wars Celebration VI, even more so than Stormtroopers. A few of them got it right. Most didn't. Some looked more like Berta from "Two and a Half Men" on a bad hair day. I get the idea that folks want to dress up and escape a bit.  That's cool in its own way.  However, I was looking for folks to photograph and Berta wasn't the character I wanted.
Some of the most interesting costumes were offshoots on more than one theme.  For example, I saw Admiral Ackbar as a Ghostbuster and a Minnie Mouse Stormtrooper. Then others put a little sex appeal into their costumes, like FemTrooper Julie or Booba Fett. Even the Family Guy characters were there as Carlos Spicyweiner and Boba Chicken. You never have to wait long to see something unusual at Star Wars Celebration VI.
If there's a downside to any convention, it's the crowds and transportation. The Orange County Convention Center did a nice thing by cutting parking prices down from $13/day to $8/day. For those who parked in the North or South lots, they had a shuttle bus service. It worked fine for the first couple of days. The Saturday crowd seemed to overwhelm it as the line grew long enough to fill three buses and none were in sight. Even when they ran, the drop-off point was at the West Hall D, even though the conference was in Hall A.  That left folks with another long walk to get in or out from the shuttle point. Inexplicably, the security staff wouldn't allow people to make that walk indoors on Thursday.  It seems like they  either found their heart on the remaining days or just got overwhelmed by fans who insisted on a little air conditioning for their trek.
There's another downside that I should mention – food. It's overpriced and it sucks. A friend convinced me to walk over to the Peabody for a better meal one day.  It was also overpriced and sucked. I didn't expect the Peabody to be inexpensive, but I had an expectation of quality that wasn't met. We would have been just as well off to eat the crappy food in the convention center.
Despite those inconveniences, the overall experience is pretty fun. I met a lot of incredibly friendly people who were all having a good time with a shared experience. Star Wars Celebration VI seemed to be a success from my view. Now I have a ton of photos to edit and send off to the folks who posed for me, but that's alright with me.