Searching for Orlando's Best Cupcake
Cupcake Warrior
Orlando is home to a two-time champion Cupcake Warrior – Hollis Wilder. Until this past weekend, I didn't know it because she earned this title on The Food Network. As an American with a Y chromosome, I have an aversion to cooking shows, minivans, and anything endorsed by Oprah. However, I'm glad that she's put her stake in the ground here in Orlando because Sweet! by Good Golly Miss Holly makes some damn find cupcakes.
It Started With a Birthday
Not for Ms. Wilder, but for me. After all, this is my blog, so the story is really about me and how I came to discover these awesome treats. Let's go back a couple of years.  I was in Downtown Orlando at a photography workshop. It's exactly what you think – a bunch of old men with cameras and beautiful young models in bikinis and boots. No wonder I love photography. At any rate, one of the old men who was assisting the workshop promoter mentioned that his birthday was on the next day when we came back. Quite by coincidence, there was some street festival right downstairs by Lake Eola. I walked through after a day of shooting beautiful young women in bikinis and boots, only to find a stand by someone called The Dessert Lady.  Never heard of her before, but she was selling cupcakes.  I bought a bunch of them, figuring that I'd offer them up for the birthday boy on the next day.
Everyone is happy to see the cupcakes and we all reach for them and take a bite at the same time; photographers, models, make-up artists.  On that first bite, everyone, and I mean EVERYONE stops and we just look at each other with surprise that's slowly turning into delight. These were the best damn cupcakes we'd ever had. It was like a little chocolate orgasm for your mouth, and I mean that in a good way. Once we realize that everyone is having the same sensation, we scoff down every last crumb of those cupcakes. I hadn't paid much attention to the nice lady who sold me these cupcakes, but now I wanted to go back and offer to mow her lawn or provide other services to get more of these things. It was absolutely mind-blowing that a cupcake could be so delicious.
The Diet Rules
So let's fast-forward a bit.  Last year, my day job responsibilities changed and I was stuck in an office environment. Not good for me, compared to working at home. Despite trying to keep a good diet, I gained 30 pounds over the course of the year. Oddly enough, the office is close to Sweet!, but I wasn't aware of it. This year, I'm back to working at home and have good control of my diet. Lots of baked fish or chicken, some grilled vegetables, and just nutritionally balanced food – for six days a week.
On the seventh day, all hell breaks loose on my diet. That's my free day, and I can have what I want. Sadly, what I wanted, or thought I wanted, has been very disappointing to me lately. I've learned that I don't want to eat a lot of bad food on my free day, but I do want to try a lot of different flavors that I deny myself during the rest of the week. One weekend, all I craved was an Oatmeal Creme Pie.  Damn kid at 7-11 had never even heard of those before.  The schools are failing our children, but I digress.
This past weekend, I wanted a cupcake.  Not just some supermarket cupcake, but a delicious bit of heaven, like I had from The Dessert Lady. I started searching online and found her locations and hours. On Saturday, she didn't open until 4:00 pm.  Hell, that just wouldn't do!  I wanted my cupcake and I wanted it now.  On a whim, I went to Google and searched for "Orlando's best cupcake."  If we can have blogs devoted to a pointless quest for Orlando's best burger (yes, I'm just like everyone else with a blog), why can't we have a Best Cupcake?
Sweet!
That's when I first learned of Holly's cupcakes. The weather was miserable and it was a 25 mile drive to get there, but I want what I want. On such a lousy day, I didn't expect to find much of anyone else at a cupcake joint.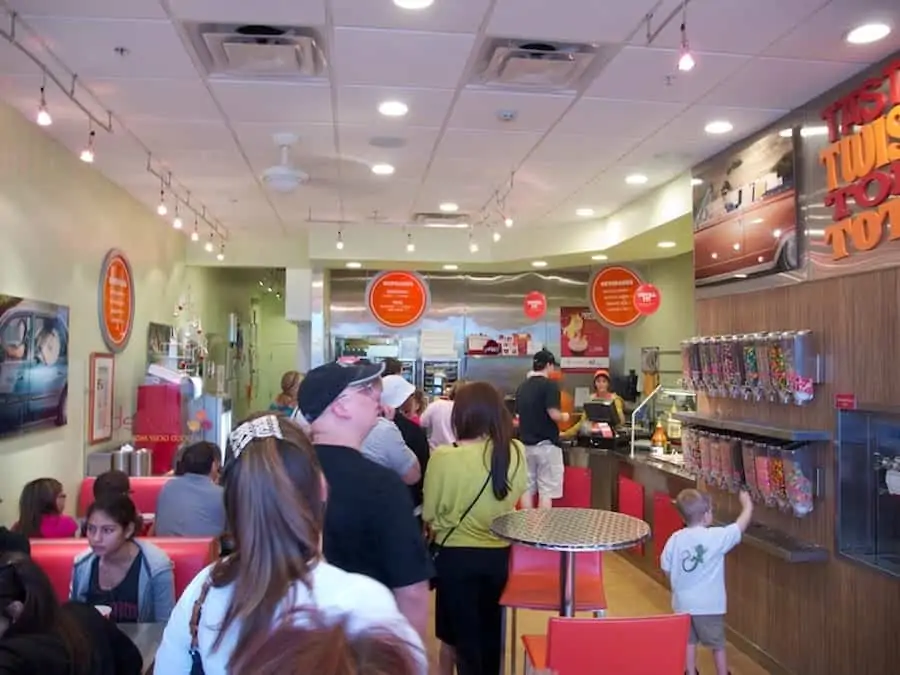 Clearly, I was an idiot. There was a line out the door, and it was raining. Fortunately, the line moved very quickly. In fact, it moved too quickly for me to make up my mind. I couldn't see the cupcake flavors ahead, so I was worried about holding up the people behind me. Also, I was distracted by the frozen yogurt lining the wall.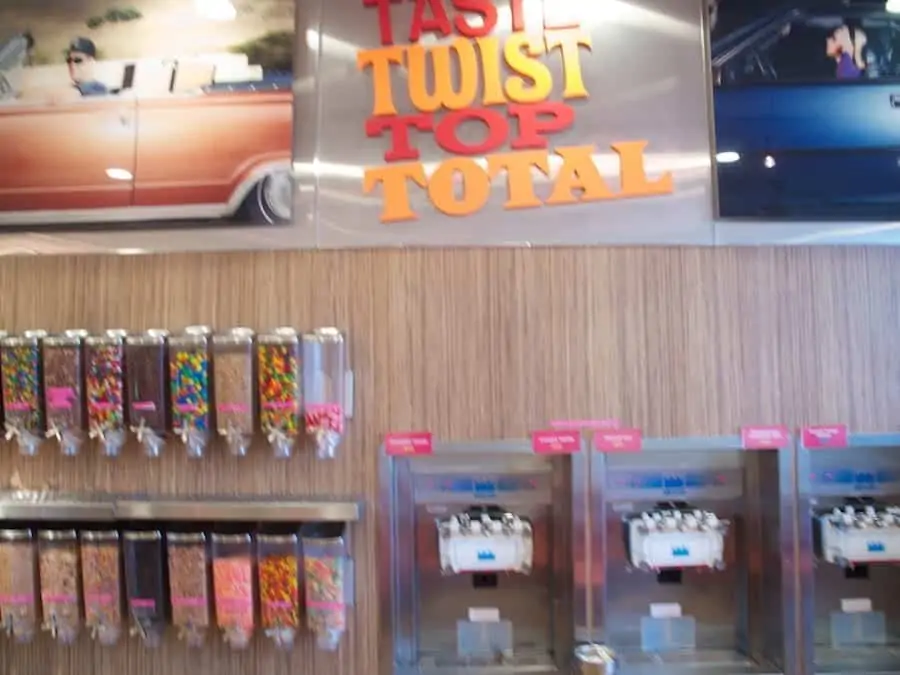 There are a bunch of flavors with self-serve cups and plenty of toppings available. There were also some small sample cups to try before you buy, so that made this tempting.  I, however, had to focus.  I'm there for cupcakes, not frozen yogurt; tempting though it may be. Oh, and there were cupcakes!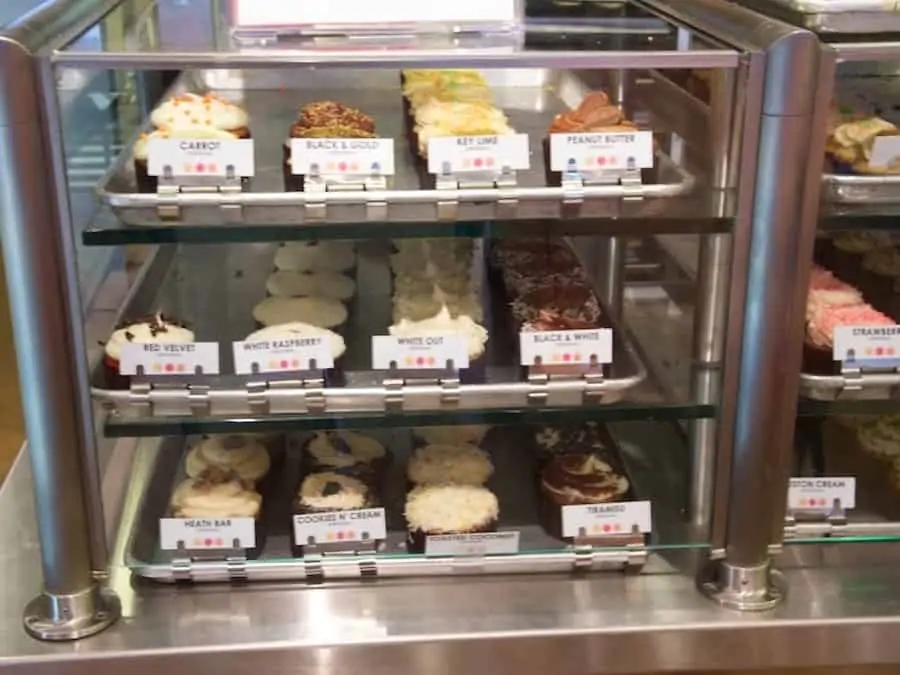 Look at all those cupcakes, and there are more of them on the side.  Just sitting there, waiting to be scarfed up or carried away. In the back, more cupcakes were coming out on trays and all I could think is that I want those cupcakes, too.  These, those, and any more you have in the back.
These aren't cheap cupcakes, though – $33 per dozen. I want to try the flavors, but let's be honest. I only have one free day and how many cupcakes can you realistically eat in a day? I don't want to pig out. I want to try flavors. Fortunately, there's an answer for that – mini cupcakes. You can get a little box of four at a reasonable price, so that's just what I did.
Great Service
Once I reached the front, I found the girls working behind the counter were all friendly and just a pleasure to be around. I told the person helping me that I wasn't quite sure of what to get and I kind of expected her to hurry me along, but that did't happen. I hope this isn't just a lucky day for me, because I was really impressed by the great customer service.  Holly, you picked some nice people to staff your store. I managed to find three flavors on my own – Carrot, Red Velvet and Cookies 'n Cream, but then I asked for advice about the last one. She recommended a Black & Gold.  It sounded odd to me, but it turned out to be a good choice.
The Unboxing
Somehow, I just knew that I would be sharing this story on the blog. That's why I delayed gratification. Instead of gobbling up the goodies right then and there, I paused. I drove 25 miles back home, setup a little table-top studio and pulled out my massive camera. Yes, dear reader, I suffer for you.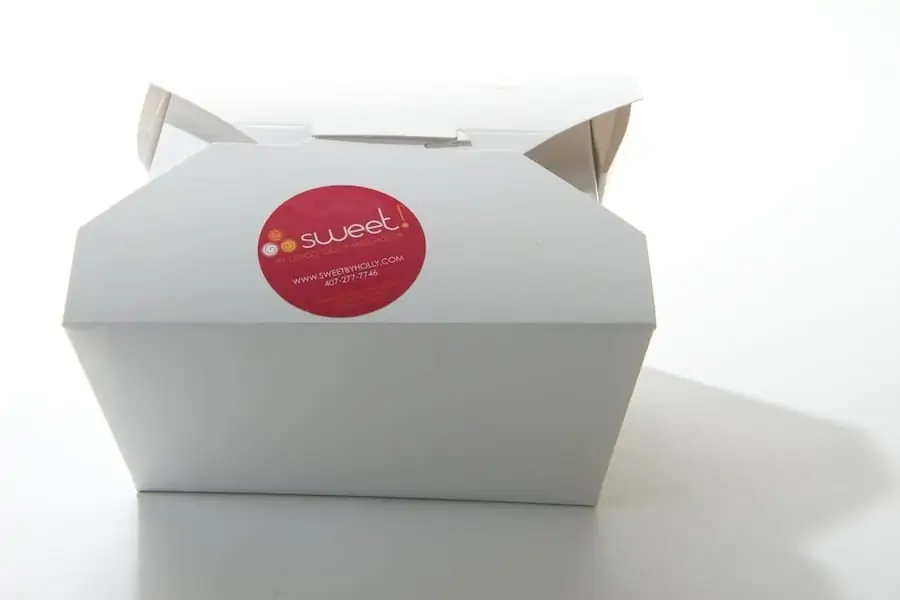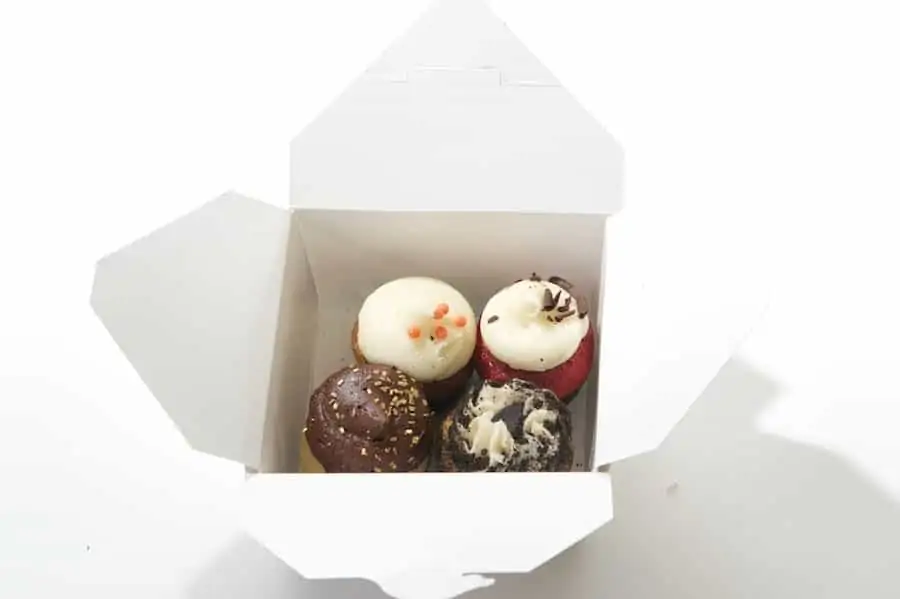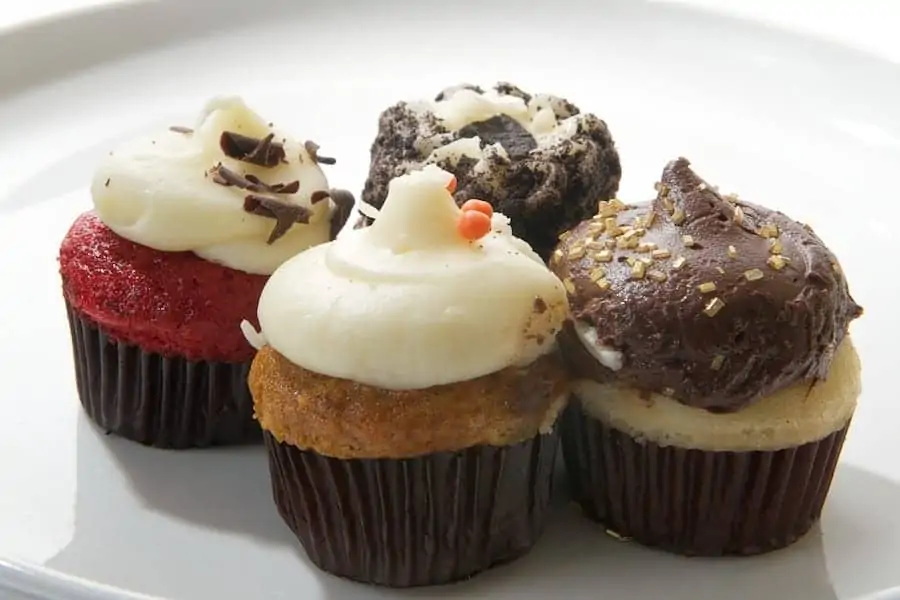 So How Did They Taste?
Once again, photography and cupcakes collided in my life. After the photos were done, I decided to eat them in reverse order of desire. Always savor the best taste for the end. Since I wasn't familiar with the Black & Gold, I started with it. It happened again. Just like years before with The Dessert Lady cupcakes, I took a bite and had to stop.  Good God, it was delicious. These cupcakes were better than a massage with a happy ending. The icing of the Carrot cupcake had a bit of a kick to it, perhaps like a ginger-mint flavor.  I could be wrong, but it was a nice surprise. Each and every bite was a joy, and four of them was the right amount to satisfy my craving. Every aspect of this little treat was an outstanding success.
Orlando's Best Cupcake
So who do I give the crown for Orlando's Best Cupcake? I can't tell right now. Comparing something from a couple of years ago to something I had last weekend isn't fair. Instead, I'll simply say that they were both excellent treats and I'm glad we have them in Orlando.  Forget those grocery store cupcakes with the crusty icing. You deserve a treat and both of these businesses deserve your patronage. Go have a cupcake and smile.
Sweet! by Good Golly Miss Holly
Waterford Lakes Town Center 711 N. Alafaya Trail Orlando, FL 32828 407-277-7746