10 Tips for the Epcot International Food and Wine Festival
Use Our 10 Tips for the Epcot International Food and Wine Festival to Get the Most Out of Your Experience
Every year when I visit the Epcot International Food and Wine Festival, one thing keeps coming to mind. This is Disney's way of getting people to visit during a time when nobody really wants to go on vacation in Orlando.
Kids are back to school, summer heat is still here, and there's the lingering threat of a hurricane.
Yet it works! People love visiting Epcot International Food and Wine Festival because of two things:
The Food
The Wine
It's marketing genius!
Even if you don't like wine, pretty much everyone eats food. Even if you don't like the food they serve, there's a good chance you like wine. If you don't like either, they invite old musical acts to give you another reason to visit Epcot. Marketing magic!
As with most things at Walt Disney World, you're not allowed to visit and have fun without a plan of attack. Being the friendly and helpful folks that we are, we thought this is a good time to share our 10 tips for the Epcot International Food and Wine Festival so you're prepared to make your way through this culinary madness.
Here we go.
1: Know the Times to Avoid
These times to avoid are typically similar for most Walt Disney World events, but are particularly true of the Food and Wine Festival. These are the times when you can expect the largest crowd.
People get excited for the Epcot International Food and Wine Festival, and some want to get there as soon as it starts. That's why the first week gets crowded.
The last week has a big crowd because people realize it's almost over. Oh, crap! We better go get our Food and Wine, because we put it off too long.
The locals (folks like me) generally visit on Saturday because that's when it's most convenient. However, Sunday also has a decent crowd because other locals think they're going to avoid the crowd on Saturday.
If you can arrange your schedule, visit during the middle of the week, particularly before 5:00 PM. Some of us locals like to think we're clever and we sneak into Epcot after work during the week. That ups the crowd level a bit, too.
2: Get the Food and Wine Passport
Disney prints a Food and Wine Festival Passport each year. It tells you what dishes you can find at each kiosk, among other things. It's an excellent resource to get your bearings and plan which dishes and events are most important to you.
You can find the Food and Wine Festival Passport at the merchandise shop as you transition away from Future World and moving toward the International Gateway.
3: Make it Easy to Carry Your Food and Wine
The kiosks serve food in paper boats, and that makes sense. You don't want to have oversized plates and utensils at each location. However, it's difficult to load up at a few spots and then go find a place to dine while holding these paper boats.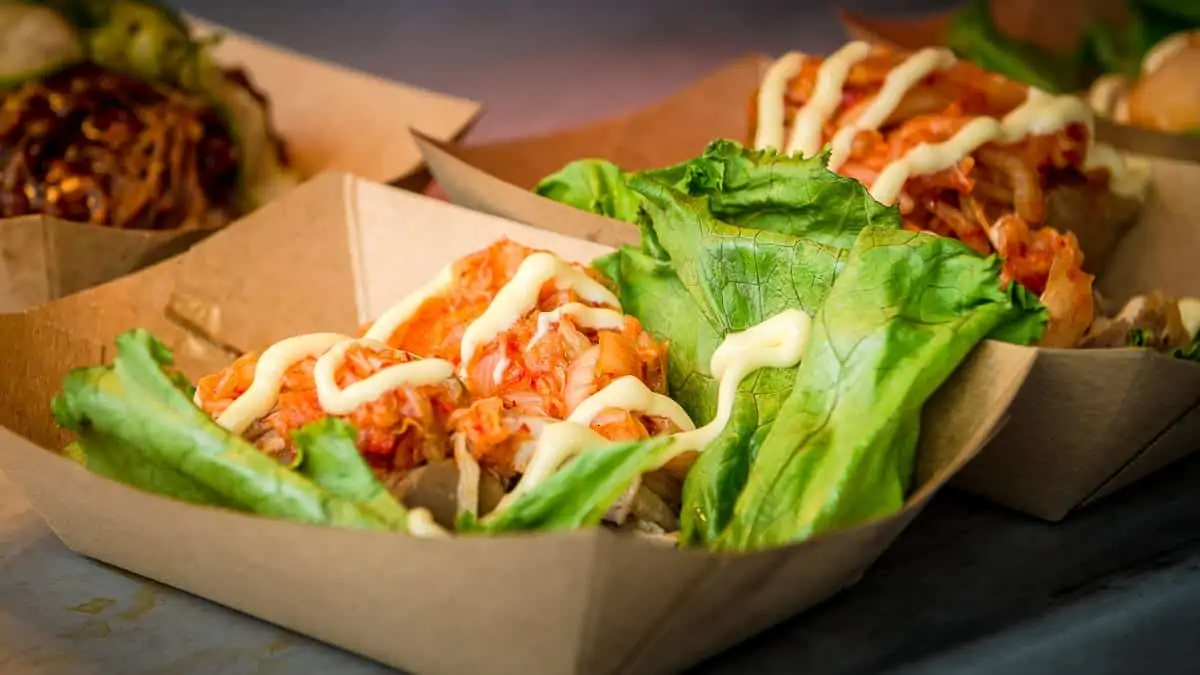 If only someone thought of a better way.
Actually, someone did. If you go to the Food and Wine Festival Shop, you can buy a souvenir plate. It's a square plastic plate with a place to hold your wine glass. You can also get some utensils there that, although plastic, are a bit more sturdy than the plastic utensils found at the kiosks.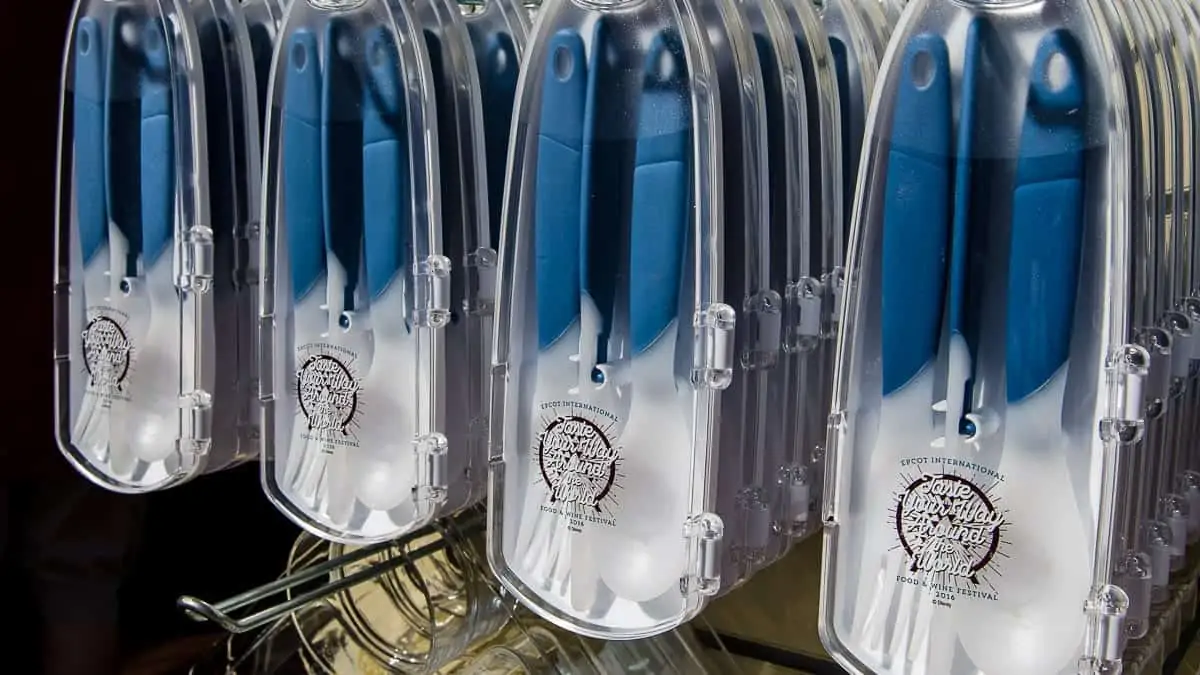 Of course, you can bring your own tray to carry your food around. The nice folks over at Disney Food Blog recommend this tip and we think it's a great idea. If you didn't pack a cafeteria school tray, then get the plate at the Food and Wine Shop.
4: Plan on Hot Weather
Most of the Epcot International Food and Wine Festival happens after summer, but it's still hot in Florida. Expect high temperatures and humidity for most of the event.
That means bringing some sunblock, a hat, and appropriate clothing for hot weather.
One of the items we like to help beat the heat are Frogg Toggs– you put these on your head or neck to cool off by evaporation. They stay in place while you move about.
Here are a few other items we use to beat the heat.
5: Don't Be Afraid to Ask for a Change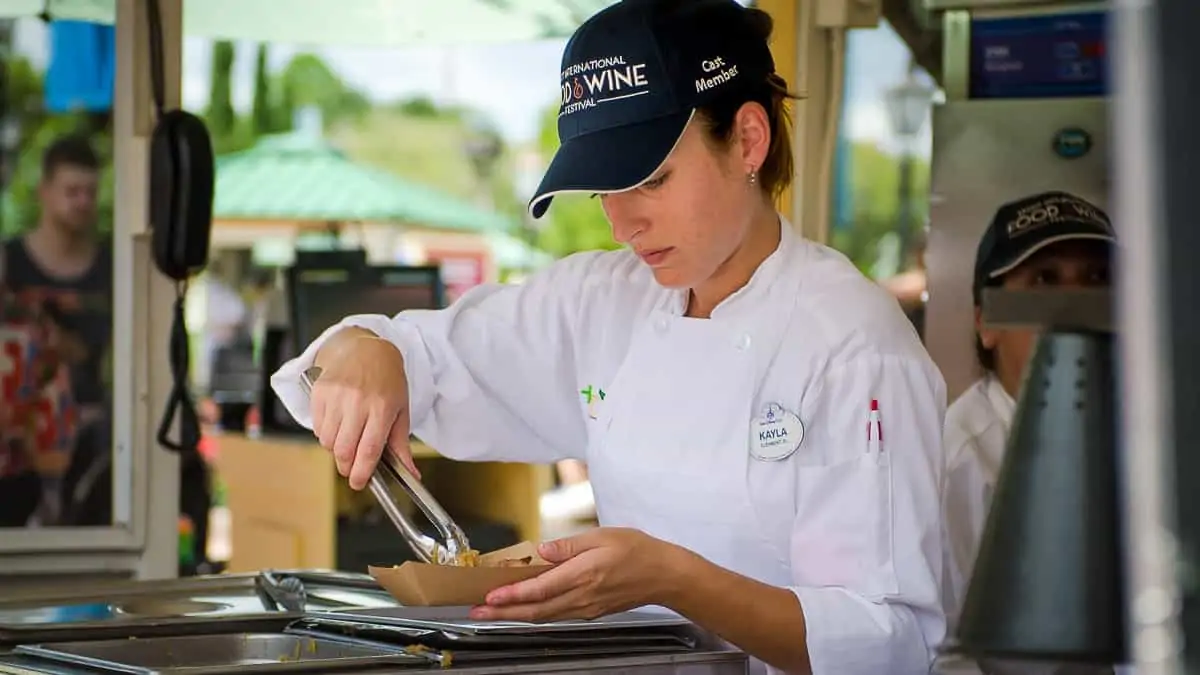 If there is something on a dish that you don't like, let the cast member know. These folks come in just for this event. They're very passionate about their food and they want you to enjoy it. If that means leaving something off the dish, they will accommodate you if possible.
Some ingredients are cooked into the dish and perhaps can't be separated. It's easy to leave off a topping or something that's part of the assembly of the dish, though.
For example, I love the Kalua Pork Slider, but I don't care for cole slaw. A quick word and they don't put it on my slider.
6: Take Photos!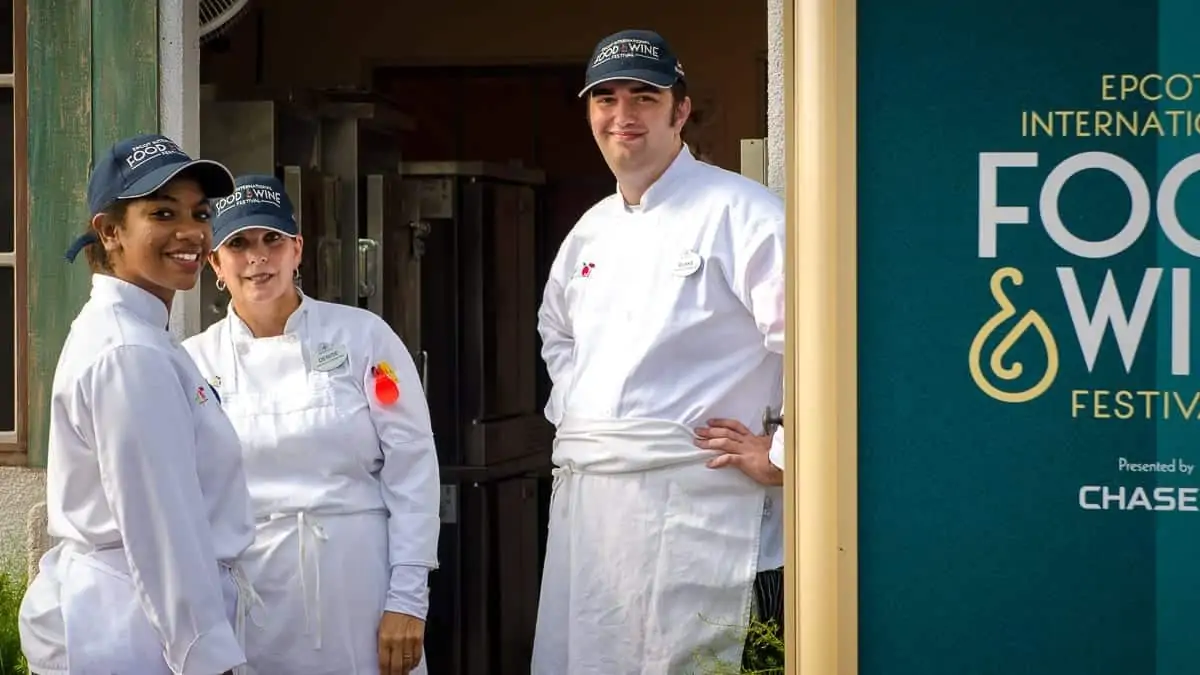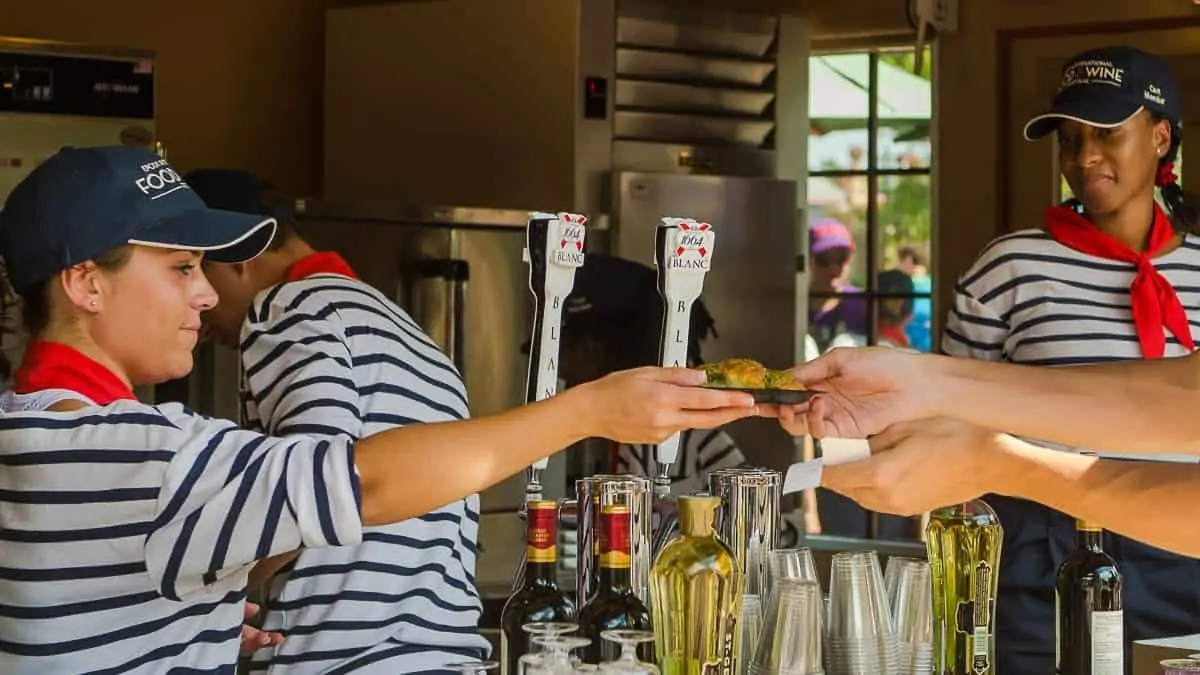 The food is great and so are the people who help you. Get photos of everything. You want to show the wonderful food. Ask the cast members for photos. We found most were happy to be in a shot, and we even sent off photos to some of them who traveled from other parts of the world.
Don't forget to take photos of the merchandise, educational events and the Eat to the Beat concerts. Epcot is a beautiful place for photography.
7: It Takes More than a Day to See All of the Festival
Trying to cram the entire Epcot International Food and Wine Festival into a single day will probably ruin your day. It's a big park and this year Epcot has more kiosks than ever before. Don't forget the lessons, concerts, and taking some time to enjoy your food.
Spend more than a day, if you can. If that isn't feasible for your schedule, then don't try to stuff it all into a whirlwind tour of culinary delights and senses. Pick the things that are most important to you and enjoy them. You'll have more fun that way than if you try to cram it all in at once.
8: Don't Get Full
It sounds like silly advice. We recommend you go to a place filled with great food and then tell you not to get full. There's a method to our madness.
The Epcot International Food and Wine Festival is all about experiencing a variety of tastes and textures. You want to take a bite here and there. In fact, we recommend that you go with someone and share the experience.
If you fill up on items that include rice, potatoes or other items that fill your tummy, then you're going to conk out before you get around the World Showcase. The key strategy is to take little bites, not have a full meal at each station.
This is also part of the reason we recommend more than a day. Break up your food trips over a few days so you can experience all of the things that delight your palette without feeling like you need the jumbo sized bottle of Tums at the end.
9: Epcot Doesn't Provide Enough Seating. Scout Ahead of Time.
Let's face it, the World Showcase wasn't designed to give everyone a seat. It's a walking trip around the world. During this event, you're walking around with food and drink.
Sure, there are some standing tables around.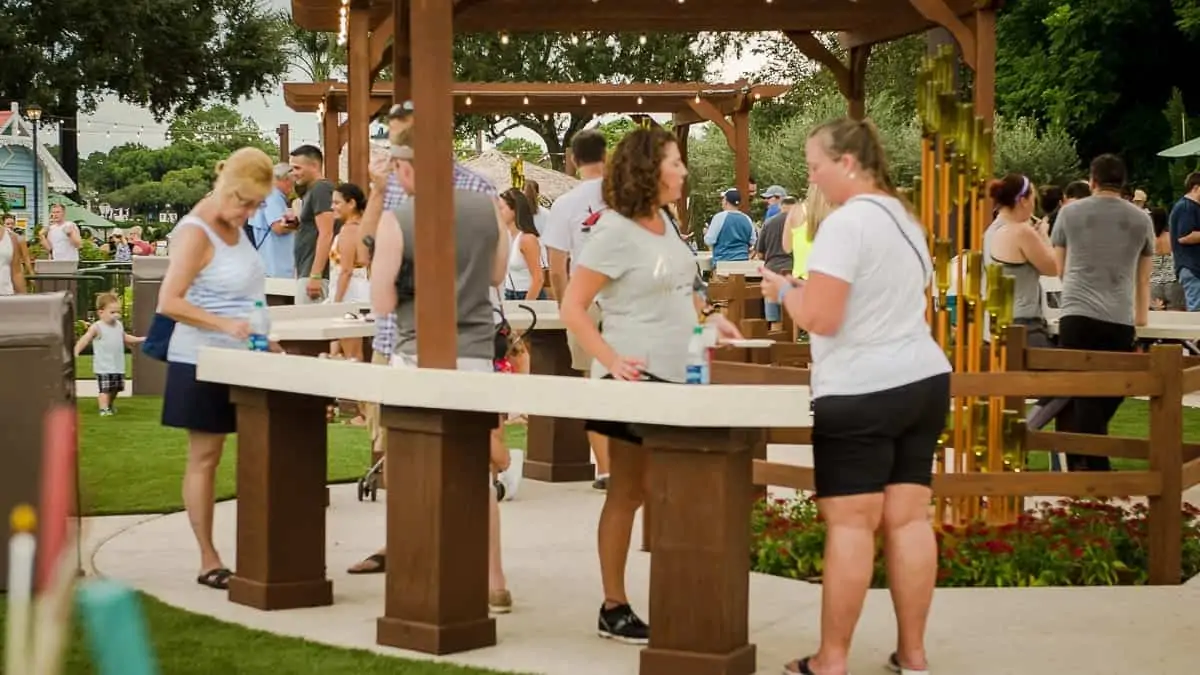 Not enough of them, though. Also, not a lot of privacy. Be kind and share with others who need a spot to rest their food.
However, this is where your plate or tray really comes in handy. Nobody says you can't take your food back to a nice, air-conditioned table in the restaurant in Future World.
Just have someone in your party stake out a table while everyone else gathers some food to bring back to the table and then dine in comfort. Don't forget to bring something back for the person who saved your table!
10: Check for Food Allergies
Walt Disney World is really great when it comes to preventing any contamination due to food allergies. They take it seriously and want you to have a great experience. You just need to make sure you let them know of any concerns.
Each kiosk will have a list of ingredients in their dishes. Also, you can just ask before you purchase. Make sure you let them know and don't assume.
We Love Epcot International Food and Wine Festival
This is one of two signature events at Epcot every year. It's an event we enjoy, particularly checking out the wine and chocolate experience. There really does seem to be something for everyone here.
I should know, because I'm the picky eater in our family. If I can have a good time there, odds are pretty good you'll find some nice new dishes, learn something about cooking, enjoy a show and go home with some fond memories.
Want some first-hand reporting and photos of experience? Check out our review.
Epcot International Food ad Wine Festival Review (podcast & photos)
Get Free Updates of The Orlando Local Show
Discover More Episodes!