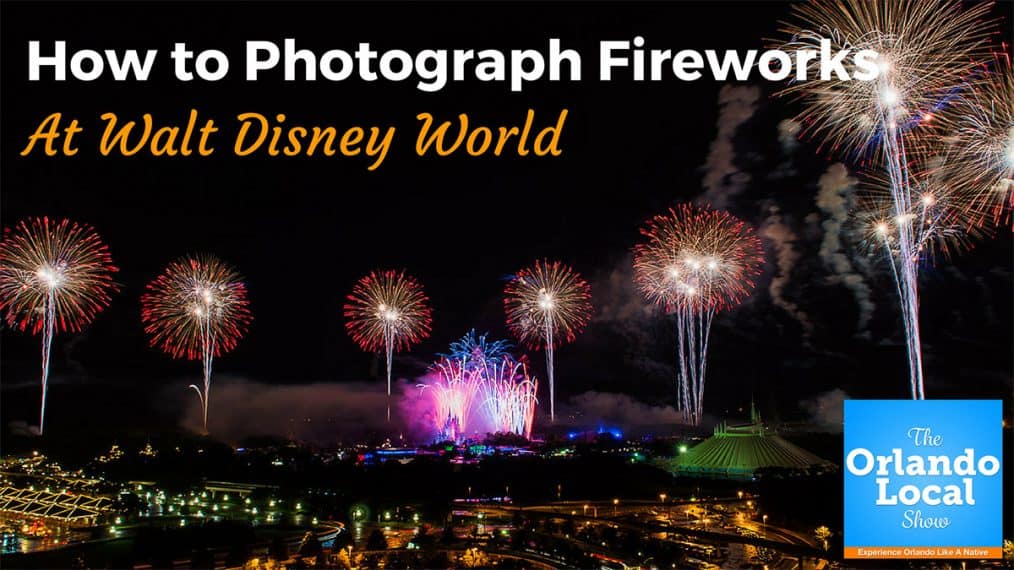 OL 023: How to Photograph Fireworks at Walt Disney World
Learn How to Photograph Fireworks at Walt Disney World
Thank you for listening to The Orlando Local Show about how to photograph fireworks at Walt Disney World. You can capture awesome photographs with simple equipment, and we'll show you how it's done.
You don't have to spend a lot of money on camera gear. In fact, you can get great fireworks photos using inexpensive equipment as long as you have a few key elements.
A camera with manual controls for Aperture, ISO and Shutter Speed
A tripod
A cable release
You're going to photograph fireworks with a very small aperture, like f/16. That lets you have a longer exposure without overloading your sensor, so you can capture the bursts and explosions as they spread across the sky.
In this episode, we cover a number of factors to help you understand how to photograph fireworks at Walt Disney world. We'l discuss your gear, how to scout your location, give you advice for different styles of capturing your fireworks photos and finally how to use post processing to enhance your results.
If you're into photography, please join us on another podcast – The Photo Flunky Show – hosted at my photography web site.
Sample Fireworks Photos at Magic Kingdom and Epcot
We have some favorite spots to photograph fireworks at Walt Disney World. Here are some examples of our photos so you can see how the show looks from different locations. You never have to take the same photo twice.
The Main Street view of Magic Kingdom fireworks.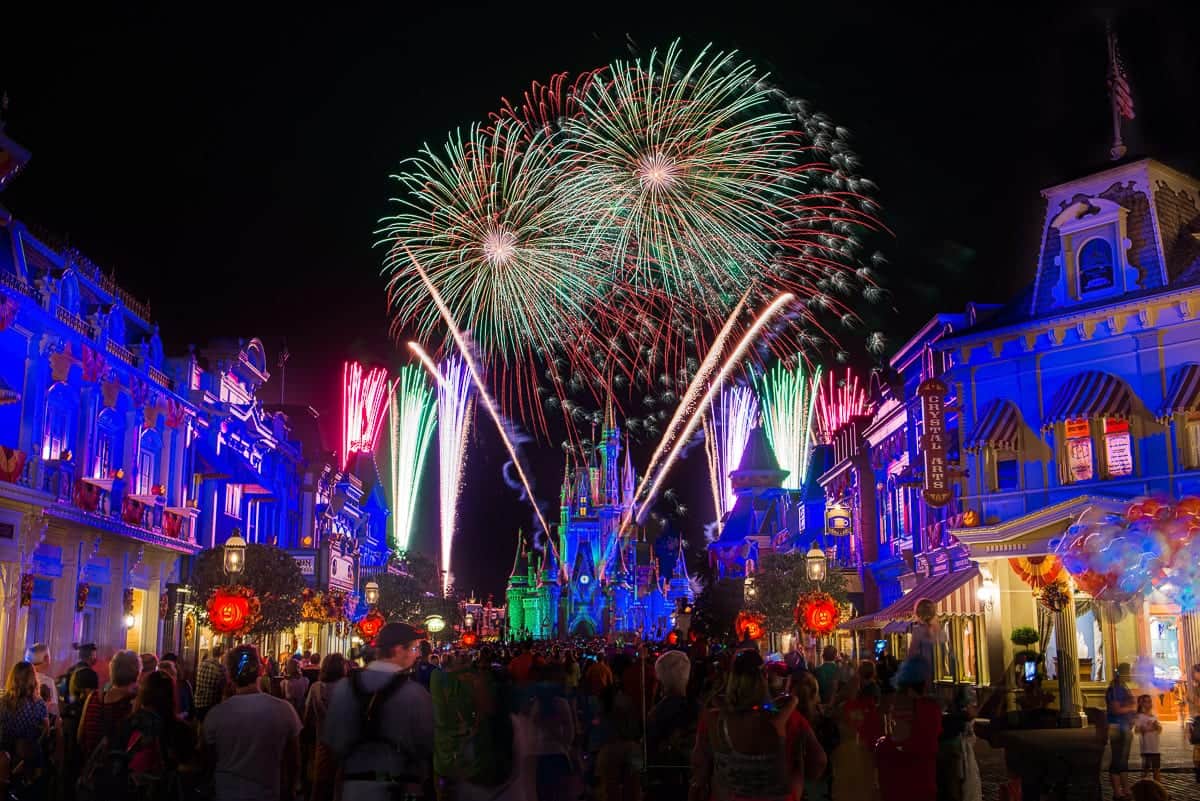 We told you about the smoke that clouds the sky.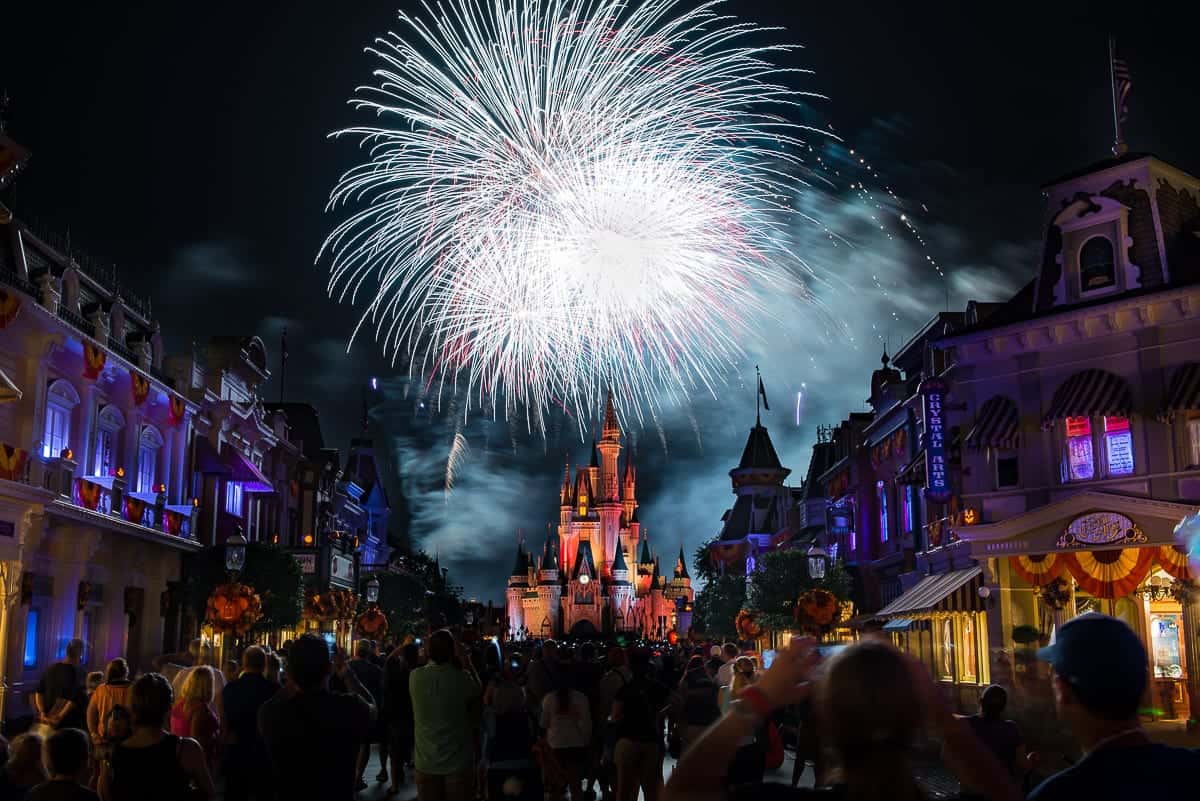 The view just before you get to The Hub.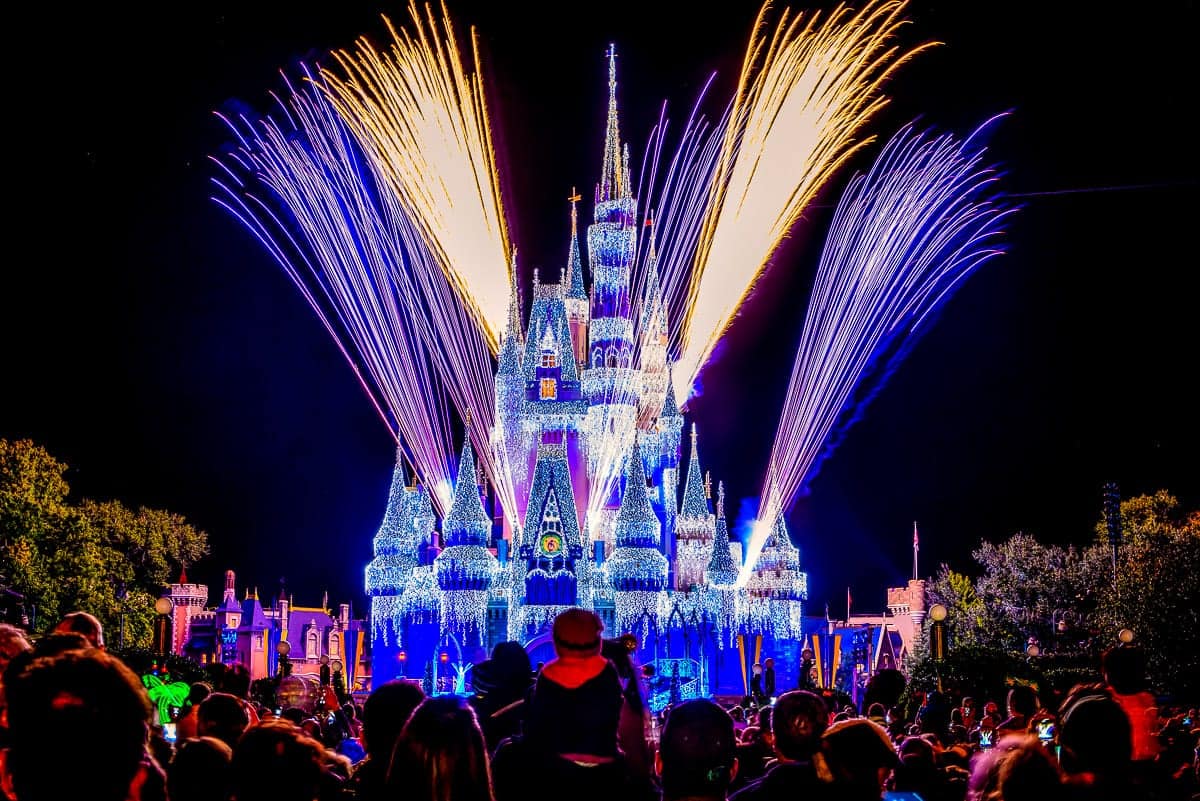 Here's the view from the Contemporary Resort Hotel.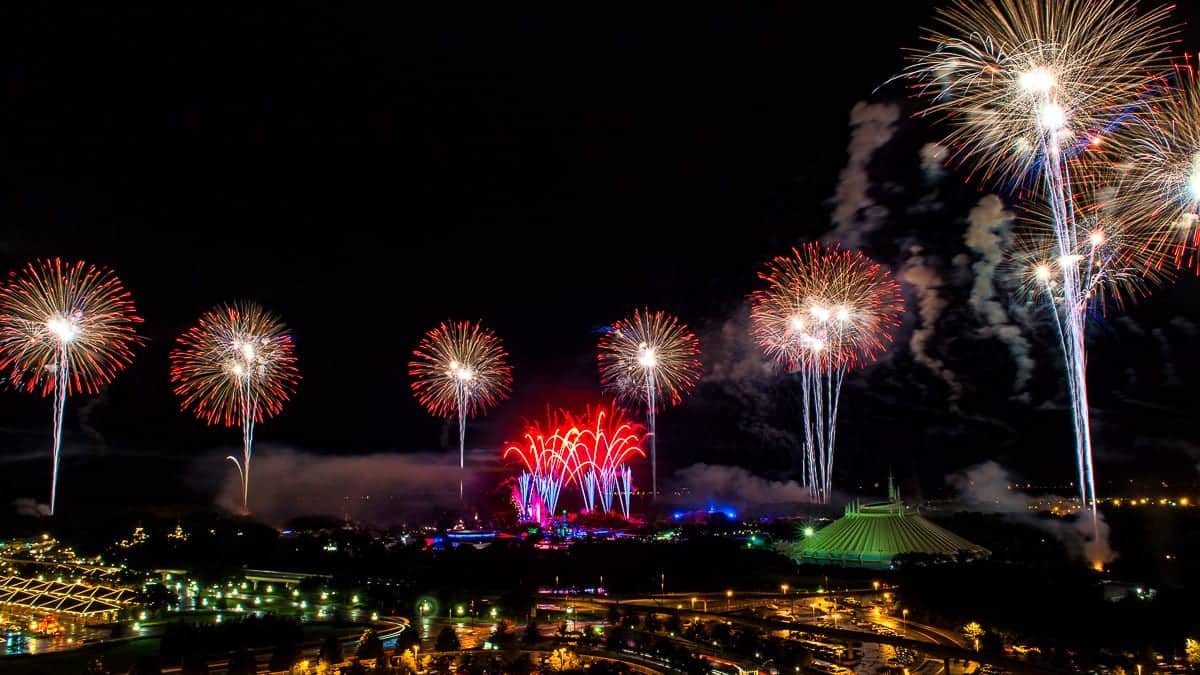 The Cinderella Castle view off at the 4 o'clock position.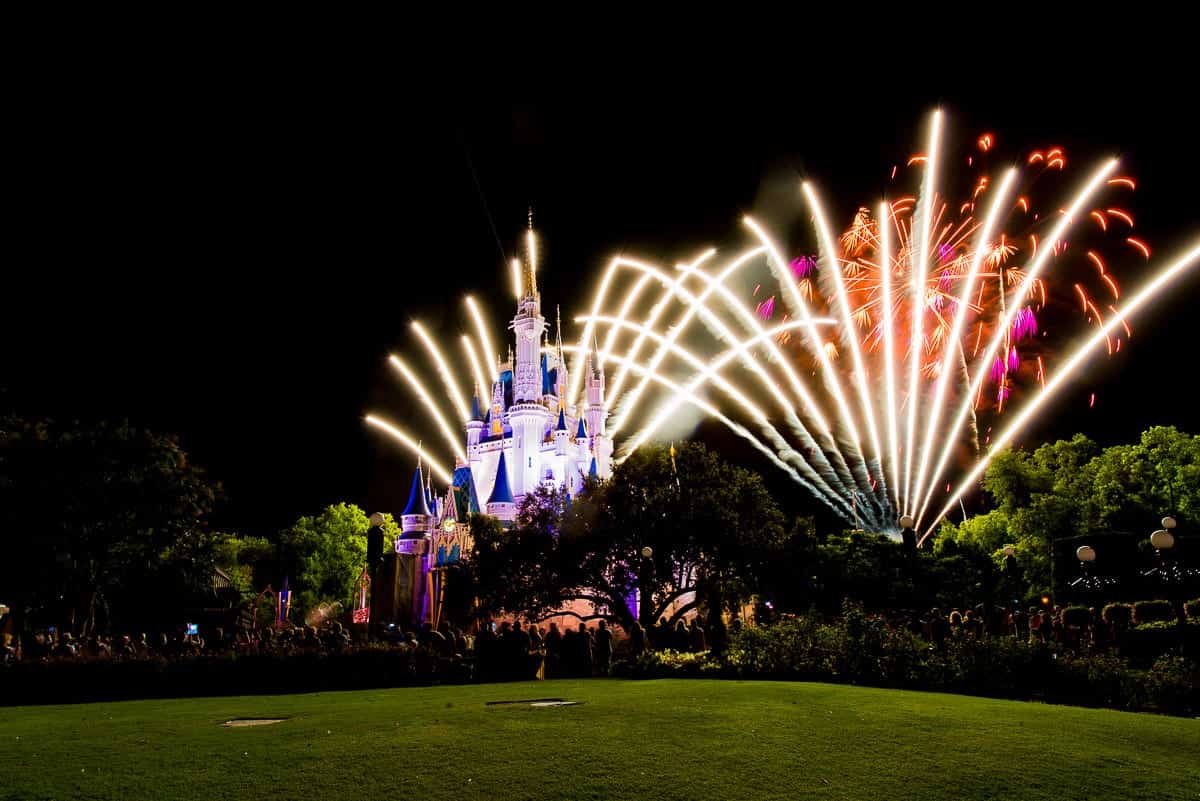 Now here's the view of Cinderella Castle from the 8 o'clock position.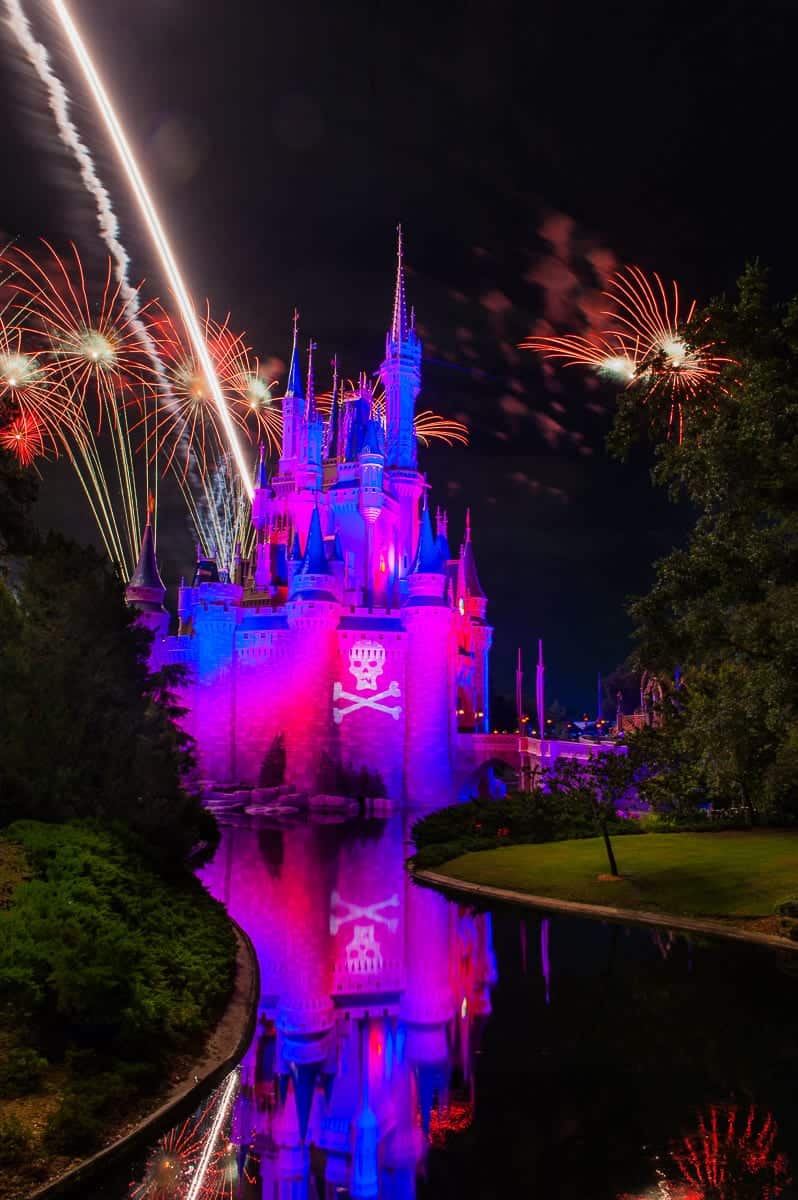 You can get a different look photographing fireworks behind Cinderella Castle, too.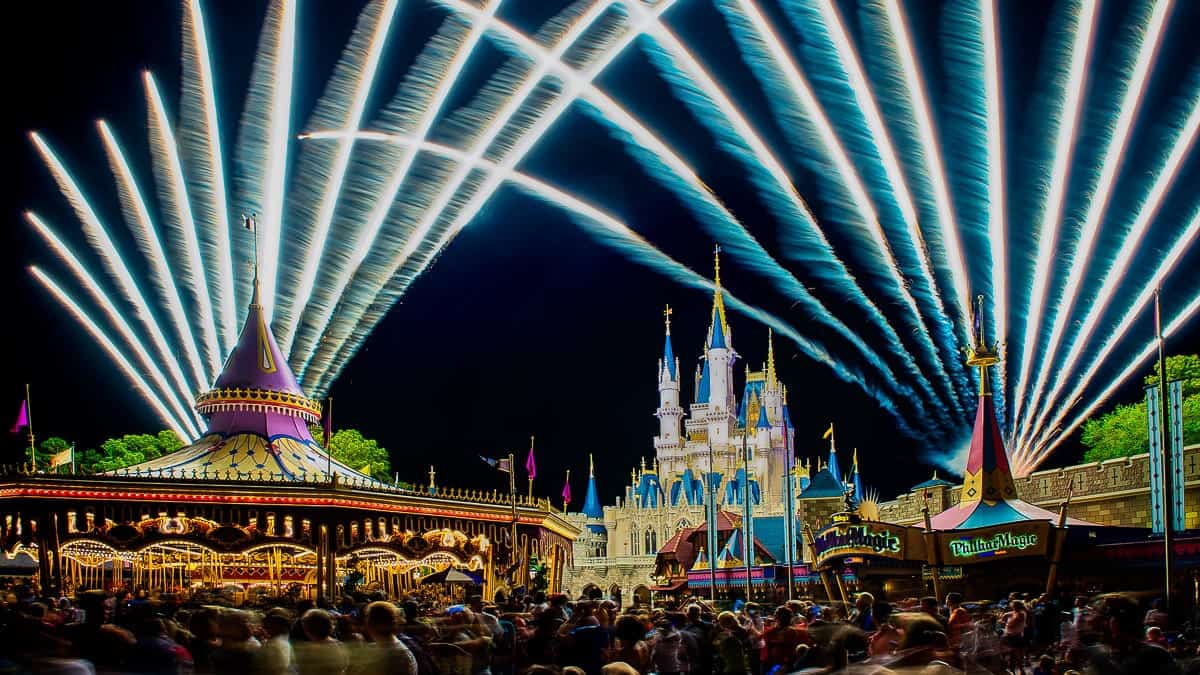 Get funky with a Fisheye lens!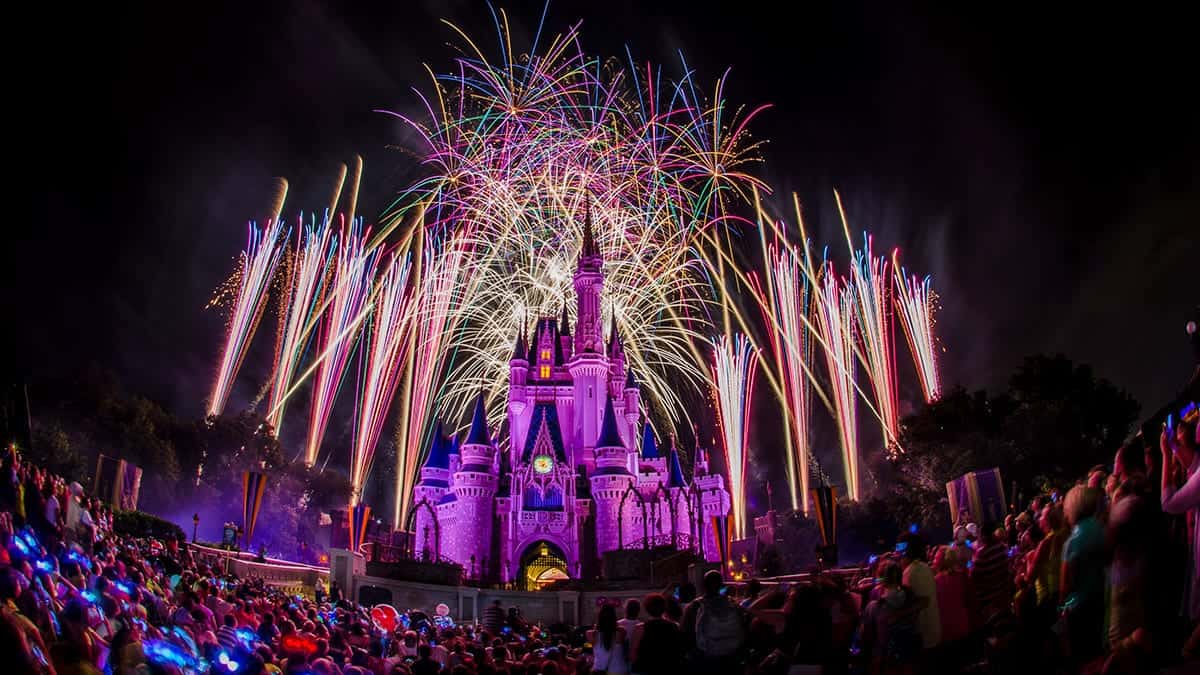 Sometimes you can use the smoke to your advantage.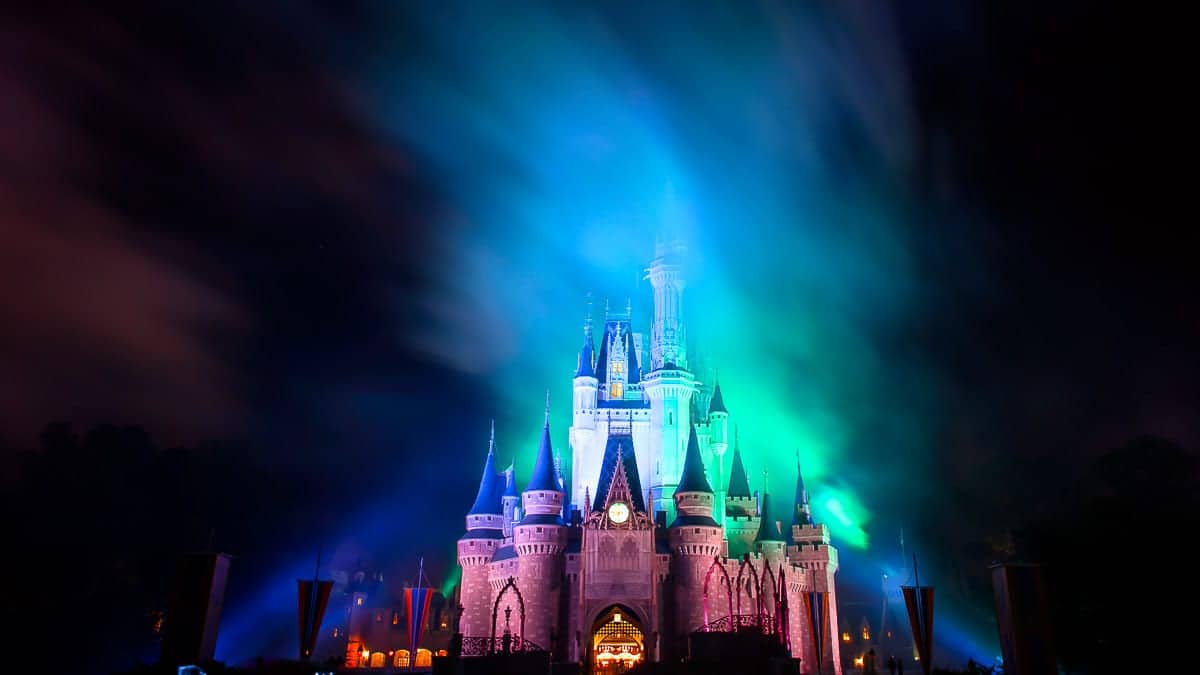 Remember, we warned you about the grand finale being a tad bright.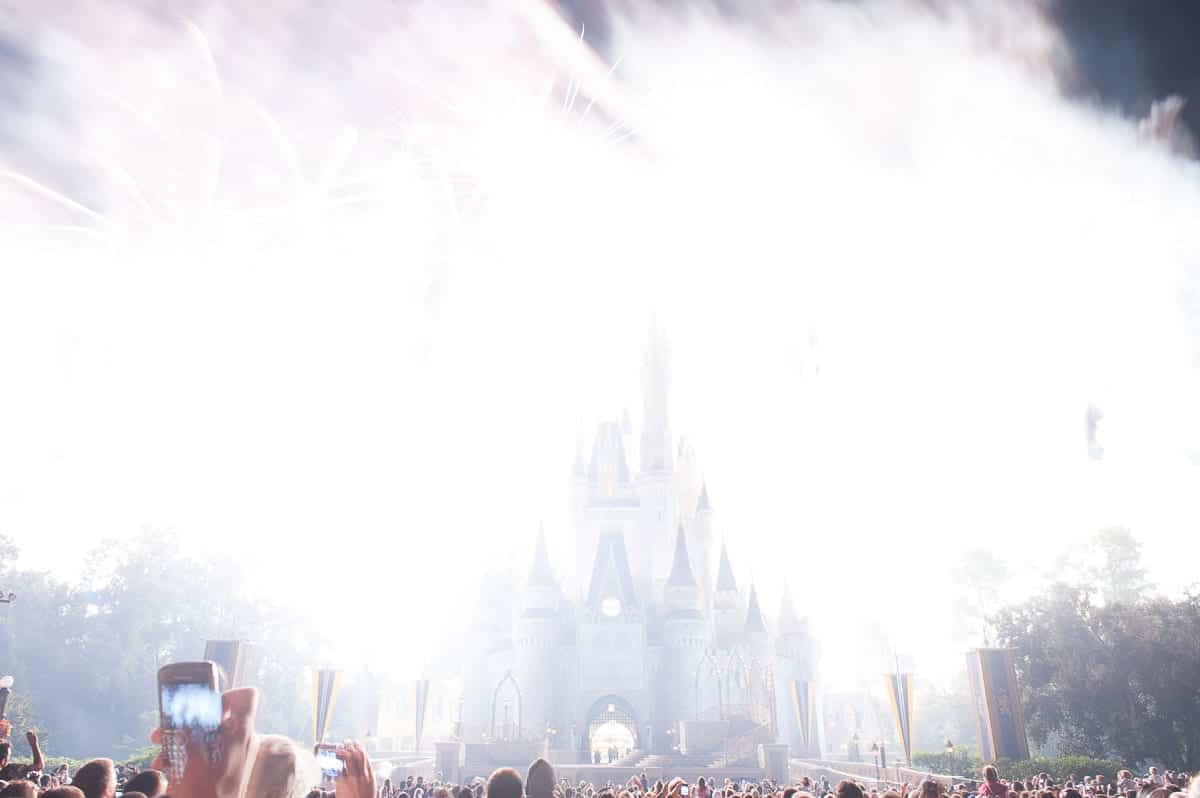 Don't forget Illuminations at Epcot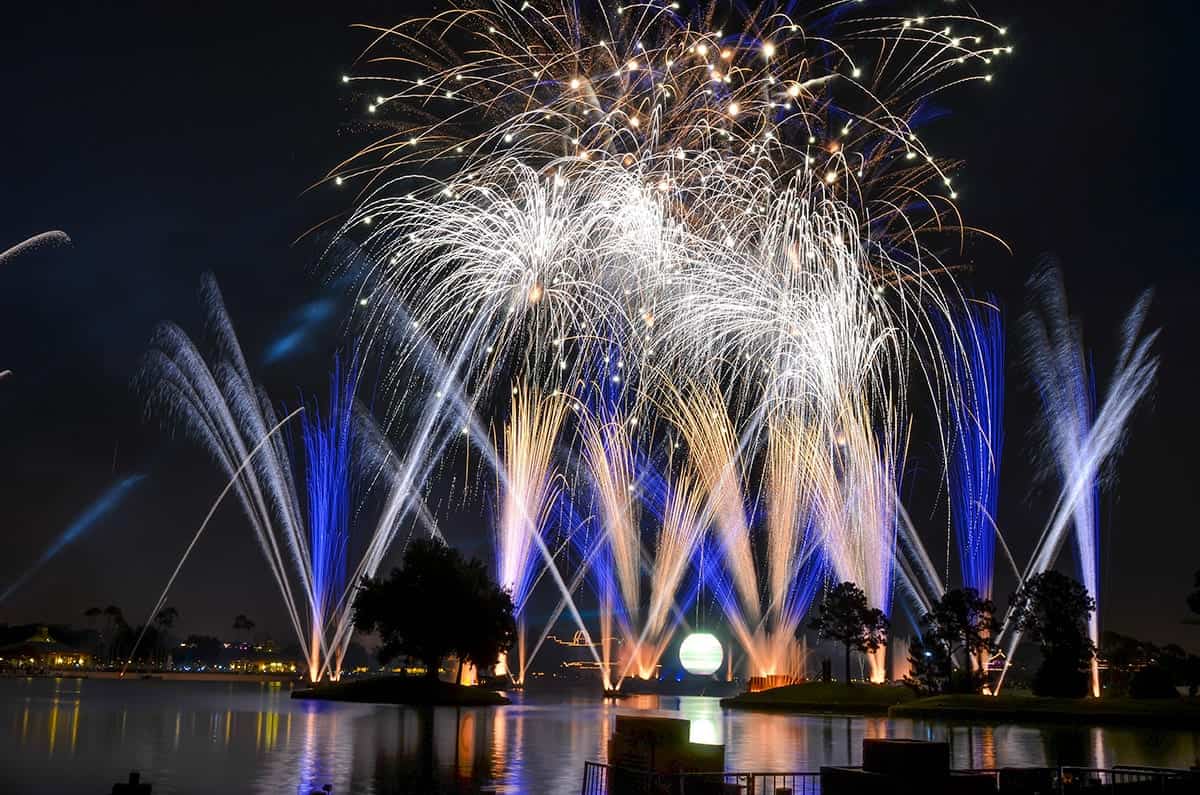 Remember to use a foreground element to show depth in your photos.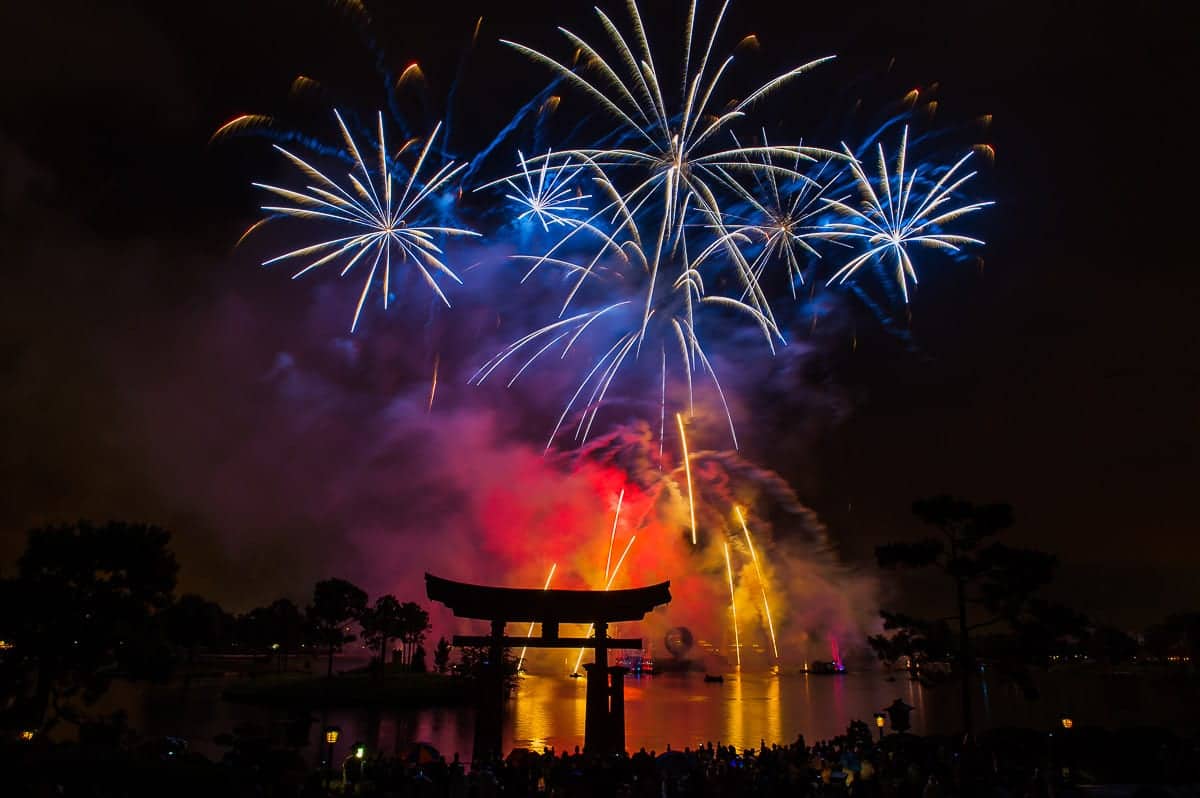 Recommended Tripods
You need solid support to hold your camera. Don't expect to use a table-top tripod or even something like a GorillaPod with flexible legs. They may not keep your camera stable for a long exposure. Here are some tripods from Amazon.com that we can recommend.
3 Legged Thing EVO3 Punks Rick Carbon Fiber Tripod and Mohawk Ball Head
Oben AC-1341 3-Section Aluminum Tripod with BA-111 Ball Head
Post Processing Software
Here are some recommended post processing software tools to help enhance your photos. These programs can help you organize and enhance your photos. You can increase contrast, sharpen images, bring detail out of shadows, increase saturation and vibrance in the fireworks streams and reduce noise in your photos.
These are all tools that I use and recommend. Some links are affiliate links, which doesn't add any cost to you. In fact, I have coupon codes for some to provide you with a discount.
Macphun Luminar – Check out with Coupon Code BEEM to save 10% (Mac computers only)
Macphun Noiseless CK – Check out with Coupon Code BEEM to save 10% (Mac computers only)

Topaz DeNoise – Check out with Coupon Code WBEEM to save 15%
ON1 Photo RAW – Check out with Coupon Code WBEEM16 to save 20%
Transcript
THE ORLANDO LOCAL SHOW
Episode 23
Links to subscribe can be found at:
Keep up with us on social media:
Twitter @orlandolocal.
Facebook Orlando Local
Pinterest Orlando Local.
Show notes are available at: orlandolocal.com/23
Welcome to the Orlando Local Show, episode number twenty-three.
William: Hey, thank you very much, everybody, for joining us on the Orlando Local Show, episode number twenty-three. Today we are going to be talking about photographing fireworks at Walt Disney World.
The idea is that we had our Christmas show, so you know what comes after Christmas: New Year's Eve. And everybody wants to photograph fireworks on New Year's Eve. If you are going to be around Walt Disney World you're in luck. They have fireworks every night of the year.
Lee: Yes.
William: Unless there's a hurricane.
Lee: Yeah, so you don't have to wait for the crowded, busiest night. Although you're not going to find a quiet night now in any event but you get a few shots at getting your shot.
William: And the nice part is Disney seems to put on some really great fireworks every night of the year, but if we go on Independence Day or New Year's Eve it seems to be just kind of like a little extra better.
Lee: Yes, they put a little extra … what do they call it? It's like an add on to the regular show.
William: Yeah and it seems to go wider. We were photographing Magic Kingdom for Independence Day and it seemed like we saw bursts going all around on both ends of the park.
Lee: Yeah, you get a lot more peripheral bursts. I mean even any of the special event fireworks tend to cover a wider range, so you might want to shoot a little bit wider if you are wanting to capture everything.
William: But here's the nice part. If you are going to go to Walt Disney World and take fireworks photos and say that they are your New Year's Eve photos, you don't have to go on New Year's Eve! Because no-one will know.
Lee: That's the beauty of it. Remove the time stamp.
William: Unlike last week's episode, where I waited until the end … hi! My name is William Beem.
Lee: And I'm Lee Beem.
William: And we are happy that you are here. And before we get started with talking about photographing fireworks at Walt Disney World, I wanted to say show notes are going to be available at orlandolocal.com/23 and you can find a transcript of the show there for free.
Of course we would love it if you would subscribe to Orlando Local. Links are going to be available at orlandolocal.com
So subscribe to the show and just have it come straight to you. We are available on social media. We would love to hear from you. You can find us on Facebook, Twitter and Pinterest – we are orlandolocal and Instagram we are orlando_local.
OK let's get down to it.
Why do you want to photograph fireworks at Walt Disney World?
Lee: Fireworks tend to appear at very special events. I think that is where Disney World is different in putting on a nightly show, but typically outside of theme parks like this, you would only see fireworks on special occasions. That would be something like Christmas Eve, New Year's Eve and if you're in the USA, Fourth of July or something similar in different countries. So this is not something where you have many opportunities to shoot fireworks.
So when you go to Disney World you get an opportunity – actually more than one because you have a choice of parks and different shows to shoot – every night of the year.
William: Yeah there are three parks that are going to have fireworks and those are going to be Magic Kingdom, Epcot and Hollywood Studios. And there are different shows, but the nice part is at Magic Kingdom for example, most of the time it's going to be the same show. At Epcot it has been Illuminations for decades now.
Lee: I love that show. That is my favorite.
William: I think that one's going away though. I read that in the paper. Illuminations is probably going to be going. Well, it hasn't changed. It's time for something different.
Lee: I understand that.
William: But here is what we are saying. The fact that the show is the same night after night after night means that if you can be there for a couple of nights, you understand what the show is, where the bursts are going to be and you can do the timing to kind of get the shots that you want, rather than in a lot of other cities when they shoot off fireworks for New Year's Eve or some other event and you don't know what's coming and when.
Or you don't know where they are going to be.
Lee: That's true.
Another thing you can do is you can do a search on YouTube and find some videos. This is actually very helpful if you are new to shooting fireworks or if you are trying to get something different. It kind of gives you a feel for what happens where in the show and we'll go into some details as we point out tips as we discuss this. It will all make sense to you how this is going to be helpful, but becoming familiar with the show and the timings can be significantly to your benefit.
William: OK, so the reasons why are, fireworks are spectacular displays. They make wonderful photographs and at Walt Disney World you've got more than one chance to get it right.
Lee: Yes, you do.
William: And that can be very important. Now we need to get into what kind of gear you need and it is not really as complicated as some people may have told you.
Lee: This is true.
William: You need a camera with manual controls and I'm not saying that it has to be a DSLR. It could be mirrorless, it could be a DSLR, it could be micro four thirds, it could be an all in once camera … so long as you have control over how long the shutter is open, what your ISO is and what your aperture is going to be. And you need a tripod.
Lee: That's right. That's essential.
William: One of the reasons that we are saying that you need a tripod, not only is just to keep it steady, but there are people who will go there and I've seen people try to hand-hold their fireworks photographs. Keep in mind, the shutter is going to be open for multiple seconds and your hands are going to be shaking.
You can't put it on a trash can because Disney just really doesn't allow that. There are other places where maybe even if you could put it, you don't really want to. We are going to get into that later in the show. So you want a tripod. It is your very own little stable platform.
Lee: Yes.
William: It doesn't have to be huge. As a matter of fact Disney has regulations on their website. It says a tripod must fit in a standard backpack. Now I don't know what a standard backpack is, but what they are really saying is don't bring in a gargantuan tripod. Bring in something enough to be stable and support the camera that you have.
Lee: Well most people who are traveling are not going to bring something that falls into that range of "it's too big."
William: I would hope not. I mean especially if you are going to be there for hours anyways, you don't want to be lugging around a big tripod.
Lee: That's true.
William: I know because I've done it!
Lee: Yes. Got the bruises to prove it!
William: I've been the one that's taken a really big tripod in there before and I loved it because it was stable. But it's also a pain when you are moving around.
Now there are a couple of other things we are going to recommend and that is a way to click your shutter without touching your camera. So it could be a shutter release cable – something that screws in and lets you click the shutter from the cable, or perhaps a wireless remote shutter release.
Lee: Yeah.
William: And the reason we are mentioning that is you don't want to touch the camera because as soon as you hit the shutter you are going to introduce a little vibration into the camera by the fact that you touched it and released it.
Lee: Yes. Now I prefer the cabled shutter release to the wireless one because typically with a wireless shutter release (and you'd need to check your camera specifically), the little infra red sensor is on the front of the camera. So it's designed for you to remotely activate the shutter standing in front of the camera.
If you are taking fireworks photos, you don't want to be standing in front of the camera. You need to be behind it so you can see the image on your LCD display and that is the reason why for fireworks I very specifically prefer to have a cabled release and you just plug into the appropriate point.
William: One of the things we were talking about was the lens that you're going to use and this is the time where you don't need to spend a lot of money on a lens.
Lee: Nope. Whatever lens came with your camera is probably the best lens for the show.
William: And the reason that you don't want to spend a lot of money on expensive lenses is because you are going to be closing down the aperture. You are not going to shoot it wide open. You don't need to let a lot of light in at once because you are going to be leaving the shutter open for three or four seconds or possibly longer. And it's going to collect the light that it needs. So if you have something wide open at like F1.4 or F2.8, it's going to overwhelm your exposure.
Lee: Absolutely.
William: Your kit lens – you know – and also you probably want something a bit more on the wide to mid angle.
Lee: I would say something ideally from 18 or it could be even wider than that 18 mm; I've had to shoot with a 35 mm and it just was even that was not wide enough. It put me too close to the castle. That's what we mean when we say wide. It kind of almost crops and zooms you in.
William: It's really going to depend upon your composition, but yeah, you are going to do better with wide angle lenses for something like this and it depends upon where you are shooting from.
And we're going to give you some tips on what we recommend for the three different parks that do fireworks and where we like to set up or a couple of places that we've tried.
These next couple of items are optional.
One is a neutral density filter and basically all that is, is a filter that you put onto the front of your lens to limit the amount of light that comes through so you can leave the shutter open longer.
Lee: Yes. What I will say is that with a neutral density filter, I had never – until I used a fisheye lens, which doesn't allow you to screw one in because it protrudes beyond the rim of at the front of the lens – I had never shot without a neutral density filter. However, this is not a cheap investment as far as a little accessory goes. It is absolutely worth it if you are very invested in the photographs you want to get. You can get very cheap ones as well on Amazon or eBay. Don't waste your money.
I came unstuck. It wasn't fortunately for fireworks, but I bought a neutral density filter; I got a cheap one for about thirty five bucks and basically I lost all the photos that I took with it.
William: Did you get color cast?
Lee: I thought the lens was dirty. There was a slight color cast, but it looked like you know, when your lens gets wet and dirty and you wipe it and it's sort of smudged and foggy? It had that look on all the photos and I realized eventually it was the filter. I took it off, I went and spent money on it. You know what they say: the most expensive item you buy is the one you buy twice.
William: Yeah.
Lee: So yep. It's not an essential and I just wanted to point that out because don't think that you have to have this to get the photos, but it is an option if you want to capture more bursts because it blocks out light and lets you leave the shutter open for longer.
William: Now let me tell you what I do instead of a neutral density filter. I will go out there with a wide angle lens. In my case with my Nikon camera I will use the 14-24 mm lens, which has got a big wide bubble on the end of it so you can't really put a filter on it anyways. Then I take a black baseball cap. You can use a dark cloth or something basically to cover up the lens.
Now this is another reason why you want a shutter release cable perhaps rather than a remote, because you can set your exposure link to something called bulb mode, which means it will stay open until you click the shutter release and let go.
What I'll do is I'll use the cable and there is a little slider you can put in to lock it so it stays open the whole time.
Lee: You don't have to hold it down. That's right.
William: And what I do is I will put the ball cap on because there is nothing but black so there is no light being collected in there and when the bursts go off that I want, I take the cap off, I count like one, two, three, four … and I put the cap back on. What that allows me to do is to get multiple bursts on the same frame in the photograph without overexposing the picture, I guess. Basically.
Lee: Yes. Because some of those bursts are really bright and you can blow out the rest of your picture. You can end up where it kind of goes all white and you lose the definition and that's what you don't want to be doing.
William: Another reason for this is because the way Disney shoots off photographs, particularly at the Magic Kingdom.
Lee: Fireworks, not photographs.
William: Did I say photographs?
Lee: Yes, you did.
William: Alright, I'm a professional here!
The way they shoot off their fireworks sometimes they will shoot like a burst off to the left, then they'll shoot a burst off to the right. Well that makes a lousy photograph if you've got the castle in the middle and there is just one burst off to the side. But if you can leave the shutter open and then just kind of put the ball cap on and then take it off and another burst goes up, the resulting photo looks like the sky is filled with fireworks, even though they didn't shoot them all at the same time.
Lee: Yes.
William: So you can kind of be a little manipulative about how you do your photographs just using a ball cap and keeping the exposure open.
Lee: That's right.
William: Right, one of the other things we are going to recommend is that you really want to avoid noise. If your sensor is staying open too long it's going to collect noise so one of the things that you can do to avoid that is shoot on a low ISO, like ISO 100 or ISO 200. Basically whatever the basic level ISO is for your camera, the lowest one that it does naturally, that's what you want to shoot on.
Lee: That's right.
William: And we mentioned really going for a wide angle lens. I think we'll get into why you want a wide angle lens but it's going to depend upon your composition. But one of the things we've discovered is when you go into some of these parks and you put on a telephoto lens, meaning 70 mm or longer …
Lee: You're going to be zooming in.
William: You're going to see very little of the park because there is kind of a perspective distortion with the way the buildings are made and a telephoto has a nice effect at compressing things together, but it's not exactly what you might expect if you did this on your street at your home versus some of the buildings in Walt Disney World. Because they are designed differently.
Lee: Yes. That's right.
William: So here's what we are going to recommend to you. Let's say it's your night, you're going to go and take your fireworks photos. The first thing you want to do is scout your location.
Lee: Yeah.
William: You want to know where you're going to be setting up. We've got some recommendations for you for the parks and let's start with Magic Kingdom.
Lee: OK.
William: Alright, where are your favorite spots?
Lee: Do you know, Magic Kingdom just always works for me in Main Street. I have two places that are my favorite. The one you need a really wide angle lens. I had a fisheye on. Don't go and buy something just for this because they are not cheap lenses, but I was standing right at the Hub, you know where the Partner Statue is? I was in front of that. I mean I was almost at the stage at the forecourt, so I was shooting at 10 mm on a crop sensor. I was wide!
But my other favorite place to stand is actually to back way down Main Street so that I've got the buildings in there so I don't get all the bursts; I get the castle and I get them kind of spraying up.
William: I think we need to post some of our photos on the show notes for this episode.
Lee: It was just to give some examples. Because for some people I know how daunting it is. It wasn't that long ago that I went for the first time. It was only a few years ago that I went for the first time to shoot fireworks and I just felt like there was so much stuff to remember. But all I did was I went step by step and I sat down and had my notes and got the camera completely set up before I went and got my spot.
William: You were talking about being, I think, between the Partner's statue and the castle. Sometimes I think it's good to be on the other side of the Partner's statue because that gives you a foreground element. When you are taking photographs one of the things that makes it interesting is to have some depth. You want to have something in the foreground, you want to have something in the middle and something in the background.
And if you shoot from in front of the Partner's statue, that's your foreground element. The castle becomes your middle ground and the fireworks become your background.
Lee: That's right.
William: Now, don't think that you can only shoot from there. You don't have to shoot everything head on. One of my favorite photos is actually from behind the castle and behind … what is it?
Lee: In Fantasyland?
William: Yeah. Behind Prince Charming's Regal Carrousel. I don't know. There's just something very different. I've got my foreground element, which is the carrousel, then there is the castle and then it's one of those things where they've got these fireworks that kind of fan out on both sides.
Lee: It's something really different. You probably will be fighting with fewer people with tripods there for a spot.
William: Exactly. You don't have as many people who are going to be behind the castle and what you don't realize is when you are standing on Main Street, these fireworks are kind of all over the park and you can see them from many places.
Lee: Yes, you can.
William: Another place I like is kind of on the bridge or just at the end of the bridge heading over towards Liberty Square. You've got that little canal that kind of curves and swerves in. And you are seeing the side of the castle. Now you are not going to get all of the fireworks there, but sometimes there are projection displays and I remember one of them where they had like a pirate attack. So they had the skull and the crossbones on the side of the castle and the fireworks going off. So that kind of gave me a unique view.
And the other one is really opposite. So if you look at the castle from Main Street and think that that's kind of like maybe your six o'clock position, you may want to go over to eight o' clock or four o' clock and kind of shoot from there.
So if you're shooting from four o' clock that kind of puts you over …
Lee: Tomorrowland.
William: Not in Tomorrowland, but heading over there. That part of the Hub that's back over there. You can also kind of shoot from in front of Casey's or in front of the ice cream spot. You know where the castle is not necessarily dead center in your view? But I would say work your way around the castle.
And one other thing that you maybe haven't considered: go to Contemporary Resort hotel. There is a … was it the fourth floor? Is that where you can get to it?
Lee: You can. And there is like a lookout area. The level where Chef Mickey's is.
William: OK. Go outside. There is a balcony out there and you can see the fireworks from there. And you get a very different perspective on the fireworks when you are kind of seeing the whole park. You don't necessarily see a lot of the details. You'll see Space Mountain, you'll see the castle and some of the lights, but you'll also see how wide those fireworks go.
I'll put up the photograph that I have from Independence Day. It was really nice seeing all of those bursts going up at the same time and I kind of got a shot that most people don't think about getting. And most people are thinking you've got to be in the park. You don't have to be in the park. As a matter of fact, you could be outside the train station just past the gates and then take a photo of the train station with the fireworks going up over it.
Lee: There are so many opportunities.
William: So be creative. I mean you get the shot that you want. If you want the main one with the castle right in the center, by all means go ahead and get it. But if you've got multiple days to take photographs there, go ahead and work around the park and get different scenes. I think you'll be very pleased that you get something that most other people ignore.
Lee: Yes.
William: Our next park is Epcot. So you've shot that a number of times.
Lee: I have.
William: Tell me what you like.
Lee: Alright, I used to shoot from Morocco. We often had VIP access onto the boat landing, which was a bit of a no brainer and I took it, but that wasn't the only time per trip that I would shoot. Other than that, I would shoot anywhere that there wasn't a tree in my way. And that also included sometimes having the tripod right down at the lowest level with the lens poking through the bars in the railing, just for something different or just because that was all I could get where I wasn't in somebody's way or having somebody else in my way.
So anywhere around the lagoon, if you can see where the barge is going to be in the center, you are going to be fine.
William: My favorite place to shoot was in Japan. And kind of up above the ground level. I would go over there and I can't remember if that was Teppan Edo that I was at or someplace else, but I was kind of like up on the balcony. I think it was Teppan Edo. The reason I like that is because they have the Tori Gate there.
And again, that gives me my foreground element, so I've got the Tori Gate right there, you've got the fireworks display going off in the middle, but sometimes further in the back you've also got Spaceship Earth so that becomes your background.
It just kind of gives you a sense of depth shooting through there. There is something else I want to try and I haven't done this yet, and honestly I got the idea from watching the new version of Soarin. And that is to go stand in front of Spaceship Earth where I can't see where the fireworks are showing up and see if I can shoot Spaceship Earth with fireworks coming up behind it.
Lee: Yes and you will see them from there.
William: I haven't done that yet, but take the idea. That may be something you want to do. It's like you're not … that's if you are there for the photograph rather than for the show.
Lee: That's true.
William: It really depends upon what you want. So yeah, if you are there for the photograph, sometimes you sacrifice other things like maybe you don't see the whole show, but you know that you're going to get something that nobody else has.
Lee: Look, if you're seriously there to get photographs of fireworks, you don't really get the show. You cannot live through a viewfinder.
William: No. You really can't. And honestly, though, when I'm shooting I don't look through the viewfinder. That's another reason why I've got the cable release. I'm watching the show and my thumb is just clicking the button when I need to or I'm moving that little baseball cap off and on the lens.
Lee: Yeah.
William: Finally, Hollywood Studios. I used to go there and shoot the hat. The Sorcerer's hat was my main centerpiece and of course that's gone now.
Now you have Grauman's Chinese Theater, which is not really my favorite looking building in the world.
Lee: I think it's absolutely hideous. I cannot stand that building.
William: But if you are looking at your main entrance. What is it? Hollywood Boulevard? And you've got all the palm trees down there and the thing is lit up there is also a kind of projection show with the fireworks that they have there now. Either with Star Wars or with the holiday season they kind of have the Prep and Landing show going on. With the palm trees and the light, the projection show in the background, you are not really even looking at that building so much; I think it's just a nice way of funneling you viewer's eye down the street and up to the fireworks that are shooting overhead. That would probably be my favorite version of it.
Lee: Yeah.
William: Again, work your way around. You may find an angle that you like from one side or the other. Maybe you can find a way to get some other element that you really like as a foreground element. So it could be the dinosaur on Echo Lake.
Lee: Yes!
William: I don't know if you can get the Tower of Terror in there. That would actually be cool, but it's kind of in the wrong direction.
Lee: Yeah, it's just facing the wrong way.
William: But maybe the Brown Derby.
Lee: Something like that.
William: Scout around. Look at your location and when you're scouting, keep in mind that people line up early for their fireworks because usually they are – particularly at Magic Kingdom – there's going to be a projection show before it. There's a parade, there's a projection show and then there's the fireworks, so people are getting their space and they are planning to be there for a while. If you want to get a good spot, be prepared to sit there and wait.
Lee: Yes.
William: Last time that we did fireworks I think at Magic Kingdom I got there what? Two hours before the fireworks started. And I've waited longer than that. I'm not saying that you have to do that, but if you are really got in mind that "I have to be in this spot" if you are as pernickety about it as I am, then be prepared to wait. Use your time how you see it best, but keep in mind if you wait too long you might not get the spot you want because someone else is there and they may be knocking your tripod around.
Lee: That's also true, yes.
William: Or just as bad, you may have a lot of heads in the way of your photograph.
OK, once you are there, take some test shots. You want to kind of look at your exposure before it gets dark; you want to make sure that you've got your composition the way that you want it. Once you've got your tripod set up you don't want to be moving it around. It stays put.
But take some test shots and then as it gets darker and the lights come up, continue taking your test shots to make sure your exposure is just what you want it to be for about the length of time that you are going to be taking photographs.
Lee: Yes.
William: It's like you don't want to say, oh it looks great at one sixtieth of a second. If it does look great, then and you hold your shutter open for three of four seconds, then you are going to be really over exposed.
Lee: Well, if you're planning on holding the shutter open for ten seconds, find your subject. So for example in Magic Kingdom that would be the castle. It might be the Tori Gate in Epcot. Do a test shot and play around with your exposure for that duration or play around with the duration to get it right. Because if you can get your subject exposed slightly under – so it's going to be a little bit dark – but properly exposed so you can still at least see what it is and identify it clearly, you are going to be fine once the bursts hit. Because they do adjust the lighting.
William: They do and we want to tell you about the end of the show to be prepared for the grand finale. Because when they start kicking up all of these lights, it is extraordinarily bright. You are going to burn out the castle. It's going to look like a nuclear explosion.
Lee: Now if you don't have manual settings and you really want to get a camera with a quick click, that's the time you're going to try for your shot.
William: Good luck!
Lee: Yeah.
William: But honestly, most of the shots that I get for fireworks are before the grand finale. The grand finale, everything blows up. It's a spectacular display to watch. It's a horrible display to try and photograph.
Lee: Yeah, it's pretty much impossible I think. There is just way too much light.
William: So get your shots before the grand finale and then just kind of sit back and enjoy the last one.
Alright, when you get all of this done you are going to get back to your computer. The photos that come out of your camera are not the end of it. You want to do a little bit of post processing. Now whether you are using Lightroom or some other tool, there are just a couple of things we are going to recommend and one of them is to amp up the contrast a little bit. And your blacks, because you kind of want to darken the sky but also that helps your fireworks to brighten up a little bit.
Lee: It makes them stand out more. Yes.
William: You want to amp up the saturation or vibrance to bring the colors out of those fireworks, because if you've ever seen those photographs like, wow! How did they get those colors? That's what they did. In post processing.
Lee: Yes.
William: You'll see lovely colors while you're there but the camera isn't quite as good at putting those in so go ahead and use those sliders. Don't overdo it, but you know it's your photo so do it to your taste, I guess.
Lee: Yeah. Exactly.
William: Do you have any other tips for post processing?
Lee: I would say if you have … if your editing software gives you the ability to do some noise reduction, do it. Not all of them do. I mean you may be using something that's a free online … a free software package that you've downloaded. If it has noise reduction, that's great. If not, don't stress too much about it. But I find that once I've sharpened things up a little bit it needs a bit of noise reductions.
William: And if you don't know what noise reduction software is, leave us a comment on this on orlandolocal.com/23 and I'll answer and I'll point you out to a couple of different versions of software that you can use.
Lee: yes.
William: Maybe I'll just put that in the show notes.
If you're looking for photography tips we do have another site. It's williambeem.com. That's where I do my photography. And just go to williambeem.com. We also have a photography podcast over there called the Photo Flunky Show. Which is amusingly named for a reason.
But we are enjoying that one too, so if you've got some questions, you are welcome to leave it to us in the comments or head over to williambeem.com and I'll help you out over there.
Now when you're shooting off fireworks it's an explosion so there is going to be smoke!
And smoke just kind of, depending upon the breeze, it may be blowing off to the side, or it may just be hanging around. That's going to be really your luck of the draw.
Lee: It is and sometimes the smoke can actually create a nice atmosphere with the colors and the bursts. Other times it gets a little but much, especially if there's not breeze and it's just hanging around. Your smoke is always going to get worse towards the end. So the more fireworks are shot off into the air, the more the smoke is going to be present. So just keep that in mind, particularly if it's a calm night and there is no breeze. Because no breeze is sometimes worse than having some breeze unless it's actually blowing into your face.
William: It's something that you're just going to have to use your judgment along the way.
Another what if is if someone bumps into your tripod. And Disney can get very busy and when you set up a tripod, people are cramming around and it can happen.
Lee: It can and it's an accident. I'd say almost a hundred percent of the time it's a genuine accident. It's not somebody trying to be difficult. It's just that you can't see in the dark where to put your feet.
William: No the only person I ever had that was difficult was a guy who asked me if his children could sit under my tripod and I said it's really not a good idea. And he said well they're going to sit there anyway.
Lee: Yeah, that's not a good idea. Anyway, yeah.
William: That was not really a happy moment, but the kids were fine; it was the father that was impolite.
Alright we mentioned don't plan on using a trash can. They will tell you at Disney don't sit on the trash cans, don't put anything on the trash cans and another reason is not even if someone from Disney comes up and tells you. Other people are just going to throw things away.
Lee: Yeah. And they are going to rattle the trash can or lean against it, step away and then lean against it again. It's going to move and movement is going to create blur that you will really notice if you're doing long exposures.
William: Yeah, a trash can is there for trash. It's not a stable platform so please don't bring like a tiny tripod.
Lee: I've used one plenty of times, but not for a super long exposure. Not for fireworks. If you are doing two or three seconds and you are doing something different, that's fine. But fireworks is probably just not the best way to do it.
William: No because the show is too long and like I said, someone is going to come up and they are going to throw trash away and that's what it's there for.
Lee: Yeah.
William: Alright, now you mentioned to me earlier the railing over at Epcot.
Lee: Yeah a lot of people like to put … if you've got a Gorillapod which is absolutely fantastic, because it's so versatile, you connect it and hook it around railings. For fireworks at Epcot, do not use the metal railing to try and secure your Gorillapod. Particularly in the beginning of the show you know how Illuminations – you have the drum beat – and it kind of counts you in? And people get really caught up in the moment and they start pounding and rattling on the railings or they start pressing against it.
You don't realize how much they move about until you put a camera on there and just pray that nobody bumps it. They are going to bump it!
William: For fireworks on a windy night, a Gorillapod is really not going to be a stable platform. That's why I'm going to recommend as much as possible get a tripod that stands on the ground because these tiny little things that clip onto something else or stand on something else – if a breeze is moving up they are just not going to be stable.
Lee: Yeah and try and get – as far as you can – try and get right up against the railing if you have a tripod or right up against a wall or against something because that way nobody can get in front of it and nobody is going to kick those front legs. And then what I usually do is the third leg I tend to straddle it just to put my body present. Basically I'm taking up space on the ground so nobody is going to kick that.
William: OK, those are all the tips that we have on photographing fireworks at Walt Disney World.
We hope you've enjoyed this. We hope it's useful. And we'll see you again next week.
Thank you again for listening to the Orlando Local Show. As usual, show notes are going to be available at orlandolocal.com/23 and you can find a transcript of the show there for free.
We'd love it if you subscribe to the Orlando Local Show and get it delivered to you for free. You can find links to iTunes, Google Play, Stitcher and Blubrry on the site. Thank you very much. We'll see you again next week!