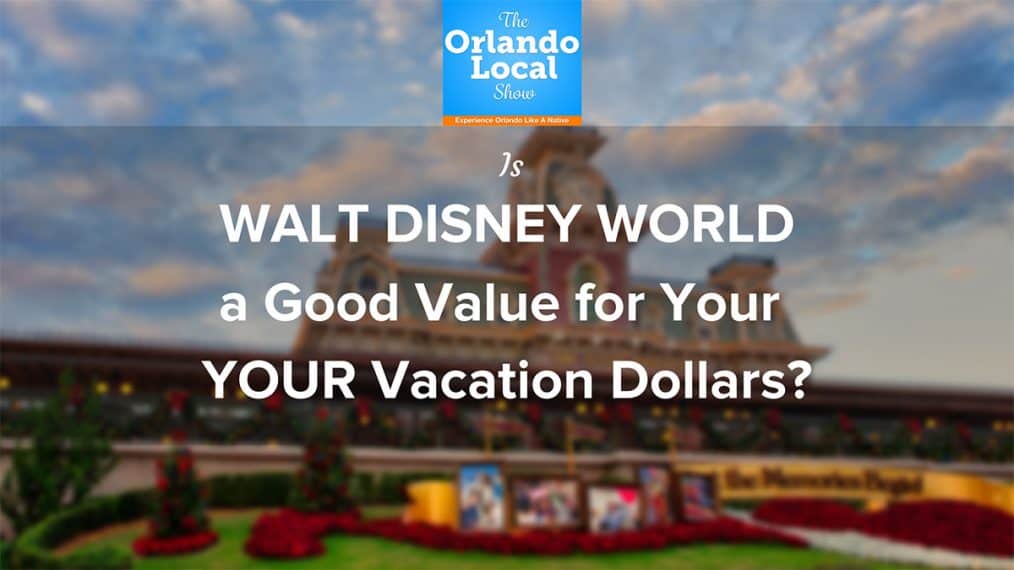 OL 030: Is Walt Disney World A Good Value?
Is Walt Disney World a Good Value for Your Vacation Dollars?
Walt Disney World raised its prices for the 29th year in a row. It's like we're being trained to accept the higher prices each year as a fait accompli, never noticing how much Disney's ticket prices have exceeded the rate of inflation.
OK, so we accept that prices get higher every year, but we still get a quality experience for our money. Right?
Not so much anymore.
Have you noticed that Walt Disney World is cutting back on quality, removing experiences that used to be part of your ticketed entry, while still raising prices? Attendance at Walt Disney World is down, prices are up, and the quality is really slipping.
I think it's time we called Disney out for devaluing the experience it provides in the wake of price increases.
The Walt Disney World Experience Isn't What It Used To Be
In this episode of The Orlando Local Show, Lee and I discuss our most recent trip to the Magic Kingdom. Honestly, we had a really good time. That was in spite of some glaring problems, though. Among the things we noticed:
Disney Security selecting a child for additional screening and not allowing his mother to stay by his side. He was terrified.
Slow and overcrowded transportation to and from the park because the monorails keep breaking down.
More walls, scrims and visible construction in the park.
Condescending and rude behavior from Walt Disney World Castmembers
Poor quality ingredients in our food.
Ad-on pricing for things that used to be part of your park entry fee.
We also had some good experiences with castmembers that made us smile. In fact, I'd say that most cast members do a great job. If you're considering your first visit to Walt Disney World, I'd encourage you to go.
For those of you who have several trips under your belt, we'd like to know if you see the value of your Disney vacation sliding downhill. Attendance is slipping and I think it has to do with some pricing and quality decisions. We'd love to know what you think.
Is Walt Disney World a good value for your vacation dollars after you've been there a number of times? Please let us know in the comments.
Related Links
Orlando Sentinel – Disney World Ticket Prices Increase Sunday
Motley Fool – Disney World Will Probably Raise Prices Soon
You May Also Like…
OL 027: The Truth About Your Obsession With Vacation Planning
Transcript