What to Expect for Christmas Season at Walt Disney World
The Christmas season at Walt Disney World is a fun time to visit, but it's not without some caution. Christmas is one of the busiest and most expensive times to visit the parks and resorts, but we can help you know when to get some holiday fun without breaking the bank. Welcome to your favorite Orlando Podcast!
Why Visit During Christmas Season at Walt Disney World?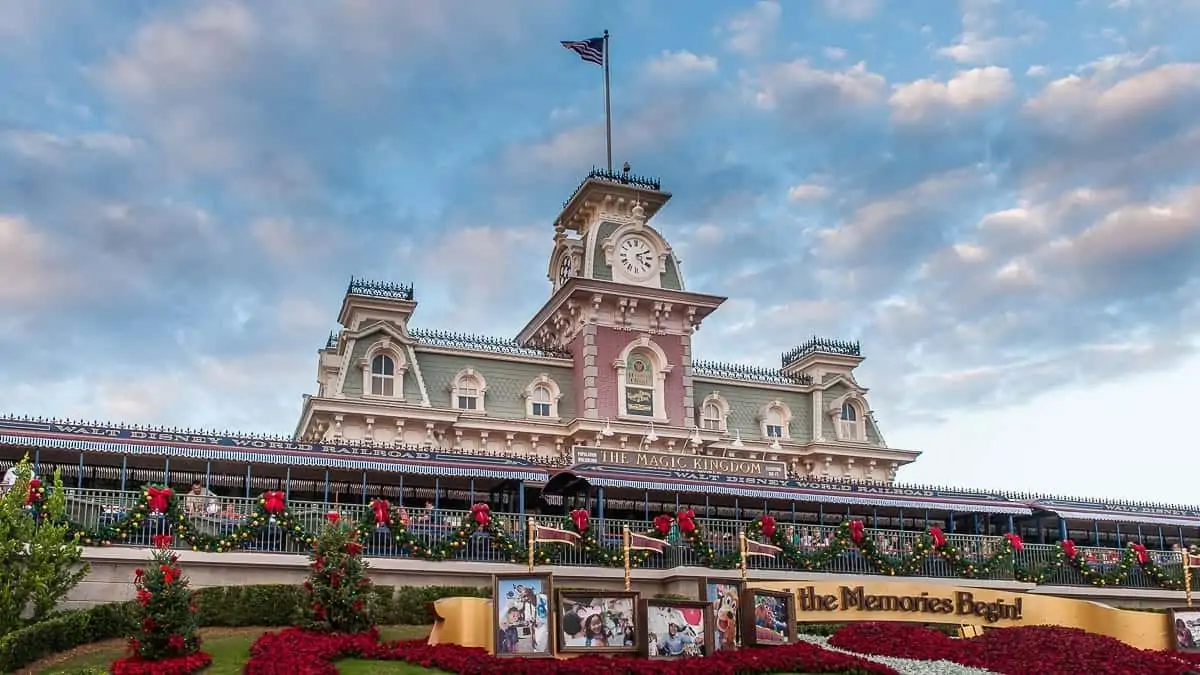 Quite simply, it's beautiful and full of traditional holiday experiences. Walt Disney World goes all-out for the holidays. There are decorations, holiday music, gifts, and holiday meals to put you into the right frame of mind for the season.
Another benefit is that we have lovely weather this time of year. It's slightly chilly during the evening but not snowing or raining most of the time. You can make it through a day at the park without the sweltering heat or bone-chilling cold weather
Of course, nothing great comes without a cost. This can also be one of the busiest times of the year at Walt Disney World, and the prices get higher during peak seasons like Christmas.
That said, there are ways to limit your crowd and cost while still experiencing the Disney version of Christmas.
What Happens During Christmas Season at Walt Disney World?
Quite a lot.
The Magic Kingdom hosts Mickey's Very Merry Christmas Party, a hard ticket event that keeps the park available only to those who purchase a party ticket.
During MVMCP, you'll have access to a special holiday parade, characters in holiday dress, Mickey's Most Merriest Celebration on the Castle Stage, a Frozen Holiday Wish, and Holiday Wishes fireworks
It wouldn't be a party without Santa Claus for the little ones, either.
One of my favorites is the Jingle Cruise, a cheesy holiday takeover of the Jungle Cruise. Same ride, different jokes, and plenty of holiday decorations along the way
Over at Epcot, the Candlelight Processional continues this year with celebrity hosts narrating the Christmas Story, backed by a full choir. I enjoyed seeing this show, and there are plenty of opportunities to see various guests host the processional.
You also get to experience the Epcot International Festival of the Holidays. Check out the various nation pavilions in the World Showcase to see holiday traditions worldwide.
1: Holiday Decorations
Walt Disney World decks out the parks and resorts during the season. Here are a few photos to show what you can expect.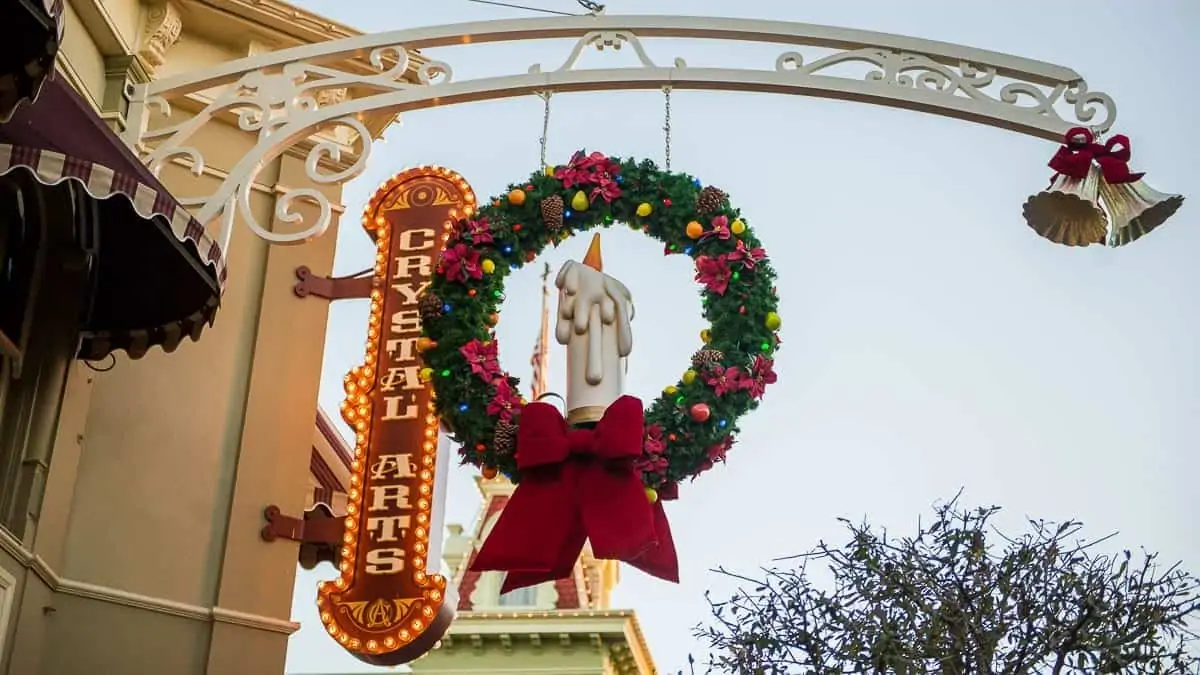 Expect to find plenty of wreaths and bunting around the Magic Kingdom. You'll also find Nutcracker toy soldiers around the flagpole on Main Street.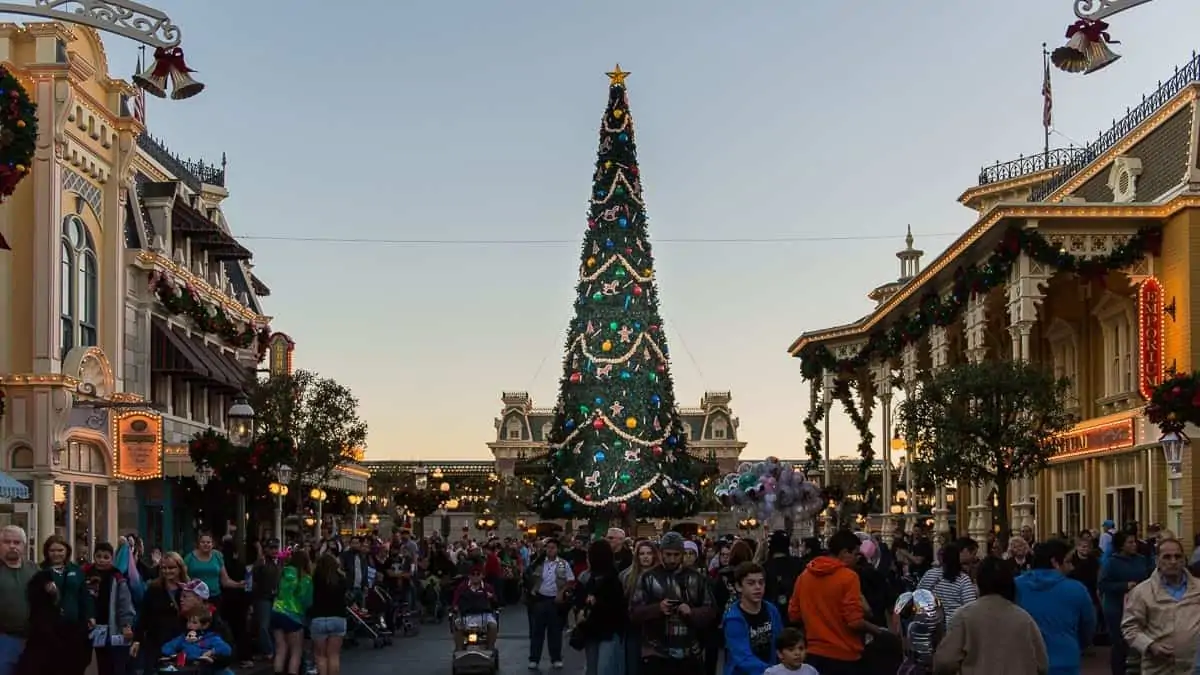 Did I say flagpole? There's an enormous Christmas tree in its place.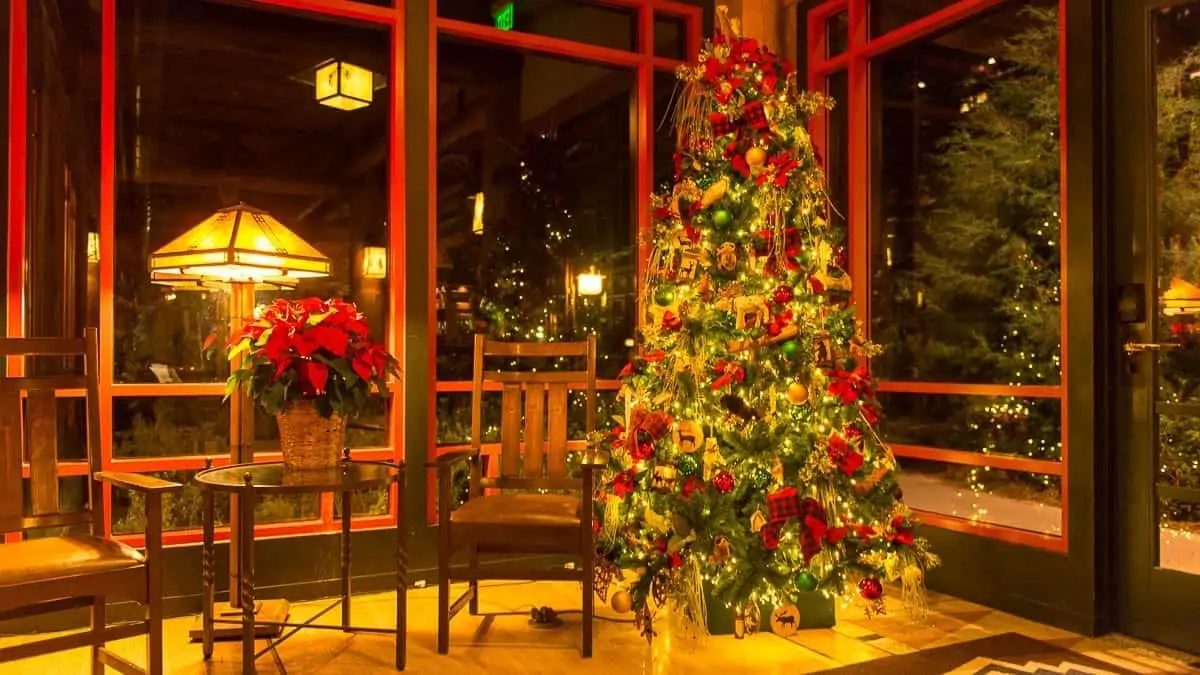 Not everything is oversized. You'll find plenty of small details, like this Christmas tree with presents, in various places around the resorts, restaurants, and parks.
You'll also see more poinsettia plants than most states get in a year. They're all over the Magic Kingdom and other places in Walt Disney World during the Christmas Season.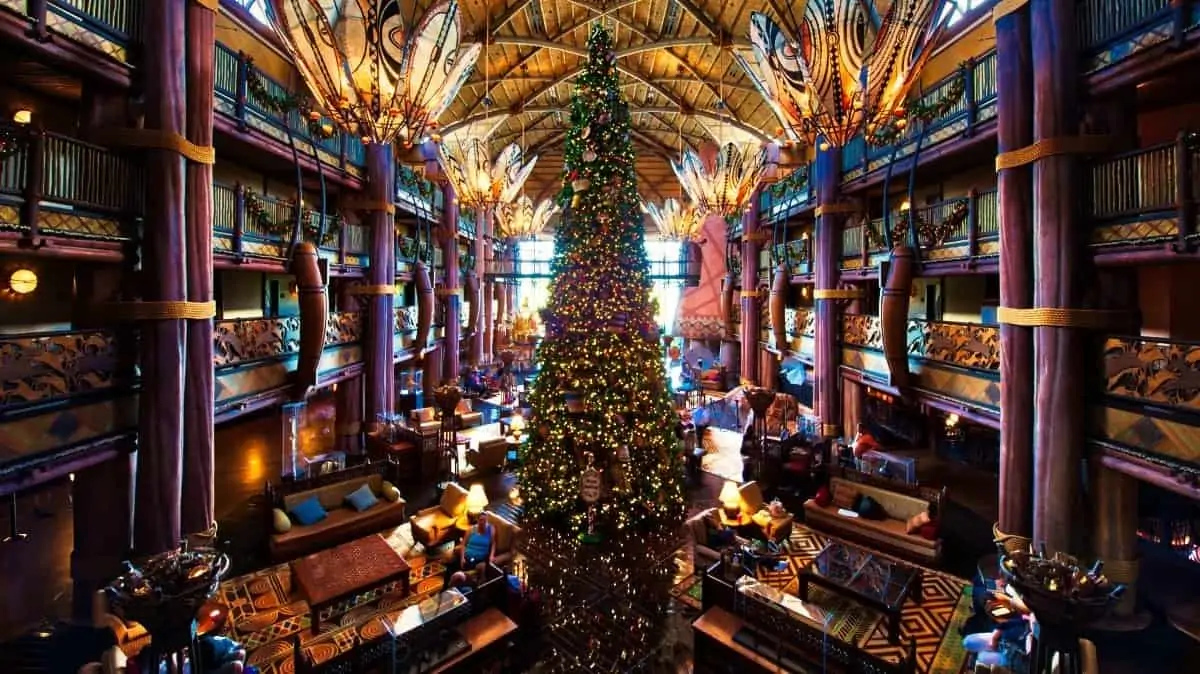 Some of my favorite places to visit during the Christmas season at Walt Disney World are the Deluxe resorts with huge lobby atriums. The photo above shows the tree at the Animal Kingdom Lodge.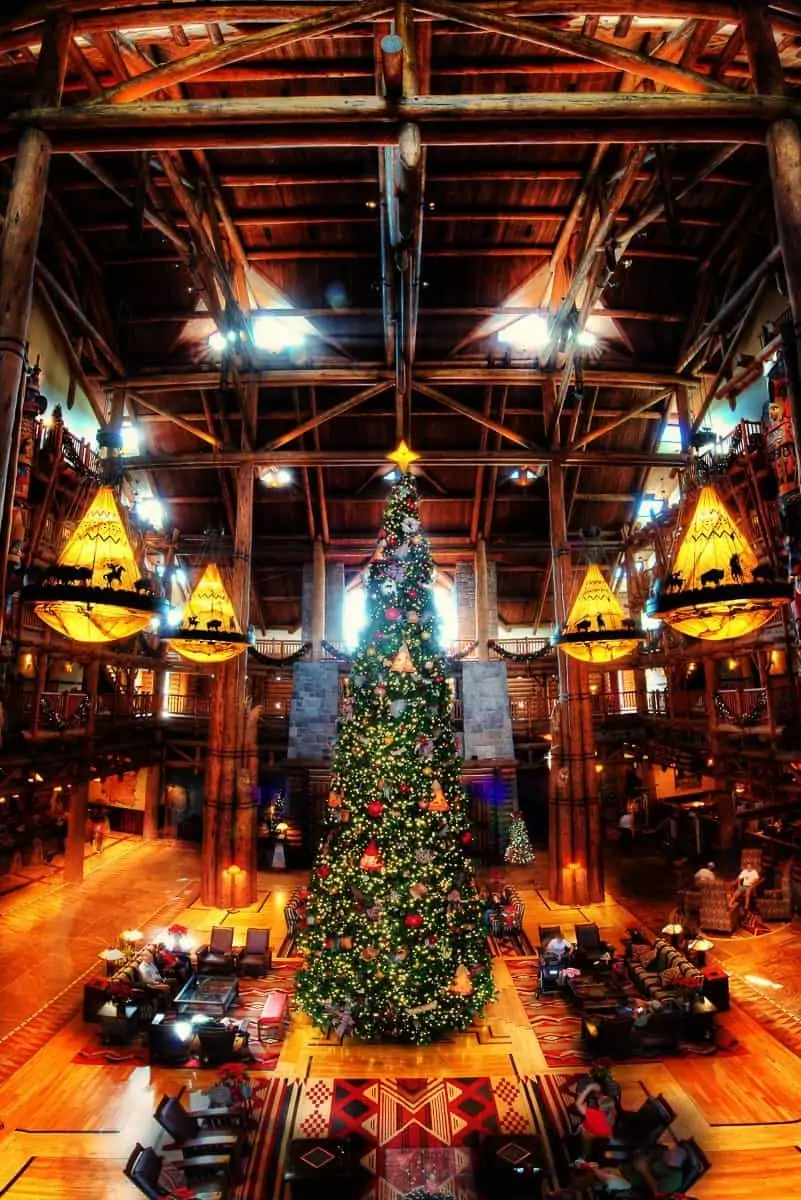 The Wilderness Lodge is my favorite of the Deluxe resorts to visit during the Christmas season. With the tall tree, northwestern atmosphere, and fireplaces, it feels like Christmas to me. This is the only resort I stayed at over Christmas week a while ago, so I have some fond memories of the season at this hotel.
Other resorts get in on the decoration action. The Grand Floridian has an enormous gingerbread house, and the Contemporary Resort usually has a large gingerbread tree. However, don't forget to visit the Polynesian for a tropical take on the Christmas season at Walt Disney World.
2: How to Manage Your Christmas Visit to Walt Disney World
In the rest of the world, Christmas is on Christmas. Very easy to remember. December 25th every year.
Walt Disney World makes it last a bit longer. On November 1st, the Christmas season at Walt Disney World starts. After Halloween, pumpkins come down, and the candy canes go up. There's no stopping for Thanksgiving along the way, and Christmas keeps running into January.
That gives you plenty of time to experience your Christmas experience at Walt Disney World.
The busiest and most expensive part of this season will be Thanksgiving and the period of Christmas Eve through New Year's Day. It's not out of the question for the Magic Kingdom to get so busy that they close entry to additional guests.
Honestly, that's not an experience I enjoy.
So I recommend you go in November (excluding Thanksgiving weekend) and early December. If you're still in the mood after New Year's Day, that's also a good time to visit for the holiday experience.
Want to know what to wear to Walt Disney World in November? We have an article for that.
What to Wear to Disney World in November: The Ultimate Guide
The only exception is the Pop Warner Football/Cheerleader event. You'll see many teenagers swarming the value resorts, full of energy, excitement, and noise. You may want to check the dates for that event.
If it coincides with your visit, I'd recommend upgrading to a Moderate or Deluxe resort if you want to avoid the teenage rush.
Not a knock on the teens. They've earned the right to be there. They're young and full of energy and got there by being very good at their work. So it's not a stretch for that enthusiasm to rub off on all parts of their visit.
Mickey's Very Merry Christmas Party parade is exclusive to the party, at least until the last party on December 22nd. After that, the same parade runs during the day for all guests in the Magic Kingdom. It's part of the busy time to visit, but keep in mind it also runs in January if you're willing to wait past the holidays.
One last piece of information to keep in mind are the prices for holiday buffet meals. Walt Disney World has a lot of buffet restaurants. Take care to look and see if they're having a special buffet, which also means higher prices than you may usually experience.
3: Enjoy Your Holiday
Despite the crowd levels that can get rather high, I still think this is one of the most enjoyable seasons to visit Walt Disney World. The cast members do a great job, it's a fun atmosphere, and the weather is nice in Florida this time of year. If you're a Christmas fan, you must do it at least once.
Unlike visiting Toothsome Chocolate Emporium. You never need to do that at all.
Get Free Updates of The Orlando Local Show
Want to have The Orlando Local Show downloaded for you automatically when a new episode comes out? It's easy and free. Just click on one of the links below, and you can subscribe on iTunes, Google Play Music, Stitcher or Blubrry.
Discover More Episodes!