What to Wear to Disney World in November: The Ultimate Guide
Are you wondering what to wear to Disney World in November? Things get cooler at Walt Disney World in November, and it's less likely to rain, but the temps can still vary from warm to cool. It's a beautiful time to visit and see the Christmas decorations. We'll help you plan for the possibilities in this guide full of Disney World tips.
Our Recommended Items to Pack for Disney World in November
Orlando weather in November can be temperamental. The first half of the month is usually warm, but the second half can be quite cool. You'll want to pack various clothes to be comfortable no matter the temperature. Shorts and short-sleeved shirts are great for the warmer days, and you'll want a jacket or sweater for the cooler days.
November is one of the driest months in Orlando, so you'll have great weather for all your outdoor activities. However, it's always a good idea to pack a rain poncho or umbrella just in case you get caught in a shower.
Planning for Central Florida Weather in November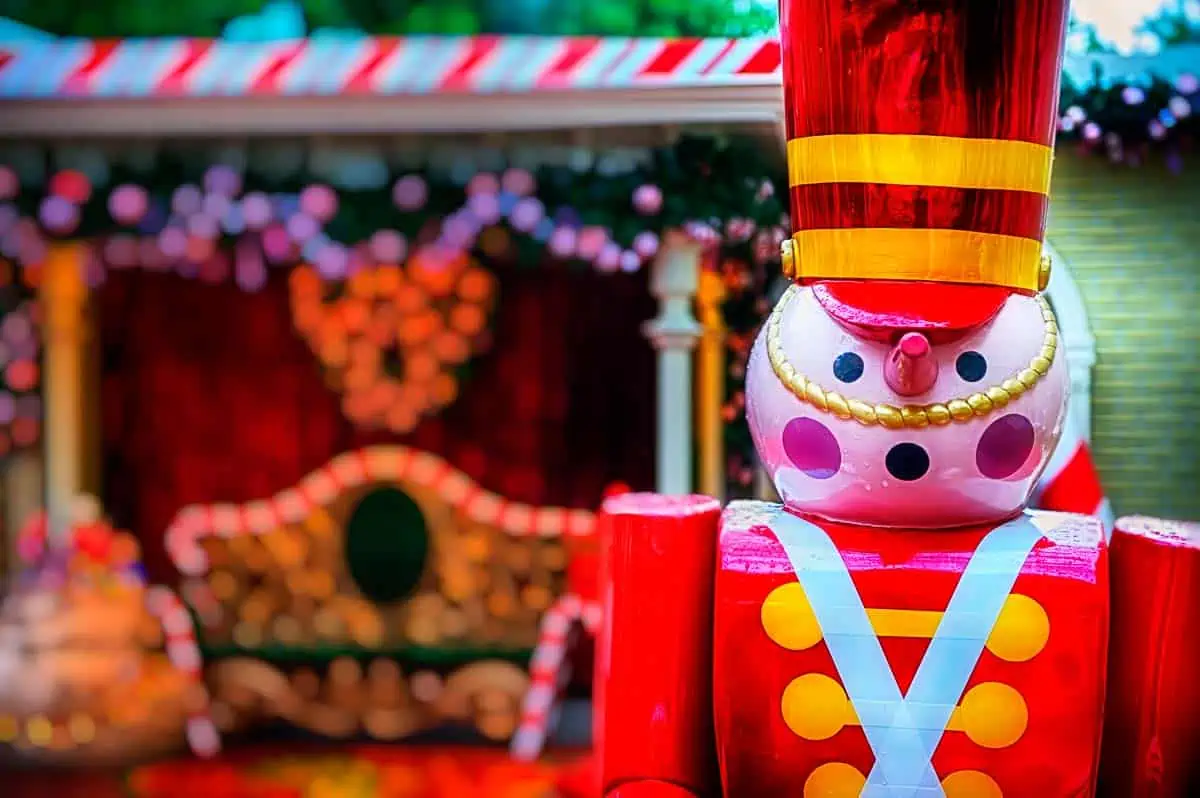 The weather in Walt Disney World improves as autumn wears on. November is the city's driest month. Plus, the temperature becomes quite pleasant.
Highs in the upper 70s and lows in the mid-50s make for comfortable days and cool evenings at Disney World in November.
It's Technically Still Hurricane Season
The tropical storm season runs until November 30, but getting a named storm this late in the year is exceptionally rare. Even if a storm forms, it may not hit the mainland and would very likely fall apart into a rainy day by the time it got to Disney World.
There's a four percent chance that a named tropical storm will come within 100 miles (165 km) of Orlando throughout November and a two percent chance of a category 1 or 2 hurricane. This is not the time of year for major hurricanes.
As a lifelong Floridian, I urge you not to let the fear of a hurricane deter you from your plans. Yes, we occasionally get hit by a storm, but Florida does not experience landfall from a hurricane or tropical system in most years.
In Florida, hurricanes are the exception rather than the rule.
Expect Dry Weather
Overall, November is the driest month of the year in Orlando. On average, Orlando receives between 0.6 and 2.3 inches (15 and 59 mm) of rainfall in November. The fourth year has drier weather, whereas the fourth has wetter conditions.
If we get some rain in November at Disney World, it's probably short and fleeting. You're more likely to need water rides than a rain storm for a poncho.
Walking around with an umbrella is a bad idea. It's just one more thing to carry, and they're very impractical in a crowded theme park.
Plan on Moderate Temperatures
November is a comfortable time of year to visit Disney World. Daytime temperatures are comfortable, and there are a few chilly nights, but no extreme weather issues in November.
Temperatures average above 70 degrees Fahrenheit (21 degrees Celsius) almost every November day. The thermometer reaches into the 90s °F (over 32 °C) roughly twice a decade during November. Temperatures of more than 100° F are unusual at this time of year in Orlando.
On average, the thermometer sinks to 50 °F (10 °C) or below on four nights during the winter. On rare occasions, November may experience a night as cold as 40 °F (4 °C).
During November, the relative humidity in Orlando typically reaches 89 percent in the morning and drops to 55 percent by early afternoon.
In November, the sun's rays fall on the ground in Orlando for 66 percent of daylight hours or more than 213 hours throughout the month. This month has 10 days when the sky is mostly clear, with less than 30% cloud cover.
Expect cooler temperatures in the evening and just a bit warmer during the day. It's one of the best months for visiting Disney World.
November Special Events at Walt Disney World
There are a few November Disney World Special Events to attend. November is the start of the holiday season at Disney World. Expect to see holiday decor and events throughout the Disney Parks and Disney resorts.
Here are a few special events at Disney World in November.
Mickey's Very Merry Christmas Party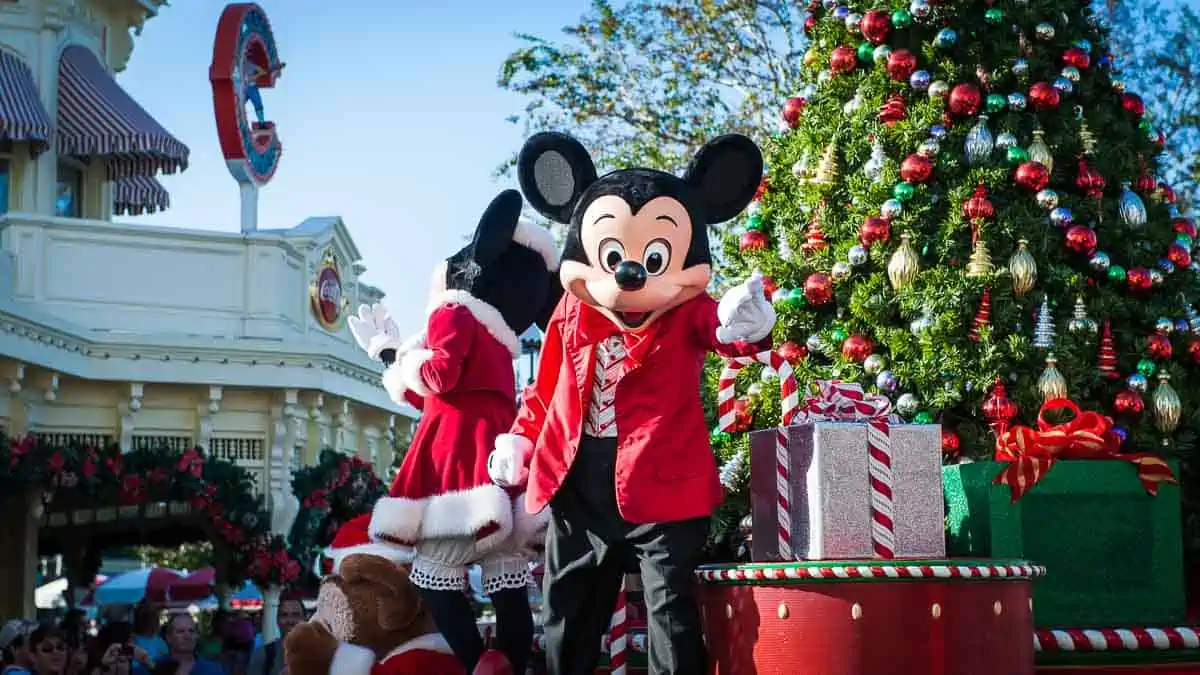 Set the stage with some friendly Disney characters for a wonderful family gathering—and maybe a few amusing ones.
At Christmastime, Magic Kingdom park lights up enthusiastically for visitors of all ages. The music is joyful. Disney characters wear their most colorful clothes, and surprise attractions await everywhere.
During a joyous stage performance filled with music, giggling, sparkling snowflakes—and of course, plenty of Disney Characters—you'll feel the magic of the holidays come to life!
As live performers dance and sing a medley of cheerful holiday tunes, join the massive crowd at Cinderella Castle.
Minnie Mouse invites you to join her in celebrating the holiday season with a spectacular, festive fireworks display. Watch as the sky is illuminated with brilliant hues to the tune of some of your favorite carols, such as Deck the Halls and We Wish You a Merry Christmas.
The colorful display is visible everywhere in Magic Kingdom Park, including Cinderella Castle, Liberty Square, Fantasyland, and Tomorrowland.
Enjoy a parade and holiday decor along Main Street, U.S.A.
The legendary Main Street comes alive with Christmas cheer. Take photos of dancing gingerbread men, marching toy soldiers, and beloved Disney characters as they pass by waving hello. There's even a special appearance by Santa Claus–riding into town on a sleigh to wish everyone a Merry Christmas.
So grab a cup of hot chocolate, even if the cold weather isn't so cold at Disney World in November.
This event runs from November 8 through December 22, 2022.
EPCOT International Festival of the Holidays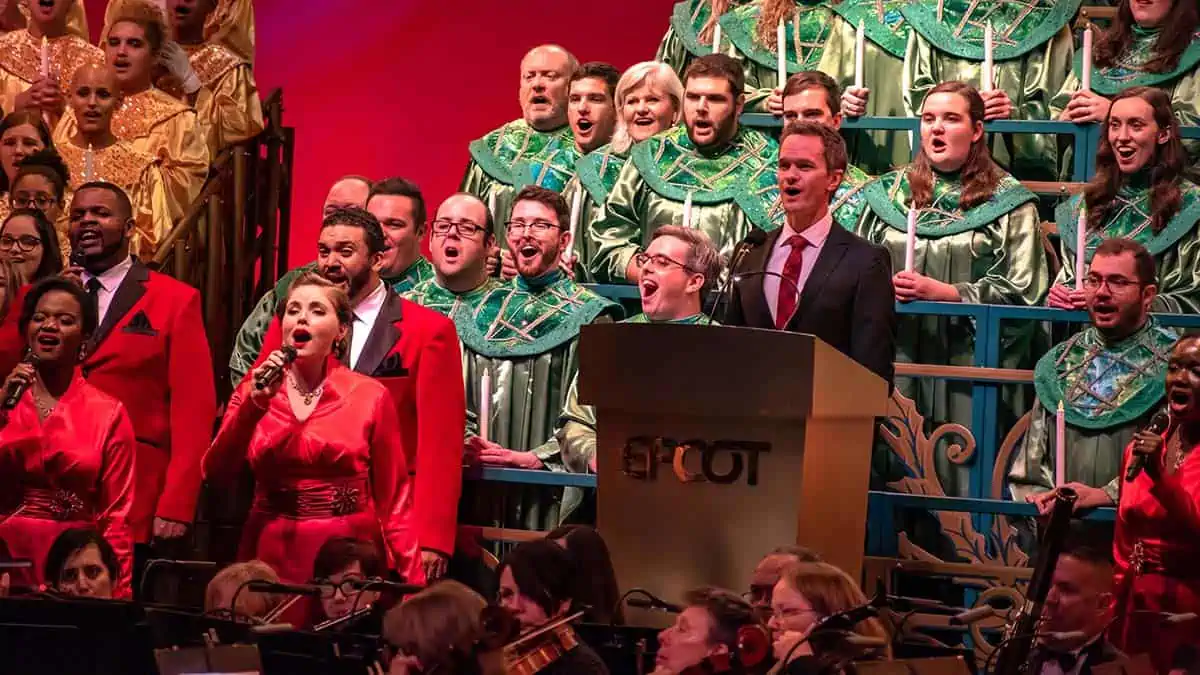 Epcot is a great place to celebrate the seasons. Starting on November 25, you can celebrate the holidays at the EPCOT International Festival of the Holidays. This is a great event for people of all ages.
The festival features holiday traditions from around the world. You can watch performances, try traditional holiday foods, and participate in hands-on activities.
Here are some of the things you can do at the festival:
Enjoy a celebrity narrator's stirring tale of Christmas at the Candlelight Processional. Every night, a famous speaker recites the biblical narrative of a savior born in Bethlehem, interspersed with stirring songs of hope and joy performed by the orchestra and large choir.
Take a journey worldwide and try delicious foods from holiday kitchens celebrating the most wonderful time of year. Indulge in flavors of the season with delectable bites and festive beverages at the Holiday Kitchens.
Grab your Festival Passport and explore the World Showcase for delectable goodies!
During your journey, you'll notice five official Holiday Cookie Stop locations — each with a unique delectable dessert! Visit each to acquire the delicious treat and add your name to your Festival Passport.
After you've collected all five stamps, you may give your Festival Passport to obtain a unique cookie.
EPCOT International Food and Wine Festival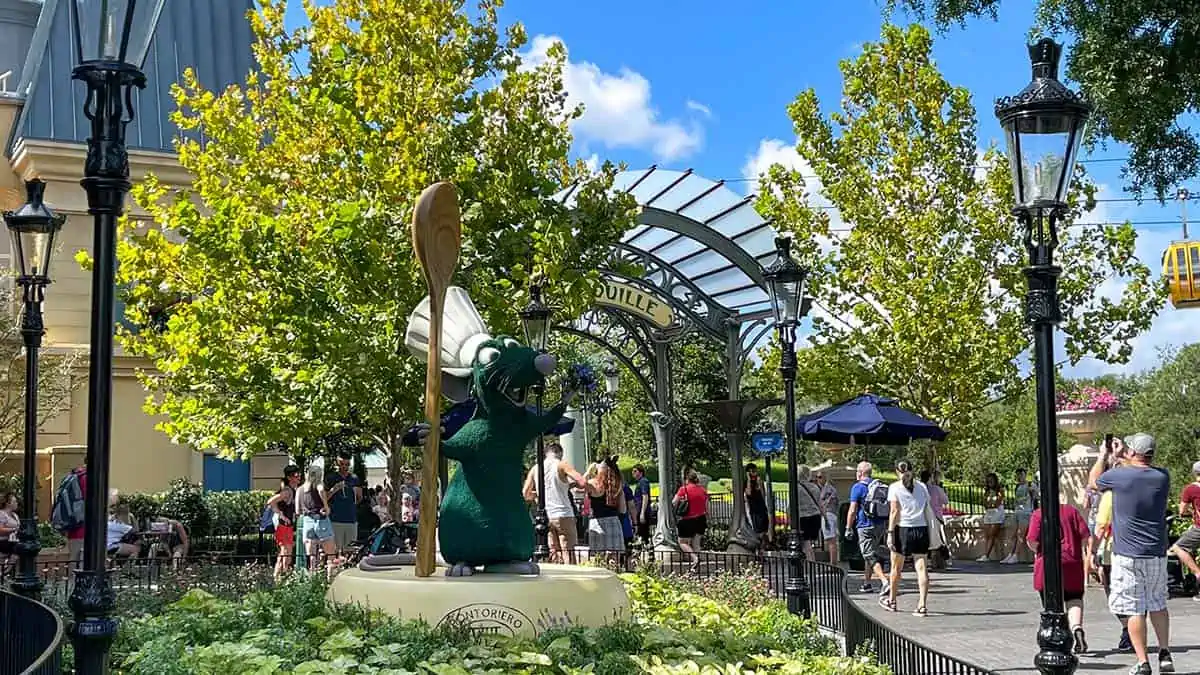 The EPCOT International Food and Wine Festival, which will continue through November 19, allows you to sample food from 6 different continents.
The International Food & Wine Festival at Epcot is one of the most popular activities in Walt Disney World. It lasts from October to November.
Check out our podcast episode and photo review:
Epcot International Food and Wine Festival 2016 Review
If you're visiting at this time, I recommend making reservations for some unique dining experiences. They fill up fast!
Try some of the distinctive dishes and beverages available only during the festival. Many are only available for a short time.
Some special events and demonstrations take place during the festival. Check the website for more information on what's happening while you're in town.
You'll be on your feet a lot while visiting the World Showcase at Epcot, so you'll need comfortable shoes. The event may be crowded, so plan ahead of time.
The foodie's heaven on earth is filled with delectable dishes, top wine, craft beer, spirits, and other beverages that will please every taste.
There are some activities for the whole family to enjoy.
Make a culinary journey like no other with this "Ratatouille"-inspired adventure. Remy may be found on an exciting food-themed adventure for kids of all ages. Simply pick up your map and stickers from any of the Festival's merchandise booths, including:
Look in World Showcase for Remy's hidden statues. Once you've found one, place the correct sticker over the corresponding area on your map!
Once you've discovered them all, take your map to one of the following places to get a Festival souvenir:
Participate in Pluto's Pumpkin Pursuit from September 29 to October 31, 2022 (or while supplies last) to commemorate the Halloween season with your group.
A live concert will spice up your day of delicious dining at EPCOT International Food & Wine Festival! Attending an Eat to the Beat performance organized by Florida Blue Medicare offers the chance to see some fantastic entertainment:
Take home a precious memento from your day at EPCOT International Food & Wine Festival. There are several themed merchandise collections to explore:
Festival Event Logo Collection
Celebrate the EPCOT International Food & Wine Festival with commemorative Event Logo apparel, accessories, and other EPCOT-related items!
Chef Mickey Mouse & Chef Minnie Mouse Collection
It's time to get cooking! With new goods, including an apron, tabletop items, kitchen-themed Dooney & Bourke accessories, and more, Chef Mickey Mouse and Chef Minnie Mouse make serving delectable meals simple.
Princess Tiana Collection
Add a little Disney touch to your space. Tiana-inspired culinary goods include useful kitchen equipment, serving dishes, and other favorite items!
Chef Figment Collection
With this exciting new range of merchandise, you can decorate your palette in bright purple. The package includes the apron, kitchen equipment, trading pins, and a Chef Figment-themed MagicBand.
Chef Remy Annual Passholder Collection
New goods, such as T-shirts and trading pins, will be available in exchange for your pass. The collection will also include one-of-a-kind Passholder goods, including plates, pitchers, and more!
Here's What to Wear to Disney World in November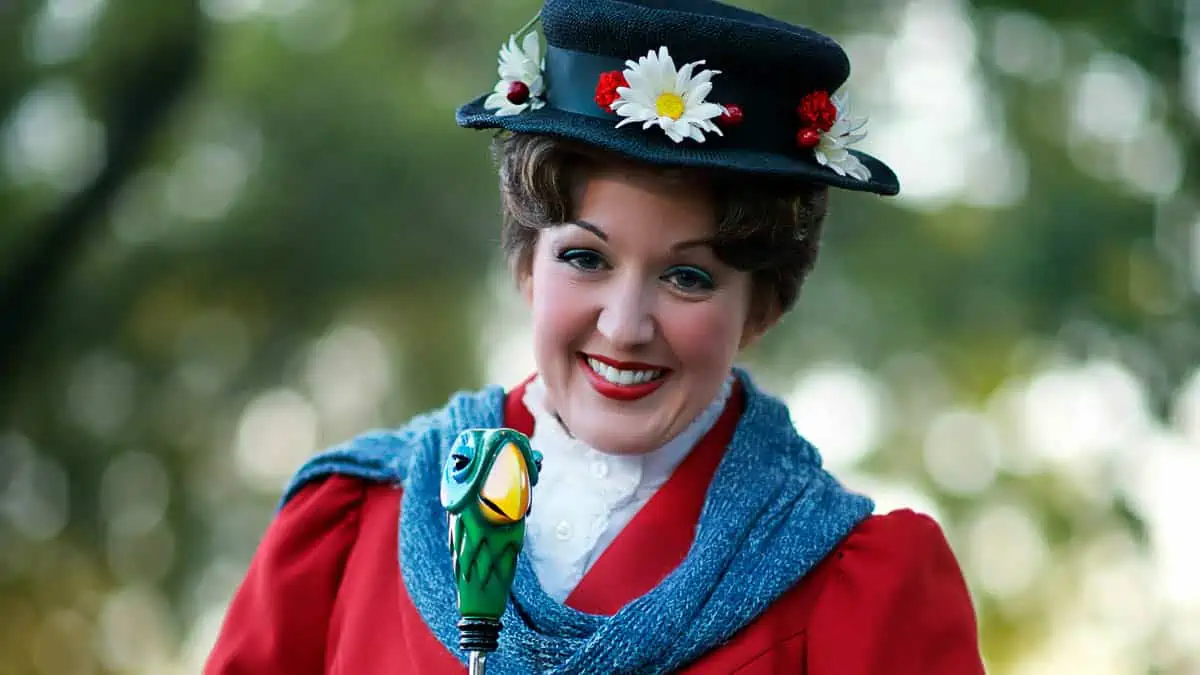 Predicting the weather at Disney World is something of mystical art. Sometimes it's bright and clear in one park and rain in another.
Fortunately, planning for Disney World in November is one of our most stable months for weather. You'll still want to pack a mix of clothing items.
You won't need heavy winter gear unless you need it when you go home to a winter wonderland. Most of the November Disney World days are shorts weather. You may want long pants for the evening or perhaps if you have dining reservations at an upscale restaurant.
You're not going to feel extreme Florida heat in November, but it's warm enough to wear shorts most days. If tennis shoes are comfortable for you, pack them.
Your odds of flooded park streets are practically nil, but you'll want some water shoes for wet rides or swimming areas. I just don't recommend flip-flops for anything other than going to your hotel pool and back to your hotel room.
Yes, bring your bathing suits. You'll have moderately warm weather, and the pools are heated. Make the most of your Disney World vacation by spending some time at a Disney resort pool or water park.
If you feel the spirit, buy some Disney-themed clothes to include in your packing list.
Read the Disney Parks Dress Codes
Planning a Disney vacation can be fun. However, reading the rules of what to wear to Disney is not the most exciting thing.
Here's a brief translation of the Disney World dress code:
This list covers the basics, but please click the Disney Dress Code link for their official policy statement.
What to wear to Walt Disney World Water Parks
One water park will be open in November, but it may close when the weather becomes extremely cold or terrible. The Disney hotel pools are heated!
This may sound obvious, but you should bring bathing suits. You may want some flip-flops or Crocs, as you still need shoes at the water parks. Not only to avoid stepping on something that could hurt you but also because some surfaces get hot under the sunshine.
There are two water parks at Walt Disney World:
Both provide you with towels, but you'll want to bring a few clothing items of your own.
Pro Tip
If possible, bring your towel to the water parks. Yes, they provide you with towels, but it's for a rental fee per person. You can get a towel from the pool area of your resort to take with you. The hotels don't like it, but be sure to return the towel when you come back.
I like to remind people to plan with the end in mind. Do you want to sit in your wet bathing suit when you leave the water park?
Here are a few more reasons to get dressed. The temperature in Disney Transportation is frequently very cold. Those air-conditioned vehicles may be bitterly chilly after emerging from a water park wearing a wet swimsuit.
Also, you don't want to leave a wet spot where you were sitting for the next passenger. I wouldn't. Take some dry clothes with you to change quickly before getting on the bus or in your car to return to your hotel.
Water Rides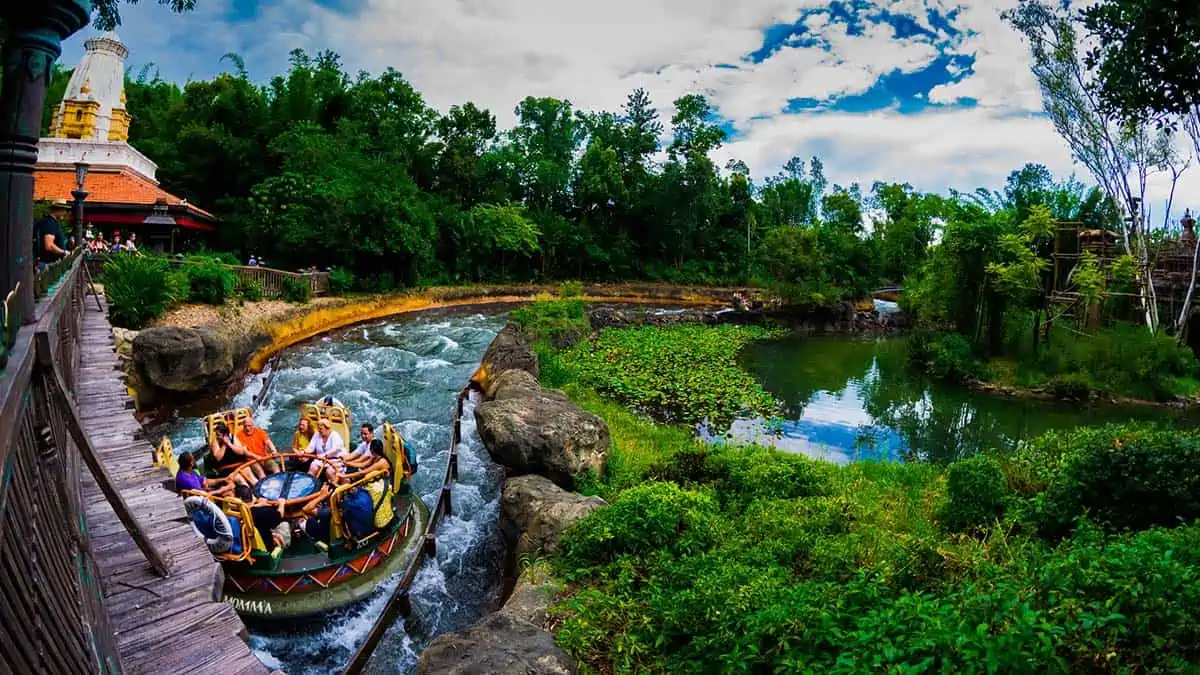 During the summer, it's usually hot to visit Disney World. They provide water rides such as Splash Mountain in Magic Kingdom and Kali River Rapids in Animal Kingdom to keep you cool.
You won't find water rides in other Disney theme parks like Epcot or Hollywood Studios.
Guest flock to these rides when it's hot, but November is also a great time to get wet.
Many people who visit Disney World think a poncho will protect them from the water on this ride.
They're mistaken. You'll still get drenched if you wear a poncho on the Kali ride. The distinction is that you'll be wrapped in plastic like a wet pickle when you get off. Don't tell us we didn't give you fair warning.
Let's make sure you understand the difference between the two rides.
The name "Splash" implies that you may be sprayed with a few buckets of water, depending on where you sit. When you pass the flume falls (on the right side), your hair is usually the wettest (on the right side).
Going on Kali River Rapids means you'll get soaked from head to toe, without exception. Everyone who comes off this ride is laughing, happy, and soaked to the bone. That's part of your magical vacation on your Disney World vacation – as long as you prepare for it.
It's important to be ready to safeguard your computer, wallet, or other sensitive objects—stuff them in a bigger park bag, so they don't get wet.
On the Kali ride, there is a large well in the middle of the raft. The good news is that it can keep your possessions safe. The bad news is that it fills up before everyone gets on board. Water seeps into the boat later in the day, making it wet and uncomfortable.
Consider the shoes you'd want to wear on a water ride. Walking around in tennis shoes is usually nice, but not when your socks and sneakers get wet. Those ugly Crocs make a lot of sense when you want to get wet.
There are some other water rides in the Magic Kingdom Park:
Don't worry about getting wet on these rides unless the boat sinks.
What to Wear to Disney Springs
Disney Springs in Lake Buena Vista part of the Walt Disney World resort that's open to the public without needing park tickets. It's a dining and shopping center that you can reach by car, Disney bus, or from select resorts by Disney Water Transportation.
For the most part, casual and comfortable clothes are fine. You may want something dressier for table service restaurants like The Boathouse or STK, a hipster steakhouse. Technically, the dress code for STK is business casual. You'll find people there in park clothes, but they go for a bit more of a formal vibe.
Places like House of Blues are fine with your casual park clothes.
Check out the Dining Options at Disney Springs.
There's also a Cirque du Soleil show; you may want to wear longer clothing because of the air conditioning. You get cooler temperatures in theaters, hotels, and restaurants than in the rest of Disney World.
Animal Kingdom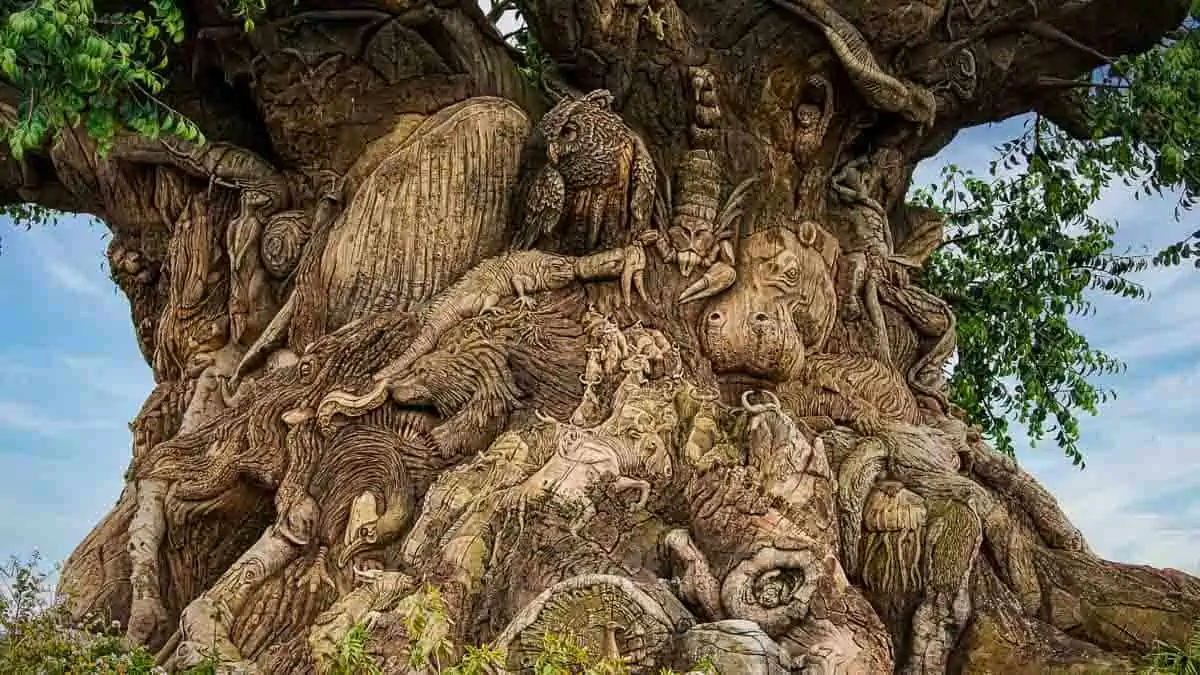 The general advice of what to wear at a Disney park that I mentioned earlier applies here, but remember that Animal Kingdom is the Disney park with the Kali River ride that gets you soaked.
Try to plan specifically which day you want to go on that ride and dress accordingly. That means leaving some things in your room or being prepared with plastic bags and drainable shoes.
You may want to go on this ride during the early mornings of your trip. It gets more crowded later in the day. It's not as bad as the summer months, but it's still busy during a November trip.
If you go early in the day, perhaps bring a bag of dry clothes if you plan to stay in Animal Kingdom.
Epcot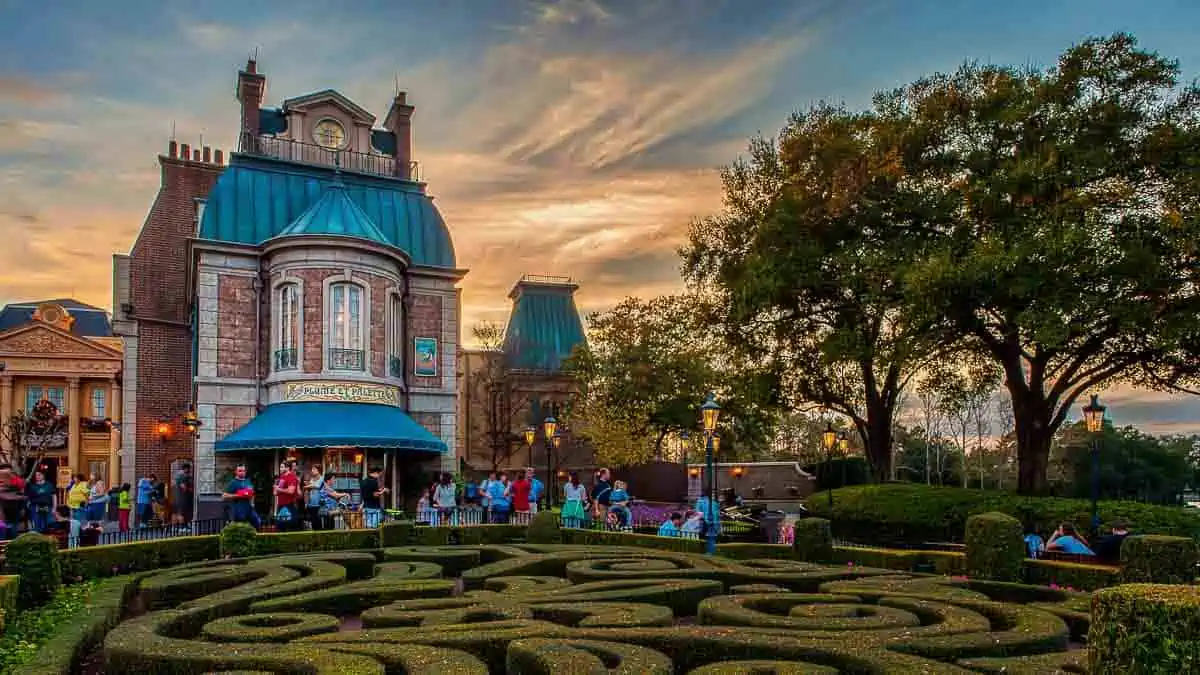 People enjoy planning a Disney trip for special occasions like weddings or birthdays. The Epcot Food & Wine Festival brings people from around the world to sample different foods and drink all the wine.
You'll be on your feet moving about the World Showcase and waiting in line to sample the great foods.
Don't be a slave to fashion. I think that Crocs are the ugliest shoes on the planet, but there's a reason why so many culinary professionals swear by them. Flip flops aren't practical for crowded places where someone may step on your feet, or the things just fall off during a ride.
Crocs ain't pretty, but they're comfortable when you must be on your feet all day. What you choose is up to your personal preference, but keep your feet comfortable. Ugly or not, everyone in our family has a pair because they make sense.
Disney's Hollywood Studios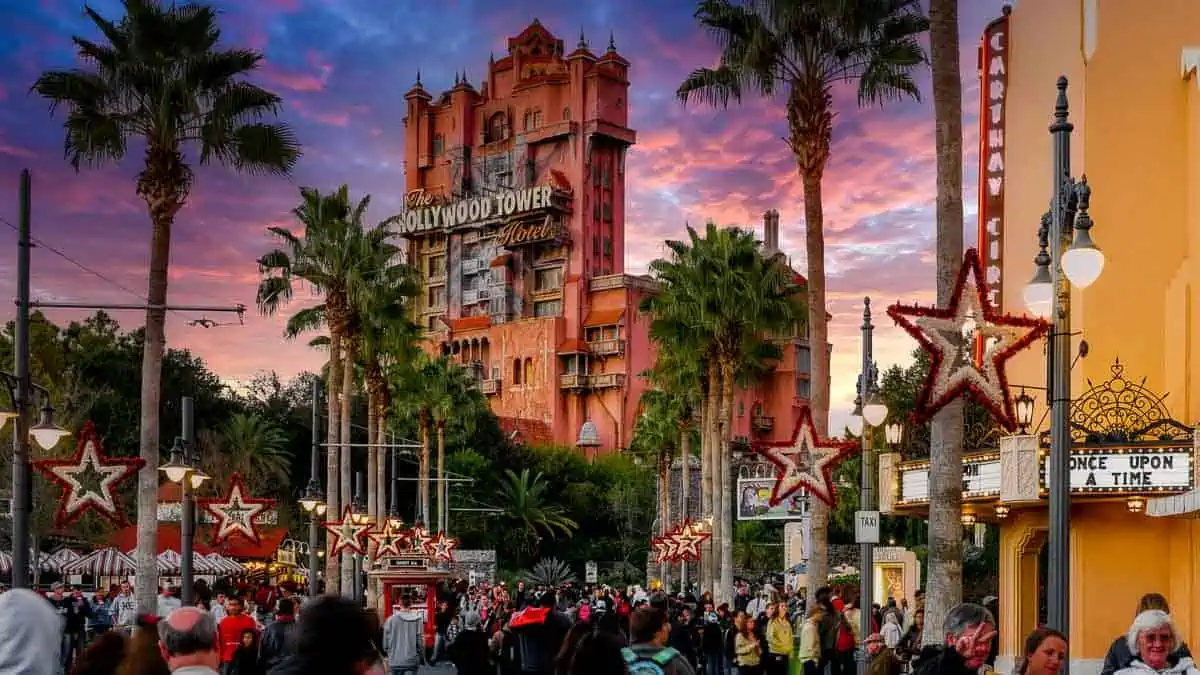 Because this is the smallest of the Disney theme parks, you won't have as far to walk. I'd still suggest comfortable attire and shoes, a bag for anything you want to bring from abroad, and someplace to store anything you buy.
Disney's Hollywood Studios is also the home of Toy Story Land. Themed after the Toy Story movies, this land opened in 2018 and is one of the most popular places in all of Disney World.
You may want to bring a change of clothes if you have younger children. They may want to dress up like their favorite characters and play in the character meet and greet areas.
Star Wars fans may want to bring some of their favorite Star Wars t-shirts. Just remember that you can't wear masks in Disney World parks.
Magic Kingdom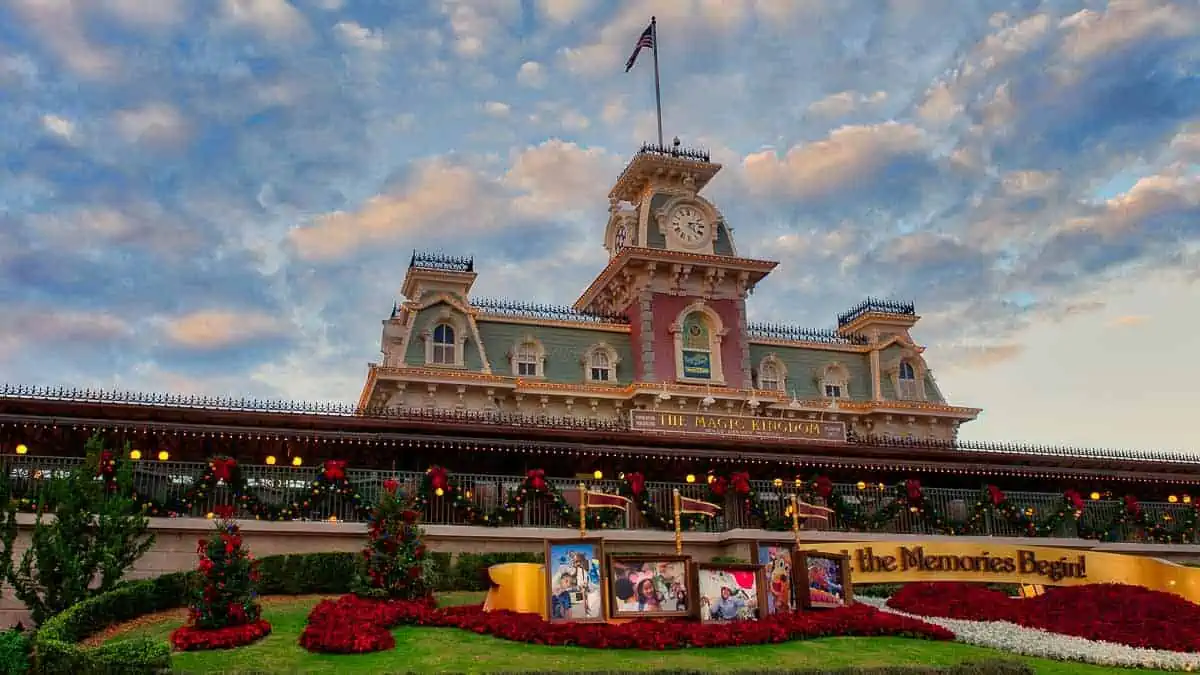 This is the original Disney theme park. You'll encounter a lot of Disney characters. Characters are popular among young children, and they get to meet and greet them.
You should have a bag to keep your autograph book if you want to do something with your little ones (or yourself).
The Crystal Palace breakfast buffet, a Disney World specialty, is another delightful surprise. It's not inexpensive, but your kids get to meet iconic characters here.
It's also a way to get inside the Magic Kingdom before park hours. Instead of waiting outside for rope drop (the official park opening), you can make a reservation for breakfast in Crystal Palace before park hours begin.
Finally, remember that Splash Mountain splashes some people with water. Be prepared for that.
Disney World in November is a Great Time to Visit
November is a great time to visit Disney World because the weather is comfortable, and you can still enjoy most of the attractions.
Be sure to pack comfortable shoes and clothing, a bag for any souvenirs, and an autograph book if you plan to meet any of the characters. And don't forget to have some fun!
Save money and buy some of your Disney World t-shirts before you arrive. The Walt Disney Company wasn't built on discounts.