Daytona Bike Week Overview
Daytona Bike Week Overview for the First-Time Visitor
Sometimes I wish Daytona Bike Week was a holiday because it's one of my favorite times of the year. The weather is usually great. People who attend Bike Week are generally happy and friendly.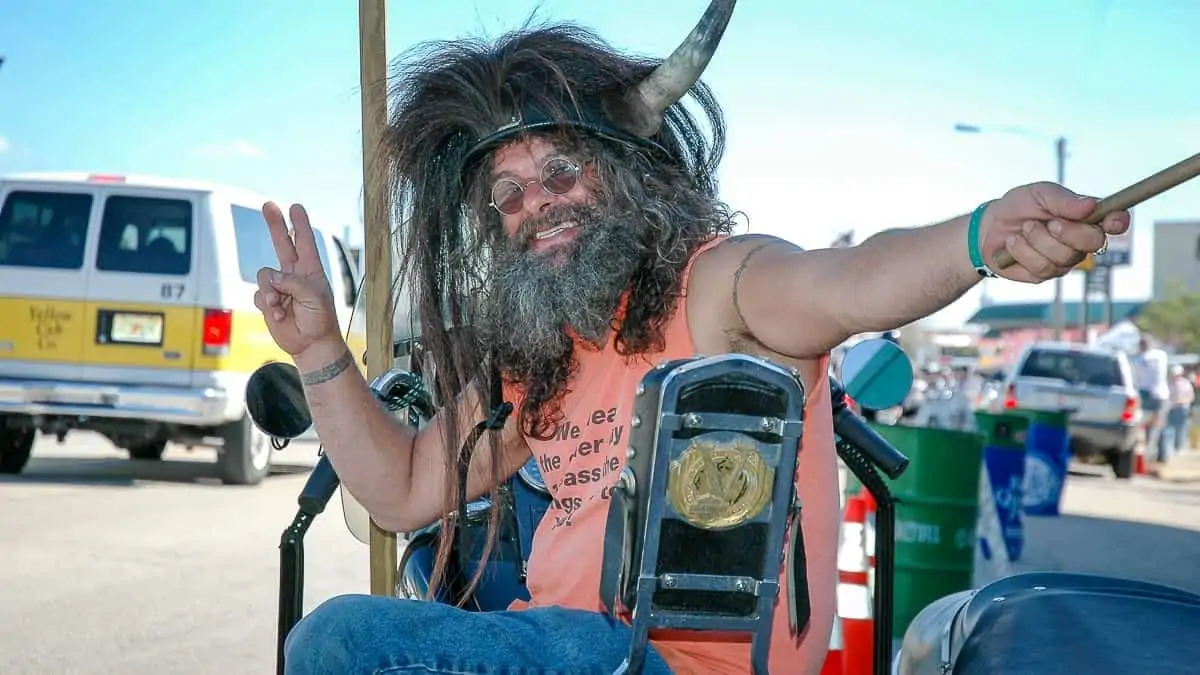 Bike Week started in 1937 with the Daytona 200 race on the beach and road. There was a hiatus from racing in 1942 with the US entry in WWII, but the race started back in 1947.
That was both good and bad. The good part is that other events started up around the race, becoming the framework for Bike Week as we know it today. The bad part is that those events were on the seedy side. Locals felt more like Bike Week was an annoying invasion rather than a community event.
Law enforcement cracked down on the bikers, but they still came. Unfortunately, this type of adversarial relationship lasted into the mid-'80s. Then Daytona realized that it needed to form a relationship with the Bikers who flocked to town every year.
That relationship is going strong now. For some, it seems like more of a corporate event. For others, it's a safer and more popular event that the locals can enjoy.
The Road to Daytona Bike Week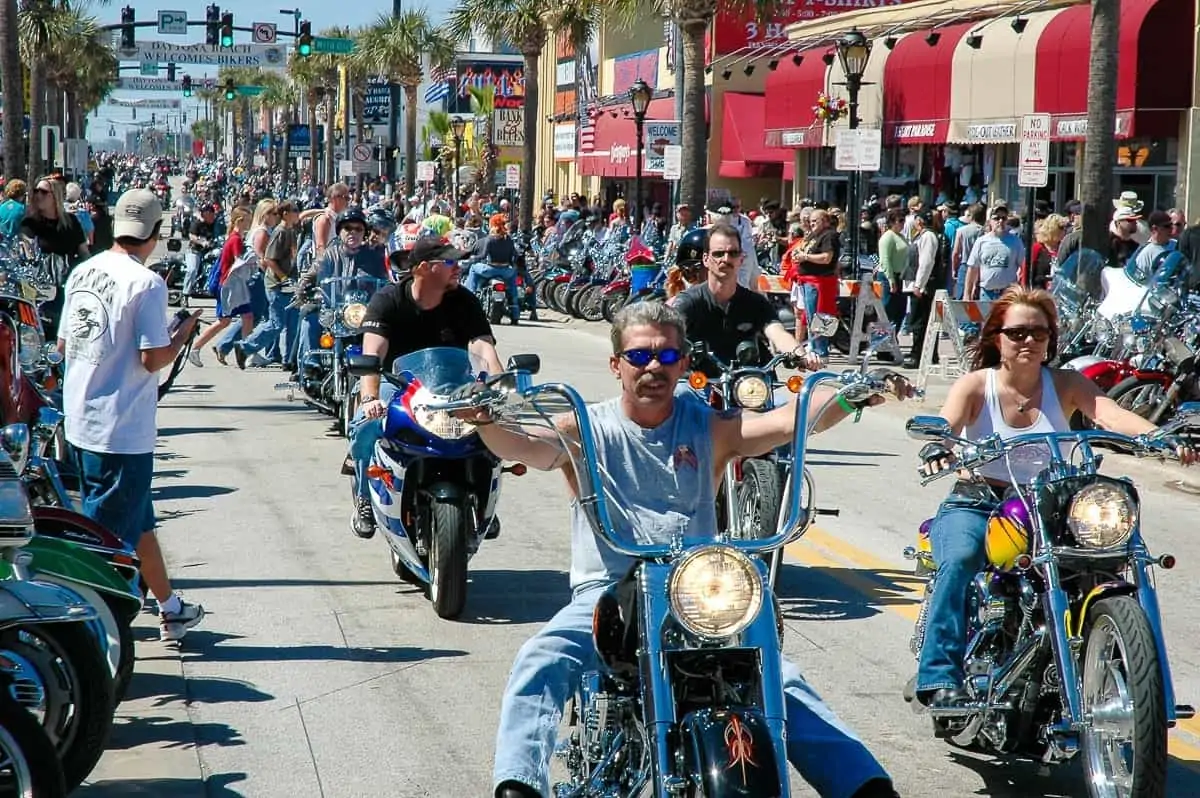 Getting to Daytona from Orlando during Bike Week can be a challenge to your patience. Expect I-4 to be overwhelmed, particularly on the last few days of the event.
Another alternative is State road 415. You can take SR-46 in Seminole county eastbound to pick up SR-415 and then converge in roughly the same area as I-4 in Daytona. While this was once an empty backroad to Daytona, it's become more popular and you may experience some heavy traffic in specific areas, like Sopotnick's Cabbage Patch Bar.
If you're coming from Brevard County, I-95 is the obvious choice. I-95, I-4, and SR-415 all meet in roughly the same area of South Daytona by SR-400.
There will be a LOT of traffic on US-92, as it's the main road that leads past the International Speedway into Daytona Beach. The best bet to avoid some of that traffic is to go a few blocks north to Dunn or Mason. Both run parallel to US-92 (or International Speedway Boulevard) and lead directly to bridges to get beach-side.
Save Money at Daytona Bike Week
There are plenty of vendors who are competing with each other for your dollars. That means Daytona Bike Week is a great place to find discounts on almost any motorcycle-related product you can imagine. This is Mecca for the motorcycle industry.
If you're OK with used parts, there are plenty of swap meets to trade what you have some something else.
One of my favorite local businesses to visit during Bike Week is The Helmet Shop. They have all of the popular brands, plenty of options and sizes, and generally lower prices than any other place I could find. When I need a new helmet, this is the place where I buy mine.
You can find them at 1310 S Ridgewood Ave #150 in Daytona Beach.
Bike Week is also a great time to get a deal on a motorcycle. Dealerships load up on inventory and offer a lot of incentives, from pricing to financing.
Daytona Bike Week Photos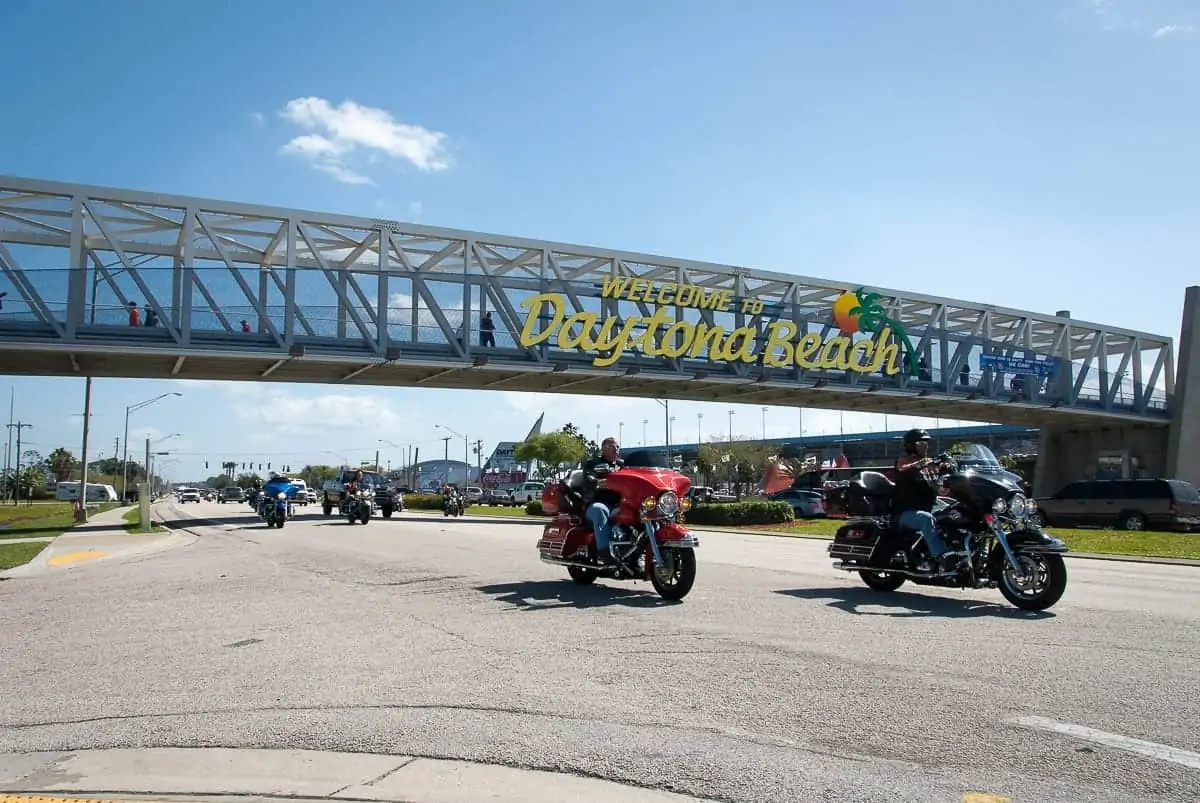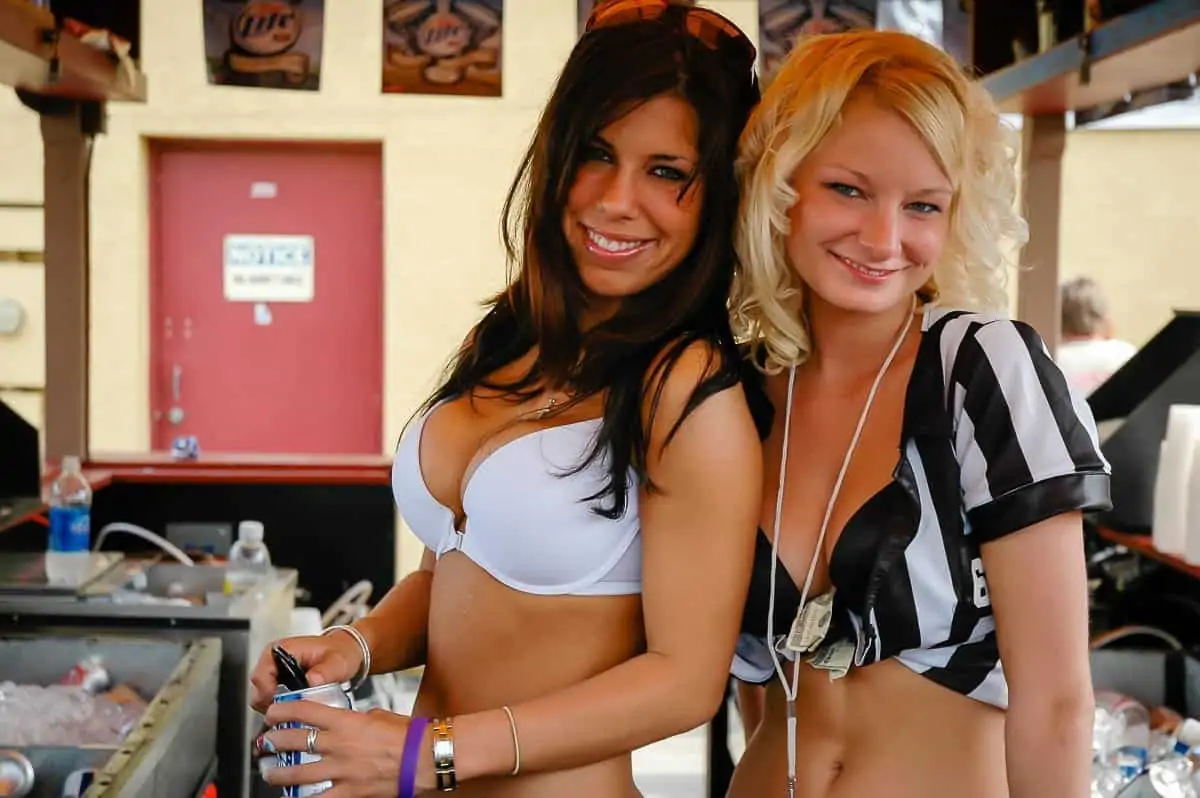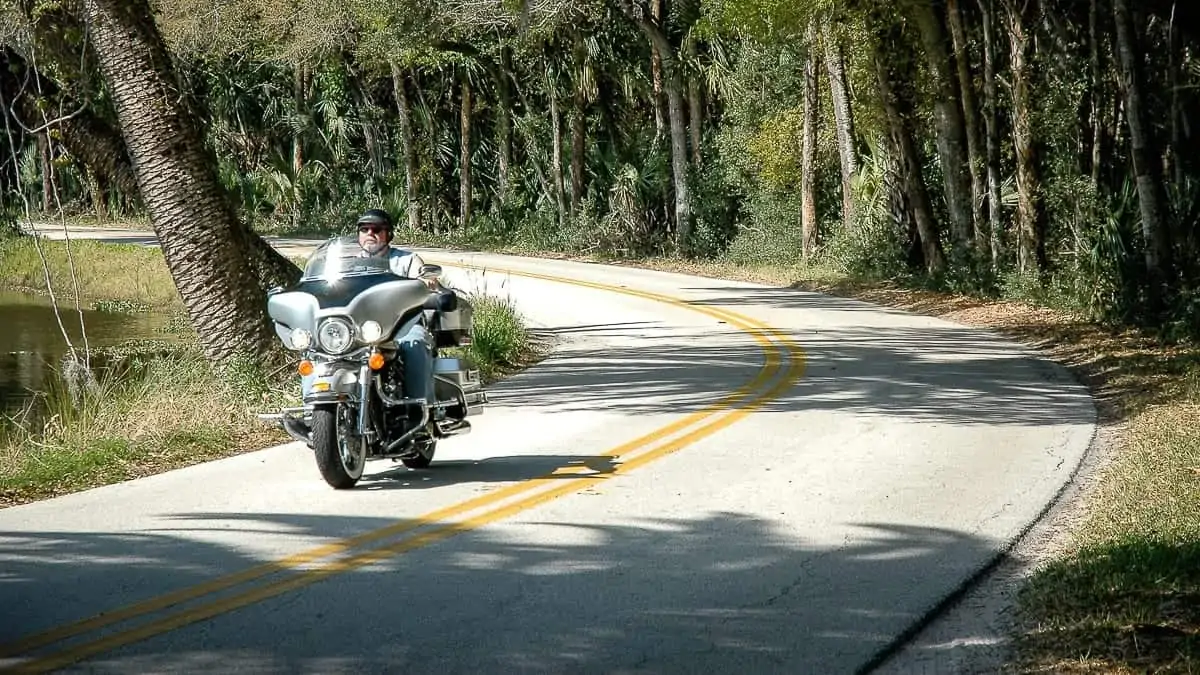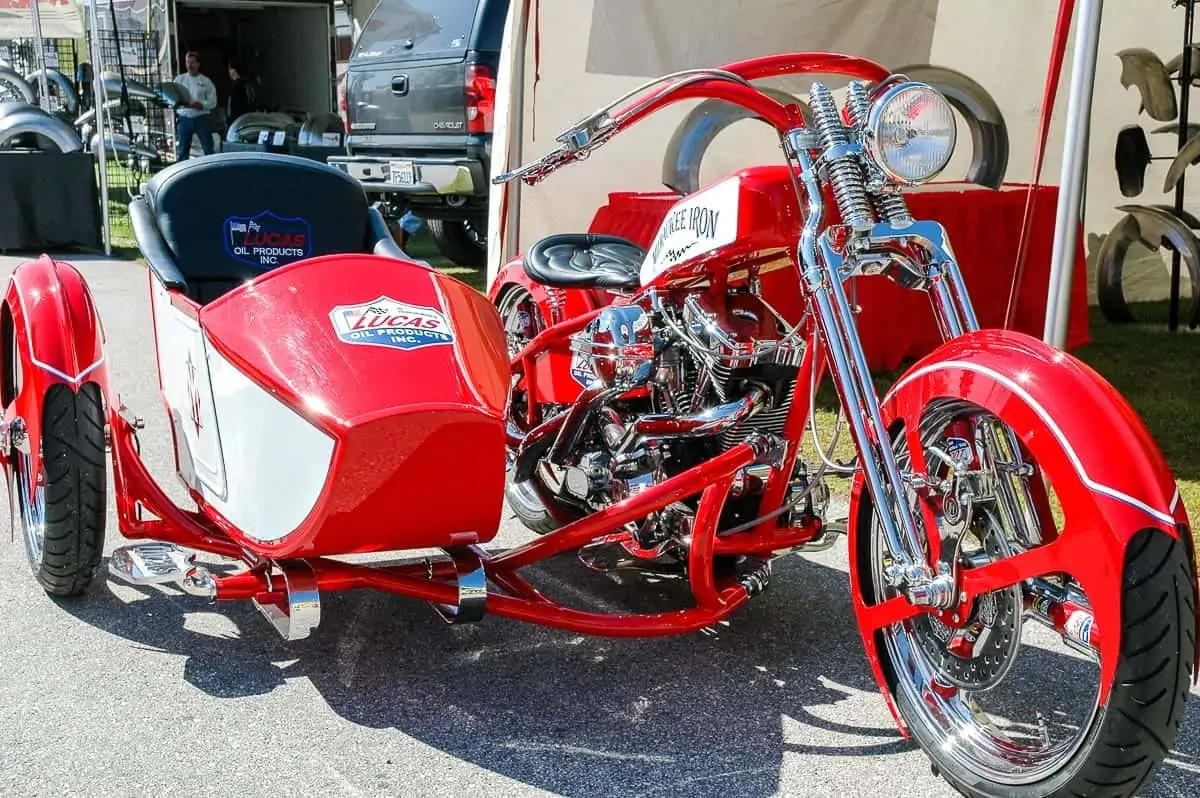 Major Destinations
Daytona International Speedway
Bruce Rossmeyer's Destination Daytona
Transcript
Welcome to the Orlando Local Show, episode number thirty-four.
Hey, thank you so much for joining us on the Orlando Local Show.  My name is William Beem.  Today we're going to venture a little bit outside of Orlando, up to Daytona, because this week is Daytona Bike Week.
Hello everybody. I hope you enjoy this show. This is one of my favorite events in the Central Florida are and there is so much to do I know I'm not going to cover all of it, but I want to give you a little of a flavor of what Daytona Bike Week is like; why you may want to visit; and for some of you, why you may want to stay away from it.
It is going to be extremely crowded and if you're not into motorcycles and all the events that go on, maybe it's a good time to avoid Daytona.
But for those of you that really love motorcycles, even if you don't ride, if you just want to go there and enjoy the atmosphere or if you like to take pictures, if you like to be around the folks, if you like to hear the loud engines, Daytona really transforms itself. It's a 10 day event and it started off on Friday and runs through next Sunday.
So this episode is coming out in the middle of it. I really love this. I've been into motorcycles my whole life. As a matter of fact, my father, before I was born, used to race at Daytona as an amateur in the Daytona 200 and that was back when it was still on the beach and A1A and they would kind of run things around.
So they changed that up in 1961 or 1962. They had the International Speedway and everything moved over there.  But in the 50's when my dad was a local motorcycle racer, he went out there and it turns out that one of his best friends actually came on to be the director of racing for Harley Davidson and we used to go there all the time with my father and his old mechanic. Every year we would go to Daytona. We would go to the Daytona 200, into the infield, have a nice little time in there and then at the end, dad would take me down to the pits and he would catch up with Dick O'Brien. That was his friend who was the director of Harley Davidson Racing.
As a small kid growing up, this kind of thing just really got in my blood. I remember going out on motorcycle rides with my dad and then getting my own bike and then of course, going over to Daytona for Bike Week and its little cousin, Biketober Fest, year after year.
For those of us that really like motorcycles and kind of grew up with that spirit, it is a great time.
Now before I get into all of that, let me just let you know the usual things. Show notes are going to be available at orlandolocal.com/34
You can find a transcript of the show there for free and of course, we would appreciate it if you would subscribe to the Orlando Local Show. We'll have links there on the show notes page.
Why are people really getting excited? Why do so many people want to go visit Daytona Bike Week?
The truth is it's a relief from winter.  Winter in Florida is not so bad, but keep in mind most of the people who are visiting are coming from the North. They've been bound up in the snow and this is just kind of like their spring break in a way.
This happens before college spring break usually comes in. A bunch of people come down. People come from all over the world for Daytona Bike Week. A lot of people are driving down with their motorcycles. They are leaving snowbound places and coming down here and it's sunshine. It's warm weather and it's a beach.
I mean, what more could you ask for?
And really, when you get down to it, Daytona Bike Week is basically a ten day celebration of all things related to motorcycles.
Of the various races that are going on there are going to be custom vehicles there. There is shopping. Everybody who has got a motorcycle always wants to get some gear or accessories or new parts. Or something for your bike.  And there are a number of scenic routes coming in and around.
The most famous one is called The Loop and I'll point you toward a map so you can see where some of these routes are.  Events started up with the Daytona 200 in 1937, so we are talking long before I am born.
And of course it had a break at World War II.  It started up again in 1947 and that's when things kind of began to change.  The race itself was fine.  People loved having the race going down the beach and on A1A and it was kind of a spectacle for people to see, but what became a problem was the events that came along with Bike Week or with the bike race kind of got on the more seedy side.
The locals started to complain about it. They thought it was more of an invasion than a community event and law enforcement had to come in and clamp down.
And unfortunately that's the way it was most of the time when I was growing up.  We didn't really go into some of these other events.  When I went over with my family we went to the race.  We had a good time, we met with Dick O'Brien down in the pits and then we came back home.  We didn't spend the whole weekend there.
Because for me, a little kid, and a family it just really wasn't the kind of thing you take your family to.
Now that's a bit different. I go over there and I see a lot of families around. People are riding.  And there are still certain parts where people are partying, or where you wouldn't take your children, but there are plenty of places where, if you want to take your kids and your family without having to worry too much about what you are going to see, there are plenty of opportunities there.
After 1986 things kind of came to a head and Daytona realized it had to reach out and kind of develop a relationship. And they've done that and it's really changed and that helped grow Daytona Bike Week.
There are hundreds of thousands of people who can enjoy Bike Week and of course, like I said, its little cousin Biketober Fest towards the end of October.
It is an overwhelming event for the senses.  There are plenty of things to see. You hear motorcycles running all over the place. I don't know how to explain the smell. It's not a bad smell; but if you like the smell of racing and engines and that sort of thing, it just kind of gets inside of your spirit and it really is just an interesting sensory overload.
Now if you're going to go to Daytona Bike Week, first thing you kind of need to know the roads going in there. If you're coming in from Orlando, the first thought a lot of people have to get to Daytona is to go to I-4.
I can tell you I-4 is going to be packed!  And it doesn't seem to matter which time of day you go there, I-4 is just going to be jammed, particularly with some of the construction that always seems to be going on at I-4.
The usual alternative route that a lot of people like to take is to go up Highway 415. So you go up to Seminole County and then you go over to Highway 415 and that used to be, when I was a kid in high school, that was the easy way to go; on the back roads where you didn't have so much traffic.
Now it's gotten much more well known so you can expect some slow downs, particularly at spots like this place called Sopotnick's Cabbage Patch and on Wednesday of Bike Week they have one of the most atrocious things that I've ever seen, which is coleslaw wrestling for women and well ... I'll go into that a little bit later on.  It's a weird thing, it's been going on for years. It's something I've seen and I wish I could just take it out of my mind.
When you go there, particularly on a Wednesday if you're going up 415, it's going to be crowded. These days the Volusia County Sheriff's Office will have cars out there and people directing traffic to get people in and out. It is not as bad as I-4, but still, you could expect some slow-downs along the way if you are going up Highway 415.
Your other route is going to be on I-95. If you're coming from Orlando that's probably unlikely that you want to do that, because you're going to have to drive all the way over to Brevard County and then go up I-95 and I think I-95 has its own set of traffic problems that can happen day or night – kind of like I-4 does.
If you are going to head over to Daytona from the Orlando area, give yourself plenty of time. Expect that there are going to be slow-downs and just kind of roll with it.
My advice is if you are going to wait for something, get there early and wait where you are comfortable rather than start taking off later and then waiting in traffic on one of the highways.
One of the other things that I really love about Daytona are some of the scenic routes and there is a brochure – I'll have a link to it on the show notes – and it will show you a number of scenic routes that, if you're on a motorcycle and you just want to ride through nature and you want to ride through some of the forests, there are plenty of trips. I meant there is A1A itself and the scenery just going along on the coastal byway there, riding alongside the ocean; it's just really a nice, peaceful event.
There are a couple of others. There is the Florida Black Bear scenic byway, there is the Ormond scenic loop and trail, Halifax Heritage byway, there is the River of Lakes. You can take a road all the way over into the Ocala National Forrest and come back.
There are plenty of interesting and peaceful kinds of places to ride and that's a good thing to do every once in a while if you get overwhelmed inside of Daytona with all the activity and all the traffic that's going on there and you just want to get out. There are plenty of scenic routes you can take.
So like I said I will have a link to that on the show notes.
The Daytona 200 Race is the big event. There are going to be other races going on, but the Daytona 200 is the big one. That's kind of the reason why Bike Week started altogether.  As I said, this was how I got into Bike Week; going there in the 60's as a kid with my father (and the 70's) and watching it from the infield.
And at the time there were things you would see in the infield that you know ... you don't see these days. It's more likely these days you're going to see people in there with trucks and barbecues and certainly a lot of people on motorcycles riding around. It's not something I would worry about.
Being in the center of those engines and the races going all around you is kind of a sensory overload itself.  And it's a good place to almost tailgate while you watch the race.
Now I would be remiss if I didn't mention there is quite a big party scene going on during Bike Week.  Some of them are going to be a bit more adult than others and I don't mean that to be too raucous, but you are not going to take your kids out to a bar (hopefully). But there are going to be plenty of people out there who are hitting the bars and one of the main spots for that for both the bars and for watching people and watching motorcycles is Main Street in Daytona.  And that is kind of like the cruising alley. If you've got a bike and you want to see what's happening, you cruise up Main Street if you want people to be looking at you.
And of course if you want to watch other people or you want to take pictures of some of the interesting bikes around there, you hit Main Street. And there are also plenty of vendors around there and with vendors they hire models who are – what's the title? Brand Ambassadors. Basically there are attractive girls out there who are helping different vendors promote their items or wares or whatever.
There are going to be people out there with hotdog carts and a number of interesting things. I've got a video I took years ago. One of the more adult things was watching vibrator races. Basically they kind of made an angle of corrugated metal and turned on the vibrators and watched to see which one was going to reach the bottom first.
You are also going to find near Main Street and some of the other venues there are going to be tents set up. There are plenty of beer vendors so you can find – I don't know if you can find necessarily all cocktails in these tents – but usually you are going to be able to find beer and sodas or something like that.  So there are plenty of places to get some refreshments and chill out, relax, get a little bit of shade if you need to.
Some of those areas you are going to look at are going to be, besides Main Street, Destination Daytona; which is up towards Ormond Beach.  That is basically the Harley Davidson Dealership from Bruce Ross Myer and that is a large facility. There is going to be plenty of activity and events going on up there. There is another one, Bike Week at Riverfront Park. If you are coming in the Orlando area and you want to see what's happening here, there are two places I would recommend.
Take a look at Orlando Harley Davidson just off of I-4 at what they call the historic factory dealership – because they do have other locations – the one near 33rd Street and I-4 is going to be the one that is going to have the events going on.
Seminole Harley Davidson is on I-4 at, I think Exit 101C. That's just right off of Highway 46. They will have a number of events there.
What you are going to find is there are going to be bands playing all the time. You are going to find some of the bands are going to be local bands and you are also going to find some events where they have some national touring acts that are going to come in and entertain at Daytona Bike Week.
And as I mentioned, Wednesday is at Sopotnick's Cabbage Patch, up at 415; that is when they have coleslaw wrestling.  It's been an annual event. I don't know. I mean some people really enjoy this. They go to it. It's basically nothing more than a cow pasture where they set up a bunch of tents and vendors that are going to be around. There are always people selling T shirts and other accessories. But the big deal with the Cabbage Patch is they pour a whole bunch of coleslaw out in the middle of a field and women get out there and wrestle in coleslaw.
It's got to be one of the of the most unfortunate things I've ever seen. I'm sorry, but it is an annual event so if you are interested in that ... and mind you, the women that are going to be doing this are ... let's just say that they are not swimsuit contestants. Is the Cabbage Patch and the Coleslaw Wrestling going to be something you want to see?
For some people it's a bucket list item. You go there, you do it once because everybody says you do. In my mind it's one of those things like, you know, I've been there, I've seen it, I can say that I've seen it, but I have no desire to see it again!  And I'm not sure that it was really a good use of my time to go there in the first place. That's me. Other people really get into it. I don't understand why, but they do.
A couple of other things you're going to find at Bike Week: if you need accessories or something to go either with your bike or what you're looking for with your bike, it's a great time to find a deal. I would always go over there and basically I would wait for bike week to get a new helmet or something like that, because things were on sale. I would get better deals at Daytona Bike Week than I would any other time of the year. In fact there was a place over there called the Helmet Shop and I would go there every .... well, I didn't need a helmet every year, but I whenever I needed one, I would go over to the Helmet Shop and I'll put a link to them in the show notes if they are still around. I don't know if they are or not. I haven't been there in a couple of years. I've still got a good helmet.
But it's not just the local vendors. There are also people who will come into town. There will be vendors for everything. Some of it is going to be the usual cheesy T shirts and event things that come along. There is going to be an official event shirt and hat and whatever. Then other people will make up their own.
I've got a ton of event T shirts from years past and my wife Lee seems to have taken over a couple of them at least!
It is one of the places where, if you want to get a deal on something, this is the time to do it.
So for example, I used to ride sport bikes. Now I'm riding Harley Davidsons. The one I've got is a Harley Davidson Road King Classic. The seat that comes with your motorcycle, whether it was my sport bike or the Harley Davidson, is never really that comfortable.
Corbin had a factory outlet over there and this was the best time of year to go over and get a nice, comfortable Corbin saddle to go on my motorcycle.
Same thing with other parts. If you want to get pipes, if you want to get accessories for your engine, or if you're looking for clothing, like if you need a new motorcycle jacket, if you need a new helmet; anything that you can think of that goes on you or on the motorcycle is probably going to be there and it's going to be there at a better price than you are going to find any place else. So if nothing else, if you need something, it's worth going over there and even braving the traffic just to do some shopping and get your best deal.
Before you go I am going to give you one last piece of advice. I told you that the roads going into Daytona are going to be crowded. The roads inside of Daytona are also going to be insanely crowded. Fortunately that kind of works to your advantage because most people are going to go on the major highways. If you break out a map and plan your route to take some of the back streets you'll find out that you'll miss a lot of that traffic .
Some of the places you just have to suck it up because there are only so many bridges to get you over the river onto the Daytona Beach side and yeah, you're going to have to go over the traffic at that point.  But once you are there, instead of driving down the major thoroughfares, look on the map. Take some of the back streets. It will save you a lot of hassle with dealing with traffic. It will get you where you want to go faster. Just please, if you're going through somebody's neighborhood, please be respectful. Don't go too fast; don't rev your engine too loud. But there are other routes.
You could do maybe like a block or two from the major highway and find that one or two blocks over you can drive straight up without having to deal with all the traffic.
And with that, I just kind of want to reiterate this is an incredibly fun time if you are into motorcycles; if you enjoy that sort of thing.
If you don't, this is an incredibly busy time. There are going to be more than 100,000 guests there. There are going to be thousands and thousands and hundreds of thousands of people there, all trying to get around. It is insanely crowded and if you don't want to be there for Daytona Bike Week, I would honestly suggest avoiding it because it is just going to be a hot mess of traffic. The restaurants are going to be crowded. There are going to be wait times. There are going to be delays. This is the best time for motorcyclists to go to Daytona. It is probably the worst time for anyone else who wants to go to Daytona to visit.
It's just going to get in your way and probably give you a miserable time. So that's my last little piece of advice. I hope you enjoyed it and by all means, if you enjoy Bike Week, leave us a message on the comments.
Thank you so much for listening to the Orlando Local Show. We really appreciate you!
If you'd like to support the show, please shop with our advertisers. Just go to orlandolocal.com. You can always find an amazon.com link at the top and our other advertisers down below.  There is no extra cost to you and it will give us a little something to help support the website.
Also, you can find a complete transcript of the show there for free. Just go ahead and click on the link and we'll get you set up with that.
One last thing. We would really appreciate it if you would subscribe to the Orlando Local Show on iTunes, Google Play Music, or Stitcher Radio. We'll have links available to you on the show notes page at orlandolocal.com/34
And if you download the transcript, we'll include the links there.
Take care, everybody.  We'll see you next week.
Get Free Updates of The Orlando Local Show
Discover More Episodes!