More Disappointment Than Dazzle
I went to Hamburger Mary's with great expectations, but what I found was bland and disappointing. Every paper, city guide and blog in town is in an annual search for the area's best burger. Hamburger Mary's is a frequent front-runner and it won the reader poll on Scott Joseph's Food Blog last year. I should have known better than to trust a reader poll.  These are the same folks who routinely pick Five Guys as the best burger. When you're dining experience revolves around McDonald's & Burger King, I'm sure Five Guys seems quite exotic to you. However, all you've done is prove that you shouldn't have a right to vote.
The Atmosphere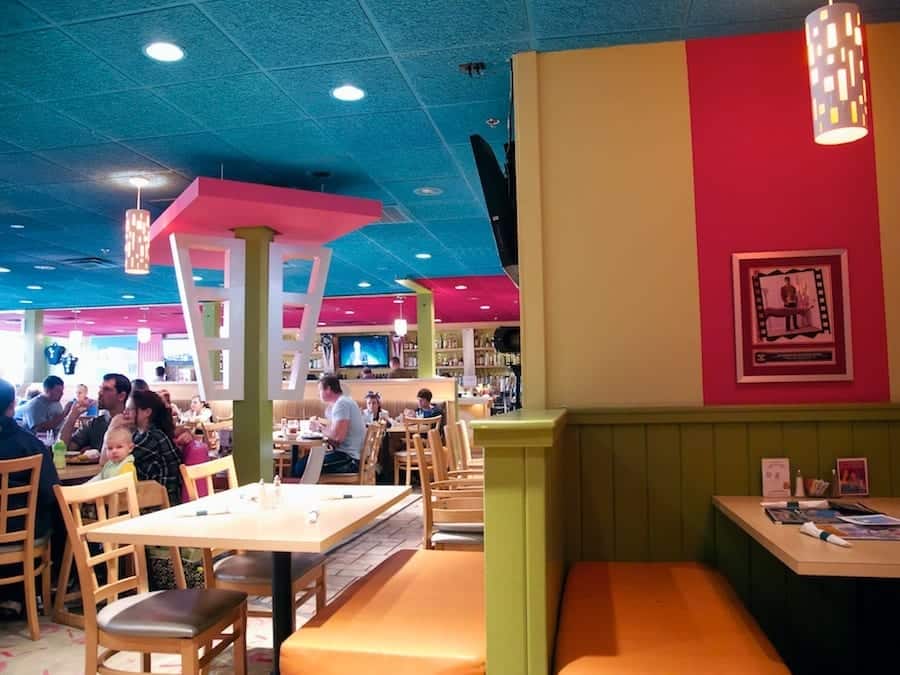 Hamburger Mary's is also a chain restaurant, but it definitely has more character than the usual fast food alternatives. It's bright and colorful, filled with kitsch from the 60's style lanterns to the statue of Hamburger Mary, herself. There are flat-screen TVs playing pop video music, including Justin Beiber. Not what I wanted, but I suppose it fit with the theme. In fact, I'd say that this establishment is more deserving of the Hooter's phrase, "Delightfully tacky, yet unrefined." There's patio seating out front, a large open area filled with tables, separated by a short-wall from the bar area. Then, as you can see in the image above, there's a back area where customers go to be ignored. That's where I was seated after waiting for a few minutes at the podium for someone to find time to show me to a table.
The Service
I haven't experienced service this slow since I visited Amsterdam. The restaurant was moderately busy and appeared half-full to me. The gentleman who eventually seated me took my drink order (Un-sweet tea) and returned it with as few ice cubes as you're likely to get in an Amsterdam restaurant, and told me that my server would be with me soon. After "soon" passed, and then some, a friendly woman appeared and took my order. I knew I wanted a burger, but didn't really want to go for some of the creations they provided (e.g., Sloppy Mary, Spicy Mary, Proud Mary, etc.). The menu indicated that burgers would be cooked to Medium temperature, unless otherwise indicated. That sounded good to me, so I reinforced it in my order. All I wanted was cheese, ketchup, raw onion and some dijon mustard. She asked me what kind and rattled off the available choices, so I selected Pepperjack cheese to go with it. Then I asked her which was better – the onion rings or the fries. No doubt in her mind, get the onion rings.
I also noticed that they have a dessert of the week, so I inquired about that. This time, it was a Dreamsicle cake – orange caked with cream cheese icing.  Damn, I have to admit that sounded good. With that in mind, I eagerly anticipated my meal.
The Food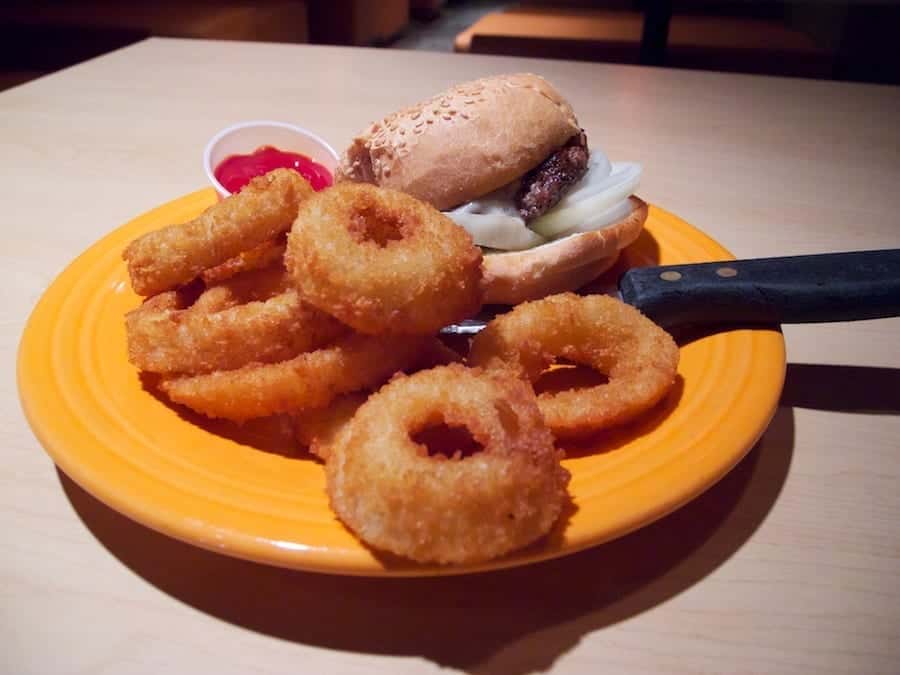 The wait for my meal was a bit longer than I anticipated, but not inordinately late. A food runner delivered my meal and immediately left. The first thing I noticed was that I didn't get my dijon mustard. The next thing I noticed was Swiss cheese, rather than the Pepperjack cheese that I ordered. I turned to look over my shoulder for my server to at least get the mustard, but she was nowhere to be found. Perhaps she was in the back, I don't know. She wasn't on the floor taking care of other customers.  I know, because I had PLENTY of time to spend looking for her.
While I was waiting, I decided to at least try the onion rings before they got cold. Too late, though. While not cold, they were't hot. In fact, they tasted stale. I'm guessing these onion rings had been sitting around somewhere before they were delivered to me. They definitely didn't live up to the expectation my server created.
Still more waiting, but no server.  I tried to wave at other servers, but they apparently don't cast a gaze in the back where guests go to starve. Finally, I got up and walked toward the kitchen door. Another server came out and I said, "Hi…I…." as he walked right past me. Somehow, he realized that I was trying to get his attention and he came back. I asked him if he could find my server, as I just needed some mustard for my burger. He was nice enough and went and got some mustard for me. Not the dijon that I'd ordered, but that nasty yellow mustard that most of you people who voted for Five Guys usually eat.
Screw it. By this time, about ten minutes had passed since my meal was first brought out and I still hadn't seen my server. I accepted my fate and adorned my burger with ketchup & mustard, then took my first bite. My mind could not understand the sheer bland taste that came to it. I couldn't detect any hint of seasoning or flavor on the meat itself. Even a fast-food joint uses a bit of salt on the burger. This is the burger that people swear is one of Orlando's best burgers?
I'm sorry, but you people are idiots. This isn't a top burger. This isn't a top Five burger, or even a top Ten burger. It's a cut above most fast food joints because of the bun, but I'd rather have a Wendy's beef patty than the boring burger that I was served at Hamburger Mary's. My meal was a total flop.
The Server
Although boring, it was still a meal. I suffered for you folks. When the burger was all but 1/3rd gone, my server finally appeared to ask how it was. That's the kind of question you ask after a patron has his first bite, not his last. She noticed that I had the wrong mustard and told me how she'd specially noted it on the order. Sadly, I informed her that the mustard didn't even appear with the order. She worked to correct the problem and brought my dijon mustard. Although too late to really matter, I appreciate her effort. Like I said, she's a nice lady.
After the meal was done, she asked if I was ready for the Creamsicle cake. There was no way I wanted any more food from this place. I've already been disappointed with the burger and onion rings, so I didn't want to add to that by having a disappointing cake. I told her the meal was quite filling and asked for the check.
Shortly after that, another gentleman arrived at my table and said he'd heard there was a mixup with the mustard. I paused a moment, because that kind of complaint really sounds silly and not worthy of mention. After all, I didn't ask for a manger or anything like that. I just accepted my fate. Beside, getting the wrong mustard was the least of my problems, just as getting the wrong cheese wasn't that big of a deal. It was the slow service and bland food that really bothered me. I couldn't see any point in bringing all of that up now, though. I'd finished my meal and just wanted to pay my check, so I mumbled something and figured that was the end of it.
I was told that things were a little crazy for them for a while, but I never want to hear that excuse. Restaurants all over America get busy and they still manage to deliver food and follow-up on it. Blaming things on "being crazy" just tells me that you're not good at your job. Restaurant people, please don't ever use that excuse. It's not valid, particularly when the restaurant isn't full.
The Check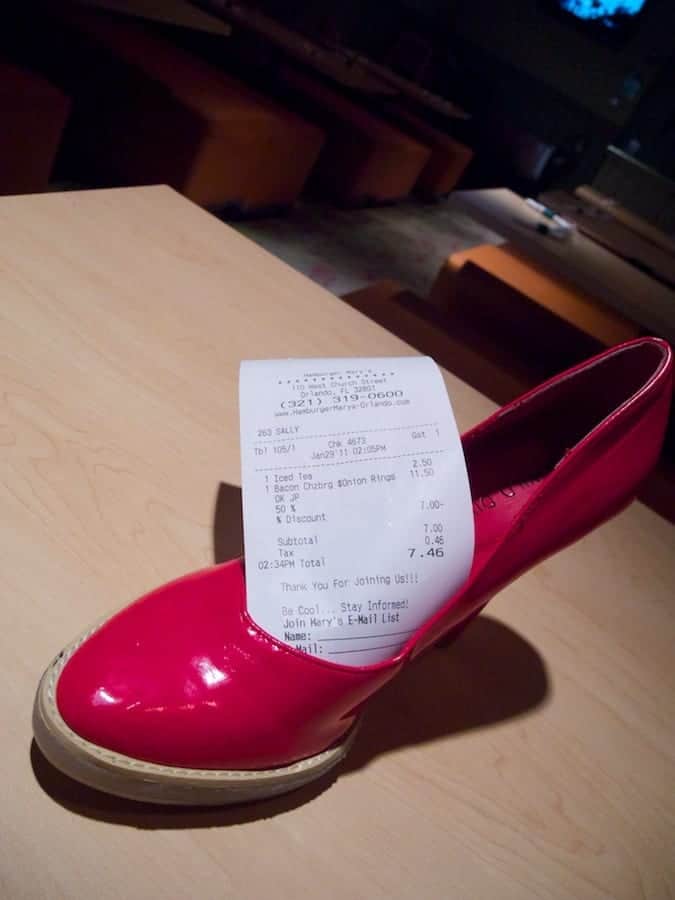 In another fit of kitsch, Hamburger Mary's delivers your check in a red high heel shoe. What I didn't notice right away was that the check came with a 50% discount. Up until that point, I was under the impression that the staff was blissfully unaware of the miserable experience I'd just had in their establishment. Everyone was nice, but just inattentive. I mentioned to my server that the discount was a surprise to me, but I was thankful for it and tipped her accordingly for the full price, not the discount.
The Bottom Line
Would I go back? Honestly, no. There are plenty of other places in town where you can get a better burger and, just as important, much better service. I can see visiting if you're on Church Street and all the restaurants across the street are busy, but I would not advise anyone to make a trip there just to eat this bland burger. Go to Graffiti Junktion. It's better and also a bit less expensive.
As for those of you who voted for Hamburger Mary's as one of Orlando's Best Burgers, you have my everlasting contempt.