Hamburger Mary's Review: A Queer Failure
Hamburger Mary's Review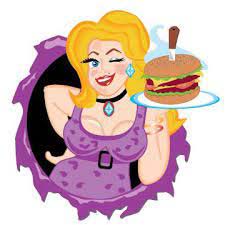 Restaurant Name: Hamburger Mary's
Restaurant Description: Hamburger Mary's Orlando is a casual restaurant chain that specializes in burgers and American comfort food. The Orlando location is located in the historic Church Street District and is decorated with colorful, kitschy decor. The menu features a variety of burgers, including vegetarian options, as well as sandwiches, salads, and appetizers. Hamburger Mary's is known for its lively atmosphere, and the Orlando location often hosts drag queen bingo nights and other special events.
Price range: $10 - $20
Address: 110 West Church Street Orlando, FL 32801
Cuisine: American
Telephone: (321) 319-0600
Summary
I reviewed Hamburger Mary's Orlando thinking it was a place to find a great burger, but it isn't. While this place may offer fun entertainment, others may be put off by the Drag Queen theme and poor service.
Atmosphere

Food quality

Service

Entertainment

Value
Pros
Bright & colorful atmosphere
Lively entertainment
Good location
Cons
Slow service
Uncaring staff
Bland food
May not be appropriate for some visitors due to Drag Queen theme
f you're looking for a fun and queer-friendly dining experience, Hamburger Mary's Orlando promises to entertain and delight you. This restaurant offers a variety of dishes that will satisfy your appetite.
From burgers and fries to salads and desserts, there's something for everyone on the menu. Hamburger Mary's is a popular downtown Orlando tourist restaurant, but is it worth checking out?
Read on to find out.
Mixing Drag Queen Drama with Your Meal
As they say, this is the place where you can "Eat, drink, and be Mary." It's a not-so-subtle hint about the theme revolving around drag queens and cross-dressing. If that offends your sensibilities, it's probably best to avoid Hamburger Mary's.
That said, it's not like you're walking into a den of iniquity. However, they do have some entertainment at night with Leigh Shannon's Cabaret Dinner and the odd Drag Show.
The Sunday brunch is the Broadway Brunch Show every Sunday at noon. Each show is unique and covers Broadway show tunes. Guests each pay a $5.99 entertainment fee and must purchase an entree or two alcoholic beverages.
They have some other events that appear on their schedule and may be subject to change.
More Disappointment Than Dazzle on Church St.
I went to Hamburger Mary's Orlando location with great expectations, but what I found was bland and disappointing.
You often find Hamburger Mary mentioned as a popular place to get a burger. Beware, because popular doesn't mean quality. This place is a tourist trap and it's designed to engage other senses than your taste buds.
Here's something important to keep in mind so you can manage your expectations of Hamburger Mary's.
This is an entertainment venue that has food. Don't think of it as a restaurant that has entertainment.
If a drag show is your idea of a fun night, by all means, go and have an amazing time with friends. They have a full bar and I'm sure there are awesome drink specials at the bar. Go enjoy the Broadway Brunch if that's something you find entertaining.
I wouldn't go for the food or the service, and I'll explain why later in the review.
My Experience Dining at Hamburger Mary
There's more to eat at Hamburger Mary's than just burgers and fries. In fact, they'll give you options for your burgers including:
100% Beef
Blackbean burger
Turkey patty
Chicken breast
All burgers are fresh, never frozen, and made to order. Most are served with lettuce and pickles on a fresh brioche bun. Tomato and onion are available upon request for no extra charge.
You can add a side of French fries, kettle chips, mashed potatoes, cole slaw, or side salad + $3.50
Add a side of onion rings, tatas, mac n cheese, or sweet potato fries +$4.25
Apparently, tatas are the flirtatious name they invented for what everyone else in America calls Tater Tots.
If you're not in the mood for a burger or someone in your party wants something else, there are other options available.
Starters & appetizers
Salads
Sandwiches
Tacos
The Broadway Brunch menu includes some familiar items, such as:
Skillets
Omelets
Various waffles
Breakfast burrito
Traditional items on the side to build the breakfast you want
1: Gourmet Burger Options
Like many specialty places, they have specific burgers with silly names.
The Blue Boy Burger has a bleu cheese patty with bacon and bleu cheese dressing. Now that's as cheesy as you can get.
You can get a black bean burger as a vegetarian option, but it costs $2.00 extra.
Most of the menu options seem to include some kind of meat, and there are a few vegetarian items. However, I wouldn't expect to find vegan options on the menu here.
If you want to make a meal from fresh steamed veggies, mashed potatoes covered with a light creamy gravy, or topped with whipped cream, ask for it!
I just wanted a cheese burger and that seemed to have its own problems
2: The Atmosphere is Bright and Colorful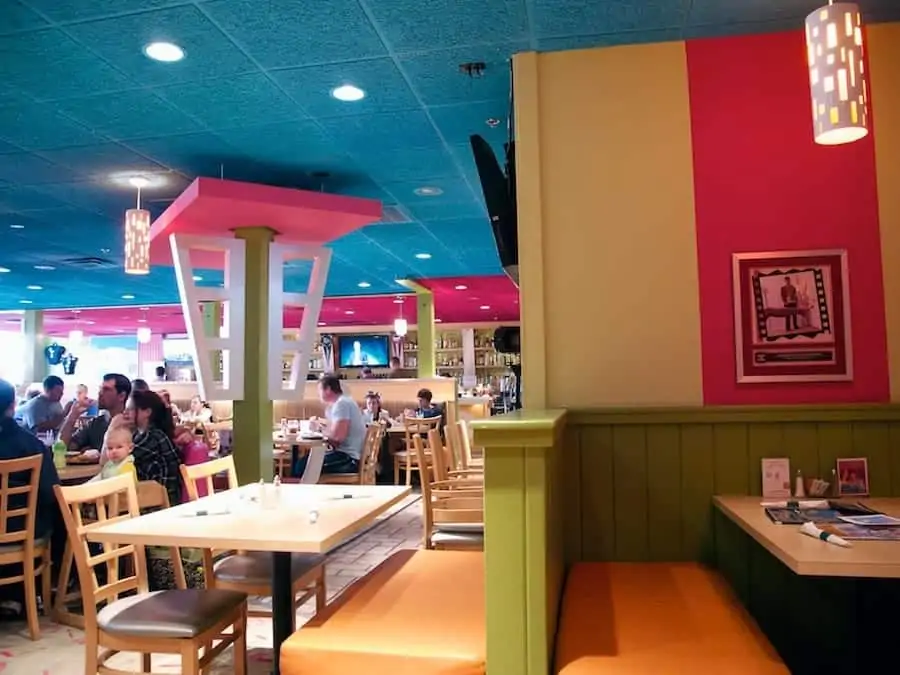 Hamburger Mary's is also a chain restaurant, but it definitely has more character than the usual fast food alternatives. It's bright and colorful, filled with kitsch from the 60's style lanterns to the statue of Hamburger Mary, herself.
There are flat-screen TVs playing pop video music, including Justin Beiber. Not what I wanted, but I suppose it fits with the theme. In fact, I'd say that this establishment is more deserving of the Hooter's phrase, "Delightfully tacky, yet unrefined."
There's a patio with outdoor seating out front, and a large open area filled with tables, separated by a short wall from the bar area. Then, as you can see in the image above, there's a back area where customers go to be ignored.
That's where they seated me after waiting for a few minutes at the podium for someone to find time to show me to a table.
3: The Service is Slower Than a Museum Tour
"In a restaurant, choose a table near a waiter." Jewish Proverb
I haven't experienced service this slow since I visited Amsterdam. The restaurant was moderately busy and appeared half-full to me. The gentleman who eventually seated me took my drink order (Un-sweet tea) and returned it with a few ice cubes and told me that my server would be with me soon.
After "soon" passed, and then some, a friendly woman appeared and took my order. I knew I wanted a burger but didn't really want to go for some of the creations they provided.
The menu indicated that burgers would be cooked to Medium temperature unless otherwise indicated. That sounded good to me, so I reinforced it in my order. All I wanted was cheese, ketchup, raw onion, and some dijon mustard.
She asked me what kind of cheese and rattled off the available choices, so I selected Pepperjack cheese to go with it. Then I asked her which was better – the onion rings or the fries. No doubt in her mind, get the onion rings.
I also noticed that they have a dessert of the week, so I inquired about that. This time, it was a Dreamsicle cake – orange cake with cream cheese icing. I have to admit that sounded good. With that in mind, I eagerly anticipated my meal.
The wait for my meal was longer than I anticipated. A food runner delivered my meal and immediately left.
The first thing I noticed was that I didn't get my dijon mustard.
The next thing I noticed was Swiss cheese, rather than the Pepperjack cheese that I ordered. I turned to look over my shoulder for my server to at least get the mustard, but she was nowhere to be found.
Perhaps she was in the back, I don't know. She wasn't on the floor taking care of other customers. I know, because I had PLENTY of time to spend looking for her.
I tried to wave at other servers, but they apparently don't cast a gaze in the back where guests go to starve.
Screw it. By this time, about ten minutes had passed since my meal was first brought out and I still hadn't seen my server. I accepted my fate and adorned my burger with ketchup & mustard, then took my first bite.
4: Hamburger Mary's Orlando is an Entertainment Place That Serves Food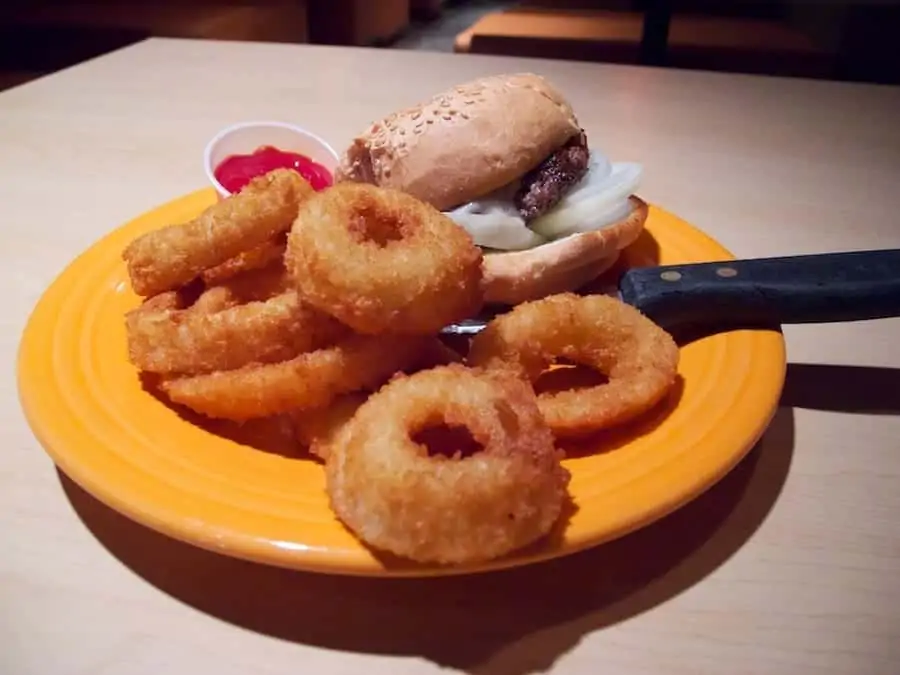 My mind could not understand the sheer bland taste that came to it. I couldn't detect any hint of seasoning or flavor on the meat itself. Even a fast-food joint uses a bit of salt on the burger. This is the burger that people swear is one of Orlando's best burgers?
I'd rather have a Wendy's beef patty than the boring burger that I was served at Hamburger Mary's. My meal was a total flop.
I decided to at least try the great onion rings before they got cold. Too late, though. While not cold, they weren't hot. In fact, they tasted stale.
I'm guessing they were sitting around somewhere before they were delivered to me. They definitely didn't live up to the expectation my server created.
After the meal was done, the server magically appeared and asked if I was ready for the Creamsicle cake. There was no way I wanted any more food from this place.
I've already been disappointed with my meal, so I didn't want to add to that by having a disappointing cake. I told her the meal was quite filling and asked for the check.
5: Who Called the Manager?
Shortly after that, another gentleman arrived at my table and said he'd heard there was a mixup with the mustard. I paused a moment because that kind of complaint really sounds silly and not worthy of mention. After all, I didn't ask for a manager or anything like that. I just accepted my fate.
He said that things were a little crazy for them for a while, but I never want to hear that excuse.
Restaurants all over America get busy and they still manage to deliver food and follow up on it. Besides, the place was half-empty.
6: The Check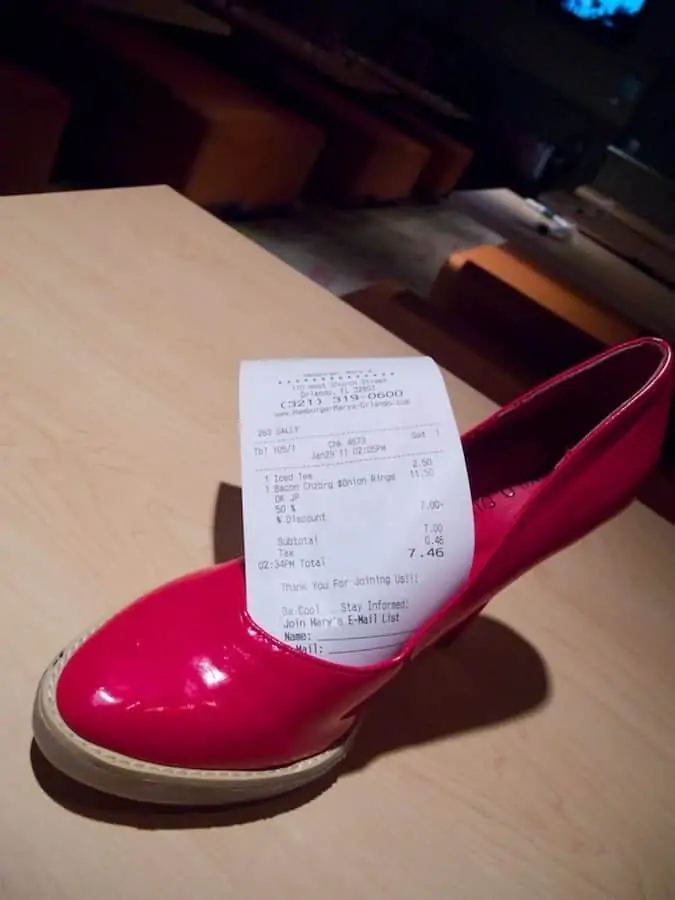 In another fit of kitsch, Hamburger Mary's delivers your check in a red high heel shoe.
Hamburger Mary's Orlando Summary
Would I go back? Honestly, no. It's just not good food and I'm not there for the entertainment or happy hour.
There are plenty of other places in town where you can get a better burger and, just as important, much better service. I can see visiting if you're on Church Street or the Amway Center and all the restaurants across the street are busy, but I would not advise anyone to make a trip there just to eat this bland burger.