Star Tours 2 Soft Opening
Located at Disney's Hollywood Studios, Star Tours is a Star Wars themed motion-simulation ride. It shut down for  renovation after the Star Wars Celebration V convention in Orlando last year at an event called Last Tour to Endor. I took the ride that night and couldn't hear a fucking thing because of the drunken assholes in the simulator with me. What the hell, I'd been on it before and they were having fun.  I still have plenty more years ahead to be a crotchety old-man who bitches about everything, but I reserve the right to practice.
Now flash forward – Star Tours 2 is scheduled to re-open on May 20th, coinciding with Star Wars Weekends. Last Friday, Disney opened the ride for castmembers to preview. Then on Saturday and Sunday, it was soft-opened for park attendees. I managed to head out there and took the ride a couple of times. We weren't allowed to take any photos, so the shots you see here are from the Last Tour to Endor trip, except this one: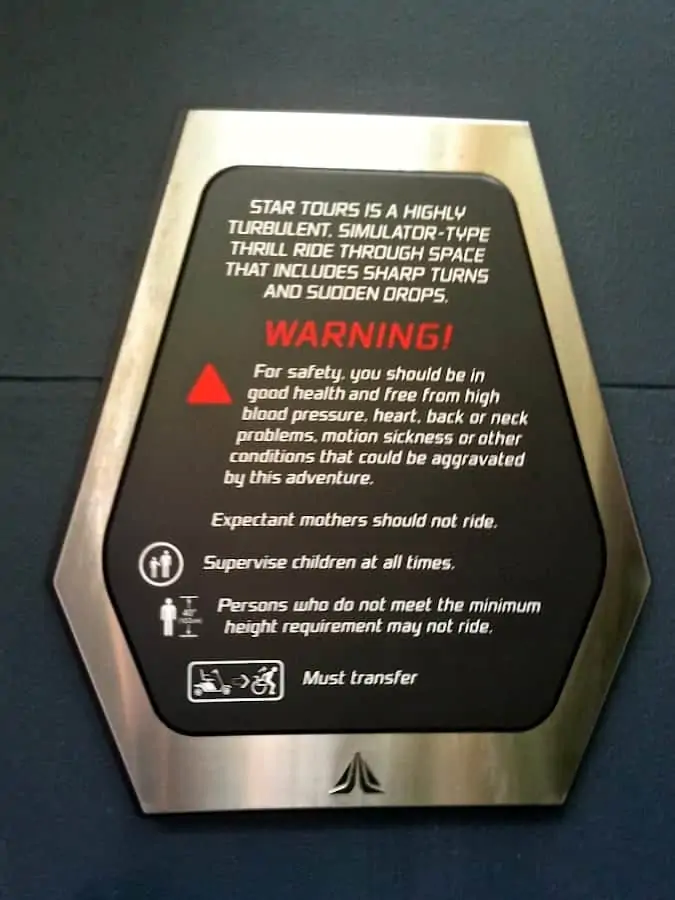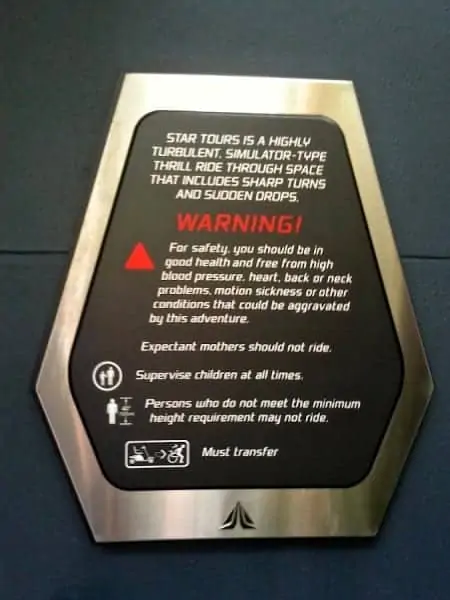 The Queue
You will spend most of your time in line.  Kids have to be at least 48″ tall (or there-abouts). This seems like a standard disclaimer for a motion ride, but don't let it freak you out.  The ride tilts a bit here or there, but you're in a solid chair with a seatbelt fastened. Nobody gets lurched out of their chair if they meet the requirements to get inside.  Obviously, you wouldn't want a baby in a stroller on this ride, as they would probably bounce around a bit.  In addition to the motion, this is also a 3D experience.  That means you put on some silly glasses.  It seemed to work fine. I understand some people may get queasy from 3D, but I didn't detect the slightest discomfort from it.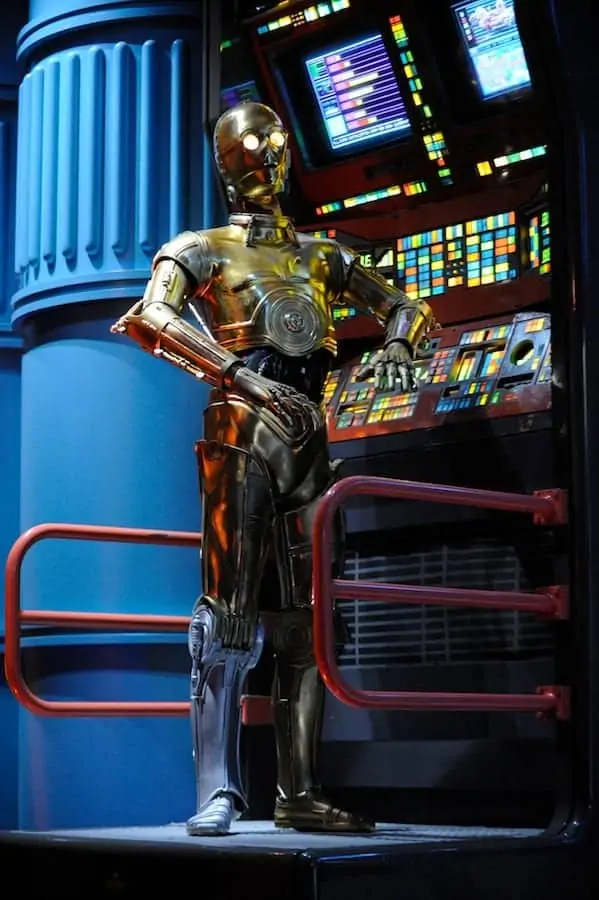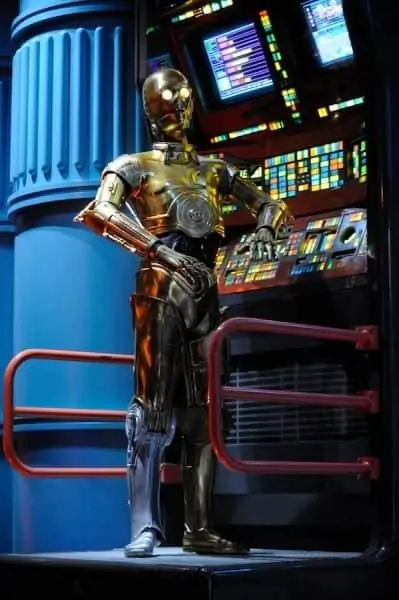 Just like the old Star Tours, you enter through a winding queue under an AT-AT (which peed on me) through trees in the forest of Endor. Once you get inside, there are two lines to keep things flowing. Inside, there's a pretty cool display showing departure times and occasional videos of your Star Tours destinations.  C3PO and R2-D2 are there working on a transport.  That display you see behind C3PO in the photo above has really been updated to a much more modern sci-fi look, rather than a bunch of colorful yet meaningless blocks.  They did a great job of making sure the display also works with the story.  When C3PO detects a malfunction and starts yelling at R2-D2, the display matches the moment.  Also, C3PO just looks much cleaner.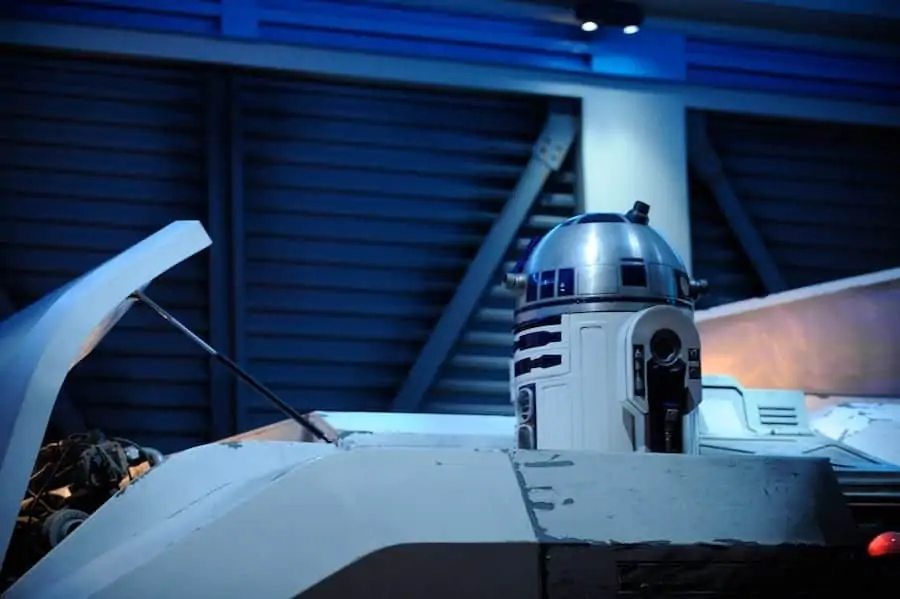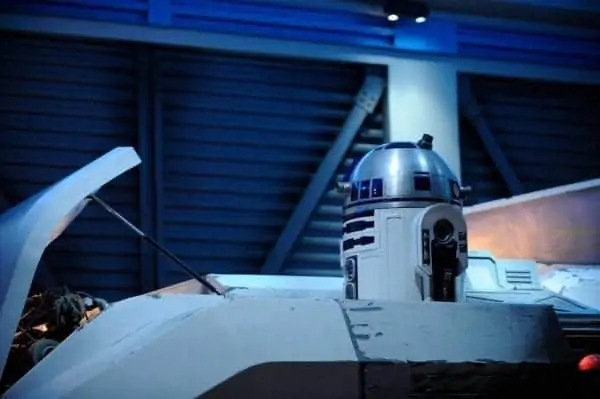 R2-D2 is in the same place on top of the transport, but it has a fresh Red paint job. The theme seems to be much earlier in the series, so a fresh & clean look is appropriate.  As you get further in the queue, you see some old droids on the sides marked as defective. People who previously rode the old Star Tours ride will recognize them as the pilot droid of that version, Rx-24. You also see a couple of other droids scanning luggage with an X-ray system.  It's a nice jab at the TSA, and the images on the luggage show that you can pack whatever you damn well please and it'll pass inspection. As you get further up the line, another scanner shows a sort of infra-red (orange) scan of people in line.  It seems only to work on the folks who opted for the left lane of the queue, though.
Incompetent Queue Management
On my first time through the line, I took the left lane. It moved MUCH slower than the right lane.  I noticed plenty of people from further behind me in the line were passing me on the right. On my second trip, the left lane was empty.  I asked about it and the castmember at the podium told me they stopped using it; everyone had to go through the right lane.  OK.  As I got about 75% of the way, I noticed that a LOT of people were racing past me in the left lane.  Looks like they decided to open it, letting hundreds of people from the back of the line move ahead of those of us who had been waiting.  If that wasn't enough, another cast-member opened a small chain-gate to let people behind me in the right lane to start filling the left.  When I moved to take advantage, he told me I couldn't do it, I was too far ahead.
Disney doesn't really care about being fair in its queue management. As far as they're concerned, you're all going to get on the ride.  They don't care if some people have to wait longer for it than others, even if you got there before all of those other folks. With that in mind, I'd like to take this opportunity to extend my middle finger to the jerks who made that decisions.
Have a magical fucking day.
Changes to the Ride
First thing, I'm not going to try and spoil anything for you. In the old version of Star Tours, you always got the same ride. A very nice change to the new version is that you really don't take the same ride one time after another.  There are several combinations of scenarios, so you really don't know what you're going to get.  You may see Darth Vader one time, and Princess Leia the next.  You may fly through Kashyyk (the Wookie Planet) or Hoth. You may fly with the Millennium Falcon or Admiral Ackbar. There are probably other combinations that I didn't see, which is pretty cool.  Although I think the ride is far too short compared to the time spent winding in the queue, it's still a great experience.  I'm guessing that queue would last a lot longer if the ride didn't move quickly, too.
Even though the experience is a new one, there are still issues.  On my first ride, the seatbelt buckle was broken.  I had to leave my choices spot in the center of the front row to move back to a seat that wasn't broken.  On the second ride, everyone boarded and they found a problem.  We all had to get off, wait a while, and then re-board. They clearly still have some kinks to work-out, but that's why you have a soft-open.  When the real deal comes around, I hope all of these issues get resolved.
Overall, I'm pretty happy with the ride.  I hope Disney starts to treat its guests in line more fairly, but I won't hold my breath. In any event, expect some long lines for this ride when it opens.  It's getting a good buzz, particularly due to the StarTours2Live Crew keeping folks updated on Twitter.