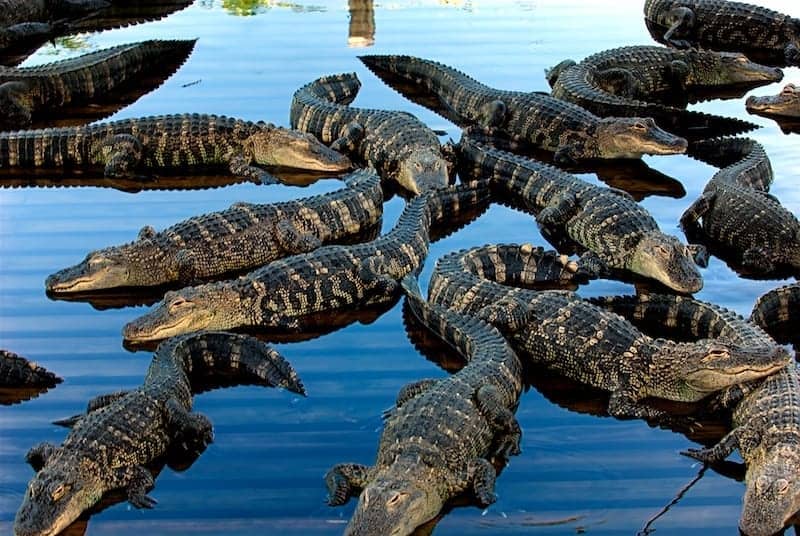 Florida had a lot of gators in the news this year. The pesky critters kept eating people, and that tends to get our attention. When you think about the numbers, it's actually quite rare for a gator to attack a human. According to the United States Census Bureau, there are an estimated 17,789,864 in Florida as of 2005. That's an 11.3% increase since the 2000 census.
Gators don't have quite the same population. After spending 20 years on the endangered species list (1967 – 1987), the gator population now explodes all over the state. Here are some quick numbers for the Central Florida gator population:
Lake Jesup: 15,000
Lake George: 13,800
Lake Kissimmee: 8,800
Lake Harney/Lake Monroe: 8,200
Puzzle Lake: 5,800
Lake Griffin: 5,200
Lake Toho: 3,400
Harris Lake: 2,300
As of May 2006, there have been 19 confirmed fatalities caused by alligators in the State of Florida since records began in 1948. Over 17 million people against thousands of gators. It seems we kill more of them than the other way around.
Well, brace yourself for more gator killing, because it's gator hunting season. From August 15th through November 1st, licensed trappers can hunt the pre-historic beasts under the Florida Alligator Harvest Program. There were 4,406 permits issued in the state, with a two-gator bag limit for each permit.
Not everyone wants to go gator hunting, though. The permit costs $272 for residents ($1,002 for non-residents). Only 2,155 intrepid souls snapped up the permits this year. Last year, the state didn't sell all of its permits, so now it allows trappers to purchase more than one permit this year. All of the permits sold out in four hours this year. See what happens when the gators start eating people before hunting season?
Some of the new gator hunters may wonder if they got more than they intended when the hunt begins. First, the hunt is a night venture. The permits allow hunting from 1/2 hour before sunset until 1/2 hour after sunrise. Next, you don't get to shoot the beast from afar. Gator hunting is up close and personal.
You go out in a boat, shining your light on the water. Red eyes look back at you. Slowly, you paddle closer to those eyes. How close? Close enough to hit the gator between the eyes with your bang stick – a pole with a device on the end that fires a bullet only when you push it against the gator's skull. Between the time you spot the gator and get close enough to use your bang stick, the gator has a few tricks of his own. They don't go willingly. Gators are usually brought close to the boat with hand-held snares, harpoons, or restraining lines.
There are tales of supposedly dead gators snapping back to life once inside the boat. Much like a box of chocolates, you never know what you're going to get.
Personally, I won't ever be one of the folks out hunting gators in the middle of the night. They taste like chicken, and it's too easy to get a chicken sandwich around here.