Our Toothsome Chocolate Emporium Review Will Make You Think Twice About Visiting
Toothsome Chocolate Emporium and Savory Feast Kitchen
Summary
Beautiful decoration marred by slow service, high prices and poor quality food.
Atmosphere

Service

Food Quality

Parking

Price
Pros
Great Theming
Wonderful Food Presentation
Cons
Hot food was cold
Milkshakes were warm
Tip added to bill, but server didn't tell us
Long wait to get table
Long wait to get food
Toothsome Chocolate Emporium is a delight for the eyes, but not much else. Our experience at this CityWalk eatery was tedious, frustrating, and disappointing.
Read on to find out why.
Our Toothsome Chocolate Emporium Review Will Make You Cry
Our Toothsome Chocolate Emporium Review actually started with a request from a reader. It was a simple question, really. He wanted to know who makes Orlando's Best Milkshake.
There are a few places in town that are creating really over-the-top milkshakes in the style of Black Tap in New York City. I looked at our options and I honestly thought that Toothsome Chocolate Emporium and Savory Feast Kitchen had the most interesting options and were likely to be the winner.
I was half right.
Despite the many positive reviews we've seen of the Toothsome Chocolate Emporium and Savory Feast Kitchen our group left more than disappointed. It was an expensive blunder of a night and a colossal waste of time. Worse, we invited friends visiting from the UK to join us.
So not only did we waste our own time and money, but we put a dent in their Orlando vacation.
1: We Expected Things Like Chocolate Peanut Butter Pie
Toothsome Chocolate Emporium promises a lot of interesting things, such as:
Let's not forget about the star attraction – the milkshakes!
Let's not forget the ice cream options, also!
Imagine that in various desserts with toppings like fresh whipped cream, peanut butter sauce, chocolate mousse, and of course, chocolate sauce.
The menu is enormous and full of appetizers, meals, and desserts. As I said, we primarily went for the milkshakes. I looked forward to perusing the Velvet shakes menu.
Yet it would be a waste of a trip to Universal Studios City Walk to just get one thing and go.
I'm not a strawberry cheesecake kind of person, but there's something comforting about a slice of apple pie and some vanilla ice cream – maybe with a bit of chocolate sauce on the side if I have more ice cream than pie.
Keep the whipped cream. That's just filler fluff to me.
As you can tell, I was excited about the options to satisfy my sweet tooth at what was supposed to be the world's foremost chocolate emporium.
Let's get into the review.
2: Parking at Toothsome Chocolate Emporium & Savory Feast Kitchen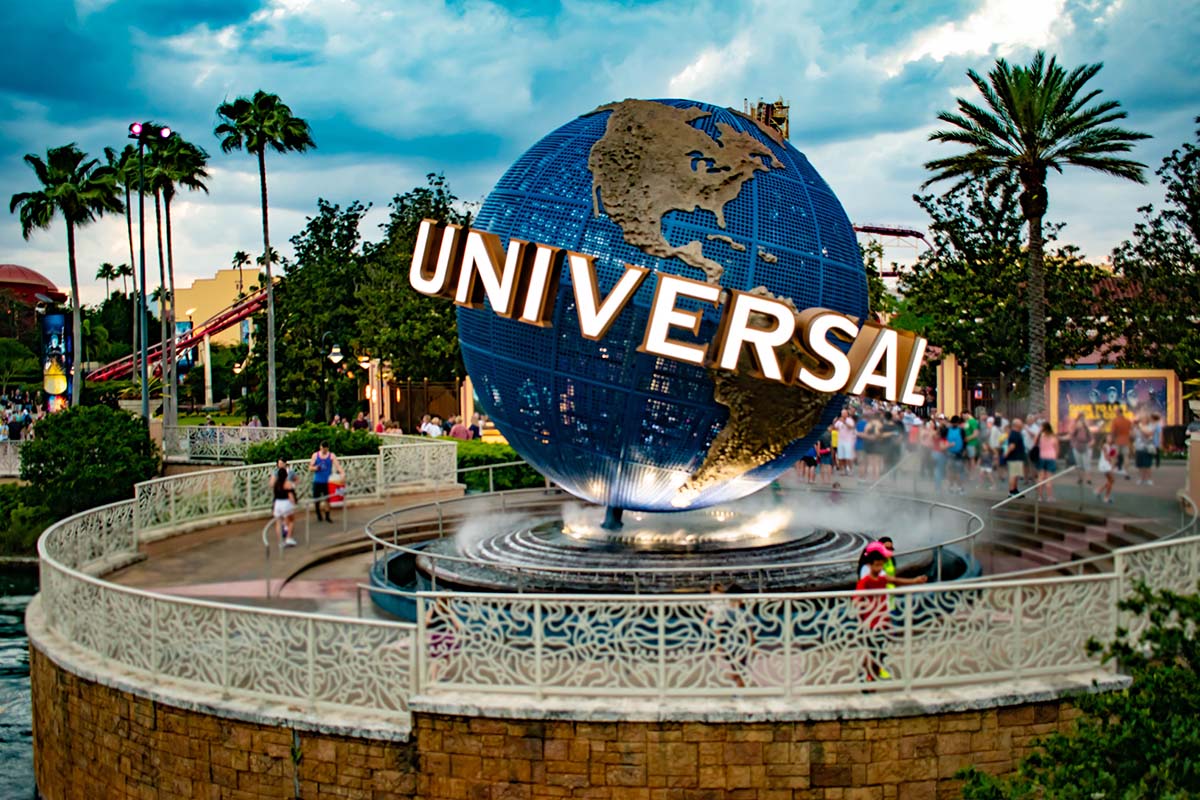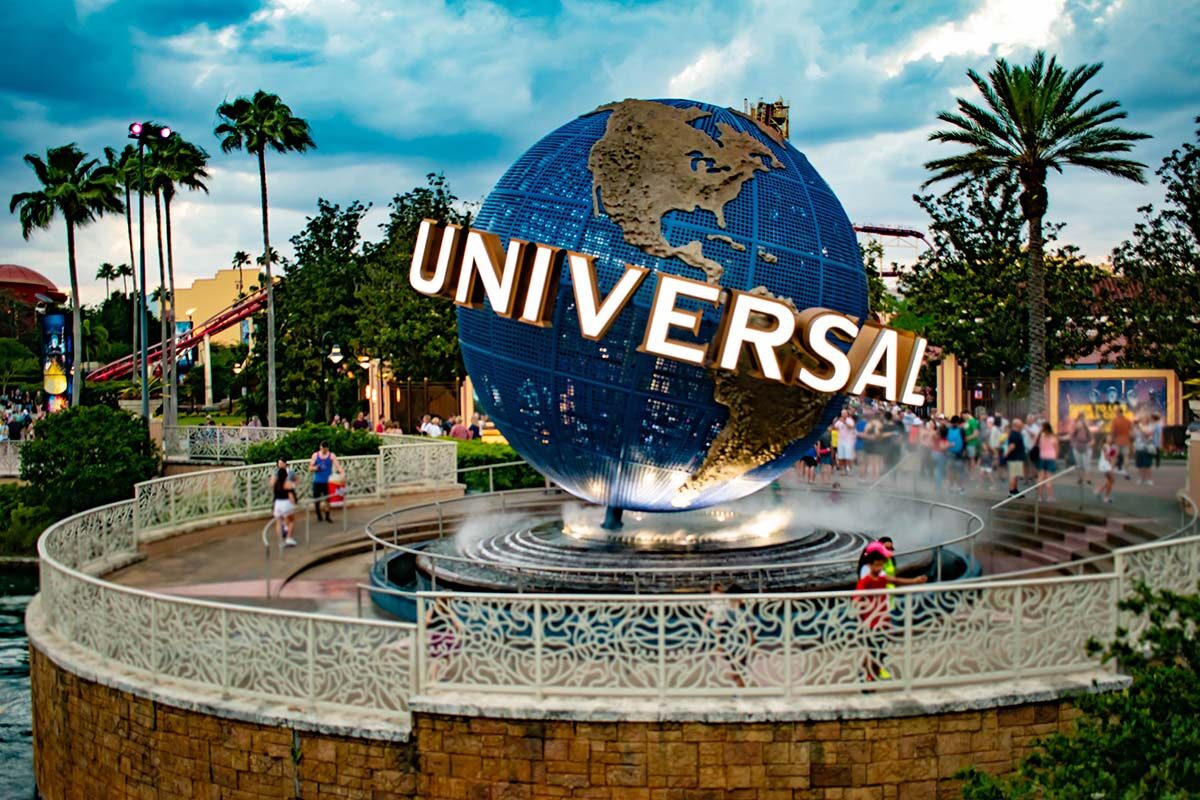 Toothsome Chocolate Emporium uses the Universal Orlando/City Walk parking garages for those of you arriving by car. There is space for guest drop-off for those who have a ride but don't need to park. Universal Resort guests have a water taxi service.
Parking is free after 6:00 PM, which causes a bit of a rush for parking spaces.
I'm not fond of parking at Universal Studios. We experienced a problem with another visitor who had the driving skills of a 3rd world country. No need to worry about lanes or traffic control devices. He drove sideways across traffic lanes right in front of me.
If you enter from Kirkman, there is a traffic loop that goes a long way to the left, and then turns you around to drive a long way back to the parking garages.
I suppose that helps coordinate and control traffic, but sometimes I wonder if this was the best way to accomplish the objective.
Arriving just after 6:00, no employees were present to control parking by the gates. Basically, drivers jockeyed for position in ever-narrowing lanes to get into the garage.
You start to see parking attendants directing traffic after getting through the gate, but they didn't really help.
My biggest gripe is how the parking attendants handled filling up the spaces when you get to your row to park. It's really a nit, but it's festered into a gripe.
When they start filling up a new lane, the first car has to go all the way to the end and then they start filling toward the front. Reverse order. It guarantees that the people who arrived later than you get a better parking spot than you do.
It seems incredibly stupid since people who walk away from their cars are heading into oncoming traffic.
Once you get to the area that leads to the parks, you have to go through security. Honestly, it's not bad. The line moved quickly. Everyone goes through the metal detector and all bags get scanned.
After that, you have a long walkway to get to the opening maw of City Walk.
The restaurants are on the opposite side of a small lake, so plan a few minutes to make the walk. It doesn't matter if you go left or right, as Toothsome is roughly the same distance from either side.
3: Atmosphere Inside Toothsome Chocolate Emporium & Savory Feast Kitchen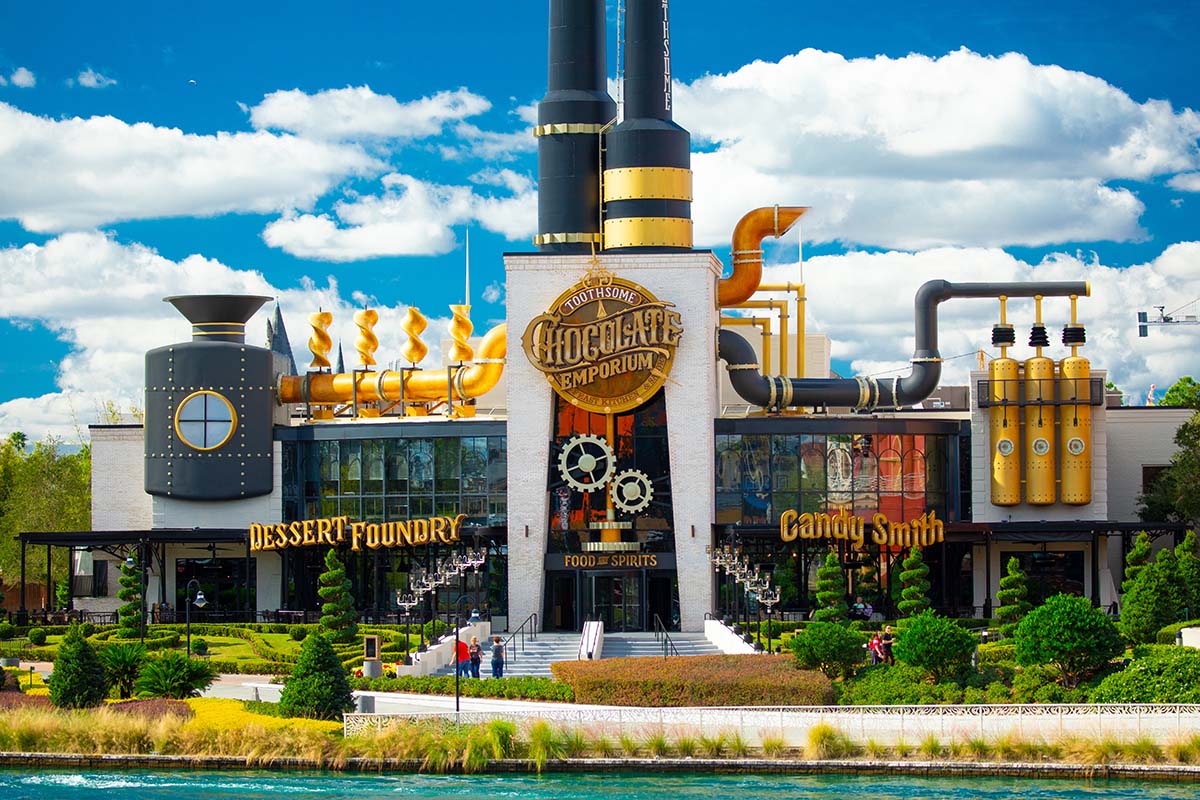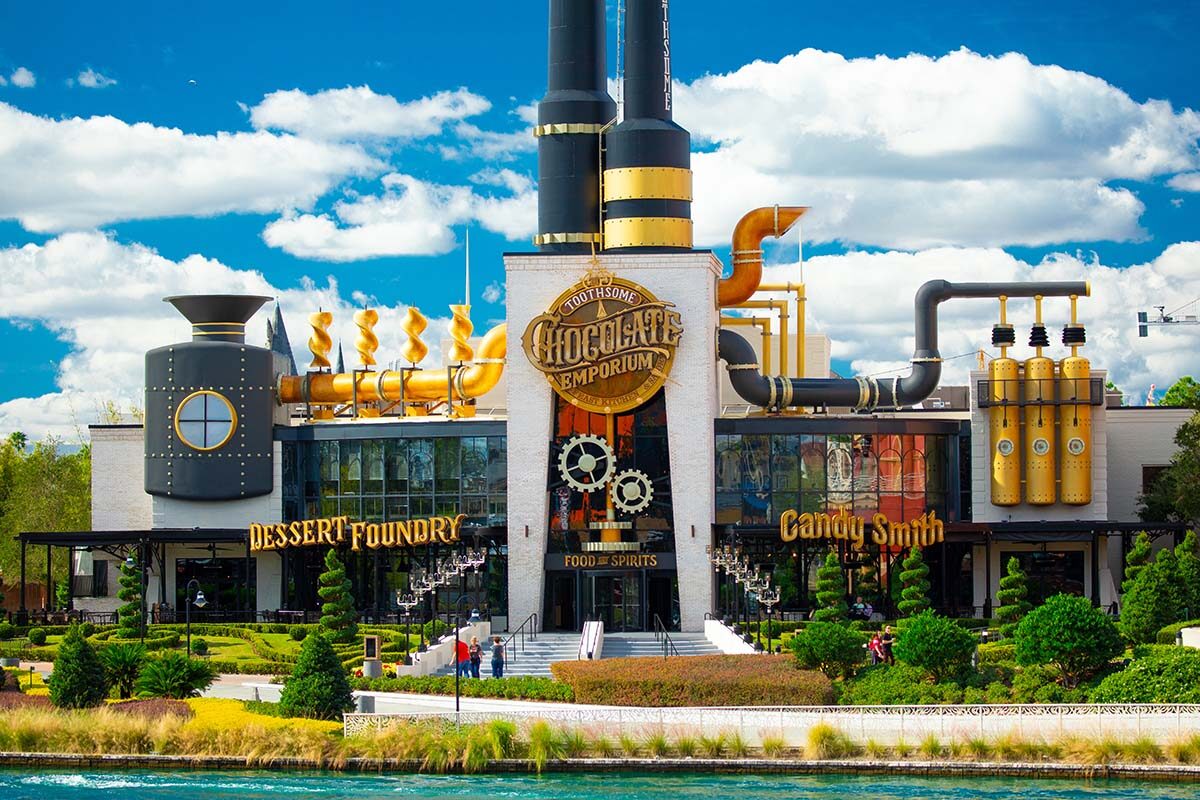 We thought that Toothsome Chocolate Emporium really nailed its atmosphere. The outside looks like a SteamPunk-style factory, complete with smokestacks spewing steam. Note to some guests. Stand under the wrong pipe and that steam turns to hot water and drips on you.
The SteamPunk atmosphere is everywhere. Almost everything looks like it was made from copper. There are video screens in the dining area that show various gears & cogs in motion.
Staff wears uniforms in keeping with the theme.
It's a very loud restaurant. I noticed that the sound system plays turn-of-the-century brass band music. You'll probably hear it better in the restroom than out in public areas.
We went in the evening and the place was packed. The wait was 1 hour, 20 minutes. No place to sit, so we stood in the gift shop. So did many other people and their screaming children.
The gift shop has your usual collection of hats, t-shirts, and toys that you'll never use once you get home.
You don't have to wait on-site, though. Instead of giving us a buzzer, they send a text message to notify you that it's time to come up to the stand.
That's great if you have a phone with a text message plan that works in the US. Our friends from the UK didn't have that option.
So if you're traveling internationally, this system may not be something that works for you if you haven't splurged on a US phone & text plan.
Once we got our notice, we moved beyond the podium and waited again. Total wait time ran from our 6:37 arrival to finally being seated at 8:05 pm.
4: Toothsome Service Needs Improvement
After a long wait, we were all very hungry and ready for nice service from the Toothsome Chocolate Emporium.
Things started out pleasant enough. Some confusion as to who should serve us came up. The first server took our drink order and went away.
Then another server came out and told us he was helping out because the other server was too busy and offered to take our drink order. This was likely an important clue about the level of service we'd receive.
I let him know we placed our drink order and he went away.
After a while, the original server came back with some of our drinks. Eventually, he returned and served the rest of our party of seven.
Our original plan was to just have milkshakes, but we decided to order meals. Toothsome isn't cheap, so most of us ordered a flatbread as a meal. We got those about 9:15 pm.
While serving our meals, the server said milkshake orders take about 20 minutes. We asked for our milkshake choices. They arrived about 40 minutes later.
Overall, expect slow service. It wasn't unpleasant, but we noticed that everything ran extremely slow. Sometimes the delays aren't the server, but rather the kitchen and staff in the back.
If they're swamped, things run late.
However, your server should be able to give your a reliable time estimate when the kitchen runs slow. Communication and setting expectations really help alleviate guest complaints.
My final complaint was about the tip. Since we were a party of seven, the restaurant added an 18% gratuity automatically. Not a word about this from the server.
A comment below said that the automatic gratuity was "clearly" marked on the menu. We have differing opinions on the definition of something being "clearly" marked."
The big headlines about food & beverages at the top are clear. A tiny print hidden at the bottom of a menu isn't clearly marked, in my opinion.
Then the slip to sign for our credit card arrives, with the usual space for a tip.
Had we not paid attention to the bill, it would be an easy way to leave a tip on top of the included gratuity. We told our visiting friends and they appreciated their discovery, as they were about to leave a second tip.
Despite the fact that we were paying separately, they charged us for the gratuity as a group on both bills – likely because we shared a table.
I don't mind that the restaurant adds a gratuity on the bill for a large party. I also don't expect them to have a separate signature slip without the line for a tip. However, I think it was sleazy of the server to keep quiet about the gratuity on the bill (which was outrageously high).
If you're visiting from the UK, beware of servers adding a gratuity without telling you. They know that people from the UK really don't tip well, if at all because the custom is different in the USA.
Scan your receipts for unmentioned gratuities, even if there are only two of you.
5: The Food Quality Was Very Poor
This is where Toothsome Chocolate Factory fell flat on its face. While the presentation looked great, it just wasn't a good meal.
My flatbread had clearly been sitting for a while. It was evident by the condition of the melted cheese.
If that wasn't enough of a clue, it wasn't hot. I don't mean warm. My flatbread was room temperature. My daughter's flatbread came out the same way.
In fact, so was every meal served to everyone at our party. Room temperature.
Maybe this is a factory. They make a lot of stuff and let it sit until your server decides to pick up the pieces of your order. Sort of like an old Auto-Mat, except they would at least heat or chill your food.
I ordered the BBQ Chicken Flatbread. It had plenty of chicken, though not well distributed. The kitchen just clumped the chicken in the middle. The BBQ sauce was nice and not overpowering, but it also was only in the center.
The outer pieces on each end were rather pathetic.
My daughter ordered a Four Cheese Flatbread. Plenty of cheese, but also at room temperature, and the cheese wasn't really distributed very well. She made do with it.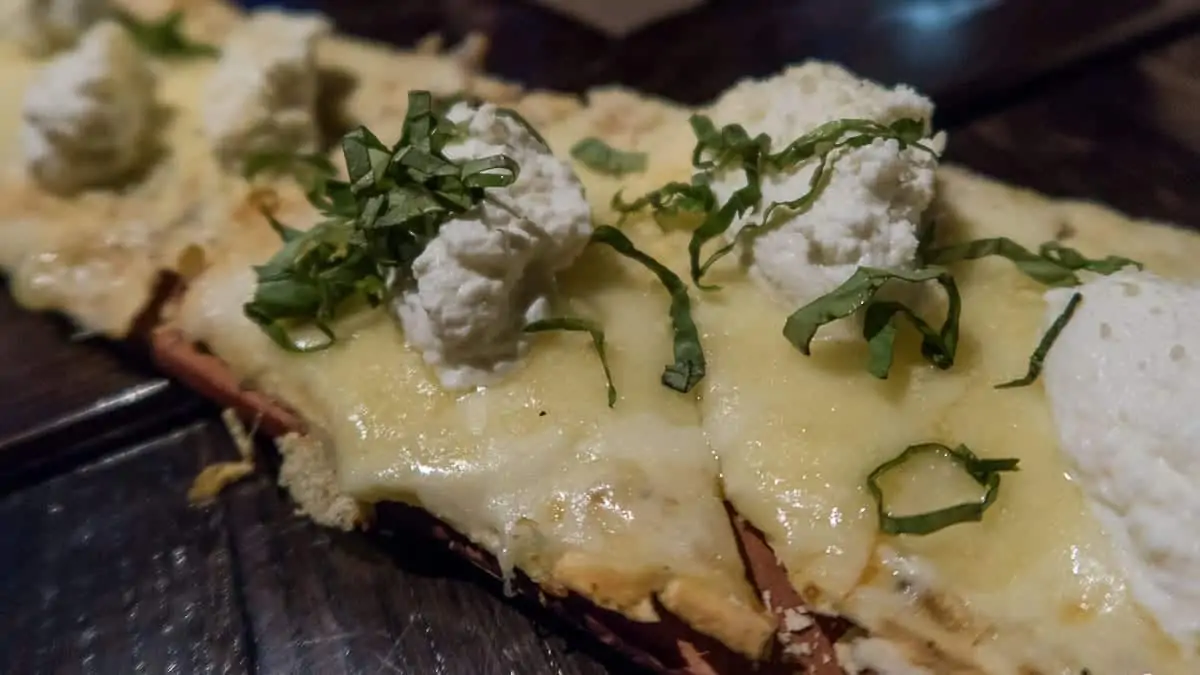 Finally, it came time for our milkshakes.
6: Have You Ever Had a Warm Milkshake Before?
Wouldn't you know it, my milkshake was also room temperature. Not even cold to the touch. Fortunately, my wife's milkshake was cold. Our daughter also got a warm milkshake.
I tried to drink it through the straw, but I couldn't. I ordered the brownie milkshake, which comes with a brownie on top of the glass. They poke the straw right through it, which serves to clog up the straw with brownies.
I pulled that sucker out and tried to find a place to put the brownie. There weren't any plates or napkins around after the main meal. To be fair, the brownie was the best thing I had there. Absolutely delicious!
Now I get to try the milkshake – the very reason we came to this restaurant! Man, it sucked. It was warm chocolate milk with tiny bits of brownie inside. Quite honestly, it tasted gritty. Warm. Gritty. Thin.
If you're looking for Orlando's best milkshake, this isn't it.
As my wife and I started discussing the condition of our milkshakes, we realized that they didn't even have all of the ingredients mentioned in the menu description. Mine should've had some chocolate syrup inside, but it was missing.
My wife's Peanut Indulgence milkshake had a lot of whipped cream and only one dented Reese's Peanut Butter Cups. Our daughter's Salted Dulce De Leche milkshake seemed to have all of the ingredients. It was just warm.
The presentation looked great, but the experience was an enormous letdown.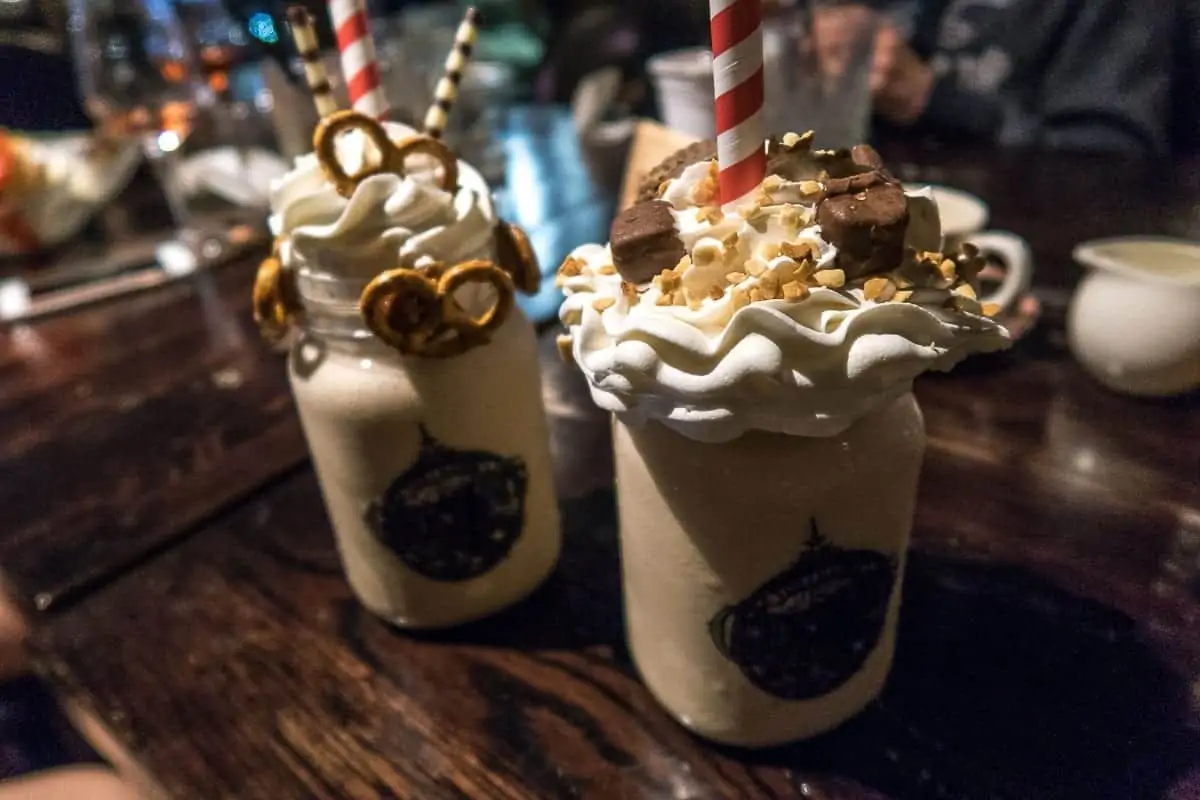 Basically, the kitchen was taking shortcuts and the server wasn't picking up orders in a timely manner. I've had better milkshakes at McDonald's Drive-Thru.
So much for chocolate delights in Universal Orlando and the premier chocolate factory.
7: Price
We aren't cheap people, but we expect value for our money. Toothsome Chocolate Emporium really doesn't deliver.
We had three milkshakes, two flatbreads, and three non-alcoholic beverages (coffee, iced tea, and Coke).
For that miserable meal, the bill came up to $91.85, gratuity included.
I've had larger meals with appetizers, drinks, full meals, and dessert for my family at The Cheesecake Factory for less money.
We were still a bit hungry on our way home from Toothsome. So were our UK friends, who ended up visiting another restaurant at City Walk to get something to eat after our "meal" at Toothsome.
Overall Impression of Toothsome Chocolate Emporium
This is a beautiful restaurant with a very long wait, poor service, lousy food quality, and a very high cost. To us, it's the definition of a tourist trap. Everyone wants to be there, yet no one wants to admit that it wasn't that great.
Except me.
I was angry when I left the restaurant. We invited friends on vacation here and it was just a complete waste of time and money. The only good thing is that my wife got to spend time with one of her best friends from the UK.
How I wish we'd gone to Hard Rock Cafe instead, or perhaps anywhere else. We feel terrible for inviting them to Toothsome Chocolate Emporium.
In fact, I felt so bad that I posted reviews on Yelp!, TripAdvisor, and Universal's website for Toothsome Chocolate Emporium mentioning our issues with the place.
As a result, someone from Universal responded to us on Yelp! At the time, I thought this was a personal outreach. It wasn't. A day later, I had the exact same outreach for my review on TripAdvisor – word for word.
However, I bit and replied. Universal offered a guaranteed reservation and a $49 credit for a return trip. After discussing it, Lee and I agreed that we don't intend to take them up on the offer.
Our review was from the point of view of any consumer who walked into the restaurant. We reported our experience and you can decide for yourself if you want to visit.
That said, we recommend you avoid spending your valuable time and money at Toothsome Chocolate Emporium and Savory Feast Kitchen.
Check out our article on the 19 BEST Islands of Adventure Orlando Rides List
Get Free Updates of The Orlando Local Show
Discover More Episodes!