Black Point Wildlife Preserve
Most of us in the USA live in an automobile culture. Perhaps some city dwellers in New York or San Francisco can survive quite nicely without a car, but it's pretty difficult for the rest of us. Urban sprawl loses the tightly congested living environment necessary for a decent public transportation system. So, most of us drive our cars even when we could realistically walk.
That culture leads to wondrous innovations, as drive-in movies (which I dearly miss), drive-up and drive-through restaurant dining, and in Las Vegas, drive-through weddings. As a society, we just don't want to get out of our cars.
Someone merged this auto-centric reality with a wildlife preserve. As odd as it may seem, you can literally drive through the Florida wilderness to get close and personal with wildlife at the Black Pointe Wildlife Drive in Titusville, FL. It's part of the Merritt Island National Wildlife Refuge.
The Black Point Wildlife Drive is a seven mile dirt road through some Florida marshland that provides a home for an interesting array of critters. Birds living there include Bald Eagle, Osprey, Great Blue Heron, Little Blue Heron, Tri-Color Heron, White Ibis, Great Egret, Red Shouldered Hawk, Roseate Spoonbill, and others. The Heron below seems to have some odd behavior. A friend of mine speculates he learned it from another species of bird.  I have no idea, I just take the pictures.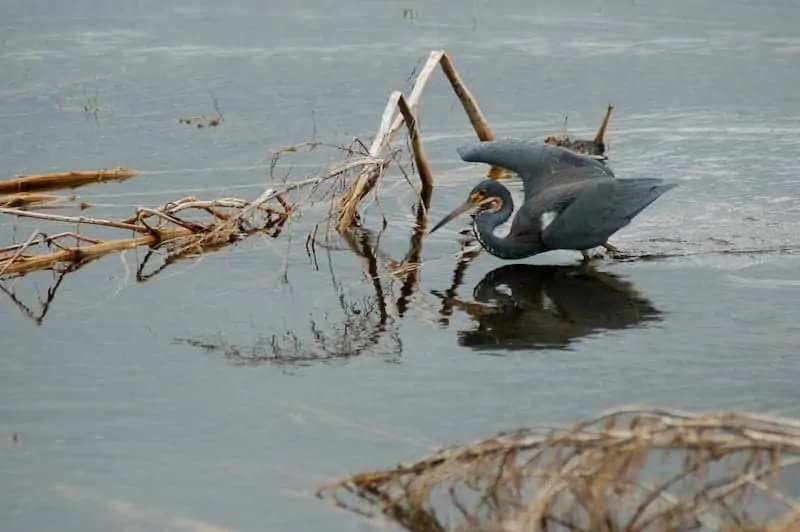 The drive lets you slowly meander through the marsh, offering kiosks with information about wildlife you may encounter, roadside signs, and occasional places to pull over in case you want to get out and actually walk among the wildlife while other cars pass.
I went on the Saturday following Thanksgiving, and was surprised by how many other vehicles were driving through the wilderness. The local wildlife seems relatively accustomed to the invaders, rarely bothering to pay attention. In fact, there were only two animals that minded me at all. The first was this little fellow below. He just kept running away as I tried to take my photos. Only when I insulted his heredity did the bird promptly return and started posing for the cover of National Geographic: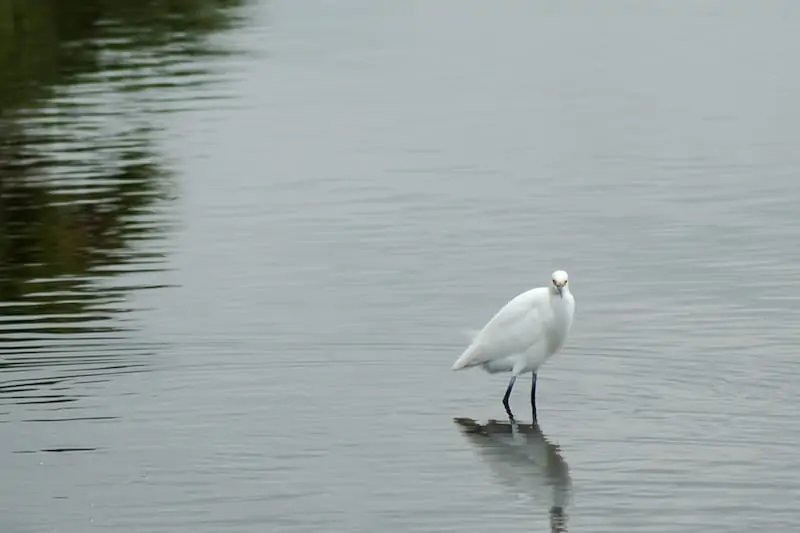 I know what you're thinking. Is this a wildlife preserve, or a bird preserve? Where are the killer animals that rip the flesh from lesser critters? We want lions, tigers, and bears (oh my). I found none of those beasts, but I did find an alligator. He seemed quite content until I got out to take his photo. As I stood on the bank clicking away, my friend exclaimed, "Oh look. He sees us!" Yes, the alligator did see us. That's why the alligator was ever so slowly turning his body toward us, getting closer as I snapped away. Perhaps my friend was excited, as she tends to get, but I erred on the side of caution. I put away my camera, bestowed him with the name of "Fred," and got the hell out of there before he lunged: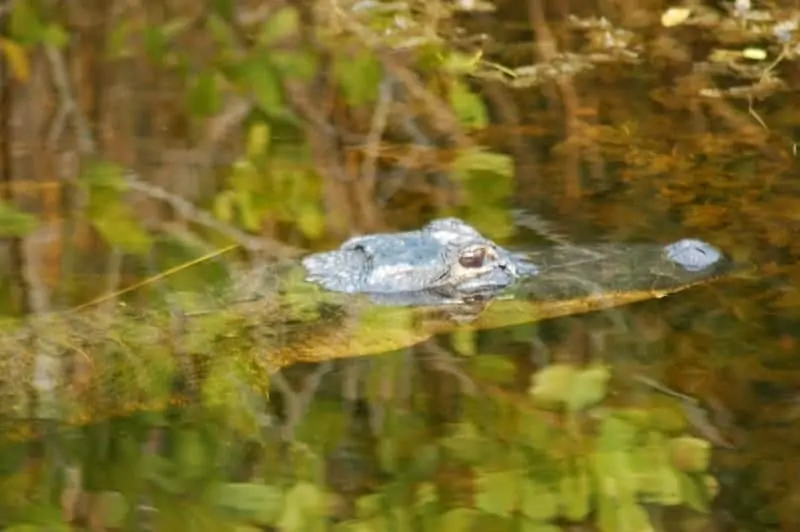 Honestly, it felt good to get away from the commercial ventures and see some native Florida land. We had a relaxing drive from Sanford to Titusville on State Road 46. You can find the Black Point Wildlife Drive in Titusville, FL. The visitors center is 5 miles east of U.S. 1 on State Rd. 402. Hours are 8 a.m. to 4:30 p.m. weekday and 9:00 a.m. to 5:00 p.m. Saturday.
For more information, call (321) 861-0667 or visit merrittisland.fws.gov.