Buc-ee's Daytona Beach: Eat Here and Get Gas
Buc-ee's Daytona Beach: The #1 Place to Get Gas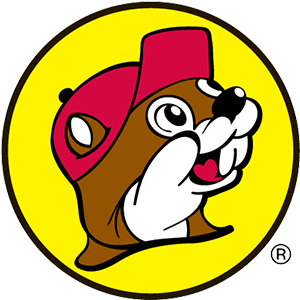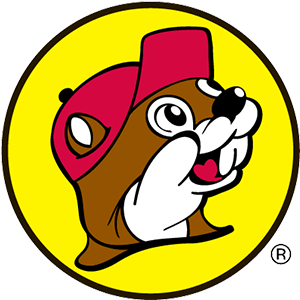 Name: Buc-ee's Daytona
Description: Buc-ee's is a chain of convenience store/gas stations that originated in Texas. The chain is known for its cleanliness, friendly staff, and massive size. Buc-ee's Daytona Beach lives up to the chain's reputation. The store is absolutely huge, and it has everything you could possibly need - from snacks and drinks to beach gear and souvenirs. The staff are all very friendly and helpful, and the store is always clean. Buc-ee's Daytona Beach is definitely worth a visit - even if just to see the store itself!
Price range: $10 - $300
Payment accepted: Credit Card, Cash
Currencies accepted: USD
Address: 2330 Gateway North Drive Daytona Beach, FL 32117
Telephone: (979) 238-6390
Summary
Read on to find out what awaits you inside of the Buc-ee's Daytona Beach location. Low-priced gas, plenty of grab & go food options, a wall of beef jerky, and the world's cleanest gas station bathrooms. Buc-ee's is more than gas and convenience store food. It's an experience that enticed people to drive a hundred miles or more to visit.
Gas Prices

Atmosphere

Cleanliness

Food

Souvenirs
Pros
Low-priced gas and LOTS of pumps
Extremely clean restrooms
Plenty of food to go
Lots of souvenirs
No 18-wheelers allowed
Cons
No tables or chairs to eat
Some people park at pumps and visit the store
If you're ever in Daytona, FL, and need to fill up your gas tank and grab a bite to eat, Buc-ee's Daytona Beach is the place for you! This convenience store has everything you could possibly want, from snacks and drinks to hot food and restrooms.
The prices are very reasonable, and the staff is friendly and helpful. If you're looking for a quick snack or meal, Buc-ee's is definitely the place to go!
Besides, it's just fun to explore all the things inside this massive store.
What is Buc-ee's?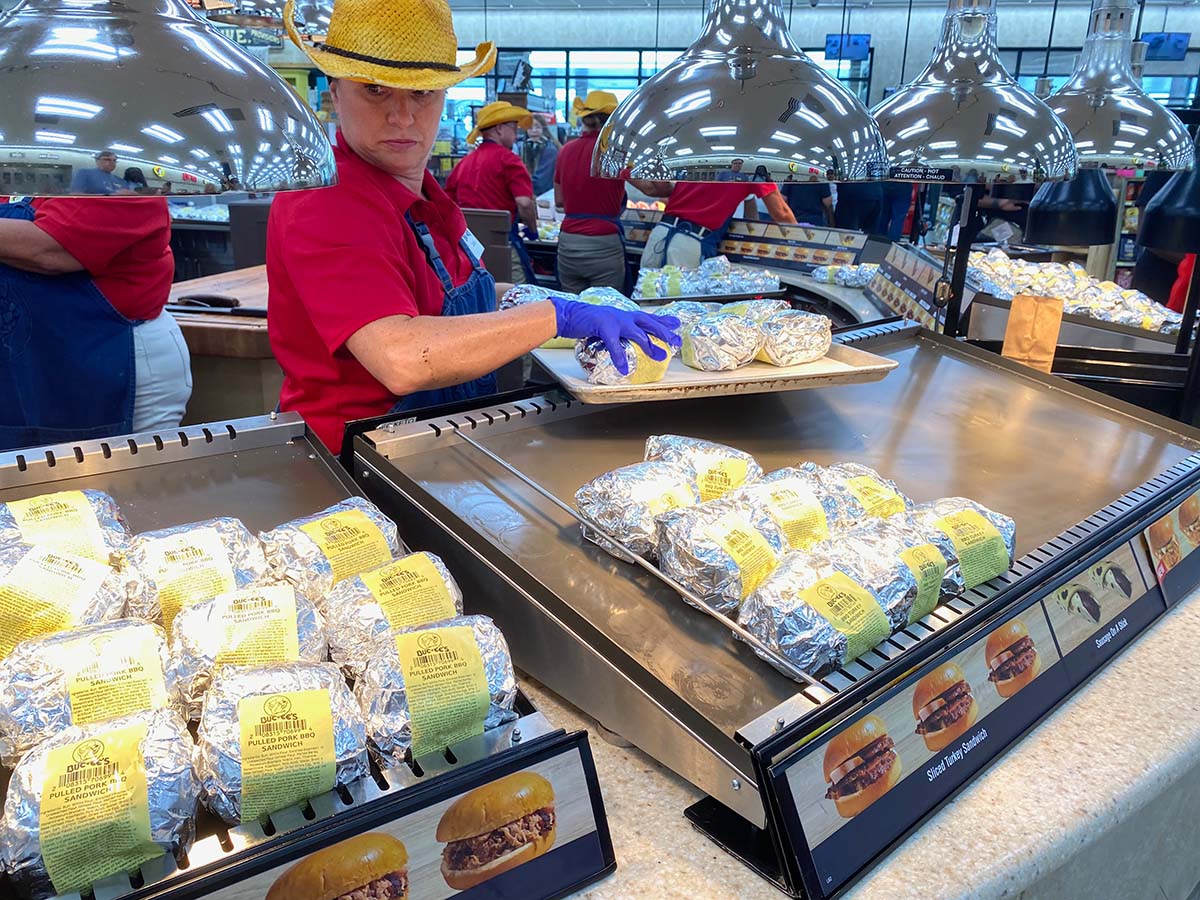 Buc-ee's is a Texas chain of gas stations and convenience stores, but they're expanding into other states. The stores are known for their large size, and they have everything you could possibly want, from snacks and drinks to hot food and restrooms.
The prices are very reasonable, and the staff is friendly and helpful. Buc-ee's also holds a Guinness World Record for the cleanest restrooms and the Daytona Beach location lives up to that level of quality.
There are 104 gas pumps at the Daytona Beach location, which goes far beyond most service stations in Florida.
On a recent visit, we noticed that they're also under construction to add new Tesla Superchargers. We counted roughly six of those stations.
Inside, be prepared to have your senses overwhelmed by the enormous size of the store with a large supply of food, beverages, and other items for sale.
It's a good place to find souvenirs of your road trip.
1: The Mascot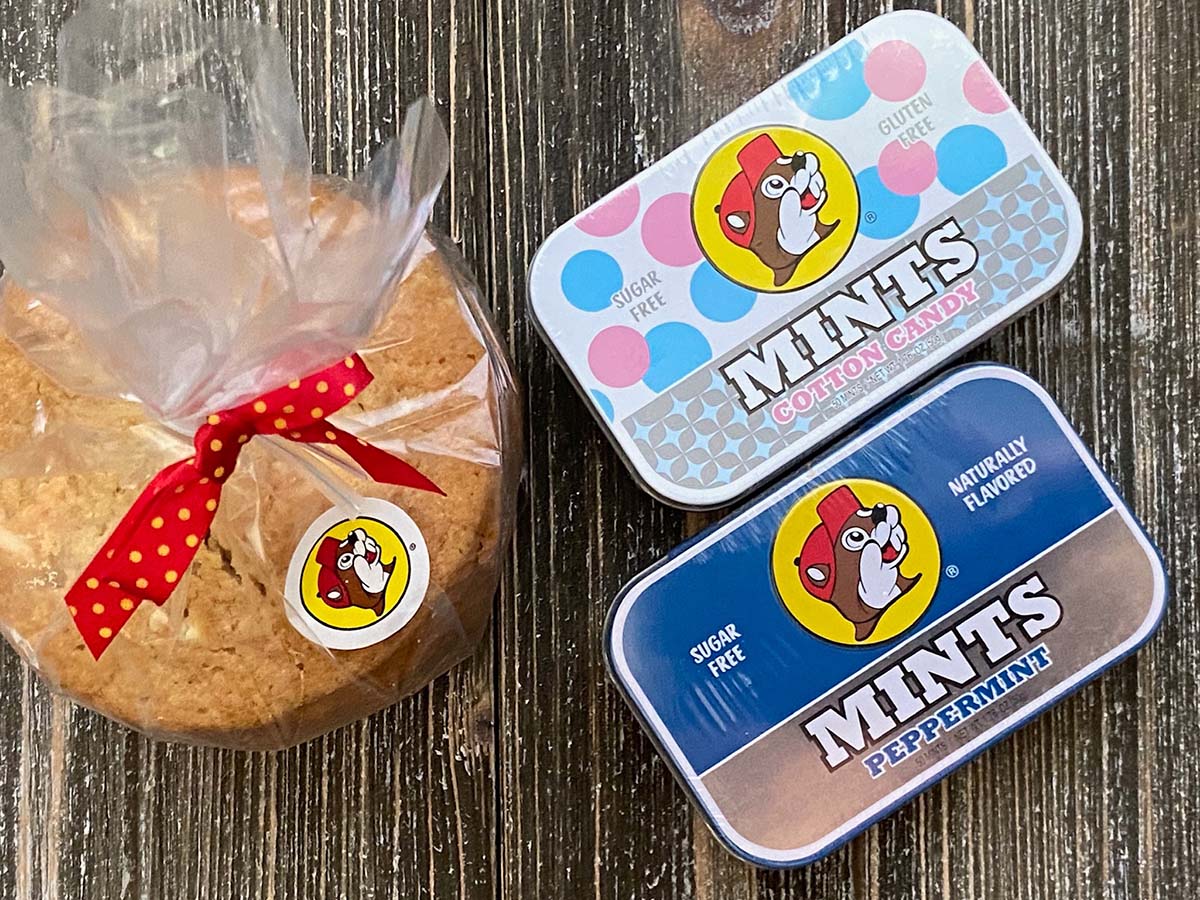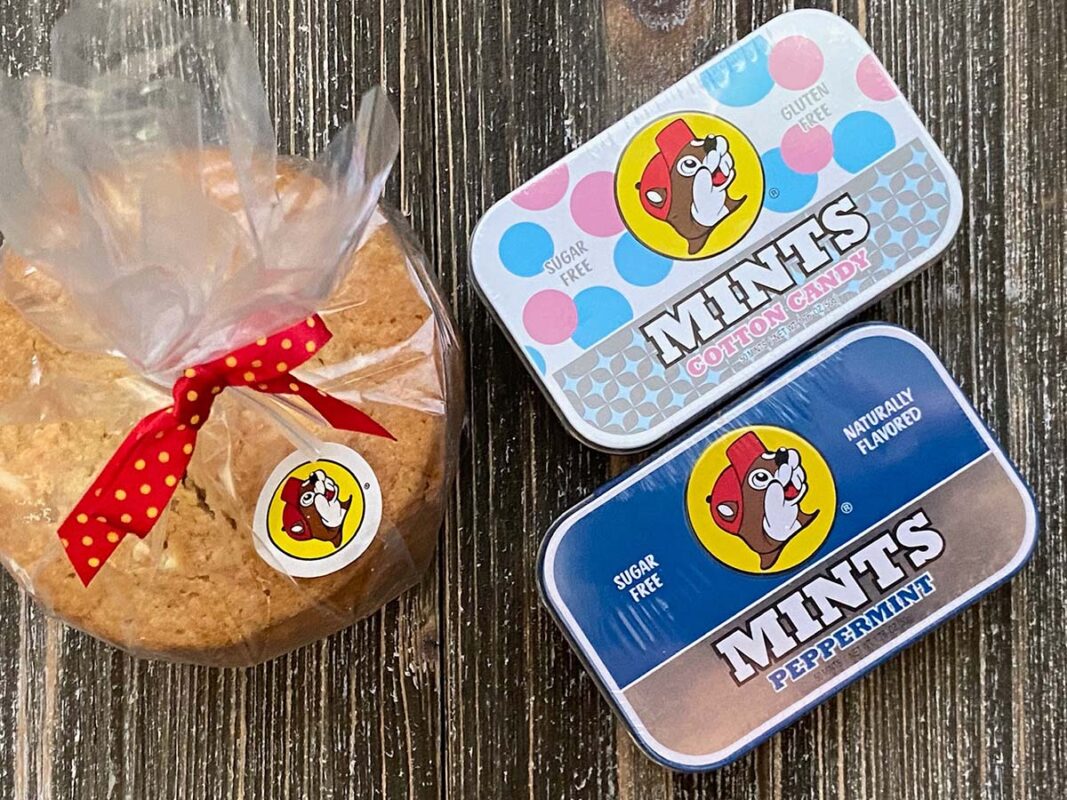 The Buc-ee's mascot is a beaver wearing a baseball cap. You can see him on a very tall, round sign marking the Daytona Beach location. He's also present on every piece of merchandise inside the store.
You'll find the Buc-ee's beaver logo on everything from t-shirts to beef jerky. In fact, you can even buy a beaver costume to wear at…well, I'm not sure where you should wear this thing.
2: Buc-ee's Beef Jerky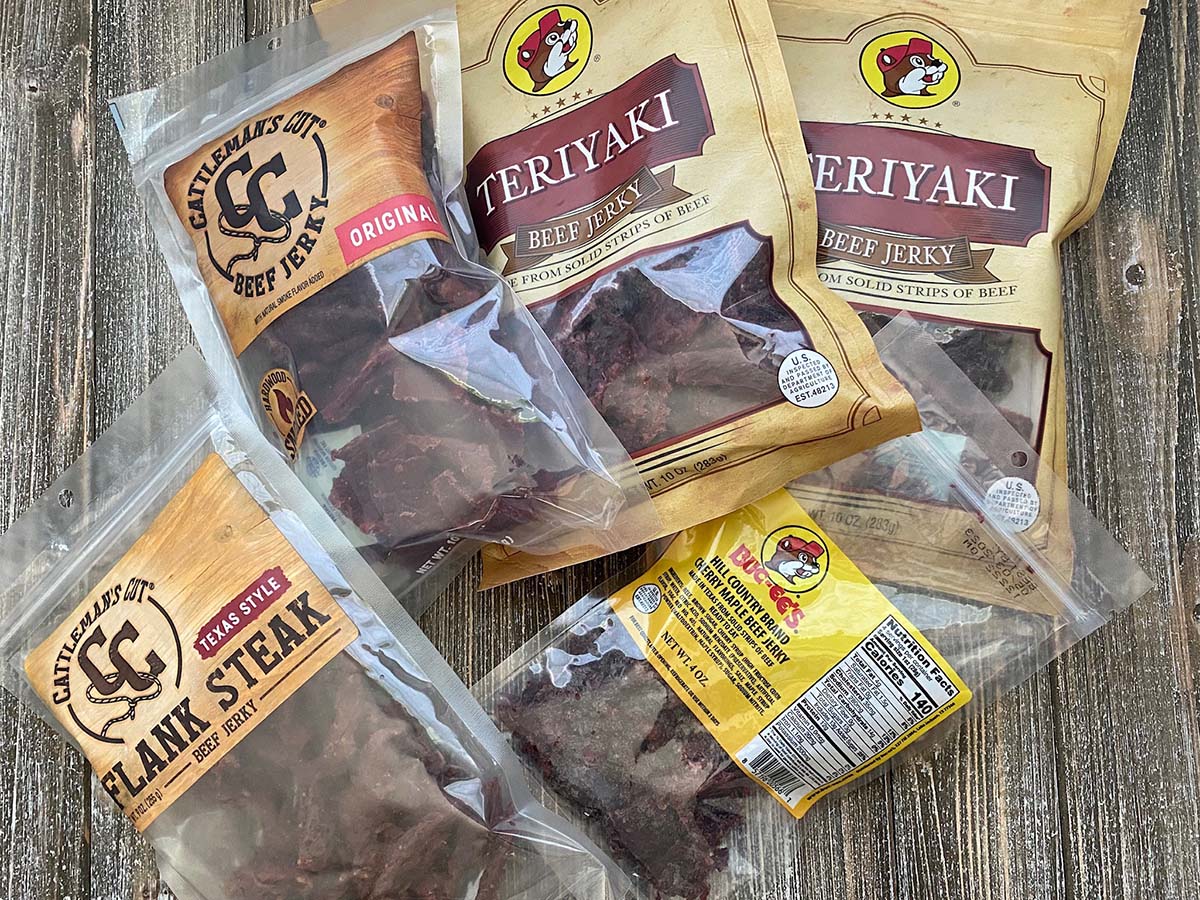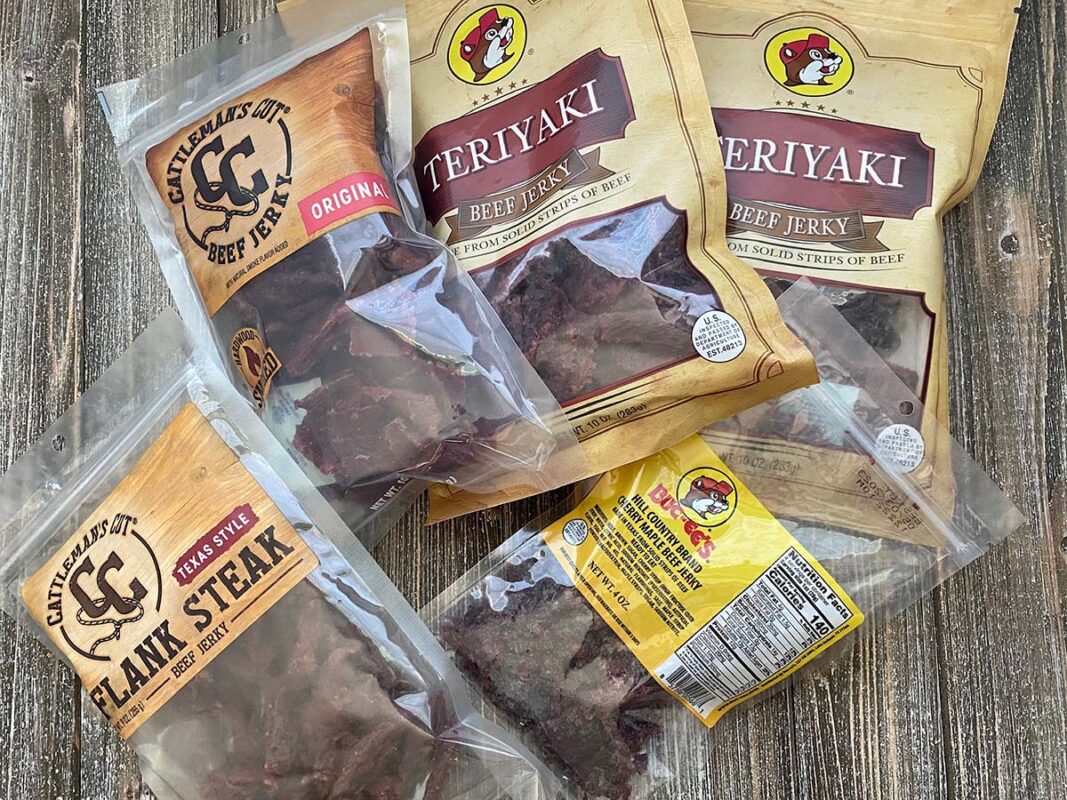 I've never seen such dedication to beef jerky, but you'll find your fill of this Texas treat at the Daytona Beach store.
Not only do they have their own brand of beef jerky in multiple flavors, but there are also some packs from other vendors inside.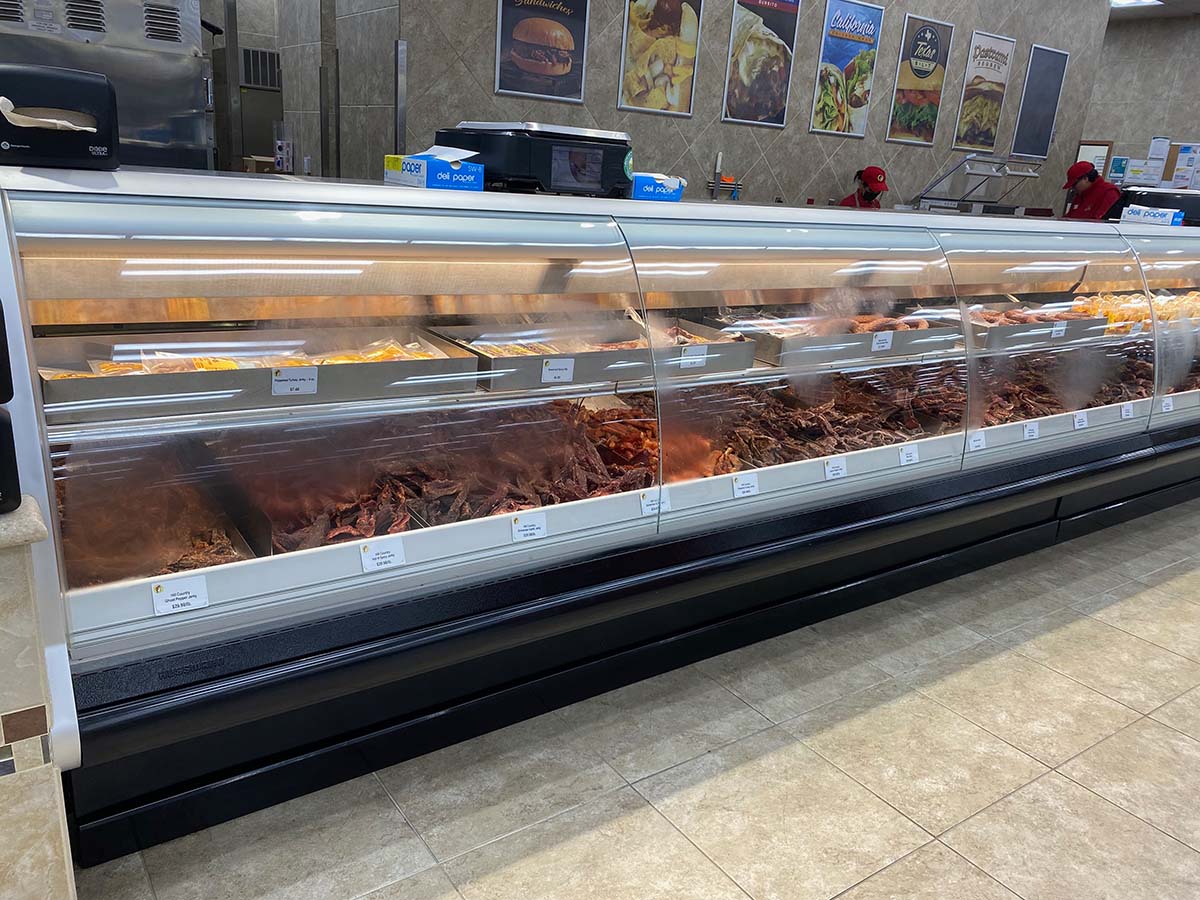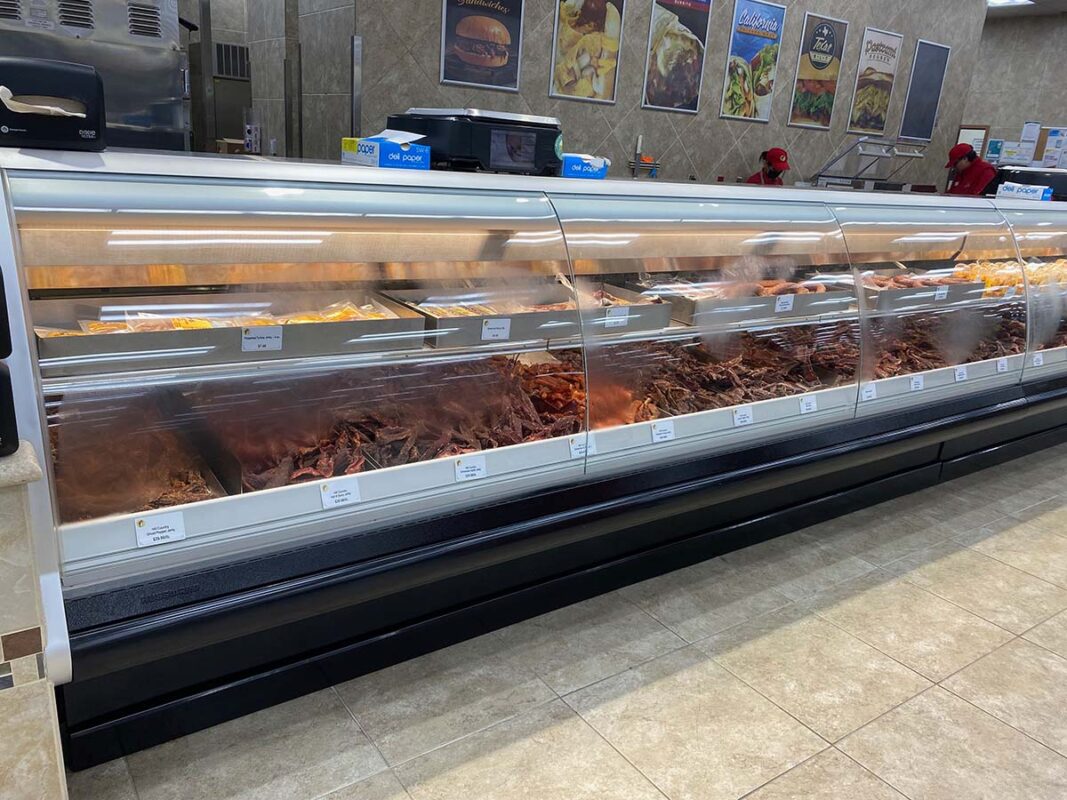 They have a very long deli case full of beef jerky. The folks behind the counter will help you find the right flavor, measure it out, and support your addiction to dehydrated meats.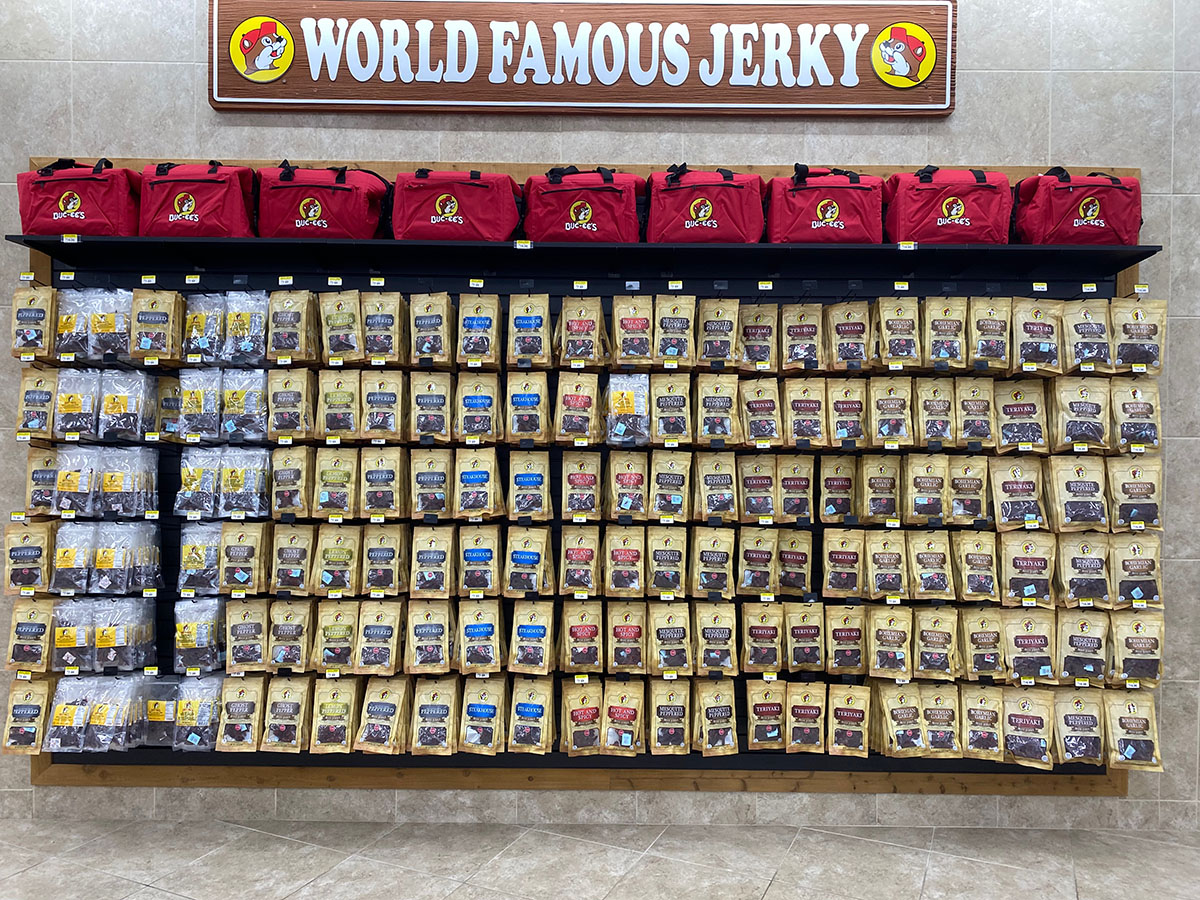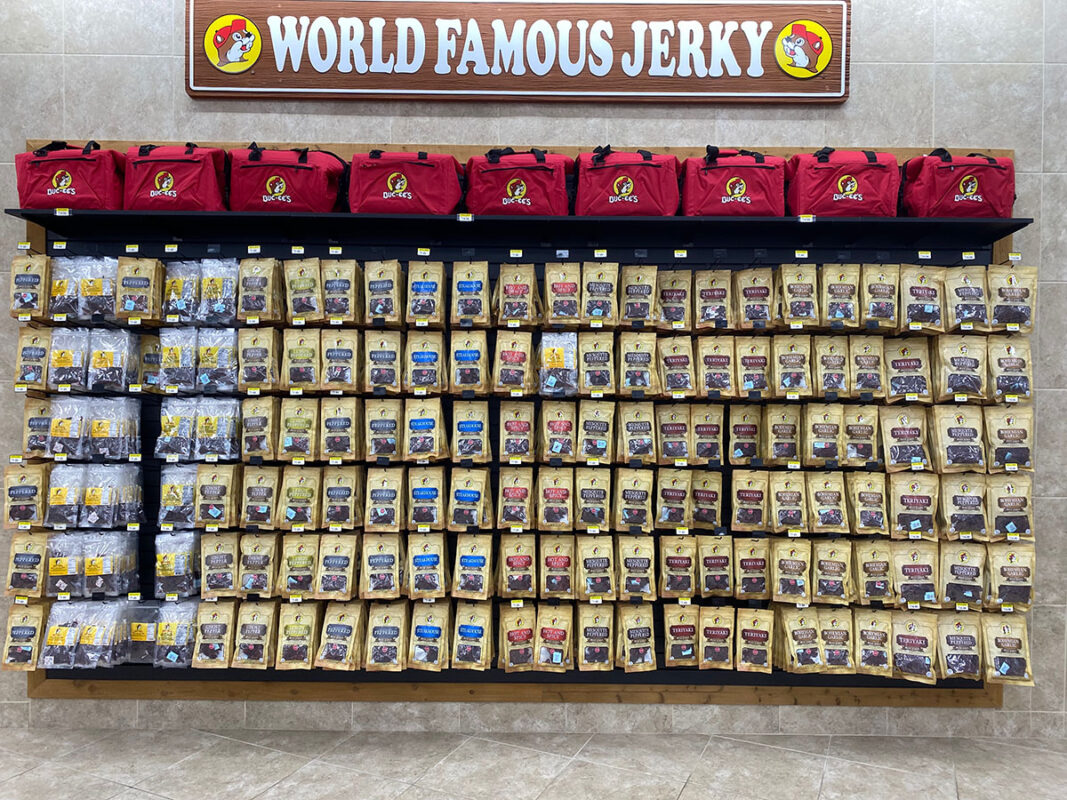 At the far end of the deli case, you'll find this wall with packaged beef jerky in a couple of different sizes.
I tend to prefer the Teriyaki, but we've also enjoyed the Cherry flavor and a few others.
3: Texas Fudge in Daytona Beach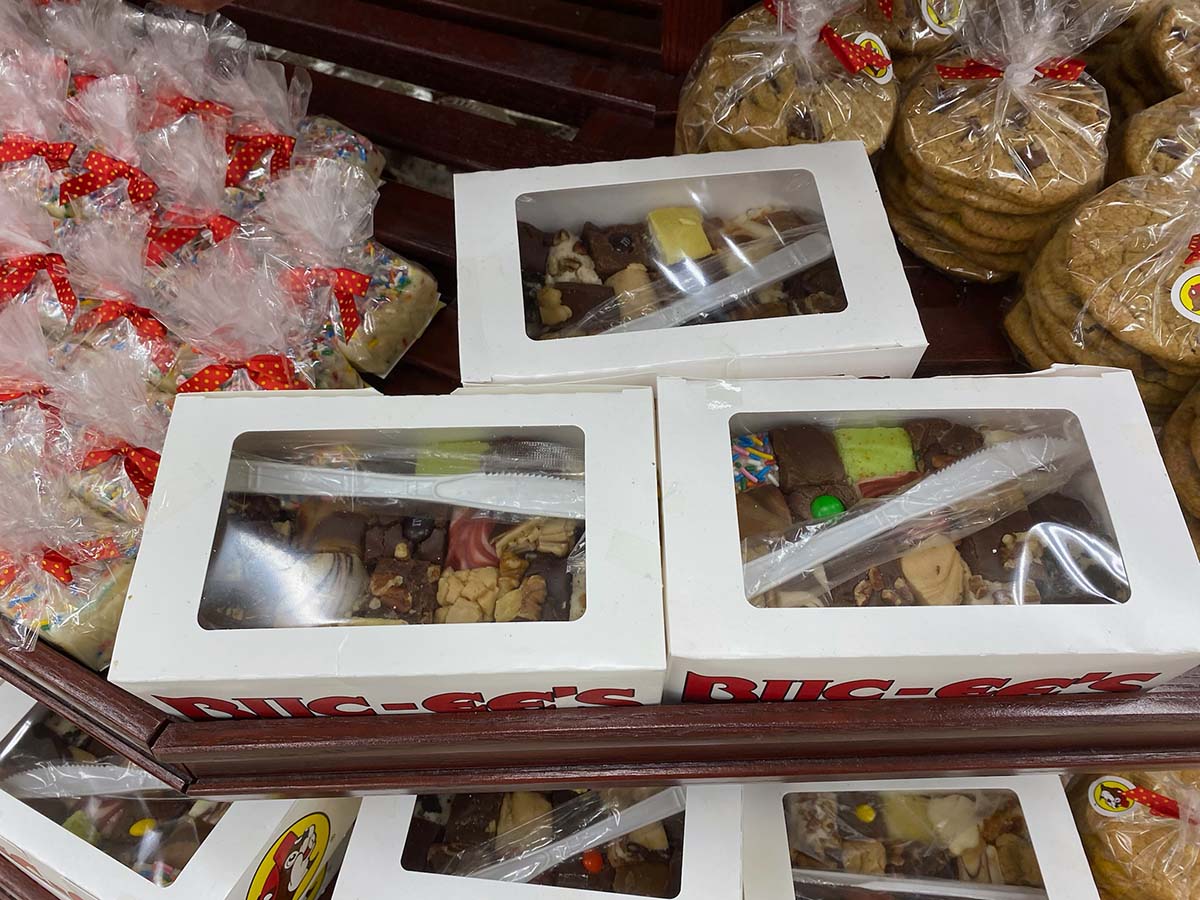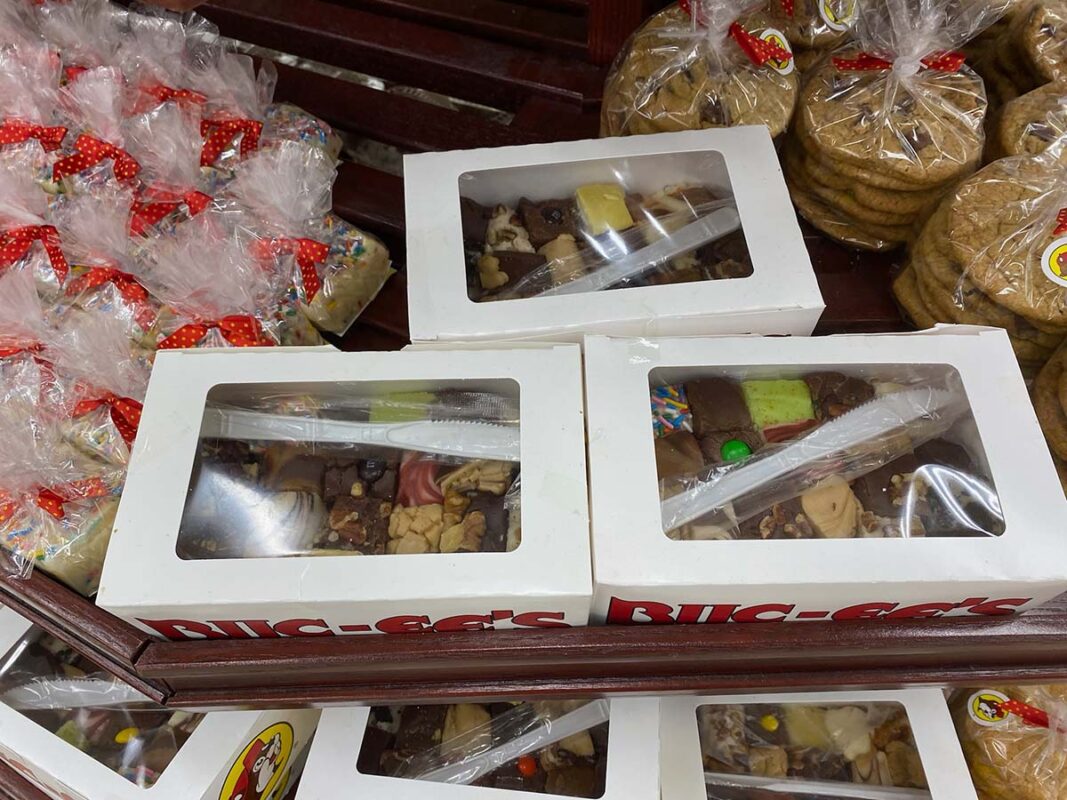 You're going to find multiple different stations inside the store. One of my favorite stops is the fudge counter. They make all manner and flavors of fudge.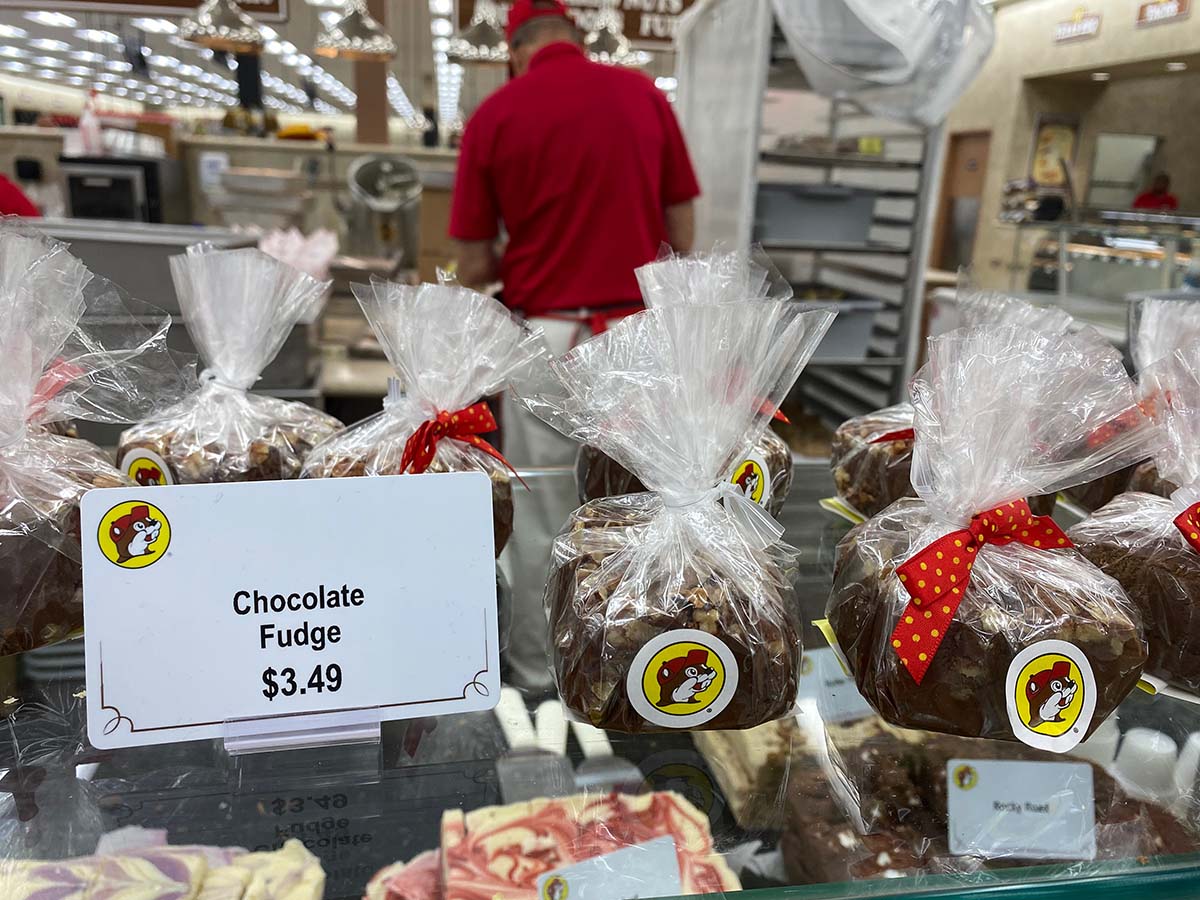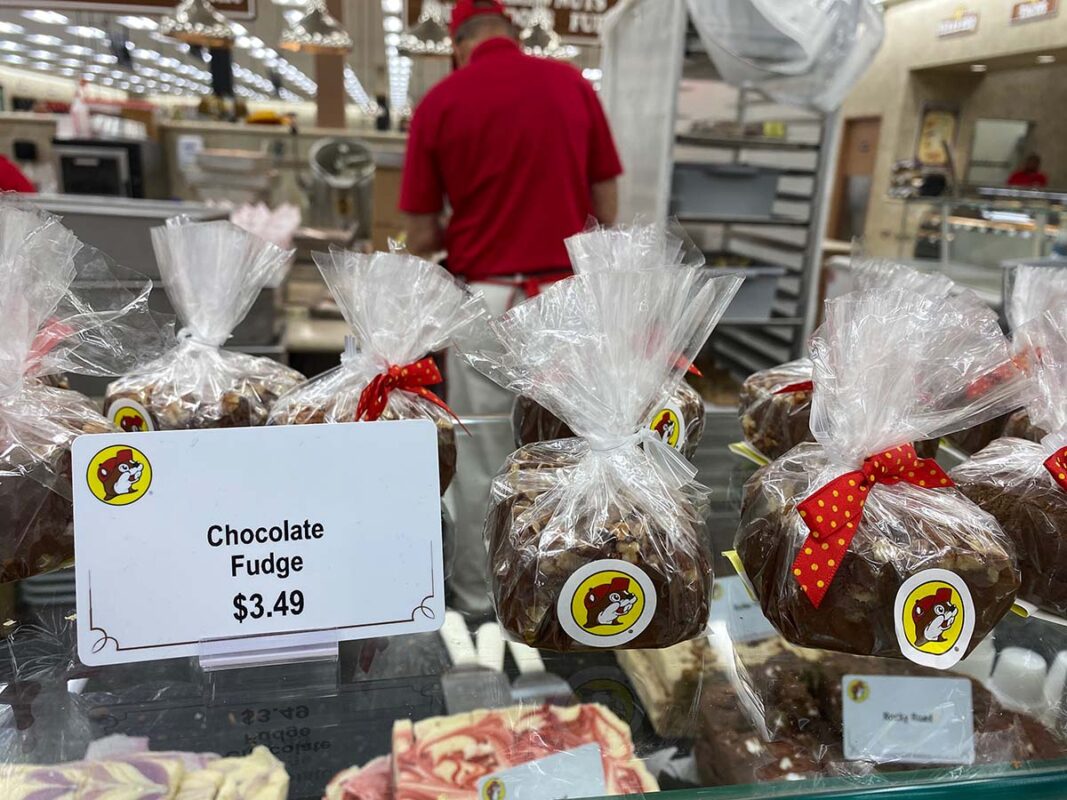 You can get a box of assorted fudge or just get something individually wrapped with your favorite flavor. It's fun just to search and see types of fudge you didn't even know existed.
4: Hot Brisket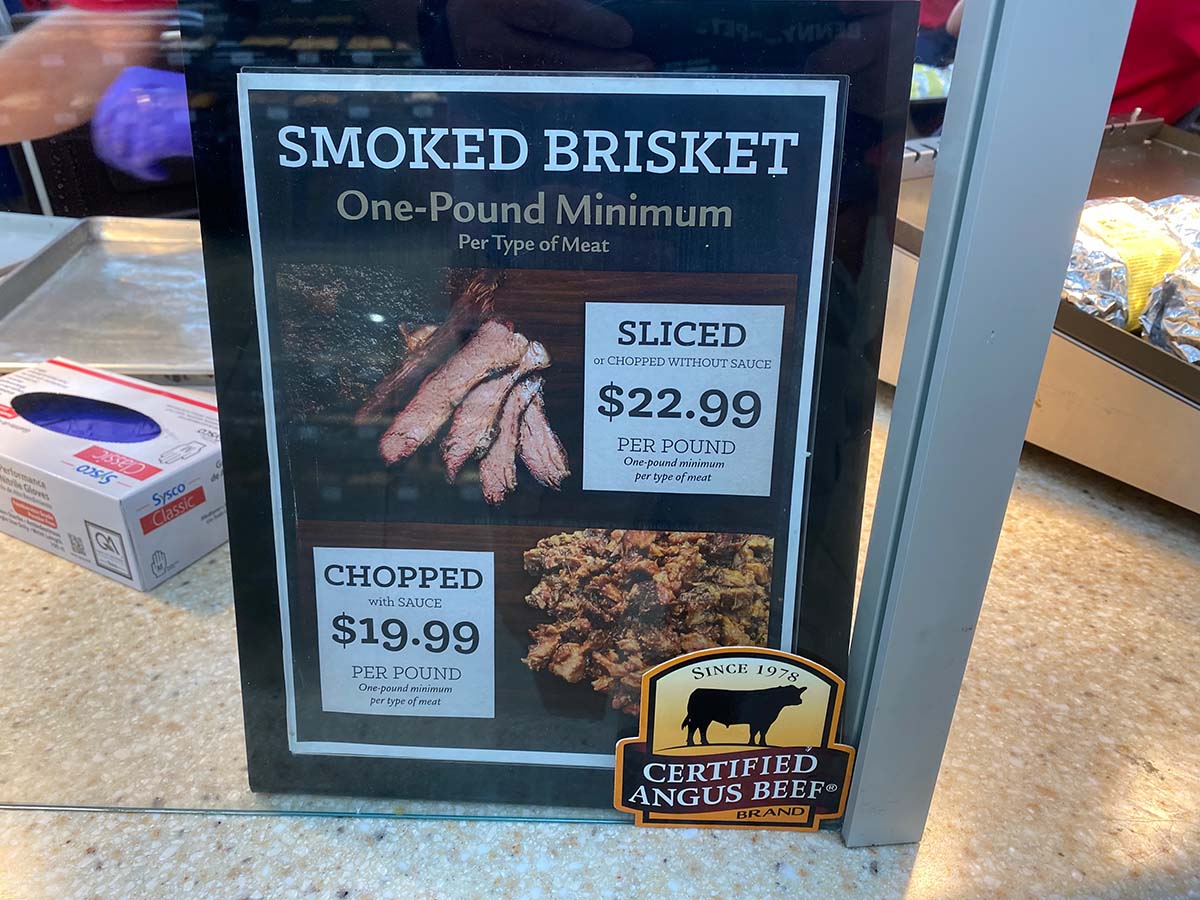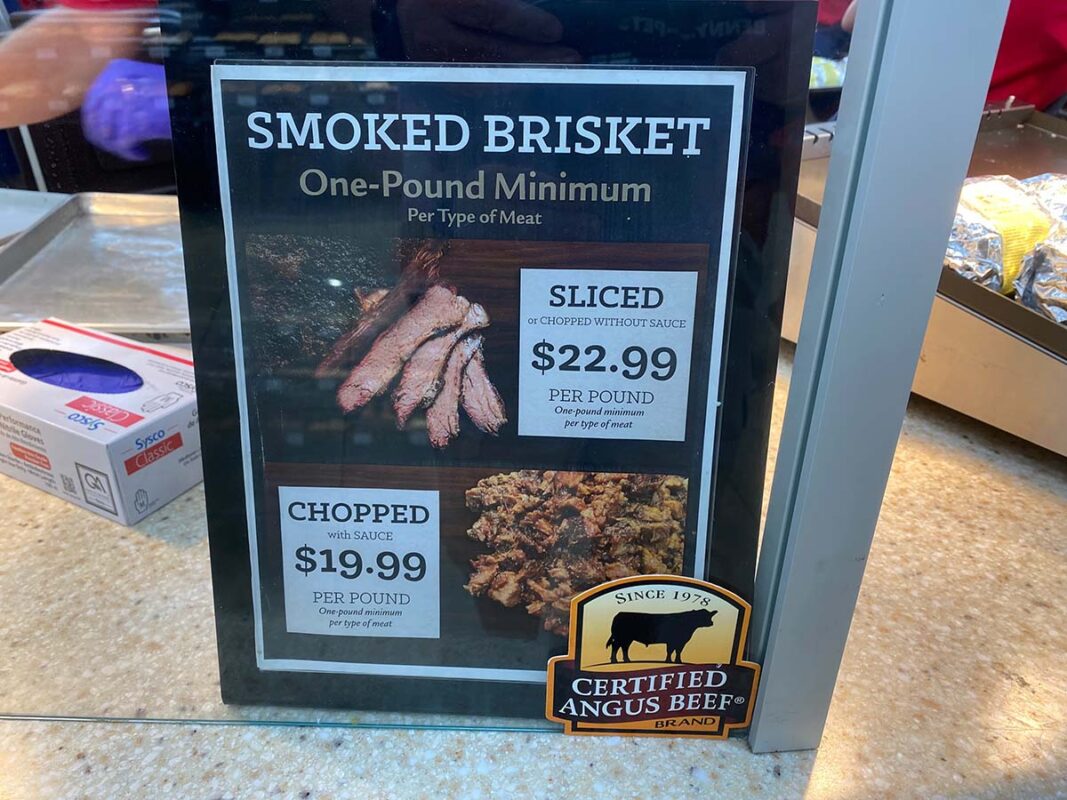 Buc-ee's competition brisket is smoked with a combination of hickory and pecan wood. It's then trimmed and cooked for 12 hours until it's fall-apart tender.
The brisket is served on a bun with sauce on the side, and you can choose from chopped brisket or sliced.
They also sell the brisket by the pound, sliced or chopped, if you prefer to take it with you rather than grab a sandwich wrapped up on the counter.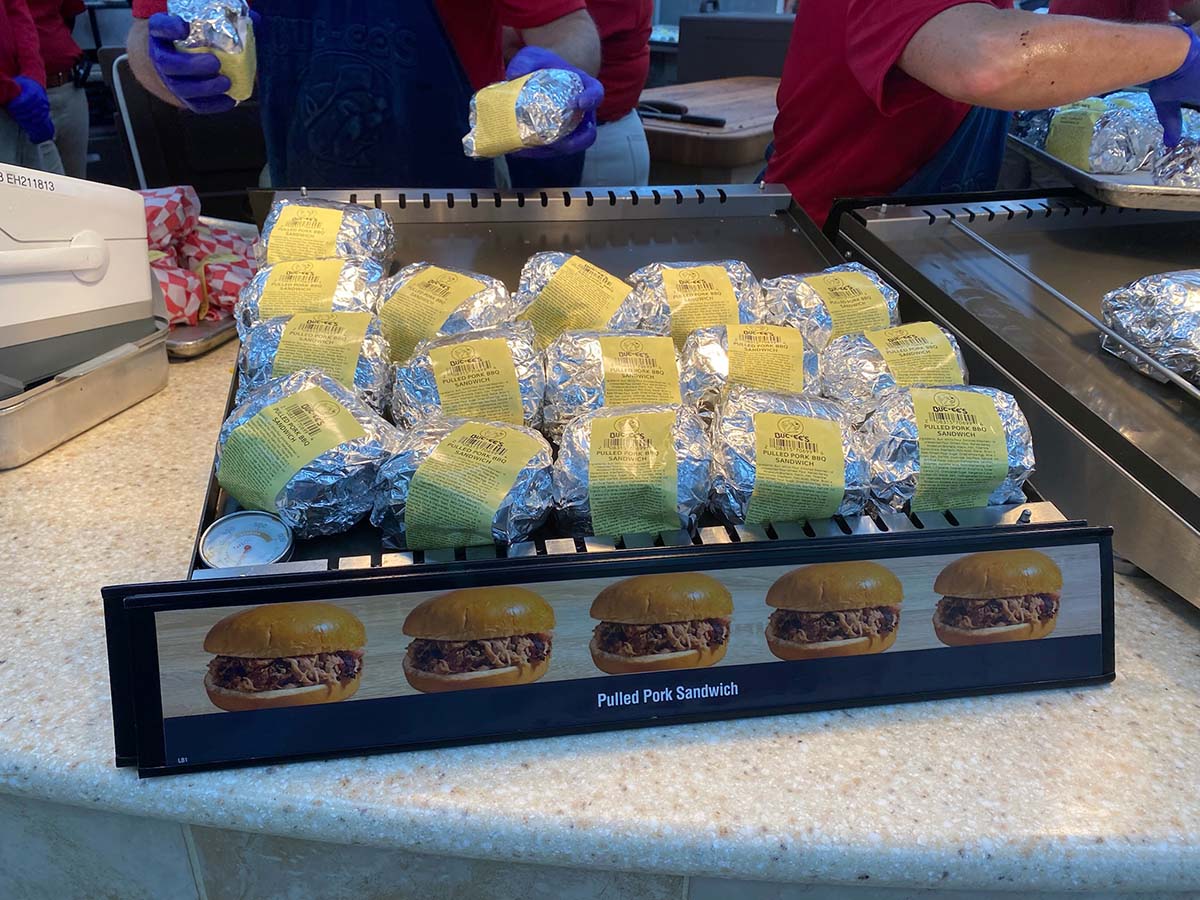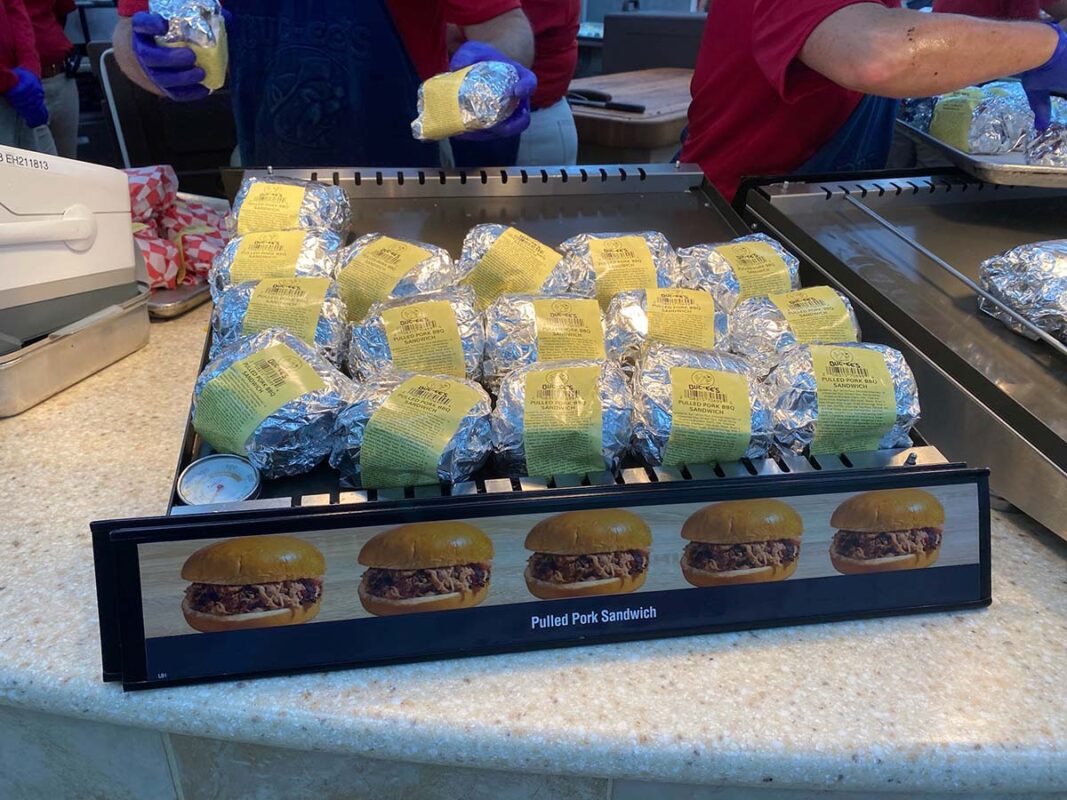 Of course, there's more than brisket. You can get a pulled pork sandwich to grab and go.
In the morning before 11:00 AM, you'll find breakfast sandwiches, wraps, and soft tacos to go. Just search on the label or you'll grab the wrong thing.
5: More Grab & Go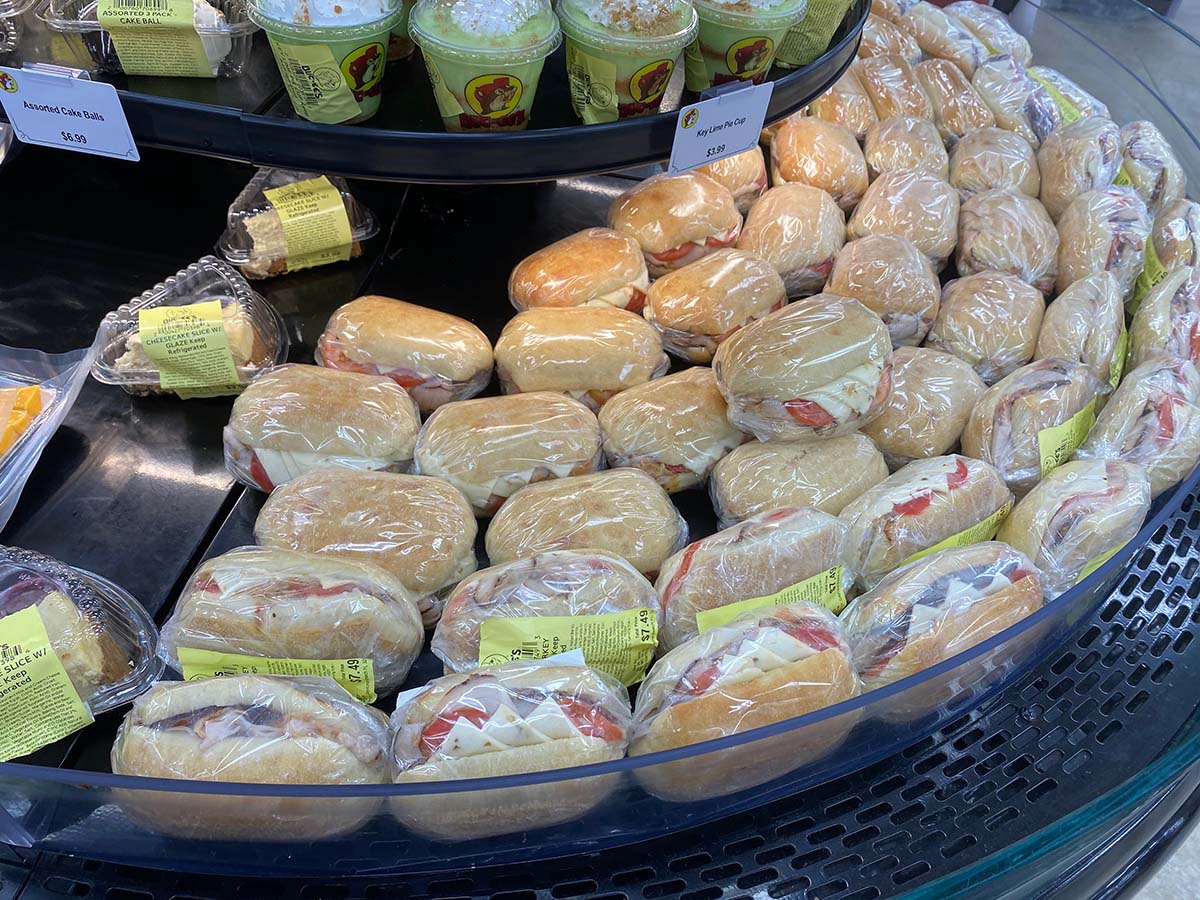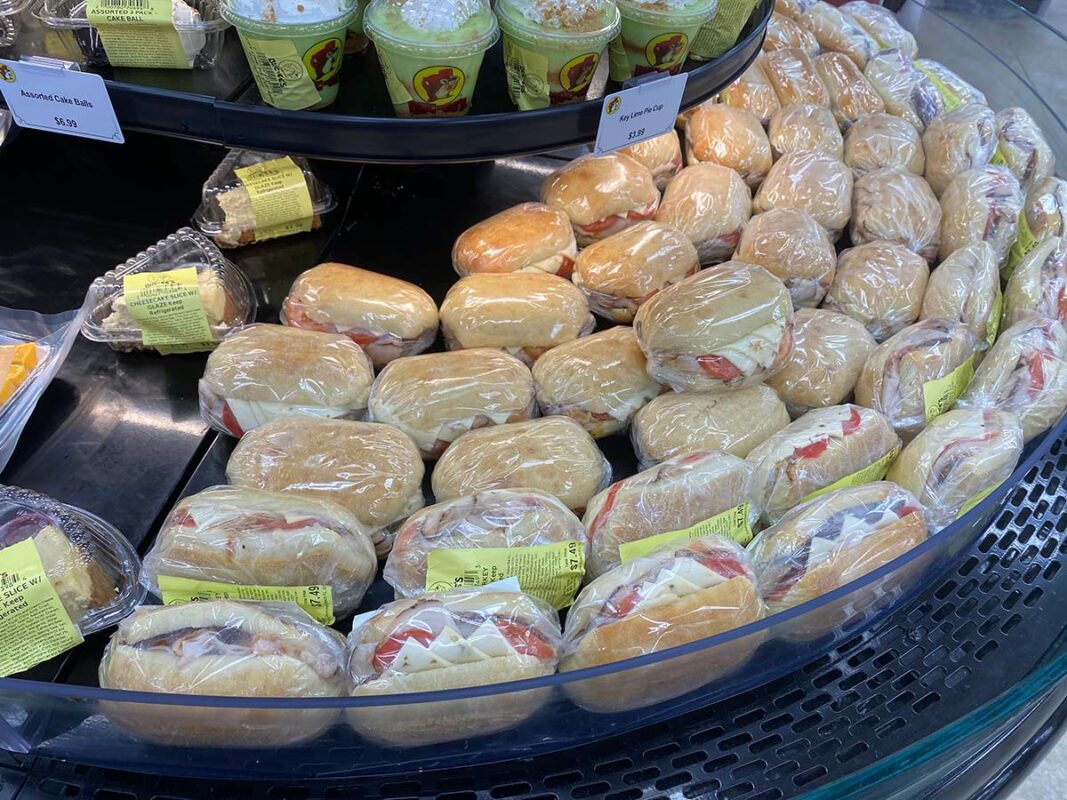 You'll find plenty of options to pick up a sandwich or some specialties, like a Florida key lime pie cup, fresh fruit, or even a slice of cheesecake.
6: 104 Gas Pumps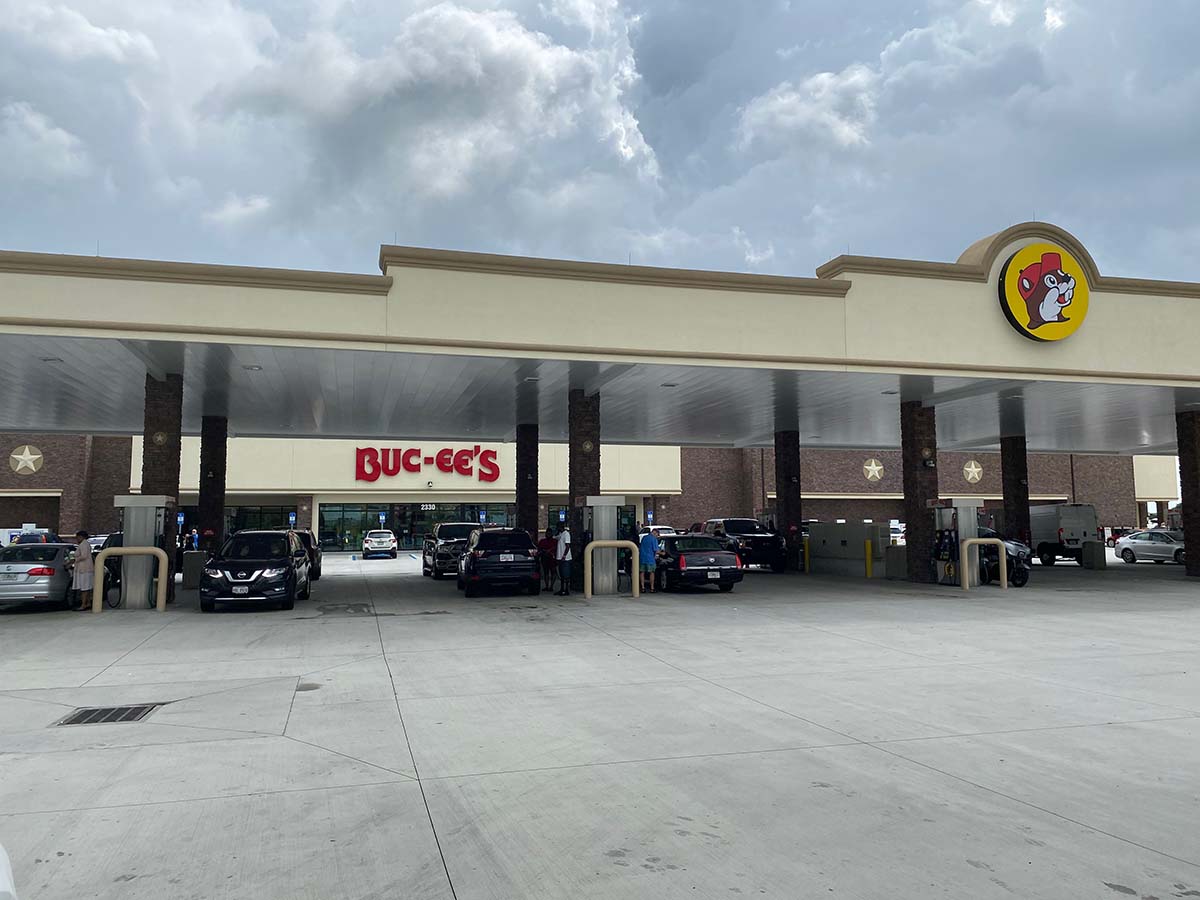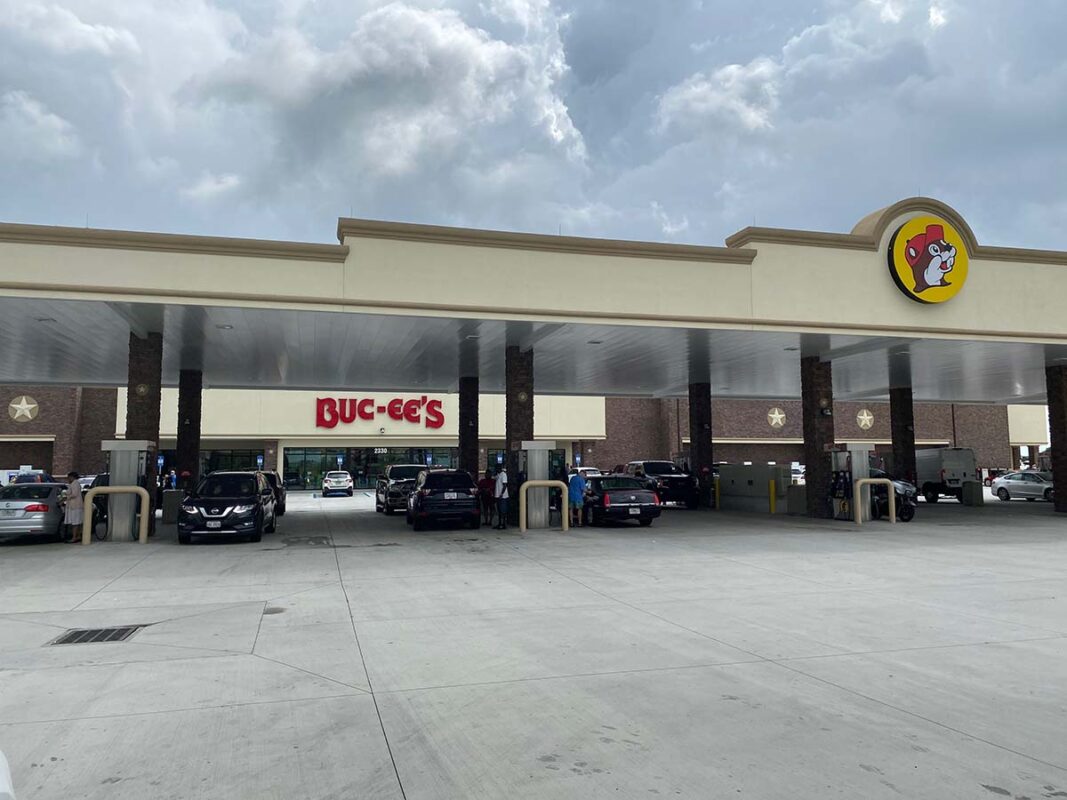 With 104 pumps, this must be the largest service station in Daytona Beach. The photo above only shows a portion of one row of the pumps.
I'm standing under the second row while taking this photo. The company prides itself on being one of the largest stations to fill your tank.
I just wish that people wouldn't leave their car at a pump while they shop inside. That's a bit selfish. There's plenty of parking located around the store and also the perimeter of the parking lot.
Where is Buc-ee's Daytona Beach?
You can find Buc-ee's by the intersection of I-95 and LPGA Boulevard. The official address is:
2330 Gateway North Drive
Daytona Beach, FL 32117
It's actually hard to find just the right location for Buc-ee's stores. They need to be near a busy highway, yet not so close to the city as to cause problems for local residents with all of the traffic that comes with a Buc-ee's location.
Fortunately, they found property near Interstate 95 and LPGA Boulevard. It's a high-traffic area for travelers who need a gas station stop along their trip.
Visitors to Buc-ee's stores will actually bypass another gas station along the way when they see a Buc-ee's sign indicating a location ahead.
Volusia County has the right combination of traffic and access to build the Daytona Beach location.
Orlando gets a lot of traffic on Interstate 4, but it's too dense to open such a large gas station and convenience store without interfering with residents.
Let's face it, Buc-ee's is huge and draws a big crowd. Company officials give a lot of thought to each city where they open a new Buc-ee's.
The only other location in Florida is in St. Augustine and it's the same size as the Daytona Beach store with 104 gas pumps.
Buc-ee's Grand Opening Day
The Daytona Beach store opened on March 22, 2021, at 6:00 am, followed by a ribbon-cutting ceremony with Florida Governor Ron DeSantis at 11:00 AM.
This was the second of the chain's stores in Florida, with the first already open in St. Augustine.
It's kind of a big deal to have another gas station from the Texas chain. Buc-ee's draws people with low gas prices and other services in its stores.
Buc ee Loves You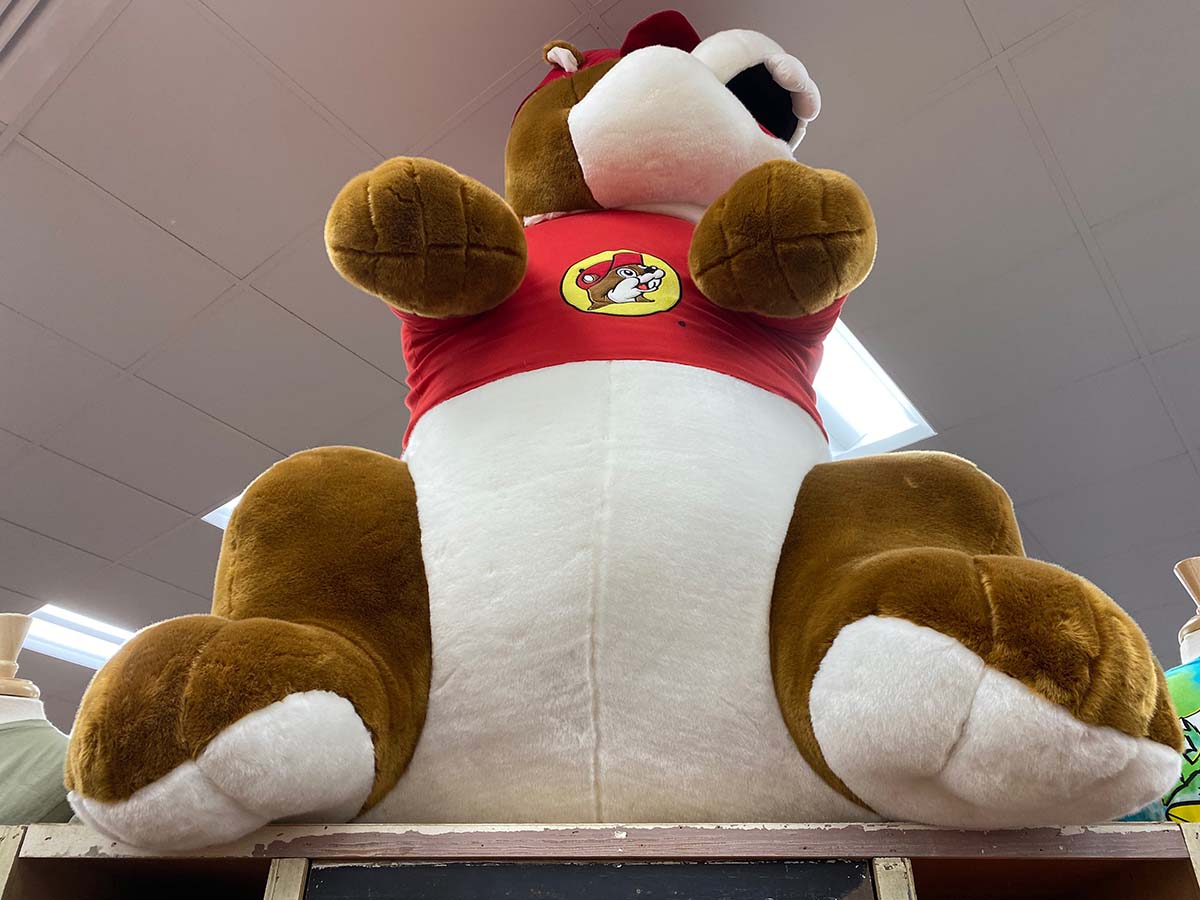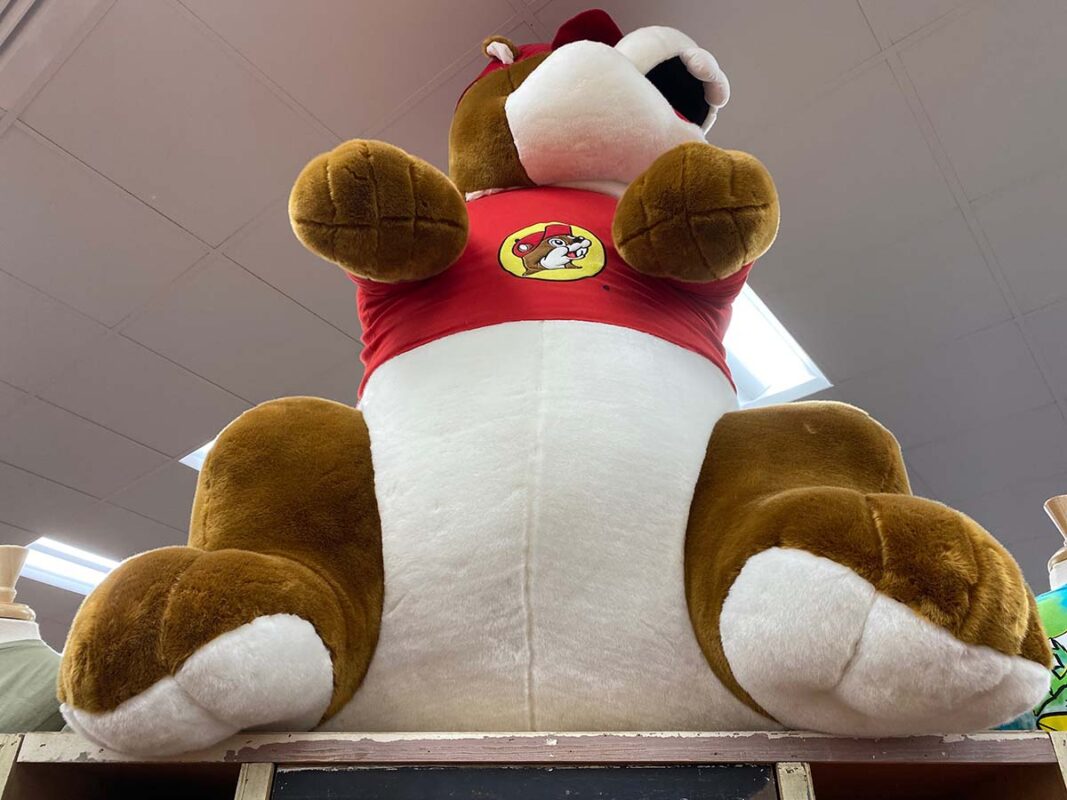 Buc-ee's Daytona Beach is a huge gas station and convenience store that offers a wide variety of food options, from sandwiches to brisket. There are 104 gas pumps and plenty of parking available. It's open 24 hours a day.
I hope this review of Buc-ee's Daytona Beach has been helpful. If you have any questions, feel free to leave a comment below. Thanks for reading!