Every time I turn around, someone is either asking about or telling me where to find Orlando's best burger.  We have contests in the newspaper, contests on food blogs, and web sites full of reviews from people who give their own experiences.  Never mind that the average person isn't unbiased or even knows what all the other contestants have to offer.  They're going to tell you about the best burger they know about, even if it isn't the best burger in Orlando.
While I don't trust the average person at all, it's not a bad way to discover places you might normally miss.  That's how I discovered Graffiti Junktion in Thornton Park.  It's been there for a little while, evidently, since I sat next to a framed review of the place by Orlando Magazine.  I found it slightly humorous that a burger bar was reviewed in an issue with a cover story on eating healthy food, but I contained my laughter so as not to disrupt other diners around me.  Yes, I'm that thoughtful.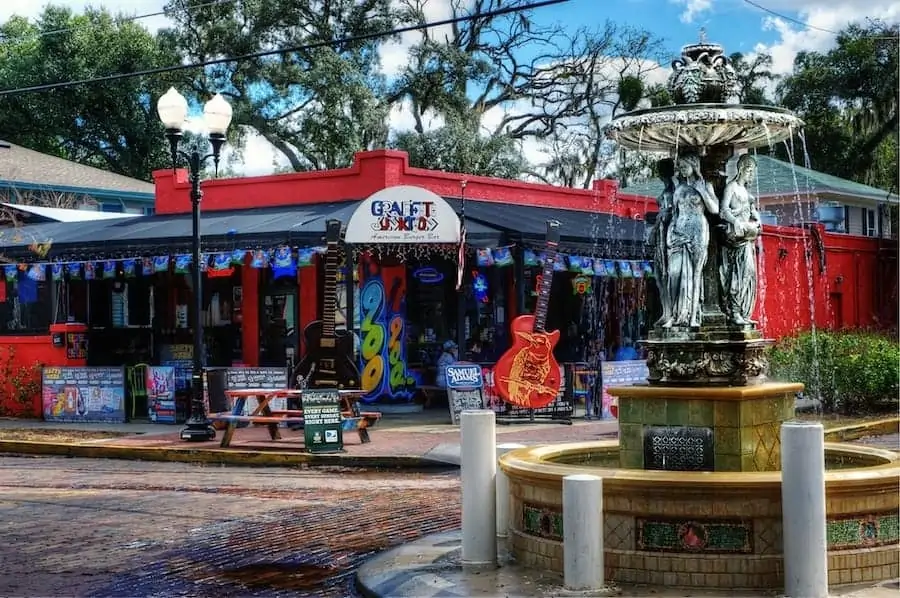 Graffiti Junktion is bright, colorful, and full of wanna-be hipsters who hang out in Thornton Park.  If you can get past that obstacle, then I'd say it's worth checking out.  There's no parking, except what you can find on the street.  Whichever parking space seems convenient to you, trust me, it's already taken unless you're one of those wanna-be hipsters who shows up on a scooter and just blocks the sidewalk with it.  Otherwise, I'd suggest you pay attention to the signs at surrounding businesses that say No Parking. They mean it.  Downtown Orlando is notorious for tow-truck drivers who will either boot your car or tow it away within moments of your illegal parking.
No matter how you arrive, don't expect a fine dining establishment.  This is a place that seems to pride itself on being a dive-joint in an expensive neighborhood.  You can sit on benches outside or sit on benches inside.  Either way, they'll have colorful graffiti pained on them.  Service seemed slow, but friendly.  Don't plan on getting in and out quickly.  This is a place where you chill out and listen to the overplayed music on the jukebox.  Yes, you hear Poker Face about three times during your meal because the wanna-be hipsters are all about the Gaga.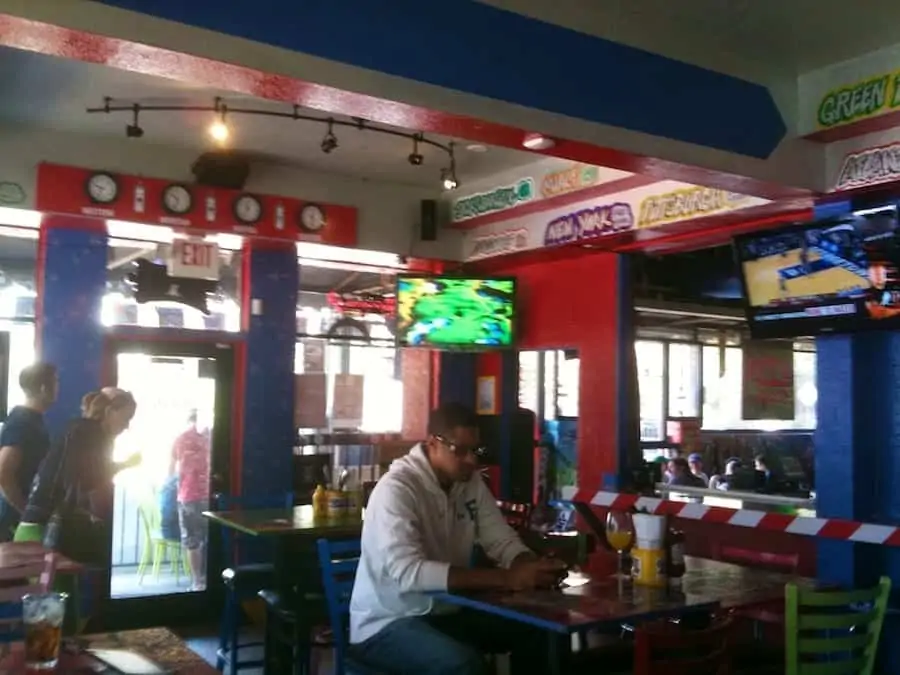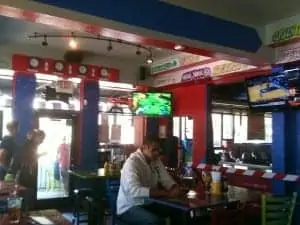 Enough about the colors and the patrons.  This place has two things going for it – alcohol and burgers.  Note the sign definitely says burger bar.  Yes, you can probably find other stuff to eat here, like zucchini fries.  Ignore those items, as they're only hear for the vegetarian wanna-be hipsters who think it's somehow healthier to fry zucchini instead of a potato.  Get a burger and fries.
There are plenty of specialty burger options on the menu. It's reminiscent of delis that have names for sandwiches that make absolutely no sense. It doesn't hurt to check them out and see if there's a combination of toppings you may like, but had never previously considered.  That sort of thing generally doesn't work for me because I'm a picky son-of-a-bitch. Even so, they had sufficient options to please my taste. I could get a multigrain bun instead of the usual roll.  They had deli mustard to bring out instead of just using the plain yellow crap on the table. They even gave me a choice to sauté my onions instead of getting them raw, but I'm not one of those fucking wanna-be hipsters.  I got my onions raw.
Despite telling my server what I wanted on my burger, he still brought it out with toppings I didn't want, including lettuce, tomato and sliced pickles. At least he didn't put mayonnaise on the thing, so it was easy to fix.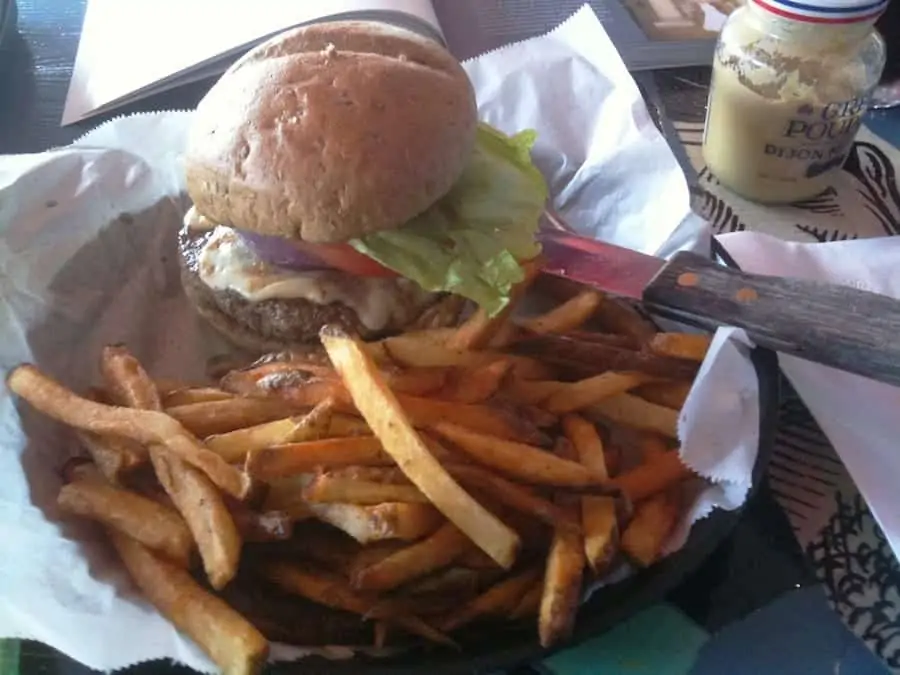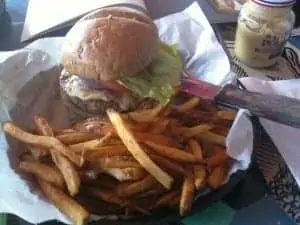 Basically, it's a pretty damn good burger and fries.  Is it the best in Orlando?  Some people will think so, and some won't.  The good news is that it's not overpriced.  I got a good sized burger, plenty of fries and a Coke for $10.  I've paid more for worse.  This is a trend that I actually like – better burgers for less money.  Yes, you can go to the Ritz-Carlton and have a burger almost good enough to give you an orgasm, but you're going to pay like it's the Ritz-Carlton.  Visit Graffiti Junktion or Morgan's Burger Bistro (Sanford) and you'll get a really good meal for a lot less.
Speaking of which, I think I have to give the edge to Morgan's Burger Bistro for taste of the food, but the overall vibe in Graffiti Junktion is more interesting than Morgan's, which is effectively like eating in Floyd's Barbershop in Mayberry.
Graffiti Junktion is worth checking out if you're in the mood for a good burger in a wanna-be hipster environment.  The people I saw were smiling and seemed to enjoy the place as much as I did.  Maybe you will, too.
Grafitti Junktion
900 East Washington Street in Thorton Park Orlando, FL 32801 Phone: (407) 426-9503 To-Go: (407) 426-9503 Fax: (407) 426-9502