Tommy Bahama Restaurant Review
Tommy Bahama Restaurant
Atmosphere

Service

Food Quality

Comfort

Price
Pros
Excellent Food
Outstanding Service
Consistent Quality on Every Visit
Great Cocktails
Never Feel Rushed
Cons
Booth Seating Lacks Cushions
Permanently Closed
Tommy Bahama Restaurant closed its restaurant and store at Point Orlando and moved to Disney Springs. The store still exists there, but they closed the restaurant. The closest Tommy Bahama Restaurant now is in Naples, FL.
Our Tommy Bahama Restaurant Review
Let's cut to the chase of our Tommy Bahama Restaurant review. Tommy Bahama Restaurant at Point Orlando on International Drive is one of Orlando's gems. It's an upscale restaurant with a casual, tropical atmosphere that consistently delivers excellent food and great service.
We visit Tommy Bahama's Restaurant about 3 or 4 times per year. The tropical atmosphere is relaxing and inviting. The restaurant manages to combine casual and upscale at the same time. The furniture is high quality, but not ostentatious.
The only complaint I can find during our Tommy Bahama Restaurant review is that the booth seats are hard benches. No padding for your bottom. The outdoor seats and regular seats have padding, but not the booths. It's not the end of the world, but it's enough to make me shift around a few times during my meal.
That aside, everything else is fantastic and why we keep returning.
We find consistent quality and service at Tommy Bahama. There's never been a time we had to return something to the kitchen, or that the taste was different than we experienced on a previous visit. From the bar to the kitchen, everything we order is consistent and high quality.
The service staff is the real delight here. We've always found the servers to be friendly, very knowledgeable and never pushy. Some restaurants have ways of letting you know if they think you've overstayed your welcome. That hasn't happened to us at Tommy Bahama.
It's not that we like to hog a table, but we enjoy a Southern pace when visiting here. There's no need to rush through your meal and we like that courtesy.
Excellent Cocktails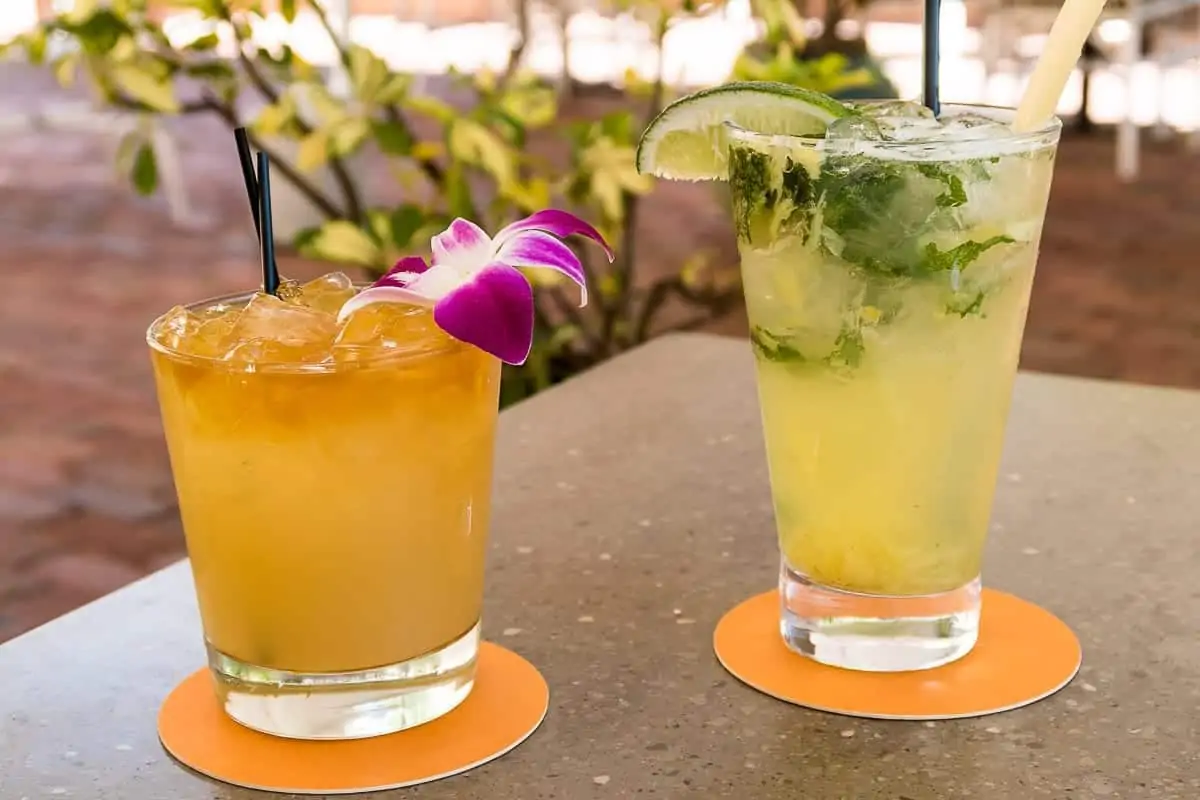 Tommy Bahama has a great list of wines, cocktails and some non-alcoholic concoctions available from the bar. We tend to prefer rum drinks when dining here, and they're wonderful.
You can order a regular or pineapple mojito from the bar. The drink on the right is the pineapple version. It's crisp and refreshing. You even get some raw sugarcane to stir your drink.
I've tried mojitos at bars around the world, but none of them have ever been as good as the mojitos at Tommy Bahama. In my mind, it's a must-have cocktail.
On the left is the Mai Tai with a dark rum floater. It's smooth, delicious and full of tropical fruit flavors.
Tempting Appetizers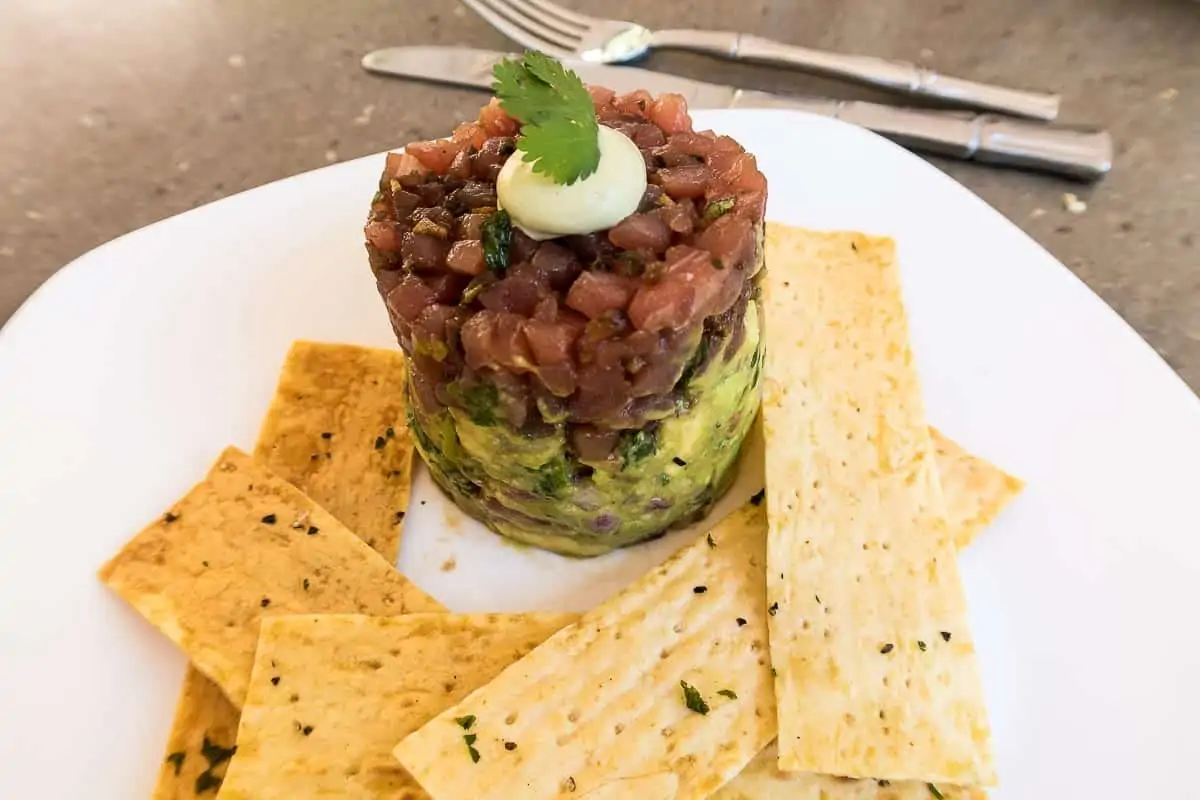 The food quality starts with the appetizers. Above is the Ahi Poke Napolean. It's a delicious tuna with an avocado/guacamole base. It seems a bit thicker than guacamole, but there's more in it than just avocado. While it may look smaller than you expect, it's actually quite dense and filling.
One of my other favorites is the Coconut Shrimp appetizer. I don't even like coconut, but I insist upon ordering this on every visit. The flavors of the shrimp, coconut and tropical fruit sauce are savory and delicious. It also comes with slaw in the center, which is fresh and not loaded with mayonnaise.
Entrées at Tommy Bahama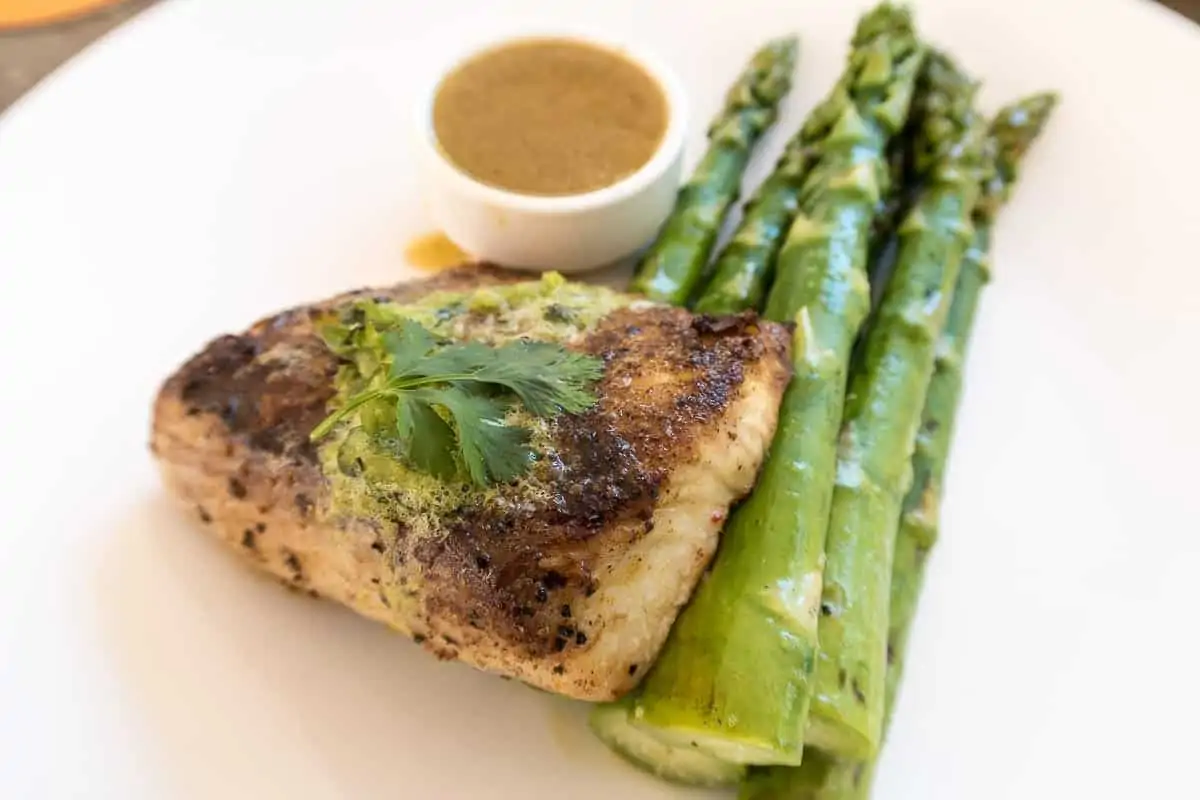 You can get a burger and fries, but I prefer something a bit different when I visit. Above is the grilled Mahi-Mahi dish with asparagus. The fish is tender, moist and delicious. It has a good rub and includes a citrus complement.
You also get two sides, which I decided to substitute on a recent visit. The grilled asparagus is thick, tasty and also has a citrus flavor that really works. Being a picky eater, I went with a safe choice of fries (below). They're fresh and perfect.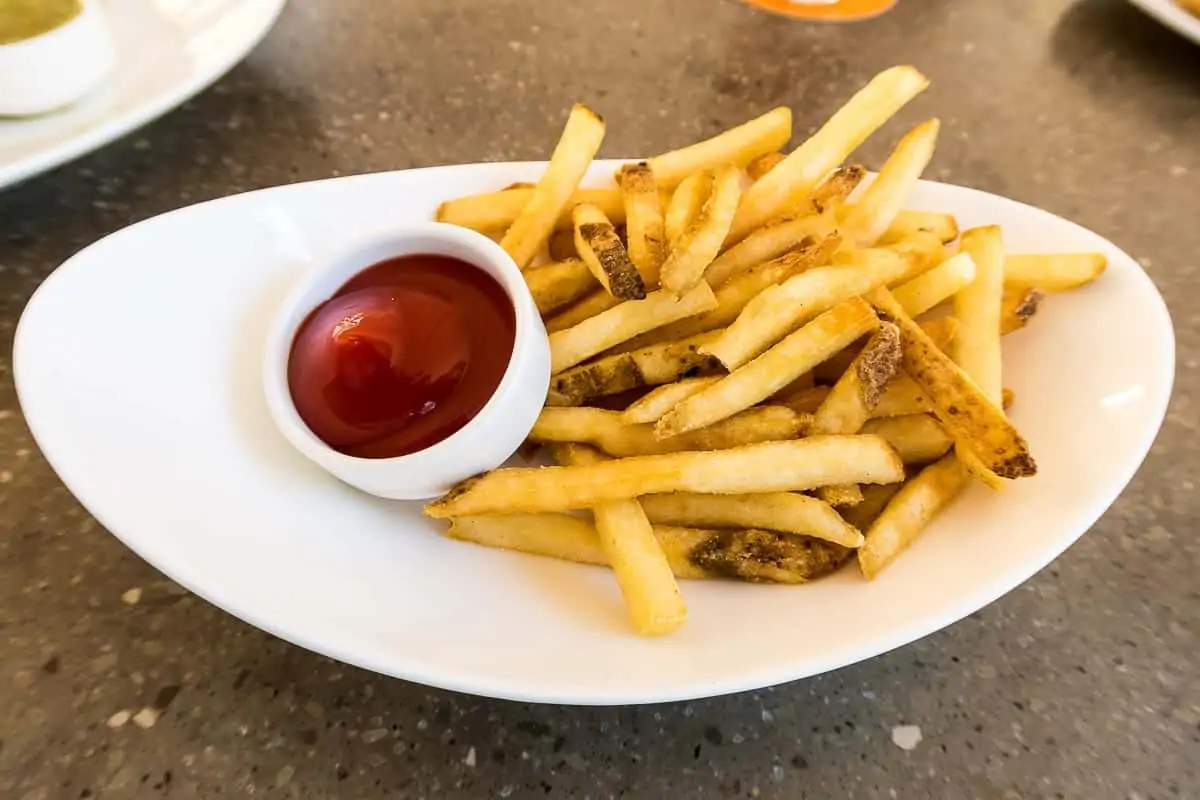 Don't Forget Dessert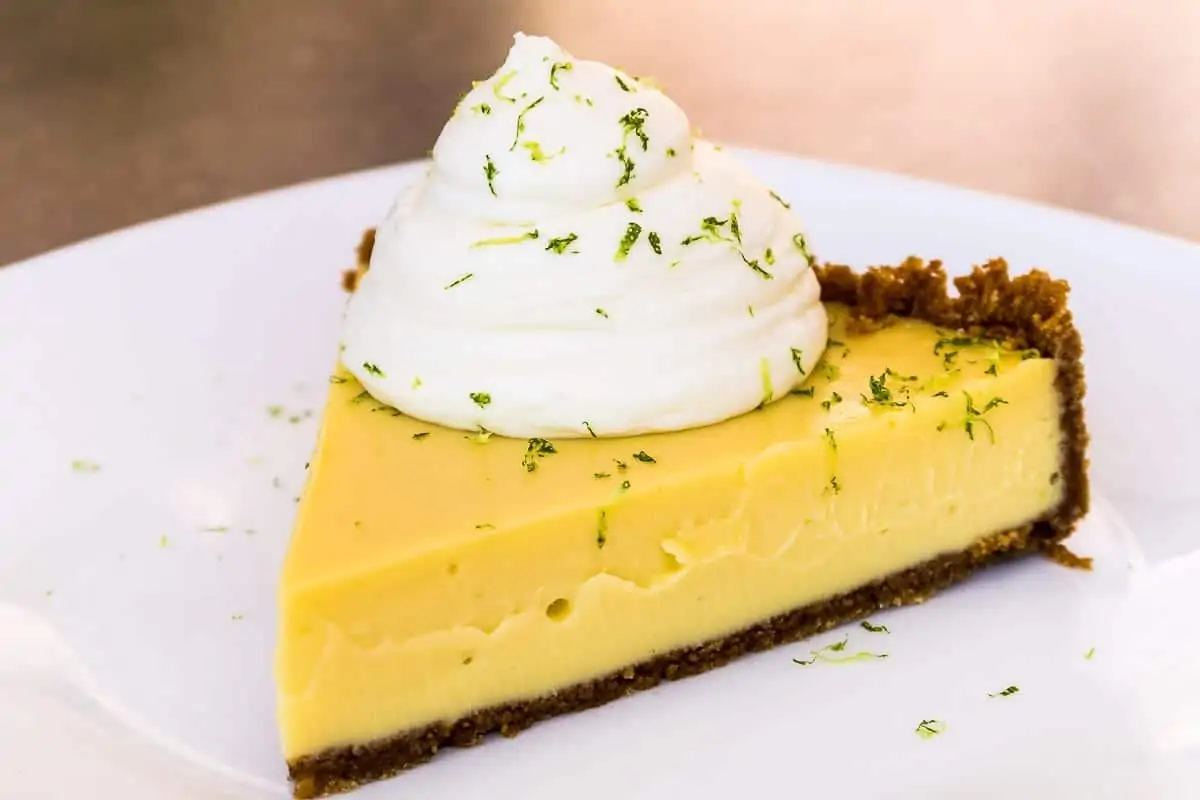 Tommy Bahama Restaurant has five desserts. We chose the graham cracker crusted Key Lime Pie on our recent trip.
Be sure to watch the video to see the rest of the desserts. Your server comes out with a tray including each dessert in a beautiful presentation and describes each one for you.
Valet Parking Validated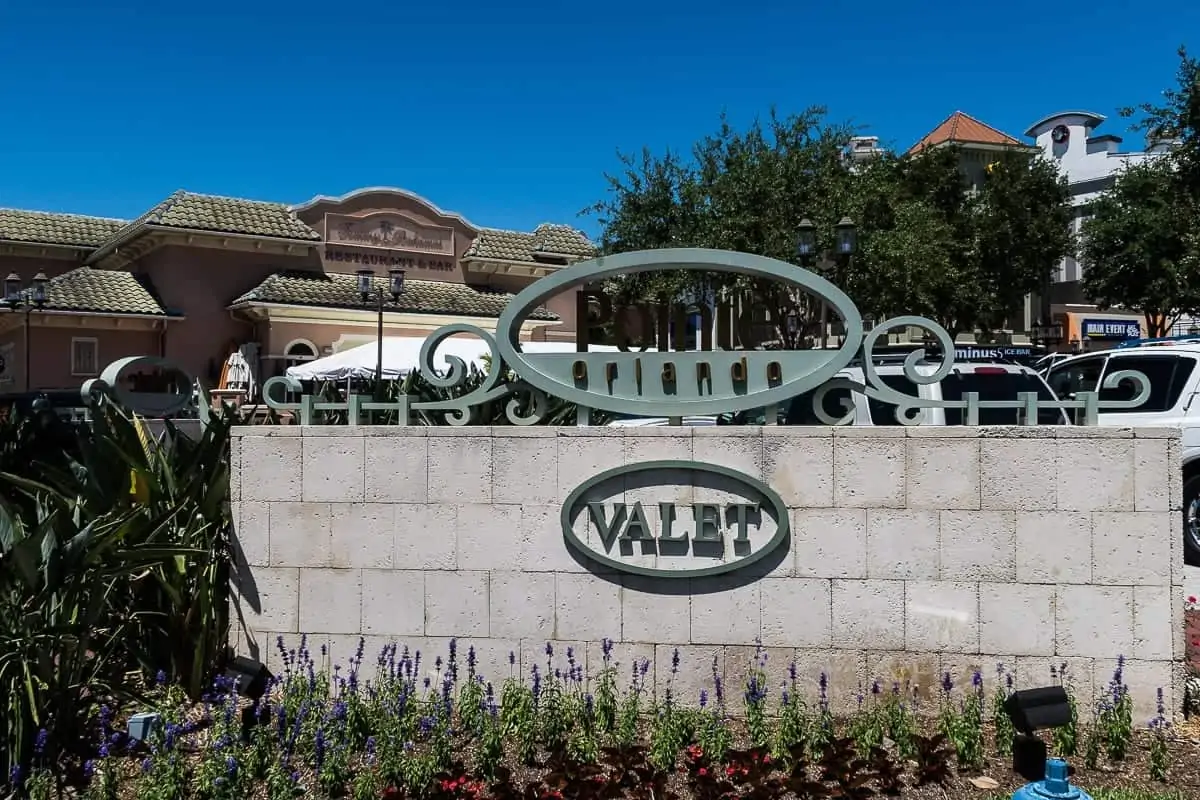 There are two ways to park at Pointe Orlando. You can pay for a parking garage on the far end away from Tommy Bahama, or you can pull into the valet right next to the restaurant.
Make sure you give your ticket to your server to get it validated. You get free valet parking when you dine at Tommy Bahama Restaurant. Just don't forget to tip your valet.
Tommy Bahama Restaurant Review Video
Get Free Updates of The Orlando Local Show
Discover More Episodes!