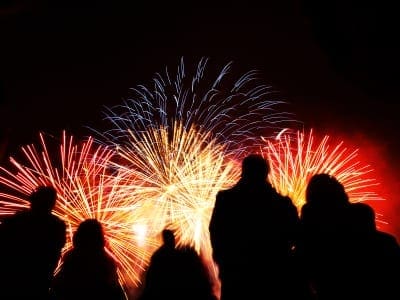 Are you sure you know Florida's Fireworks Laws? Around this time of year, those fireworks stands start popping up and sell cases of fireworks, so it must be legal.  Right? Your neighbors are shooting off explosives. Almost everyone is doing it, so it must be legal. Right?
Why go spend hours in a crowded park waiting for a show when you can get a Buy One-Get One package from a fireworks dealer? That's literally twice the bang for the buck! They wouldn't sell those fireworks if it was illegal.  Right?
The fireworks stores have you sign a waiver to make everything legal, so no worries.  Right?
Well, yes and no.
Here's What Florida Fireworks Laws Permit
When you walk into the fireworks store (or stand), you see crates and boxes with cool names like Barely Legal, Lock and Load, and Tropic Thunder. There are specialty kits for a Aerial Avalanche and a Finale Spectacle. Unfortunately for you, Florida Fireworks Laws only permit you to buy items classified as Sparklers. Remember those little sticks you light and sparks fly off, occasionally burning your wrist?  As a kid, you'd run around and wave them in circles. That's still all you're really allowed to have. You can buy fountains, snakes and glow worms – they're classified as sparklers. To be fair, you can buy anything they sell. The problems come around when you try to use the fireworks.
Lighting anything larger than a sparkler for the purpose of putting on a show without a permit is a misdemeanor in Florida.  You may face up to a $1,000 fine and a year in jail.
The fireworks store may ask you to sign a waiver if you buy anything above a sparkler.  That waiver isn't for your benefit and doesn't give you a permit to use the fireworks. If you take the time to read it, you'll see it exists only to protect the fireworks vendor by declaring that you only intend to use the fireworks for a legal reason.  If you go ahead and use them for an illegal reason, you're on your own.
What is a Legal Reason to Use Fireworks in Florida?
There's a bit of a loophole in the law. If you own a farm or fish hatchery, you're permitted to use fireworks to scare off animals. Apparently, a great many animals need to be frightened away on New Year's Eve and the Fourth of July. Using that excuse in Baldwin Park may not be very convincing if the cops stop to question you about your explosives, though.
Other than the potential for fines and jail, consider your neighbors. Some of them actually like living in peace & quiet.  I know I do.  Unfortunately, I also know my redneck neighbor will be illegally discharging fireworks from his back yard well past midnight.  He doesn't care if anyone is trying to get some sleep or if the explosions frighten the neighborhood dogs. After all, he's a redneck. Thinking isn't required.
A much better way to celebrate with some great fireworks is to go see a show.  Altamonte Springs puts on a concert and outstanding fireworks show with Red Hot & Boom at Cranes Roost Park. It's on July 3rd this year.  Most people have Independence Day off from work, so they can stay up to watch the show and then sleep a bit longer on the holiday.
The event starts at 4:00pm, but you ought to get there early if you want to get a prime spot. They don't allow coolers, personal fireworks or pets.  It happens rain or shine and the fireworks show itself is expected to be 25 minutes long.  When you think how much you'd have to pay, and the potential fine if you get caught, it seems like a no-brainer to go see a professional fireworks show.
Not to mention that your neighbors who stay home will appreciate the peace & quiet.