Keke's Breakfast Cafe
Start YOUR day right at Keke's Breakfast Cafe
Keke's Breakfast Cafe is one of our favorite places to get breakfast in Orlando. There are several locations and we find them to be pretty consistent.
Atmosphere -

90%

Service -

90%

Food Quality -

100%

Parking -

100%

Price -

100%
Pros
Great Food
Comfortable Seating
Ample Parking
Reasonable Price
Cons
May Have a Wait
Somewhat Loud When Busy
Keke's Breakfast Cafe is one of the better breakfast restaurants in Orlando. We mentioned them in our roundup of restaurants in episode 14 of The Orlando Local Show. We decided it deserves a full review of by itself.
Keke's Breakfast Cafe: A Florida Breakfast Chain
A few years ago, I started hearing a buzz about this place called Keke's. Everyone raved about breakfast at Keke's. At first, I didn't pay much attention because I had some really good breakfast spots close to home. Keke's was a bit of a drive, and I wasn't sure that I wanted to go on a road trip to take a gamble on breakfast.
As luck would have it, we had some friends visit from the UK and they rented a villa in Hunter's Creek. When they asked us to meet them over breakfast, I suggested we visit Keke's location in Hunter's Creek.
We had a bit of a wait, but that didn't surprise me. If you aren't waiting for breakfast in a popular location, you probably don't want to eat there.
There are a lot more Keke's Breakfast Cafe locations now, from Gainesville to West Palm Beach. Most of them seem to be around Central Florida, so there are plenty of options to visit in and around Orlando.
Clean, Inviting Atmosphere
Keke's Breakfast Cafe has a casual, modern interior. The seating seems to be all booths, each with a partition that raises up to keep your privacy intact. The aisles are wide, so you don't have to squeeze past someone else to get in or out of your table.
The ceilings are pretty high, and there is plenty of room noise when the place is busy. Despite that, the booths do a good job of separating discussions and I've never been distracted by the sound. You can have a conversation at your table without shouting over the din of others.
The place is clean and comfortable. The service from the hostess and servers are great. We're happy to say that we've never had a bad experience with service or food quality.
The one caveat was a recent trip where the server was a bit too obvious about wanting to turn over the table. We generally don't linger at our table once we're done eating (though the visit with our UK friends was an exception), but we also won't be rushed through our meal.
Fortunately, this was an exception and not our general experience.
Outstanding Breakfast Food
Let's face it, there are a lot of places to get a fast-food breakfast. There aren't quite so many places to get a quality breakfast meal in a comfortable environment. That's part of why we see people waiting at Keke's Breakfast Cafe. It's like a breakfast oasis in a sea of mediocrity.
We have our favorite meals at Keke's, but there's much more to the menu.
Lee's Favorite: Florida Pancakes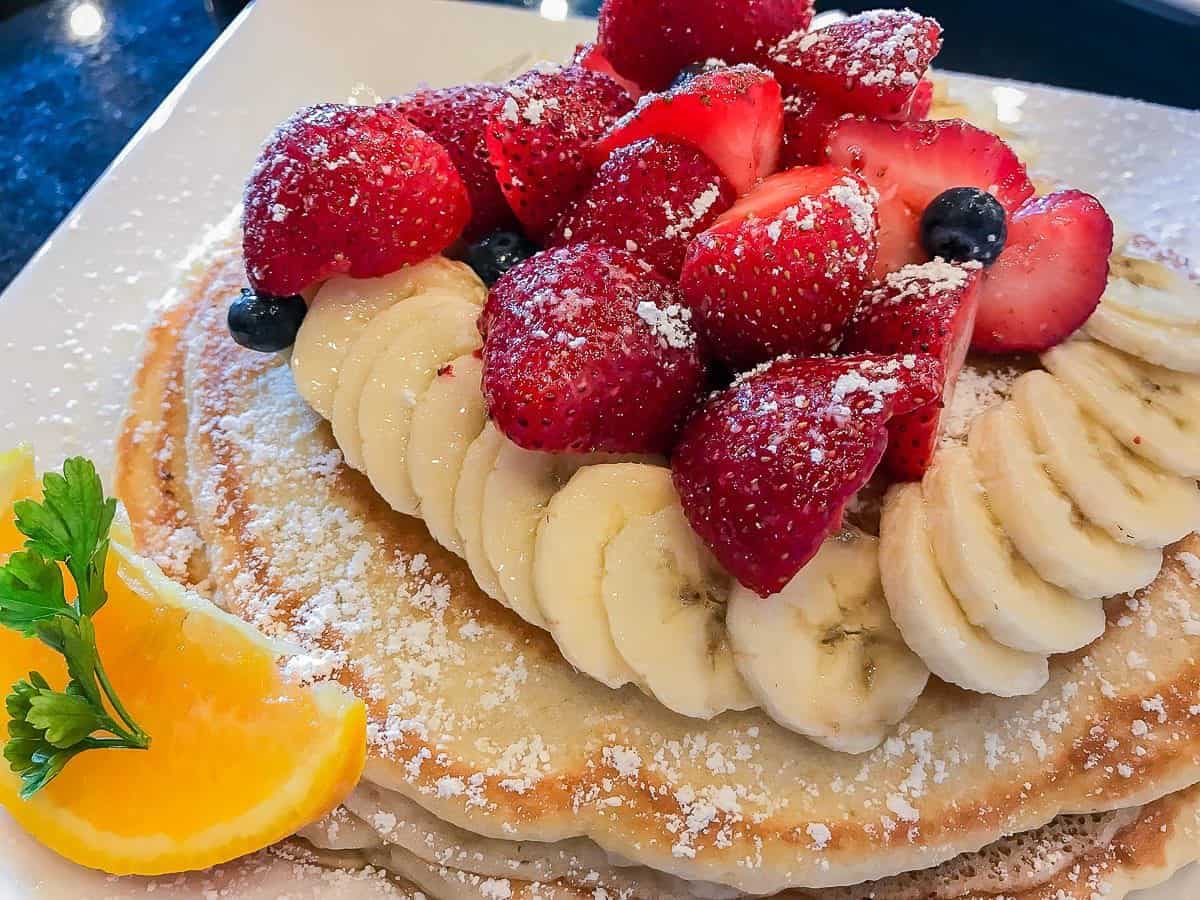 The pancakes are large, we estimate about eight inches in diameter. Typically you get a stack of three, which is a really decent serving. Lee doesn't have that big of an appetite, so we're glad there is an option to downsize for two pancakes in the stack.
As you can see, it's covered with fruit – bananas, strawberries and blueberries – all very fresh. There's a light dusting of powdered sugar on top of the pancakes, too.
The Florida Pancakes are just one option. You can get them with chocolate chips, banana nut, pecans, granola crunch, blueberry, or just plain buttermilk pancakes. They are delicious.
Tovés Favorite: Strawberry Waffle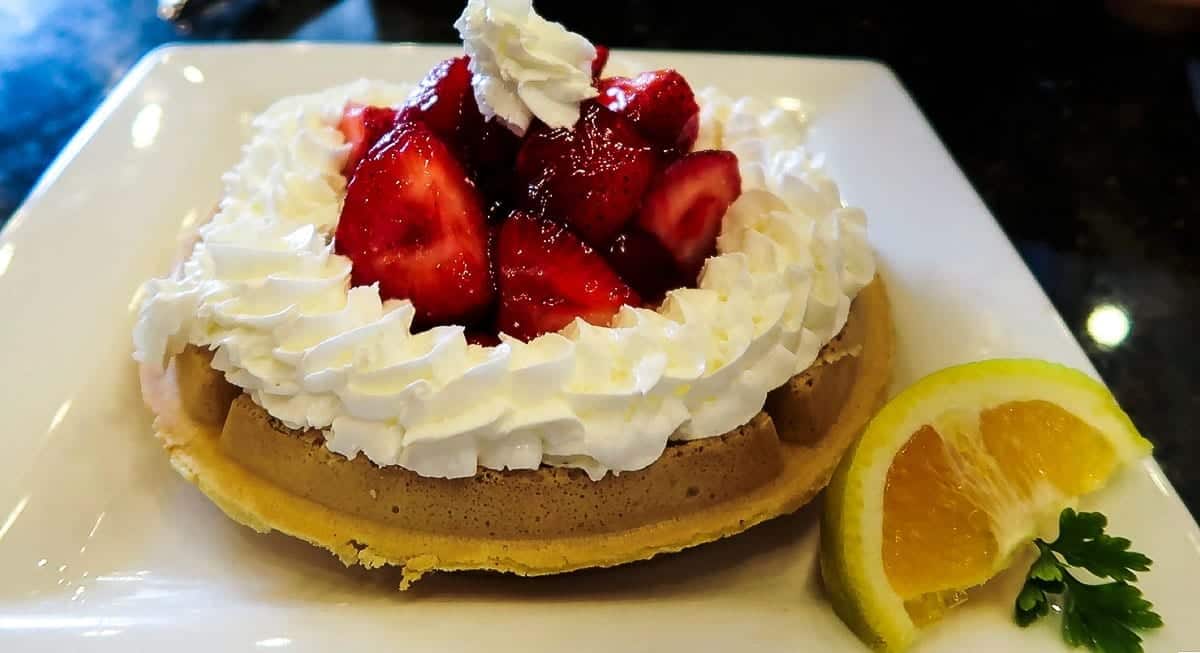 Start with a really good Belgian waffle. Pour on some strawberries in glaze, and circle it with whipped cream. That's what our daughter gets every time we visit.
You can get the Strawberry Waffle without the glaze or the whipped cream, if you prefer. There is also the option to get chocolate chip, banana nut, pecan, granola crunch, apple-cinnamon, blueberry, banana-nut-caramel, Florida waffle (see pancakes above), banana split waffle or just the plain Belgian waffle.
Keke's doesn't lack for options.
William's Favorite: Create Your Own Combo
My idea of breakfast is pretty simple. I want scrambled eggs, bacon and potatoes.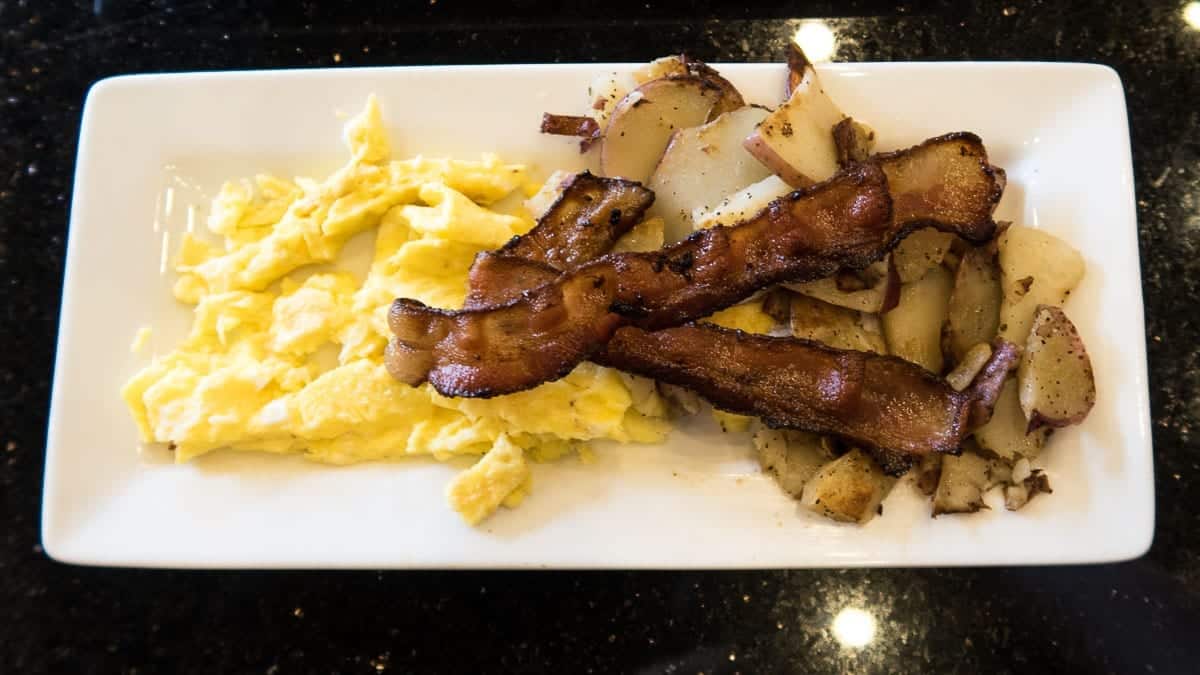 That's where I start. Then I want something else. Sometimes it's a biscuit. If I have one disappointment with Keke's, it's that there isn't a biscuit on the menu.
In the south, that's almost blasphemy.
Still, I enjoy breakfast here. In fact, I tell myself that maybe it's better not to have a biscuit than to have a disappointing biscuit. Maybe they just don't have a recipe that they can replicate at every location. I'll keep telling myself that's why there's no biscuit.
So, I choose an alternate.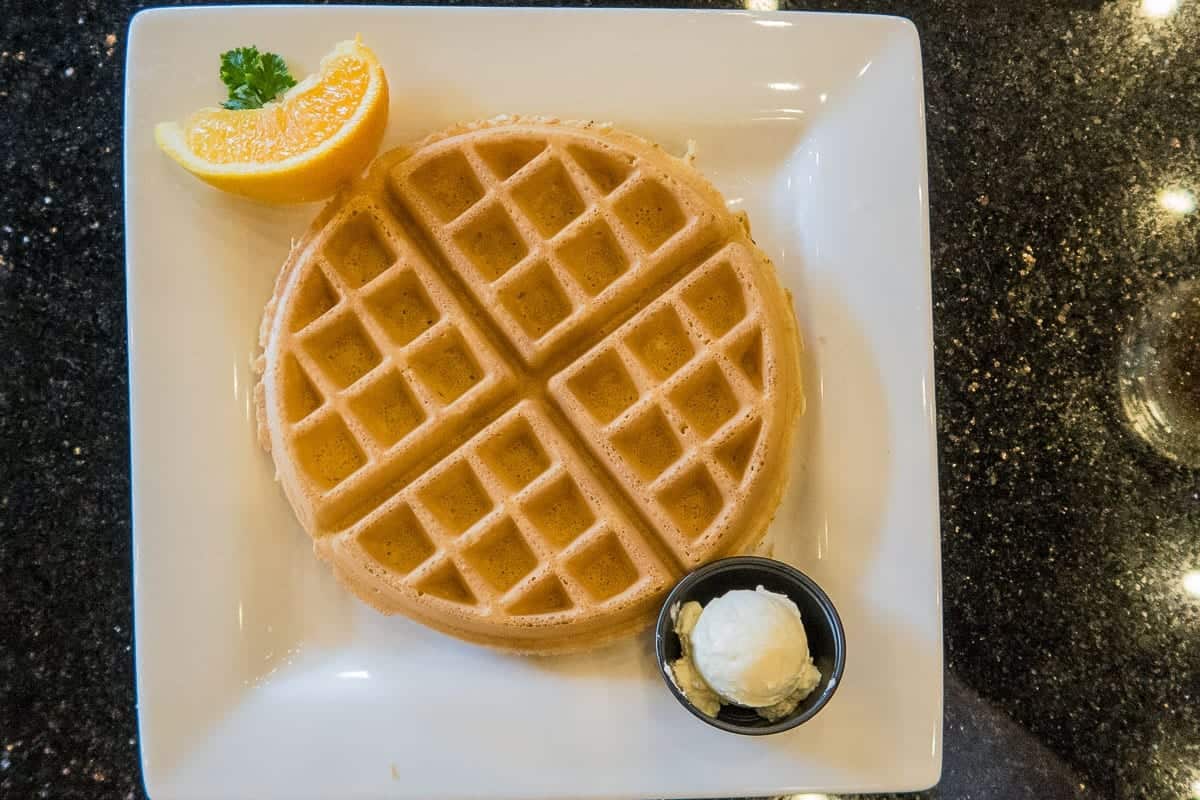 When you get a side waffle at Keke's, it's a full sized waffle. Same with the French Toast. Thick cut and delicious. The side pancake in the combo is just one pancake, but it's as big as this waffle. They also have silver dollar pancakes if you want something smaller.
More Than Just Breakfast at Keke's Breakfast Cafe
When you put the word "breakfast" in your business name, it sends a strong signal what folks should expect. Keke's serves breakfast from 7:00 AM to 2:30 PM every day except Thanksgiving and Christmas.
However, there's always a chance someone in your party doesn't want breakfast.
For those folks, Keke's also has a lunch menu. They have a variety of paninis served kettle chips and a pickle spear. Everyone else gets breakfast, though.
Breakfast is the main course at Keke's. It's what you want. It's why you go. We really recommend a visit to Keke's Breakfast Cafe.