Keke's BREAKFAST Cafe Review: Start YOUR Day Right
Keke's Breakfast Cafe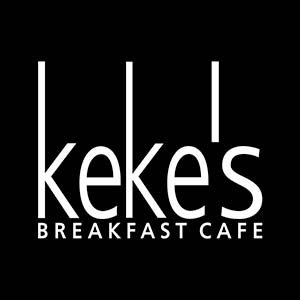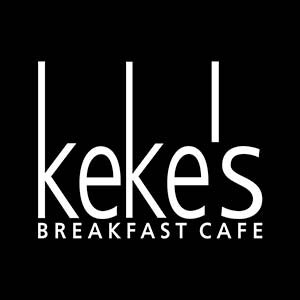 Restaurant Name: Keke's Breakfast Cafe
Restaurant Description: Keke's Breakfast Cafe is one of the best breakfast spots in town. The food is delicious and the service is excellent. The restaurant is always busy, but the staff is always friendly and accommodating. Keke's has a wide variety of breakfast items on the menu, so there's something for everyone. The menu items are also reasonably priced, making Keke's a great value for your money. Whether you're looking for a quick bite before work or a leisurely weekend brunch, Keke's Breakfast Cafe is sure to please.
Price range: $10 - $20
Address: 4225 W. Lake Mary Blvd, Lake Mary, FL 32746
Cuisine: Breakfast
Telephone: 407-878-4168
Start YOUR day right at Keke's Breakfast Cafe
Keke's Breakfast Cafe is one of our favorite places to get breakfast in Orlando. There are several locations and we find them to be pretty consistent.
Atmosphere

Service

Food Quality

Parking

Price
Pros
Great Food
Comfortable Seating
Ample Parking
Reasonable Price
Cons
May Have a Wait
Somewhat Loud When Busy
If you're looking for a great breakfast spot in town, Keke's Breakfast Cafe is well worth checking out. The food is delicious, the service is friendly and efficient, and the prices are very reasonable. I definitely recommend giving Keke's a try!
Keke's Breakfast Cafe is one of the better breakfast restaurants in Orlando. We mentioned them in our roundup of restaurants in episode 14 of The Orlando Local Show. We decided it deserves a full review by itself.
Keke's Breakfast Cafe: A Florida Breakfast Chain
A few years ago, I started hearing a buzz about this place called Keke's. Everyone raved about breakfast at Keke's. At first, I didn't pay much attention because I had some really good breakfast spots close to home. Keke's was a bit of a drive, and I wasn't sure that I wanted to go on a road trip to take a gamble on breakfast.
We had friends visit from the UK and they rented a villa in Hunter's Creek. When they asked us to meet them over breakfast, I suggested we visit Keke's location in Hunter's Creek.
We had a bit of a wait, but that didn't surprise me. If you aren't waiting for breakfast in a popular location, you probably don't want to eat there.
There are a lot more Keke's Breakfast Cafe locations now, from Gainesville to West Palm Beach. Most of them seem to be around Central Florida, so there are plenty of options to visit in and around Orlando.
Clean, Inviting Atmosphere
Keke's Breakfast Cafe has a casual, modern interior. The seating seems to be all booths, each with a partition that raises up to keep your privacy intact. The aisles are wide, so you don't have to squeeze past someone else to get in or out of your table.
The ceilings are pretty high, and there is plenty of room noise when the place is busy. Despite that, the booths do a good job of separating discussions and I've never been distracted by the sound. You can have a conversation at your table without shouting over the din of others.
The place is clean and comfortable. The service from the hostess and servers are great. We're happy to say that we've never had a bad experience with service or food quality.
The one caveat was a recent trip where the server was a bit too obvious about wanting to turn over the table. We generally don't linger at our table once we're done eating (though the visit with our UK friends was an exception), but we also won't be rushed through our meal.
Fortunately, this was an exception and not our general experience.
Outstanding Breakfast Food
There are a lot of places to get a fast-food breakfast. There aren't quite so many places to get a quality breakfast meal in a comfortable environment. That's part of why we see people waiting at Keke's Breakfast Cafe.
Another one of the benefits of going out for breakfast is that we can each order something completely different and it all comes out hot and fresh.
Try doing that at home for a family. Breakfast is the kind of meal that you practically need a team to cook everything correctly, then time it perfectly, and plate it properly so everyone gets the right thing at the same time.
Honestly, that's why we keep things simple at home during breakfast. It's too much work! That's where a place like Keke's Breakfast Cafe pay dividends in simplicity and service. Serving food is a tough job in both the kitchen and the front of the house, so we appreciate a restaurant that does breakfast so well.
We have our favorite meals at Keke's, but there's much more to the menu.
1: Eggs for Everyone!
I'm the only one in our family who likes eggs. Lee can't stand them at all and Tové says she doesn't like them, though I do see her cooking omelets at home.
Whether you want them served traditionally or poached, Keke's has you covered.
2: Omelets Galore
I'll be honest, omelets aren't my thing. The only flavor I want to be mixed with the flavor of an egg is bacon. It'd be nice if they could serve that on a biscuit, but there are no biscuits here.
Here's a rundown of the omelets available.
You can also find a number of chicken omelets on the menu.
There are a couple of options to create your own omelet with vegetables or meat.
3: Plenty of Waffles
I don't recall ever seeing so many different types of waffles or toppings. They have plenty of fresh fruit toppings and a few interesting twists on a favorite dish.
4: Pancakes for Everyone
You'll see a photo below showing just how wonderful the pancakes are at Keke's. They're large, stacked, and sometimes covered with your favorite toppings.
I admit that sometimes it's hard to decide what I want. While I have my favorites, the number of choices makes for a good excuse to go back and try something different.
5: Wonderful French Toast
French toast is something that I've found hit or miss at other restaurants. I know just how I like it with the right bread and correct thickness.
Fortunately, Keke gets it right on both counts and adds some options I hadn't considered.
If that's not enough, there are also options for Stuffed French Toast
6: Silver Dollar Pancakes & Other Side Dishes
Some of the meals come with side dishes like toast and home fries. However, there are plenty of optional sides.
I'm a bit surprised that sausage or bacon isn't included with some meals, but that's similar to other breakfast restaurants like Peach Valley Cafe.
7: A Word About the Coffee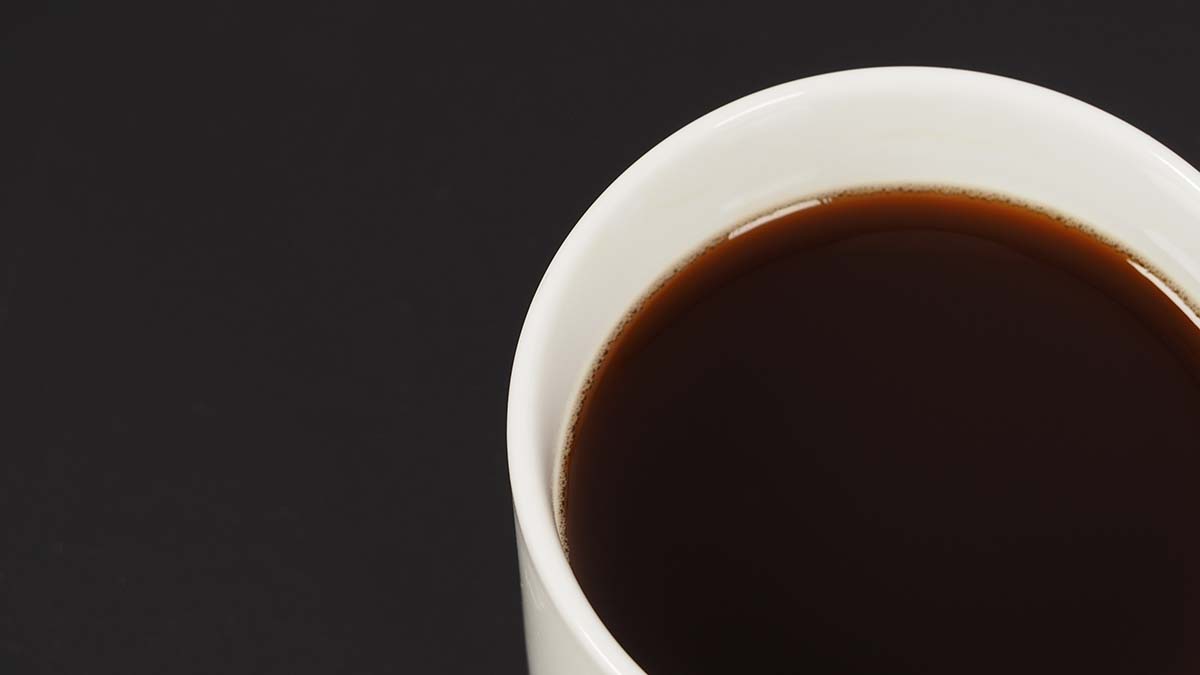 If breakfast is the most important meal of the day, some people think that coffee is the most important part of breakfast.
You get two types of coffee at Keke's.
There are other hot beverages available, most notably tea and hot chocolate. The rest of the breakfast beverages are cold with different types of juice, fountain drinks, milk, or bottled water.
Back to the coffee, we have one Keke's Breakfast Cafe location where the coffee just isn't hot, and it's like that on a consistent basis. This doesn't seem to be a problem at other locations.
The coffee has a mild body. As my wife would say, "It's weak." This is not the kind of coffee that wakes you up in the morning.
Coffee snobs, beware.
Keep in mind that Keke's Breakfast Cafe is a breakfast cafe, not a coffee bar. Don't expect exotic blends or anything fancy. It's cafe coffee. It should be hot, though.
A Review of Our Favorite Food at Keke's Breakfast Cafe
We enjoy dining at Keke's for breakfast or brunch. Despite trying multiple menu options, everyone in our family has a favorite food that we like for breakfast.
Our top concern is getting quality food that's reasonably priced and provided with friendly service. Fortunately, that's always been the case. We never had a problem that required us to call over a manager.
The staff seems well trained and they seem to have fun doing their jobs.
That makes it even easier to tip them well for a great experience.
Lee's Favorite: Florida Pancakes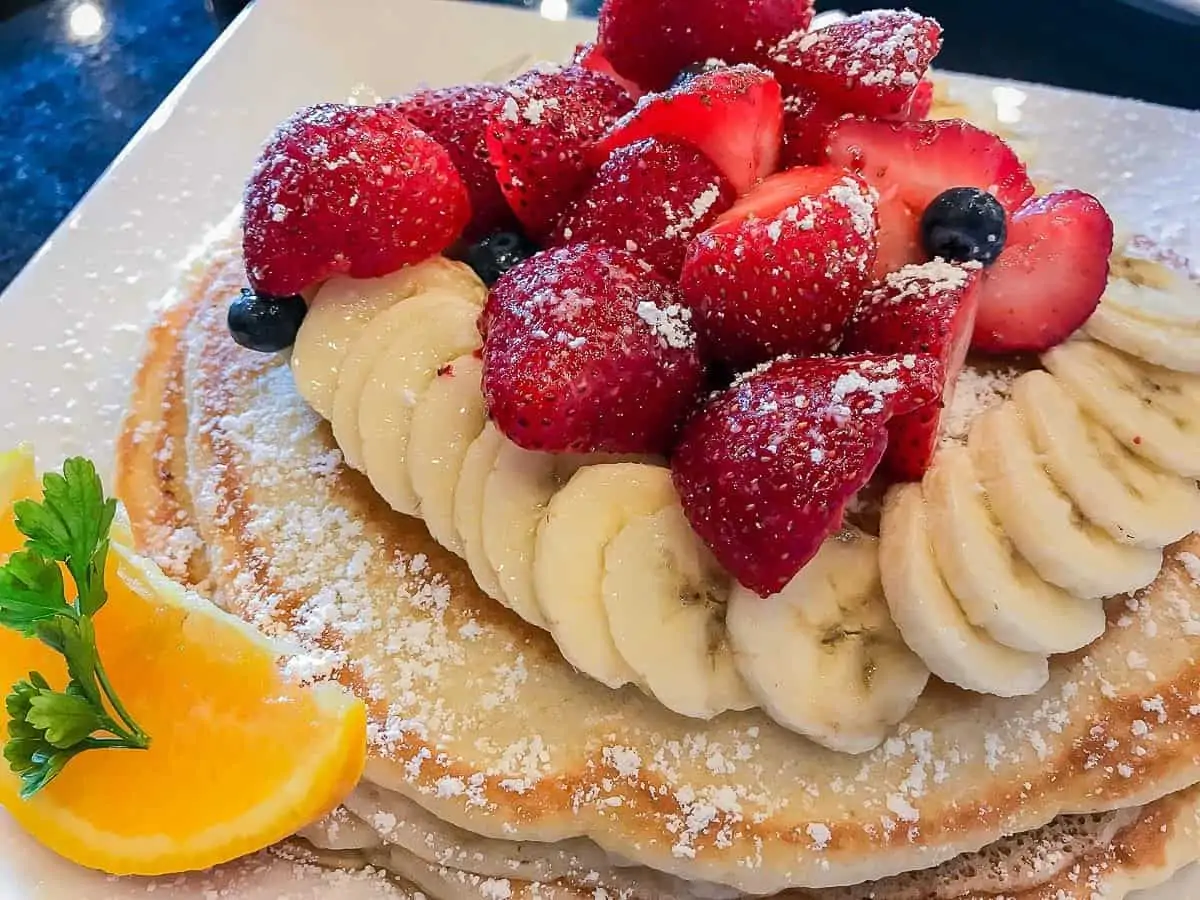 The pancakes are large, we estimate about eight inches in diameter. Typically you get a stack of three, which is a really decent serving. Lee doesn't have that big of an appetite, so we're glad there is an option to downsize for two pancakes in the stack.
As you can see, it's covered with fruit – bananas, strawberries, and blueberries – all very fresh. There's a light dusting of powdered sugar on top, too.
Tovés Favorite: Strawberry Waffle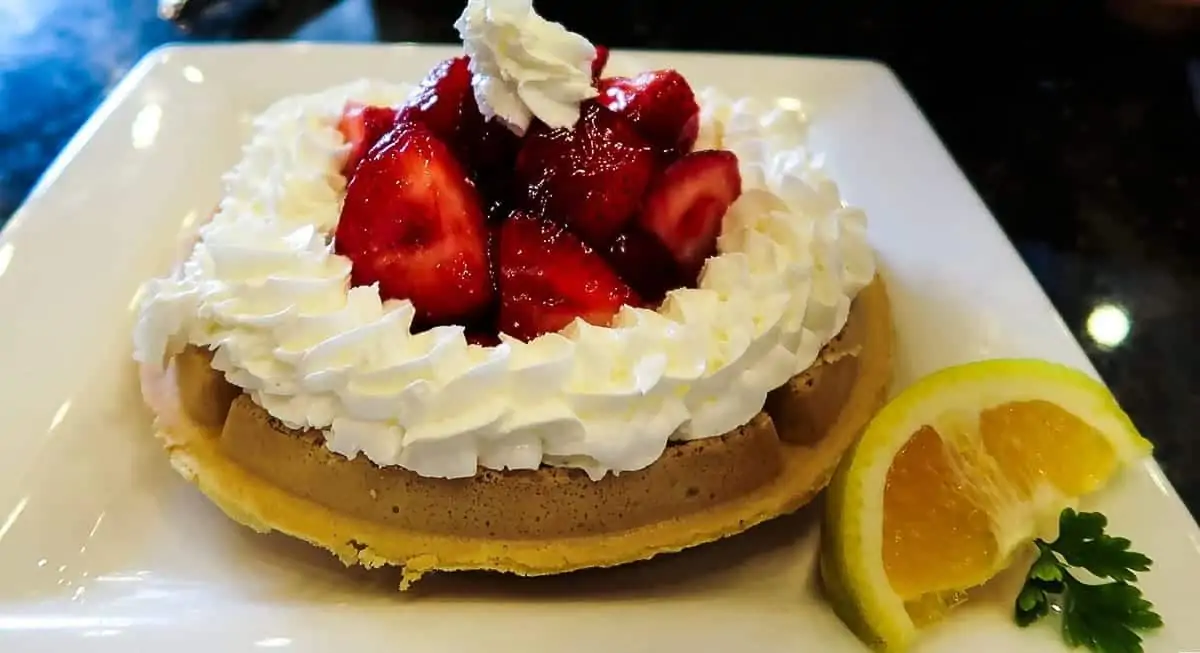 Start with a really good Belgian waffle. Pour on some strawberries in glaze, and circle it with whipped cream. That's what our daughter gets every time we visit.
You can get the Strawberry Waffle without the glaze or the whipped cream if you prefer. There is also the option to get a chocolate chip, banana nut, pecan, granola crunch, apple cinnamon, blueberry, banana-nut-caramel, Florida waffle (see pancakes above), and banana split waffle, or just the plain Belgian waffle.
Keke's doesn't lack options.
William's Favorite: Create Your Own Combo
My idea of breakfast is pretty simple. I want scrambled eggs, bacon, and potatoes.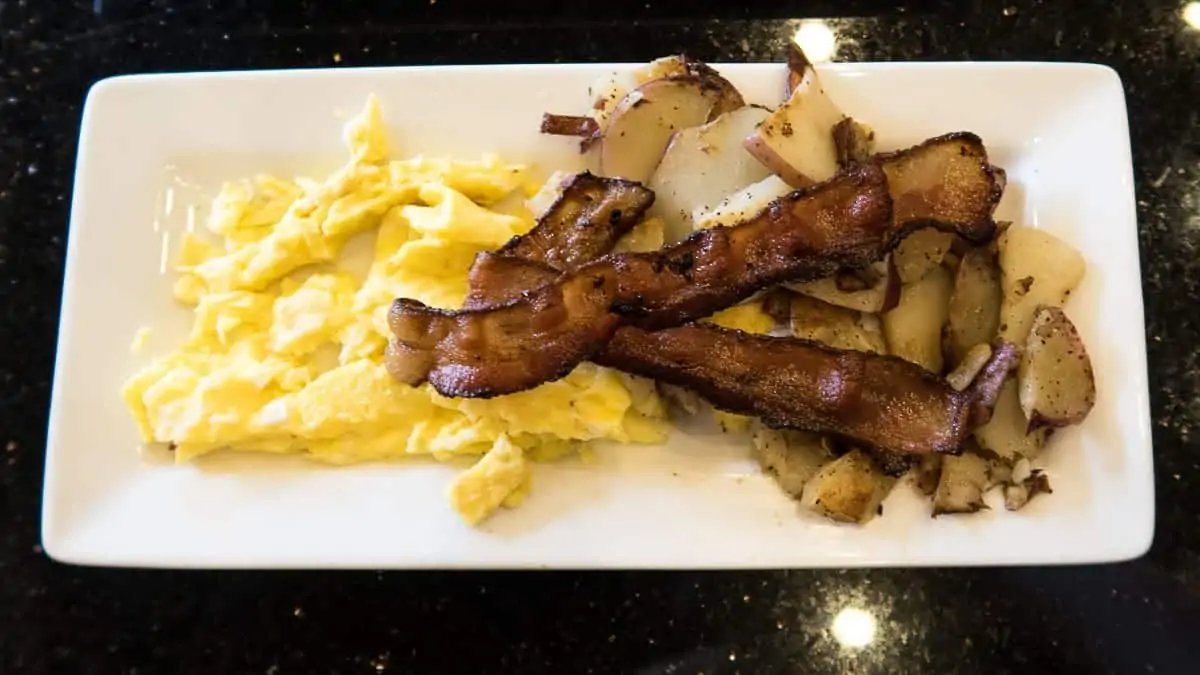 That's where I start. Then I want something else. Sometimes it's a biscuit. If I have one disappointment with Keke's, it's that there isn't a biscuit on the menu.
In the south, that's almost blasphemy.
Still, I enjoy breakfast here. In fact, I tell myself that maybe it's better not to have a biscuit than to have a disappointing biscuit. Maybe they just don't have a recipe that they can replicate at every location. I'll keep telling myself that's why there's no biscuit.
So, I choose an alternate.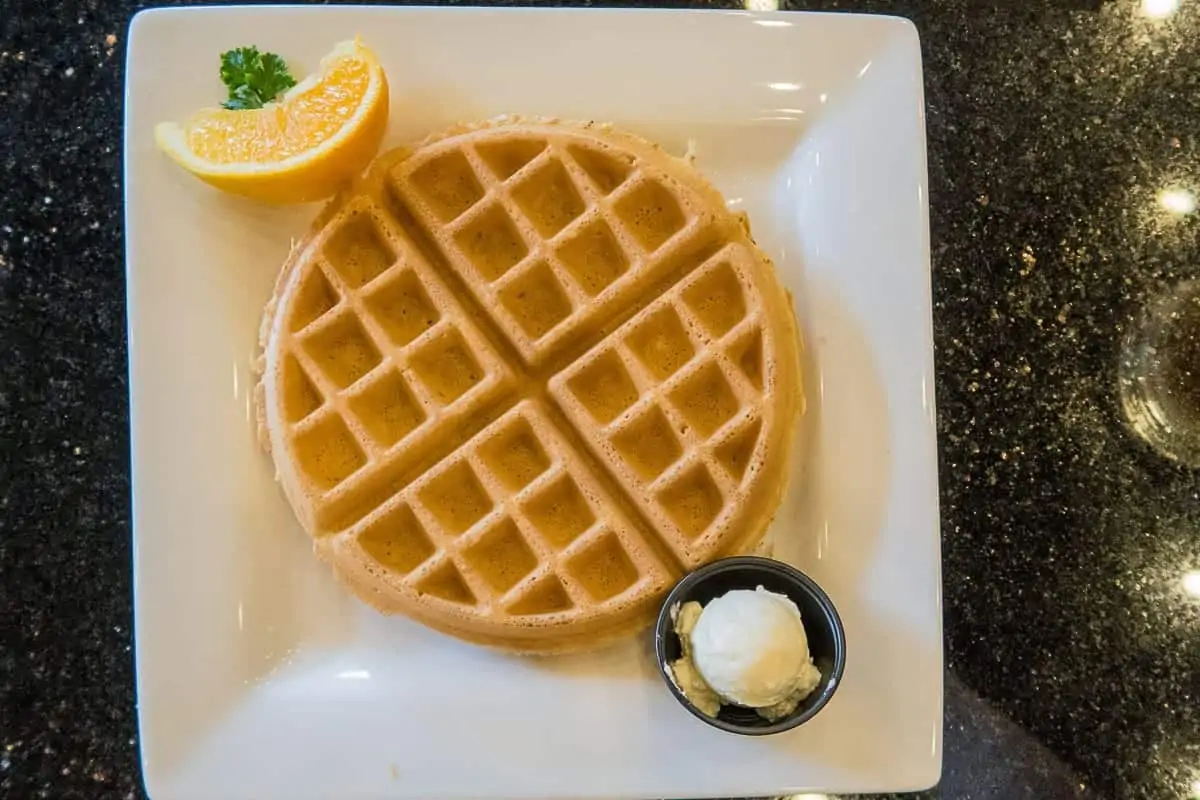 When you get a side waffle at Keke's, it's a full-sized waffle. Same with the French Toast. Thick cut and delicious. The side pancake in the combo is just one pancake, but it's as big as this waffle. They also have silver dollar pancakes if you want something smaller.
Don't Forget the Lunch Menu
Although Keke's Breakfast Cafe has the word "breakfast" in the business name and closes in the early afternoon, they also serve lunch.
Just as with breakfast, they offer a lot of options.
1: Paninis
If you're not familiar with a panini, it's a hot sandwich. They serve them on sliced ciabatta bread and grilled on the Panini press. All Sandwiches are served with Kettle Chips and Pickle Spear.
Your options include:
2: Sandwiches
Who doesn't like a good sandwich?
Well, probably me. All I want is meat and bread. However, I'm an outlier when it comes to most sandwiches. Here are some items you can find at lunch or perhaps brunch at Keke's Breakfast Cafe.
That's about it. As with the panini options, all Sandwiches are served with Kettle Chips and Pickle Spear.
3: Wraps
Although I never order a wrap, I can't help but admire the efficiency of tossing food you like on a tortilla and just rolling it up in a wrap. It's brilliant.
Wraps are prepared on a wheat tortilla (flour tortilla also available).
4: Salads
Proof that there's something for everyone, salads mean that vegetarians can still eat while everyone else eats some kind of animal.
While there are vegetarian options on the menu, I didn't notice any vegan options specifically called out.
There are a few options to top your salad and different choices of dressing.
5: Burgers
Now we're speaking my language. I enjoy burgers and there are a few options here to enjoy.
With regard to toppings, the menu says you can have as many as you like. You can also add an egg to any burger, but I have no idea why anyone would do such a thing. That's like putting pineapple on a pizza.
All Sandwiches are served with Kettle Chips and Pickle Spear.
6: Kid's Lunch
These are pretty common and safe choices for most families with small children who want something familiar.
If these don't suit a picky child (and I was one of them), there's a good chance that your waiter can help you assemble something from the menu options and ingredients.
7: Substitutions for Chips
Many of the menu choices come with chips, but you may want something else. Fortunately, they have a small list of items you can substitute for chips.
Now here's the downside. Each of those items is an upcharge from chips ranging from $2.49 to $6.49.
8: Available Side Dishes
Everything you see on the list of substitutions is available as a side dish at the restaurant. However, they charge more for a side dish and a substitution. About $1 more.
The only exception is the addition of Buffalo Tenders & Fries (which sounds more like a meal than a side dish to me) for $21.49.
When to Visit
As you may expect, weekends are particularly busy. If you have a location near hotels or conference centers, you may also expect a lot of traveling business customers who want a good meal.
Expect a wait during busy times. We've found that service is still good and the food is still great even when busy.
Lunch doesn't seem to garner as much of a crowd. Again, that may vary by location near business diners.
More Than Just Breakfast at Keke's Breakfast Cafe
Putting the word "breakfast" in your business name sends a strong signal of what folks should expect. Keke's serves breakfast from 7:00 AM to 2:30 PM every day except Thanksgiving and Christmas.
However, there's always a chance someone in your party doesn't want breakfast.
Breakfast is the main course at Keke's. It's what you want. It's why you go. We really recommend a visit to Keke's Breakfast Cafe.
Get Free Updates of The Orlando Local Show
Discover More Episodes!