Mickey's Not So Scary Halloween Party Review for 2016
Mickey's Not So Scary Halloween Party
Overall Value -

80%

Crowd Level -

20%

Price -

75%

Entertainment -

95%

Trick or Treats Candy -

90%
Pros
Atmosphere and Ambience
The cast members were great, fun and generous.
The Boo To You Parade is spectacular
We loved the HalloWishes Fireworks – Outstanding
Cons
The party seemed way too crowded for a capped ticketed event.
Adults get the short stick in the candy lines, even though we pay more.
If the crowd levels stay this high or rise, we may not return.
Welcome to Mickey's Not So Scary Halloween Party Review for 2016. We hit the first party on September 2, 2016 and we're sharing everything here with our podcast and a blog post full of photos.
What's so great about Mickey's Halloween Party?
It's a completely different experience than a regular night in the Magic Kingdom.  The atmosphere of the Magic Kingdom changes with different lighting, sounds and scents.
You encounter different characters who rarely appear. There are special shows on stage in front of Cinderella Castle. The Boo to You Halloween Parade is rife with villains and heroes, and perhaps the best parade that Disney runs in any park.
The Happy HalloWishes Fireworks show is something you only see during the MNSSHP events. Let's face it. Watching fireworks at Walt Disney World, with its combination of lighting, music and story timed to the explosions, just ruins you for any other fireworks display.
Finally, it wouldn't be a Halloween Party if you didn't have plenty of Trick or Treat stations to get candy and a dance party to burn calories from all of that chocolate.
MNSSHP Details
Mickey's Not So Scary Halloween Party doesn't happen every night, and the prices change as you get closer to Halloween. You can save some money by purchasing in advance. There are also discounts for Annual Passholders, Disney Vacation Club Members and Military personnel.
Unfortunately, those discounts won't apply to parties later in the season as you get close to October 31.
Here's the breakdown of dates and prices.
Sept. 2, 8, 11, 13, 16, 18, 20, 25
Advance Purchase Price (adults/children): $72 / $67
Day of Event Price (adults/children): $79 / $74
Sept. 23
No advance purchase discount (adults/children): $85 / $80
Sept. 29, 30
Advance Purchase Price (adults/children): $79 / $74
Day of Event Price (adults/children): $88 / $83
Oct. 2, 6
Advance Purchase Price (adults/children): $86 / $81
Day of Event Price (adults/children): $95 / $90
Oct. 4, 10, 11, 13, 16, 18, 20, 23, 25, 27
No advance purchase discount (adults/children): $91 / $86
Oct. 7, 14, 21, 28, 30
No advance purchase discount (adults/children): $95 / $90
Oct. 31
No advance purchase discount (adults/children): $105/ $100
Arriving at Mickey's Not So Scary Halloween Party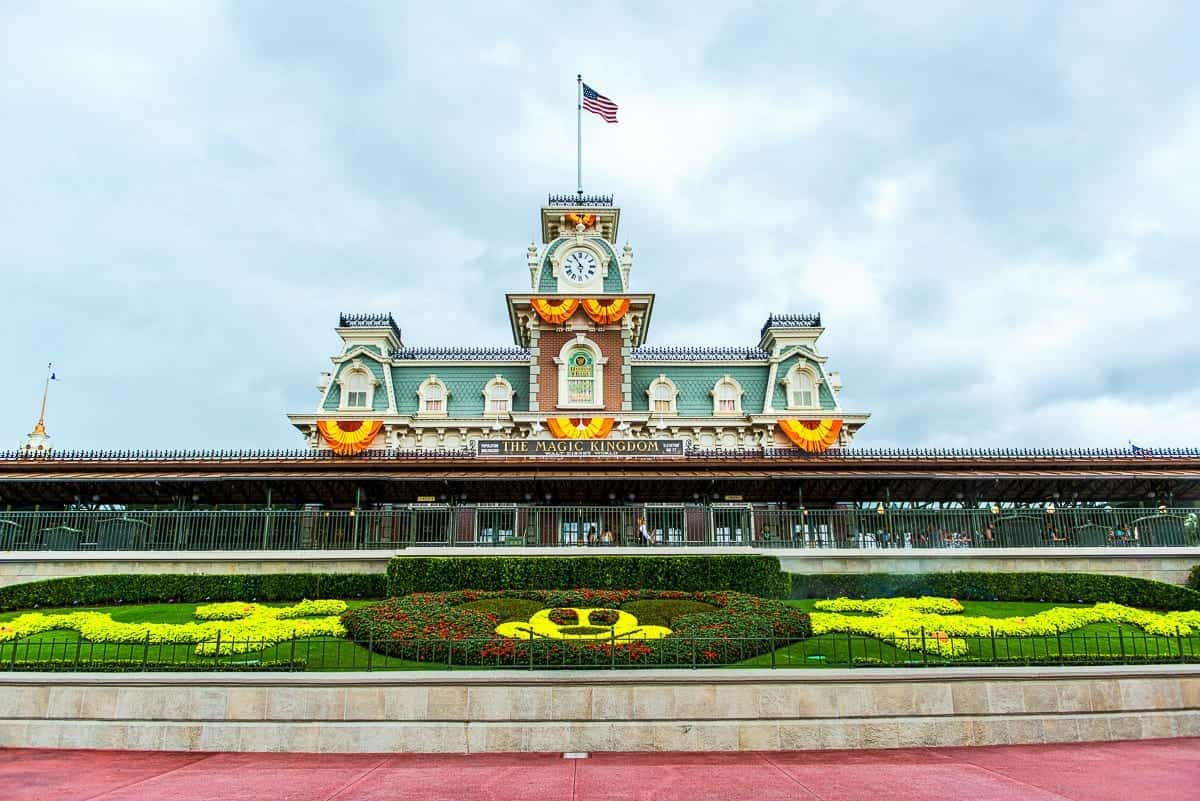 We arrived for the opening salvo of Mickey's Not So Scary Halloween Party just as Hurricane Hermine was leaving Florida. We had a few clouds and some sprinkles just before the party started, but everything was fine after that.
Instead of storms, it was typical Florida weather for the evening.
Getting inside was pretty easy. Cast embers have special costumes with bright orange colors for the party. You get entry at a special gate for party guests where they scan your ticket and provide you with a wristband on your right arm.
If you arrived at Magic Kingdom earlier in the day, there are other stands inside the park to get your wristband, so there's no need to exit the park and come back inside. The stations are well marked, but just ask a cast member if you need help finding one.
The MNSSHP ticket allows you to arrive at 4:00 PM, even though the party doesn't start until 7:00 PM.
We took advantage of that time to grab a bite to eat.  It seems everyone else had the same idea. Why waste precious party time in a restaurant? Expect the restaurants to be busy before the party starts, so give yourself plenty of time.
MNSSHP Guest Costumes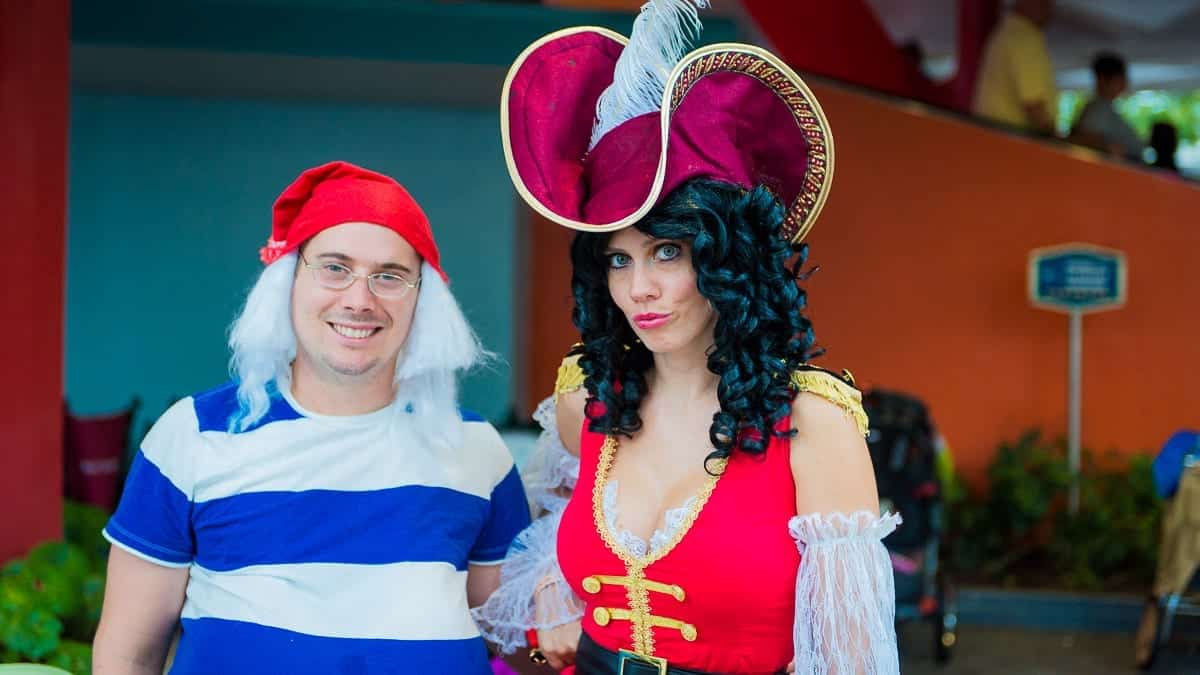 Walt Disney World changed the rules a bit for costumes this year. As a result, we didn't see as many people dressing for the event as we have in the past. The new rules prohibit some of the more elaborate costumes worn by guests in the past.
Still we found plenty of people who were in costume. Some, like this couple above, were pretty creative with their costumes.
One word of advice, it gets hot and humid in Orlando during the evening. I saw one man in a full-sized Tigger costume and I feared he was going to melt under all that fur.
Check Out the Scream-O-Ween Dance Party in Tomorrowland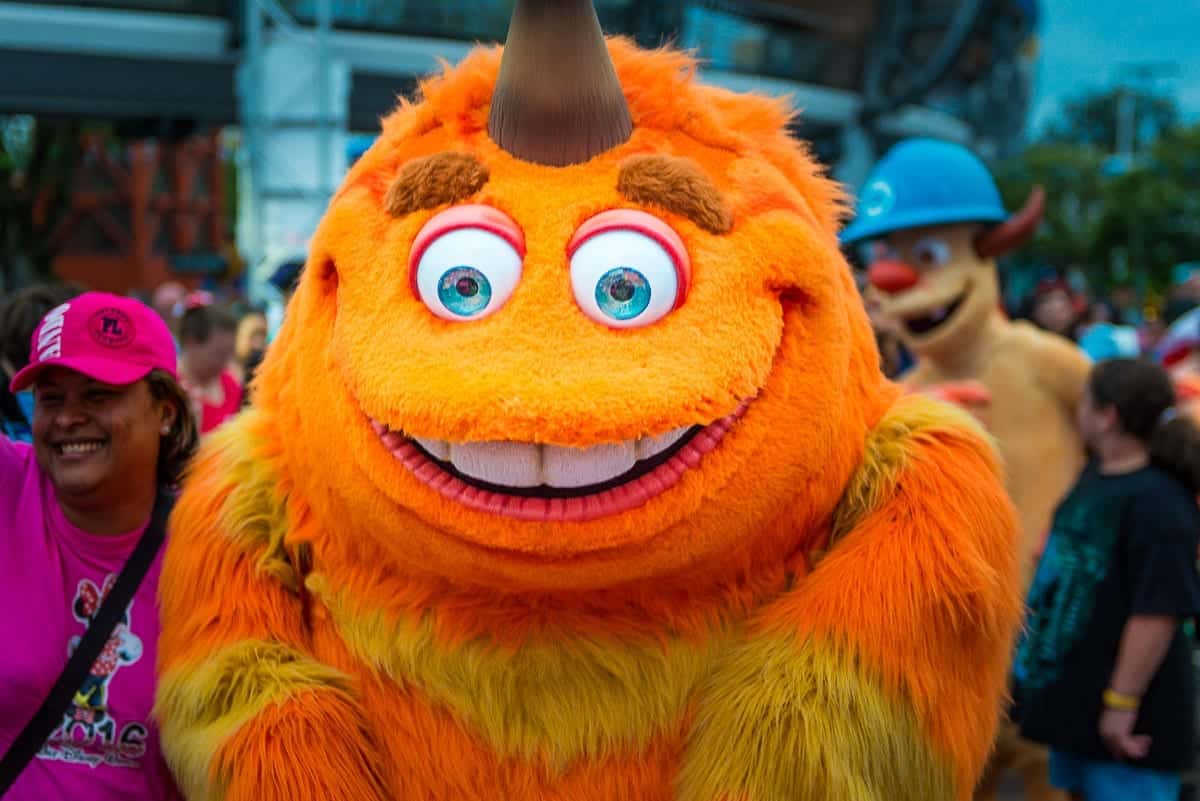 There's a stage nestled between Space Mountain and the Astro Orbiter. It's a non-stop dance party with your friends from Monster's, Inc.
While it's open to people of all ages, the monsters do a great job of partying with kids and making them smile. We visited a few times and it looked like everyone was having a great time.
The party goes on during the night, but the crowd has peaks and valleys, depending upon other events happening in the Magic Kingdom.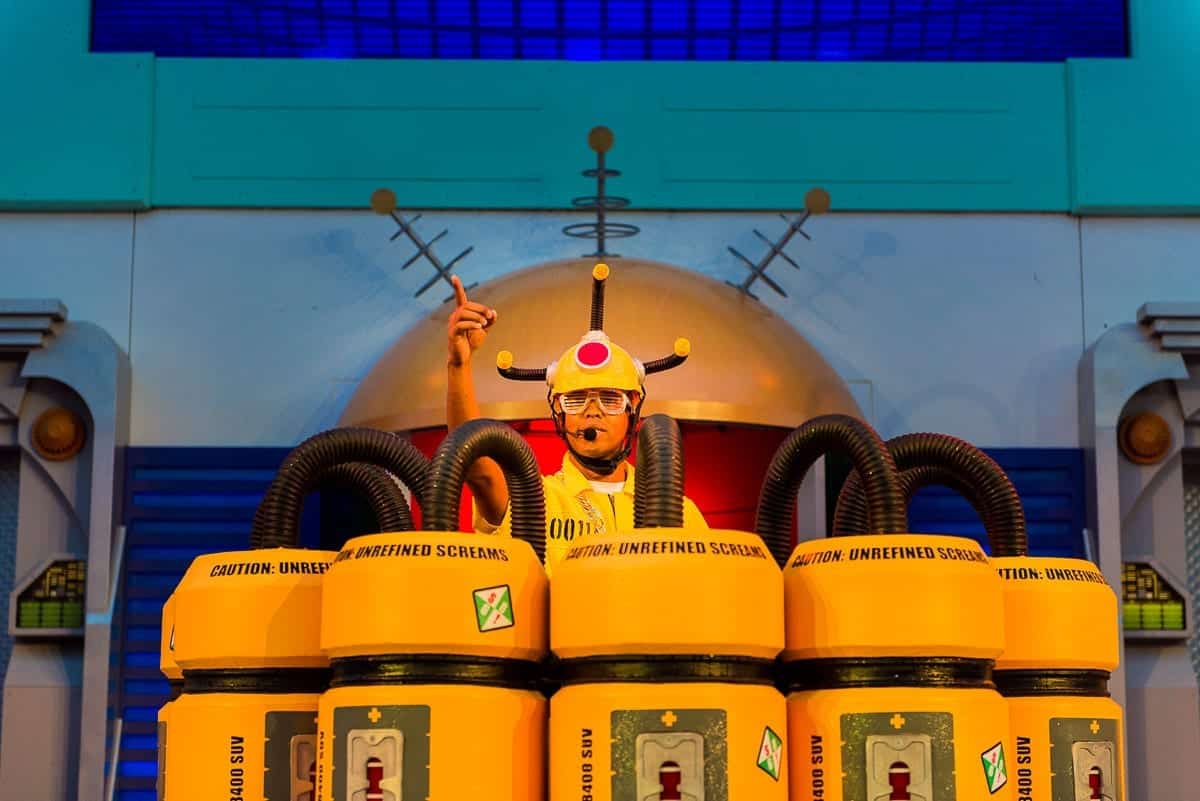 The host does a great job of keeping the crowd entertained and full of energy. It's definitely worth a visit, even if you wouldn't be caught dead dancing in public.
Check Out the Hocus Pocus Villain Spelltacular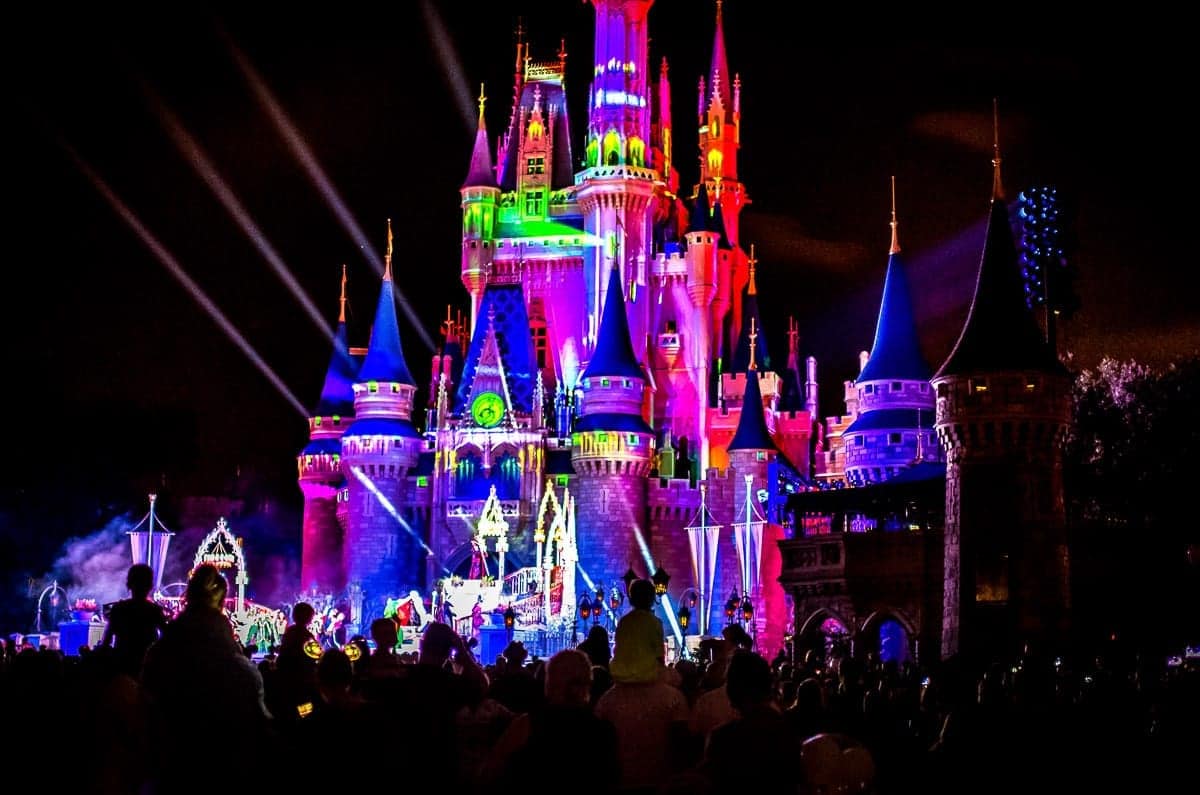 Returning again for MNSSHP 2016 is the Hocus Pocus Villian Spelltacular show. It's a musical presentation in front of Cinderella Castle featuring some of your favorite villains.
Actually, it's pretty good. I'm not a big fan of Hocus Pocus, but I really enjoy this show. The music is good, the performances are entertaining and the stage lighting is fantastic.
If you want to see what's happening on stage, you need to get close to Cinderella Castle. However, that may not be the best position for later events, like the parade and the fireworks.
Don't panic. There's another parade later in the evening and you get about an hour before the fireworks show starts.
If you aren't close to the castle, you can hear everything up and down Main Street.
The Boo To You Parade: Heroes an Villains Partying Together
There are two parades in the evening. The first one is definitely the most crowded, so you may want to stake out your spot early if you plan on leaving the park before Mickey's Not So Scary Party ends. The second parade starts after 11:00 PM and pretty much closes out the evening.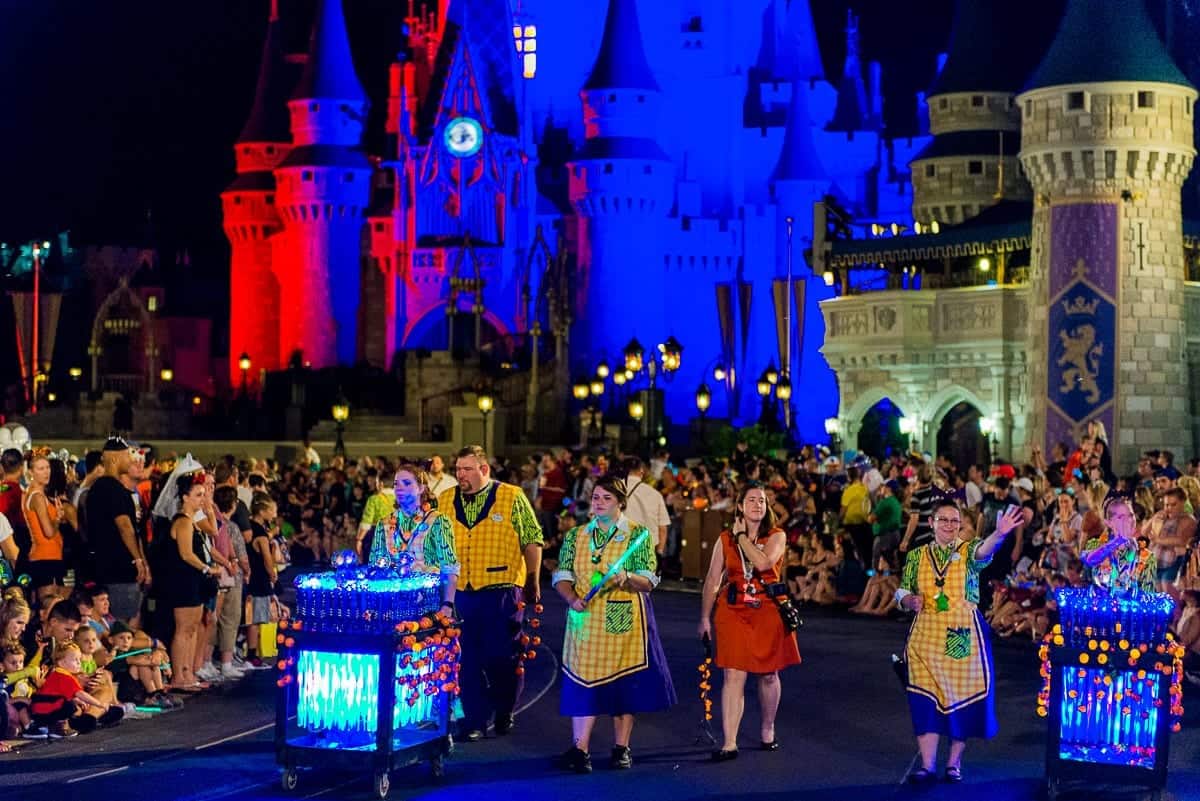 Cast members are out in force before the parade starts. Some are selling items that light up. Other cast members are trying to keep the guests informed about where they may or may not be during the parade.
For example, you can't have your feet or any other part over the curb of the asphalt when the Headless Horseman comes around. It's a safety issue which they share in a friendly way, but with frequent reminders for some guests.
Then…you hear the music.
The Boo To You Parade starts in Frontierland, circles around the hub, and then makes its way down Main Street to its conclusion. Keep that in mind when picking your spot, particularly if you want to take photos or video of the parade.
I could write more about the parade, but let me just show you what it's like. Click the photos to see larger versions of them.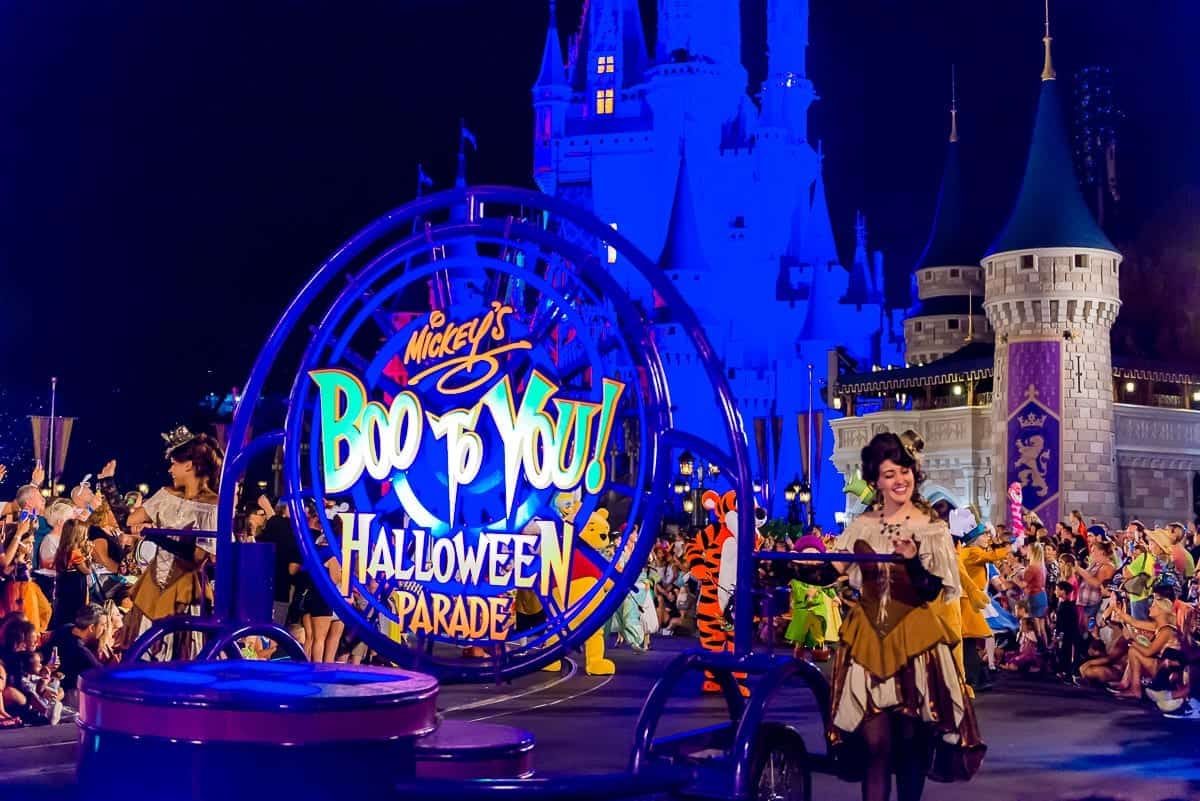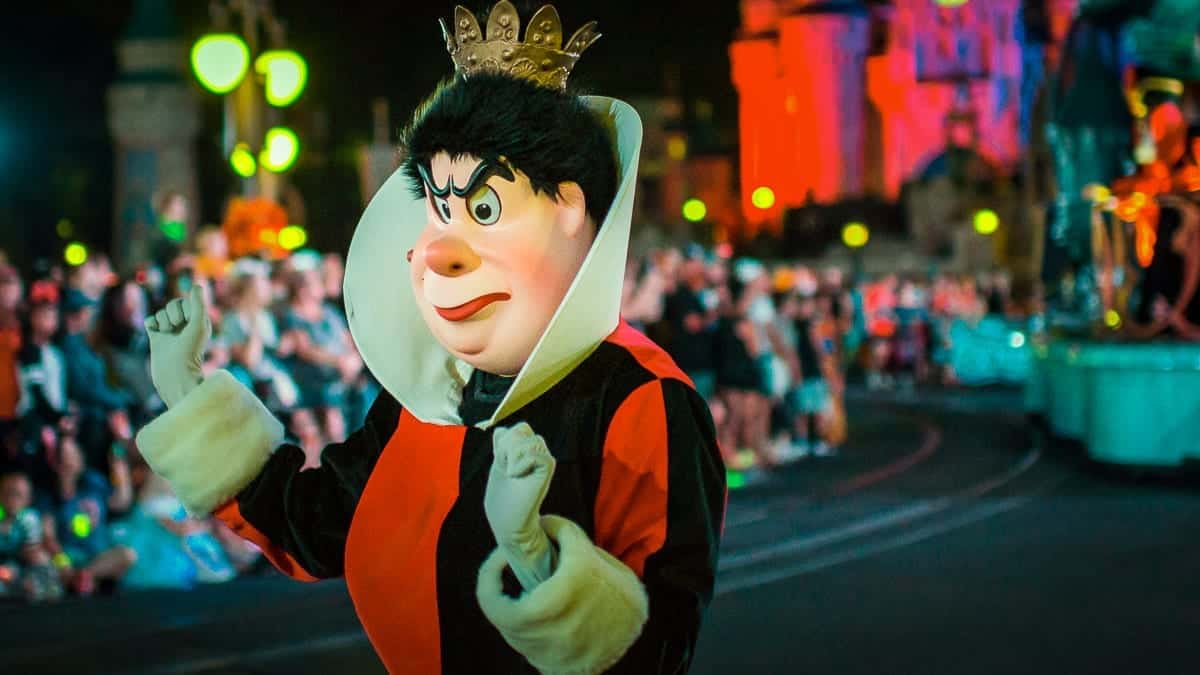 Happy HalloWishes Fireworks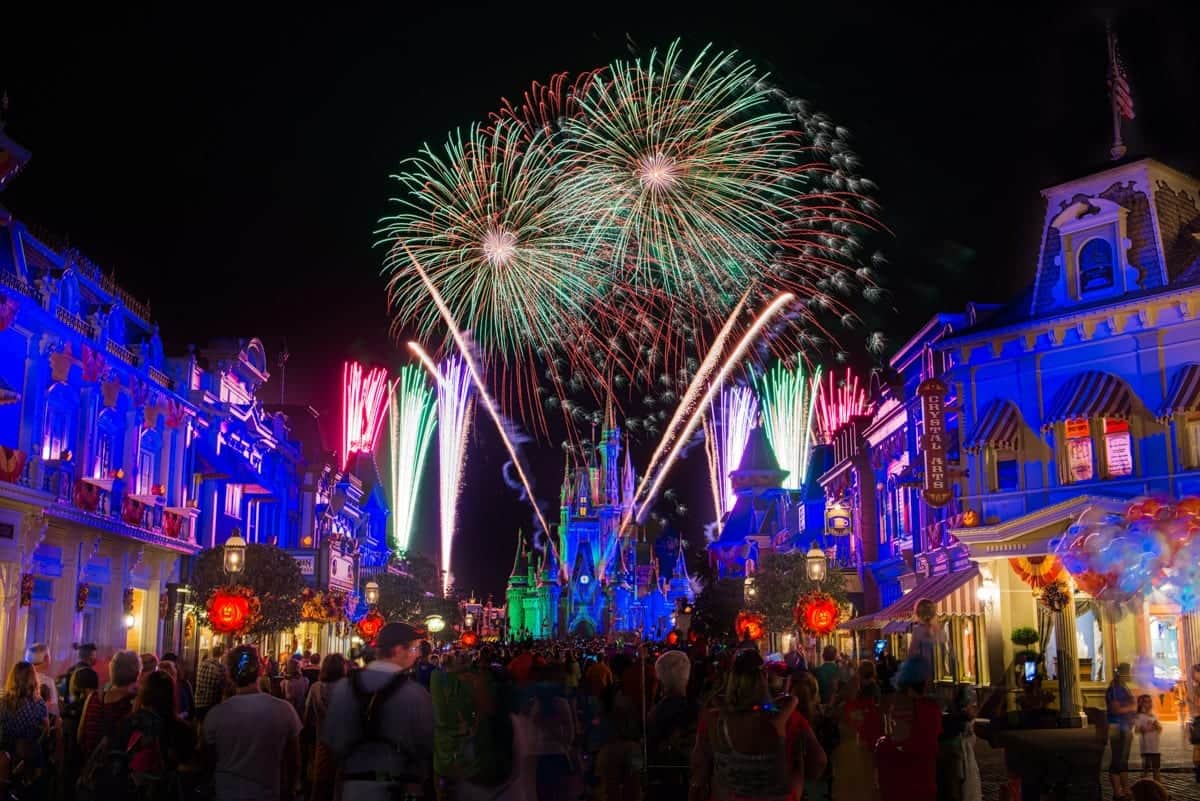 Picking a spot for the fireworks is an adventure unto itself. There are some places that are really great to see all of the fireworks.  Others aren't quite as good for the view, yet they see to be crowded.
If it's your first time watching fireworks in the Magic Kingdom, I'd suggest hanging out somewhere near the end of Main Street before it turns into The Hub. You'll be next to Casey's for hot dogs or the ice cream store.
Happy HalloWishes is a different show, and it's a brighter and more colorful show. Once again, I'll let our photos tell the story.
Exploring the Trick or Treat Stations
Let's get serious for a moment. This isn't just Mickey's Party. It's Mickey's Halloween Party. That means guests expect some treats. Compared to last year, there is a pretty big change in the treats portion of the event.
First, there are fewer treat trails. Instead of wandering a path to find different kinds of candy spread along the way, you'll find stations at the attractions and stores that are closed for the event.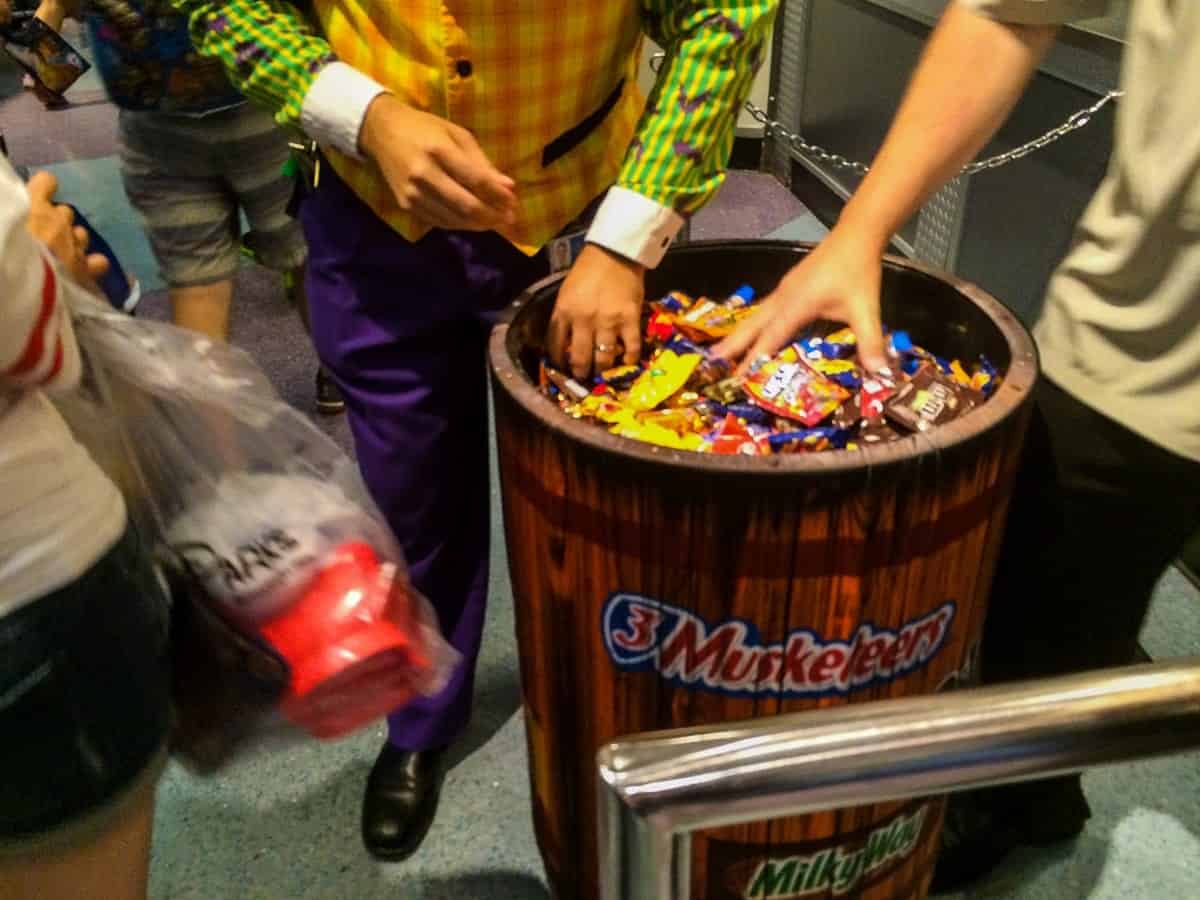 Next, you won't find different candy at different stations. With one exception, we found that every station had the same candy.
Finally, I liked the candy a LOT better this year. It's name-brand stuff. No more nameless lollipops or hard candy. It's chocolate and Skittles this year, with some occasional Peeps. For me, that's a good thing.
Last year, I went with my family and they would excitedly describe what they got at a given station. Then I got to sound like Charlie Brown by saying, "I got a rock."  It was pretty close to the truth. I got nothing but crap candy last year.
This year, I dine with the elite stuff.  Here's what you can expect.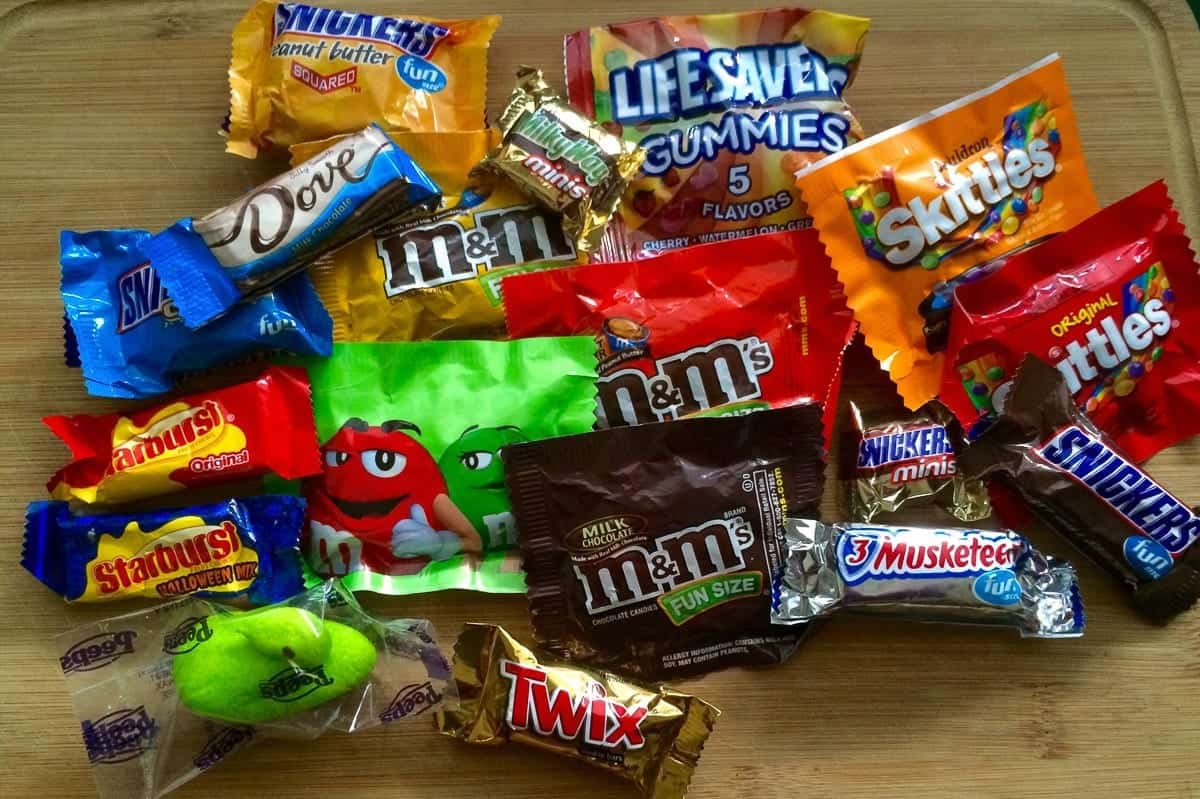 Maybe there are some things you miss from previous years, but I'm happy with this variety of selection.  This photo above shows one of each item we received.
How much did we get? Well, our daughter collected 10.5 pounds of candy by herself.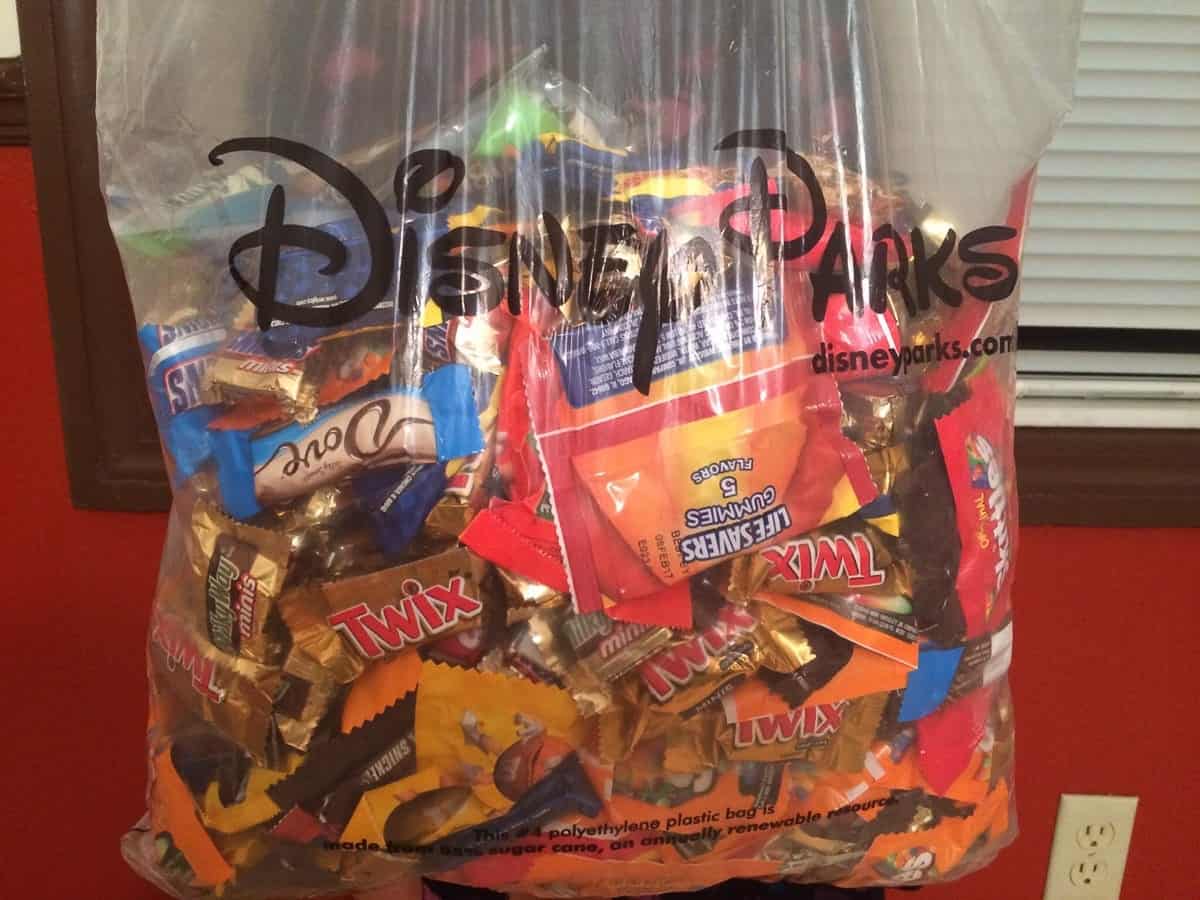 She decided the bags that cast members pass out were too small, so she went into a store and asked for something larger.
A word of warning. The lines for candy stations at the beginning of the party were horrendous. Long lines and they did not move well at all. Things got better later in the evening.
We have one complaint, though. Adults do not receive equal amounts of candy as kids. Sure, Trick or Treat is generally for kids. However, Disney World is for kids of all ages. It's something that Walt made clear long ago.
It sucks some of the fun out of your experience when you walk up to a Trick or Treat station and see the cast member dropping a few pieces back into the pot for you because you're an adult. This didn't just happen to us. We saw it happen to other adults. Walt Disney World has clearly told their team to cut back on the candy for adults – despite the fact that we pay a higher price per entry, and likely paid for the kid's ticket, too.
Having Fun With Cast Members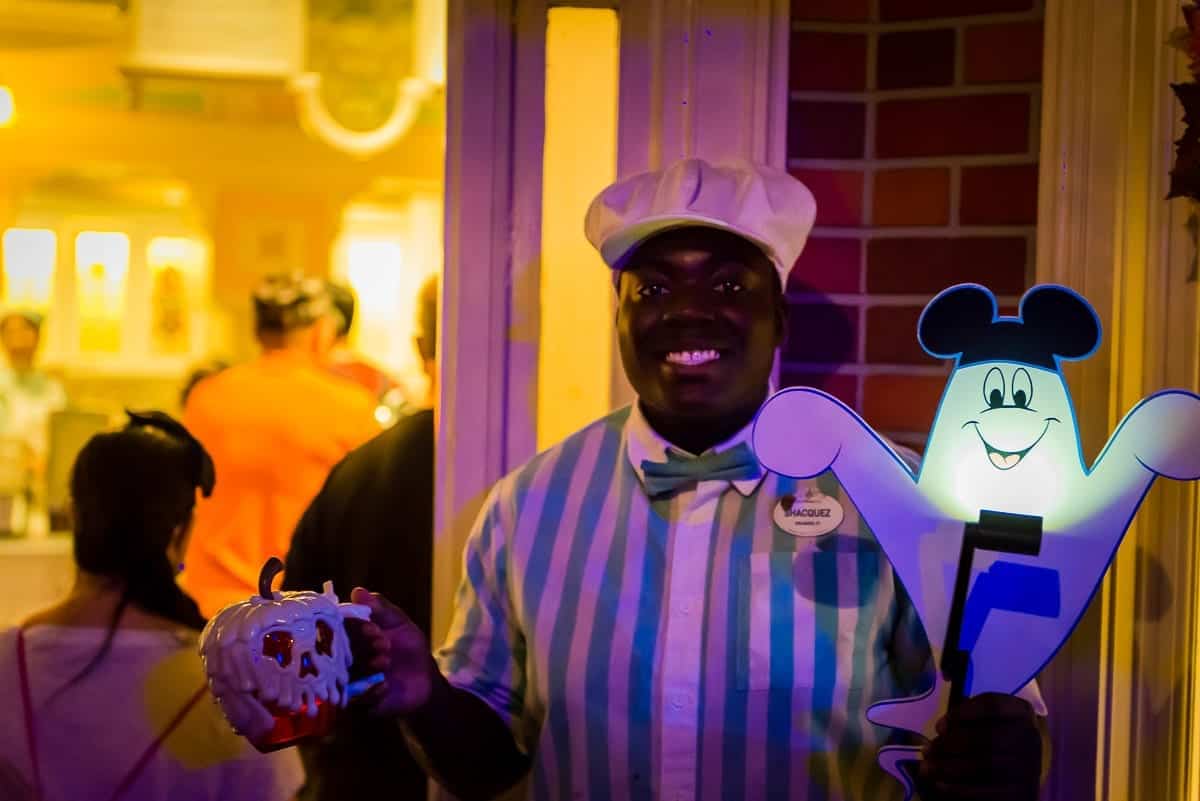 On the podcast, I asked Lee to rate Mickey's Not So Scary Halloween Party on a scale from one to ten. She mentioned that she never gives anything a ten because there is always room for improvement.
When it was my turn, I broke down my rating by a number of factors, including how the cast members treated us.  That's when I was pleasantly surprised to hear Lee speak up and give the cast members a ten.
In a nutshell, they were great. Cast members can make or break your experience. We found them to be friendly, generous, and having a spirit of fun all over the park.
MNSSHP Party Merchandise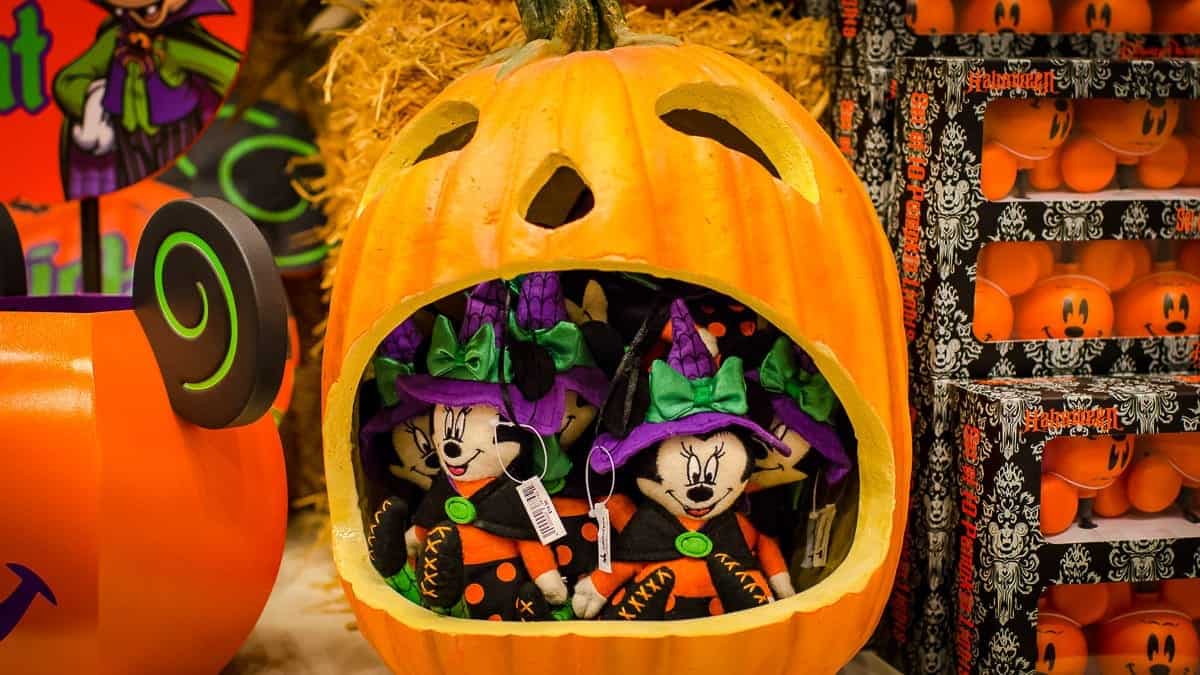 Walt Disney World does a great job dressing its stores, but the Emporium really goes all-out for the Halloween Party.
Yes, there are t-shirts and hats to commemorate the event, but there's more.  Mickey pumpkins, pumpkin Mickey ears, coffee mugs, and some characters that normally don't get to come out and play.
Special PhotoPass Treats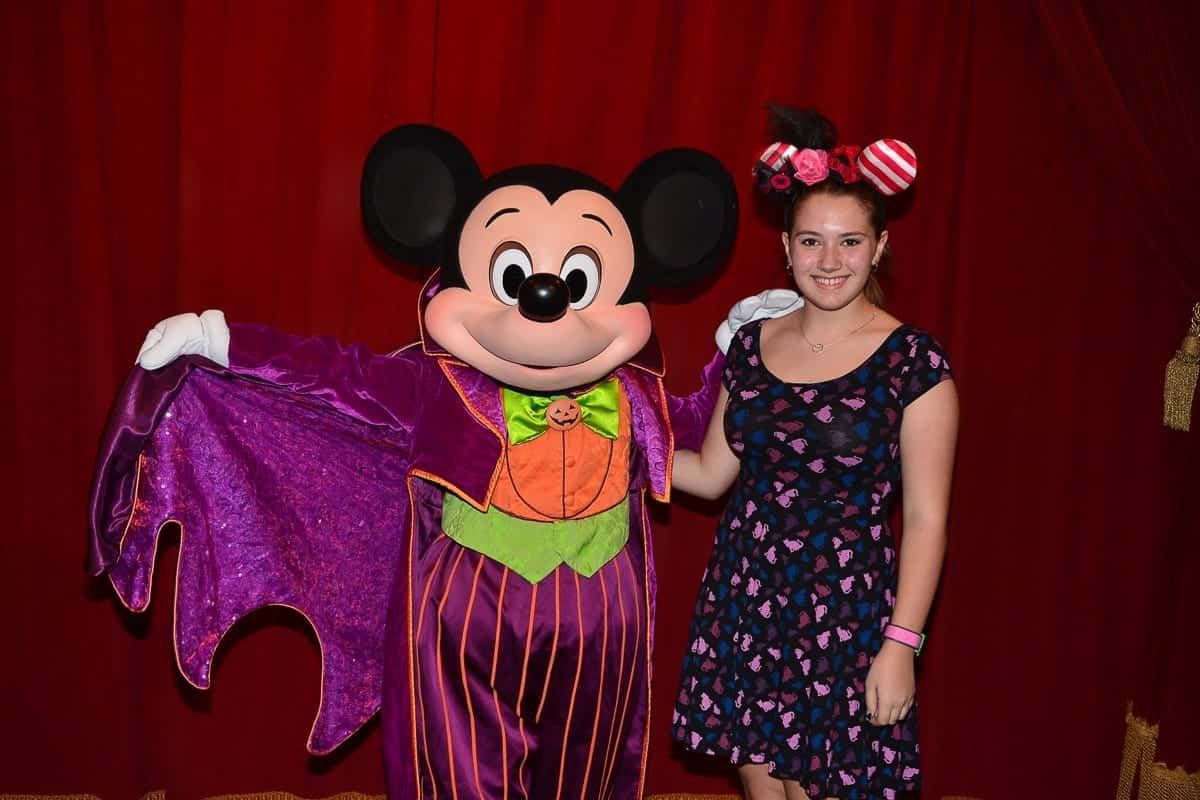 If you're into PhotoPass, you have plenty of options during Mickey's Not So Scary Halloween Party. You can find a few of your favorites, like Tinkerbell and Buzz Lightyear. However, it's a good time to find regular characters (like Mickey Mouse above) in party attire or find some rare characters. The Seven Dwarfs, Jack Skellington & Sally, etc.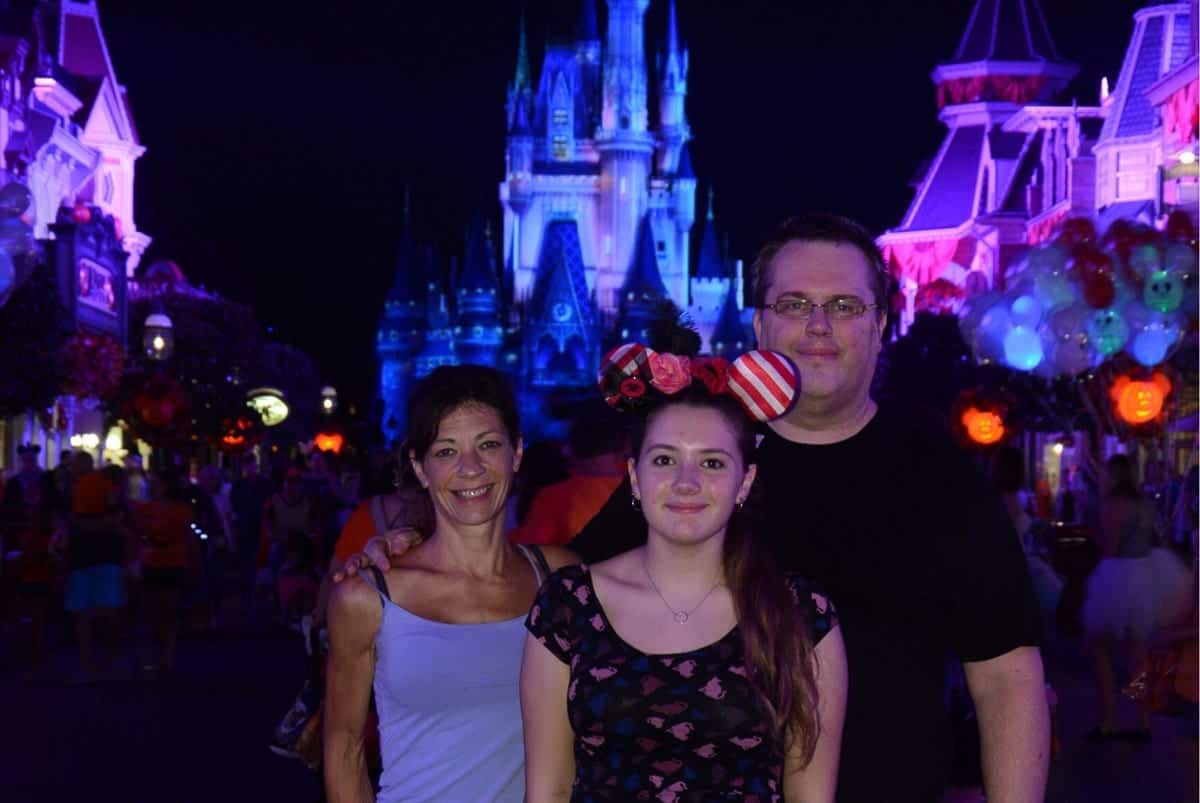 However, the photos we liked the best were some of the ones with added magic or animation.
The Eerie Train Station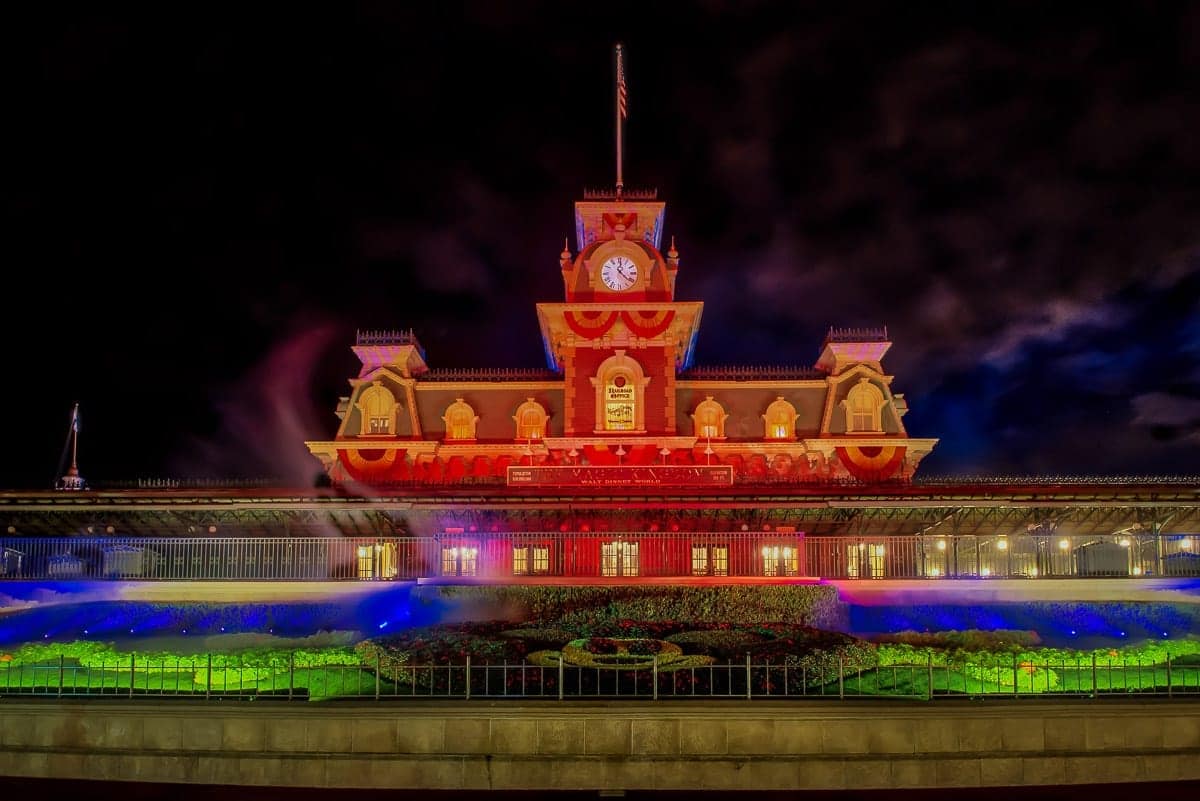 On our way out, I couldn't help taking another photo of the train station. Colorful lights and fog surrounded the entry to the Magic Kingdom.
We covered a lot on our night at Mickey's Not So Scary Halloween Party, but we couldn't cover it all. You can find specialty cupcakes and other desserts at the party.
We didn't spend the money for the HalloWishes Dessert Party because…well, we think it's a waste of time and money. For our family, we'd rather be out enjoying the party instead of spending extra money and being tied up for a third of your time in the park.
If we had to give a rating in the Mickey's Not So Scary Halloween Party review, it's not as high as it was in the past. That's based primarily upon the crowd level that we experienced.
While not as bad as a regular night with a crowd level of 8 or higher, we felt it was far more crowded than we experienced in any of our previous trips. Part of that may have been due to the holiday weekend for Labor Day. Even so, attendance for these parties should be capped so we aren't next to each other's armpits.
If the crowd levels continue to rise for the Halloween Party, we probably wouldn't return. It has that much of an impact, as you can see in our ranking at the top of the page. It was the only factor that made us consider if we would attend another party.
However, if Walt Disney World manages the crowd level so everyone has some breathing room, we can whole-heartedly endorse Mickey's Not So Scary Halloween Party and recommend it for a really good time.
Transcript
THE ORLANDO LOCAL SHOW
Episode 8
William:   Welcome to the Orlando Local show, episode number eight.
Hi, welcome to the Orlando Local Show.  My name is William Beem.
Lee:         Hi, my name is Lee Beem.
William:   And today we're going to give you our review of Mickey's Not So Scary Halloween Party.  We just went to the first one on September 2nd and it is a completely different experience than a regular night at the Magic Kingdom.  I mean there is different lighting, you see rare characters that you typically don't see, there are special shows, parades and fireworks that are different, trick or treat stations, dance parties and the cast members are in costume.
What did you think overall of just the experience of being at the party versus going on a regular night?
Lee:         I think if you've experienced the park first and then you go in you get an even better experience of being able to compare the difference. The atmosphere is fantastic. They've got all the little sounds, they've got the lighting…
What I didn't see very much of this year was the projected lighting onto the surfaces and the floors, and I don't know if that's just because there were too many feet in the way.
William:   I did see some of it. I remember in Frontierland we were going past Splash Mountain and there were some on a wall over there, but you're right. I was looking for it on Main Street and I didn't see it enough. I don't know if that's because one of the things we noticed was the crowd level on the first night of the party seemed to be a bit higher than what we expected from previous events.
Lee:         It was busy! I'd probably say it was the busiest party I've ever attended and I've done a lot of these, including sold out parties.  This was by far the busiest.
William:   We're speculating. They've done it earlier this year, so usually it's after Labor Day that they start and this is a three day weekend so we started on Friday night on September 2nd and since it was a holiday weekend, we are speculating that that is why it was a bit more crowded.
Lee:         Yeah, so we are going to use that to defend the crowds a little bit. It's hard to make a call at this early stage of the season. There has only been the one party.
William:   Exactly. But we were there and it was packed!
Lee:         Yes. It didn't ruin the party, but I think if you are prepared for it – I was perhaps not prepared for the crowds to be as thick. I did expect them to be busy, given the holiday.
William:   Yeah, but typically, the nice thing about going to one of the parties at Walt Disney World is there are not as many people in there and if you are going on rides you can get on and get off very easily.
I don't want to give you the impression that it was like a regular summer day.  Tové and I got onto the People Mover – that's a thing that we both enjoy – and there was no line waiting. We could just go straight up and get on.  A couple of times we were on the ride all by ourselves. So it wasn't terrible.  There were parts, I think, where the entertainment was coming through, that everybody gathered together and definitely made it feel more packed.
Lee:         That's typical and we'll maybe touch on that later, because there is a typical …. Disney almost forces everyone to move in a certain direction unless you want to give up one of the major events of the party. If you keep that in mind or if you are doing more than one or if certain of these big events are not a priority to you, we will tell you how to milk it.
William:   So let's get into what.  I mean, for 2016 there are going to be dates starting obviously with the one we went to on September 2nd going all the way through Halloween.  It's not going to be every night, which makes sense, because they do close access to the Magic Kingdom to regular guests at 7 pm. So if you are a regular guest and you are not interested in the party, you are not getting as much value for your Magic Kingdom day as you would typically.
Lee:         You are not.  But I think those who are using park hoppers, it is a great park to use for your day park if you would like to hop over to another one.
William:   It was kind of nice the day that we got there. I hate to say this, because some people had some really miserable times, but we got there at the close of Hurricane Hermine.
Lee:         Yes!
William:   The parking lot was pretty empty as we were pulling in there. The park really didn't seem that crowded when we got in, what was it?  About 4.30 pm?
Lee:         It was 6 o' clock when we got into the park.
William:   I thought it was earlier than that.
Lee:         Well we only left the house at 4 o' clock, on account of somebody's make up.
William:   You can tell I can't remember anything.
Lee:         It wasn't mine!
William:   It wasn't my make up either!
Anyways, we wanted to get there early. We got inside and there was a little bit of a light sprinkle, but other than that we didn't really have any problems with the weather as the hurricane was blowing out.  It seemed like the crowd grew during the party time.
Lee:         Yeah, I think you could start to see it, in fact, from just around 7 o' clock you could feel it filling up.  I mean even Cosmic Rays – because we ate before the party started, before seven – it was packed in there. We had to really hunt around to try and find a table and the lines were quite long.  A lot of people had the same idea.  Which is a good thing! I mean, people are getting smarter and not wasting their party ticket time.
William:   Exactly. When you're on that party ticket time, you want to party.
Lee:         Yeah.
William:   OK, so the dates; we are not going to go over all the dates here, but we are going to have this on our website, and instead of a typical kind of show notes post, this is going to be a full blog post. We are going to put photos up there and go into a bit more detail about our experiences inside of Mickey's Not So Scary Halloween Party.
You can go through September, through the 30th; you can go in October from the 2nd through the 31st. There are a number of dates in there.
One of the things that is going to change on you, depending on how you plan for it, is the pricing.  The earlier you go, the less expensive it's going to be.
Lee:         Yes, and also your discounts.  There are blackout dates for the discounts, so once you hit October, there are very few dates available, depending on the type of discount. You've got DVC, there are military discounts, there are annual passholder discounts; I think Florida Residents – do we get a separate kind of discount?
William:   I'm not sure if it was a Florida Resident. I think as an annual passholder we got $6 per ticket discount.
Lee:         $5 off.
William:   Was it $5 off?
Lee:         Yeah. Whoopee!
William:   OK. It's not a big discount, but you know there are three of us so it's $15. It paid for somebody's meal.
The pricing we went through, advanced purchase price was $72 for an adult and $67 for a child and a child is ten years old or under?
Lee:         Not ten. Under ten; so up to nine years.
William:   OK, so if you are taking children ten or older, they are going to be priced as an adult.
When you get down to the last night on October 31st, on Halloween, it doesn't matter when you buy them, it is going to be $105 for an adult and $100 for a child.  No discounts.
Lee:         Yes and you can be sure that's a sold out party as well.
William:   So that's quite a range. With our discount we paid, was it $67 per person?
Lee:         I think so, yes.
William:   So $67 per person for the three of us and with taxes that was pretty close to $200 for three adult tickets.
If you are doing that in October, you are going to be spending a good chunk of money. I get it though. Some people actually really want to go to the Halloween party on Halloween.  That is going to be fine for the experience, but keep in mind you are going to get the same experience that we did, you are going to pay a different price, because it's the night of, and it's probably going to be more crowded on Halloween.
Lee:         I can guarantee it!  But then, for some people I know that it is very important to be there on the day. It's like celebrating a Christmas party in November versus celebrating Christmas on December 25th.
William:   Yeah, I got that from a few people. I said I'm going to a Halloween party. They said, "It's September!"
I said, "Well, you know, it's still a party."
Lee:         Yes.
William:  And we had a good time over there. One of the things that we wanted to note there is that if you have just got the Halloween party pass, you can get there from 4 pm and stay until midnight. So in other words, if you want to go to the Magic Kingdom a little bit ahead of the party, they give you that grace period.  It's really three hours additional on top of the party so you can get there at 4 pm with just your party pass and get access. So that way you're set.
Some people actually go in there and they start lining up for some of the character meets even before the party starts.
Lee:         Well, I think we mentioned in the last podcast, that's what we did for the really long lines.
William:   Here is what you get included with your ticket, besides the access to the Magic Kingdom.  There is a show called the Hocus Pocus Villain Spectacular. And if you like Villains, as I know someone here does …. Almost every villain here you could imagine is coming up in that show. And it's basically a musical stage show in front of the castle.
Character Meets: this is where some of the rare characters are coming out, so a lot of people really like the Seven Dwarfs. You've got Jack Skellington and Sally from The Nightmare Before Christmas. Captain Jack Sparrow, I saw him in the parade – I don't know, was he doing a meet and greet?
Lee:         Yes, he was meeting people in Adventureland. You know where they do the little show?
William:   Oh, yeah!  That little stage back in Adventureland, not too far from Pirates.
Lee:         Actually the line wasn't too long, but he comes out intermittently, I believe, so I'm not sure.
William:   When we were over in Tomorrowland I saw Buzz Lightyear out there in front of his usual spot along with that really big, pink, fluffy bear.
Lee:         Lotso. He's mean.
William:   Well, of course he's mean! There's a fluffy pink bear sitting in a vault in a bank around here, that I've seen and it scares me.
Lee:         You don't like it.
William:   No, it frightens me!
Alright, there are a couple of dance parties. The one I saw was over by Space Mountain and they've got the stage set up there, where you've got the characters coming out. There's Sully and Mike Wazowski and what's that Monster with a sock on his back?
Lee:         Oh, Tové was telling us and I forget his name now.
William:   I've got photos of him.
Lee:         The orange guy with the hard hat.
William:   He was just kind of bouncing up and down.
Lee:         He was fun! But I tell you something about that party. I went back to it and spent some time in there just watching. You cannot help yourself but smile when you see how those characters interacted with the kids.
There was so much energy. The monsters, they had other cast members out there, the guy who was leading the party … he was just absolutely full of energy and party spirit and it was great for the kids.  They were also circulating and making sure that none of the kids got left out or sidelined, as best they could.  I thought that was really sweet.
I just stood back to see how they were managing this.
William:   It was fun and what was the other character? Boo!  When she is dressed up like an alien in Monsters Inc.  They just had a great time and you're right; they really focused or concentrated on the little kids and they would go out there and dance with them and just make them feel part of the whole thing.
Lee:         Oh, and the little girls in their fairy dresses …
William:   It's funny. You see a little kid and you see this big, giant monster that is three times your size, but …. "I love you!"
Lee:         It was so cute.
William:   And there's another dance party. We didn't actually get over to this one, but it's inside of the Diamond Horseshoe and they've got one over there. I don't know what characters were there. We didn't actually get a chance to go over and see that one.
Lee:         I didn't go over. We had been in there in the past. That one typically isn't as busy, although I didn't think that the Monsters Inc one ever got crowded. We went by there right in the beginning and then later on.
William:   It had peaks and valleys. I saw times when there were a lot of people there and then sometimes there were not so many. But I think it also depends on what the major shows were going on over there on Main Street.
Lee:         That's true.
William:   So when the parade and the fireworks are going on, people are going to naturally go towards there and leave the party behind.
Lee:         Yeah, and about seventy per cent of the party for the first hour were probably stuck in trick or treat lines!
William:   Yes.
Alright, so we've got dance parties. The Boo To You Parade is the same one that I've typically seen. I really enjoy this one.
Lee:         It's my favorite of all the parades Disney has.
William:   Even just the music; all the parade music is redundant, but it's fun.
Lee:         It is. And you laugh at the name.
William:   I do laugh at the name, but you know what? I like seeing all the evil characters come out because they are happy. It's their night!
Lee:         Yes. It's good to be back, huh?
William:   You get to see the different dancers from the Haunted Mansion; the grave diggers are coming out … The ones I really don't understand are the cowboy and cowgirl dancers.
Lee:         It's just there for the energy. I mean, it's something different. It's a completely different parade. There are no repeats from any of the other parades that they do.
William:   No, and even the big tricycle. What's the girl's name from Wreck It Ralph?
Lee:         Vanellope?
William:   Vanellope, yeah. She is up there instead of Goofy on that big thing, pedalling away.
Lee:         Yes.
William:   And they are having fun and we were out there with some cameras, taking pictures and if they can, if they spot you with a camera, they will give you a moment to just get your shot and they're smiling or pointing at you or whatever it may be. So they interact with the crowd as best they can.
There is the Happy Hallowishes, which is the fireworks show just dedicated to Halloween and it's different than your typical Wishes. I always love the fireworks.
Lee:         I do too. I really enjoy this one because of the music; I think the music makes it and that is the thing with Disney fireworks – you've got a story going on to music and it's something you don't get elsewhere.
But also, the bursts! They throw in different colors. There is definitely a Halloween themed color trend in the mix there.
William:   It is and it's just that Disney does fireworks better than anyone else. After you've seen Disney fireworks a few times and you go see something else, you're just kind of ruined because there is no story to it.
Lee:         That's what I was going to say: ruined for life!
William:   Yeah, we were watching Fourth of July fireworks on TV from different cities and they play different kinds of music and the fireworks are just kind of going up, but they are not related to anything.
Lee:         No, they are not. There is no connection with the music. It's background.
William:   They just have these things blowing up in the air. It's very different when you've got the story and the music and the voice that they have. I think it's, what's the name? Thurl Ravenscroft? I think he's the same guy that used to sing You're A Mean One, Mr Grinch. He's the voice that's inside of the Haunted Mansion. Why do I have a hard time saying that? So the same voice that you hear inside of the Haunted Mansion is the one that welcomes you to the party.
You hear the bell toll and he gives you that kind of welcome and they've got the same voice going on for the shows; Happy Hallowishes and other things going on the stage.  It just kind of ties everything together and I think the Haunted Mansion is probably the best representative for the Halloween Party.
Lee:         Yes.
William:   There are rides going on.  Not all of the rides are going to be open. Some of them are closed. In fact, some of them kind of tie into this next thing: they were trick or treat stations.
So like the Jungle Cruise, you don't go on the Jungle Cruise at night, but you do go there to get your candy.
Lee:         Yes, they also had some of the stores where they had closed parts of the store so that the lines could go through there and they definitely had tried to keep the lines outside of the park walkways and into dedicated areas this year, which was a little bit different to what they have done – or at least, not to that extent in the past.
William:   Our trick or treat experience was different this year than it was last year. It was not that we didn't get candy. I mean, Tové went off and she got, what? Ten and a half pounds of candy!
You went in there and you got like two or three pieces or something.
Lee:         Well, I did, but also we were there trying to get things for our review as well as enjoy the party. We were trying to get photos.  And when you are wanting to get specific photos and you are setting up tripods, it means you are going to lose a couple of hours waiting. That is just part of the photography game if you are doing those kinds of photos. So we accepted that.  That was a part of it.
But also, the lines at the beginning of the party were really long. I went with Tové through a couple of them and after two I said, "I'm done with this for now."
William:   Yeah, you were saying they weren't moving, whereas later on they seemed to be kind of flowing through.
Lee:         And that is typical, but the initial party lines, although we expected them to be long, they have always been long, moving lines. These were long lines that either stopped and started, or they were standing for a while before they moved. And you just couldn't find the end of the line. It was way away from where the station was.
William:   The candy was different this year, too.  In my view, the candy was better, but there wasn't as much variety. But what they gave was better quality than last year.
Lee:         Much better quality. A lot of chocolate. It was your brand names. We used to get lots of things like the little pieces of candy like fruit chews and things that would come out of their wrappers and they were kind of thrown into the mix; suckers and lollipops and things like that.  None of those this year. It was chocolate, Skittles and gummies.
William:   Yeah, the popular things people know.  We've got photographs of what the candy is, so you will know what to expect and we are going to put that also on the blog post to go along with the podcast.
Lee:         Yes, it went up on Twitter and it is on Instagram as well. I've actually got a photo on Instagram of the variety we took.  Tové collected from all the treat stations, so we put out a sample of one of each thing so you can see what your choices are.
William:   Alright, and if you're wondering, our Instagram is orlando_local and Twitter is @orlandolocal.  Go out there, take a look and you'll see some photographs that we've taken to share with you.
Lee:         Yes. There is one more thing at the party that we must not forget and that is for Memory Maker or PhotoPass, if you've got that.
William:   Oh, yeah, that's cool.
Lee:         They added in some new magic shots. Now I know that this has gone out so people were aware of it if they had been reading up about the party beforehand.  They are really cool, because they've made little video shots. You know the dancers from the Haunted Mansion?
William:   Yeah, there is a shot of you and Tové and there is music with it too.
Lee:         They put music in with the video and then we had some still shots as well.  Now those were almost all – pretty much most of the photographers down Main Street – the ones without a tripod were putting those in.
Also we didn't do this one because the line was so long, but they will do one with the Headless Horseman for you if you go where you walk in, right at Town Square, they've got the little bench with Roy Disney and Minnie Mouse.  They have got the two pumpkins there and you kind of look down between the two pumpkins down Main Street.  That's where the place is for the Headless Horseman shot.
William:   You know, I'm glad you brought up the Headless Horseman. That was one thing that we didn't see at the parade. We were there for the first parade and I don't know if this is something that has changed? I suspect not, because before the parade happened, one of the cast members was coming through and she was telling people who were sitting on the curb and their feet were out there and she said, "Your feet have to be back off the curb behind the little white line because when the horse comes through there can't be any chance for legs sticking out there."  It's a safety issue.
But then we never saw him.
Lee:         Nope. We didn't see a horse and we were standing there for a long time in that spot.
William:   Oh yeah, because I lined up ahead of time.
Lee:         An hour.
William:   Yep. I lined up ahead of time because I wanted my spot for photography. I was behind a couple of families that were there right on the curb and the lady came through a number of times and she mentioned the horse. So it may have been just our experience that the horseman didn't come through for some reason; maybe there was a problem. I would hate to think that Disney had canceled that. I don't believe that is the case.
Lee:         No, I don't believe that they would have done that either. Something obviously happened and for us it wasn't a big deal because we've seen him before. But I am going to assume until I hear otherwise that that was a once-off and something went wrong.
William:   And that kind of thing can happen. It can depend upon weather, it can depend upon other circumstances. There may be parts of the show or parade or even fireworks that get canceled due to conditions or circumstances that they just can't correct for.  If it's not safe, they are not going to send the horse around.
Lee:         Absolutely not.
William:   We kind of told you what is there and the things you can look for. It really is a very different experience from going there just on a regular night.  There is an atmosphere. People are dressing up in costume. I think the costumes this year were very different from what I saw last year.
Lee:         They were. I was also going to mention the costumes and I think that the costume guidelines and rules have had an impact on it. I noticed fewer people dressing up from what I've seen in the past.
William:   Very much fewer.
Lee:         Also, the costumes. There were fewer of these elaborate costumes. I used to love walking around looking at people and some of them just go to so much trouble. They are absolutely fantastic. And don't get me wrong; there were some great outfits there this year. But a lot more people seemed to be around in their regular clothes – shorts and t shirts.
William:   You know, I got a photograph of a family, or at least two thirds of a family, and they were dressed up. The father and I presume, husband, was dressed up as Smee and he had a great costume with a little belly hanging underneath it. It wasn't his, it was part of the costume!  And his wife was dressed up like Captain Hook and she had an elaborate costume. I thought the two of them together looked great.  And then their daughter, who didn't want to be in the photo, was dressed up as Tinkerbell
Lee:         Oh!
William:   Oh, she was cute.  But she saw me with that camera and she was shaking her head, like no!
Lee:         That's OK.
William:   Oh that was OK. They were very nice and I hope they contact us because I'd love to give them a copy of their photograph, but I thought they had – I don't want to say elaborate – but they had what wasn't like an off-the-shelf thing, from what it looked like to me.  It looked like they had put some time and effort into this.  And it was a great couples or family costume with the three of them like that.
Lee:         It was, yes.
William:   But overall, I didn't see as many costumes. I don't know if that is because it is earlier in the year than what we went last time? Or if it's because of the new policy.
Lee:         I think the policy kind of put a downer on it for some people and honestly, there weren't that many changes to the policy. I think it just brought a new level of awareness and emphasis on it. It was almost like Disney was letting you know, "We're watching now. We're checking."
Whereas before it had run for that many years, that you would hear the same old rules and yeah, yeah, I know.
William:   There were some costumes I saw last year that I think Disney did need to probably make some statements about them …. I'm trying to be politically correct about it.  I don't want to put bad images in your mind just because they are burned into mine.
Lee:         Yeah, you cannot unsee this, even mentally.
William:   Yeah, I just wanted to say that I am OK with the new policy simply because I didn't have the experience of seeing some of the costumes I saw last year.
Lee:         Except waist length capes.
William:   No, I think capes are just … the whole thing is they have now got a policy that your cape can only go down to your waist. I thought, who wears a waist length cape?
Lee:         Nobody!
William:   No!  You see a super hero in a cape, they've got something that's going almost down to their boots.
Lee:         Well that's what you expect for a cape.
William:   But capes are hot.  Let's face it, this is Florida on September 2nd. It was muggy out there. It was humid and I was just sweating through the whole night.
Lee:         I didn't think it was that bad, but then I don't suffer as badly with the heat.
William:   You and I have different temperature expectations.
Lee:         We do.
William:   But if you don't like the heat, there are plenty of air conditioned places in there. You can walk into a store, you can go on a ride. The air conditioning was really turned up, because we would stand out in Main Street and we could feel a draft of air conditioning coming out to us.  And that was all I got because you wouldn't let me go inside of anything!
Lee:         Oh, I'm so sorry. Not really.
William:   No, that's alright. It's a party. The party is out in the street and along the walkways and that is where we wanted to be.
Lee:         Yes.
William:   As far as planning ahead, what is your advice? Before you even go to the party, what do you want to know and what do you want to be prepared to do?
Lee:         Again, I would say, if you can arrive early, do so. It gives you a head start. It gives you time, if you want to eat in the park, to go and eat. If your kids want to use the restroom they can go and use the restroom just to get things out of the way.
If you want to do some rides before the party, go and do the things that are available in the regular hours before the party.  If you want to ride Space Mountain and get your photo in your costume, you don't have to wait until the party starts to ride it. So go do that stuff first.
William:   I think that's a good idea.  We got there you said about 6 o' clock or so?
Lee:         It might have been a bit before that.
William:   I think it was a bit before that. One of the things I wanted to do – we hadn't had dinner because we've got a bit of a drive from our house to go down there – and I wanted to make sure we had something to eat so we weren't grumbling or using our party time to go eat.
I know that some of the full service restaurants are open and some of the quick service restaurants were open, but it's not what you really want to pay a party ticket to do.
Lee:         You don't if you can avoid it. Sometimes your circumstances may have it that it is unavoidable. Try and find somewhere quiet. I think generally during the parties, the lines are not bad if you want to go and get something to eat at a quick service restaurant. You are not going to have a problem, so don't let it put you off or don't feel like you've screwed up if you end up having to eat during the party. But if you can avoid it, try and do so.
William:   OK, so our advice is since you've got the ability to be there at least at 4 o' clock if you don't have another ticket or an annual pass, get there as early as you can. Take care of some of the things that you want to do that you could do on a regular night. And if you are in costume, go to the Haunted Mansion and enjoy that and scare somebody else.
Lee:         Yes.
William:   Get your ride photos wherever you can, get something to eat and also there was a little back alley kind of trick or treat station when we walked in.
We came in on Main Street and instead of going down Main Street, we veered off to the right.
Lee:         Oh, OK, what happened was they don't always have that open. They did close it later on.  But they have opened up that extra area to feed the crowds through when it gets really busy, so if you're going into the Magic Kingdom and you enter on the right hand side, next to where the Mickey and Minnie meet and greet is in Town Square, just stay to the right. You've got the confectionery store in front of you. Take a right turn on that. If those wooden gates are open, we took a path through there. It wasn't really a trick or treat station. They were handing out party bags to the guests with wrist bands and it wasn't that they were offering. They had these little carts with these packs of like a granola bar and a couple of chocolates and a bag of Skittles in it.
William:   But you didn't find that anywhere else.
Lee:         They were kind of handing them out if you asked. So when I took a party bag I asked if those were for us and they said yes.  So some people were taking them, but I noticed other people walking through and they weren't running after people to try and offer them.
William:   Exactly, because I walked through without paying attention to it, but you picked one up for me and I appreciate that.
Lee:         I did.
William:   We showed that online and somebody said that must be for media only.  But we were not there on a media pass. We were there as guests.
Lee:         Yes, we went as regular guests. There was nothing to distinguish us from anybody else.  We are not any different to anyone else. We went in and enjoyed our party.
William:   Exactly, we went and had fun. We got our ten pounds of candy, plus!
Lee:         Well, Tové has got it!
William:   Well she shared with us, so that counts.
Lee:         She did.
William:   Our plan was we wanted to go eat and we knew we were going to eat at Cosmic Rays, so instead of trying to fight out way down Main Street, we just took that little path off to the right in a circle around there so you don't even go down Main Street. You just stay off to the right hand side. So if that is available to you, take a walk down there. You might pick up something that you don't see otherwise in the night.
Lee:         Yes, they just had the carts with the party bags in there. I noticed they weren't handing out party bags in the front of the park with your wrist bands this year. Usually you get your wrist band and then there is somebody with a party bag. We weren't that early, because we've gone in at 4 pm before and they have had them there already.
So maybe they are just trying to keep the traffic flowing.
William:   That could be. And the only reason we went there was because we were thinking of where to start and I thought let's get something to eat. We knew we were going to Cosmic Rays over in Tomorrowland, so we took that shortcut so we didn't have to mess with crowds and we just happened to discover this little path quite innocently!
Lee:         Well, they don't usually have it open.  When the gates are open you do notice if you look up that way. So just have a look. If it's open, it means they are feeding people through there and you can avoid some of the congestion as well. Main Street was pretty busy.
They had the parade coming down there! That's why, maybe.
William:   Alright, so now that you are there, you are in, you've got your start, what do you want to skip?
Lee:         I want to skip anything that is available during regular park hours.  I just feel if you can do it on a regular day's pass, don't prioritize that.  Not don't do it, but deal with the priorities first; and those should be the things that you only get exclusively on your party ticket during the 7 pm to midnight time.
William:   That's kind of interesting because I know we talked about it on our previous podcast, they've got the Dessert Hallowishes thing. To me that wasn't something I wanted to spend my time or additional money on. And we didn't.
Lee:         We didn't. It takes you out of the park for a long time. Now for somebody who has issues standing … well, you still have to stand when you are in your preferred viewing spot for the parade and it's first come, first served for the seating at the party itself.
William:   For that event I just thought of it as our advice of what to skip. You can do a dessert party any time and I don't know that it's necessarily going to be any better during your Halloween party ticket, because again, it is an additional cost and it takes some time and it takes you away from all the other activities. You're in a group, following some people around for a few hours.
Lee:         It's going to take a good chunk of time out of your party time.
William:   If you are planning this, what is the order that you want to plan your events. I know there are going to be two parades, there are going to be multiple shows on the stage, only one fireworks show.
Lee:         There is only one fireworks show. Right, what I always do and we did it this time as well, is we take the times for the two parades and we take the fireworks and we pick what we are going to do there and everything else gets built around it.
William:   OK.
Lee:         So generally, you are only going to watch the parade once. Maybe some people love it and want to watch it twice in an evening and are going to spend the night on Main Street, that is cool. If that's important to you, then plan it that way.
For us, usually the second parade is quieter than the first one and we know that.  But we opted for the first parade based on last year's experience, just because of the way we wanted to do things.  We wanted some party time after the fireworks. That was just personal choice; no reason to make it better or worse.
We wanted to do our trick or treating then, if we were going to get around to doing it, because the lines are shorter then. No matter what they are like in the beginning of the evening, they are always going to be shorter later on.
If you stay for the second parade, I think it was 11:45 when it was finishing off down Main Street, when I walked down; you've pretty much gone almost out of party time. Especially if you are going to watch the fireworks and then run into the second parade there.
So we decided to suck it up and do what was a busier first parade, but I think it worked for us this time.
William:   I was amazed. This is a party that you pay extra money for and after the fireworks went off, there was an amazing number of people who were leaving.
Lee:         Yes.
William:   You've still got a few more hours of your party ticket, but they were done and they were headed out.
Lee:         They do, but I think some people are actually smart when they do that. If you are with people in your group who don't have the same stamina, if they are tired; if you have had enough and you are done for the night and the kids are cranky or they are upset, leave while they are still happy. I'm not saying leave and don't be there, but I wouldn't criticize somebody for leaving.
I think people make a judgment call and a lot of people do leave; and I think that is one of the compelling reasons to do so.
We've actually gone with a family before, some years back, and their kids are younger than Tové. They had one in a stroller at the time and when we arranged to do the party together, they said straight up front, "We cannot stay to the end. Our kids will not make it."
So they stayed until the fireworks and they left.
William:   I guess what I was looking at though, was that's an opportunity if you are going to stay. That clears out almost half of the crowd in the park.
Lee:         Probably easily, because there was a significant increase in breathing space after that.
William:   So I'm thinking about order of events and since you know there are going to be a couple of parades, you might want to skip the first parade because that is going to be the heaviest and most crowded one. Then while everybody is there you can run around and do the other events.
Then the second parade is not going to be as crowded, because it's easier to get space.
When we were there at the first parade it was almost like a busy day in the park. Everybody was around and instead of people just along the curb, they were going back several people deep.
Lee:         Four, five, sometimes six people deep. Yes, it was full. It was packed.
William:   So just something to keep in mind, if you are going to go and you know you are going to stay the whole time, the crowd is going to thin out and you are going to have more freedom to do things towards the end of the night.
Lee:         You will, but also if you want to leave after the fireworks or if you do want to do the second parade instead of the first one, and then you want to go home afterwards, if you are trying to beat the crowds at the transportation and beat the worst of it, you are ideally positioned if you are on Main Street for the parade, to leave when the parade is over, before the masses start clearing from the back of the park.
It must have been 12:30 pm, 12:45 pm? Before we left the Magic Kingdom? And it was very busy still, although the transportation was fine, it was still very busy.
William:   And you'll be happy to know that I followed my advice from last time around. We didn't take the tram to our car either in or out; we walked.
Lee:         Yes we did.
William:   And I can tell you at the end of the night, the last thing I wanted to do was walk, but I got over there, I looked at the tram and thought no!
Lee:         We beat it both ways, did we not?
William.   Oh yes. Just like we said in our podcast last week – and if you haven't heard that, it was all about Disney transportation and that was episode 7 – we said for short distances it makes more sense to walk than to take the Disney transportation because it's faster, there is less crowd, there is less hassle overall.  Even though I was dead tired, I didn't really feel like walking, as soon as I looked at that crowd waiting on the tram I thought, there is no way!
We walked back to our car and it wasn't as bad as my mental image at the time. You know when you're dead tired the last thing you want to do is move your feet.
Lee:         When we got on the ferry you said to me, "Sweetheart, tonight we take the tram to the car."
William:   I did.
Lee:         And I said, "OK."
William:   I was thinking, this goes against everything I said on the podcast. Actually, that's not true. I did say if you are dead tired, go ahead and take the tram. I was dead tired. I did not want to walk.
Lee:         Neither did Tové. She had ten pounds of candy in her backpack and she said, "I'm tired. I don't want to walk."
I looked at her and said, "How much candy have you got?"
She said, "It's full."
I said, "I don't feel sorry for you."
William:   But you know what? I got down to it, looked at the line and said, no we are not doing this!
And we walked. It wasn't bad.  We were at our car within a few minutes. We were there far ahead of when the tram actually showed up.
Lee:         Yes.
William:   But both directions we parked and walked and had no complaints about timing.
Lee:         We had probably picked up our coffee and sodas already before they got to their cars.
William:   Absolutely.
One other thing I want to bring up, and you've said this before.  You have done multiple parties on visits before.
Lee:         Yes.
William:   Is that so you can get more experiences? Because it is really hard to experience everything in one party.
Lee:         It is difficult. Now for us, our experience was slightly different, as I mentioned, because we were spending time staking out spots for tripods. You know you want to be out of the way and not obstruct people.
William:   That was for us on this particular trip.  Most people aren't going to be doing that.
Lee:         No, and that's why I'm going to say our experience was slightly different. So some of what we are saying is not going to apply to the average guest.  I did want to point that out because, unless you have small children and you really need to have them right in the front so that they can see, you are going to be absolutely fine being a couple of people back.
I had not need to be in the front. In fact I think we stepped back so some kids could come in front of us because we were going to be standing up. So it didn't make sense for us to be in front.
William:   And even though I got there an hour or more before the first parade started, I was still a couple of people back. It didn't matter. I knew I was going to stand up to take my photos and they were sitting down on the curb so it wasn't a problem at all.
Lee:         I think the reason that we used to do more than one party was so that we could focus on specific things for each one. So for example, it wasn't uncommon for us to do three parties in a trip, but even if we were going to do two parties, we would have one party that was dedicated to things like meeting characters, perhaps we would trick or treat a bit in both of them, do a couple of rides and do the character meet and greets that were the ones we wouldn't usually see; something special and different.
We would also combine some Photopass magic shots in there as well. Then on the other party we would focus on the fireworks and one of the parades.  Maybe we would pick up any meet and greets that we missed on the previous time and we would do anything else that we hadn't done; that's when we would visit the dance party, maybe get some more magic shots that we didn't get.  I do feel that it is easier if you are able to be focused. Otherwise you need to just pick what is most important to you.
It is not a cheap thing so I'm not going to go out there and say you really need to do two parties if you want to see everything.  If you want to see and do everything, probably yes. But not everybody has an interest in absolutely everything.
There were things that didn't really apply to us now that were important five or six years ago.
William:   Well, if you are going to do multiple parties and you've seen the parade and the fireworks on the first one, you are really freed up to go do other things.
Lee:         And that is where you can really cash in, because like Tové – I mean she's fourteen and we left her on her own while we were doing the photos because she said she didn't want to hang around and watch that parade – she's old enough and knows Magic Kingdom and she's got her phone and she went off to do her own thing.
She knew that this was the time to go for the character meet and greets. She said she walked into Town Square, straight up to Mickey, nobody in front of her and she walked straight up to Tinkerbell with no line.  When she was down there, there was no line.
Now this is a strategy that we had used before. I don't remember where else she went, but it was during the second parade or the fireworks.
William:   She was over at Gaston's Tavern.
Lee:         Yes, she went over to Gaston's Tavern, she got some magic shots and Photopass photos and things like that.  She went and hit all the trick or treat stations and said there were no lines.  That is the time to do it. But I wouldn't be wanting to give up my only opportunity to see the fireworks and the parade to go and get candy that I can get from Publix or Target.
William:   True.
OK, we said this is a review so I'm going to throw this in there. I didn't have this on the notes for you to look ahead.
Lee:         That's OK.
William:   Give it a grade. If you are going to review the whole experience, I know we had things that we really loved. The crowd was a bit more than we wanted but that is a given night. I think because of the holiday weekend.
If you are going to give this party for 2016 a grade, what do you think?
Lee:         How am I grading this? Give me a grading level.
William:   Let's go one through ten.
Lee:         So ten is the best and one is dreadful. Never again.
William:   Yes, exactly.
Lee:         I would give it between a 7.5 and an 8; which is good. I never give a ten.
William:   Never?
Lee:         Rarely. I think there is always room for improvement, so what I'm trying to say is a 7.5 to 8 grade is not a bad. In my books that is really good.
William:   OK, she is tougher than I am. I was actually going to give it an 8.5 and my methodology is – I'm going to break this down and put this on the blog post or show notes for this as well – it's really pretty simple.  I'm looking at individual things.  Was the candy good? Were the parade and shows good? What was the crowd level like? How were we treated by the cast members? We had some wonderful experiences with cast members.
Lee:         Oh my goodness. The cast members.  We have to throw that in here for a positive. They were absolutely outstanding. I mean they always are, especially at the parties, but they were just wonderful.
William:   We got a photo of you with the gentleman in front of the Ice Cream Parlor.
Lee:         Yes. He was standing there with his little ghost sign and his lantern – one of the souvenir cups – and I just went up to him and asked if I could get a picture taken with him?
These are the people who are adding to the atmosphere. They are there with a smile and a hello and they are just wonderful.
William:   I remember this one particular guy at a candy station. He was saying, "Happy Halloween. Have a good time!" and he was continuing to do that for every guest that came through.  Some people are more enthusiastic than others, but I had good experiences with everybody there.
Lee:         They were wonderful.
William:   We were really happy with the cast members.  But those are the kinds of things that I put in the grade.
What I didn't put in the grade that affected me a little bit was the weather.  Not that it was stormy or anything like that, but it was hot and it was humid and that kind of pulled me down a bit. But that is not something that Disney controls. I don't want to hold that against the party, just because the party might be a bit warmer or muggier than I thought.
So overall maybe that's why I gave it a bit more of a score. It is going to be curious when I do this on the blog post because I've got that little review plugin thing and I've got to put down the criteria and then rate each one of those.  I want to see how it calculates it out.
Lee:         I am going to give the cast members a ten.
William:   That's sweet.
Lee:         If I had to look at each person I encountered, there was not a situation where I thought they could have done that better, or they should not have done that. They were just absolutely wonderful.
William:   Yeah, we had a wonderful time with the cast out there.  And it's not like we were trying to go out and interact with all of them, but as we went through the course of the party they were happy, they were friendly and they were generous.
Lee:         I noticed them.  They stood out. They were just wonderful and they really stood out to me.
William:   OK, so we got your grade in. I always like to imagine a few things.
Was the party crowd too large? Or what could Disney do?
Lee:         I think their maximum capacity cap for tickets has definitely increased. This is not something new. We've seen it over the years. A sold out party used to be bearable.  It started becoming more and more difficult to navigate.
To my knowledge, this one was not sold out. I didn't go and check after we bought. Typically it doesn't, but as we said with the holiday weekend, that would have had a completely different effect on things.
William:   Oh, I'm sure.  The crowd level on Halloween is going to be up there at the top.
Lee:         Yeah.
William:   To me, it varied. I mean, definitely when we were on Main Street during the shows and the prime events, it was packed. I mean packed, several levels deep.
Yet when we were sitting on Main Street before the fireworks went off, it didn't seem so bad.
Lee:         That's when some of the people had cleared and moved for their parade spots or were trying to use the little bit of time they had in between.
People don't want to waste time. They have got their five hour slot and a good hour and a half to two hours is going to be spent waiting for parades and fireworks if you want a specific place.
William:   It was definitely more crowded than what it was at last year's event that we went to. But it wasn't as crowded as a busy Disney day like an 8, 9 or 10 crowd capacity, because there, when it's that busy, you are packed everywhere you go. Here it was like they were coming in and out.  So it wasn't as bad. But when you are in a crowd, you're in a crowd and it stinks.
Lee:         This wasn't unbearable, so I don't want to mislead anyone into thinking it was terrible.  But for a party, for a hard ticketed event, I do feel that it does take something from your ability to move around. It did make it difficult to navigate at times. There are a lot of people there with their little kids. You can't just go bulldozing your way through the street to get somewhere because there are little children, there are people with their costumes on and we are all trying to move as best we can. So yes, I think the crowds … Disney is putting too many people into the parties now and this was never true to this extent in the past. Unless my perceptions have changed completely.
William:   I noticed a big difference between what we did last year and this year.
Lee:         We did October last year.  We did a weekend in October, which is a much busier time, supposedly. It wasn't anything like this.
William:   It may have been because of the holiday weekend, but I think there are still way too many people for a party.  Not necessarily for a regular night, but for a party, I thought it was a lot.
Lee:         Yeah.
William:   Should the party maybe have started earlier or maybe run later?
Lee:         Ideally I would like to see the party run later. But I think that if Disney had to ever make a change –and this is just us going 'what if', this is not based on any rumors or anything – I think if they started the party earlier, they are not having to pay staff to be in there for an additional hour and keep things open because the park is running.
The down side is that the majority of the guests in the park over the course of the open to close period are your day time guests.
William:   They are.
Lee:         You don't really want to take away from them.
William:   The reason I don't think it really makes sense to start earlier is because this is an evening party. You start earlier in the daylight, it's not really a Halloween feel when the bright sun shines.
And sunset is around eight o' clock or so.
Lee:         It's a little before, but it's getting dark by eight.
William:   And as it goes through October it will get darker earlier, but you can get in the park as early as four o' clock and the party starts at seven. I think if they started earlier – you really want to have that darkness around. So my vote is we would like Disney to run it later. Maybe until two in the morning!
Lee:         Yeah, that would be good!   One o' clock, two o' clock – even if they gave us an extra hour. The reason I say this is because there is too much to experience to be able to do everything. And if you've got little legs trying to keep up and they are a bit slower ….
William:   Well, we know that there are still going to be families, like you said, with little kids. They are going to leave. But there are people that really want to go through the park and experience everything in that kind of atmosphere. They want to do more rides. And that was one of the questions. Would you like to have a party run longer or would you like t have more rides open? It's a bit of a tossup as to which one is better.
One of the things that we looked at and we've got some photos we were going to put on the website and didn't talk about here so much, was the merchandise.
Lee:         Yes.
William:   There is always Halloween related merchandise for these shows.  We found a few things we will share with you. Again, that is going to be at orlandolocal.com/8.  We want to make sure you get a chance to take a look at everything there.
Lee:         Yes. Overall it was a great party. I do still recommend it. So I don't have any gripes about it; we just wanted to give our honest review so we have mentioned the things where we feel things might have changed or could be different.
William:   This is still our favorite party, though.
Lee:         It is a good experience and we feel like we got what we paid for.
William:   And that is honestly a wonderful value in itself. You got what you paid for.
Thank you very much for listening to our review of Mickey's Not So Scary Halloween Party. As I mentioned, show notes are going to be available at  orlandolocal.com/8 and we are going to have a transcript of the show out there for you.  So you can just go ahead and sign up and tell us where to send it to you. The nice part about that is you get to read everything over here when you are on the plane coming down or driving over. Unless you are the one driving.
We really did have a good time with this. We recommend it and we hope that you have a good time with it too.
If you have any questions or comments, please let us know at orlandolocal.com/8
Thank you very much. We'll see you here next week!