Peach Valley Cafe: A Delicious Breakfast Restaurant


Restaurant Name: Peach Valley Cafe
Restaurant Description: Peach Valley Cafe is a great restaurant for people who are looking for a casual and relaxed dining experience. The food is delicious and there is a wide variety of menu items to choose from. The staff is friendly and accommodating, and the prices are very reasonable. Peach Valley Cafe is a great place to eat whether you are alone or with friends, and I would highly recommend it to anyone looking for a good meal at a great price.
Price range: $10 - $30
Address: 1210 South International Parkway Heathrow, FL 32746
Cuisine: Breakfast & Lunch
Telephone: (407) 833-9440
Summary
Peach Valley Cafe is a local favorite for breakfast with plenty of options and variations of traditional breakfast menu options. There are also some vegetarian-friendly meals, so there's something for everyone. The staff is friendly and efficient and always ready with hot coffee. Expect a crowd on weekend mornings for breakfast. Open Daily 7am-2:30pm
Food Quality

Atmosphere

Service

Value
Pros
Great breakfast food
Many options and variations
Friendly service
Very clean
Cons
Can get very busy and cause a wait to be seated
Furniture is showing its age
If you're looking for a delicious breakfast restaurant location in the Lake Mary, FL area, look no further than Peach Valley Cafe! This charming little cafe offers a wide variety of options, all of which are cooked to perfection.
The staff is friendly and welcoming, and they will do everything they can to make sure your dining experience is enjoyable. We highly recommend the blueberry pancakes – they are absolutely amazing!
That's why Peach Valley Cafe is on our list of Top 10 Orlando Restaurants.
What Do We Love About Peach Valley Cafe?
Peach Valley Cafe never fails to provide a wonderful breakfast experience. It's not a fancy place, but a rather simple cafe with a friendly atmosphere. We figured it deserves a review.
You're greeted at the door. Don't be surprised if there's a wait during busy mornings on the weekend days. This is a place where people like to go and treat themselves and their families.
The place checks the right boxes.
You won't be disappointed with this breakfast place.
1: All the Breakfast Meats
My standard breakfast order is pretty traditional.
When I go to a breakfast restaurant, I generally want the same order. I think a tasty meal includes some form of charred animal flesh.
Breakfast meat options
If you want bacon or sausage, it's an upcharge to most meals.
I asked my server, Jessica, which was better -bacon or sausage. She didn't hesitate a moment.
Now to the best of my knowledge, I've never had hand-pressed sausage before. That was enough to give it a shot.
Breakfast combinations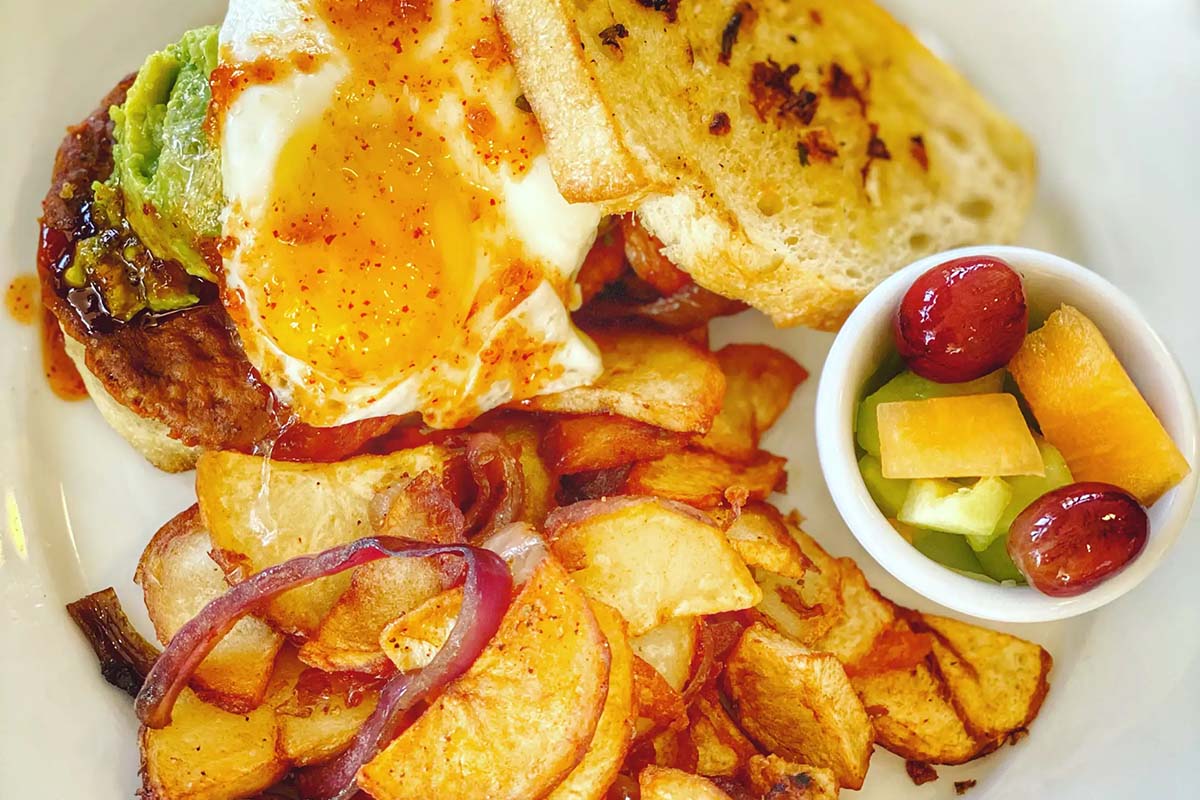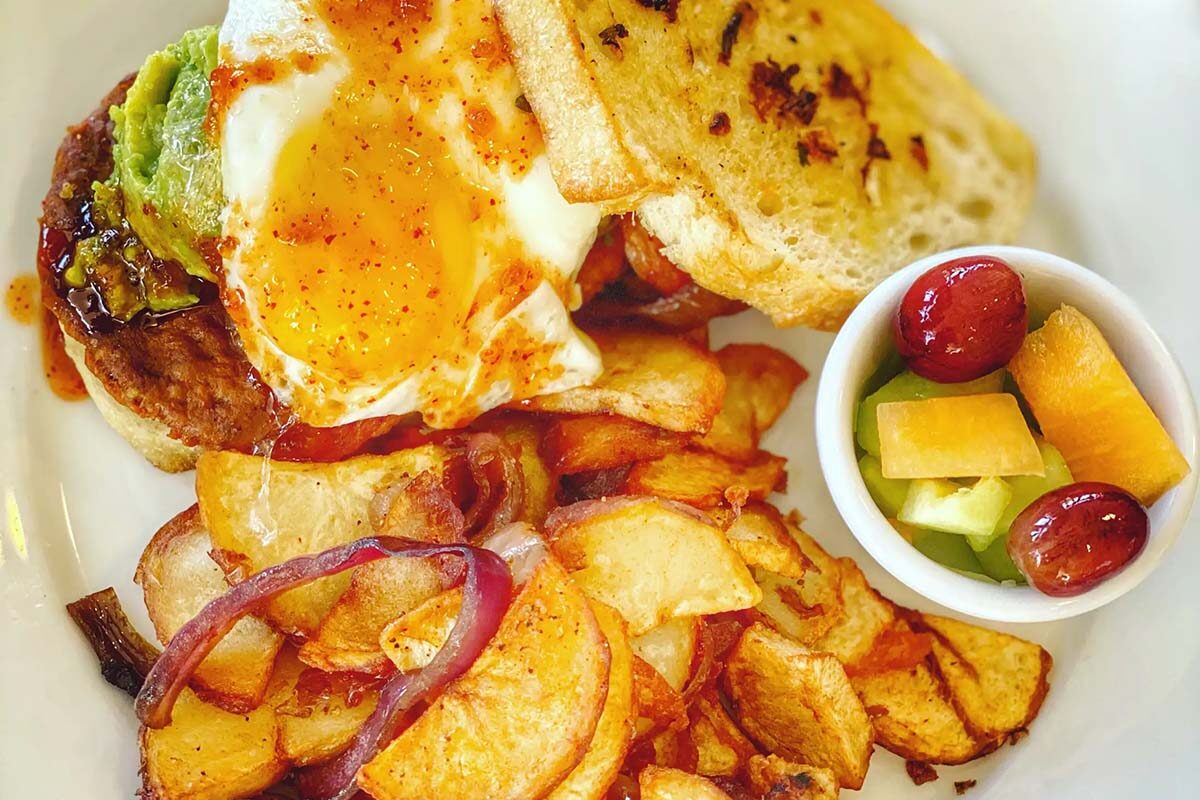 They have some options I never considered before at breakfast, but I have to admit some intrigue me.
The Philly steak and egg croissant consist of Philly beef grilled with peppers, poached eggs, mushrooms, and red onion. It's served with breakfast potatoes And a small fruit cup. I don't think I've seen anything like this at another restaurant before, but they cooked up an interesting twist for brunch.
Omelet options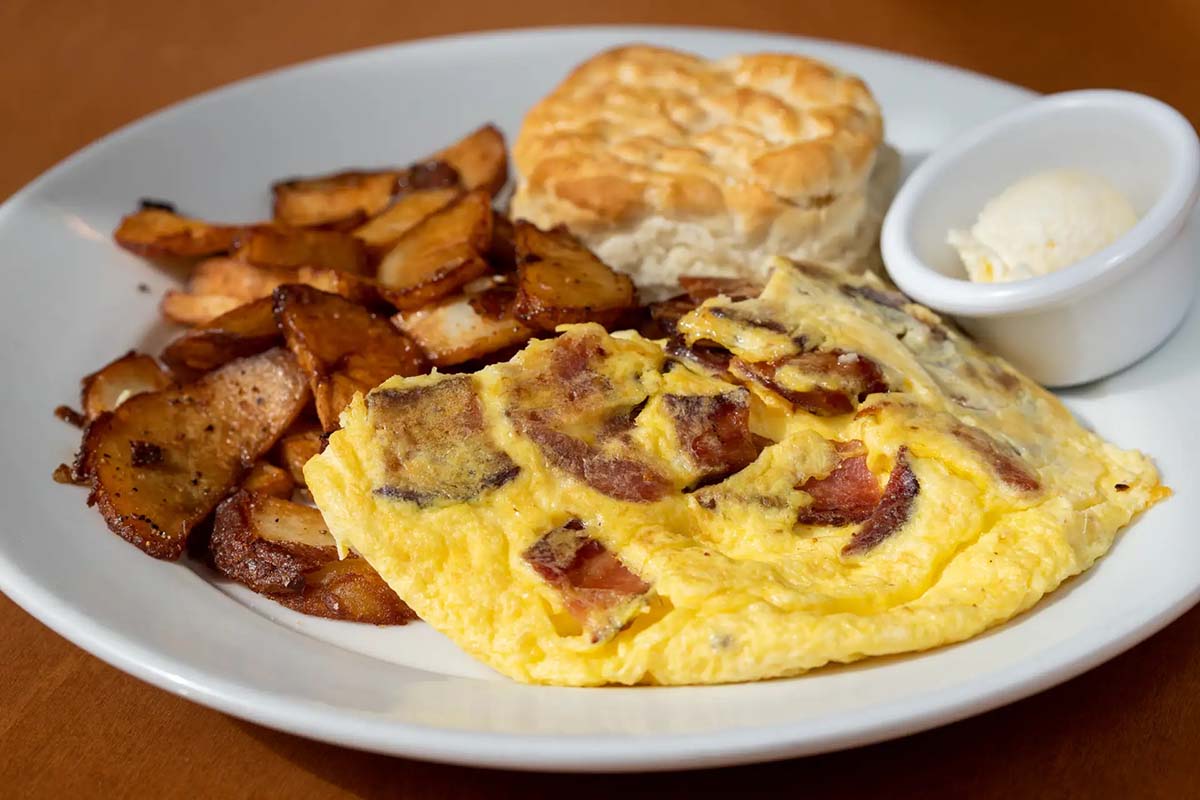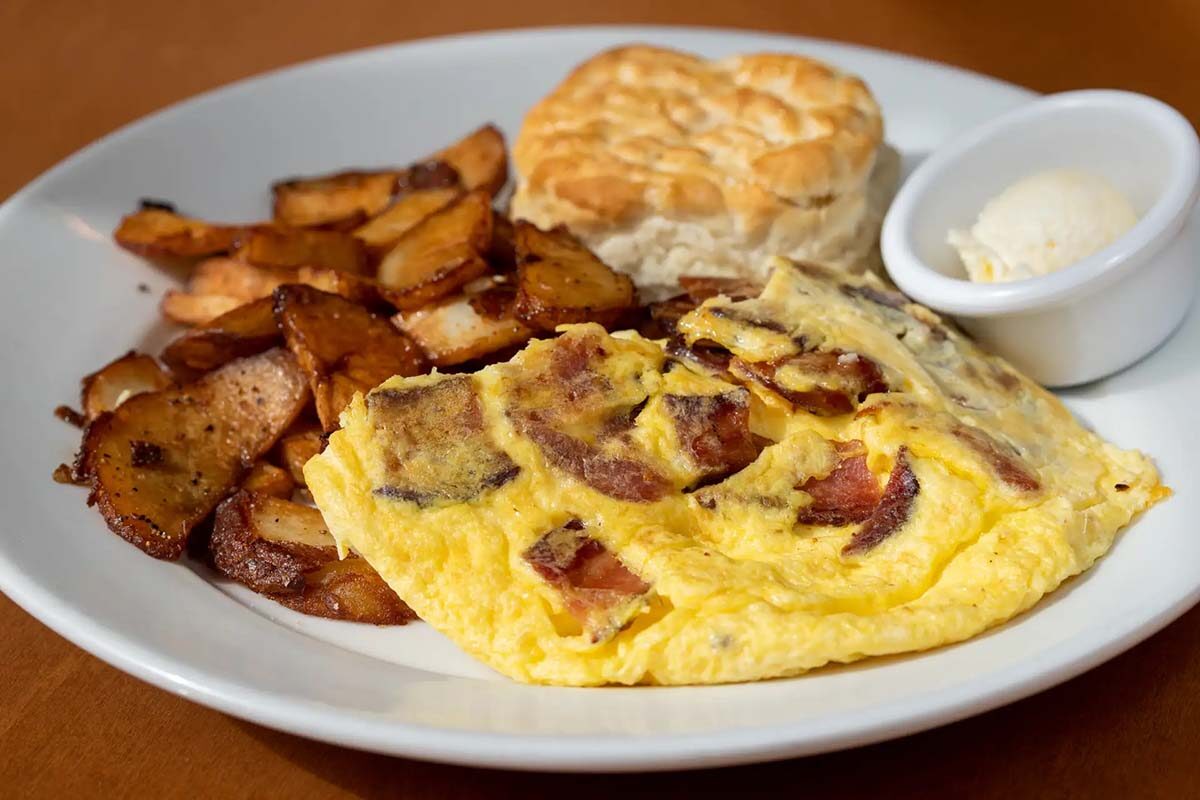 A lot of people think that omelets are a complicated food, but they're actually quite easy to make. And they're versatile, too – you can add whatever fillings you like, so they're perfect for picky eaters.
Omelets are also a good option if you're looking for something that's filling but not too heavy. Thanks to the protein in the eggs, an omelet will keep you satisfied until lunchtime. So if you're looking for a filling and easy option, give an omelet a try.
There are plenty of omelet choices, including veggie options.
It's as if these folks have an endless supply of eggs and other ingredients and they like tossing them all together with cheddar cheese, green peppers, or whatever else is in the house.
2: Pancakes, Waffles, and More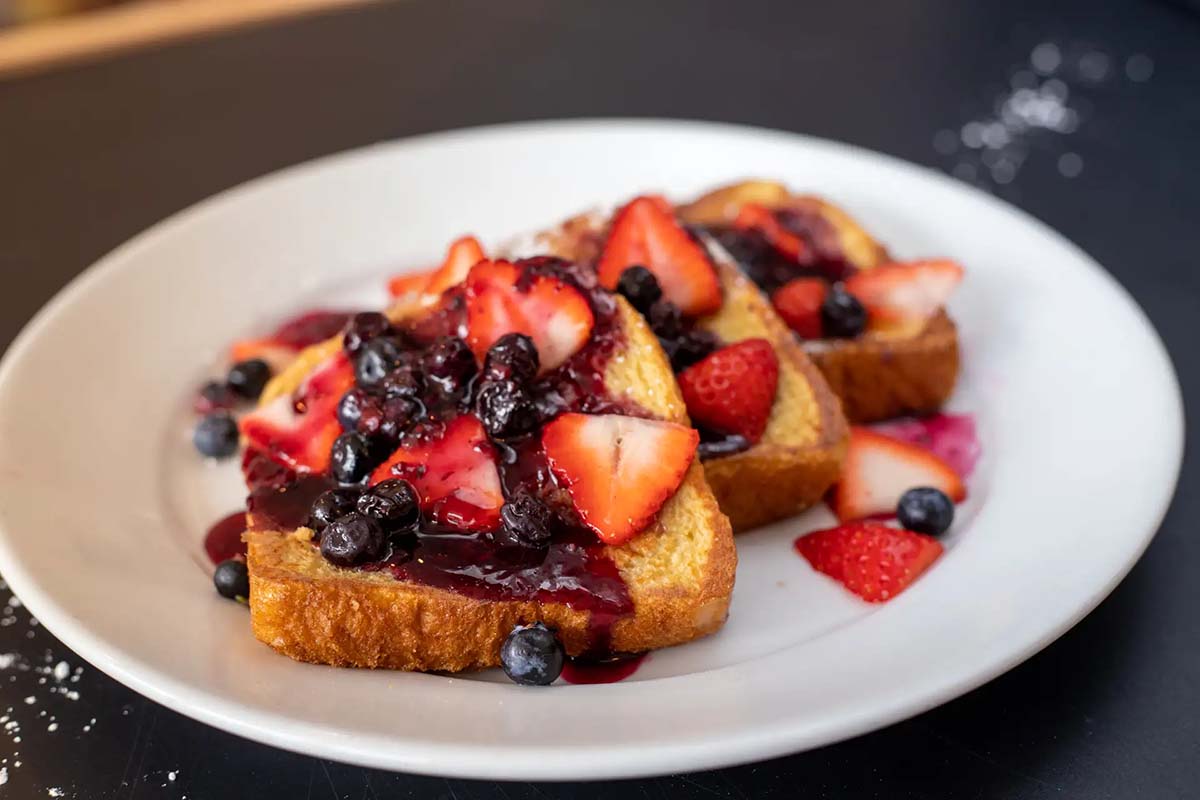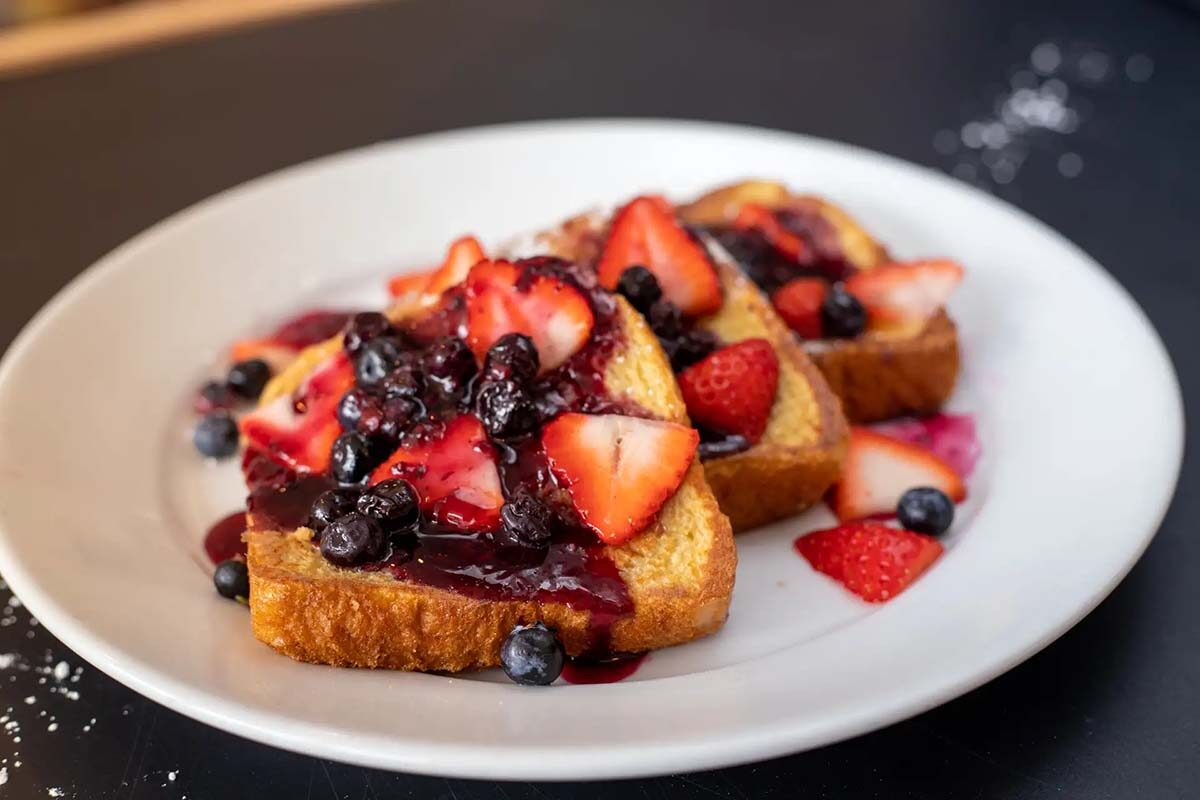 As much as I love my traditional bacon & eggs, sometimes I'm tempted by some waffles or pancakes.
Take the Very Berry Stuffed French Toast shown above, complete with blueberries, sliced strawberries, and a raspberry blueberry compote drizzle to top it all off.
That's OK, there are other options in this category:
Chicken and waffles are popular items for a number of reasons.
First, they are a convenient way to get both protein and carbs in one meal. Second, they can be easily customized to fit any dietary restrictions or preferences. Third, chicken and waffles are generally very affordable.
Whether you're looking for a quick and easy breakfast or a satisfying meal to start your day, chicken and waffles are a great option.
Is it any wonder I love Peach Valley Cafe? The menu has more options than most restaurants serving breakfast and it's great food.
3: Fresh Granny Smith Apples Fritters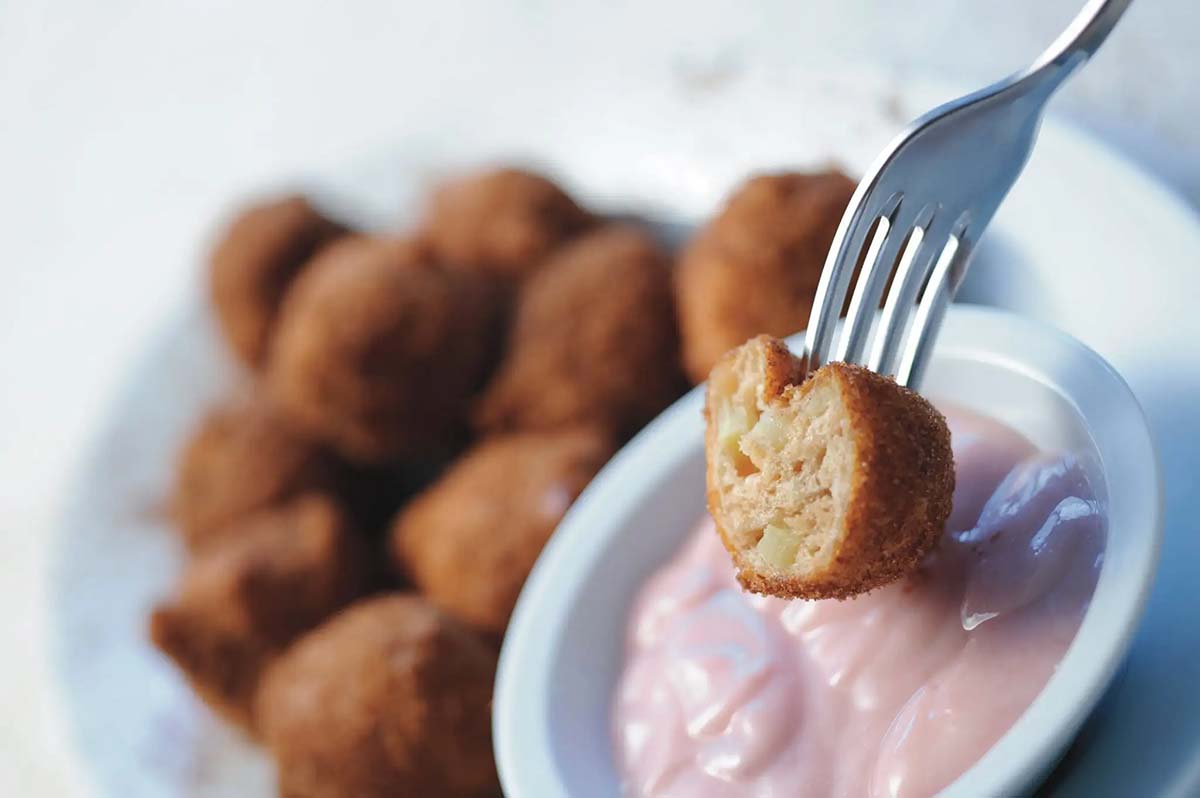 Everyone says you have to try the apple fritters.
Fritters are a classic autumn treat. A crispy fried doughnut filled with chunks of apple and dusted with sugar, they're the perfect way to enjoy the season's harvest.
While apple fritters are often thought of as breakfast food, you can enjoy them any time of day.
Peach Valley adds some granny smith apples to their batter and cooks until golden brown. Then they toss the apple fritters in a cinnamon sugar blend and serve with strawberry yogurt.
Dip the apple fritters into the strawberry yogurt and you've got a treat that's hard to beat.
4: Breakfast Potatoes and Other Sides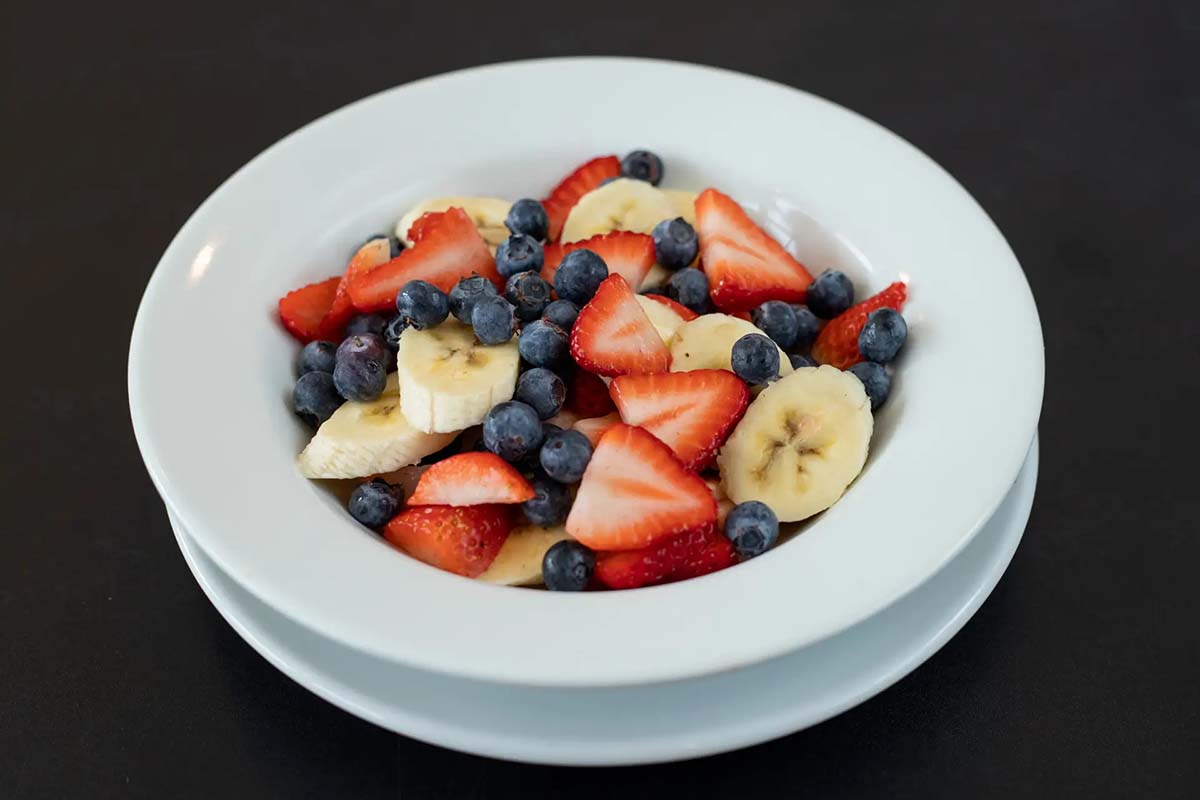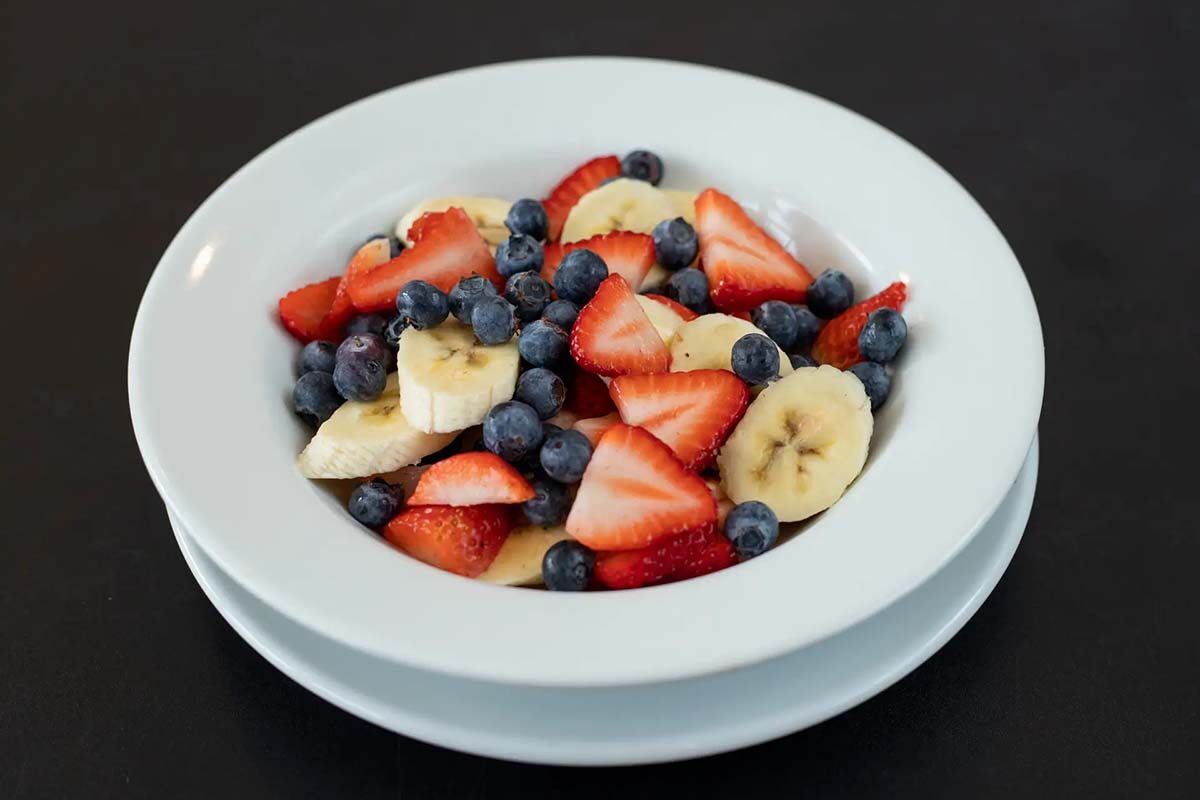 One of the best things about breakfast at Peach Valley is the variety of side dishes served.
Whether you're looking for something sweet or savory, there's sure to be a side dish that will hit the spot. For those who like to start their day with a little bit of sweetness, the Peaches & Cream Muffin is a perfect choice.
I've mentioned some of the sides previously, but there are still plenty more options on the menu.
The Superfood Breakfast has a bowl of housemade granola, fresh banana, blueberries, and strawberries in a superfood base.
5: Grilled Salmon Salad and More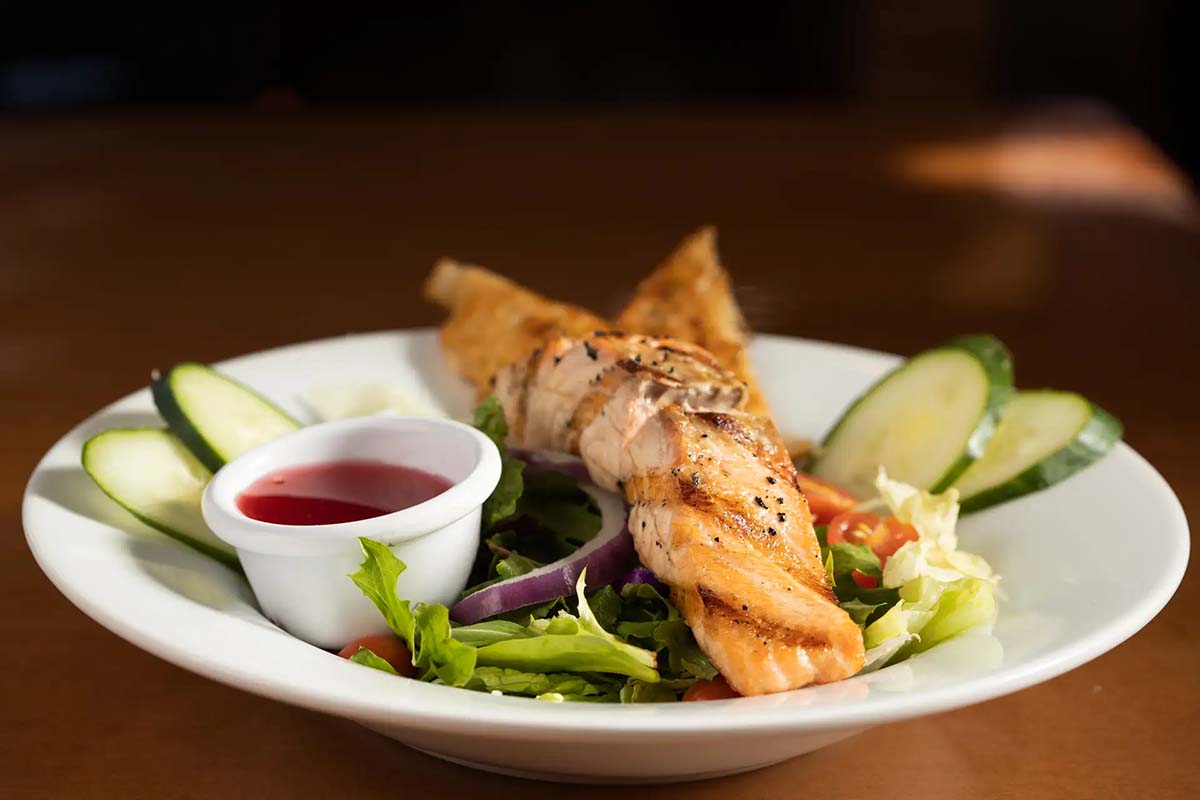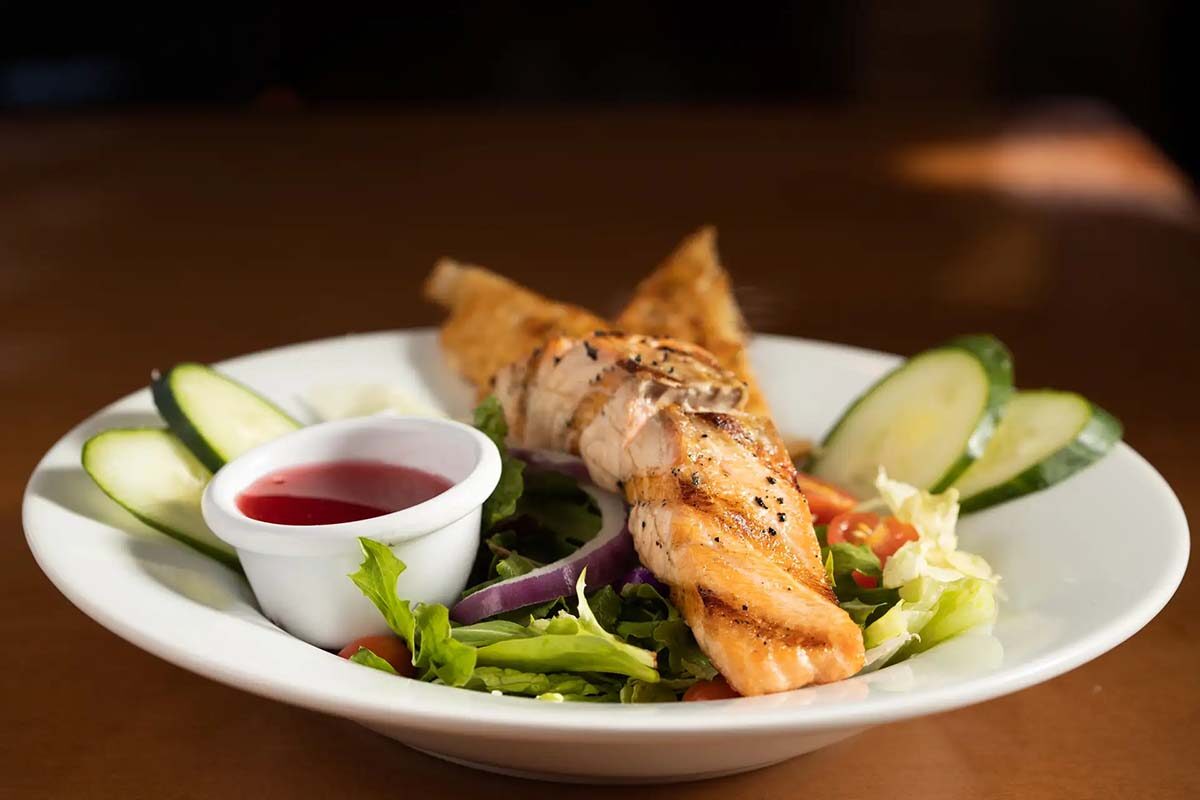 If you're not in the mood for breakfast, Peach Valley Cafe has some other options for you.
They have a wide variety of lunch options to choose from, including sandwiches, salads, soups, and more. And everything is made fresh with quality ingredients.
The Grilled Salmon Salad is a signature item on the menu. Served with mixed greens, cucumbers, cherry tomatoes, red onions, and a grilled salmon filet with raspberry dressing on the side.
You'll find options for brunch or lunch on the menu, also. Even some dessert items like peach cobbler. Peach Valley Cafe also has some vegan options on the menu.
You'll find some great sandwich choices, like:
Served with a Smile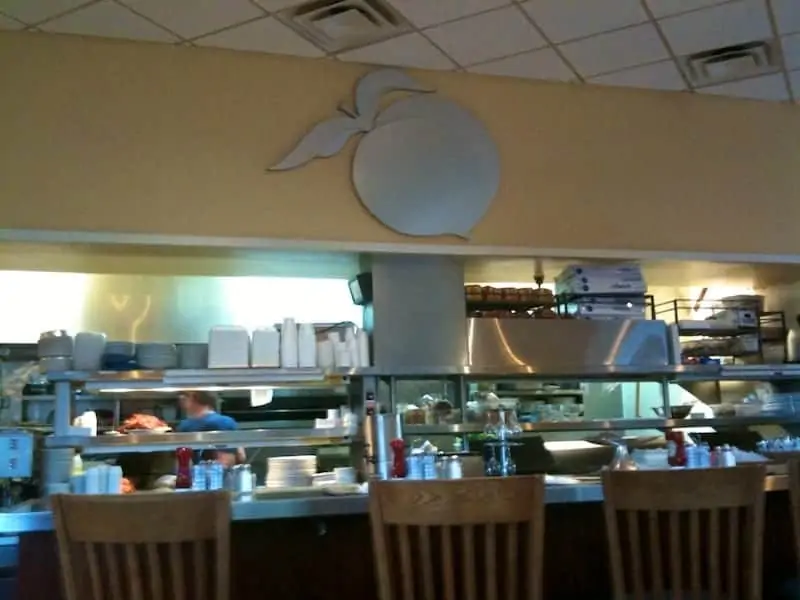 The service at Peach Valley Cafe is friendly and efficient. I was quickly served a glass of water and orange juice, and my server, Jessica, was attentive and had a great attitude. She made sure that I was happy with my meal and offered suggestions for other items on the menu.
On most of my visits during a weekday after the morning rush gets to their office, I'm taken to a table immediately. On a weekend morning visit, be prepared for a wait as the place gets crowded.
You have options for sitting indoors or outdoor seating. There's a cover over the outdoor patio, so you won't be in direct sunlight.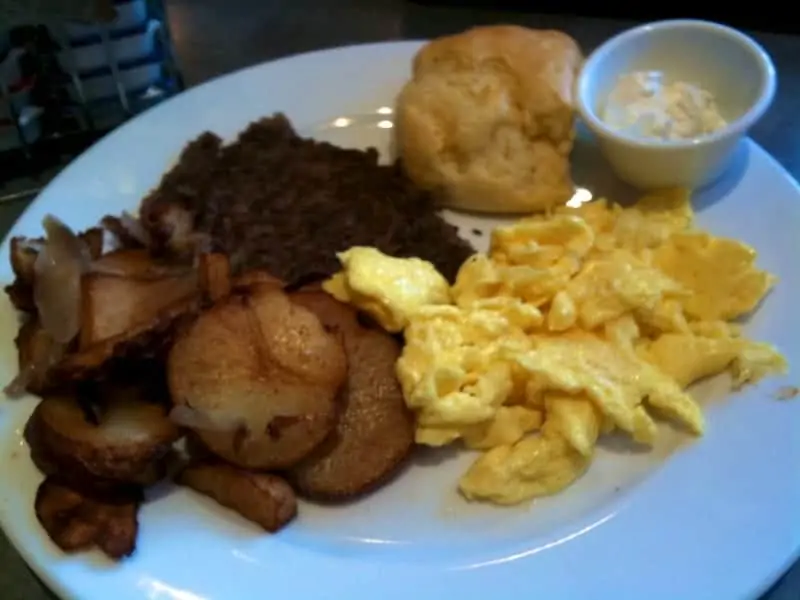 This iPhone shot doesn't do it justice.
It's a very delicious breakfast. The eggs were cooked perfectly without being runny or over-cooked. The biscuit was homemade; light, flaky and warm.
The potatoes looked like they had red skin on the sides, were topped with onions, and were very flavorful. In fact, I'd go as far to say that they're the best breakfast potatoes I've ever had.
That leaves the sausage patty. It was definitely hand-pressed and you only get one, but it's big enough to count for three of those Jimmy Dean things that are shaped like a tube, and these taste a lot better, too.
Definitely a little bit of pepper spice, but not overwhelming. As I said, it didn't look like much, but it was quite delicious. Nothing fancy, but really satisfying. Those breakfast potatoes really hit the spot for me.
So often, breakfast is a really disappointing meal for me when I eat in a restaurant. This had to be in my top 3 best morning meals and it was only $11.67 + tip.
Peach Valley Cafe Atmosphere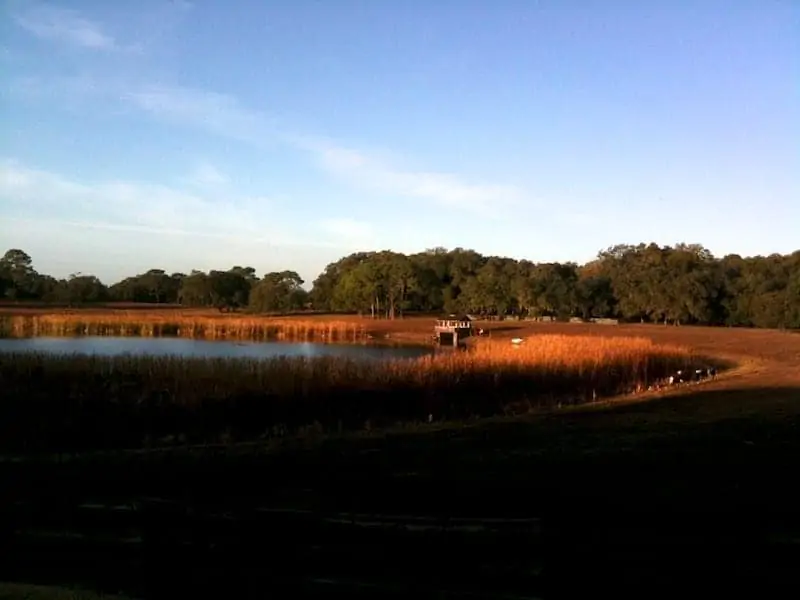 Peach Valley Cafe also has a patio dining with a nice lakefront view. I walked out there to take look. There were plenty of people talking, folks exercising on the trail, and a line of cows walking around the lake in the pasture just beyond the fence.
A couple of calves were feeding in the bushes surrounding the lake nearby. Other cows slowly walked up and nestled in to feed. I didn't get it. They walked at least halfway around the lake, and the whole thing was lined with rushes.
What the hell was so special about this spot? Whatever it was, they liked having breakfast there. I suppose I could relate. You can get breakfast at a lot of places, but I'll pass a lot of them to come back to Peach Valley Cafe.
Peach Valley Cafe Review Summary
My top concern in writing my review is that it may encourage more people to visit, causing delays in getting a table at one of my favorite restaurants. I love this place, so why am I telling you about it when it could mean that I have to wait for a table?
Peach Valley is not a glamourous restaurant. In fact, it's rather plain and narrow inside, and the seats show a bit of age.
Yet it remains my favorite place to get scrambled eggs, bacon, breakfast potatoes, and a biscuit.
I'm always welcomed and offered hot coffee when I'm in the house (even though I don't care for coffee). Once I place my order, I'm served quickly with great comfort food. If I want some exotic food, there are options in the restaurant to get many variations with eggs and any number of fresh ingredients I desire to eat.
You may also like our review of Keke's Breakfast Cafe!