For some odd reason, I woke up early this morning.  No alarm clock; I reserve Saturday for sleeping in as long as I need. There was nothing pressing that I had to do today, so it came as quite a surprise to me that I was awake at 6:00 am. Staying in bed didn't help, as I wasn't able to get back to sleep. May as well get up and have breakfast, since my stomach is rumbling.
The only thing different about today is that it's my free day. Basically, that means I get to eat anything I want. The rest of the week, I'm exercising and eating healthy meals. Honestly, I don't mind it.  After putting on weight last year being in an office, it's really a nice change of pace to have more control over my diet while working at home. My trainer (she who forces me to lift heavy objects) is actually concerned that I'm not getting enough calories per day, but I don't seem to feel hunger.
She needn't worry today.  I woke up hungry and was determined to have a real breakfast. Actually, I planned it last night.  I was checking local reviews and people seemed consistently satisfied with Peach Valley Cafe in Lake Mary, FL. It seemed worth trying.
One thing the reviews warned about was to get there early, as this is a popular breakfast spot on weekends. True enough, I was in a line of cars pulling into the parking lot about 7:30 this morning. Fortunately for me, a few of those folks went to the Panera Bread right next door. A couple of bikers walked into Peach Valley Cafe with me, though. Part of me wished that I'd ridden my bike – after all, I planned on going for a ride later today.  Then I remembered that I hate getting on my bike early in the morning.  No matter, they were all a lot older than I am and I don't like talking to strangers, anyway.
The place was rather empty, which surprised me. I had no problem getting a booth. Restaurants always want a single diner to sit at the counter, but that's a last option for me. Counters are never comfortable or semi-private.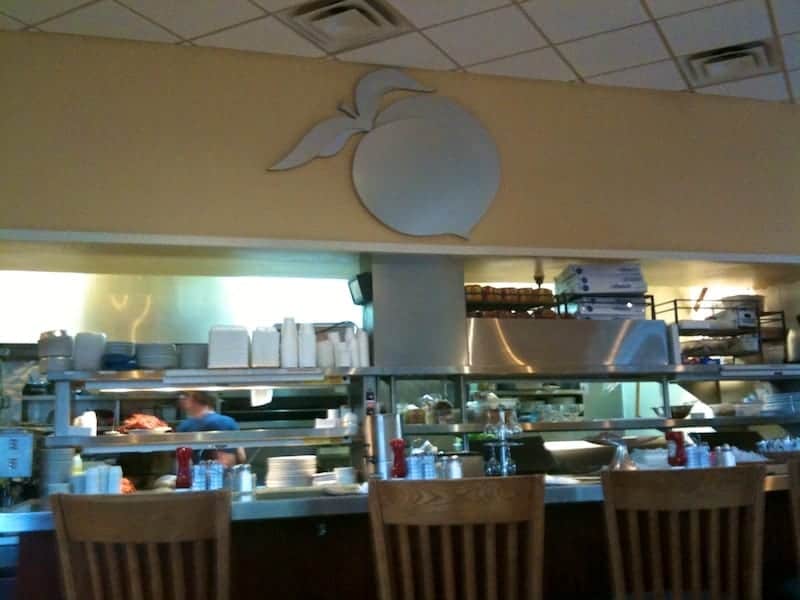 My server, Jessica, appeared quickly to offer something to drink. As I'm not a coffee drinker, I can't tell you if theirs is strong, week, good or bad. I just had water and orange juice.
Looking over the menu, I noticed the Apple Fritters at the top that were mentioned online.  Everyone says you gotta get these things, so I didn't.  Look, I'm sure they're fine. It's just that I'm sitting there alone and I don't need something that comes by the sack, or even a half-sack. If I go back with friends, we'll order the Apple Fritters and share them, but it seems like overkill for one person.
Being a traditionalist, I just ordered two eggs scrambled well, biscuit, and breakfast potatoes. If you want bacon or sausage, it's an upcharge. I asked Jessica which was better -bacon or sausage. She didn't hesitate a moment. "Sausage.  Sausage patties. We hand press 'em here." Now to the best of my knowledge, I've never had hand-pressed sausage before. That was enough to give it a shot.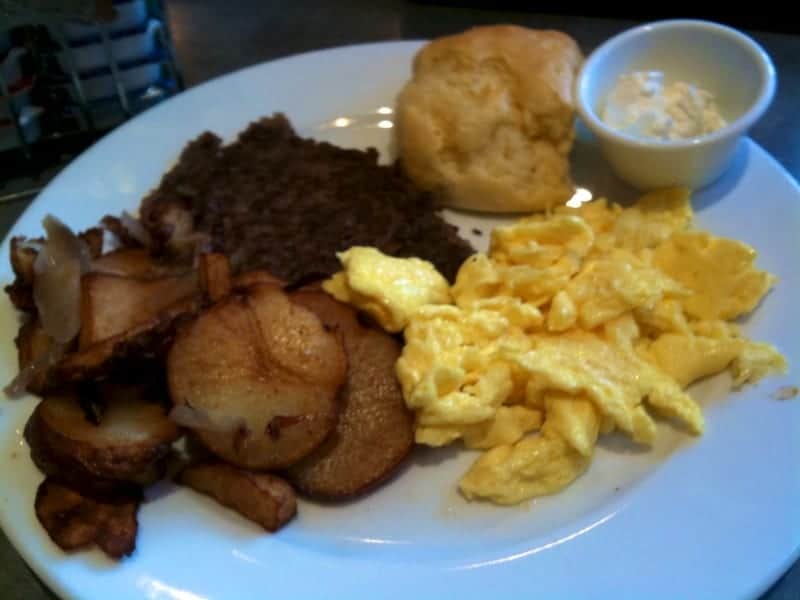 This iPhone shot doesn't do it justice. Let's face it, most food doesn't photograph well. Food is brown because that's the way you fry it. No matter, it was damn delicious. I'm not going to rave about it, because it's just breakfast. However, it's a very tasty breakfast. The eggs were cooked perfectly without being runny or over-cooked. The biscuit was homemade; light, flaky and warm. The potatoes looked like they had red skin on the sides, topped with onions and very flavorful. In fact, I'd go as far to say that they're the best breakfast potatoes I've ever had. That leaves the sausage patty. It was definitely hand-pressed and you only get one, bit it's big enough to count for three of those Jimmy Dean things that are shaped like a tube and these taste a lot better, too. Definitely a little bit of pepper spice, but not overwhelming. Like I said, the breakfast didn't look like much, but it was quite delicious. Nothing fancy, but really tasty. So often, breakfast is a really disappointing meal for me when I eat in a restaurant. This had to be in my top 3 best breakfast meals and it was only $11.67 + tip.
Peach Valley Cafe also has a patio dining with a nice lakefront view. I walked out there to take look. There were plenty of people talking, folks exercising on the trail, and a line of cows walking around the lake in the pasture just beyond the fence. A couple of calves were feeding in the rushes surrounding the lake nearby. Other cows slowly walked up and nestled in to feed. I didn't get it. They walked at least half-way around the lake, and the whole thing was lined with rushes. What the hell was so special about this spot? Whatever it was, they liked having breakfast there. I suppose I could relate. You can get breakfast at a lot of places, but I'll pass a lot of them to come back to Peach Valley Cafe.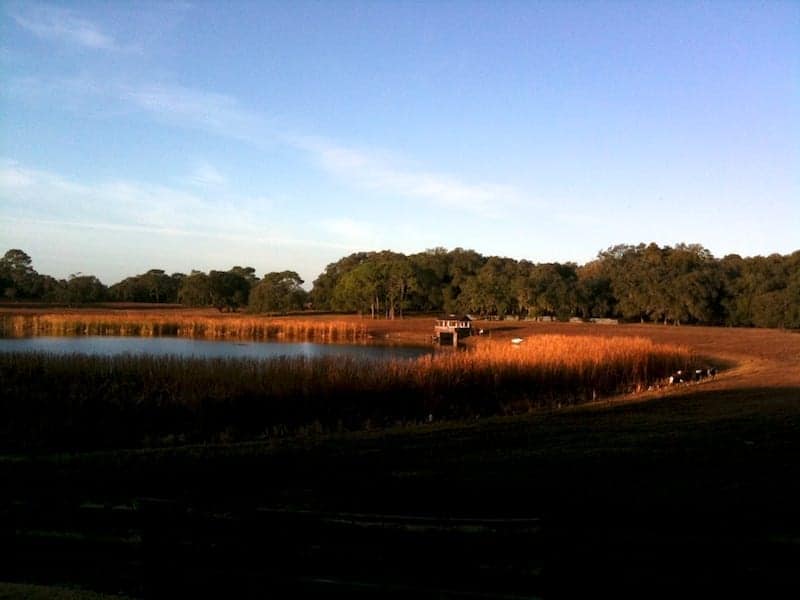 Peach Valley Cafe
1210 South International Parkway Heathrow, FL 32746 – (407) 833-9440 Open Daily 7am-3:30pm