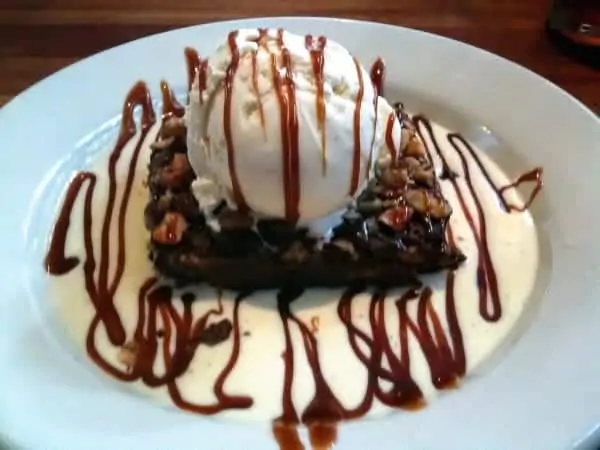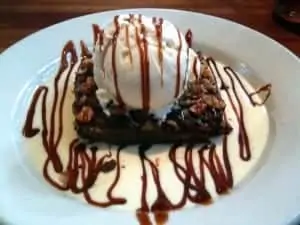 It's happened.  I've become a weekend regular at Houston's (slowly changing to Hillstone's) in Winter Park. Every Saturday, I wake up and try to figure out what I want. If I'm not out of town or otherwise tied up, I end up going to the same place for lunch. Maybe I'm just a creature of habit.
Houston's is a good place to be a regular. The staff is friendly, they know what I like, and I can usually count on a few folks who work there to stop by and say hello or talk for a bit. Weekend lunch is one of the few slow times for the restaurant.  Visit during a weekend evening or business lunch and you'll find a good crowd ahead of you. That's why I tend to enjoy weekend lunch. I'm not a fan of crowded restaurants and hustling servers when I'm out for a meal.
Consistent and Different
Houston's changes its soup daily, but I know it's always going to be chili & tortilla chips on Saturday.  That's great during the colder months, but not quite as refreshing over the summer. The chili is good, but I try to find my way there on a Monday when I can for the red bean & rice soup. There are always changing specials for market fish and vegetables, but the changing features seem to rotate among familiar favorites. It's a good combination of mixing things up while retaining some familiarity.
Unfortunately, sometimes the chefs working on the menu let their creativity get in the way of customer satisfaction. One of the popular side dishes I loved was black beans & brown rice. They tossed some interesting flavors into the mix, including a combination of chocolate cake batter and steak sauce. I could never replicate it at home, but I loved it.  From what the servers told me, so did most people who tried it.  In true culinary fashion, they took it off the menu. the first time they replaced it with a Dirty Rice dish that was just a bland, mushy mess of rice, corn and who knows what else. Then the black beans & brown rice came back…for a while. Once again, culinary ennui overcame good sense and they replaced it with another version of black beans & white rice. This time they turned to guava flavors that others seem to love, but I just can't stomach it. I had hopes my favorite side dish would come back, but it seems to be gone forever. Why any business would stop making a customer favorite is beyond my comprehension.
[box type="info"]I went back to Houston's (Hillstone's) for lunch today and my server told me the replacement black beans & rice is also gone. I won't miss that one. However, she said we could provide feedback on Hillstone.com if we want to lobby for the black beans & brown rice to return. Of course, they want your comments. They just don't want them online Postal mail or FAX only.[/box]
Perhaps the thing I enjoy most that keeps me coming back is the consistent excellence.  I'm not a foodie.  In fact, I have quite a limited palette because I don't like most of the frilly crap that foodies like. However, I can recognize good food that's delivered with consistent quality over the years.  When I order a meal at Houston's, I know what I'm going to get and I've never been surprised or disappointed from one meal to the next. The service team is equally professional, each watching out for the other and assisting you if your server is tied up with another table. It makes for an excellent dining experience that many other restaurants fail to deliver on a consistent basis.
Not the Average Chain
Houston's is part of a small chain.  I've found others in New York, San Francisco and South Florida. They all seem to offer a pretty consistent experience, though with some regional variations in the menu. It's not like going to Olive Garden, though. People tend to dress a little nicer, you don't find quite so many children, and the atmosphere is a bit nicer than most chains. It also costs a bit more. While I don't think the prices are out of line for the quality of food and service you receive, it's not the kind of place where you go if you need to ask why the steak costs more than Outback Steakhouse.  You're paying for a better meal in a better atmosphere. If that's not something you value, then don't go. Here's an example.  Today, I selected one of the specials – grilled salmon and asparagus, along with iced tea. After that, I decided to splurge on the brownie you see above in the iPhone photo. By the time I left my tip, the bill totaled about $45. That's a bit pricey for lunch and more than I usually spend. However, it was a great meal in a nice atmosphere.  I wasn't rushed a bit or listening to a screaming crowd. In other words, it was worth it to me, and I'll be back next weekend.
Houston's (Hillstones) Restaurant 215 South Orlando Avenue Winter Park, FL 32789 (407) 740-4005