Cuba Libre Restaurant Review
Cuba Libre Restaurant


Name: Cuba Libre
Description: Cuba Libre is a restaurant in Pointe Orlando where you can enjoy authentic Cuban cuisine in a truly unique setting. The restaurant is designed to taste old-world Cuba, with its traditional architecture and décor. It offers a variety of delicious Cuban dishes, all of which are prepared using the freshest ingredients. The menu features classics such as ropa vieja and Cuban sandwiches and creative new takes on traditional fare.
Price range: $10 - $50
Payment accepted: Credit Card
Currencies accepted: USD
Address: 9101 International Dr, Orlando, FL 32819
Telephone: 407.226.1600
Summary
We found practically everything about Cuba Libre to be an outstanding experience. They have great Cuban food, wonderful service, and a great selection of rum. Presented in an old-world Cuban atmosphere, it's a nearly perfect dining experience.
Atmosphere

Service

Food Quality

Parking

Price
Pros
Excellent Service
Inviting Atmosphere
Great Food
Best Mojito!
Convenient Parking
Cons
Wicker Chairs Could Be More Comfortable
Cuba Libre Restaurant has Great Cuban Food and Friendly Service
Lee and I visited Cuba Libre Restaurant at Pointe Orlando for our anniversary and it was fantastic. I've been a few times, but it was Lee's first visit.
Cuba Libre is a great escape from burgers and fries or pizza. The dishes are well-prepared and delicious. I'm as much of a picky eater as they come and I can find a lot of things to eat here. As far as I know, there isn't a lick of Cuban or Latin ancestry in me, but this just tastes like good comfort food.
Except the octopus. I can't do octopus.
1: Parking
You have two options for parking at Pointe Orlando. There is a parking garage where prices vary from $4 – $10, depending upon how long you're there. The parking garage is on the opposite end of the property from Cuba Libre, but it's not a bad walk.
There is also a valet option which happens to be just a few steps from Cuba Libre. Valet parking is $12, but Cuba Libre will validate you parking with your meal. That means you only have to tip the driver.
We prefer the valet service, but keep in mind you may have a bit of a delay when things get busy in the evening.
2: Atmosphere
Cuba Libre has a dark atmosphere with low key lighting and candles. Imagine a night in Havana and you'll understand the atmosphere. The walls have varied colors with a weathered appearance. Even the stone floor shows texture and a few cracks as if you're in the old world city.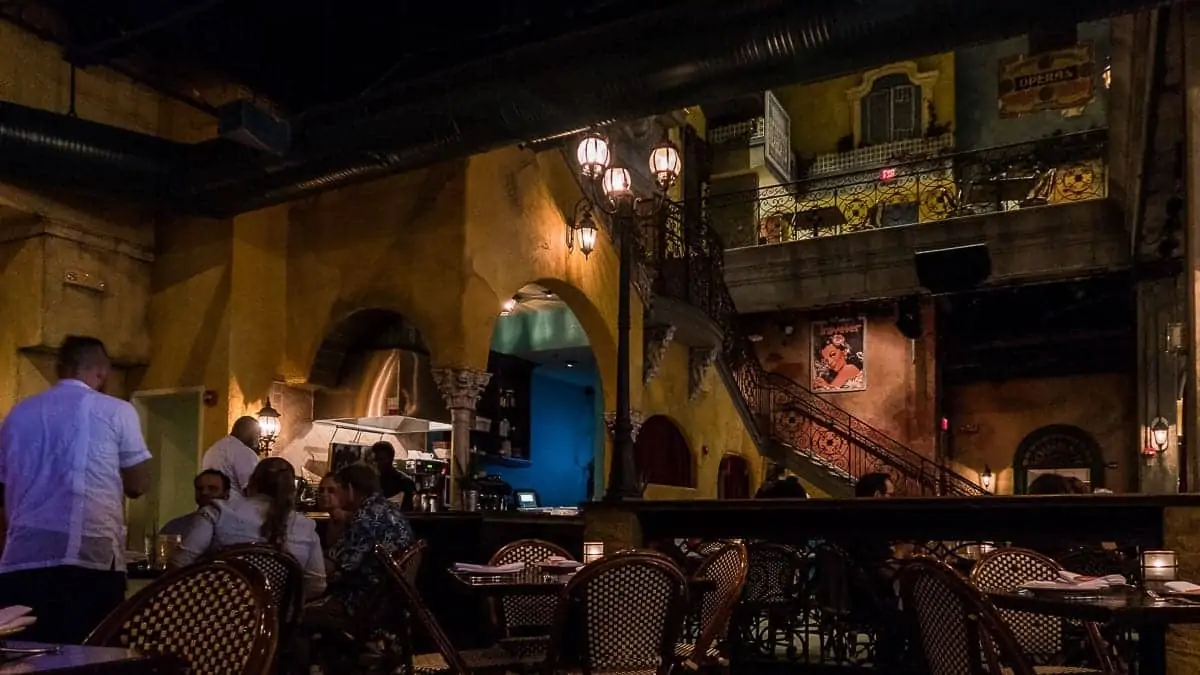 There are booths in the restaurant as well as the tables with the wicker chairs. If you can get a booth, take it. You'll be much more comfortable. The wicker chairs aren't painful, but I've had better seats.
3: Old World Service
I've always had outstanding service at Cuba Libre. Our most recent server was no exception. We thought he was excellent.
Our server was friendly, well informed about the menu and always appeared when we needed him. He could tell us about the prep work for every dish we considered, right dow to how they made the butter or compressed the watermelon.
We also had a warm reception from the hostess, and another warm thank you on the way out the door.
Excellent Food Quality
We were pleased with every item we encountered. The quality and presentation of the food and beverages were right on the money.
1: Cocktails
Let's start with our cocktails, or at least mine. I had the Grilled Pineapple Mojito and Lee had one of the local IPA beers.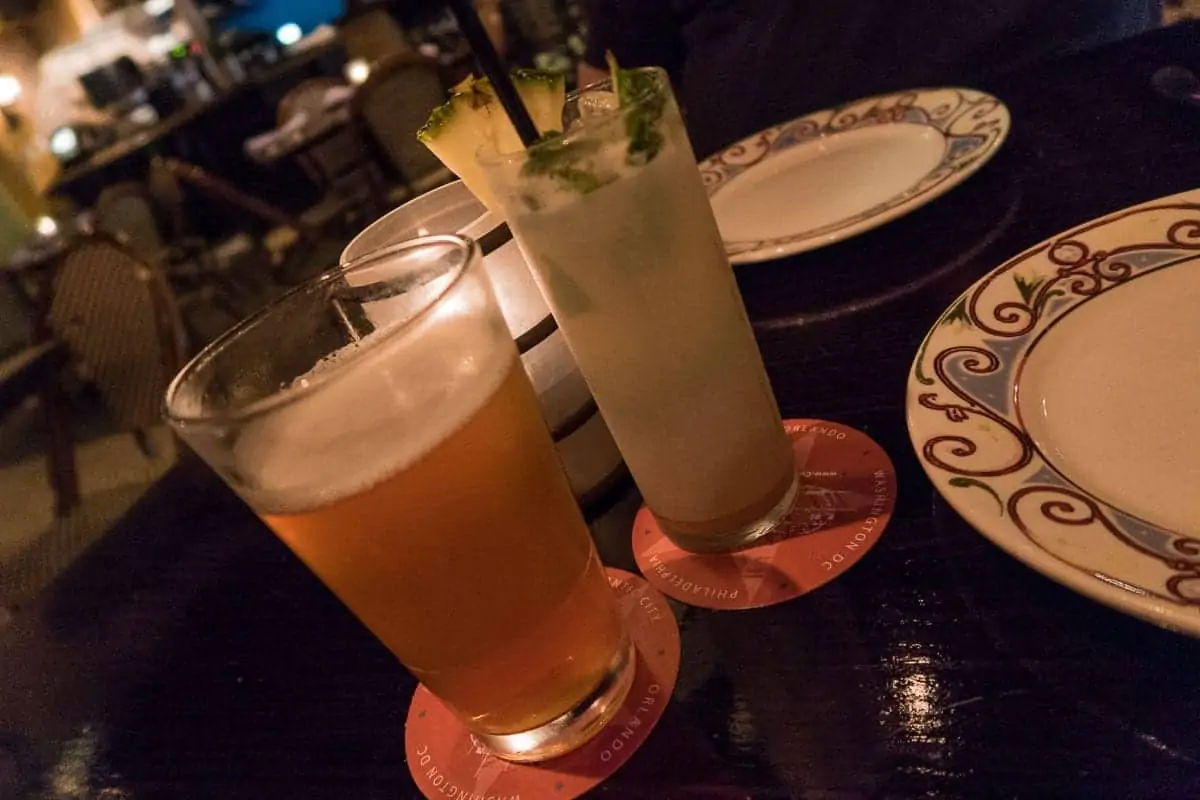 Lee does a good job of describing her beer on the podcast. My grilled pineapple mojito was the smoothest cocktail I can ever recall drinking. They actually grill pineapples and turn it into a puree as part of the recipe.
This drink was fabulous, and I don't even like to use the word fabulous (or amazing). Very smooth, delicious, and you experienced different subtleties after every sip. I wanted to compare it to the mojito at Tommy Bahamas just next to Cuba Libre, but they are different drinks.
I love them both, but I think I'd give the edge to the Grilled Pineapple Mojito.
2: House Bread & Butter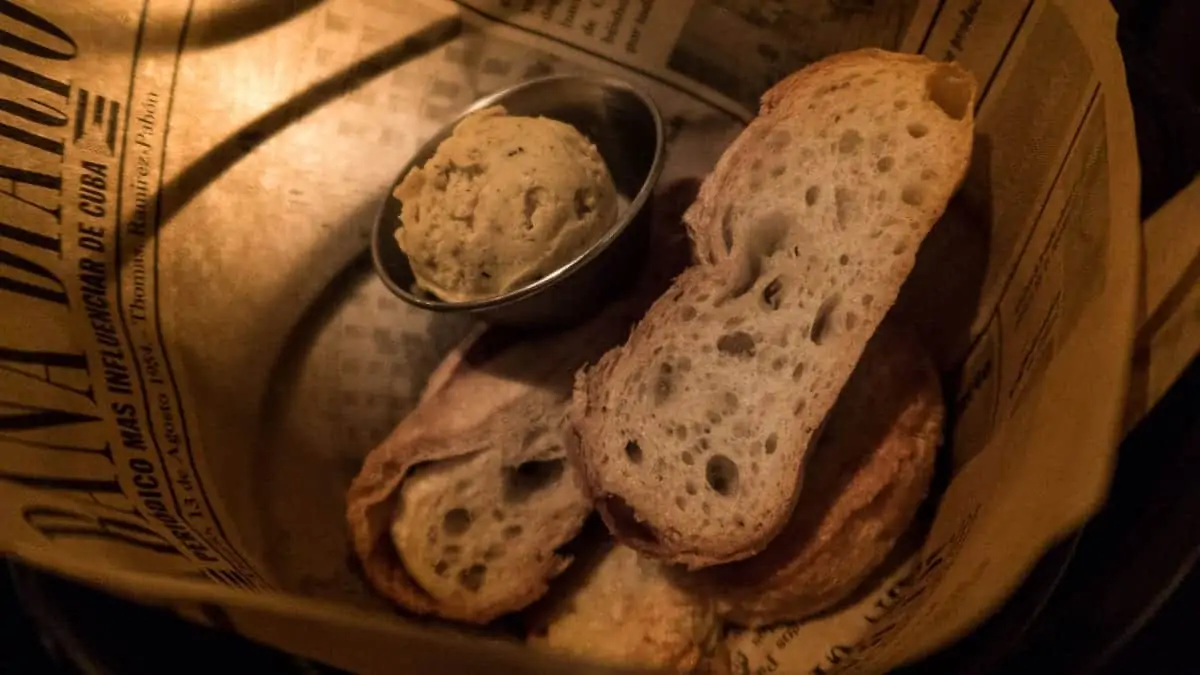 They serve lightly toasted cuban bread for the house bread. The real star here is the butter, and they make it in house. Our server told us that it's half salted butter and half unsalted butter, combined with mango, cinnamon and cumin. Then it's chilled for five hours.
It makes for a delicious combination. The flavors are subtle, rather than overpowering. We really enjoyed it, and we left talking about making the butter at home.
That speaks to the care and quality that the kitchen staff puts into preparing your meal. I mean, how often do you go home complimenting the butter?
3: The Cuban Sandwich Spring Roll Appetizer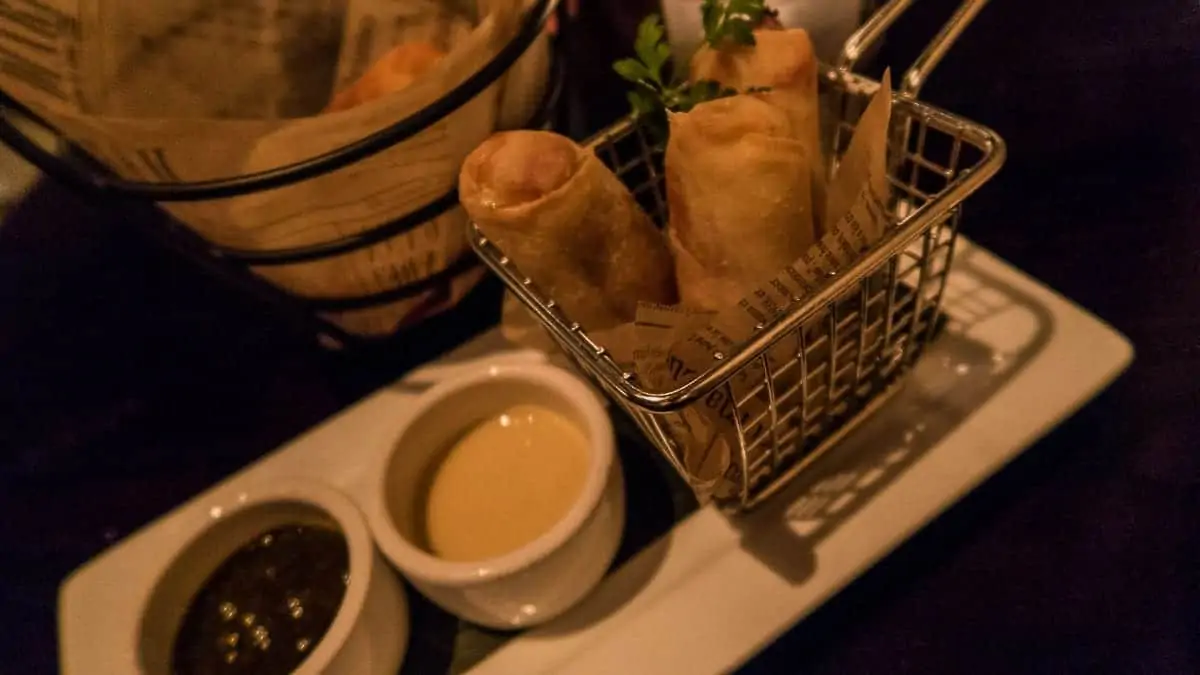 Cuba Libre has a lot of choices for your appetizer. We decided on the Cuban Sandwich Spring Rolls. It's like a little Cuban sandwich wrapped in a spring roll, only it tastes better.
I'm not a fan of pickles. They're inside the spring rolls, but I really didn't taste them. Lee doesn't care for pork, but this was something she really enjoyed. The kitchen somehow managed to combine the best of Cuban/Asian fusion into a tasty appetizer.
I'll get these again when we go back.
4: The Main Course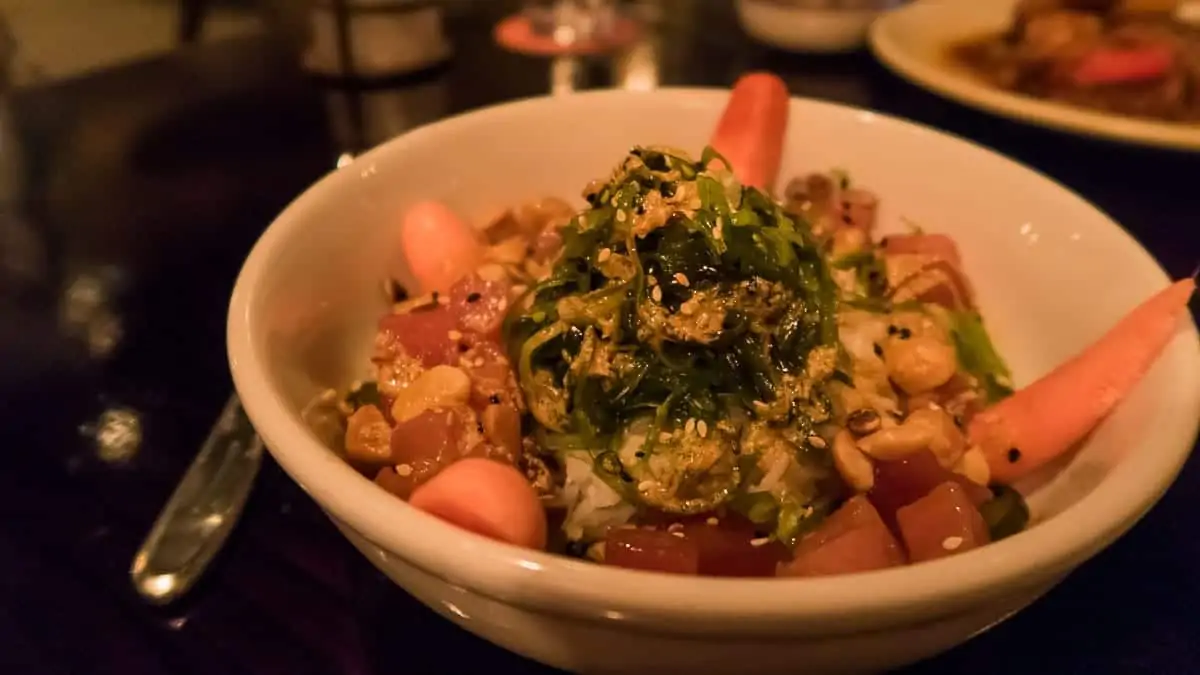 Inside the Cuban Poke you get Marinated seasonal fish (tuna when we visited), compressed watermelon and English cucumbers, pickled seaweed, avocado, white rice and toasted macadamia nuts. Pumpkin seed oil vinaigrette.
Lee was very pleased with her meal. The Cuban Poke is actually on the appetizer section of the menu, but she chose it as her main.
I went in a different direction for my main course.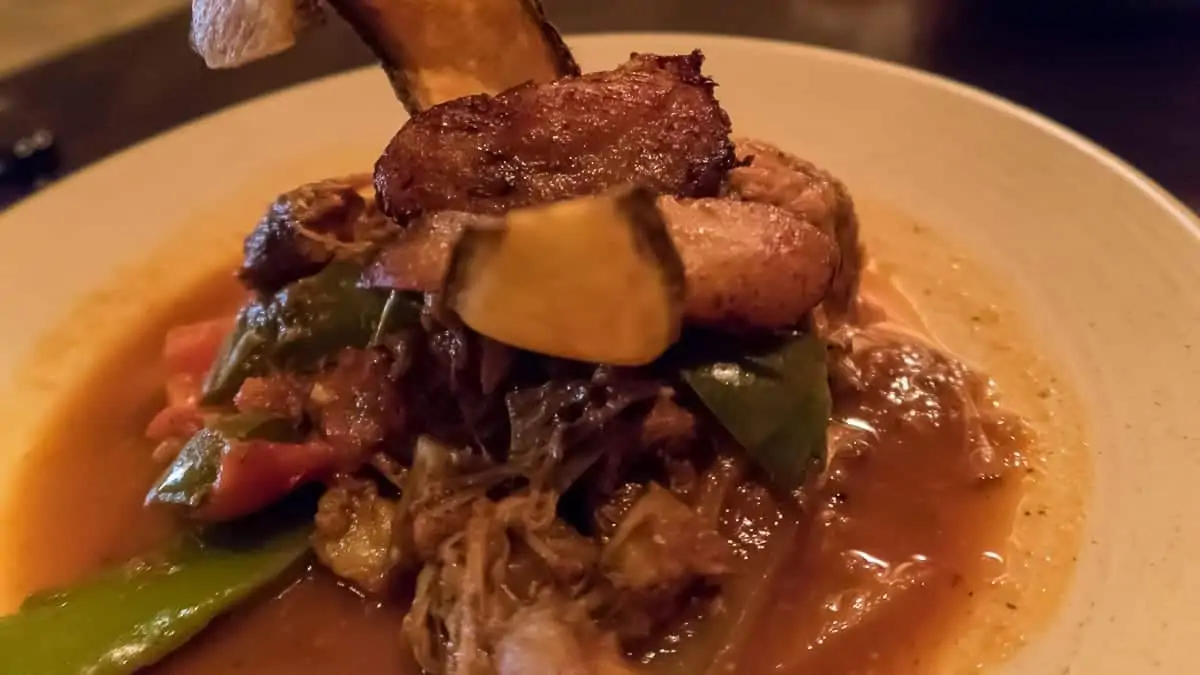 Ropa Vieja is a traditional dish that just feels like comfort food to me. Shredded beef brisket stewed with tomatoes, bell peppers, onions, red wine. Maduros and steamed white rice on the side.
I mixed it all together and ate the whole thing. It was delicious from the beef to the maduros. You get plenty of meat, peppers, onions and rice. It's very satisfying and typically what I order when I visit Cuba Libre.
The flavors combine during slow cooking and it practically melts in your mouth. There are plenty of other items on the menu that I want to try, but I keep coming back to the Ropa Vieja.
5: Didn't Do Dessert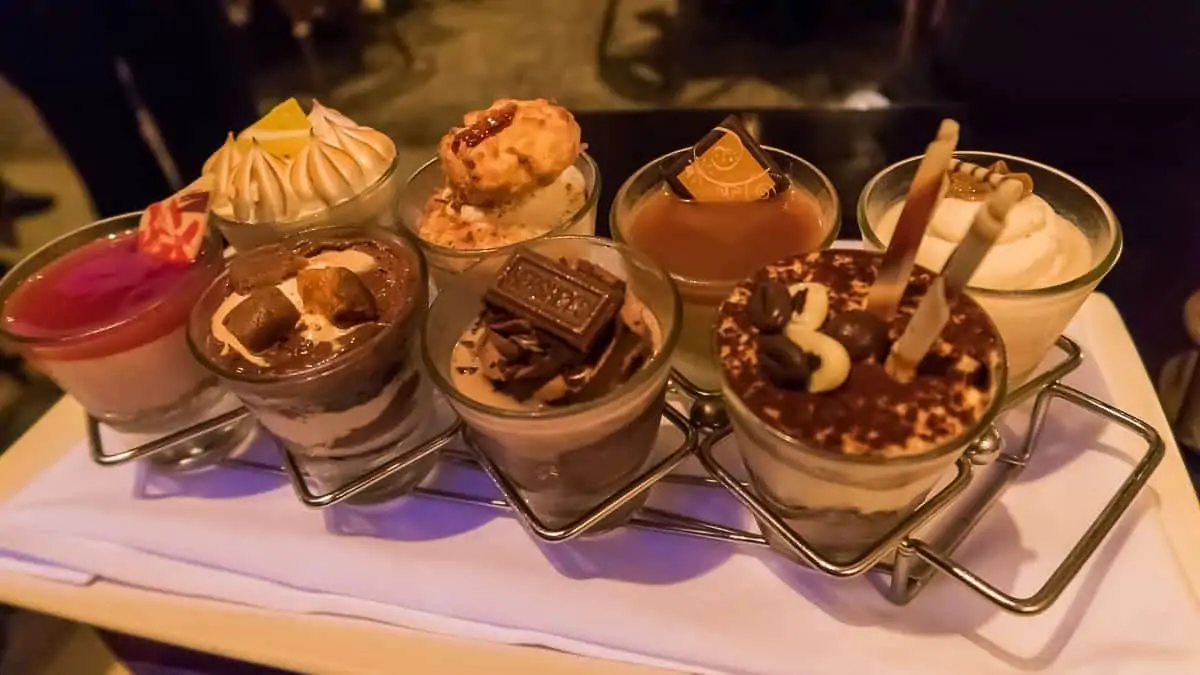 By this stage, we were both full. However, here's the dessert tray with some of your choices. I won't claim to remember all of these items.
There's a Key Lime Pie and Crème Brûlée in there. Most of the desserts had some custard or mousse inside. That's something that neither of us prefer. Combined with the fact we were already full, we just didn't get tempted.
However, if the desserts are as good as everything else we ate, I think you'll be alright if you find something you like. They aren't too large. Just enough to cap off a great meal.
The Price
Prices at Cuba Libre Restaurant match what you would expect for a higher end restaurant. It's more than a meal at Olive Garden, but I've paid more elsewhere.
The prices are available on the menu and we think they're reasonable.
For our anniversary celebration, Cuba Libre Restaurant was a great value. We had a lot of variety and spent about $75 or so for the two of us. Definitely well worth it in our experience.
Overall
We had a great experience and highly recommended Cuba Libre Restaurant at Pointe Orlando. Everything was outstanding. Great atmosphere, friendly service and wonderful food. This is one of my favorite restaurants in the Orlando area and it provides a great, romantic environment for a nice dinner.
Despite having a full restaurant, we never felt crowded. We didn't have to yell over loud voices and never had to wait for service.
Get Free Updates of The Orlando Local Show
Discover More Episodes!