Waiting for Hurricane Dorian to Arrive
Hurricane Dorian hasn't touched Florida yet, but it's already stirred up the hype machine with media coverage and social media hysteria. Since we have a history of hurricane coverage from an Orlando local resident's point of view, I thought I'd share some of the stranger things going on around town. If for nothing else, as a reference for people wondering what to do when the next hurricane comes to town.
Learning About Hurricane Dorian
To be honest, we were slow to figure out a hurricane was on the way this time. I first heard of it when a friend posted on Facebook about Tropical Storm Dorian passing over Barbados. She has family there and wanted to let her friends know everything was all right there. Her parents had some wind and rain but no real damage.
Why didn't we know about Tropical Storm Dorian?
Quite honestly, we don't care much about news anymore. I used to be an avid news consumer. Still, it's become such a politically partisan and overhyped cistern of emotions that we cut the cable and just don't watch the evening news anymore.
I have to say that's been wonderful for reducing stress in our lives. The old saying is true, "Ignorance is bliss."
On Wednesday, we drove to our local grocery store at lunchtime and wondered why it was so packed. Usually, it's pretty empty at this time of the week, which is why we like going at that time. Later the same day, we saw many of our neighbors collecting yard trash to put out for pickup.
What a coincidence!
That's when I finally decided to check the news and discovered why everyone was getting active.
Hurricane Dorian in the News
Whether local or national, the news media loves to hype a hurricane. They use powerful adjectives, like "most dangerous" and "barreling," when referring to the storm. Mind you, Hurricane Dorian is a rather slow-moving storm, but that doesn't prevent the news media from telling us it's "Barreling Toward the Florida Coastline!"
You can count on a few things while waiting for Hurricane Dorian.
Constant RADAR View in the Lower Corner
No matter what story or television view is on at the moment, there's a small RADAR view of Hurricane Dorian in the lower corner. Occasionally, little flashes remind you when the next Hurricane Dorian update will appear.
You can't tell a thing by looking at this RADAR shot of Dorian other than it's spinning. This isn't designed to inform you of anything. It's designed to evoke fear, so you tune in for the next update. News media has to feed the ratings, and fear of a storm is like a big lottery prize. The only difference is that the news knows it will win something.
Interviews Outside of Home Depot or Lowes
You'll always see a reporter telling you about the people buying plywood and other things at home improvement stores. It's like a free commercial.
They're almost out of generators, so get here before they're gone!
The reporters aren't content to leave it as a commercial, though. The camera eventually slides to the left or right to reveal a customer waiting to have her interview on camera. She's usually someone with an accent because those folks are more interesting. They also like to concentrate on female shoppers. I watched an interview with one lady who had a charming Southern accent this morning. This was her third trip to Lowes because she kept forgetting things.
She rattled off how she needed plywood and got an air-conditioner for her generator this morning, so no more fans when the power goes out this time!
It was cute. She must've spent thousands of dollars on all the stuff she mentioned, and she got featured on the local news.
The Cone of Uncertainty
This is one of the most poorly named yet widely adopted features of waiting for a hurricane. Here's how it starts. There are various models for hurricane paths. When combined, they look like this; something called a spaghetti model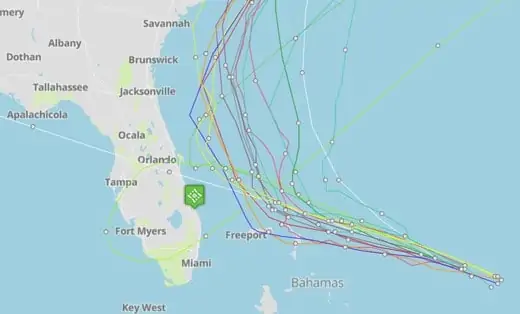 As you can see, the different tracks have a common starting point, veering off into their paths. This is far too complicated for your typical suburban schlubs watching TV at home, so they simplified it into the Cone of Uncertainty.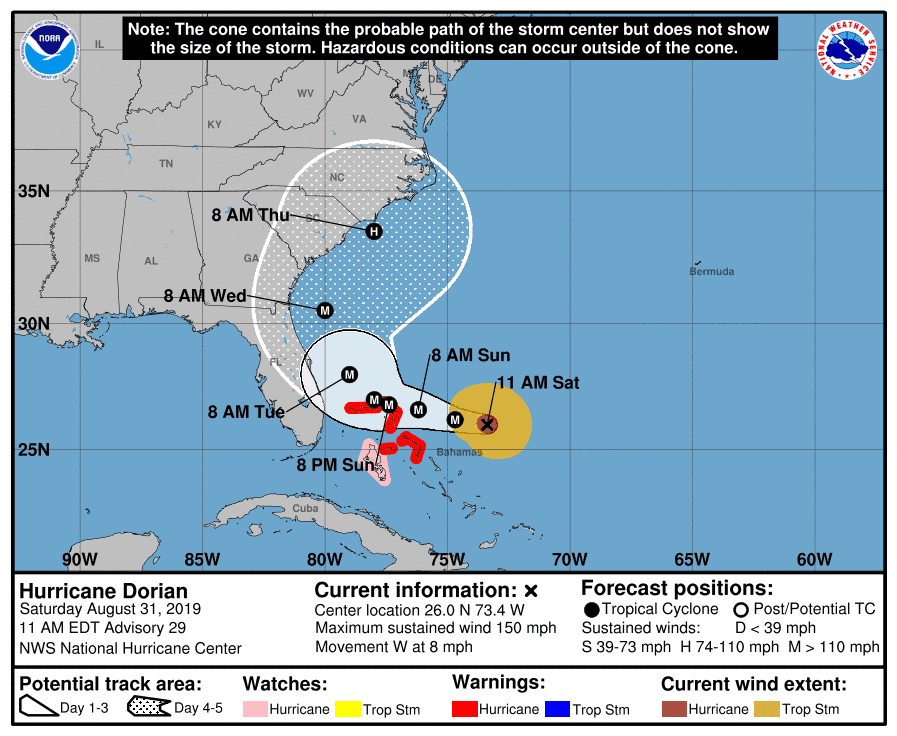 Typically the news media shows this cone with a center line track. However, they warn don't fixate on the center line. Just look at the cone because the storm could go anywhere.
Mind you; they add the center line. You see, it doesn't show up on the official NOAA chart. Most prior days showed the cone "barreling" through Florida, the center line going right through Central Florida, exiting in the Gulf of Mexico, and then maybe going off to threaten more people.
As you can see on this chart from August 31, it looks like Hurricane Dorian may skirt up the side of Florida and harass people in other states. That's because they're now in the Cone of Uncertainty.
So is Orlando, so you need to keep freaking out over Hurricane Dorian. Don't ease up yet!
What do Do While Waiting for Hurricane Dorian
AARRGH!! BUY ALL THE THINGS!
Seriously, that's the extent of hurricane preparation right now. People always buy a few things when they think the imminent doom of a hurricane is about to hit. Also, remember that they MUST buy these things before anyone else or the supplies will run out.
Buy Bottled Water
I find this hilarious, but it always happens. People who never buy bottled water are suddenly buying cases of it. I went to Publix for something on Thursday, and they rolled out five pallets filled with bottled water and placed a limit on three cases per shopper.
When we got to the register, our cashier looked at us and asked why we weren't buying water. We were the only customers who didn't have any water in our cart, much less the maximum three cases.
I answered him honestly.
He looked at me disapprovingly, so I told him we planned to stop at the local ABC Liquors to get some rum before the storm. It's not like we're without liquids.
Let me give you some background as to why we don't stock up on bottled water for a storm:
Some people fill their bathtubs and sink with water to prepare for a storm. They say it's so they can flush the toilet when the water stops working.
I still haven't found someone in Orlando who had a storm knock out their running water. Even if that happened, IT'S RAINING. There is a supply of water falling from the supply to let you flush your toilet. Just put a buck outside, make sure it won't fly away and let the rain do the work.
Buy Batteries
During a hurricane, or more likely at the end of it, the electricity often goes out. It's not a matter of if, but when will the power fail. People buy tons of D cell batteries to power flashlights they can't find.
I go about things differently.
First, I use an Anker Rechargeable Flashlight. This one is a 900 Lumens super bright tactical light. It's easy to carry and use, and lights up everything you want, too. The Anker Tactical Light charges using a USB cable, which means I can power it with a portable power bank.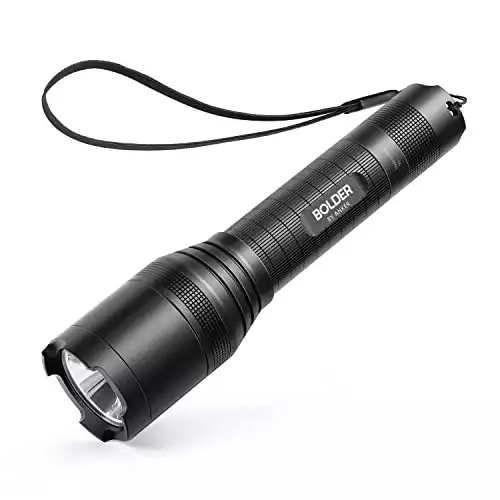 Anker Rechargeable Bolder LC90 LED Flashlight
Look no further than the Anker Rechargeable Bolder LC90 LED Flashlight. With a max output of 900 lumens, this flashlight is bright enough to light up two football fields! It also has a zoom function to adjust the beam from wide to narrow and five different settings, including high, medium, low, strobe, and SOS.
The best part about the Anker Rechargeable Bolder LC90 LED Flashlight is that it's long-lasting – you'll get up to 6 hours of use on the medium setting before recharging. And when you do need to recharge, it's quick and easy with the included Micro USB cable. Plus, the LED bulbs have a lifespan of 50,000 hours!
This flashlight is also built to last with its durable aluminum body and IPX5-rated water resistance. It can withstand rough handling and heavy rain. And it's pocket-friendly and anti-slip for easy carrying.
Buy Now
We earn a commission if you make a purchase, at no additional cost to you.
03/29/2023 07:47 pm GMT
We bought a pair of Anker PowerCore 20100mAh portable chargers. You can charge more than one device at a time, and there's enough power to charge your mobile phone several times or other USB devices.
Our Pick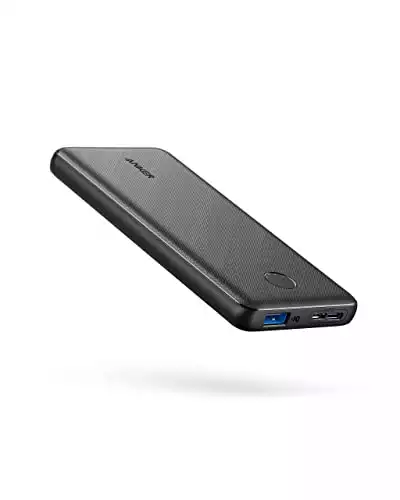 Anker Portable Charger, USB-C (Input Only)
Own the thinnest, lightest 10,000mAh portable charger on the market with Anker's Portable Charger. This bad boy provides 2.25 charges for your iPhone 12 and 1.6 charges for your Galaxy S20.
You'll never have to worry about being stranded without a charge again. Anker's comprehensive MultiProtect safety system includes overcharge protection, short circuit protection, temperature control, and more. Anker's exclusive PowerIQ and VoltageBoost technology combine to detect and deliver a tailored charge up to 12W, while the trickle-charging mode is the best way to charge low-power devices.
And you can trust Anker as a brand--they've been around for a while and know how to make a quality charger.
Check Current Price
We earn a commission if you make a purchase, at no additional cost to you.
Buy Gas
Believe it or not, several gas stations near me are sold out of gas. Not a single 7-11 in my area has gas. My daughter and I went to a couple of Wawa stations last night and were almost run over and hit by crazy drivers trying to snipe spots to fill up with gas.
When we finally got into a gas pump spot, it had already run out of the premium gas she needed for her car.
We left without anything.
Honestly, it's dangerous in gas stations during this kind of panic. I truly mean panic, too.
People are afraid that the gas stations won't get refueled after the storm, and they'll be stuck at home. I'm OK with that because I work at home and all my cool stuff is already here. For my daughter, she'll still need to drive to school and her job once the storm passes.
Also, people are filling up gas cans to power their generators. As I said before, the power will fail near the end of a hurricane.
Buy Generators
Having lived through many hurricanes, I've never felt compelled to invest in a generator. There are good reasons for some people to buy one. You don't want your food in the refrigerator or freezer to spoil if you go a few days without power.
Some people have medical needs, and electricity is necessary to live. Other people have babies, and life is just more convenient with electricity. Some just buy into the hype that you must have a generator.
I don't want one.
First, remember that Florida and Orlando don't get hit by a storm yearly. It's not like living in the north when you know it's going to snow. Here, we may or may not have a tropical storm knock out the power.
Second, where will you put the generator when you don't need it? I have enough crap in my house without buying something that I only use every couple of years, which consumes more space.
Finally, you have to maintain the generator. It's an engine. You have to run it once in a while, or it won't run when you need it.
Ain't nobody got time for that!
Plan for Entertainment and Meals Without Electricity
Once the power goes out, what will you do?
I have a couple of acoustic guitars, so fiddling around with those gives me something to do. My wife loves to read, so we have some books nearby. My daughter loves watching videos, so we download some movies and TV shows to her iPad.
As for food, we plan with some ice blocks and bags of ice cubes to keep in our coolers. We'll toss in something to cook, then fire up our Weber Kettle Grill to have something to eat. I firmly believe that every meal should feature some form of charred animal flesh. My wife is more vegetarian, so she has many plants and leaves to eat.
The Truth About Experiencing a Hurricane
It sucks. People are crazy before the hurricane arrives. They don't know how to drive in the rain. The power goes out, and I lose my beloved air conditioning.
However, no one promised me a life without some adversity. We'll get along well enough, endure a bit of inconvenience, and clean up the yard after it's done. Quite honestly, the part about waiting for Hurricane Dorian is the part I like the least.
That's because of the panic and hype our news and social media stir up before a storm arrives. People spend money buying things they may not even need because of a storm that could change direction.
It's hard to plan for your week when a storm comes. Little things like grocery shopping, buying gas, and just driving on the road become hazardous experiences.
I'm tired of waiting for Hurricane Dorian. Just get here so people will stay home.
What are your thoughts? Please let us know in the comments, and stay safe.