How to Choose a Walt Disney World Resort Hotel
How Do You Choose a Walt Disney World Resort Hotel for Your Next Visit?
Perhaps one of the most important decisions of any vacation, how do you choose a Walt Disney World resort hotel? If you are thinking about staying on site at Walt Disney World, this episode will help you understand:
Why Stay On-Site at a Walt Disney World Resort Hotel?
Orlando is full of great hotels and wonderful theme parks. However, they're not exactly within walking distance of each other. Walt Disney World and Universal Studios Orlando are roughly 8.5 miles apart along Interstate 4. It's just over 5 miles from Walt Disney World to Sea World.
More than a quick stroll.
Here's something to consider. You can't really even walk from your Walt Disney World resort hotel to most parks because the property is enormous. It's the size of San Francisco or the island of Manhattan. A few resorts are within walking distance to a single park, but you need to rely upon a car or Disney's transportation system to reach the rest of the parks and amenities at Walt Disney World.
Location aside, you get some perks when you stay at a Walt Disney World resort hotel.
Walt Disney World Resort Hotel Options
Typically, Walt Disney World resort hotels fall into three categories:
There are a couple of other options. You can also stay at a Disney Vacation Club (DVC) resort if you are a DVC member or you've rented points to use a DVC room. These rooms are time share condos. You don't get maid service, but you may have a nicer room including a kitchen.
Some hotels on Walt Disney World property aren't owned by Disney, such as the Swan and Dolphin. Some of these places get extra magic hours, some don't. If you stay at a resort that Disney doesn't own, check to see what benefits you may get or miss.
1: Value Resorts
These resorts are on the low end of the scale, but that doesn't mean they are bad resorts. If you have a large family or group, you may find these resorts perfect because of their family suites. These resorts are motel style, which means that the entry to your room is outside the building.
Value resorts typically are for those who don't spend a lot of time in their hotel room or at the resort. It's a place to sleep, shower and leave behind as you hit the parks.
The rooms are smaller and the furniture is a bit more basic. The value resorts will have a pool and playground but won't feature a slide or a lazy river. There are only quick service restaurants where you can grab something to go. You can still get a hot meal for breakfast or a pizza, but don't expect table service.
Every Disney resort has bus transportation, but you won't find water launches to take you to the parks or Disney Springs. Typically, their location is a bit farther away from the parks, so you spend more time getting to a park than the other types of resorts built closer to the parks.
2: Moderate Resorts
Moderate resorts up the ante slightly. The rooms are larger and have a step up with furniture and room amenities. You still have a motel style building where you enter from outside, though. The theming and room decor becomes a bit more subtle. Where Value resorts are heavy on the characters, your Moderate resorts tone that down a bit.
Pool slides and some other features start to show up in Moderate resorts. You also start to see other features and activities, including outdoor movies, campfire activities (More s'mores!), bike rentals, jogging trails and even horse drawn carriages at Port Orleans – French Quarter & Riverside.
With a larger room and more activities, you pay a higher price.
You may also get transportation options, including a water launch to visit Disney Springs or a Park. One of our favorite features of French Quarter was the water launch along the Sassagoula River from the resort to Disney Springs.
If you like to visit a lounge, you'll find those at Moderate and Deluxe resorts. You're still limited to quick service for restaurants, but they offer better options. For example, you can find jambalaya with cornbread at French Quarter. Other items work with the New Orleans theme.
3: Deluxe Resorts
The deluxe resorts are the nicest and most expensive hotels on Walt Disney World property. They're convenient to the parks and often have a grand lobby interior. You access your rooms from hallways inside the resort and may also have balconies for rooms.
That comes in handy to watch Independence Day fireworks from the Contemporary Resort Hotel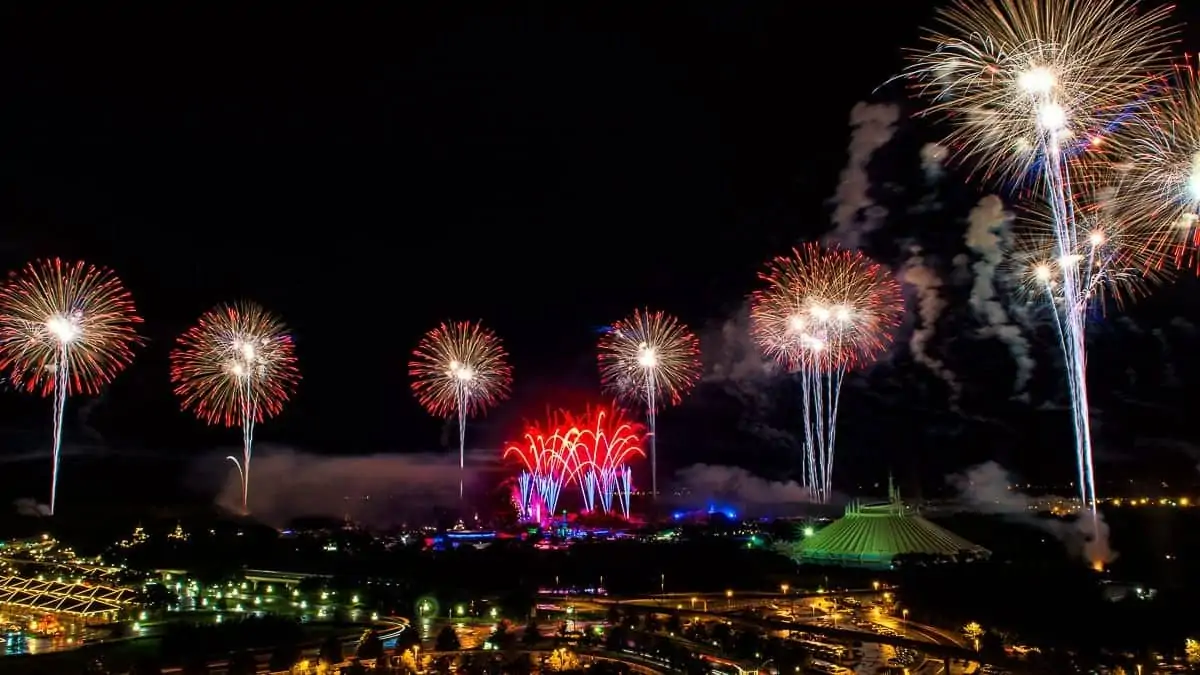 Your transportation options increase, since some of the Deluxe Resorts offer monorail service to the Magic Kingdom or Ticket & Transportation Center. You still get bus and water launch service, too.
One of the big changes are the restaurants. Instead of just having quick service, you get table service at Deluxe Resorts. It may range from the rowdy Whispering Canyon Cafe to the upscale Artist's Point restaurant at the Wilderness Lodge.
Another option is character dining, such as Chef Mickey, O'Hana or 1900 Park Fare. Signature dining options like Victoria and Alberts are some of the best dining experiences in the nation.
Of course, you pay for it. Deluxe Resort room prices start roughly three times higher than Value Resort room prices. You get a larger room that steps up another level over the Moderate rooms.
However, these still aren't the best rooms you'll ever experience. I found much nicer rooms in Las Vegas for a lot less money than in resorts like the Wilderness Lodge. An average room in Las Vegas may have true marble for the restroom counters, floors or showers.
My room at Wilderness Lodge had noticeably fake marble-style counters. The rooms at the Polynesian were built decades ago. Despite the ever increasing price of those rooms, they're still pretty small.
How Do You Choose a Walt Disney World Resort Hotel That is Right for You?
With so many choices, deciding which resort is best for you may be difficult. Let's break it down with a few categories.
1: Budget
Affordability is an enormous consideration. That's why Walt Disney World has three different types of resorts at different price points.
2: Location
How much time are you willing to spend getting from your room to a park or other destination? Do you have a favorite park and want to stay close to it?
Disney Buses typically run to every resort. A few may have monorail access, easy walks to a park, or even a water taxi service.
3: Transportation
All resorts have buses, but sometimes it's nicer to take a water launch, monorail, or even walk to your closest park. The resorts on the Sassagoula River have water taxis that can take you to Disney Springs and back.
4: Restaurants
Do you like to grab something and go, or do you want a convenient dining experience? Some resorts have limited dining options, like the moderate hotel Port Orleans: French Quarter. Deluxe resorts, like the Animal Kingdom Lodge, often have a variety of restaurants that include a signature dining restaurant.
5: Extra Amenities
If you want to spend time at your resort, what features are important to you? Is it important to have a great pool or a play area for little kids? Some resorts allow you to bring your pets to stay.
6: Family/Party Size
The room you choose for a family of four with two small children may be different than your needs for a family with teenagers. The family suites at Value Resorts may be your best option.
Most resorts will offer rooms with either one or two beds. Getting a King bed seems to be an extra cost. The smaller beds in the Value or Moderate resorts may be an issue for some. Check with your resort to understand your options before you book.
7: Theme/Decor
Disney World Hotels offer a lot of variety in their theme or decor. You can spend thousands of dollars for a couple of nights for a Star Wars adventure themed resort or take a trip back in time at the Grand Floridian.
I enjoyed the Wilderness Lodge theme, complete with hollering servers in one of the restaurants. Others may want something modern, like the Contemporary Resort Hotel.
Get Free Updates of The Orlando Local Show
Discover More Episodes!