Sweet by Holly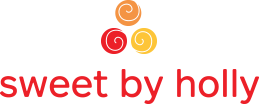 Name: Sweet! by Holly
Description: Sweet by Holly is a local cupcake bakery in Orlando, FL, that has received rave reviews. The store is owned and operated by Holly Rice, who opened Sweet by Holly in 2008. The cupcakes at Sweet by Holly are made fresh daily and use only the finest ingredients. The cupcakes come in various flavors, including chocolate, vanilla, strawberry, and lemon. They also come in a variety of sizes, from mini to jumbo. In addition to cupcakes, Sweet by Holly also offers cookies, brownies, and cake pops. The prices are very reasonable, and the quality of the baked goods is excellent. Sweet by Holly also offers delivery and shipping services. Overall, Sweet by Holly is a great bakery that offers delicious cupcakes at an affordable price. If you're ever in Orlando, be sure to check out Sweet by Holly!
Price range: $12-$105
Payment accepted: Credit Card
Currencies accepted: USD
Address: Waterford Lakes Town Center, 711 N Alafaya Trail, Orlando, FL 32828
Telephone: (407) 277-7746
Overall Value

Cupcakes

Frozen Yogurt

Presentation

Service
Pros
Bright & Clean Store
Friendly Service
Plenty of Choices
Gluten-Free Options
Cons
You Pay a Bit More
Some Flavors Not Available Daily
If you're looking for a sweet treat in Orlando, you have to read this Sweet by Holly review. This bakery is home to some of the best cupcakes in town. The flavors are mouth-watering, and the cupcakes are always fresh and delicious. If you are looking for a sweet snack or dessert, be sure to visit Sweet by Holly!
Not all cupcakes are created equally. Holly's cupcakes are at the top of the pile. I've tried cupcakes all over the place, even Georgetown Cupcakes in Washington, D.C. Those folks make good stuff, but I still keep coming home to Holly's cupcakes at the Orlando location.
I share these with others, and the reactions are uniformly full of astonishment. Perhaps the best line came from a wise man in Tampa:
Why Choose Sweet by Holly?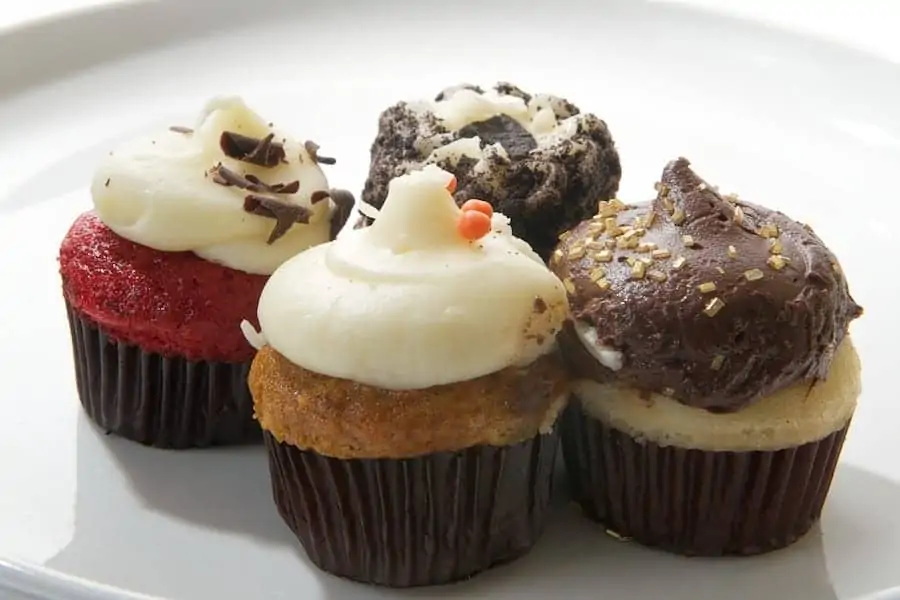 I'll be honest. I come here for the cupcakes. Mostly for the mini cupcakes, though you also get classic-sized cupcakes, wedding cakes, custom-designed cakes, gluten-free cakes, vegan cakes, and even a kit for cake decorators.
While the variety is nice, I went there because I thought the cake tasted incredible. Holly is a 3-time winner of the Cupcake Wars TV show, so she knows how to make moist and delicious masterpieces. I think they do an incredible job and provide great customer service.
My Cupcake Criteria
As I mentioned at the start, I've tried a number of cakes from other vendors. Most of them just don't seem to understand what people want from cupcakes. It's not Just about appearance, though the presentation is important.
So what was wrong with them? Sometimes it was the icing. Sometimes it was the cake. Sometimes the whole thing was a mess.
Here's my list of how to make a great cupcake.
1: Moist, consistent cake
I've bitten into too many cupcakes that were either dry or had different textures with each bite. That's not how it should be. The cake shouldn't crumble when you eat it, and each bite should have the same level of moisture.
Holly's cupcakes always hit the spot in this department.
2: Smooth, creamy icing
This one is harder to explain. Some icing tastes like it was made in an industrial factory next to spackle (I'm looking at you, Walt Disney World). Others were too thin, without the rich, creamy fullness of a good icing. Work on your buttercream skills, people!
Again, Holly's cupcakes are perfect. The icing is sweet but not too sweet, and it's thick and creamy without being heavy.
The right cake-to-icing ratio.
3: Don't Overdo Icing
Cupcakes should have a good amount of icing, but the cake should be the star of the show. Too often, I've seen cupcakes where the icing is twice as thick as the cake. That's not right.
Holly's cupcakes have the perfect amount of icing. You get a good-sized dollop on top, but it doesn't overwhelm the cake.
I don't want a mountain of icing. I have to bite into your cupcake, so don't make me stretch my mouth like a snake swallowing a rat.
4: Decoration
People like pretty cupcakes, but I'm looking for quality food before I want art. Just because you can decorate doesn't mean you can bake. Put the emphasis on the quality of your cupcake, not the decoration of the cupcake.
Holly's cupcakes are simple but beautiful. The decoration is never overdone, and it always compliments the flavor of the cake.
If you order custom cakes or some of their specialty cakes, you can discover some intricate cupcake designs. However, they never get in the way of eating your cupcake.
5: Size matters
I want a treat, not a meal. One of the things I like about the mini cupcakes at Holly's shop is that I can get a few different flavors to try, a bite here or there. I don't want to be stuffed. I just want a sweet snack.
6: Consistent quality every day
That's all I want from a good cupcake. Sweet by Holly does it consistently. She makes some wonderful decorations, but they never overwhelm the quality of the food itself. You want people to like eating your cupcake even more than they liked seeing it.
Think about what a letdown it is if you see a beautiful cupcake, bite into it, and then want to spit it out.
That said, I find the cakes at Sweet by Holly are better earlier in the day. Over the years, we've found that there were some changes to the cake (not so much the icing) where they just weren't quite as good as we remember.
That's not to say we've had bad cupcakes there. We haven't. It's just that we think the cupcake creations are better when they're fresher, which is earlier in the day.
Go for the Mini Cupcakes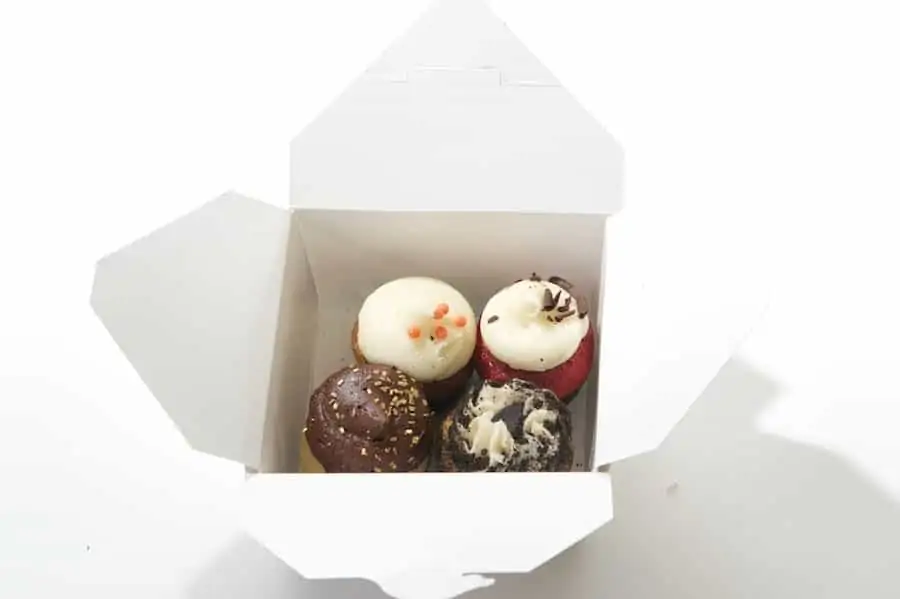 Since I like variety, the mini cupcakes are my favorite. Sometimes I like getting a dozen mini cupcakes to share with my family & friends. Other times I'll just grab 3 or 4 flavors for myself and take them home.
If you want to try a flavor, they have a zero commitment complimentary tasting policy. You're not going to get much, but it's enough to know if you want to try the Cookie Dough or the Plain Jane cupcakes.
Monday is Mini Mania Monday, and you get 33% off your order of mini cupcakes.
Sweet by Holly has over 50 flavors of mini cupcakes and makes 30 of them each day. Some are "on menu" items, and others are "off-menu" items.
On-Menu Mini Cupcakes
There are so many flavors to choose from at Sweet by Holly. You may not find all of these every day, but I think that gives you an incentive to go back and try other flavors.
My favorites are the Red Velvet and the Plain Jane cupcakes. The Strawberry cupcakes are also pretty good, in my opinion.
Off-Menu Mini-Cupcakes
The off-menu items are specialty flavors. They're made in small batches, and a few of them typically show up every day with the on-menu flavors.
I know, those are a lot of flavors and so many different types of cream cheese icing. They bake hundreds of cupcakes daily, so you never run out of options.
So Many Types of Cakes
If you have a special event of some kind, Sweet by Holly can create custom cakes for you.
Sweet by Holly has a talented team of cake designers who have a stress-free process to help you create a unique custom cake for your event.
The custom designs for a wedding cake or cupcakes look very impressive. They can even use a custom logo or photo for your cupcakes.
Another option, if you're in a hurry, is to order from the express cakes menu available with 24-hour notice. You forego a custom design while still getting a beautiful wedding cake or birthday cake without delay or hassle.
They even have gluten-free and vegan cakes on the express menu.
Chocolate Cake
When I was a kid, all I wanted was a chocolate cake with vanilla icing for my birthday. Not very exciting, but the heart wants what the heart wants.
Today, I'm just as likely to want a Plain Jane cupcake as well as anything else on my birthday.
Now Sweet by Holly can take my chocolate to new heights by adding some dark chocolate vermicelli sprinkles on some chocolate buttercream icing.
Fancy Wedding Cake
A beautiful wedding cake is such a big part of the wedding for many couples.
Your wedding cake should be a reflection of your personal style and the overall theme or feel of your wedding day.
If you're having a rustic, outdoor wedding, a simple, elegant cake made with local ingredients might be perfect for you.
On the other hand, if you're having an over-the-top, glamorous affair in a ballroom, an ornate cake with plenty of detail would be a better fit.
No matter what your style, Sweet by Holly can design a wedding cake that's perfect for you to help make your wedding day amazing – as it should be.
There are also options for vegan couples to celebrate their wedding.
Vanilla Vegan Cake
Sweet by Holly uses all organic ingredients for their vegan cakes, including organic palm oil for the vanilla icing.
Add a little Madagascar vanilla extract, lactose-free ingredients, and all-purpose gluten-free flour, and you have a Vanilla vegan cake that's perfect for anyone.
Sweet by Holly Rocks the Special Event Cakes, Too
There are a couple of ways for you to get something beyond the normal goodies at Sweet by Holly.
First, there are special edition cupcakes that come out on a few holidays.
Mother's Day is coming, and Sweet will have a dozen specially decorated flavors to share with your mother. You may also see special editions on Easter, Halloween, and other occasions.
Second, Sweet by Holly also does custom orders. The store has plenty of photos showing past special orders. The poster over our table on a recent visit showed a dozen Star Wars themed cupcakes. I mean, who doesn't want to take a bite out of BB-8 or R2-D2?
They can also customize cakes for weddings and other occasions.
Place Your Order Online
Sweet by Holly does a lot of catering. There are options for popular occasions. The Red, White, and Blue cupcakes are perfect for a patriotic celebration. The Romantic box decorates a dozen cupcakes with butter creams that look like rose petals on chocolate mousse and plain jane cakes.
You can get a Rainbow box that's full of color or order Miss Holly's Favorites, including:
Sweet by Holly Review: Which Cupcake Flavor are You?
It may sound predictable, but I'm a Red Velvet. There are many flavors to love at Sweet by Holly, but I always have to get the Red Velvet cupcake on every visit. It's a delicious classic.
We love walking inside and seeing rows and rows of delicious cupcakes!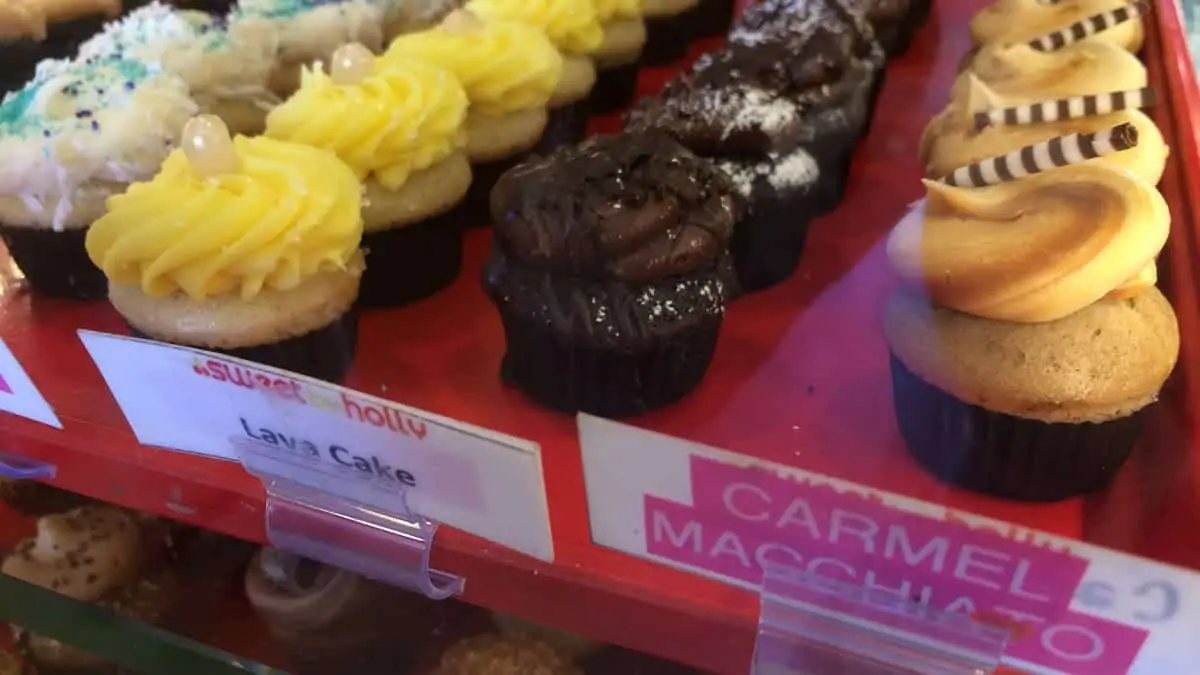 We've reviewed Sweet by Holly before, but some great competitors arrived in Orlando over the last few years. Does Sweet by Holly still take the cake?
If you'll excuse the pun, the answer is "YES!" Yes, we still think that Sweet by Holly has the best cupcakes in Orlando and Central Florida.
They're the best due to the quality of ingredients, the luxurious buttercream frosting, and the wonderful range of flavors. We're fans of the mini cupcake size so that we can get a lot of variety for the family. Everyone gets their favorite flavor and then a couple of indulgences to test.
The Frozen Yogurt WAS a Blast
Sweet by Holly previously had a pretty nice selection of Frozen Yogurt. It's no longer in the store, though.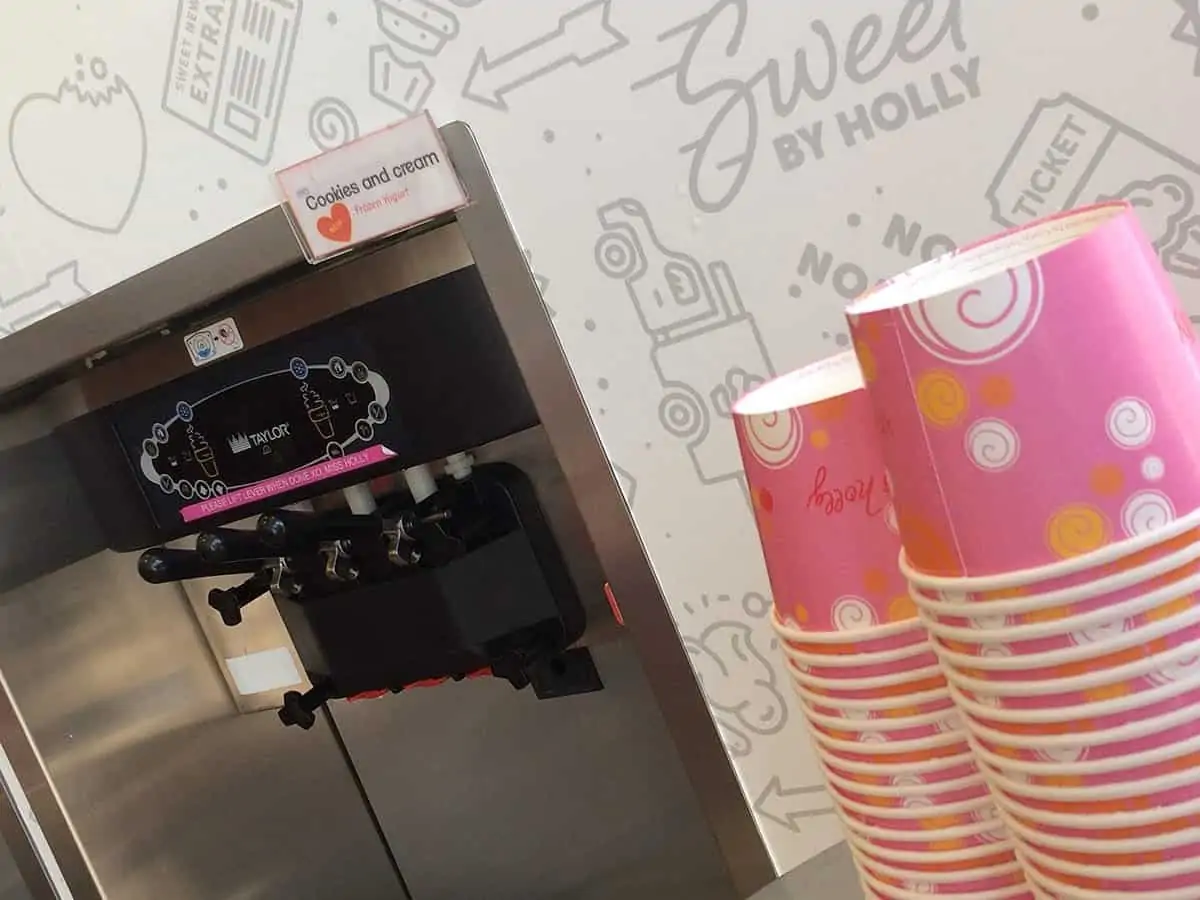 Sweet by Holly had several flavors of Frozen Yogurt. Like the cupcake flavors, they rotate so you can get a variety of tastes. We found Cake Batter, Cookies and Cream, and other popular flavors.
Of course, Frozen Yogurt deserves fresh toppings. Sweet by Holly didn't disappoint here.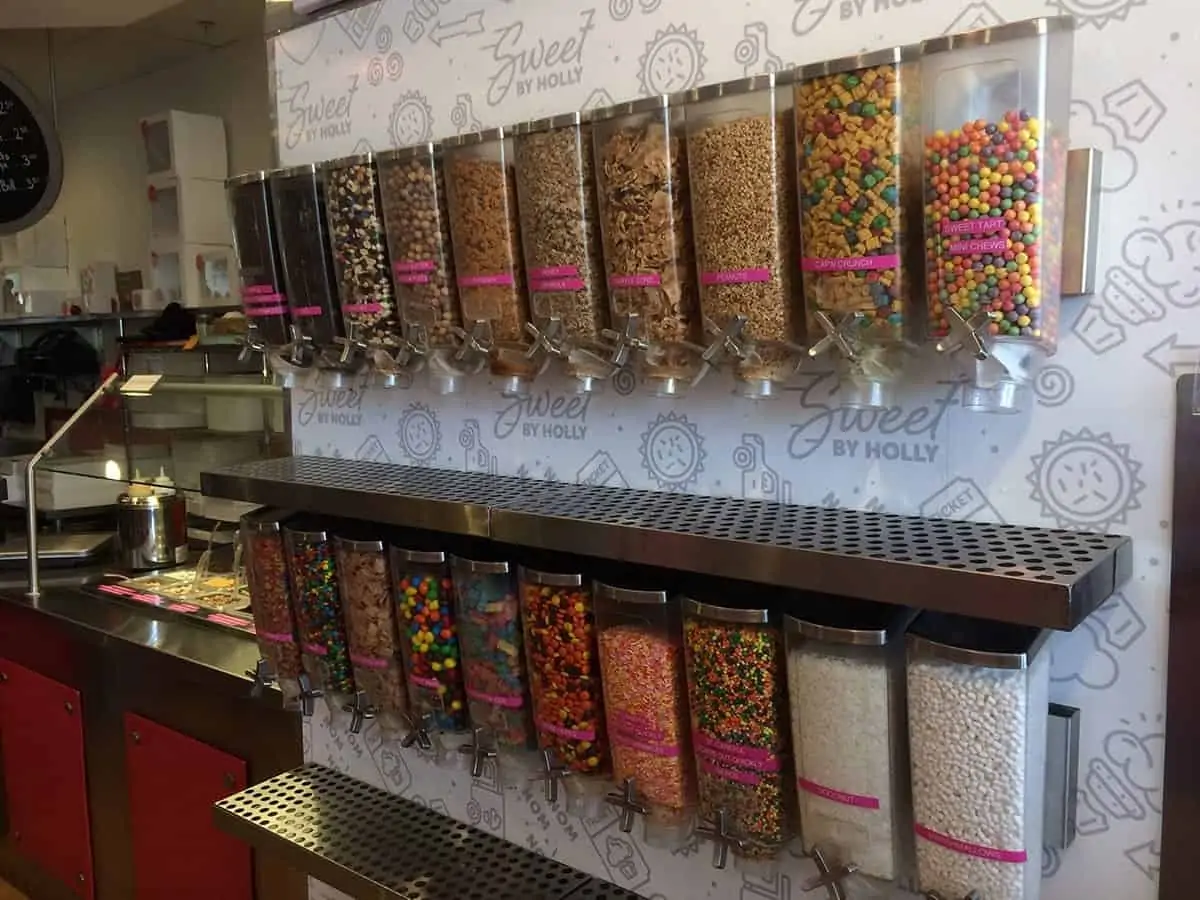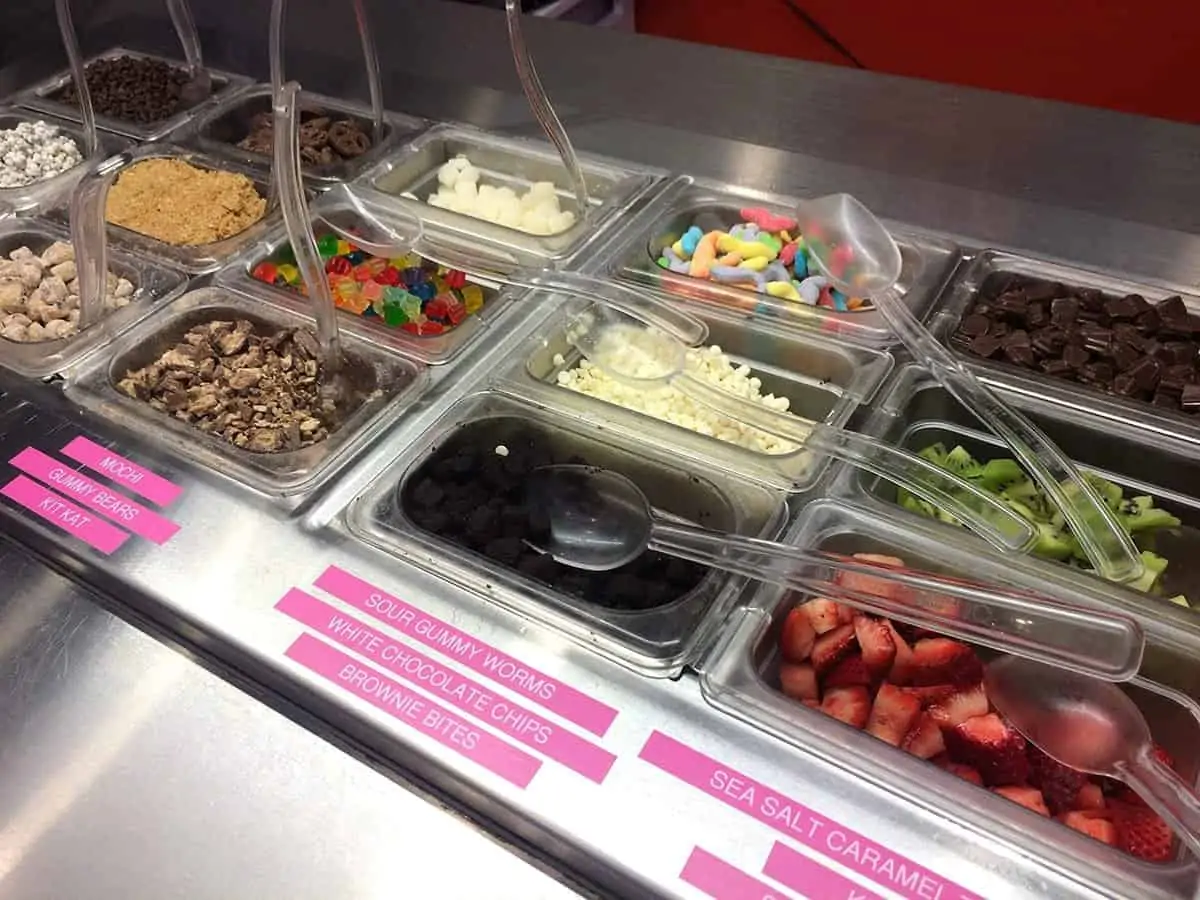 Quick Counter Service at Sweet by Holly
One of the things we like about Sweet by Holly is that we've always found the folks working there to be very friendly. They also know how to keep the line moving, so you never have to wait very long to get your order.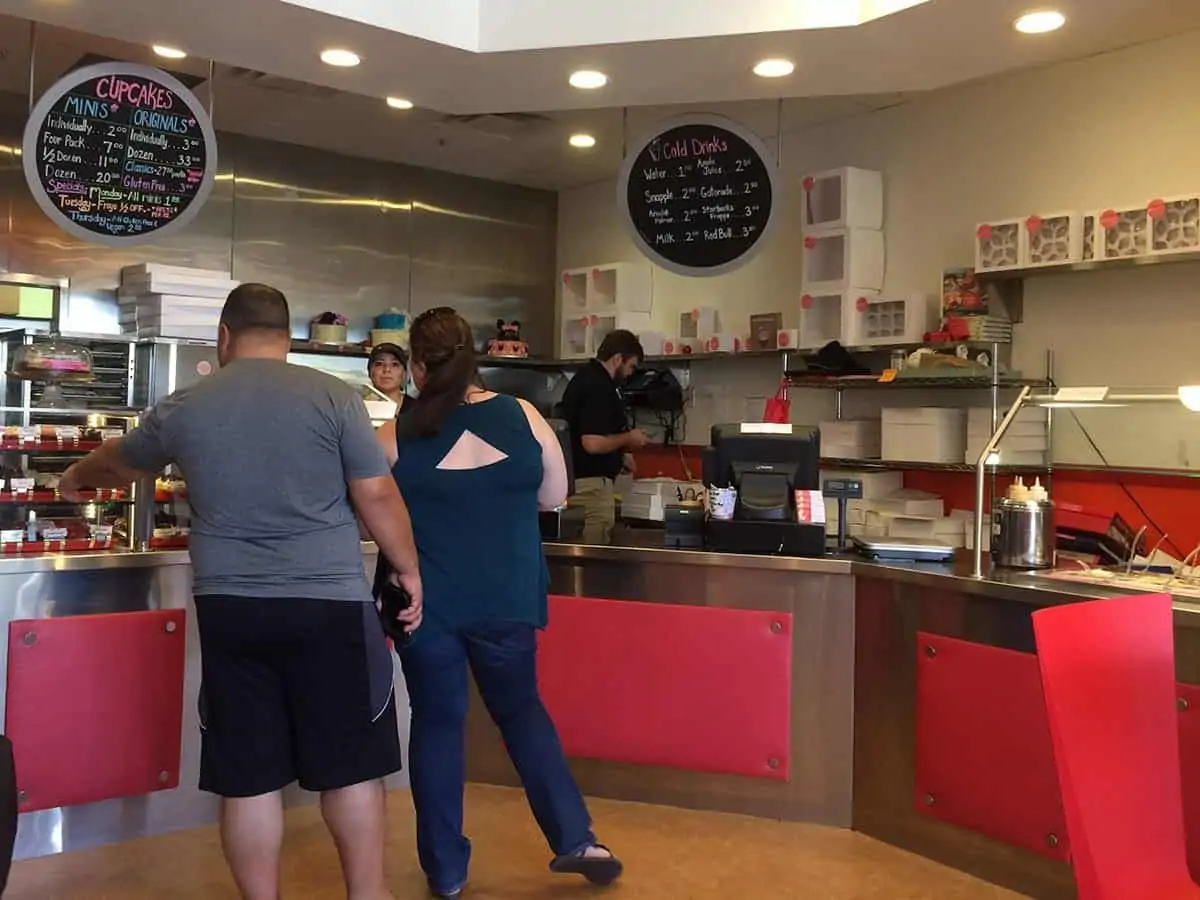 Here's a closer look at the menu.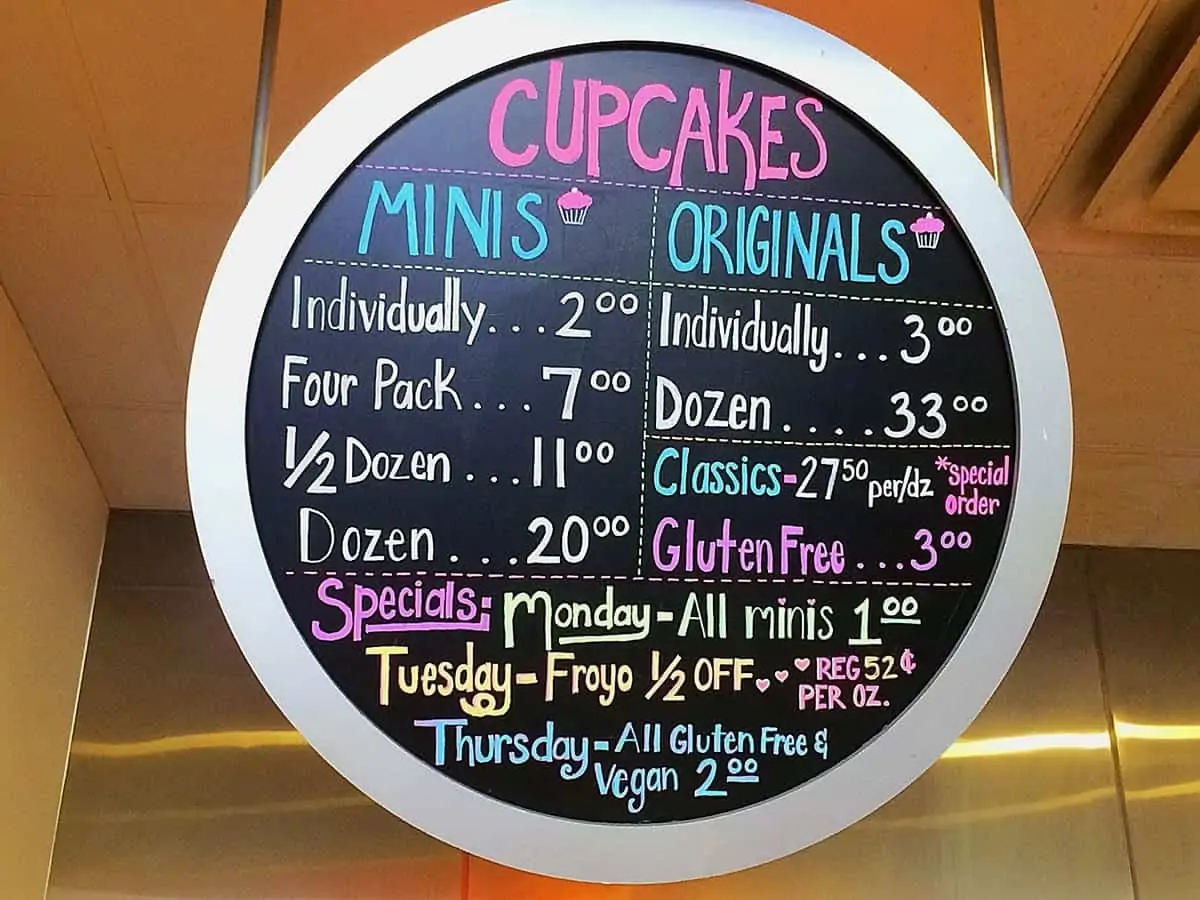 Our last Sweet by Holly Review was in 2016. We declared Sweet by Holly had the best cupcake in Orlando (or anywhere else I've tried), and I'm happy to say that it's still a consistent winner.
Get Free Updates of The Orlando Local Show
Discover More Episodes!